Guide to the best natural parks near Malaga you need to visit
A visit to Malaga, Spain offers the best of both worlds. There's the sunny costa, its bustling cities, beach fun, and the chiringuito lifestyle.
And then there's an entirely different natural world awaiting you inland: and that's where you can find idyllic pueblos, and the best natural parks near Malaga.
Whether you're seeking adventure along el caminito del rey or easy hikes through las sierras and family outdoor activities, Malaga's natural environment offers something for everyone.
This post contains affiliate links. If you buy via them, I'll earn a small commission which helps me to keep this blog running. As an Amazon Associate I earn from qualifying purchases. All opinions are my own.
So strap on your hiking boots, pack a tortilla de patatas, some pan, and plenty of water for a picnic, and let's hit Andalucia, Spain's most beautiful hiking trails!
Top Best Natural Parks near Malaga
Sierra de las Nieves
Jardines de Pedro Luis Alonso
Caminito del Rey
Montes de Malaga Natural Park
Sierras of Tejeda, Almijara and Almara
Axarquia natural park
Useful Travel Information About Malaga
✈ Book cheap flights to Malaga with Skyscanner

⚘ Avoid tourist traps and get the customizable "Andalucia Like a Local" itinerary. – Get it here

✔ Book tours in Malaga with GetYourGuide

➳ Find the best hotels in Malaga with TripAdvisor

❖ Rent a car with at the best rates with DiscoverCars

✎ Never leave without travel insurance! I got mine at SafetyWing. It is easy to set up, cheap and reliable.

$ Withdraw money without hidden fees and avoid exchange charges with TransferWise (Free Mastercard debit card to spend money abroad)
What to Expect from the Best Natural Parks in Malaga
One of the most striking things about Costa del Sol's natural environment and Malaga's natural parks is that one looks and feels completely different from the other.
While El Torcal looks almost otherworldly, the Sierra Nevada National and Natural Park keeps its wintery vibes in early spring, when the rest of the coast is already heating up again.
There is so much diversity to be found in the sierras of Malaga, and all its breathtaking natural reserves and parks.
You can find some of the best free things to do in Malaga which makes it the perfect destination for hiking in Spain
Best Natural Parks near Malaga
Torcal de Antequera
Just an hour outside of Malaga, you'll find a nature reserve like no other – one that looks like it belongs to an entirely different era and environment.
El Torcal, part of the Sierra de Torcal mountain range in Antequera, is the most renowned karst landscape in Europe. Its unique landforms and rock formations date back to the Jurassic age.
Getting there by car is straightforward, making El Torcal the perfect destination for a day out. With three hiking routes ranging from easy to difficult, it is accessible for everyone.
In the summer months, the only good time to visit is in the early morning or in the evening, as the heat can be pretty unbearable and shady spots are limited.
In other words, if you're looking for ideal outdoor fall activities, El Torcal should be at the very top of your list.
You can even choose to experience this special place under the light of the full moon on a guided tour, or join a regular hiking tour here.
Opening times:
November – March, Daily from 10 AM – 5 PM
April – October, Daily from 10 AM – 7 PM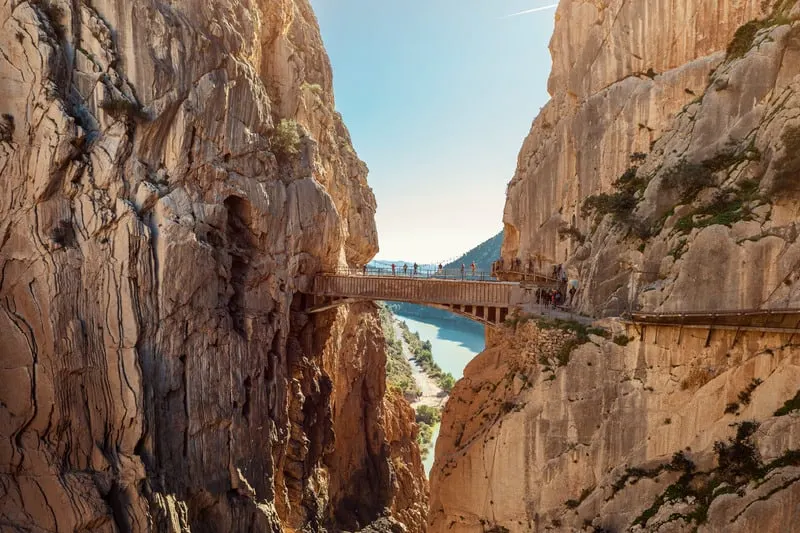 Fancy yourself a bit of a daredevil looking for more than just your regular sierras mountains? Then book your guided tour along the Caminito del Rey.
What was once known as the "world's most dangerous walkway", has undergone extensive repairs and now makes for an adventurous walk through the narrow gorge of El Chorro.
The entire area surrounding El Chorro is a paradise for hikers, climbers, water sport enthusiasts, and cyclists – it's worth staying in the area for a long weekend.
With plenty of fantastic and budget-friendly accommodations in the area, lots of fun can be had for little money.
For a safe and insightful experience, book your Caminito del Rey tour here.
Opening times:
Every day from 10 Am – 2 PM and 4 PM – 6 PM
Sandy beaches and year-round sunshine isn't the only thing that keeps people coming to Andalucia. Turns out, it's a popular destination for winter sports too!
The Sierra Nevada National Park in Spain is one of the most wonderful natural environments in the area.
With the historic city of Granada at the foot of the Sierra Nevada mountains, it really is no wonder it is such a beloved place for winter as well as summer holidays.
While you might want to avoid exploring the sierras between June and September, it is a fabulous place for hiking throughout the rest of the year.
You will find a variety of things to do in Sierra Nevada, from hiking, skiing, and sightseeing. To ensure you don't miss any of the sights most worth seeing, book your guide here.
Opening times: 24/7
Guadalhorce River Natural Area
For outdoor activities that offer the best of both worlds – experiencing nature and one of Malaga's most popular open-air shopping malls – head to the Guadalhorce River natural reserve.
The Guadalhorce river is Malaga's main river and has its origins in Granada. An area that invites long walks and birdwatching opportunities can be found at the entrance of Malaga.
Close to the airport, Plaza Mayoral, and just a ten-minute bus ride from the center of Malaga, the reserve now features a beautiful bridge over the gorge.
This means cyclists and pedestrians can now access the nature reserve from the city and the beach.
For an adventurous exploration of the Guadalhorce River by quad bike, book your guided tour here.
Opening times: 24/7
Montes de Malaga Natural Park
The Montes de Malaga surrounding Casabermeja and Colmenar are a must – not just for amateur and seasoned hikers, but birdwatchers as well.
There are various great starting points, such as the one at Picapedreros, from which you can go up to Pico Viento – a relatively easy, scenic route of about two hours.
Known for the pine varieties and kitchen classics such as rosemary and thyme, the Montes de Malaga are also home to booted and short-toed eagles, tawny owls, and black kites.
Be warned: it takes more than to just Google-map your routes here, as they're not always accurate. Do your research to ensure you don't find yourself getting lost!
Opening times: 24/7
Sierra De Las Nieves
Surrounding some of Andalucia's most picturesque mountain towns and villages, is the Sierra de las Nieves national park, one of the best natural parks near Malaga.
Easily accessible from the popular towns of Ronda, El Burgo, and Guaro – home to the Festival de la Luna Mora which sees the whole town dimmed in candlelight – this park makes for a great day or weekend trip.
It is home to a variety of 1,500 different plant species – 19 of which are exclusive to Ronda – Mediterranean fir, and acrobatic mountain goats.
A hike through the Sierra de las Nieves is one of many must-try outdoor activities in the area.
Opening times: 24/7
La Axarquia
The Malagueñan pueblo, La Axarquia, is located in a prime spot and forms part of three different natural parks.
Namely, the Sierras de Tejeda, Almijara y Alhama natural park, the Acantilados de Maro-Cerro Gordo natural reserve and the Montes de Malaga.
Needless to say, you can never go wrong with a visit to La Axarquia, where you can enjoy three of the best natural parks near Malaga and much more.
Cultural and historical attractions such as the cuevas de Nerja, Casa Fuerte Bezmiliana, and La Maroma – Sierra de Tejeda's highest peak – are all in close proximity to this peaceful pueblo.
Opening times: 24/7
Serrania de Ronda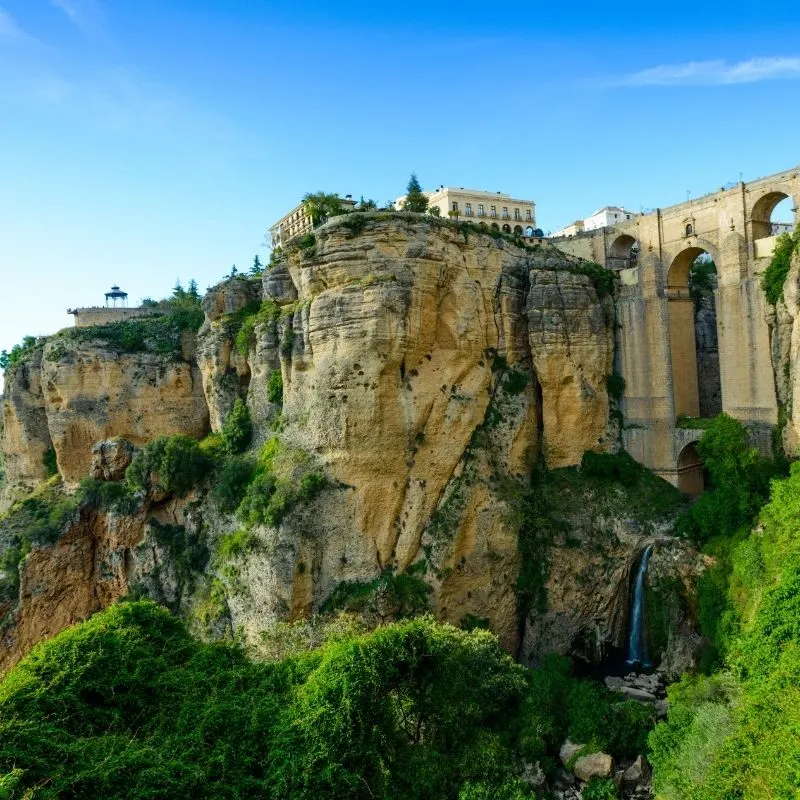 The Sierra Nevada isn't the only mountain proudly showing off snow-covered peaks on the Costa del Sol.
The Serrania de Ronda, which forms part of the Sierra de las Nieves national park, is often coated in a layer of snow during the cold months of December, January, and February.
Your eyes will never tire of this amazing natural environment: hiking trails, sierras, and the famous mountain town of Ronda make this a worthwhile outing.
The only word of warning: if you suffer from motion sickness, you might want to make a quick stop at the pharmacy before getting in the car – the roads up here are winding.
Opening times: 24/7
Sierras of Tejeda, Almijara and Almara
A favorite for holidayers who are all about mountain hiking and climbing is the rugged Sierras de Tejeda, Almijara, and Almara natural park and mountain range.
Stretching from Malaga – where it is home to postcard-style villages such as Frigiliana – all the way to Granada, there is plenty to explore here.
With stories of bandits hiding out here and the many caves to discover, you can count this as one of Malaga's most fun parks for kids, who are intrigued by the mystery.
For an easy, two-hour hike that will bring you to the Rio Chillar gorge and, possibly, face-to-face with a mountain goat, follow the Sendero Frigiliana to Fuente del Esparto.
Opening times: 24/7
Málaga Park
After a full day in the city, shopping, bar hopping, and tasting your way through tapas menus, you'll probably find yourself craving some shade and greenery.
This is when it's time for you to head to the Parque de Malaga, a green oasis in the middle of the city.
With the sea breeze gently rustling up the trees' leaves and your hair, and various plant species catching your eye, you'll find yourself slipping into a moment of tranquility.
Opening times: 24/7
Jardines de Pedro Luis Alonso
Jardines de Pedro Luis Alonso is one of the best parks in Malaga – especially for passionate botanists eager to familiarize themselves with 75 rose varieties from around the world.
Designed by Guerrero Strachan, it is made up of Latin-style gardens complete with spouting water features, ponds, and a focus on symmetry.
Orange trees and aromatic plants keep the gardens forever bathed in the scent of Andalusia, and the tourists always coming back for more.
Opening times: 24/7
Desfiladero de los Gaitanes Natural Area
Stretching between Alora, Antequera and Ardales, you will find a paraje natural like no other: namely the Desfiladero de los Gaitanes, also known as El Chorro.
Call it a "lake district", if you will – entering from Alora, you'll first find the Ardales lakes, which invite lovely sunset walks and picnics, but not necessarily a swim (the ground is rather murky).
Keep on driving another five minutes, and you'll get to the lake highlight, El Chorro, which attracts people from all over in the summer months.
There are plenty of private, shady areas where you can set up camp for the day, and a more commercial, beachy area with water sport attractions.
If you'd like to work up a real sweat before you dive into the lake, drive up into the Sierra Malagueña for a good hike and killer views.
Opening times: 24/7
Fuente de Piedra Natural Reserve
If you happen upon the Fuente de Piedra Natural Reserve during a certain time of year, you may fear you have entered a different country.
Flamingos don't usually hang out in Spain, do they? Why, yes, during migratory periods, they make a stop here at the Fuente de Piedra Natural Reserve, brightening its waters with bright shades of pink.
With even paths and wooden walkways leading through the reserve, and a few shady areas from where to sit and simply observe, a visit to Fuente de Piedra should not be missed.
Opening times: 24/7
Bahía de Cádiz Natural Park
Cádiz, and the Costa de la Luz in general, is a popular holiday, surfing, and hiking destination all year round. The fresh Atlantic winds in the area make even the height of August bearable.
If you're looking to give kite surfing a break for the day, head to the Bahía de Cádiz natural park for a leisurely walk at sunset – you won't regret seeing the best of this costa's luz.
The most convenient way to access it is via Chiclana de la Frontera, from where you'll find signposts leading you to the most attractive walkways and bird-watching areas.
For a little city break afterward, head to El Puerto de Santa María for fabulous fresh fish dishes, or to Jerez de la Frontera for a Sherry or two.
Opening times: 24/7
Del Estrecho Natural Park
Something special happens as you hit that last curve before you reach the top of the hill leading you into Tarifa – the landscape, the light, everything changes as you enter the Costa de la Luz.
To the left, Del Estrecho natural park mesmerizes visitors with a perfect palette of greens and blues, to the right, wind turbines tower over the land like giants.
Stop at the Mirador del Estrecho to take it all in before you take on a hike through the southernmost part and park of mainland Spain.
The Strait of Gibraltar, which separates Spain and Gibraltar, is where the Atlantic Ocean and the Mediterranean Sea meet, hence the water is always cold and clean.
Opening times: 24/7
The Despeñaperros Natural Park
Also known as "the gateway to Andalucia", the Despeñaperros natural park in Jaén is a curious landscape that was once the main route to the South from the North.
The A-4 motorway and Cadiz-Madrid railway mark the divide of this river gorge made up of dramatic rock formations. Southbound, you'll find the easiest entry points to the park.
From the Aldeaquemada road, for example, you can reach the park's protected area, which offers some of the most attractive vistas and sites such as the Los Órganos Natural Monument.
Opening times: 24/7
The Natural Park in Los Alcornocales
One of the best natural parks near Malaga stretches all the way to the coast of Cadiz, namely Los Alcornocales.
This mountain range is home to waterfalls, forest animals, curious rock formations, and spectacular views – in other words, the ideal natural environment to explore by foot.
If you happen to be walking the Cadiz side of Los Alcornocales, be sure to include the little mountain pueblo Betis on your route: the cows, horses, and donkeys walk around freely here.
From Betis, you'll already be able to spot one of the best beaches near Malaga: the dunes of Punta Paloma to the left, and the playas of Bolonia to the right.
Opening times: 24/7
Sierra De Grazalema Natural Park
It's true, it doesn't rain much in Andalusia. Showers and gota frias are usually reserved for the rainy season between January and April, but they are few and far between.
There is, however, a place with its own little microclimate, a place known to be the rainiest in Andalucia: the Sierra de Grazalema Natural Park.
This isn't meant to be off-putting, on the contrary. Due to frequent rains, this mountain range is always bathed in lush greens, and hiking is possible even in the summer.
Picturesque towns and villages such as Unbrique, Zahara de la Sierra, and Ronda form part of this natural park too, and are well worth a visit.
Opening times: 24/7
Where to eat while visiting the Best Natural Parks near Malaga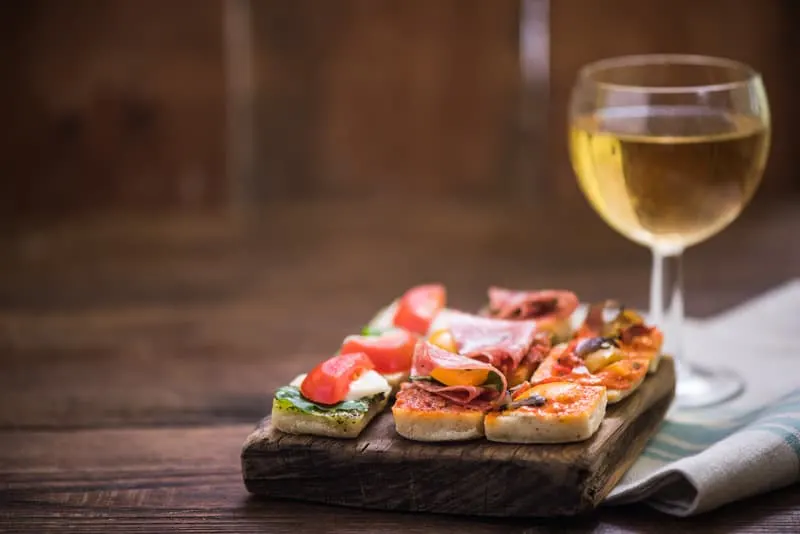 Enjoy tapas in Malaga
You shouldn't even have to ask what to eat in Malaga – tapas of course! For the best variety of Andalusian tastes and classics, try El Tapeo de Cervantes.
If all that hiking has really worked up an appetite, book a tapas tasting tour instead – pack on a few more calories to burn on your next mountain walk: Malaga: Tapas Tasting Tour
Lunch in Malaga restaurant
If you're combining your nature walks with some cultural strolling through Malaga's Picasso Museum, be sure to book a table at Casa Lola for traditional Spanish cuisine.
Or, you might as well decide to swap a hiking tour for the Malaga: Food Tour and taste your way through Andalusian specialties.
Dinner in Malaga restaurant
For innovative regional dishes in a relaxed setting, head to La Cosmopolita Malagueña for dinner.
If you're curious to taste the region's finest wines paired with the best tapas, sign yourself up for the Málaga: Evening Wine and Tapas Tour.
Best Hotels in Malaga, Southern Spain
If you're going to be climbing the sierras and hiking through all the best natural parks near Malaga, you're going to need a comfortable place to rest at night.
Here are three fantastic options ranging from luxury to budget hotels, all of which feature all the amenities for a relaxing stay.
There's nothing more Andalusian in terms of architectural design than an indoor patio – after all, life in Spain mainly happens outside.
Private patios and outdoor common areas are just a few things that make the Vincci Seleccion Posada del Patio in Malaga such an inviting place to stay.
With spacious rooms – some of which have skylights for stargazing – a rooftop terrace and swimming pool and an unbeatable location, this is a top choice hotel.
You can check prices & reviews here.
Colorful, stylish, and just a five-minute walk from the famous Calle Larios – a shopper's delight – the Mariposa Hotel is in an excellent location.
You'll reach the port in just ten minutes, with a choice of walking along the paseo maritimo or through the Parque de Malaga.
Each room comes with an en-suite bathroom, a flat-screen TV with international channels, and a mini-bar. The breakfast buffet is open until noon, allowing for lie-ins.
Find Mariposa Hotel's offers here.
As the name already suggests, the Boutique Hotel Teatro Romano is just a stone's throw away from the Roman Theatre in Malaga's casco antiguo.
The rooms and common areas are bright and modern, with subtle but eye-catching design features that invite visitors to unwind and linger.
The airport is just 8km away and easily reachable by train, bus or taxi so there's no need to stress about catching your plane in time.
Book your stay here.
Getting Around Malaga
The best way to explore the city of Malaga is by foot or bicycle – it allows for plenty of spontaneity and access to all the narrow little streets.
Here you'll stumble on local treasures such as the Casa Invisible, which is tucked away from the main streets.
But if your feet no longer want to carry you after hiking all day, you can easily move around with the urbano bus line with stops all over the center. – Book your tickets here.
If you want to satisfy your wanderlust, then exploring the best hiking trails near Malaga will help you get in touch with nature.
Map for the Best Natural Parks near Malaga
---
Short FAQ about the Best Natural Parks near Malaga
Which experiences are best for nature & parks in Malaga?
It really depends on what you're looking for. If you want true adventure and adrenaline, hit the Caminito del Rey.
For something a little more family-friendly, the Del Estrecho natural park and the town of Tarifa are always great choices.
What are the best places for nature & parks in Malaga?
If you want a relaxed, urban park vibe, go to the Parque de las Palomas in Benalmadena where you'll find free-roaming bunnies, chicken and cats, lakes, a playground, and goats.
For the great, wild, and unspoiled outdoor experience, the Sierra de las Nieves or Alcornocales natural parks are ideas.
---
---
Hola, I'm Paulina! Together with my team, we are passionate about Southern Spain. Here we share all you need to know for great times in Southern Spain with the best places to visit, stay and, of course, the best food to eat.
Let's dive in and explore Southern Spain's outdoors, food and culture con pasión!