A travel guide to the best museum in Malaga, Southern Spain
Some holidaymakers are happy to spend their vacation in full-on relax mode, moving from the beach to the Chiringuito, the hotel to local restaurants, and a little more.
Others want to immerse themselves in their city of choice fully, by taking full advantage of all the cultural experiences it has to offer. And Malaga, Spain has so many to choose from!
In Malaga, you can get your fix of Spanish cuisine, beach lounging, and museum visits, and, trust us – they will be worth your while.
Whether you're looking to learn more about the world-famous, Malagueñan painter, Pablo Picasso, or the art of flamenco, here is a list of the best museums in Malaga to visit during your stay.
This post contains affiliate links. If you buy via them, I'll earn a small commission which helps me to keep this blog running. As an Amazon Associate I earn from qualifying purchases. All opinions are my own.
Top Best Museums in Malaga
Picasso Museum
Carmen Thyssen Museum
Museo del Arte Flamenco Juan Breva
Museum of Malaga
CAC Malaga
Useful Travel Information About Malaga
✈ Book cheap flights to Malaga with Skyscanner

⚘ Avoid tourist traps and get the customizable "Andalucia Like a Local" itinerary. – Get it here

✔ Book tours in Malaga with GetYourGuide

➳ Find the best hotels in Malaga with TripAdvisor

❖ Rent a car with at the best rates with DiscoverCars

✎ Never leave without travel insurance! I got mine at SafetyWing. It is easy to set up, cheap and reliable.

$ Withdraw money without hidden fees and avoid exchange charges with TransferWise (Free Mastercard debit card to spend money abroad)
Best Museums in Malaga
1. Picasso Museum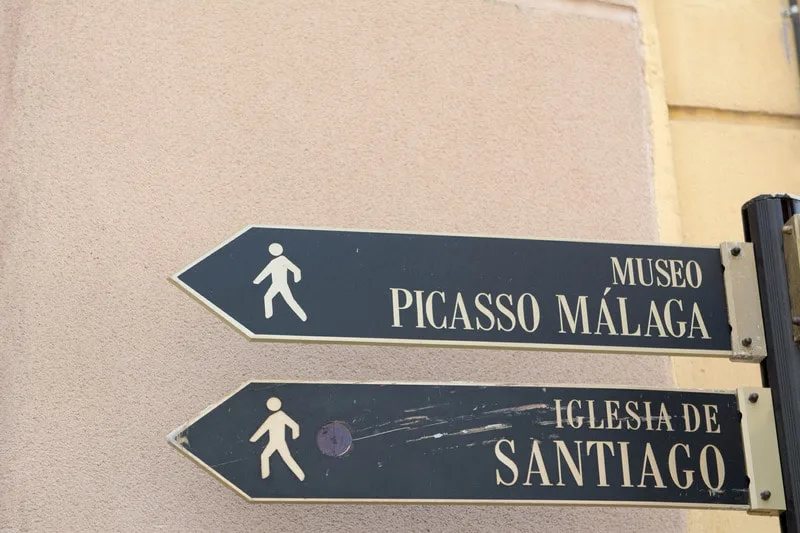 You can't possibly visit Malaga without visiting the museum dedicated to the world-famous artist born in this city: Pablo Picasso.
Needless to say, the Pablo Picasso museum is one of the best museums in Malaga – after all the legendary artist is a great source of pride to the city. Much like Antonio Banderas.
Located in the Palacio de Buenavista, in the heart of Malaga's historic city center, the museum's building is as captivating as the artist's collection itself.
For a particularly educative museum visit, book a guided tour that will talk you through all the details of the artist's life and work, before going off to visit the Picasso House on your own.
Picasso museum is on our 1 day in Malaga itinerary as it's one of the best museums to visit if you're on a short trip.
Get your Museo Picasso Málaga: Ticket & Audioguide here.
Opening times:
Monday – Sunday 11 AM – 6 PM
2. Pompidou Centre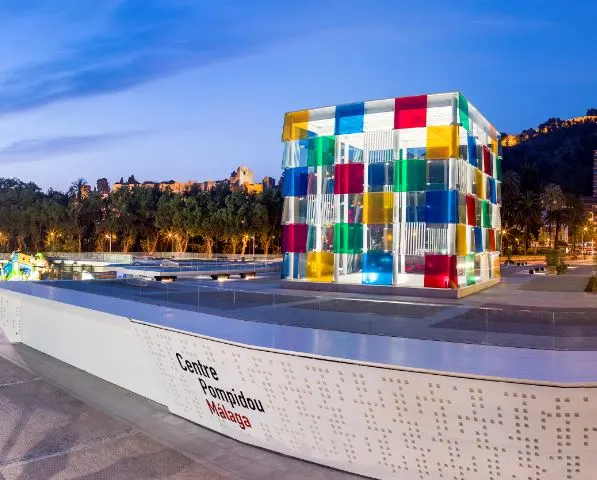 The Pompidou Centre is one of the newer additions to Malaga's selection of interesting museums, having opened its doors just six years ago.
Located in the outdoor shopping center Muelle Uno, it prides itself in semi-permanent collections such as "Utopias modernas" which ran from 2017 to 2020.
Its temporary exhibitions have featured the likes of Philippe Starck's "Dibujos Secretos" and "Matisse. Un pais nuevo."
If you're looking for free things to do in Malaga, visit the Pompidou on the first Sunday of the month, when admission to the permanent collection is gratis.
Book your guided tour via Málaga: Center Pompidou Málaga Ticket
Opening times:
Monday – Sunday, 9:30 AM – 8 PM
3. Roman Theatre and Alcazaba
There is a fair share of art museums in Spain, but nothing quite beats an outdoor experience such as the Alcazaba and the Roman Theatre in Malaga's Centro Historico.
Just a five-minute walk from the famous Teatro Cervantes, you'll gain insight into the theatre culture of the Roman ages at the foot of the Alcazaba fortress.
The footpath will lead you through the fortress and all the way up to the Castle of Gibralfaro, which offers spectacular city and sea views and plenty of picture opportunities for the holiday album.
Book a guided tour of the Roman Theatre and the Alcazaba here.
Opening times:
Tuesday – Sunday 10 AM – 6 PM
4. Malaga Car & Fashion Museum
There's a reason so many car ads feature stunning women in fancy designer clothes – the two complement each other perfectly in their beauty.
Hence, it's not at all weird that one of Malaga's most famous museums features both cars and fashion.
The Museo Automovilístico y de la Moda takes you on a tour of automobile history, each era of which is also depicted in its fashion trends.
It gives us a deeper understanding of the relationship between the artistic tendencies of automobile stylists such as Ettore Bugatti and Labourdette, and vintage fashion designers ranging from Chanel to Dior.
Book your Museo Automovilistico Ticket and Tour here
Opening times:
Monday – Sunday 10AM – 2:30PM, 4PM – 7PM
5. Coleccion del Museo Ruso
Just because you're cruising the catalog of Malaga, Spain art museums, doesn't mean you'll only be presented with museums focused on Spanish artists.
Here you even have the opportunity to learn about the stately art hailing all the way from Russia, by visiting the Colección del Museo Ruso San Petersburgo.
Its current exhibition, Guerra y Paz en el Arte Ruso (war and peace in Russian art) will run until April 2022 and features important pieces such as Kazimir Malevich's Red Cavalry Riding.
Skip the lines and dive straight into the world of Russian art by booking your Malaga: Collection of the Russian Museum Ticket.
Opening times:
Tuesday – Sunday 9:30 AM – 8 PM
Monday Closed
6. MIMMA (Museo Interactivo de la Música Málaga)
One of the best museums in Malaga is, without a doubt, the Museo Interactivo de la Música (MIMMA) – and yes, even those with not the first clue about music will agree.
As the name already suggests, this museum is not just about learning by ways of looking, reading, and listening.
As far as fun museums go, the MIMMA takes the cake, because it invites its visitors to interact in many different and original ways.
Its Living Lab Kids, for example, with its choice of "workshops, musical camps, concerts, and guided tours make the MIMMA a museum of youth and hyperactive character."
Opening times:
Tuesday – Sunday 10:30 AM – 6:30 PM. Monday, Closed
7. Carmen Thyssen Museum
Conveniently located between the Catedral de la Encarnación de Málaga and the Hammam Al Ándalus, you will find the Carmen Thyssen Museum, one of the city's most popular attractions.
Treat yourself to permanent collections and ever-changing exhibitions featuring art from around the world, or sign up for interesting activities such as lectures or workshops hosted by the museum.
For one of the best things to do in Malaga with kids, join this super adventurous treasure hunt experience for a different perspective on the Carmen Thyssen Museum:
Opening times:
Tuesday – Sunday, 10 AM – 8 PM; Closed on Mondays.
8. Museum of Malaga
As if the Palacio de la Aduana wasn't already an impressive attraction – one you're happy to stop in front and just marvel at for a while – it also happens to be home to the Museo de Málaga.
This provincial museum boasts more than 2000 pieces in its fine arts collection, spanning from the prehistoric to the Phoenicians era, all the way up to 20th-century paintings.
Spread out over 18,000 square meters and eight different rooms, each room offers a different experience – a journey back in time and (Malagueñan) art history.
Opening times:
Winter: Tuesday – Saturday, 9AM – 8PM
Sunday & Holidays: 9AM – 3PM
Summer: Tuesday – Saturday 9AM – 9PM
Sunday: 9AM – 3PM
Monday: Closed
9. Museo del Arte Flamenco Juan Breva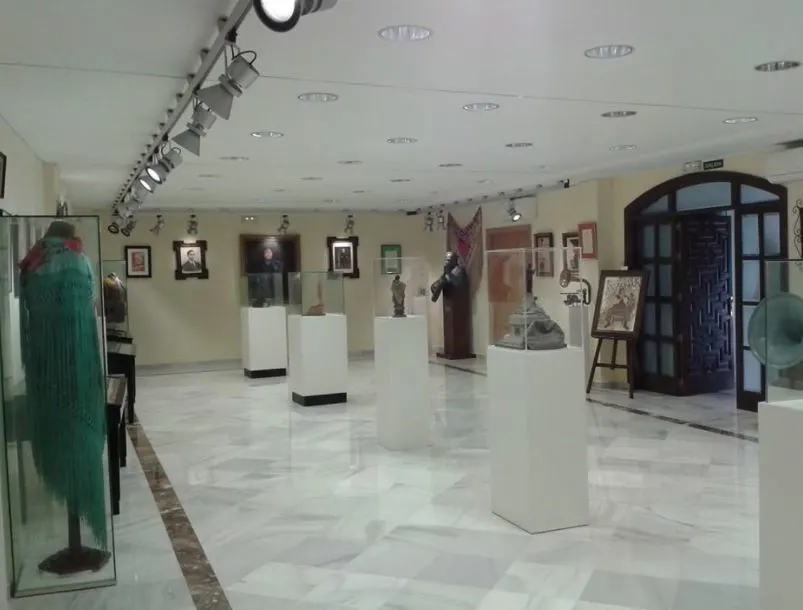 When you think of Andalusia, what is one of the first things that comes to mind? The intensely passionate art of flamenco, of course.
If you want to visit a city museum dedicated to this music and dance genre, a visit to the Museo de Arte Flamenco Juan Breva is a must.
Dedicated to one of the greatest Malagueñan flamenco singers, Juan Breva, this museum houses extremely valuable guitars, pieces of vinyl, and a magnificent number of recordings.
To visit this museum in Malaga, Spain, is to immerse yourself in the heart of Andalusian musical culture.
Opening times:
Monday, Tuesday, Wednesday & Friday 10 AM – 2 PM
Thursday 10AM – 2PM, 9PM – 12AM
Saturday 9 PM – 12 AM
Sunday, Closed
10. Museum of Customs and Traditions
What is one of the most exciting things about visiting a new city – besides visiting famous art galleries, that is? Getting to know the local arts and traditions of a place.
Even if you're only visiting Malaga on a two-day trip or less, the Museo de Artes y Costumbres Populares will give you a great idea of what makes the people of this exciting city and region tick.
Here you will learn about the traditional tools used in rural bakeries, bodegas and tabernas, agricultural approaches, fiestas and folklore, and the colorful barrios of Malaga.
Opening times:
Monday – Friday 10 AM – 5 PM
Saturday 10 AM – 3 PM
Sundays Closed
11. Museo del Vino / Wine Museum
You don't actually have to drink the wines of Malaga to enjoy them, you can learn about them too.
There are many different types of museums in Spain – some are home to amazing art and, others, like the Museo del Vino, are all about the making of and tasting of local wines.
Located in the 18th century Palace of Biedmas, the Museo del Vino exhibits the quality, prestige, and culture of the region's finest wines.
Opening times:
Monday – Saturday, 10 AM – 5 PM
12. ARS Málaga
It may not be one of the most famous art museums in Spain – such as the Guggenheim in Bilbao – but the Museo Palacio Episcopal ARS Málaga has its very own intrigue.
Within the walls of the 18th-century baroque building of the Palacio, you will find works ranging from the 15th to the 18th century.
Along with an entire ground floor dedicated to African art spread over five exhibition spaces, the ARS guarantees an insightful, educational experience.
Opening times:
Tuesday – Sunday 10 AM – 8 PM,
Monday Closed
13. CAC Malaga
You never know quite what to expect at the Centro de Arte Contemporáneo museum in Spain, Malaga, but you can count on it being exciting.
With ever-changing exhibitions in a fabulous space just six minutes from the funky Soho district, the CAC has seen the work of some of the world's most well-renowned artists adorn its walls.
And what pairs wonderfully with contemporary art? Contemporary cuisine!
After you've gotten your art fix, get your culinary fix at the museum's house restaurant Óleo, which serves up a unique spin on Mediterranean sushi dishes.
Opening times:
9 AM – 9:30 PM
14. Museum of Glass and Crystal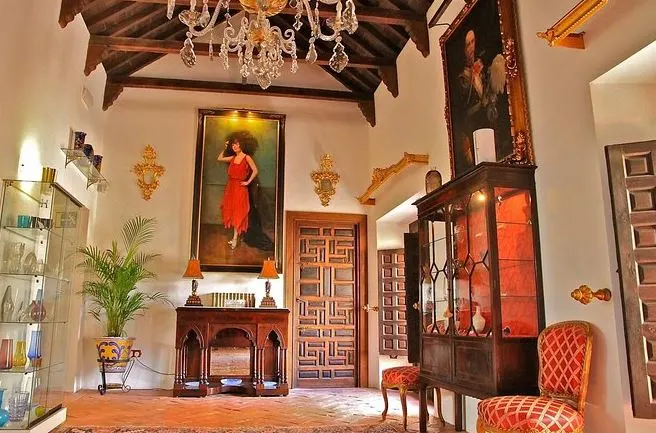 Art – in all its forms and spanning all mediums – can tell us a lot about the time in which it was created, what inspired and moved the people of the era.
The Museo de Vidrio y Cristal is a historic museum in Malaga that explores "the history of humanity by means of glass".
The museum boasts a private collection of more than 3000 pieces giving us insight into different epochs and is styled to look like a private home.
Each room depicts a different time period, and all furniture pieces correspond to it as well. In fact, it is so carefully designed, seasoned antiquers will get a real kick out of this museum too.
Opening times:
Tuesday – Sunday 11 AM – 7 PM
Monday Closed
15. Museum Jorge Rando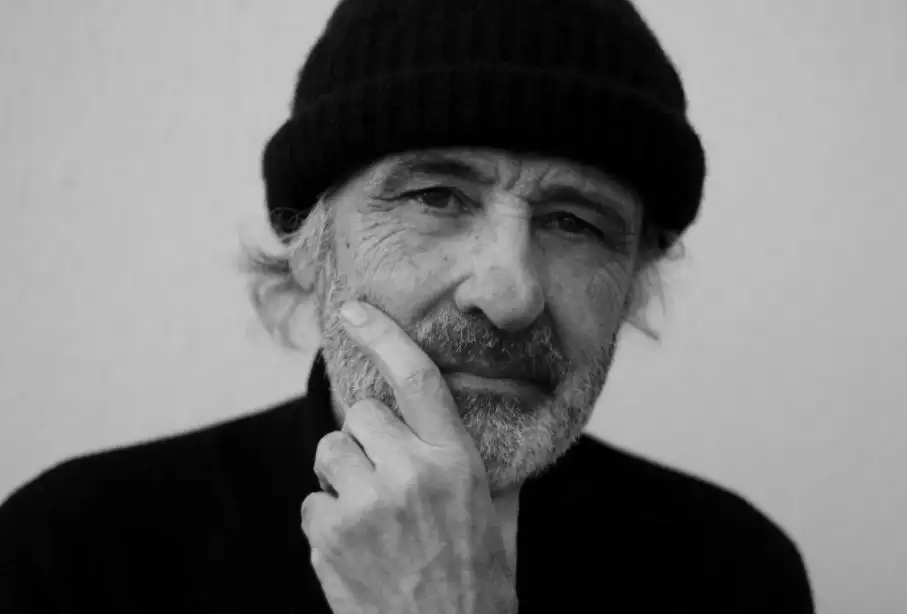 Identified by the Museum of Modern Art in Salzburg as one of "the best advocates of neo-expressionism in the world", the Malagueñan Jorge Rando is known for his paintings and sculptures all around the world.
It is only natural that the city of Malaga would celebrate their own with an entire museum dedicated to him, and other expressionist artists.
Located in the Calle Cruz del Molinillo – just a five-minute walk from the Museum of Glass and Crystal, it is the first and only expressionist art museum in Spain and a major attraction in Malaga.
Opening times:
Monday – Friday 10AM – 2PM, 4PM -8PM
Saturday 10 AM – 2 PM
Sunday Closed
16. The Málaga Airport Museum
If you're looking for interactive museums in Malaga, the Museo Aeronáutico de Málaga should be on the top of your list: it will give you a whole new perspective on old and modern aircraft.
This museum is immensely proud of the fact that it offers free admission – not only to the exhibition area but its aircraft too.
You will also get a chance to explore the cockpit, which will inspire a greater understanding of the technology involved to take off and soar through the skies.
Opening times:
Tuesday: 10AM – 8PM
Wednesday – Saturday: 10AM – 2PM
Sunday & Monday: Closed
17. The Alborania Museum
One of the best museums in Malaga – especially for kids – is the Museo Alborania, also known as the Maritime Learning Centre.
Here, you are invited to dive into the history of Malagueñan fishing, sailing, and maritime traditions by discovering the fauna and flora of the Alboran Sea.
You will be invited to play on a boat simulator, see and touch whale bones up close and take a closer look at marina organisms through a microscope and aquariums.
Opening times:
Temporarily Closed.
18. Museum of Imagination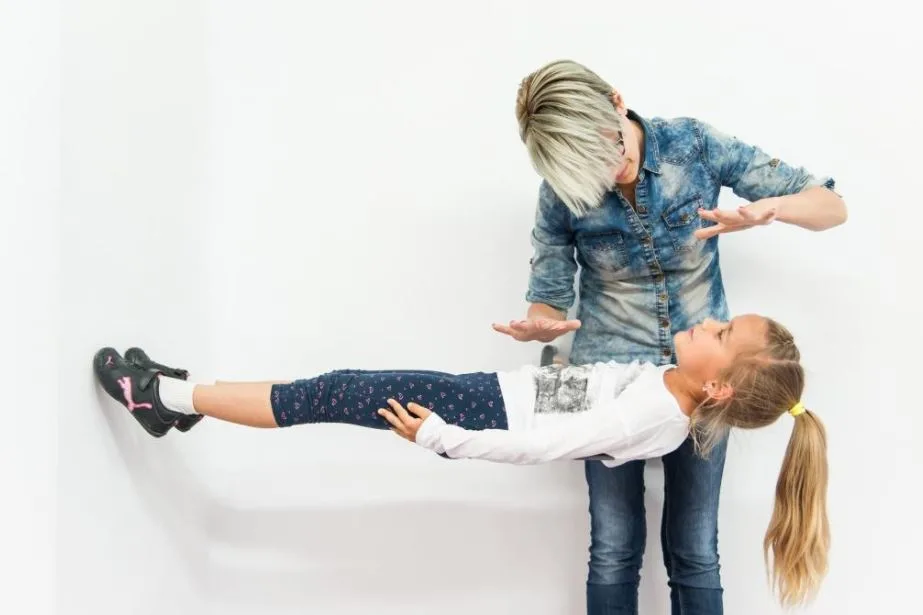 For an unforgettable day-out, visiting one of the best museums in Malaga is an absolute must – namely the Museum of Imagination.
As the name already suggests, this museum invites you to let your imagination run wild in this curious, fantastical, and above all, inspirational space.
Discover the tricks behind optical illusions and engage in all the playful experiences this museum has to offer. It truly does guarantee a wonderful pastime for the whole family.
Opening times:
Monday, Tuesday & Thursday: 11 AM – 8 PM
Friday – Sunday: 11AM – 9PM
Wednesday Closed
Where to eat in Malaga
Enjoy tapas in La Tranca
Whether you're looking for that typically Spanish meatballs recipe a la abuela or some sizzling gambas, you'll find some of the best places to eat in Malaga.
Take La Tranca, for example, a visual experience as much as it is a culinary delight.
Decorated in retro style – with its walls decorated with old, Spanish music and film posters, La Tranca invites you to dig in and space out as you travel through time.
Alternatively, you can sign up for a tapas tasting tour through the Atarazanas market via Malaga: Tapas Tasting Tour.
Lunch in Óleo Restaurante
If you're going to be visiting the Centro de Arte Contemporaneo anyway, you might as well time your visit to end around lunch – the perfect excuse to eat at Óleo Restaurant.
With an exciting fusion of Mediterranean cuisine and twists on sushi, lunch at Óleo is a real treat for anyone who enjoys bursts of flavor and culinary innovation.
And, if you're really hungry, eat yourself through the city by way of a Malaga: Food Tour.
Dinner in Malaga Restaurant Blossom
Bring a fantastic day of culture to an end by immersing yourself in the unique culinary masterpieces to be found at the Blossom Gastrobar.
With an outdoor terrace, a beautifully decorated interior, and modern tapas dishes so expertly presented they almost look too pretty to eat, a fabulous dining adventure is guaranteed.
Rather delve into a combo of tapas and local wines? Sign up for the Málaga: Evening Wine and Tapas Tour!
Best Hotels in Malaga, Southern Spain
Traveling on a student budget? Looking for comfort and style? Or ready to embrace once-in-a-lifetime honeymoon luxury?
Whichever kind of accommodation it is you're looking for, we've got you covered.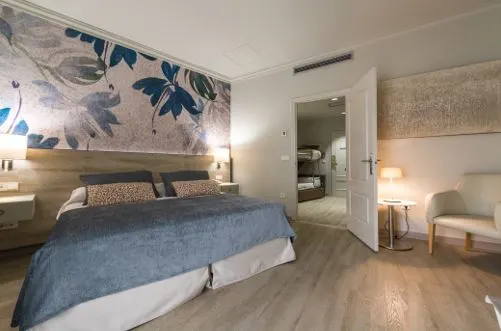 The Salles Hotel Málaga Centro is an excellent choice for honeymooners as well as families ready to treat themselves to something special.
The hotel's rooms all feature a modern, Mediterranean style and plenty of natural light – waking up here will get your day started on that carefree and warm holiday feeling.
With a rooftop swimming pool overlooking the city – and possibly some of the best museums in Malaga – you'll find a new reason to give in to the siesta philosophy.
Located within walking distance of Malaga's Centro Historico, this accommodation is the perfect choice for your city holiday.
Check out prices & reviews here.
If you're one of those people who has a hard time winding down and getting into the flow of the holiday vibe, the Ilunion Málaga is the perfect place for you.
This super-affordable four-star hotel has its own spa, an inviting dining area, and the ideal location: it's only a ten-minute walk from the port and the Centre Pompidou.
If you've been on the fence as to whether or not to rent a car during your stay – get off and rent one already. This hotel has a free parking area, making it all the more attractive.
Book your stay here.
Which better place from which to explore the best museums in Malaga than from the Exe Malaga Museos hotel?
You could almost, literally, hop over to the Thyssen Museum on one foot, it's that close. The Picasso Museum is just five minutes further, and you can reach the port by foot in just 15 minutes.
Next to its unbeatable location, the Exe Malaga also lures guests with its seasonal rooftop swimming pool, an all-year-round sun terrace, and an all-inclusive buffet breakfast.
Another plus point? The hotel offers a car rental service. No need to stress at the airport, just book your car at the front desk upon arrival.
Take a look at reviews and prices here.
Getting Around Malaga
The urbano bus will get you all around the city and is very cheap. Alternatively, the Hop On/Hop Off bus is always fun for a day, too.
The best way to explore Malaga however, is by foot or by bicycle. Nothing beats the spontaneity of independent outdoor sightseeing, especially outside of the scorching hot summer season.
If you're looking for a fun and unique way to enjoy Malaga's sunrises and sunsets, strap on some rollerblades and roll towards the rising/setting sun via the paseo maritime.
Short FAQ about the Best Museums in Malaga
How many museums are in Malaga?
As of 2017, Malaga has become known as the City of Museums. With more than thirty museums to visit and get lost in, this city makes for an awesome day or weekend trip
Are museums free in Malaga?
A lot of the best museums in Malaga offer free entry on Sundays. On top of that, there is also the annual La Noche en Blanco, where the entrance to all museums is free.
What is the famous museum called in Malaga?
Malaga is probably best known for the Picasso Museum and the Carmen Thyssen Museum. That said, the CAC and the Centre Pompidou have become household names as well.
---
---
Hola, I'm Paulina! Together with my team, we are passionate about Southern Spain. Here we share all you need to know for great times in Southern Spain with the best places to visit, stay and, of course, the best food to eat.
Let's dive in and explore Southern Spain's outdoors, food and culture con pasión!