A travel guide to the free things to do in Malaga, Spain: the perfect Malaga Itinerary
Just because you're traveling on a budget, doesn't mean you have to miss out on all the fun. Nor does it mean that you won't get a true sense of all the cultural offerings – especially in a city like Malaga, Spain.
Whether you're a traveling student eager to make the best of your stay on the Costa del Sol without returning home broke or are visiting the city with your whole family, you'll be pleased to know that there are many fun, free things to do in Malaga, Spain.
So, just imagine what you can do on a one-day visit with hardly a dime to your name – Malaga is your oyster! Or rather, your boqueron, as the people of Malaga are known.
Stick with us and continue reading: we'll point you towards all the free things you can do in Costa del Sol's exciting capital city.
We'll get you through a two to four-day stay without hardly having to spend a penny – except on tapas of course. And trust us when we say…they're so worth it. Here's what to do in Malaga, Spain during your trip.
This post contains affiliate links. If you buy via them, I'll earn a small commission which helps me to keep this blog running. As an Amazon Associate I earn from qualifying purchases. All opinions are my own.
Top Free Things to do in Malaga, Spain – 3 Day Itinerary
Atarazanas Market
Malaga's Centre of Contemporary Art
Puerto de Malaga
Rio Guadalhorce Nature Reserve
The Streets in Soho and Lagunillas districts offer amazing street artworks
Day Trip to Mijas
Useful Travel Information About Malaga
✈ Book cheap flights to Malaga with Skyscanner

⚘ Avoid tourist traps and get the customizable "Andalucia Like a Local" itinerary. – Get it here

✔ Book tours in Malaga with GetYourGuide

➳ Find the best hotels in Malaga with TripAdvisor

❖ Rent a car with at the best rates with DiscoverCars

✎ Never leave without travel insurance! I got mine at SafetyWing. It is easy to set up, cheap and reliable.

$ Withdraw money without hidden fees and avoid exchange charges with TransferWise (Free Mastercard debit card to spend money abroad)
Where is Malaga?
Where is Malaga, you ask? Malaga is where it's at! It's the most exhilarating city on the Costa del Sol, just a 45-minute drive from the beach-holiday-favorite, Estepona, and two hours from the historic city of Granada.
How to get to Malaga
How to get from Madrid to Malaga:
If your time and budget allow a road trip from Madrid to Malaga by car – do it! Road trips are always the best way to explore a new country. Otherwise, we suggest:
Bus: Catch a bus at estacion Atocha in Madrid, sit back, listen to some good tunes – perhaps some flamenco rock fusion a la Fuel Fandango? – and enjoy a comfortable six-hour trip to Malaga for as little as €14. – Book your ticket here.
Train: Eager to get to the sunny coast as fast as you can? Then hop on the AVE train and get to Malaga in less than three hours for around €73. – Book tickets here.
How to get from Seville to Malaga:
Are you kickstarting your holiday in the Andalusian capital of Seville? If you're looking to swap a few big-city days for a Malaga beach getaway you can do so by:
Bus: From the Plaza de Armas in Seville it'll only take around four hours to get you to Malaga at €20 for a one-way ticket. – You can book tickets here.
Train: At €46.70 the train is definitely the pricier option, but also the quicker one: it'll get you to Malaga in just two hours. – Buy tickets here.
How to get from Cadiz to Malaga:
Whichever method of transport you opt for to get you from Cadiz to Malaga, it'll turn into your own little Andalusian adventure.
Bus: There is no direct line to Malaga as such, so you'll have to go bus hopping from Cadiz to La Línea, and from La Línea to Marbella.
Luckily, both La Línea and Marbella are interesting places to spend a "layover". Travel time is around four hours. – Buy tickets here.
Train: If you're going to take the train from Cadiz to Malaga, you'll need to go to Cordoba first for a connecting train – therefore, the wisest way to plan your trip would be to include a night in Cordoba in your itinerary.
It's a beautiful city and you'd be silly not to make the most of your stop there! – You can buy your ticket here.
Tickets from Cadiz to Cordoba are around €30, with an additional €29.40 to get you on to your final stop, Malaga.
How to Get from Barcelona to Malaga
If your trip is long enough to see Barcelona and Malaga – lucky you! Barcelona and Malaga are on opposite sides of Spain at 996km apart. You have many options for traveling from Barcelona to Malaga:
Fly: You can fly from Barcelona to Malaga in 1 hour, 40 minutes. Many airlines fly this route including Ryanair, Iberia, LATAM Airlines, Qatar Airways, and Vueling. You can buy your tickets here.
Train: There is 1 direct train from Barcelona to Malaga each day with a duration of 5 hours, 33 minutes. Tickets start at €28.20 when you book in advance. Indirect trains take around 7 hours, 39 minutes The change is usually in Madrid. You can buy your ticket here.
Bus: There are direct buses from Barcelona to Malaga, but they take 15 hours! If you'd prefer to travel by bus, you can buy your tickets here.
How to Get from Granada to Malaga
Granada and Malaga are just 124km apart. The 2 cities make the perfect multicentre vacation. Here are the best ways to get from Granada to Malaga.
Bus: The quickest buses from Granada to Malaga take just 1 hour, 30 minutes, although some can be 2 hours, 30 minutes. Tickets cost around €13. You can buy your tickets here.
Train: Trains from Granada to Malaga take 1 hour, 35 minutes. An average of 8 trains run between the 2 cities each day. If you're lucky, you may be able to catch the fast train service which takes just 1 hour, 10 minutes! Tickets start ar jus €20.29. tYou can buy your ticket here.
Day 1
This Malaga 1 day itinerary will take you through the best things to do in Malaga if you only have one day in the city, or what to do on the first day of your trip.
Visit the Museum of Malaga
If you want to learn everything there is to know about the fascinating city and all the art that was born here, visit the Museum of Malaga in the Plaza de la Aduana, since it's one of the best museums in Malaga.
Located in the Palacio de Aduana, it houses an impressive collection of Malagueño art and is the fifth largest museum in Spain. Entrance is free for accredited EU citizens, €1,50 for other nationalities.
Opening times:
Tuesday – Sunday, 9 AM – 9 PM;
Monday closed.
Try the Best Spanish Food at Atarazanas Market
Get your taste of the best Malaga food at the famous mercado central de Atarazanas. Eating yourself through local produce and specialties is one of the most delicious ways to get to know a culture, and this is the perfect place to do so.
Whatever you might be craving – the catch of the day or fruit and veg picked from local huertos just hours ago – you'll find it here.
Opening times:
Monday – Saturday, 8 AM – 3 PM;
Sunday closed.
Visit the Alcazaba and the Gibralfaro Castle
The Alcazaba Malaga – meaning "citadel" in Arabic – overlooks the city to one side, the bay to the other.
This central location was probably one of Castillo de Gibralfaro's best defenses back in its day which, according to Arab historians, was somewhere around the 1200s, when it became part of the Nasrid kingdom.
It was also around this time that the beautiful patios and gardens which still feature prominently today came to be.
The Gibralfaro Castle was built in the 14th century to protect the city's citadel and visiting it has become one of the top free things to do in Malaga – in fact, it is the most visited monument in the city. If you're looking for castles in Malaga, Alcazaba is the place to visit!
Opening times:
Monday – Sunday, 9:00 AM – 6:00 PM
Lunch in Malaga
When you hit upon a restaurant with one of the most typically Spanish names imaginable – namely Juan – you know you can expect the cuisine to reflect that.
Juanito Juan, one of the many restaurants in Malaga, Spain specialized in seafood, serves much more than just lunch a la chipirones or seafood paella – it serves an authentic, Malagueño vibe.
Read here more about the places with the best paella in Malaga.
A Spiritual Trip to the Cathedral of Malaga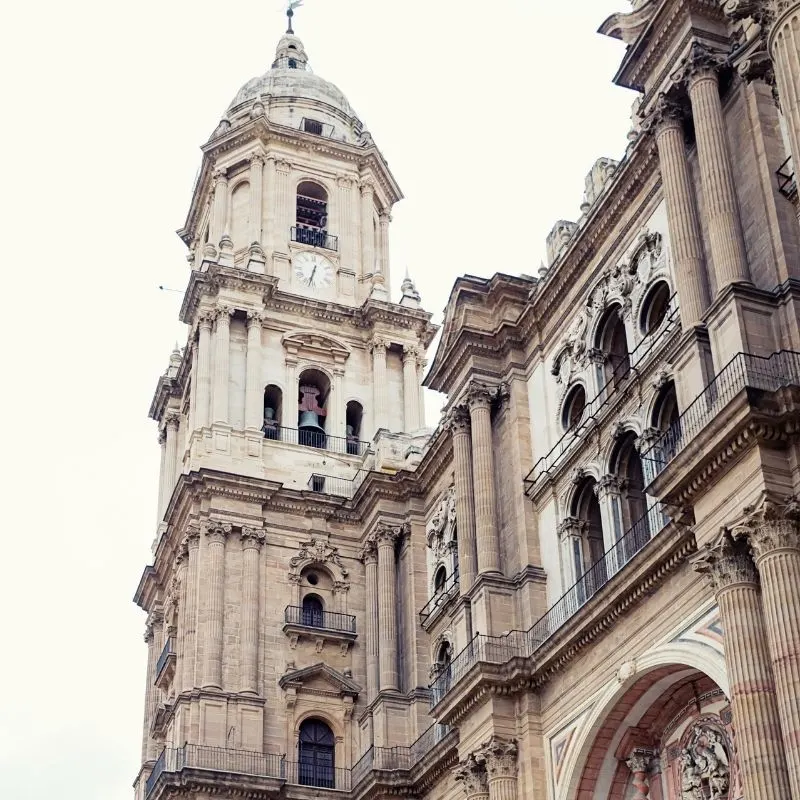 Conveniently located between the Museo de Malaga and the Picasso Museum, you will come upon the Catedral de Encarnación de Malaga – an architectural and spiritual marvel that draws in people of all types of religious backgrounds, being an iconic landmark and one of the best Malaga attractions.
It is simply impossible to pass by this 16th-century baroque facade without wanting to peek inside to look at the ornate choir stalls and stroll through the Cathedral of Malaga's own museum.
Opening times:
Monday – Saturday, 10:00 AM – 6:00 PM,
Sunday, 2:00 PM – 6:00 PM
Malaga's Centre of Contemporary Art
Known as the CAC, the Centre of Contemporary Art is a true favorite for locals and tourists alike and one of the best Malaga things to do. As far as free things to do are concerned, a visit here will definitely make for an exciting morning or afternoon.
With ever-changing exhibitions and installations, there is always something new to discover at the CAC.
Having displayed the works of greats ranging from Jean-Michel Basquiat to Andy Warhol, as well as up-and-coming artists from all over the world, you can rest assured you'll always learn something new about contemporary art here.
Opening times:
Tuesday – Sunday, 9:00 AM – 2:00 PM, 5:00 PM – 9:30 PM
Recharge your Batteries in one of Malaga's Parks
There are several wonderful parks – zonas verdes – offering shade and plant life in the city. The parque de Malaga – also known as parque de la Alameda – is the most central of all, stretching from Plaza de la Marina to the Plaza del General Torrijos in La Malagueta.
There are also the Jardines de Picasso, home to various sculptures honoring the artist, located next to the Puente de los Amerícas.
If you're willing to travel a little outside of Malaga to Rincón de la Victoria, visiting the Parque Arqueológico del Mediterráneo, just a few minutes from the Cueva del Tesoro (treasure cave) is a must.
As you can see, there are plenty of free things to do outside that don't involve the beaches in Malaga, Spain!
Opening times:
Parque Arqueológico del Mediterráneo: Monday – Sunday, 10:00 AM – 7:00 PM
A Memorable Visit to Malaga's Botanical Gardens
After a full day of taking in all the free things to do in Malaga, Spain, head out of the city to immerse yourself in the botanical paradise that is the Jardín Botánico Histórico de la Concepción.
Whether you're looking for places to go with friends or your romantic partner, this outing should be at the top of your list.
Home to 2,000 different plant species from the five continents, carefully kept walkways, and a palace that will make you feel as though you have entered your own version of a Disney movie, a visit to this garden is guaranteed to be memorable.
This can also be a perfect place to visit with your family if you're looking for fun things to do with your kids.
Opening times:
Tuesday – Sunday, 9:30 AM – 8:30 PM
Enjoy Tapas in Malaga
Things to do in Spain that are an absolute must? Going out for tapas, of course! And in a city like this, you're in luck, as there are many restaurants specializing in these small but hearty traditional dishes.
If you're looking for what to eat in Malaga you should definitely head to the Plaza Uncibay (one of the best restaurants in Malaga) for creatively presented and fabulous tapas and a refreshing drink at the Madeinterranea Restaurant.
It's hip, always busy, and full of atmosphere, and the chicken croquettes, or Gambas al Pil Pil are customary.
Day 2
If you're in Malaga more than one day, combine the previous itinerary with this one to make the perfect Malaga 2 day itinerary.
Take a Stroll along Puerto de Malaga
Looking for all things fun, cheap or free? Or are you on the lookout for the next restaurant, Malaga to visit for a scrumptious meal? Add Puerto de Malaga to your Malaga itinerary.
Either way, if you're headed to the puerto de Malaga, you are headed in the right direction. Stroll along the paseo maritimo and watch the giant cruise ships dock before finding a secluded spot to watch the sunrise/sunset.
Relax to the Fullest at the Best Beaches in Malaga
In Malaga, you'll never be stumped for fun things to do with your friends, and you can choose from the best beaches near Malaga.
Choose to stay in the city and make your way to Malagueta Beach for some fun in the sun. Malagueta Beach is a large stretch of golden sand with sunbeds and parasols to hire and lovely calm sea.
Malagueta is the perfect place to go to take a break from city life and relax!
And for the more adventurous ones and people looking for activities, Malaga has some of the best spots for surfing in Andalucia.
You could also head further down the coast for exciting Malaga, Spain beaches:
Paraíso Beach in Torremolinos
Playa del Castillo in Fuengirola – with views of the Castillo Sohail
Playa Cristo in Estepona
Lunch in Malaga Restaurant
Once you have exhausted all the free things to do in Malaga for the morning, head to the city's student district, Teatinos, for a lovely lunch at Lima Tapas Bar.
Just a one-minute walk from the fuente de colores, a playful roundabout and landmark featuring a fountain surrounded by colorful poles, this restaurant will satisfy your hunger for Andalusian favorites like Pollo Al Ajillo or berenjena con miel.
The best part? A free tapa with your drink!
Rio Guadalhorce Nature Reserve
Looking for things to do with your best friend? One of the greatest ways to spend the day with your BFF is out in nature – and where better to do so than at the Rio Guadalhorce Nature Reserve, just a fifteen-minute car ride from Malaga airport.
This will make for an exciting day out for birdwatchers and those who enjoy a nice long walk along the newly constructed Pasarela Senda Litoral Rio Guadalhorce – an idyllic wooden walkway leading through the reserve and along the beach.
Wander the Streets of Malaga
There's nothing better than wandering the streets of a city you have yet to explore fully. This is when you happen in the quirkiest districts such as Soho.
You can find little local treasures such as Malaga's Casa Invisible, a cultural initiative that always offers free things to do with friends – whether you're music aficionados, avid readers, or invested in a particular social cause.
The Streets in Soho and Lagunillas Districts offer Amazing Street Artworks
Various cities around the Costa del Sol, including Estepona, underwent a bit of a facelift some years back. Naturally, Malaga, as the coast's capital, was one of them.
The most noticeable and awe-inspiring beautification the city received, is a series of amazing street art taking up entire buildings and overlooking the streets of the Soho and Lagunillas districts.
Make a game out of finding all the best murals and be sure to snap plenty of photos of the fine arts for your holiday album/Instagram page.
Museo del Patrimonio Municipal
On the foot of the hills leading up to Gibralfaro, you will find the Museo del Patrimonio Municipal (MUPAM), designed by Federico Orellana Ortega.
Home to impressive exhibitions spanning art and history, and a permanent collection consisting of some 5.000 pieces owned by the town hall of Malaga, you're always in for a cultural treat here.
A visit to the MUPAM is just one of many interesting, free things to do in Malaga.
Opening times:
Tuesday – Sunday 10 AM – 6 PM,
Mondays closed.
Take a Selfie Outside Centre Pompidoul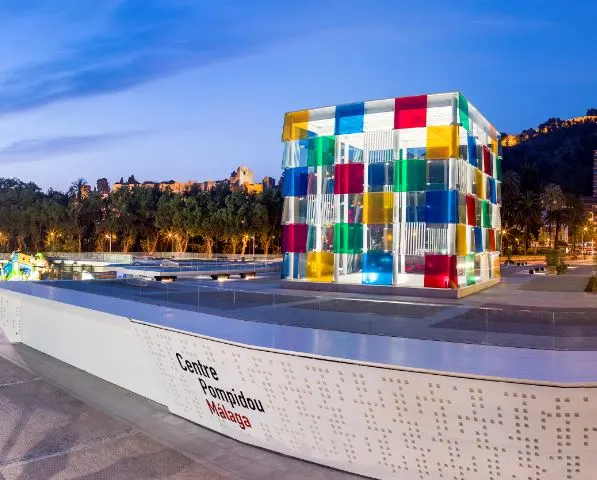 Malaga city is full of wonderful surprises – such as the fact that, on Sundays between 2 PM and 8 PM, entrance to the Centre Pompidou is free.
Marvel at the latest exhibitions by artists such as Julio González, and snap a selfie outside of the building.
Known as "The Cube", the Centre Pompidou is just as colorful on the outside as it is on the inside.
Opening Times:
Monday – Sunday, 9:30 AM – 8 PM,
Tuesday Closed
Day 3
If you're lucky enough to spend 3 days in Malaga, make your trip to Malaga, Spain memorable by combining the previous 2 Malaga itineraries with this one.
Day Trip to Mijas
One of the great things about a day trip to Mijas is that, technically, you have three different Mijas to choose from: there's Mijas Costa, Mijas Pueblo, and La Cala de Mijas.
Mijas Pueblo is up in the hills overlooking the coast of Mijas (Mijas Costa) and is famous for its Andalusian charm and its annual International Blues Festival taking over the town's plaza.
La Cala de Mijas is a tiny little beach town the next exit down from Mijas Costa, in the direction of Marbella. This is always a good place to stop for a bite to eat at El Gusto or Conrisa.
Day Trip to Torre del Mar
If you want to holiday like the Spanish, head to Torre del Mar for a day, a popular vacation resort that attracts people from all over Spain all year round.
Who doesn't like a beach destination featuring an old, traditional lighthouse? But that's not the only interesting landmark you'll find here.
Torre del Mar is also home to the only 19th century regionalist house built in the neo-Mudejar style in the area, namely the Villa Mercedes on the Paseo Larios street.
Here you will also find one of the best hiking trails near Malaga, which starts from Plaza de la Plaz parking lot and leads you along Velez-Malaga's nicest beaches, through Torre del Mar, and the beautiful La Caleta Vélez fishing port.
Day Trip to Marbella
One of the best things to do in Spain while you're here on holiday is to always leave time for nighttime strolls along the beach, the port, or the city you have decided to visit for the day.
After a day of checking out the old town of Marbella and window-shopping past all the luxury shops in Puerto Banus, be sure to stroll along the Golden Mile when the stars come out at night.
Whether you're walking hand in hand with your better half or goofing around with your friends, it'll make for a memorable evening by the sea.
Day Trip to the Dramatic El Tajo gorge
El Tajo Gorge is one of the best day trips from Malaga. The gorge naturally splits the city of Ronda in 2 and it's a splendid sight to see! The gorge was formed over 5 million years ago. Nearby the Gorge and on your journey, you can also explore Ronda, the Plaza de Toros bullfighting ring.
The best way to get to El Tajo Gorge from Malaga is with a guided tour. This way, the planning will be done for you and you'll benefit from stops at other sights along the way as well as a knowelegable guide. If you've hired a car, you can drive to El Tajo Gorge in 1 hour, 51 minutes. You can also travel by bus (duration starts at 2 hours) or hop on the train for 2 hours, 9 minutes via Antequera Santa Ana.
Best Hotels in Malaga, Southern Spain
The one thing you won't come by for free during your trip to Malaga is accommodation – unless, of course, you're open to the Couchsurfing experience.
Not to worry, though – whatever your budget, you'll find a choice of hotels in Malaga that will make for the perfect crash pad or even that little extra to sweeten your holiday.
Here's our selection of the best hotels in Malaga for every price range.
All the fun things to do in Spain will leave you feeling happily sleepy at the end of the day, so it is important that you find a nice place to rest for the night.
Let your accommodation be an extension of your holiday experience by booking yourself into the luxury Mariposa Hotel.
Not only does this deco-style hotel offer colorful spaces where you can enjoy your breakfast and dinner, but it also features a stunning roof terrace with a pool – and with the Malaga weather being on the sunny side all year round, you'll definitely find yourself taking full advantage of it.
Rates and reviews can be found here.
Coming here for all free things to do in Malaga and a few rounds of golf? In that case, you're going to love the Parador de Malaga Golf – a hotel that combines the best of two worlds: a sporting holiday and a relaxing place to return to for siestas and a good night's sleep.
Located just 500m from the popular Plaza Mayor – an outdoor shopping mall with an impressive cinema complex – and 4km from Malaga airport, the Parador de Malaga Golf is perfectly situated.
Feel like a day trip to Fuengirola? Just hop on the train at the station behind Plaza Mayor and off you go.
Check rates and reviews here.
Keeping in theme with the budget holiday, here is a super comfortable and central hotel that will cost you as little as the cheapest flights to Malaga. Ibis Malaga is one of the best cheap hotels in Malaga that offer amazing services nonetheless.
Depending on the season, you can get a nice, spacious room at the Ibis Malaga Centro Ciudad hotel for just €50.
Within walking distance from the Picasso Museum, and surrounded by all the best tapas bars and restauraunts, you'll have everything you could possibly need right at your doorstep.
Take a look at prices and reviews here.
Getting Around Malaga
If you find yourself suffering from a real Malaga dog-day during the height of August, and would like to avoid soaking your cute holiday outfit in sweat whilst exploring the city, then simply opt for the Hop-on Hop-off bus.
It will take you to all the important sites including the Botanical Gardens, the Castillo de Gibralfaro, and the Alcazaba. Our 1 week itinerary in Andalucia stops in Malaga as well.
If, however, you can handle the heat, or have chosen a mild season during which to visit Malaga, then rent a bicycle and find a bit of freedom in your travels.
Don't fancy pedaling for the day? No worries, just hop on a public bus – you won't need to book tickets in advance unless you're planning on traveling outside of the city.
If it happens to be in Malaga during Easter, make sure you don't miss the Semana Santa celebration and you can read how to celebrate Semana Santa in Spain to know what to expect.
Book your day trip tickets here.
Short FAQ About the Best Free Things to do in Malaga
---
Are museums free in Malaga?
As you can see from the list above, there are quite a few museums in the city which don't charge an entrance free.
If you happen to be lucky enough to visit the city on the night of la noche en blanco, you'll find Malaga has transformed into a cultural festival during which all museums and public entertainment is free.
What is there to do in Malaga on Sunday?
For a different kind of shopping experience, head to the Mercadillo El Ferial on Sunday morning.
Unlike most tourist-centered markets, this mercadillo offers a fusion of second-hand as well as new products, along with a fair number of fruit and vegetable stalls.
What should I not miss in Malaga?
You've come this far, you can't possibly leave Malaga without having visited the famous Caminito del Rey by way of an all-day excursion featuring a wine and tapas tour, too. Book this incredible experience for just €55 per person.
---
---
Hola, I'm Paulina! Together with my team, we are passionate about Southern Spain. Here we share all you need to know for great times in Southern Spain with the best places to visit, stay and, of course, the best food to eat.
Let's dive in and explore Southern Spain's outdoors, food and culture con pasión!