The ultimate transportation guide between Barcelona and Malaga
Winter is coming – even to Spain. But is that true for the whole country? No, it isn't. In the far South, the Costa del Sol is waiting with 300+ hours of sunshine a year. So why not take a trip from Barcelona to Málaga and escape the chilliness?
No matter which country you are in, it's always fascinating to observe the striking differences between the North and the South.
So, once you've spent some time in Catalonia, the unique and colorful Andalusia will offer a different perspective of the Spain you've come to know so far.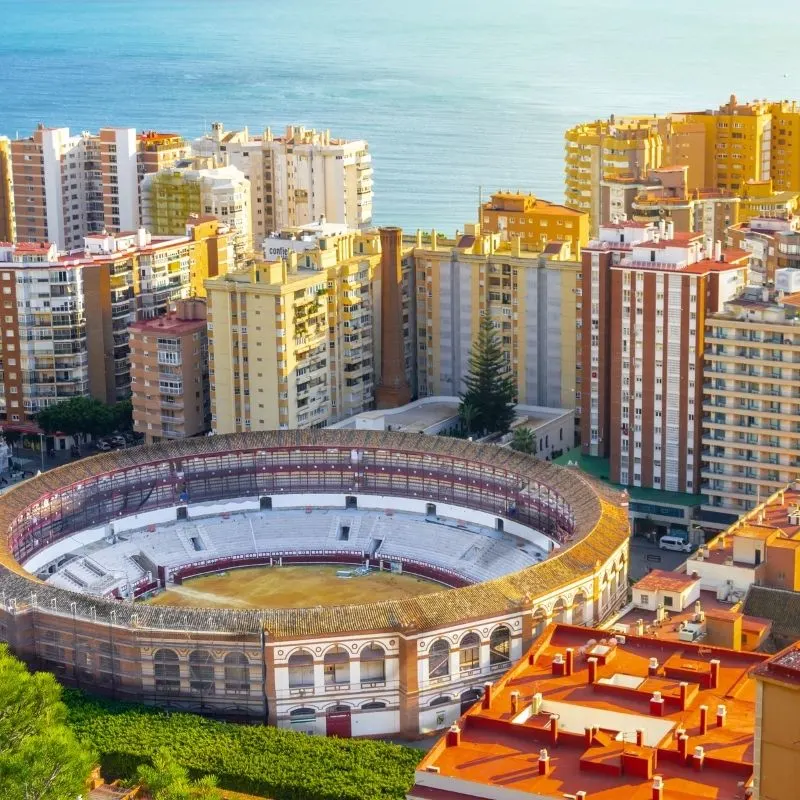 It's time to hit the road from Barcelona to Malaga to experience the differences for yourself!
Malaga is the biggest city on the Southern coast of Spain. It's a vibrant place and the perfect base for day trips around Andalusia.
Sevilla (2 hours), Granada (1.5 hours), Cordoba (2 hours), Ronda (1 hour), Marbella (½ hour), and many other unique towns and beautiful beaches are within easy reach.
Wondering how to get from Barcelona to Malaga? Here are the best ways to travel South, whilst making your journey as enjoyable as possible.
This blog is supported by you, dear reader. If you purchase through a link, we earn a small commission. As an Amazon Affiliate, we earn from qualifying purchases.
Useful Travel Information About Malaga
✈ Book cheap flights to Malaga with Skyscanner

✔ Book tours in Malaga with GetYourGuide

⚘ Avoid tourist traps and get the customizable "Andalucia Like a Local" itinerary. – Get it here

➳ Find the best hotels in Malaga with Booking.com

❖ Rent a car at the best rates with Discover Cars

✎ Never leave without travel insurance! I get mine at SafetyWing. It is easy to set up, cheap and reliable.

$ Withdraw money without hidden fees and avoid exchange charges with TransferWise (Free Mastercard debit card to spend money abroad)
Distance from Barcelona to Malaga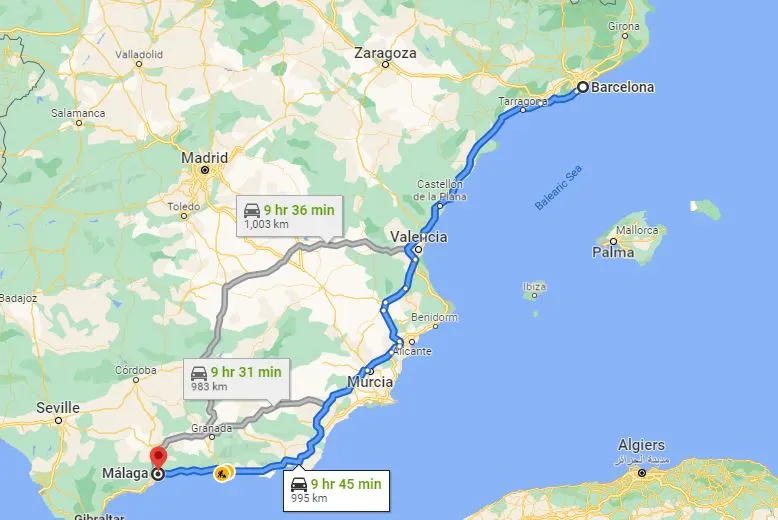 The distance between Barcelona and Malaga is about 1000 km – a little less along the coastal road, a little longer if you take the inland road via Madrid.
There are various options in terms of methods of transport. By plane, you'll get there in just one and a half hours, by train in about six hours and by car around ten hours.
If you prefer traveling by bicycle, you should allow for at least a couple of weeks; if walking is your thing, you're looking at about two months.
No matter how you travel, the trip from Barcelona to Malaga is always worth it. There's something very special about cruising along mainland Europe's most Southern coastline.
Selection of Day Trips from Barcelona to Malaga
Visit Museo Picasso Málaga – book your guide here
Go on a hike in Montes de Malaga Natural Park
Relax on La Malagueta Beach
Stroll around Alcazaba – find the guided tour here
Flamenco show at Tablao Flamenco Los Amayas
Get lost in Ataranzas Market
BEST OPTION: How to get from Barcelona to Malaga
By plane: To get from Barcelona to Malaga, the fastest option is by plane. The direct flight takes only one and a half hours. There are several airlines operating between these two wonderful destinations and transfers to the city center are readily available. – Book a transfer from Barcelona airport to Malaga here

By train: On the AVE high-speed train, the trip takes about six hours. The journey may be longer, but it comes with a great advantage: a good view of the changing scenery. – Get tickets here.

By car: Travelling by car from Barcelona to Malaga takes at least ten hours. It's quite a trek but will give you the chance to turn the journey from Catalonia to Andalusia into an exploration of Spain. – Check car rentals here
From Barcelona to Malaga by Train
Taking the train from Barcelona's Sants station to Malaga's Maria Zambrano station is a real pleasure.
The trip in the AVE high-speed train – which reaches speeds of up to 310km/h – usually takes just over six hours with stops in Tarragona, Lleida, Zaragoza, Ciudad Real, and Córdoba.
It offers a direct connection between the two city centers, linking the North and South in the most hassle-free way.
On most days, there are three to four departures in the morning and three to four departures in the early afternoon.
Prices start at €35, with the average fare being around €80 one way. For the best prices, it's recommended to book in advance.
From Barcelona to Malaga by Bus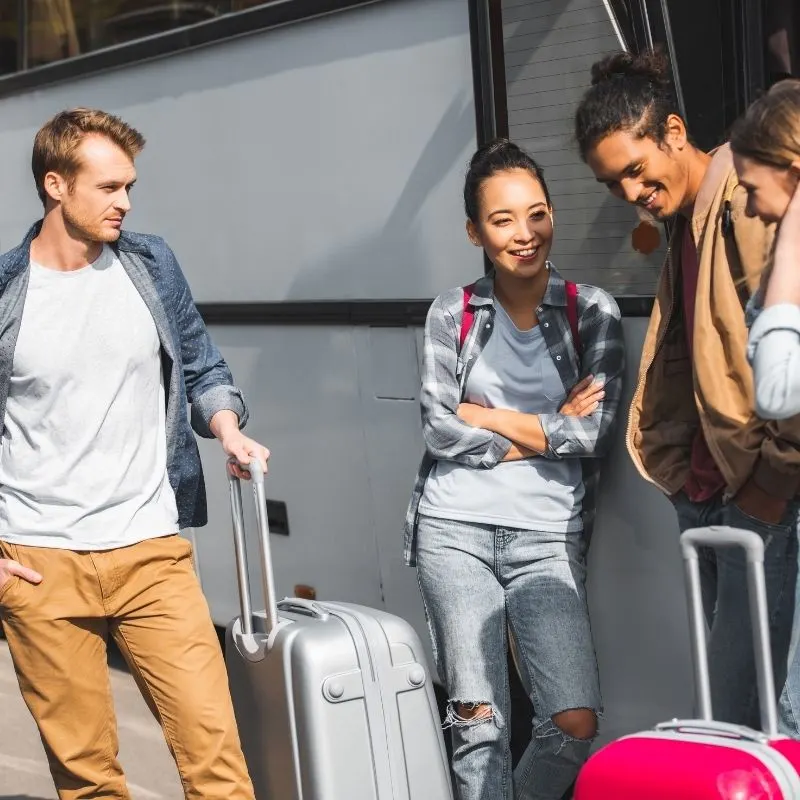 There are lots of bus connections from Barcelona to Malaga. With different companies competing for clients, prices can be relatively cheap, which is a plus.
On the downside, the trip takes between 15 and 20 hours – so patience is a must here.
The best option is to take an overnight bus, making the long journey feel a little bit shorter – that is, if you manage to get some sleep.
But all in all, traveling from Barcelona to Malaga by bus only makes sense if none of the other options – i.e. plane, train, or car – are available to you.
A bus ride is the cheapest form of transportation. If you book your one-way ticket in time, it can cost you as little as 19 Euros.
From Barcelona to Malaga by Car
Going from Barcelona to Malaga by car takes longer than going by plane or train, but it will give you much more flexibility.
You can rent a car for a return trip, or pick the car up in Barcelona and drop it off in Malaga. The car rental will be cheaper if you do a return trip.
A one-way trip, on the other hand, will allow you to travel down to Andalucía at a more relaxed pace, and you can always jump on a plane or train to get back to the North quickly if need be.
There are as many routes as there are roads, but the two main ones are either along the coast or through the central plains.
If you prefer views of the Mediterranean sea, you can simply drive along the East coast on the motorway AP-7, passing Valencia and Alicante.
You could even work in a little detour to Granada before arriving in Malaga. Choosing this route will have you driving exactly 972 km.
Alternatively, you could take the inland route with a stop in Madrid or even in Toledo, a beautiful medieval town full of history, just 65 km southwest of the Spanish capital.
With a total of about 1200 km, this route is a bit longer than the coastal option.
When you rent your car in Barcelona, make sure the rental contract includes traveling all over Spain. There are plenty of car rental places, so do take some time to find the best option for you.
From Barcelona Airport to Malaga
Traveling from Barcelona's El Prat airport to Malaga's Costa del Sol airport takes only one and a half hours. Once you've arrived in the South, there are several ways to travel from the airport to the city center.
From Barcelona airport to Malaga by train
The cheapest and fastest way is to hop on the cercanias train. Once you've disembarked the plane and picked up your luggage, go to Terminal 3, where you'll find the underground train line.
Tickets are sold in red vending machines, located at the entrance to the underground station. The journey will cost €1.80 and takes only eight minutes.
Take the C1 line in the direction of Malaga Centre. You can either get off at Malaga's main train station, Maria Zambrano, or continue one more stop to the center and get off at Malaga Centro Alameda.
If you fancy a nice refreshment after your flight, take the C1 line in the direction of Fuengirola and stop in Los Alamos (5min) or Carvajal (25min) for a refreshing swim and a drink on the beach.
From Barcelona airport to Malaga by bus
There are buses going from Malaga airport to the city center, but unless the train is broken or you're not a fan of trains, this option doesn't make much sense.
The bus takes longer than the train and is also more expensive. It only makes sense if you're looking to travel from the Costa del Sol airport to places like Marbella or Estepona.
For these destinations, buy a bus ticket at the small ALSA ticket office right opposite arrivals.
The bus stop is right behind the ticket office; it takes 45 minutes to Marbella and 75 minutes to Estepona.
Taxi from Barcelona airport to Malaga
The most comfortable way to travel from the airport to the city center is, of course, by Taxi. Naturally, it's also the most expensive option.
There's always a long queue of taxis waiting for customers just outside of the airport building. A ride to the center costs between 20 and 25 Euros. Depending on traffic it can take between 15 minutes to an hour.
For a bit of a VIP experience, you may want to book an airport transfer in advance. This way, the driver will meet and greet you at arrivals.
Return: Travel from Malaga to Barcelona
Ready to head back to the North? The various travel options described above will guarantee an equally pleasurable and smooth return from Malaga to Barcelona.
The AVE high-speed trains leave from Malaga's Maria Zambrano station. There are seven to eight departures every day, taking you back to Catalonia in just six hours. – Buy your tickets in advance.
The long-distance bus terminal is right behind Maria Zambrano station.
Trains to Malaga airport also leave at the same station and take you within close walking distance to the departure terminal in eight minutes. You can also book a taxi to the airport or station.
If you chose a round trip by car, your journey is far from over. If you have some spare time and are not traveling on a tight budget, this is the best option to really get to know some of the more hidden treasures in Spain. – Rent a car here
If you drove down along the Mediterranean coast, you could now head back via Madrid and perhaps stop in Cordoba or Toledo, or, east of Madrid, in the magical town of Cuenca.
The possibilities are endless!
Final words
Traveling from Barcelona to Malaga is a great opportunity to get to know Spain a little bit better.
And not only that, but it's also a chance to dive deeper into Andalusia's mesmerizing culture, or to simply find some well-deserved rest on one of Malaga's welcoming beaches.
Malaga offers you a variety of free things to do or things to do with kids that are just one click away.
Don't miss out on visiting some of the traditional pueblos in Malaga province, trying some delicious beef empanadas with a tinto de verano by the sea, or booking an authentic flamenco show. – Check the guided flamenco tour here.
If you're traveling by train or bus, remember to use your time looking out of the window, and letting the vast Spanish countryside inspire your thoughts and dreams.
And if you're making the trip by car, make sure not to make too many plans. The best and most memorable journeys allow land and its people to surprise you.
You can now easily plan your trips within Spain with our Malaga to Nerja, Malaga to Marbella, Madrid to Malaga, and Malaga to Cadiz free guides.
Travel from Malaga to Seville as well, to learn how to celebrate Semana Santa in Spain.
Happy travels!
---
Short FAQ about visiting Malaga from Barcelona
Is Malaga a safe city?
Malaga is not only a very safe city but also a very welcoming city. Its people, the Malagueños, are friendly and helpful.
A stay in Malaga will make you forget all the worries you might have had before.
Is there a high-speed train from Barcelona to Malaga?
Yes, the high-speed train from Barcelona to Malaga is called AVE. Each day, there are seven to eight connections for the journey from Catalonia to Andalusia.
What's the fastest journey time between Barcelona and Málaga by train?
The fastest journey time by train is just under six hours. Most train journeys between Barcelona and Malaga take a little more than six hours.
---
---
Hola, I'm Paulina! Together with my team, we are passionate about Southern Spain. Here we share all you need to know for great times in Southern Spain with the best places to visit, stay and, of course, the best food to eat.
Let's dive in and explore Southern Spain's outdoors, food and culture con pasión!