A Guide to the best attractions in Marbella, Southern Spain: the perfect Marbella Itinerary
Are you looking for the perfect getaway? Look no further than Marbella in Malaga province, Spain!
With its stunning coastline, picturesque scenery and vibrant culture, it's no wonder that this charming seaside town is one of the top tourist destinations in Europe.
From delicious tapas to bustling shopping districts, there are so many things to do in Marbella – if you're ready to have some fun and explore an amazing place, then now is your chance!
Read on to discover our top picks of activities that will give you a unique and unforgettable experience during your holiday in beautiful Marbella.
This blog is supported by you, dear reader. If you purchase through a link, we earn a small commission. As an Amazon Affiliate, we earn from qualifying purchases.
Pssst…!? You can't get enough of Marbella? Have a look at other posts we've written about Marbella:
Top Things To Do In Marbella, Andalucia – Our Marbella Itinerary For 3 days
Exploring the seaside and water activities
Relaxing on the best beaches in Marbella
Useful Travel Information About Marbella
✈ Book cheap flights to Marbella with Skyscanner

⚘ Avoid tourist traps and get the customizable "Andalucia Like a Local" itinerary. – Get it here

✔ Book tours in Marbella with GetYourGuide

➳ Find the best hotels in Marbella with Trivago

❖ Rent a car at the best rates with Discover Cars

✎ Never leave without travel insurance! I get mine at HeyMondo. It is easy to set up, cheap and reliable.

$ Withdraw money without hidden fees and avoid exchange charges with TransferWise (Free Mastercard debit card to spend money abroad)
How to get to Marbella
How to get from Malaga to Marbella:
You can take a direct bus from the Málaga-María Zambrano station (1h). There is also a direct bus from the Malaga Airport to Marbella Bus Station (45m). – Book a transfer here
Malaga airport is the nearest airport to Marbella. – Check flights to Marbella, Spain here
Related: Exactly how to get from Malaga to Marbella
How to get from Benalmadena to Marbella:
You can take a direct bus from the Benalmadena Playa Bonita stop (55m). – Buy tickets here
How to get from Torremolinos to Marbella:
You can take a direct bus from the Terminal Torremolinos (Izqda) V stop (55m). – Buy tickets here
How to get from Gibraltar to Marbella:
You can take a direct bus from the La Línea de la Concepción stop (45m). – Buy tickets here
Day 1 of things to do in Marbella
Visit Marbella Old Town
One of the most picturesque spots in Marbella – the Old Town and its surrounding streets! A definite must-see and a great place to experience a traditional small-town setting.
Get lost in the cozy streets of white houses, with flower pots hanging from the walls and enjoy the vast amount of trees and plants that cover the city in a fresh floral cape, making Marbella a relaxing and refreshing destination!
Head to Plaza de los Naranjos (a Castillan square from the 15th century) for a true orange tree wonderland. This is one of the best things to do in Marbella Old Town.
There are many coffee places and restaurants in the center of the Old Town of Marbella!
The orange trees here attract visitors from around the world.
Absolutely gorgeous, and so incredibly well maintained, the City Center (casco antiguo) is best to be visited in the early mornings, when the city just starts waking up. – Check guided tours here
Marbella Castle
Built in the 9th century by the Moors during their rule of Andalusia, Marbella Castle served as a fortress to defend the city against invasions.
Visiting Marbella Castle is a fantastic opportunity to learn about the history of this region of Southern Spain and appreciate the unique blend of Moorish and Christian architecture.
As you explore the castle grounds, you'll discover the ancient history that shaped Marbella and the rest of Andalusia. The castle is easily accessible on foot, as it's situated within the charming, narrow streets of the old town.
Opening Times: Daily 09:00 – 20:00
Visit Iglesia de la Encarnación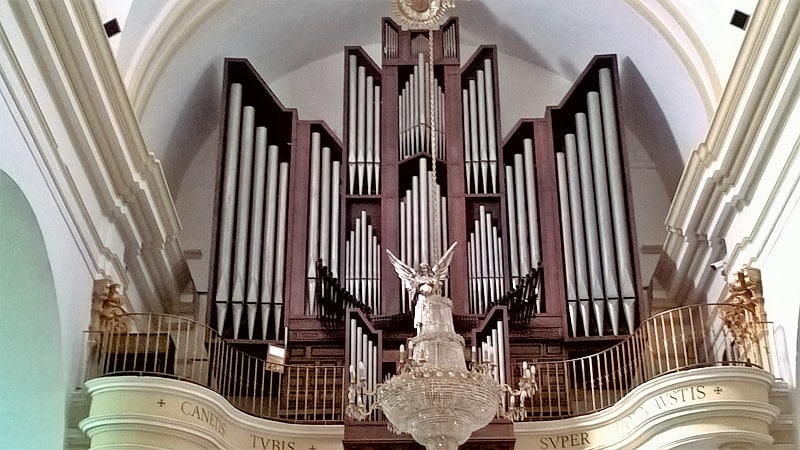 A simple, yet lovely church located just next to the Plaza de los Naranjos is one of the hidden gems worth visiting when exploring the Old Town.
Even though being famous for amazing beaches and seaside, it's a great idea to explore Spanish culture and architecture even in such delicate and small places.
The 16th-century church will greet you with colorful and lavish decorations inside, which are some of the best things to see in Marbella. Truly a must-see when visiting the city center and on any guided tour.
From here it's just a short walk to the beautiful Alameda Park, a cool place in the shade.
Opening times: Mon – Fri: 10:30 – 13:30
Walk along Avenida del Mar
After getting lost in the narrow streets of the Marbella Old Town it's time to head closer to the ocean!
You should definitely take a walk along the Avenida del Mar – a peaceful walking path connecting the Old Town and the seaside and one of the most known places to go to in Marbella!
You'll find the passage full of sculptures of Spain's most recognizable artist – Salvador Dali! This outdoor art gallery will definitely get you inspired and will take you on a journey into the creative and unique mind of the artist.
Yacht-spotting in Puerto Banus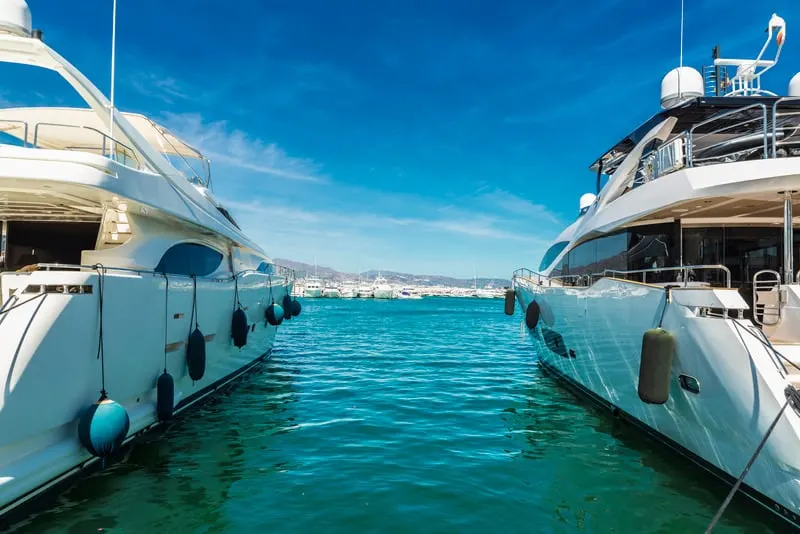 There is no way you can skip visiting the marina (Puerto Deportivo de Marbella)! The Puerto Banus docks are treated as one of the main attractions in Marbella and gather all visitors interested in luxury yachts, ships, and fancy cocktail bars.
A vast amount of brilliant designer shops and boutiques, restaurants and bars and expensive cars parked near the marina, is what makes this place an enclave of luxury.
It's a must for Andalucia 1st time visitors.
So even if yachts are not your deal, you should definitely walk around the port just to transport yourself for a moment to this high-end world of glamour and richness! – Book guided tours here
Lunch in El Patio De Mariscal
After walking around the Old Town and port, it's time to choose a memorable place for lunch! Patio De Mariscal is definitely one of them and is highly recommended by travelers and locals.
A gorgeous setting and decor, with delicate lights illuminating the patio area, will make you feel relaxed right away!
Known for delicious prawns dishes and aromatic paellas, it's definitely one of the best places in Marbella to fill your belly and regain some strength before more sightseeing.
Do a water sport activity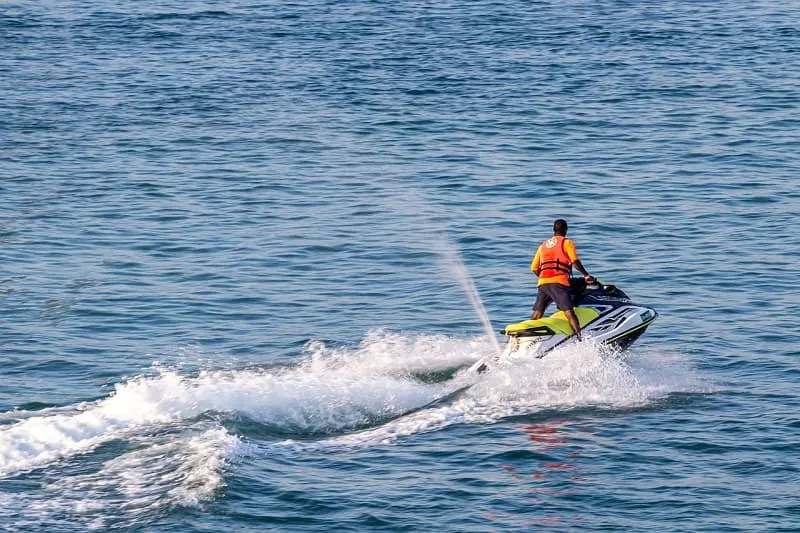 You'll find many places at the main beach in Marbella offering fun and exciting water adventures on Spain's Costa del Sol.
From jet skis and banana rides to windsurfing, SUP paddle and boat trips in Marbella – all giving you a different type of excitement and adrenaline rush.
If you prefer to keep it simple, remember that the sea itself is the best place to practice some swimming or foam board wave catching!
So as you can see, there are plenty of fun things to do in Marbella – sometimes you just have to look beyond the horizon! – Book water sport activities in Marbella here
Relax on Marbella Beach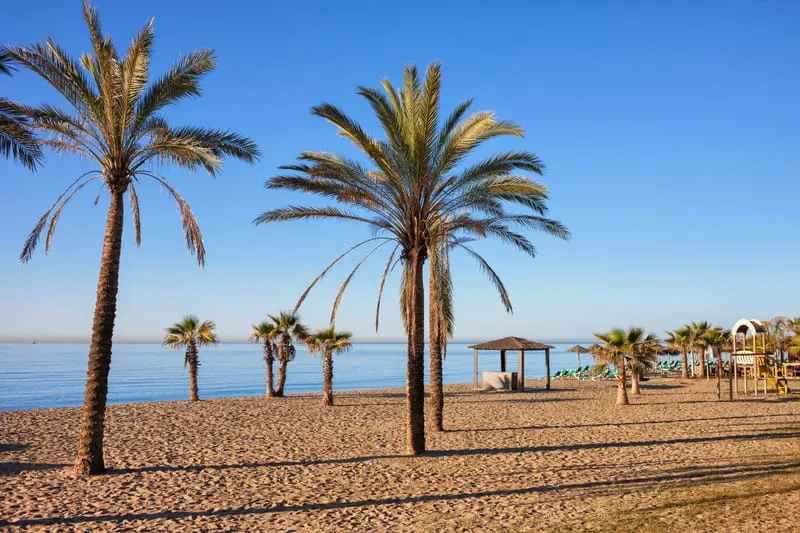 Beaches in Marbella are some of the best beaches in Southern Spain. They run for miles along with the town, stretching out next to the earlier mentioned Puerto Banus marina.
The best beaches in Marbella – El Faro and Cabopino – are really close to the city center and within walking distance from many bars and restaurants. If you are looking for things to do with kids in Marbella, the beach is a fantastic choice.
So even if you feel like grabbing a snack while sunbathing, you'll find a lot of places to go right behind you!
These sandy beaches are known to be one of the best places in Marbella to relax and escape from the town's hustle and bustle. And to boast some of the best beach clubs and beach bars in Southern Spain. Make sure you visit Playa Real de Zaragoza – one of the best Marbella beaches.
Charter a boat in Marbella
Fancy a water excursion or boat party in Marbella on your own private yacht? Boat Charters have plenty of rental options available and will be happy to prepare the deck with a complete crew.
The coastline of Marbella is a true gem to explore and is known to be one of the most picturesque in Andalusia. Exploring the coastline is one of the best things to do in Marbella.
Trips to Estepona, towards Sotogrande or Gibraltar, are a great idea to make your holidays unforgettable, and if you're looking for unique things to do in Marbella this just might be it!
We also wrote a 3-day itinerary Estepona, be sure to check it out for more information.
Have a sundowner cocktail in Marbella Marina, La Bajadilla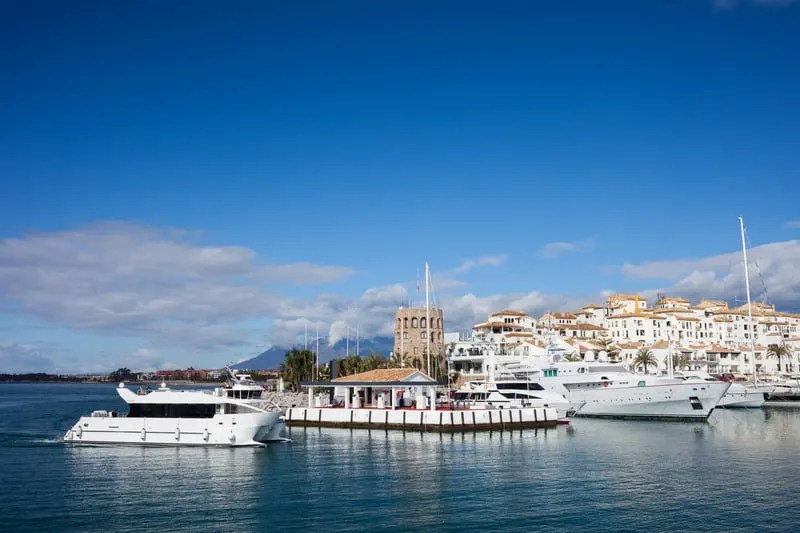 ASTRAL Cocktail Bar is known to be one of the funkiest and fun places to grab a drink in Marbella. Visiting is one of the best activities in Marbella.
A fabulous place, located just by the Marina and one of the best bars in Marbella – definitely the one that catches most attention from the outside!
Built inside a ship replica, it's one of the best places to go in Marbella for drinks and snacks. Not only the cocktails here will give your head a little, but also the spinning tables that just add to the uniqueness of the place!
Enjoy tapas in Marbella
There is no better way to celebrate holidays in Marbella than going for excellent tapas. Back Tapas Bar is a place you must check out when looking for delicious sets of tapas with outstanding vine and drinks.
A relaxed, yet colorful place with floral decorations and cozy tables inside – together with the aroma of Spanish spices and seafood in the air, making it one of the best restaurants in Marbella.
Try their outstanding Salmonetes or Paletilla de Cabra for a tongue-tingling sensation!
Day 2
There is plenty to do in Marbella, that's why it's one of the best cities in Southern Spain. Here's what you could do on day 2.
Visit the Museum of Spanish Contemporary Engravings
The Museum of Spanish Contemporary Engravings is a small museum, housed in a 16C Bazán Hospital. It is the only place in Spain to offer a monograph of 20C engravings.
You'll find works by many famous artists such as Alberti, Tàpies, Miró, Chillida, Picasso, and Dalí, alongside numerous Spanish pieces!
This contemporary Museum is located in the Old Town, and if you're wondering what to do in Marbella on a peaceful morning it might be a great destination to start with!
Modern, quirky, and full of contemporary art – the best place to know more about Spanish history and psychology! If you are visiting Marbella in winter, this is one of the top things to do.
Opening times:
Monday-Saturday: 10:00 – 20:00
Sunday: 10:00-14:00

Visit the Bonsai Museum
Another stop, this time more outdoor and nature-oriented, is located in Parque Arroyo, also close to the city center.
The Bonsai Museum is one of the most popular Marbella attractions and offers beautiful displays with many smaller and bigger trees of different bonsai species!
Plants from all over the world are held in this relaxing museum and are presented extremely well and gracefully – leaving you with a soothing and calming sensation.
It's a great place to admire the different shapes and sizes of trees that can reach the age of being 400 years old! It's a must on any Marbella sightseeing tour.
Opening times: Mon – Sun: 10:30 – 13:30/ 15:15 – 19:30
Visit the Ermita de Santiago
Staying in the relaxing and peaceful mood, it's time to head back to Plaza de los Naranjos where you'll find the oldest religious building in Marbella!
It is only visible from the outside, through an iron gate, but you will be able to take a closer look through the bars.
A petit chapel, with a beautiful altar and religious icons located in one of the most picturesque squares in town and one of Marbella's little treasures!
Visit the Roman Villa
If you're interested in knowing the Roman history of Marbella and the lives of its early inhabitants, you should head to Rio Verde Roman Villa – located close to Puerto Banús in the Río Verde district.
It consists of ruins of a Hispanic-Roman villa, dating back to the 1st & 2nd century AD! What is left to see, is a beautiful mosaic floor that used to be a structure of five rooms which surrounded an outdoor patio.
Another accessible villa worth seeing is now one of the best hotels in Marbella – Hotel Puente Romano. You can access the hotel and its restaurant to wander around and see how the old villa is still hosting people until today!
Opening Times: Fri – Sun: 10:30 – 13.30
Have an aperitivo near Parque de la Constitución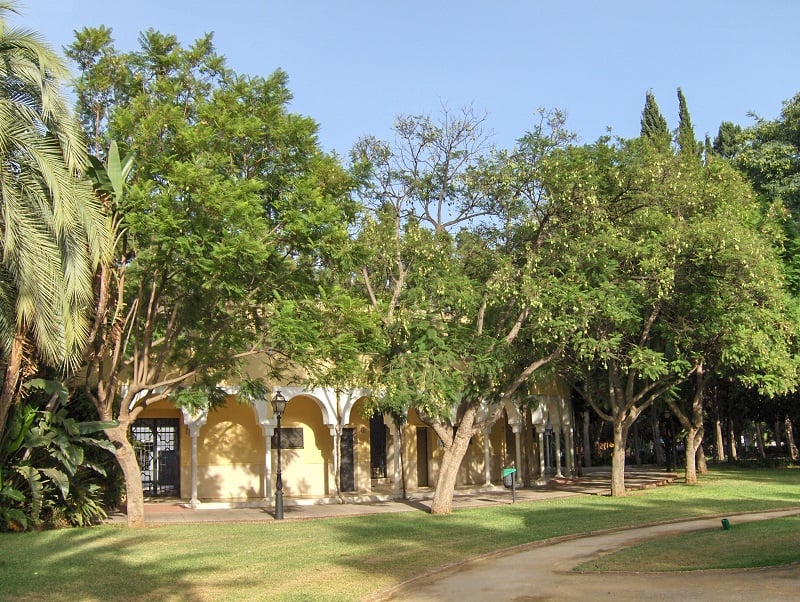 Andalusia is known for its delicious culinary side and the well-known tradition of tapas and snacking!
To have a small aperitivo or tapas you should definitely check out La Bodega del Mar, located right on the beach walk, next to the Parque de la Constitution.
There's nothing better than a typical tapas bar with outdoor seating facing the Mediterranean sea!
Try their delicious salmon wraps, grilled vegetables, and patatas a lo pobre followed by a refreshing glass of Tinto de Verano for a genuine Andalusian culinary sensation!
Lunch in Chiringuito Los Tonys
When visiting Marbella you should definitely use the chance of eating near the sea. Another great place with one of the best beach views and delicious lunch offers!
Chiringuito Los Tonys have excellent food and is a place bursting with character and lively chatter.
Famous for their tasty paellas and fresh seafood dishes, their place and service will blow your mind away!
If you love Spanish food, why not recreate some popular dishes at home? Try our Garlic Soup recipe or try your hand at a delicious meat Paella.
Take a golf lesson in Marbella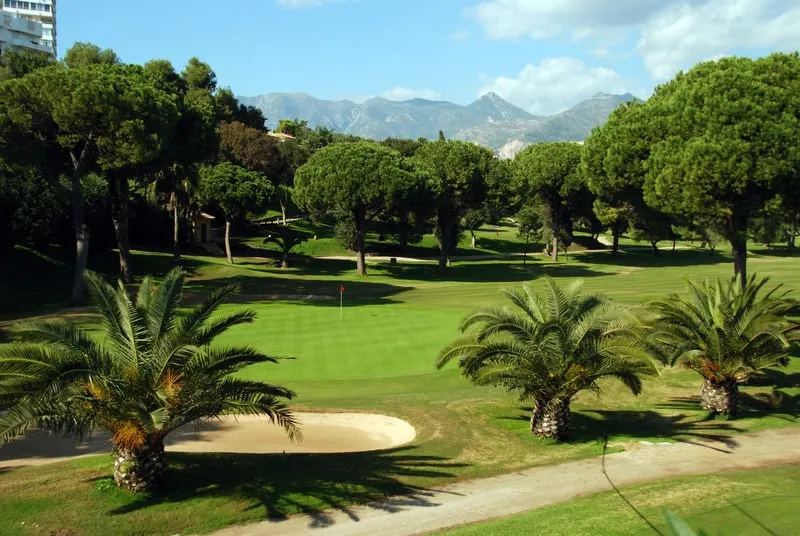 There are quite a lot of things to do in Marbella, even though it's one of the smaller towns by the coast. Why not take up a golf lesson on one of the courts around the city!
The best golf courses in Marbella are all located in the famous "Golf Valley of Marbella" where you can choose from many different options – individual or group classes, short beginners lessons, or a whole-day courses!
Just a few minutes' drive from Puerto Banus you'll find yourself in completely new scenery, trying something exciting for the first time!
Visit Nueva Andalucía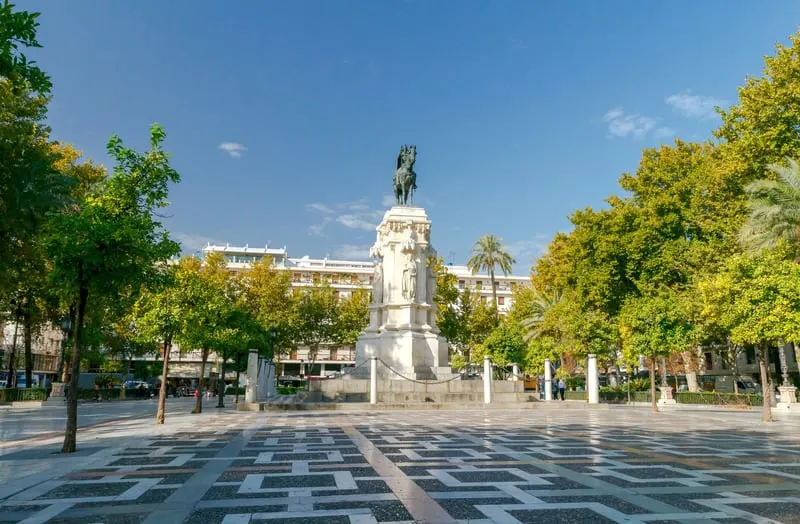 One of the best places to go in Marbella when looking for contrasts and exploring the city is Nueva Andalucia – the largest neighborhood, dating back to 1962.
It's the biggest residential area on the coastline and has plenty of small commercial centers and restaurants making it the best place for shopping in Marbella and exploring the Andalusian architecture and design!
After rumbling around the district don't forget to stop at one of the local bars by the coast to enjoy a glass of refreshing Tinto de Verano – a red vine with sparkling water or soda and the most common drink in Andalusia!
Attend a beach party in Nikki Beach Club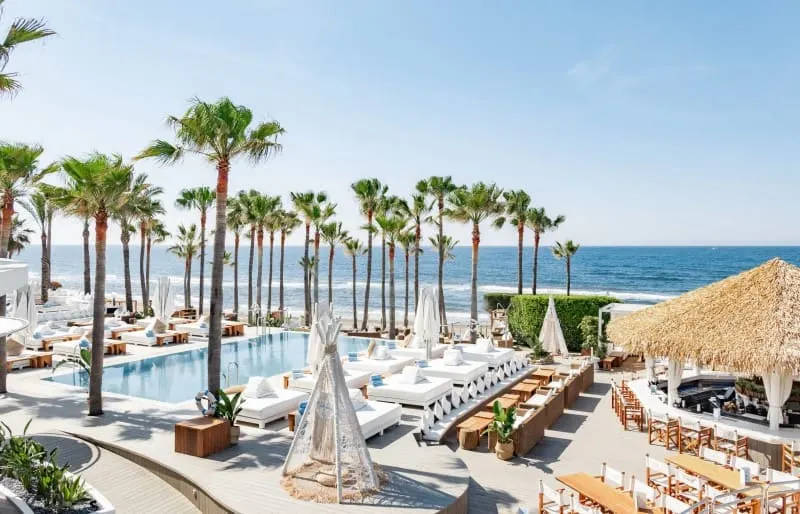 After sightseeing and cultural exploration, it's time to enjoy some good music, fun, and international people with the backdrop of the sea and beautiful palm trees.
Head down to Nikki Beach Club for the best pool parties in Marbella and swing away to great Dj sets while sipping on a funky drink!
Attending an exclusive party, with nice ambient and amazing views from the beach, is definitely one of the best things to do in Marbella!
So if you are looking for a club like atmosphere during the day, look no further and head down to Nikki's!
Dinner at The Orange Tree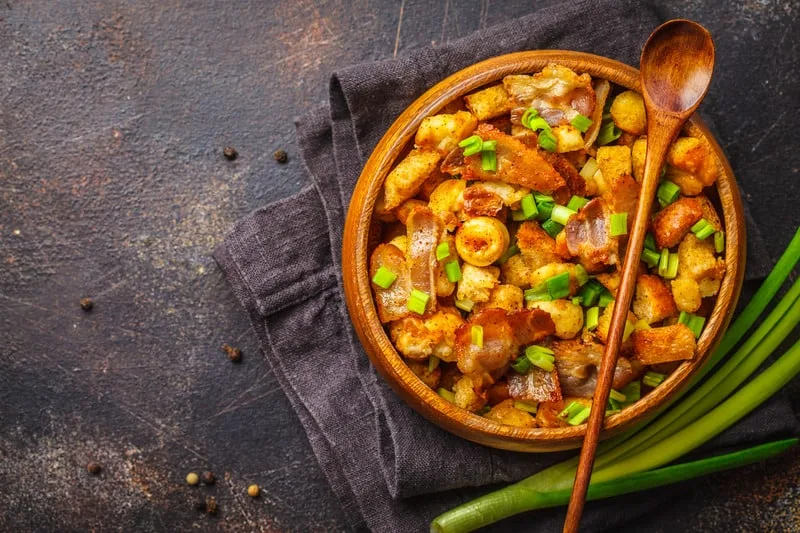 The Orange Tree, next to the Plaza de los Naranjos, is one of the most famous restaurants in Marbella and a place you simply must visit!
Great atmosphere, service, and, what's most important, delicious, and beautifully presented Andalusian food are what you'll find in this lively and cozy place.
Homemade bread with dips, delicious seafood, and artisanal desserts are what will make you fall in love with the culinary style and the entire livelihood of the dinner. Remember to book at least a day in advance, to make sure you'll get a table!
Opening times: Mon- Sun: 10:00 – 23:00
Enjoy Nightlife in Marbella
Marbella changes completely after the sun sets, and everyone is going out for parties.
If you're into a chill and more relaxing evening, pay a visit to the famous Golden Mile area, with plenty of glamorous clubs and bars waiting for travelers and locals with open doors.
Late-night venues such as La Sala, Bijoux, or Linekers are great spots to begin with!
If later you feel like continuing the party, and would like to listen to some amazing DJs, you should stop by Mirage, Pangea, or Dreamers in Puerto Banus – the best clubs in Marbella where you'll surely be taken away into the energetic world of dance and music!
Day 3
There are plenty of things to do near Marbella. Marbella is the perfect spot to base yourself to explore the Costa del Sol.
Day trip to Malaga from Marbella
Located 1 and a half hour bus trip from Marbella, you'll find one of Spain's most known coastal cities.
Malaga is one of the best day trips from Marbella, most known for the beautiful Alcazaba Castle ( free on Sundays) and being the birthplace of Pablo Picasso!
Feel free to visit the Museo Picasso to see 285 of his famous works, and later take a stroll along the port promenade for some amazing harbor and beach panoramas. It's one of the prettiest places near Marbella.
The Old Town of Malaga is truly mesmerizing and full of interesting street art – a great chance to discover the city as a modern and outdoor gallery.
Not only a great idea for a day trip from Marbella but also an opportunity to try some of Malaga's traditional dishes – Ensalada malagueña, Gazpacho, and delicious boquerones fritos! – Book here a day trip from Marbella
For more information please have a read about the best things to do in Malaga.
Day Trip to Granada from Marbella
A bit further away – a 3-hour bus drive – you'll find yourself in a completely different scenery!
Full of Arabic reminiscences and gorgeous, lively squares scattered all around the Old Town it's a perfect destination to visit, after spending a few days at the coastline.
A definite must-see while wandering around Granada would be the Alhambra castle and the beautiful district of Albaicín – located on picturesque hills at the top of the city!
As for this region's culinary discoveries try the famous La tortilla del Sacromonte – a variation of the famous Spanish Tortilla de Patatas.
Visiting Granada for a day trip from Marbella is enough to make anyone fall in love with this enchanting Moorish city and will definitely make it a memorable experience!
Make the most of your time and go with a guided tour. – Check rates here
For more information please have a look at our 3-day itinerary in Granada.
Day Trip to Ronda from Marbella
Another perfect day trip destination after visiting Marbella would be Ronda – one of Andalucia's precious gems known for being the most photogenic city in Spain!
Set on a bluff overlooking the valley and fields, it turns the whole town's panorama into a castle-like setting.
Best known for its spectacular views from the Puente Nuevo bridge hanging above the El Tajo gorge, and being the home of modern bullfighting Ronda is one of those places that will put a spell on you from the minute you arrive!
One of the best things to do in Marbella old town is to try delicious Pestiños or the Yemas de Santa Teresa for a sweet ending to another amazing journey.
Make the most of your time and consider going on a guided day trip from Marbella. – Check prices here
Day Trip to Gibraltar from Marbella
The unusual setting of this British colony blows people away, not only because it's located at the furthest south peninsula of Spain, but also being the 10th smallest country in the world!
Seemingly built on a massive rock-like platform, Gibraltar is famous for having amazing views from the Gibraltar Rock and the presence of the Barbary Macaques monkeys, with whom you'll be able to take a photo – if you ask nicely of course!
But remember to keep your belongings close, because many times the monkeys take away bags and purses in search of food and treats. However, taking pictures with them is a must on any Gibraltar itinerary.
In order to make the most of your time, we recommend going with a guided tour. – Check rates & reviews here.
Related: Exactly How to Get from Malaga to Gibraltar
Do a the Caminito del Rey Trail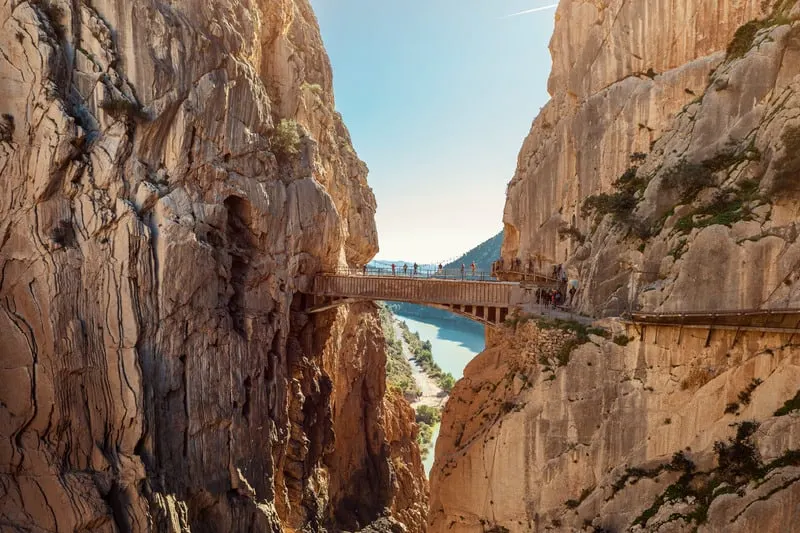 For a more active and mountain exploring day trip you should head to Caminito del Rey – the most popular trail in Andalusia, located 1 hour north from Malaga.
Known for being one of the most dangerous cliff trails, it has been renovated in 2015 and welcomes tourists on the safe paths and hanging bridges prepared to make the trail comfortable and full of amazing views!
This mountain walkway, constructed by the steep walls the gorge in El Chorro will take you from 2 to 3 hours, and gives a chance to relax in nature, with a slight adrenaline rush for those scared of heights – but not to worry, the path is extremely well done and all safety measures have been taken care of. – Check guided tours here
Visit Setenil de las Bodegas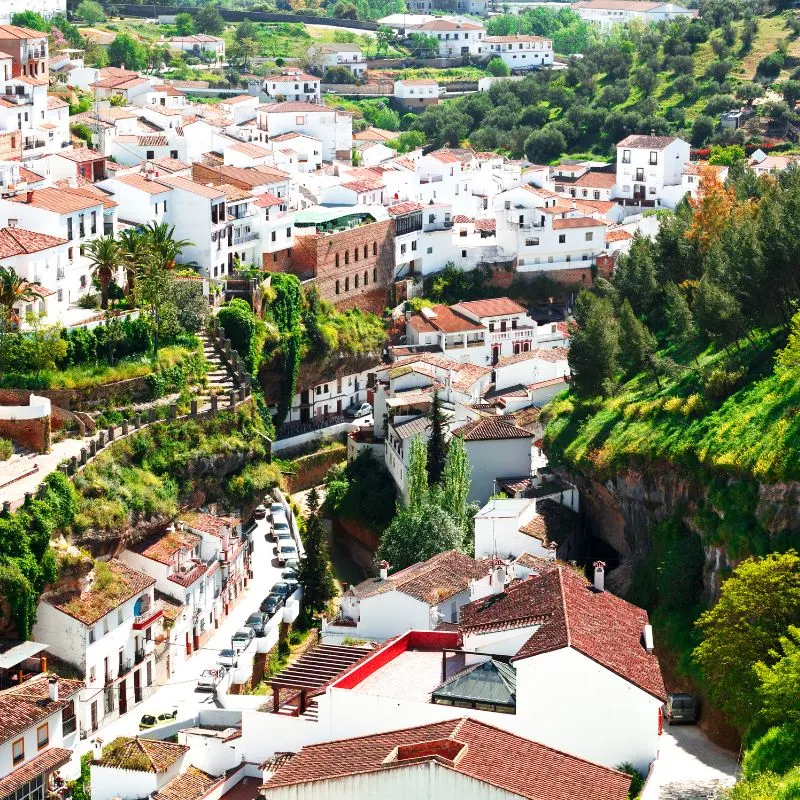 Best Hotels in Marbella, Southern Spain
Accommodation in Marbella is quite easy to organize and you'll find plenty of options, located closer to the beachside or further in the Old Town.
Check out the propositions below of one of the best hotels in Marbella, where depending on your needs and budget you'll be able to feel at home and get a great rest after the busy sightseeing.
A luxurious leisure resort (comparable to the famous 5 stars Gran Meliá Don Pepe Hotel) for those seeking the most prepared and attentive hotel to stay when visiting Marbella.
Combined with a Spa and Sports Center it's one of the best 4-star hotels in town and will definitely reach the expectations of the pickiest guests!
While staying at The Oasis by Don Carlos Resort, you'll have daily access to the beach, tennis courts, indoor and outdoor pools and saunas, spa treatments, and more! Not to mention one of the top restaurants in Marbella incorporated in the resort! – Check rates & reviews here
Located in the city center, Hotel Fuerte Marbella is a combination of tradition and modern architecture.
One of the hotel's main assets would definitely be the surrounding green gardens, where you can enjoy long, relaxing walks and breakfasts!
Rooms with breathtaking sea views and access to additional facilities such as a sports center, indoor pool, tennis court, and spa treatments will make your stay relaxed, yet full of activity possibilities! – Check rates & reviews here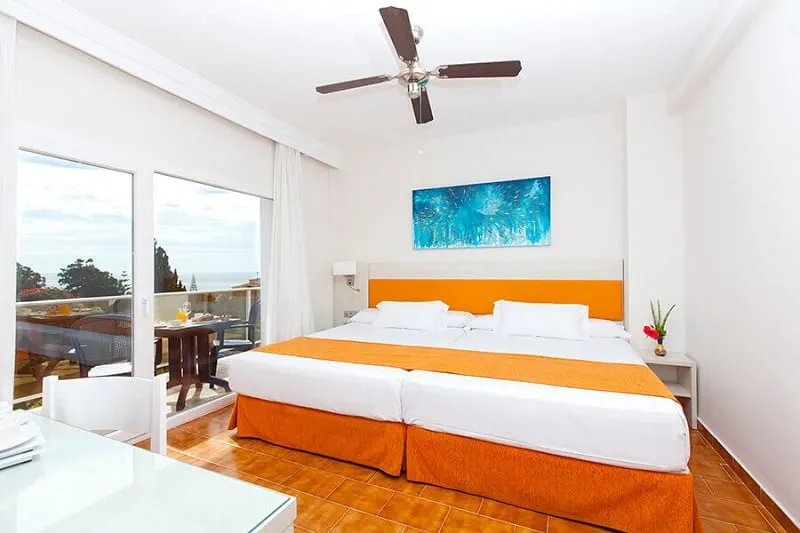 A charming, dinosaur-themed hotel for those looking for a fun and colorful place to stay if you're looking for cheap hotels in Marbella.
Plenty of activities for kids and families, a large pool, and plenty of evening entertainment makes this a great choice for those traveling in a bigger group.
You will also have access to a sunny terrace, a restaurant on-site, and more – all you need to enjoy your stay, relax, and have fun in one place for a reasonable price! – Check rates & reviews here
Getting Around Marbella
Biking and walking are the best ways of getting around Marbella. Not only will you be able to get to know the city like a local, but will also breathe in some fresh Mediterranean air!
The city is quite small and very well connected by walking and cycling paths – so if you want to move even faster rent a bike and rumble down the coastline. – Check biking tours here
Map of Marbella, Spain Map
A short FAQ about Things to do in Marbella, Spain
How far from Torremolinos to Marbella?
You can take a direct bus from the Terminal Torremolinos (Izqda) V stop (55m).
What are things to do in Marbella when it's raining?
Enjoy tapas in Marbella Back Tapas bar & Restaurant
What are fun things to do in Marbella for families?
Visit Parque de la Constitución. It's a children's playground area and a bar-cafe with a large terrace.
What food is Marbella famous for?
Marbella is famous for its delicious Mediterranean cuisine that features a mix of traditional Andalusian flavours and fresh, local ingredients. The most popular dishes include Pescaíto Frito, Gazpacho and Espetos de Sardinas.
Where do the celebs hang out in Marbella?
Some favourite hotspots in Marbella include Puerto Banús, Nikki Beach, Ocean Club and La Sala Restaurant.
What month is best to visit Marbella?
If you visit Marbella in May, June or September, there will be less crowds and nice weather.
---
---
Hola, I'm Paulina! Together with my team, we are passionate about Southern Spain. Here we share all you need to know for great times in Southern Spain with the best places to visit, stay and, of course, the best food to eat.
Let's dive in and explore Southern Spain's outdoors, food and culture con pasión!