A guide to the best attractions in Fuengirola, Southern Spain: the perfect Fuengirola itinerary
Fuengirola is a coastal town located in the province of Málaga, and it is one of the most visited places in Costa del Sol.
Fuengirola is internationally renowned not only for its eight kilometers of sandy beaches but also for the wide range of entertainment and sports activities offered to visitors.
It is also highly recommended to visit the city centre, as there you will find impressive archaeological remains of the Roman era, which you will be able to enjoy as the weather in Fuengirola (Spain) is usually warm and sunny.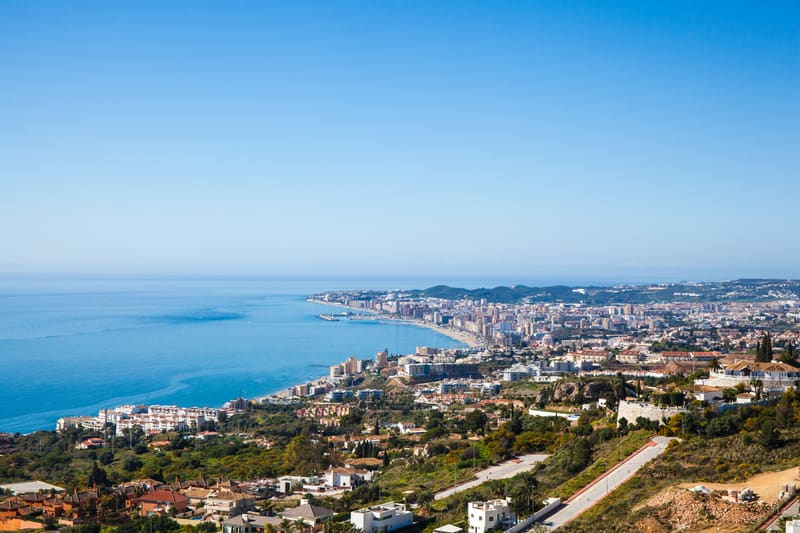 The itinerary presented below is a three-day journey about what to do in Fuengirola; however, it may be adapted to two or four days depending on your travel rhythm. Indeed, if you choose to visit just the most relevant places, you may be able to visit them in just one day.
This post contains affiliate links. If you buy via them, I'll earn a small commission which helps me to keep this blog running. I received services for free for an honest review. All opinions are my own.
Top Things To Do In Fuengirola, Andalucia – Our Fuengirola Itinerary For 3 days
As you may already guess, Fuengirola in Andalucia province offers a great variety of places to visit, but some of its must-sees are:
Sohail Castle
Playa del Castillo
Paseo Marítimo
Finca del Secretario
Pueblo López
Monumento a La peseta
Useful Travel Information About Fuengirola
✈ Book cheap flights to Fuengirola with Skyscanner

⚘ Avoid tourist traps and get the customizable "Andalucia Like a Local" itinerary. – Get it here

✔ Book tours in Fuengirola with GetYourGuide

➳ Find the best hotels in Fuengirola with Booking.com

❖ Rent a car at the best rates with Discover Cars

✎ Never leave without travel insurance! I get mine at SafetyWing. It is easy to set up, cheap and reliable.

$ Withdraw money without hidden fees and avoid exchange charges with TransferWise (Free Mastercard debit card to spend money abroad)
Where is Fuengirola, Spain?
Fuengirola is located 30 kilometers away from Malaga city, it is bordered by Benalmádena and Mijas and it is bathed by the Mediterranean sea. If you are staying in Benalmadena, have a look at our Benalmadena itinerary.
Although Málaga and Marbella are more popular, Fuengirola is the most populous town in the municipality. If you are up for a day trip in Malaga, have a look at our Malaga itinerary.
How to get to Fuengirola
If you are visiting Málaga, Sevilla, Marbella or Estepona, you may include this getaway to your trip easily.
In this section, you will find the most relevant information regarding how to get to Fuengirola by bus or by train, which we consider are the best options in terms of price range and timetable flexibility. – Book bus tickets here
How to get from Malaga to Fuengirola:
By Bus:
By train:
Departure – Arrival: Centro Alameda and María Zambrano – Los Boliches and Fuengirola
Frequency: from 5:55 am to 11:55 pm each 35 minutes
Time: 45 minutes – Buy tickets here
When arriving at the nearest airport near Fuengirola, Malaga Airport, make sure to check out the train from Malaga airport to Fuengirola.
How to get from Seville to Fuengirola:
By Bus:
Frequency: from 8:50 am to 3:50 pm each 2 hours
Time: 4 hours and 40 minutes – Buy tickets here
By train:
Frequency: from 6:45 am to 8:13 pm each 3 hours
Time: 3 hours and 22 minutes – Buy tickets here
How to get from Marbella to Fuengirola:
By Bus:
Frequency: from 8:05 am to 10:12 pm each 45 minutes
Time: 25 minutes – Buy tickets here
How to get from Estepona to Fuengirola:
By Bus:
Frequency: from 8:45 am to 10:45 pm each 3 hours
Time: 1 hour and 6 minutes – Buy tickets here
Day 1
Visit Bioparc Fuengirola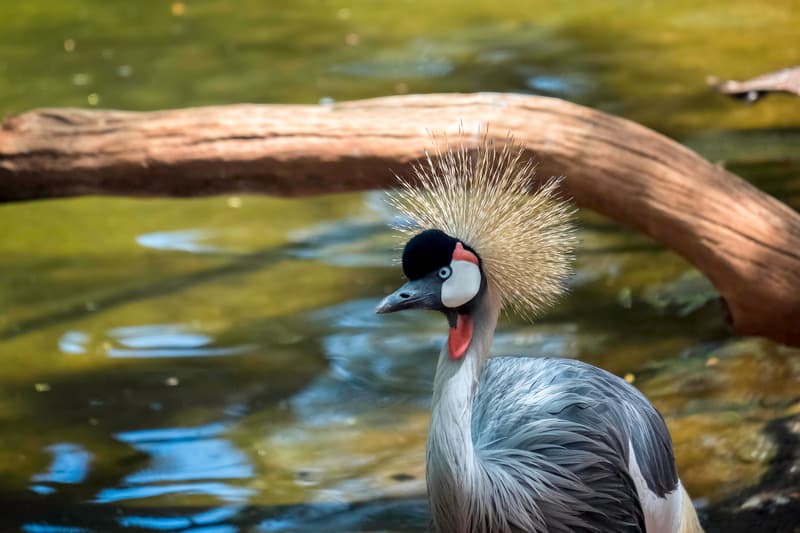 Bioparc Fuengirola is an animal park that respects the natural habitat of the species that you will be able to find there.
Indeed, their real environment is recreated and visitors are allowed to walk through them in order to experience a significant immersion.
Although the park was inaugurated in the 1970s, it was transformed in 1998 into an avant-garde zoo by a team of architects and gardeners, who worked hard to create an area that reminds you of tropical forests.
It is divided into four areas called equatorial Africa, Indo-Pacific, Island of Madagascar, and Southeast Asia.
Especially during high season, make sure to buy your tickets in advance. – Get tickets here
Wander in Fuengirola Old Town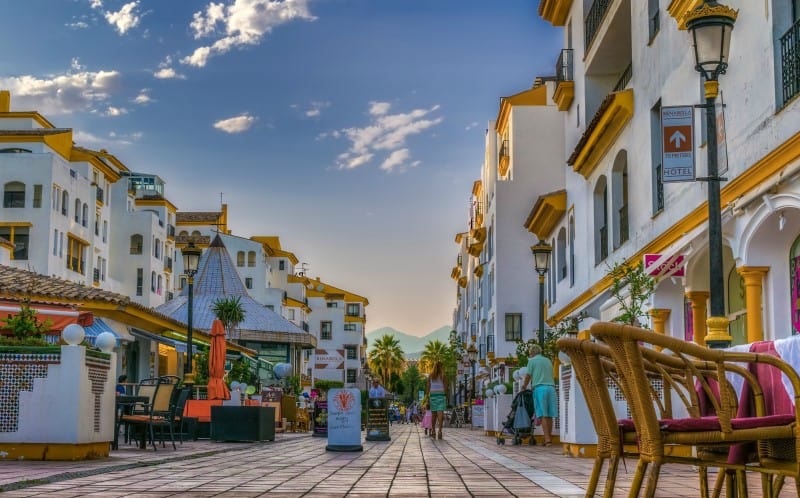 One of the best options to discover the most important places in Fuengirola old town is by train.
Getting the tickets of this city tour allows you to hop on and off the vehicle as many times as you like, so you can choose the amount of time that you want to spend in each of its stops.
The route takes approximately one hour and an audio guide may be purchased in order to learn the most iconic places' curiosities.
Another great way to explore Fuengirola is with a tapas tour which takes you to the less-known family bars. – Check tours here
Have a coffee at the Plaza de la Constitución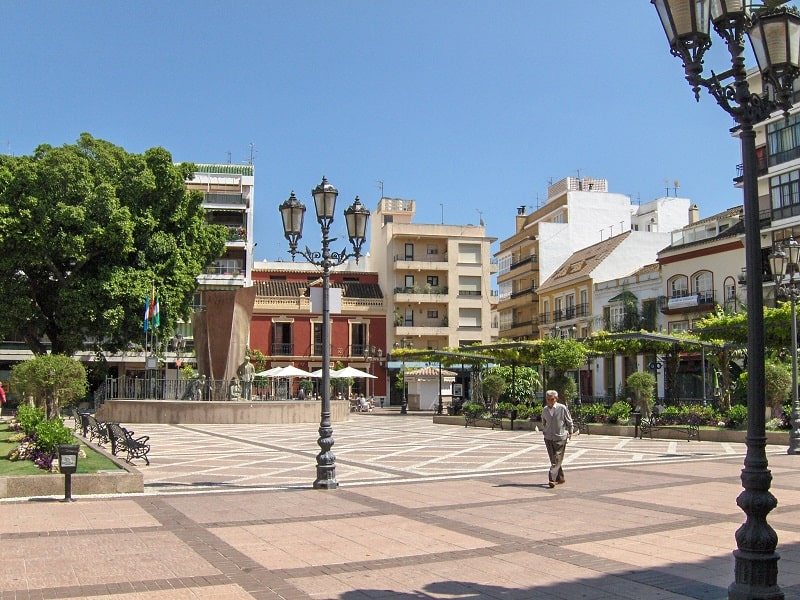 Plaza de la Constitución was the first square of the city and there you will find the Iglesia del Rosario, which is a beautiful and modern church built in the 20th century to honor the patron saint.
Moreover, there is a huge sculpture called the Monumento a las Tres Generaciones created by Fernando Gómez Lobato, which is dedicated to the three generations that usually coexist in every family.
This is one of the most crowded areas of the city centre and it is surrounded by exclusive shops and cozy bars; for these reasons, it is worthy to stop by and to enjoy a great coffee there.
Climb up to the Sohail Castle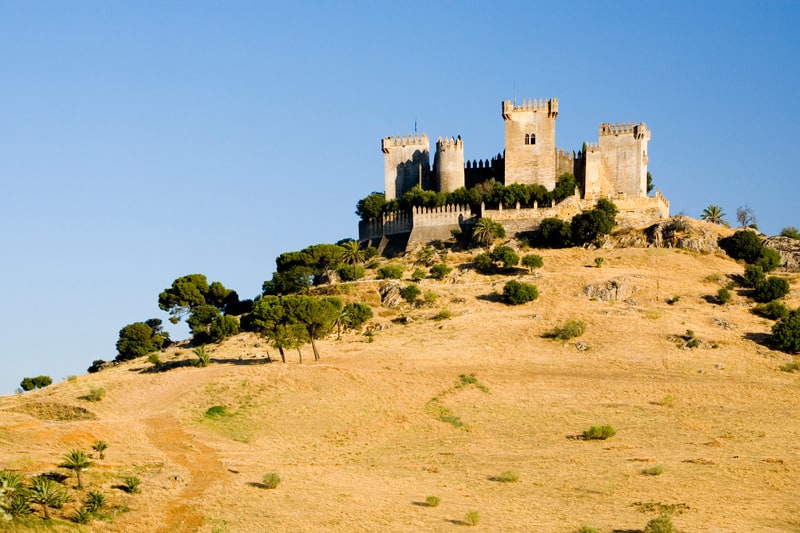 Sohail Castle is located on the top of a small hill, which is close to the sea and to the mouth of the Fuengirola river. So it may be considered as a privileged location overlooking the city.
The fortification was built by Phoenicians in order to protect the city from invaders approaching through the sea around 956 d.C; but later it was also inhabited by Punics, Romans, Muslims, and Christians.
One of the most remarkable aspects of the octagonal enclosure is not only its beautiful entrance door – which is a stunning horseshoe arch but also the multiple towers joined by thick walls.
In order to get there, you can take a bus from Lepanto to Parque Miramar or you can take a 30-minute walk from the city centre. It's one of the best outdoor activities near Fuengirola.
Opening times:
Tuesday to Friday: 10 am to 2 pm
Saturday & Sunday: 10 am to 6 pm
Lunch in La Farola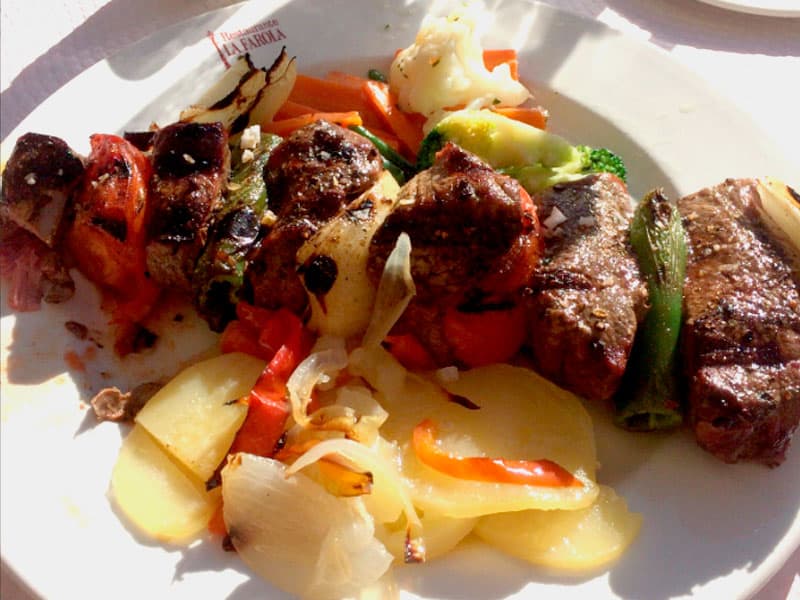 La Farola is one of the most highly rated restaurants on TripAdvisor of Fuengirola. It was opened in 1986 so it may be considered one of the classic places to have lunch there.
The venue is in an ideal location as it is close to the sea and to the Bioparc.
La Farola is an upper mid-range budget restaurant in which you will find an extensive menu that offers both international and regional tasty homemade dishes.
Experience some action in a Fuengirola Water Park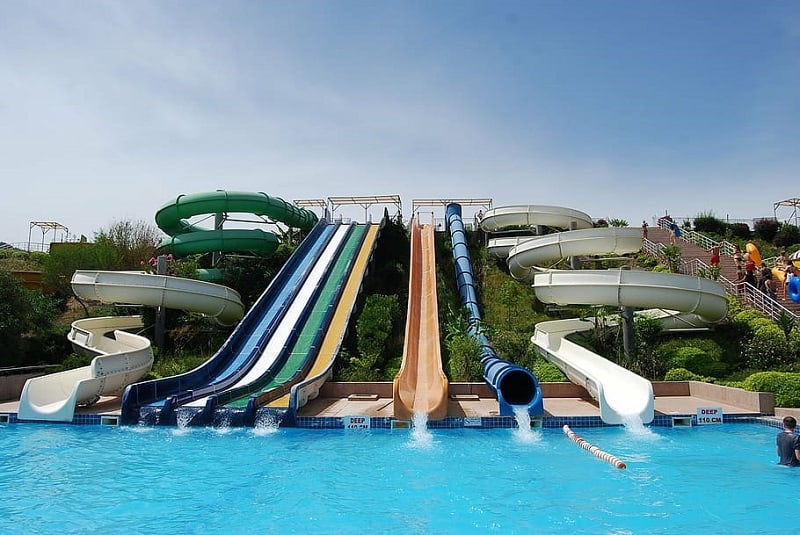 Aquamijas water park is a must if you want to spend a fun day enjoying swimming and diving down water slides.
Even if you are not a fan of water experiences, you may spend your time playing in its games rooms, playgrounds, or enjoying the thematic shows played during the day. If you purchase your tickets online, you will get a 15% discount.
There is also the Costa Water park located on Paseo Marítimo Rey de España: it consists of an inflated playground in the ocean. It's perfect for families traveling with kids!
Do a boat tour in Fuengirola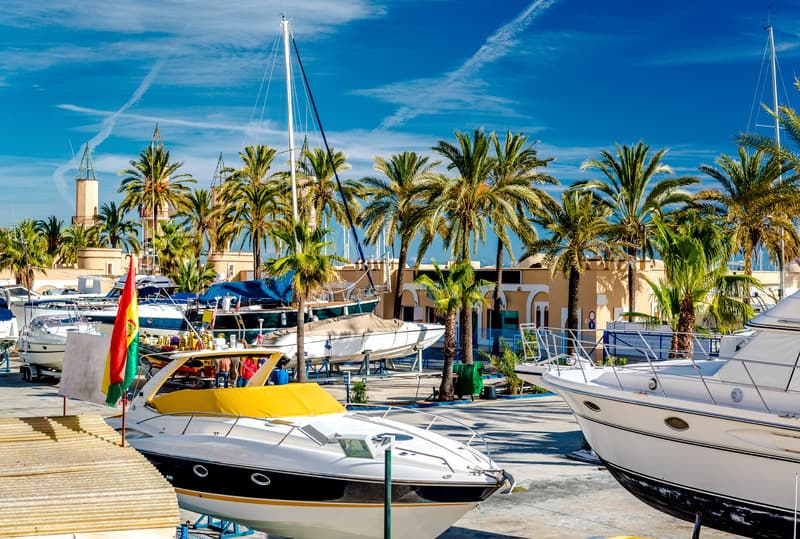 If you are a nature lover, one of the best things to do in Fuengirola is to book a yacht pass to see dolphins. There are lots of different companies offering sailing trips in Fuengirola and the average price is 30 €.
Some of the possible sightings during the trip are: common and bottlenose dolphins, moonfish, flying fish, and fin whales. Have a look at boat tours here.
Hang out at Fuengirola best beaches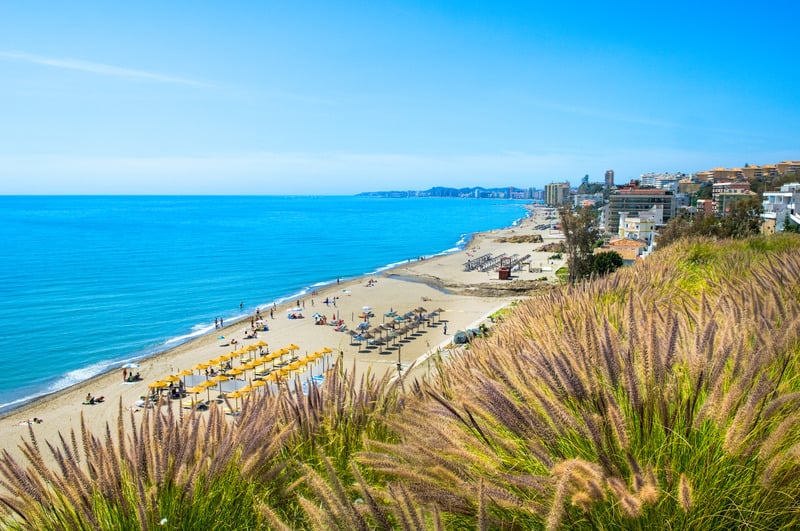 Visiting Fuengirola means being able to spend your time sunbathing on amazing beaches. If you are wondering about what to do in Fuengirola, you should visit some of the best beaches:
Playa de Carvajal
It is a one-kilometer long sandy beach with calm waters located close to the city center. Moreover, there you will have the opportunity to enjoy delicious cocktails and snacks, to practice some sport on its public sports facilities and to see the youngest having a good time playing in the children's area.
Playa de Santa Amalia
Santa Amalia is one of the best beaches in Fuengirola because it is also a long and sandy beach easily accessible to everyone.
One of its main attractions is that there are lots of restaurants and beach bars around. Moreover, this beach is considered one of the families' favorites as there you will find not only an enormous playground and sports area but also public showers.
Playa de las Gaviotas
Las Gaviotas is the longest beach in Fuengirola and its three fine and dark sand kilometers are usually full of people enjoying an unbeatable experience.
One of its main claims is the area adapted for people with reduced mobility, which supplies amphibious chairs to allow their users to enjoy a bath.
Have a sundowner cocktail at the Paseo Maritimo
Fuengirola has one of the longest Spanish promenade, which runs along 7 kilometers of coastline and sandy beaches.
It is very pleasant to walk around the paseo marítimo and to enjoy having a cocktail on any of the terraces you will find there.
One of the preferred by locals is Elements because of their welcoming outside sitting area and its lovely views. Some other popular ones are:
Tahiti Cocktails
Speakeasy
Hollywood
Love&Music
The Spy Bar
Purple Moon Lounge
Enjoy tapas in Fuengirola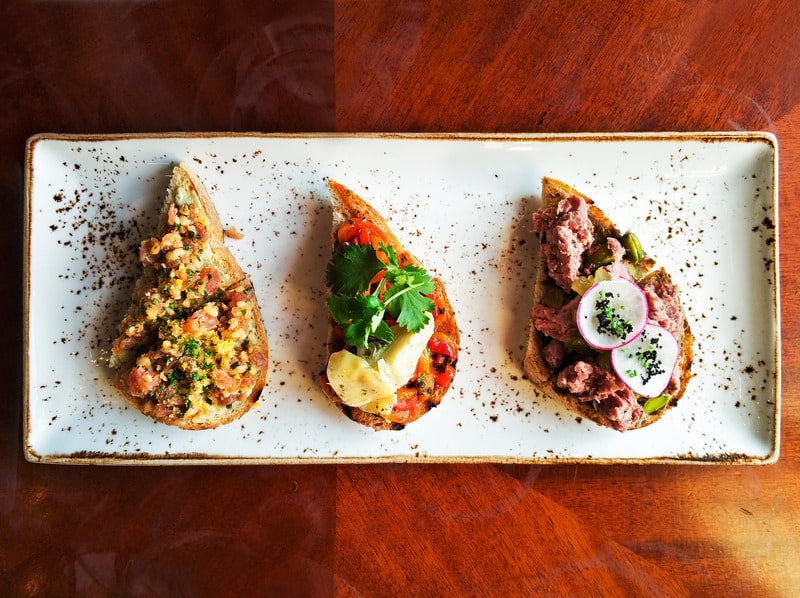 Tasting the traditional cuisine of each place that you visit enriches your experience, and Fuengirola hosts a wide gastronomic offer that will awaken all your senses. Some of the best places to taste Andalusian food and some highly elaborated tapas there are:
La Marmita
Al Andalus
Arte y Cocina
Moncayo 35
Samare
There is also the possibility to book by Viator a three-hour tapas tour to discover the best-hidden family tapas bars in Fuengirola while also learning a little bit about the city's history. – Book a tapas tour here
Day 2
Visit the markets in Fuengirola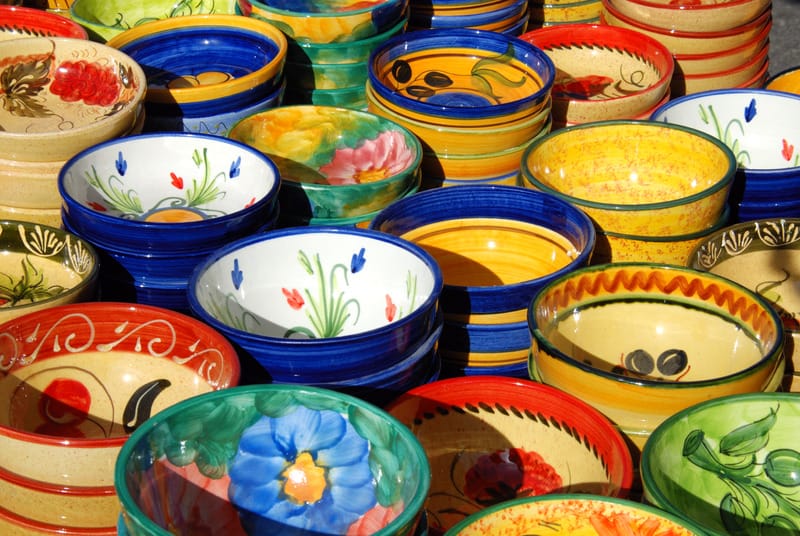 The Fuengirola market is held at the Recinto Ferial on Tuesday from 9 am until 2 am. There you will find more than five hundred market stalls with different kinds of items, such as clothing, home decoration, flowers and plants, fruits and vegetables, among others.
There are some other interesting street markets in Fuengirola, which are:
Mercacentro
Opening times: Monday to Saturday, from 7 am to 8 pm
Nuestra Señora Virgen del Carmen
Opening times: Monday to Saturday, from 8 am to 2 pm
Learn about history in Finca del Secretario ruins
Finca del Secretario was discovered in the 1970s when a railway line was being built to connect Fuengirola and Málaga.
This well-preserved Roman village dates from the 1st century and it may be considered proof of the industrial ceramic activities held by locals in the past.
Opening times: Monday to Sunday: from 10 am to 8 pm
Wander in scenic Pueblo Lopez
Pueblo Lopez is a traditional Andalusian neighborhood that may be considered as one of its most picturesque districts.
It is truly worthy to take a walk around its white streets and beautiful cobblestone squares as there you will get impregnated by the culture of this region.
Take a picture at Monumento a la Peseta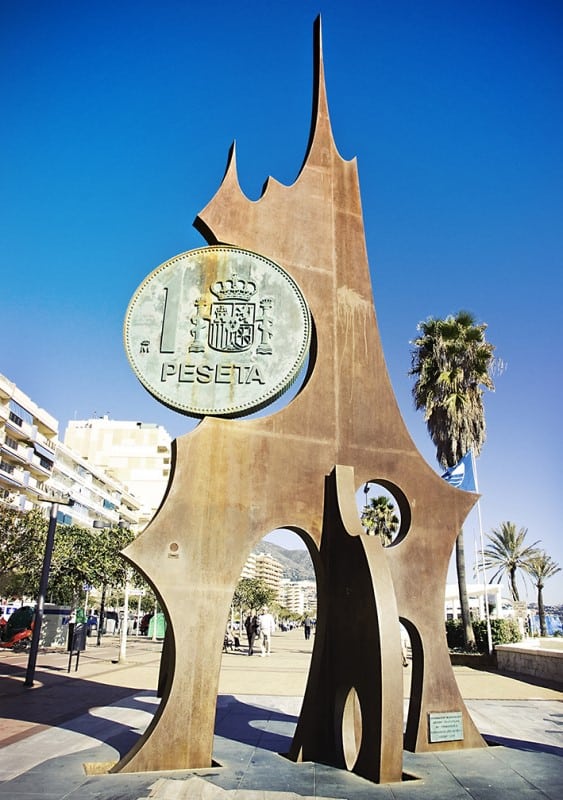 The Monumento a la Peseta is a huge sculpture located on the promenade in Fuengirola and it is well known nationally because it was the first one dedicated to this Spanish coin.
If you keep walking along the coastline, you will be able to see another piece of art called Niños en la playa also made by José Gómez Guerrero.
Lunch in Restaurante Pueblo Lopez restaurant
Restaurante Pueblo Lopez is one of the restaurants in Fuengirola that may be considered a hidden and magical small place situated on a traditional Andalusian patio.
It is one of the best places in Fuengirola to taste the most representative dishes of their regional cuisine in a unique environment.
Do water sports in Fuengirola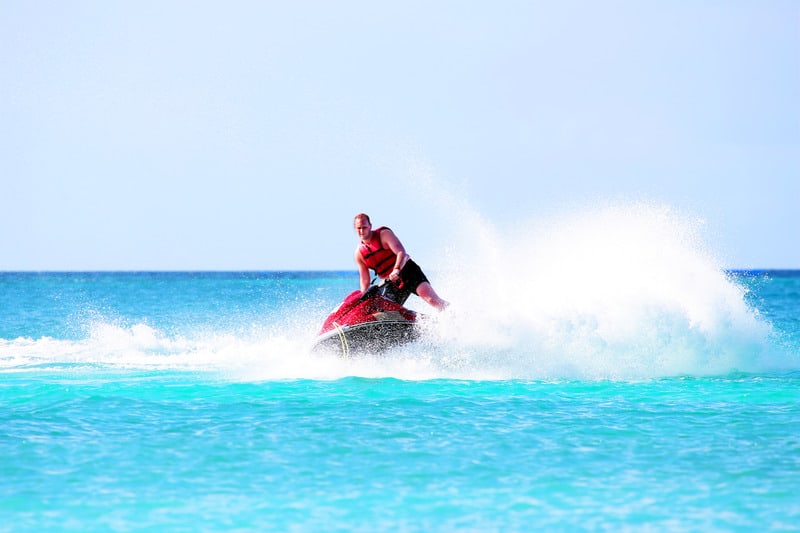 As Fuengirola is a coastal tourist resort, there is a wide range of water activities available to its visitors.
Some of the most liked ones are Catamaran racing, activities with towed inflatables, parasailing sessions, Jet Ski rental, and glass-bottom boat trips in Fuengirola.
On the Paseo Marítimo, you will be able to find different companies to request some information regarding their activities schedules and prices. – Book activities online here
Watch the sunset at Los Boliches Beach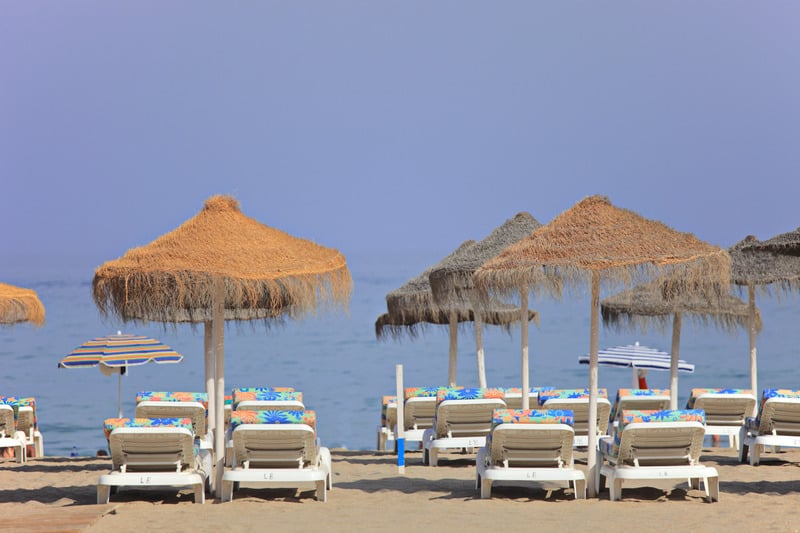 Los Boliches is one of the liveliest beaches in Fuengirola so it may be considered the perfect place to enjoy an unforgettable sunset surrounded by kind people.
Moreover, it is also the perfect place for families, as parents can get relaxed having a drink while watching the sun going down and their children playing in the park or running around the fish alley in Fuengirola.
Dinner in Bambù Café Restaurant Fuengirola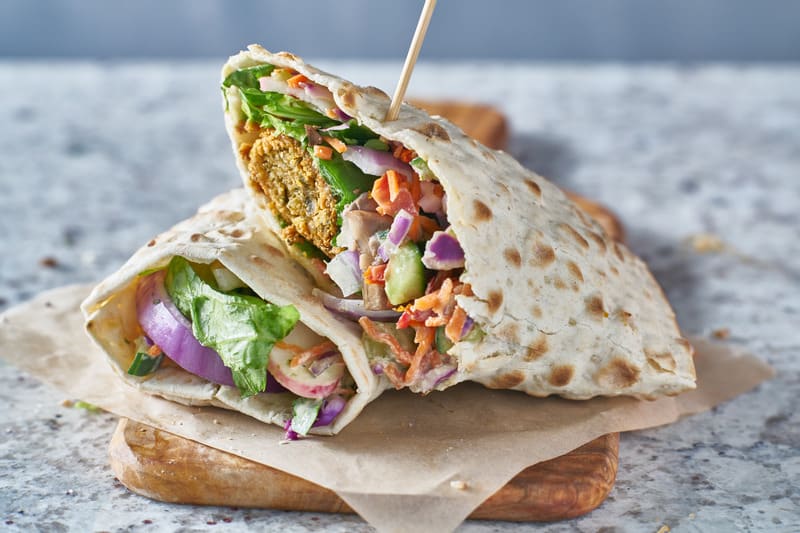 Bambù Café Restaurant is located just on the beachfront of Los Boliches and you can take advantage of your trip there to have dinner on its terrace.
One of the Bambù Café Restaurant's most positive aspects is not only the numerous gluten-free dishes but also the good value for money in your orders.
Day 3
Day trip to Morocco from Fuengirola
Once you have visited the most representative places of Fuengirola, you may take advantage of the city's proximity to Morocco and book a day trip to Tánger.
There are several guided tours around the city, which include transportation from the hotel to the port, the boat tickets, and a typical Moroccan lunch. – Check tours & reviews here
Day Trip to Gibraltar from Fuengirola
If you do not feel like taking a boat, Gibraltar may be a more appealing place to spend a day for you. There are plenty of things to do in Gibraltar, the small UK piece of land in Southern Spain.
It is possible to find day trips that include the bus transfer and a multilingual companion. The break is intended to make some purchases in a tax-free territory. – Check tours & reviews here
Day Trip to Granada from Fuengirola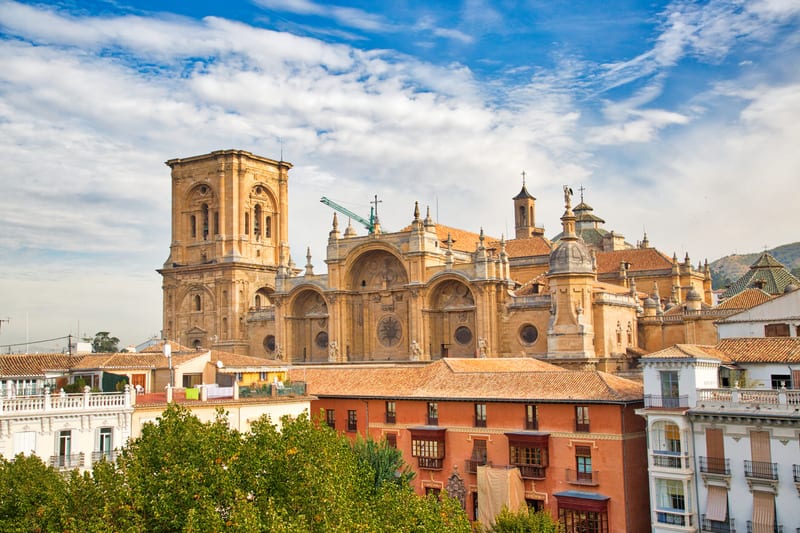 There is also a feasible option to visit Granada when being in Fuengirola.
In this case, there are several companies offering a pack including the bus transfer – with Wi-fi connection on board, phone charger, and water – and the tickets to access to the Alhambra and Palacios Nazaríes with a guide. – Check tours & reviews here
For more information please visit: 3-day itinerary Granada.
Day Trip to Ronda from Fuengirola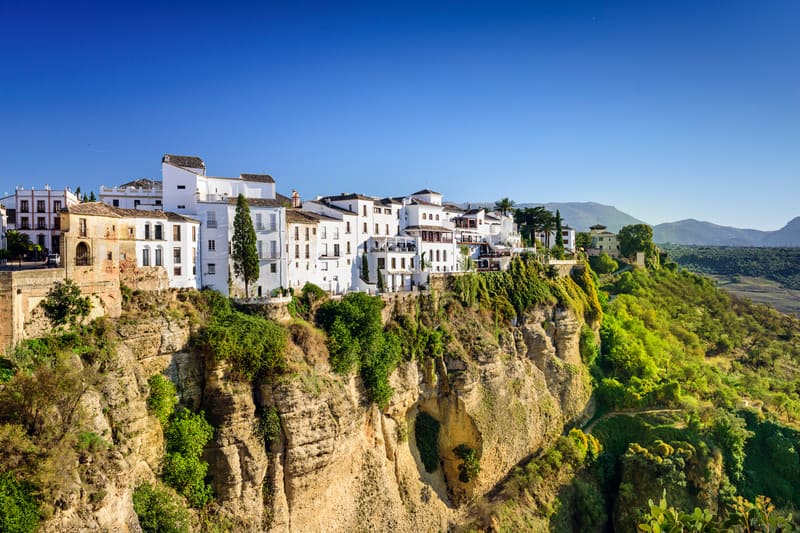 Setenil and Ronda are small villages worth visiting.
There are several day tours to Ronda that include the bus transfer, a guide who will explain the history of the different places you will visit, the entrance to the Plaza de Toros of Ronda, and the entrance to La Sangre winery. – Check tours and reviews here
Hike Caminito del Rey from Fuengirola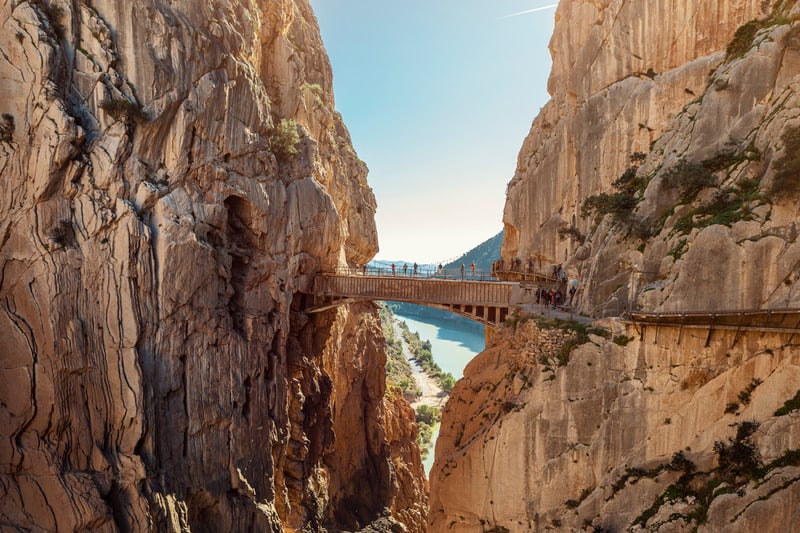 El Caminito del Rey was inaugurated by the king Alfonso XIII in 1921. It is a spectacular route whose trails and walkways allow you to discover the beauty of its gorges, canyons, and valleys.
The starting point is the Conde de Guadalhorce swamp and it ends next to the Chorro dam, which implies a four-hour hike that won't disappoint anyone. – Check rates & reviews here
If you would like to know more about Benalmadena or Estepona, please visit the following articles: things do to in Benalmadena and our 3-day itinerary for Estepona.
Best Hotels in Fuengirola, Southern Spain
Taking into account the varied accommodation budgets, we offer you below a selection of the best hotels in Fuengirola.
If you are thinking about a luxurious stay, do not hesitate to book an exclusive room at Casa Consistorial.
If your intention is to save some money on your accommodation without sacrificing comfort, we highly recommend Hotel Las Rampas Fuengirola.
And if you prefer to adjust the budget and still enjoy excellent value for money, your best option is Hotel Reyesol.
Casa Consistorial is one of the most elegant 5 stars hotels in Fuengirola, built in a historic building, located in the old town of Fuengirola, surrounded by lots of shops and restaurants.
One of the best hotel features is its welcoming swimming pool. In addition, guests may enjoy spending some time at the Finnish sauna or having a massage. – Check rates & reviews here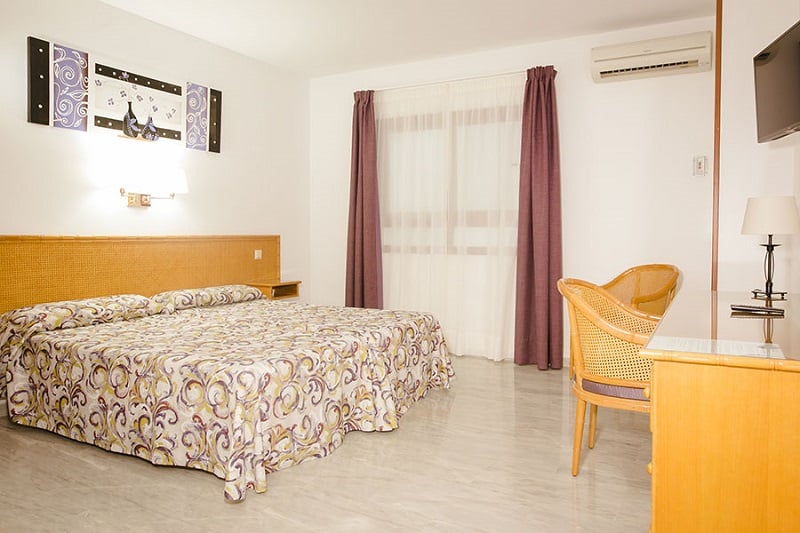 Hotel Las Rampas is an Andalusian style building located in the city center, next to the beach and really close to train and bus stations.
Some of the most appealing aspects of this hotel are the free access to the swimming pool area and to its comfortable sunbeds; the buffet restaurant with a wide variety of tasty dishes; and the possibility to ask for a late check-out. – Check rates & reviews here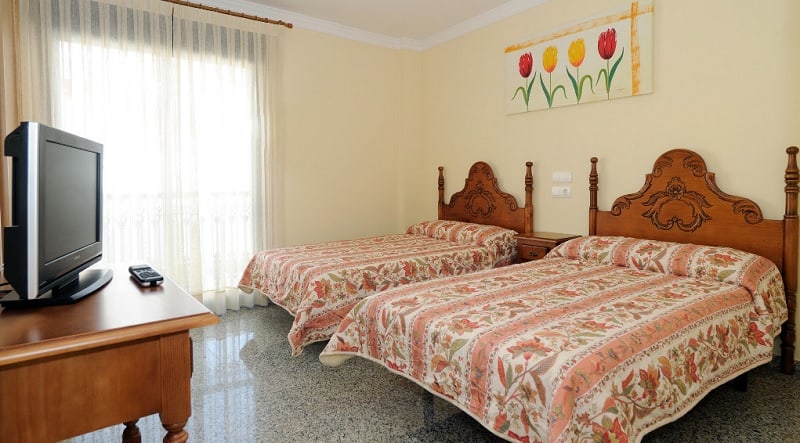 Hotel Reyesol is located just in front of the Fuengirola city council and a few meters away from sandy beaches.
It is a small hotel that gives a lot of privacy to its guests, there are just 53 rooms and all of them have a terrace or a cozy balcony.
Moreover, the hotel has a big cafeteria where a buffet breakfast is served every morning. – Check rates & reviews here
Getting Around Fuengirola
One of the best options to get to know Fuengirola is to walk through its streets as there you will find lots of pedestrian areas that interconnect the most important sites of the city and the shopping centre in Fuengirola.
Taking the city bus is also an effective and economical way to get around the city, especially on the hottest days.
Best Attractions in Fuengirola, Spain Map
A short FAQ about Things to do in Fuengirola, Spain
Is Fuengirola safe?
Yes, of course. Fuengirola is one of the most visited places in Costa del Sol and there are no safety issues.
What are things to do in Fuengirola when it rains?
Have a lunch in Restaurante Pueblo Lopez restaurant and enjoy some chocolate con churros.
What are things to do in Fuengirola for families?
There is also the Costa Water park located on Paseo Marítimo Rey de España: it consists of an inflated playground in the ocean. It's perfect for families traveling with kids!
---