There are two types of holidaymakers. There are those whose perfect vacation consists of lounging around at the beach all day, eating local specialties, a leisurely sightseeing agenda, and, perhaps, a shopping spree or two.
Then there are those who cannot imagine a holiday without a high dose of adrenaline, the type of holiday-makers who need water activities and outdoor recreation – in other words, adventure!
And, for the latter, what better way to get your kicks than by taking full advantage of the best watersports in Malaga and the Costa del Sol?
This post contains affiliate links. If you buy via them, I'll earn a small commission which helps me to keep this blog running. As an Amazon Associate I earn from qualifying purchases. All opinions are my own.
With so many outdoor water activities to be enjoyed from Malaga to Marbella and beyond, the Costa del Sol is a real paradise for all those adrenaline junkies out there.
If you're looking for the best spots for the ultimate water adventure, you've come to the right place.
We've compiled a list of the 18 best aqua sports activities to enjoy in beautiful Andalusia. So, let's dive right in!
Top Best Watersports in Malaga and Costa del Sol
Benalmadena: Dolphin Watching Boat Tour
Malaga: Sunset Catamaran Trip with Glass of Cava
Kayaking in Marbella – Kayak Tour
Malaga: Catamaran Trip with Optional Stop for Swimming
Snorkeling experience in the Costa del Sol
Marbella: Stand-Up Paddle Board at Sunset
Useful Travel Information About Malaga
✈ Book cheap flights to Malaga with Skyscanner

⚘ Avoid tourist traps and get the customizable "Andalucia Like a Local" itinerary. – Get it here

✔ Book tours in Malaga with GetYourGuide

➳ Find the best hotels in Malaga with TripAdvisor

❖ Rent a car with at the best rates with DiscoverCars

✎ Never leave without travel insurance! I got mine at SafetyWing. It is easy to set up, cheap and reliable.

$ Withdraw money without hidden fees and avoid exchange charges with TransferWise (Free Mastercard debit card to spend money abroad)
What to Expect from the Best Watersports in Malaga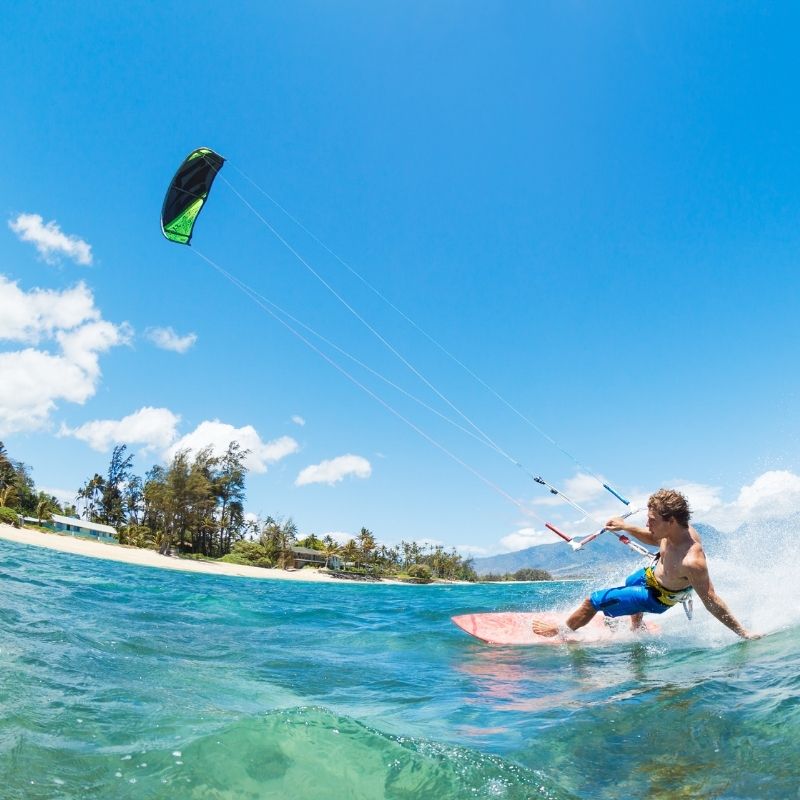 Don't let anyone fool you – Tarifa may be the most famous place for kite surfing, but it's certainly not the only hot spot for this sport.
Malaga, Spain, has a great variety of beaches where you can enjoy all kinds of water sports and fun water games.
From windsurfing to SUP and kayaking – wherever you may be headed for the day, you'll find some form of water activity to engage in for the day.
Whether you're more of a solo surfer or prefer engaging in group sports activities and tours, the Costa del Sol has it all.
Check out our list of watersports in the Malaga area!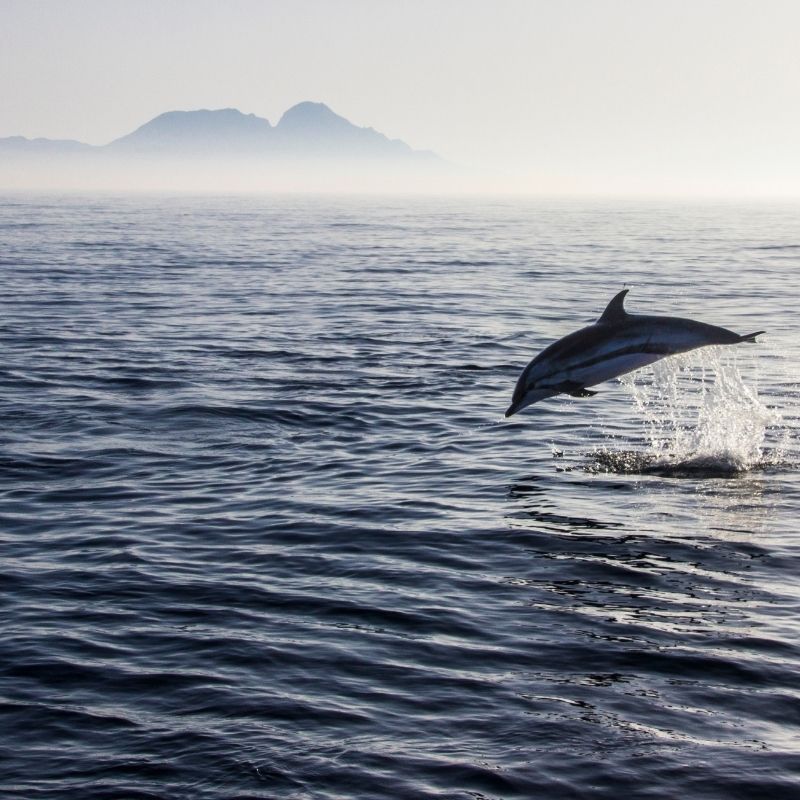 You might find yourself wondering whether you have suddenly been blessed by "Magic Vision" after stepping aboard the Catamaran of the same name in Benalmadena.
But we can assure you – the dolphins you are seeing in their natural habitat are real, and we promise you it will be the experience of a lifetime.
Add to that the possibility to enjoy a drink at the bar or get a fish eye's view of the marine fauna through the underwater windows.
You can also snorkel the waters when the Captain decides to stop for a swimming break – and you'll be returning home with plenty of exciting stories to tell.
Book your Dolphin Watching Boat Tour here.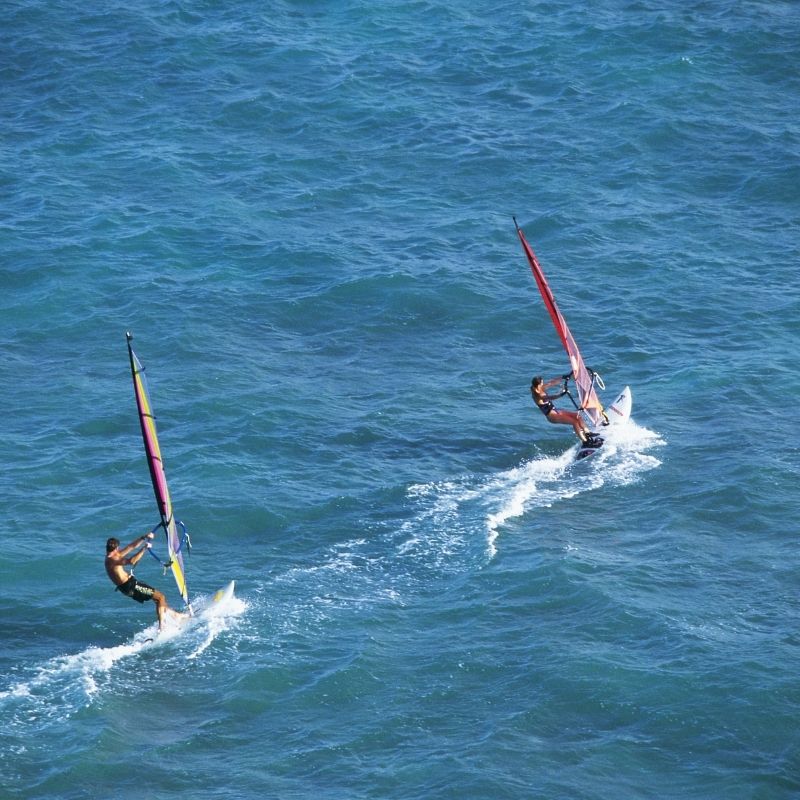 Always wanted to try yourself at windsurfing but never had the opportunity to do so?
Well, now you're in luck, as it happens to count as one of the best watersports in Malaga to get into on your holiday.
The Dynamic Windsurfing Education System in Marbella offers three different courses: a beginner's course, a private class, and the "Next Level" experience.
They will teach you to sail with a harness (thus, allowing you to gain more power and speed), advanced racing tacks and jibes, and how to get into planning.
Your windsurfing instructor will assist you both ashore and offshore, and help you build the confidence needed to ace those surfing lessons until you're ready to catch a wave on your own.
These courses require a minimum of one day for the best learning experience:
Book your chosen course here.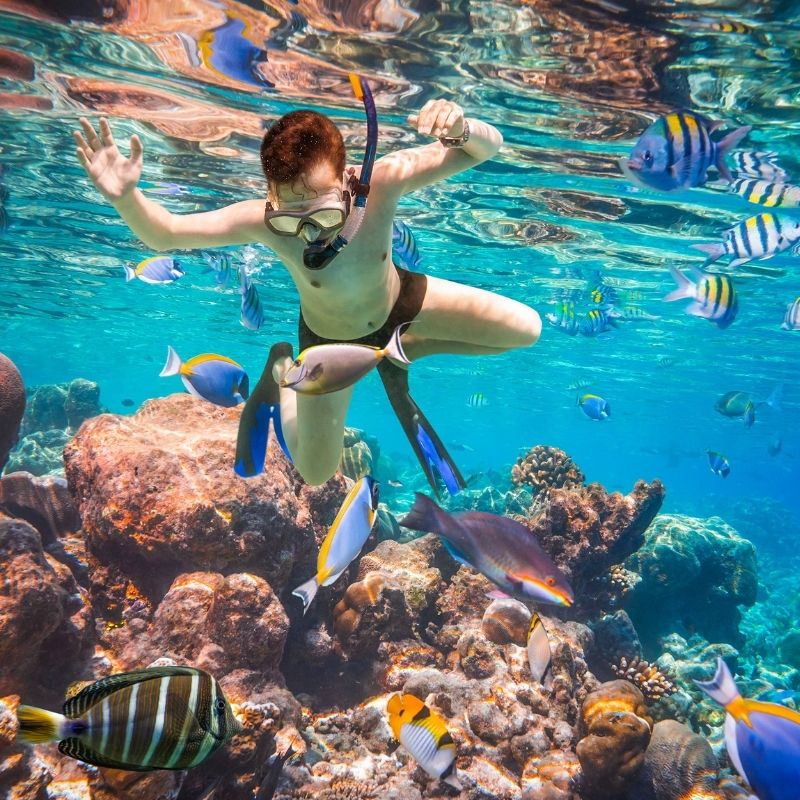 For the best snorkeling experience in the Costa del Sol, book a tour with Dutch Scuba Divers Spain.
Welcoming you aboard their boat, they will take you out to some of the most beautiful spots along the cliffs of Nerja, Maro, Burriana, and Cañuelo, where the underwater scenery is as mesmerizing as the one on the surface.
The team will provide you with all the snorkeling gear needed for the most successful underwater outing.
Your snorkeling equipment will consist of a wetsuit, snorkel, fins, and a snorkeling mask.
This full-day tour offers full catering, keeping your hunger stilled with a delicious lunch, light snacks, fruit, tea, coffee, and, upon returning to the port, beer and wine.
Reserve your spot onboard here.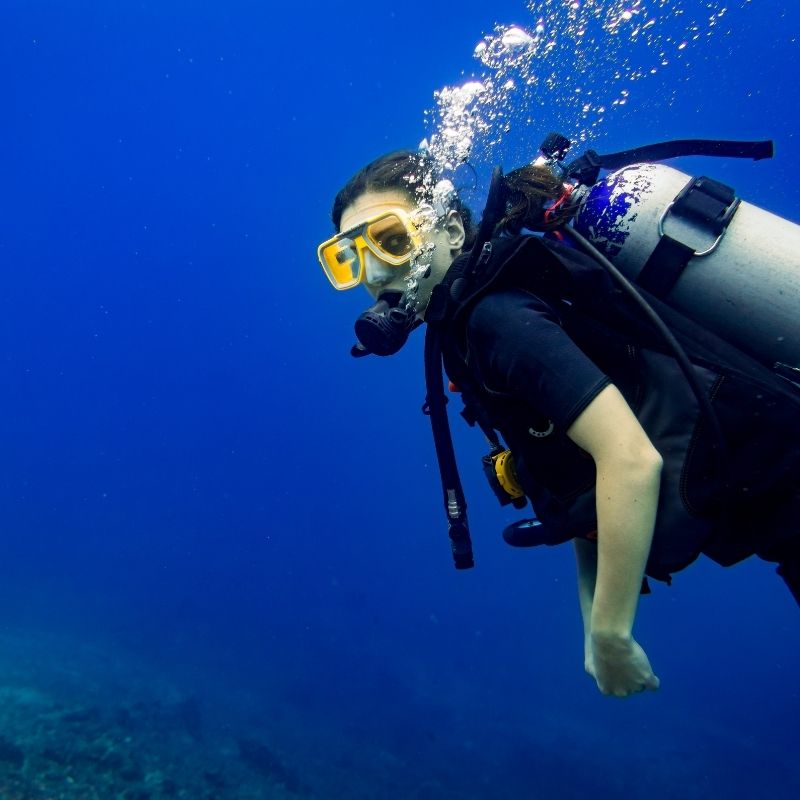 You don't learn to scuba dive only to come to the Costa del Sol without visiting its underwater world!
So, what are you waiting for? Get into your scuba diving suit and book yourself the best scuba diving tour with Dutch Scuba Divers Spain – it will take you out to the Cerro Gordo National Park.
Here you'll find the perfect spot to explore for the day. Who knows, you might even find yourself swimming with dolphins, too.
You will be given scuba diving equipment for this tour, so there's no need to lug around your own stuff all day.
The team will also be sure to take plenty of underwater (and above) films of your dives free of charge.
These will certainly make for wonderful, digital keepsakes to look back on.
Book your tour with Dutch Scuba Divers Spain here.
If you happen to be in Malaga on a romantic getaway, may we suggest taking it to the next level by booking a sunset trip aboard a Catamaran?
Allow the captain to sail you out to sea while you relax with a glass of Cava in hand, chillout music in the background, and an awe-inspiring sunrise ahead.
Let this incredible trip set the tone for the rest of your evening in the city.
Treat yourself to a romantic dinner in one of the best places to eat in Malaga, a night in a fancy hotel, and a plate of obligatory Churros the next morning.
Surprise your partner with tickets for this trip by booking here.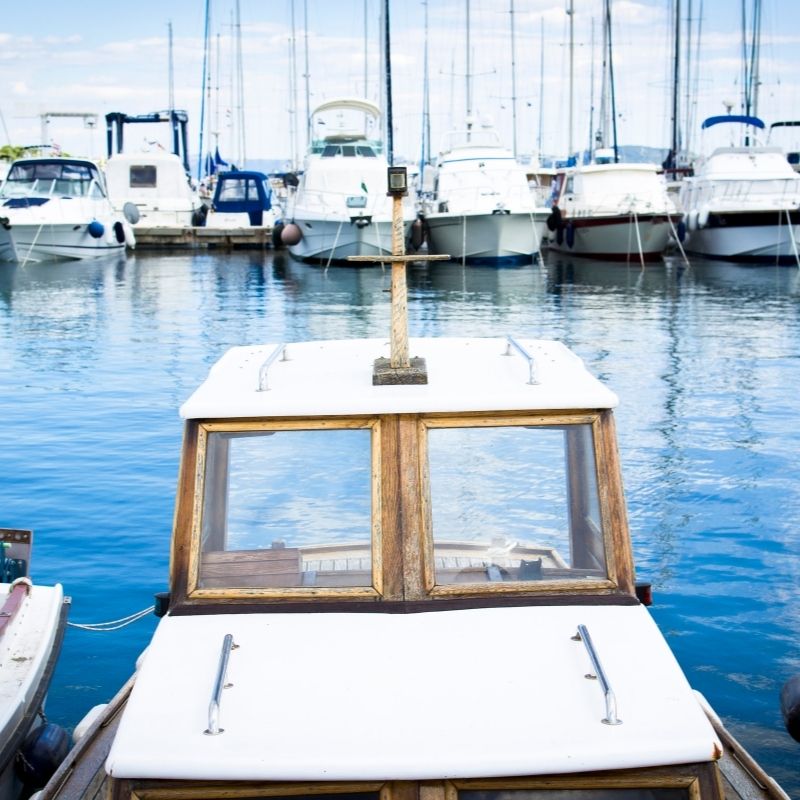 So you may have had your mindset on engaging in some kind of waterboarding sport every day of your Malaga vacation, but you should reserve a day for something a little more relaxing too.
How about a boat tour on a speed boat equipped with state-of-the-art naval electronics and an entertainment system that guarantees an unforgettable day for you and your friends?
Fuengirola Nautic offers four-hour boat tours – either with your very own captain taking the lead or the option of steering this speedboat out into the sea yourself, provided you have a boat title or license.
Book your boat tour here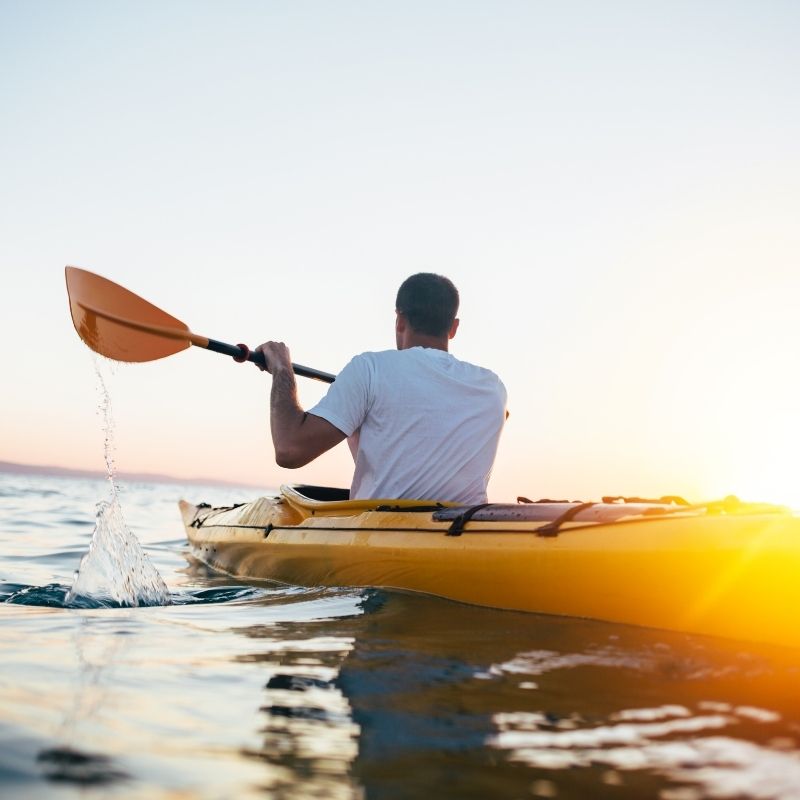 Ever wondered what would make for the very best morning activity? Ponder no further – get up and go kayaking!
Kayaking is almost like a deep meditation only, instead of sitting cross-legged and immobile, you are floating along the water, engaging your arms in a constant, moving meditation.
Sign up for this breath-taking tour in Marbella, and get a "kayaking for beginners" run-through before you head out with your family or friends and fun, supportive instructors.
This is one of the best watersports to practice in Malaga, one that will give you an entirely new perspective of Marbella.
Book your Kayak Tour here.
You've checked out all the watersports stores and have spent the last few days in constant action, now it's time for a more leisurely approach to water-based activities aboard a spacious Catamaran.
Hop on the Fly Blue Quattro and take out to the sea and marvel at the bay of Malaga while working up a tan.
Be sure to bring your swimming gear along because the Catamaran will stop to invite guests aboard to take a dive if conditions allow.
And you wouldn't want to miss out on an opportunity to swim!
Reserve your spot here.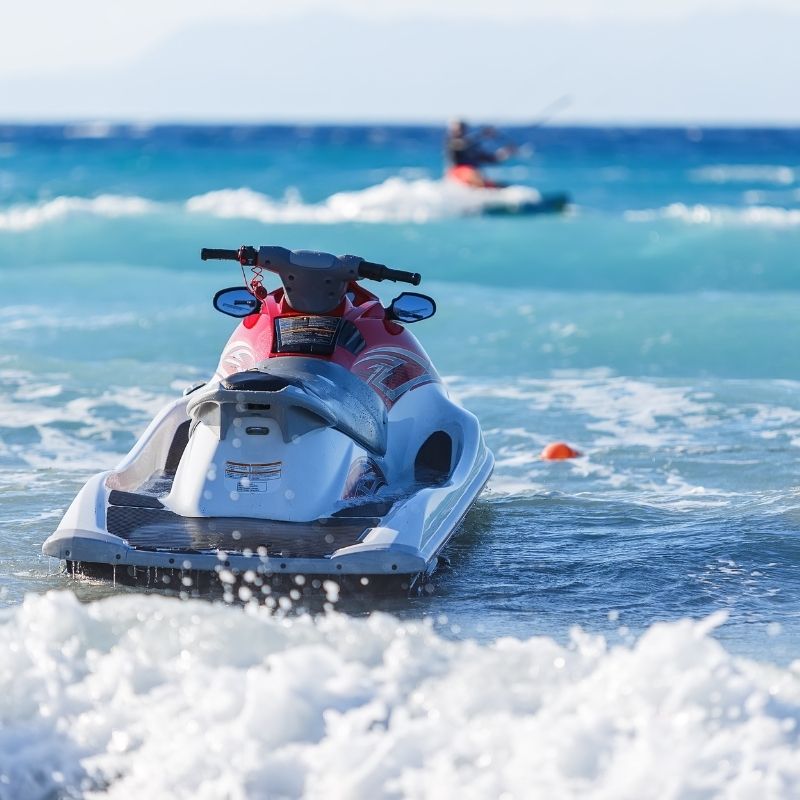 Did you really think we were going to present you with a list of the best watersports in Malaga without mentioning jet skiing? Hardly.
After all, it happens to be one of the most popular watersports out there – including on the Costa del Sol.
If you want more than to just rent a jet ski, if you're looking for a proper experience, then be sure to sign up with Fuengirola Nautic.
Here you'll have plenty of options to choose from – simply renting a jet ski and trying out all your greatest tricks, or going for the full combo: renting a boat and a jet ski for a full day of ocean adventures with the family and friends.
What's it going to be?
Here you can book a tour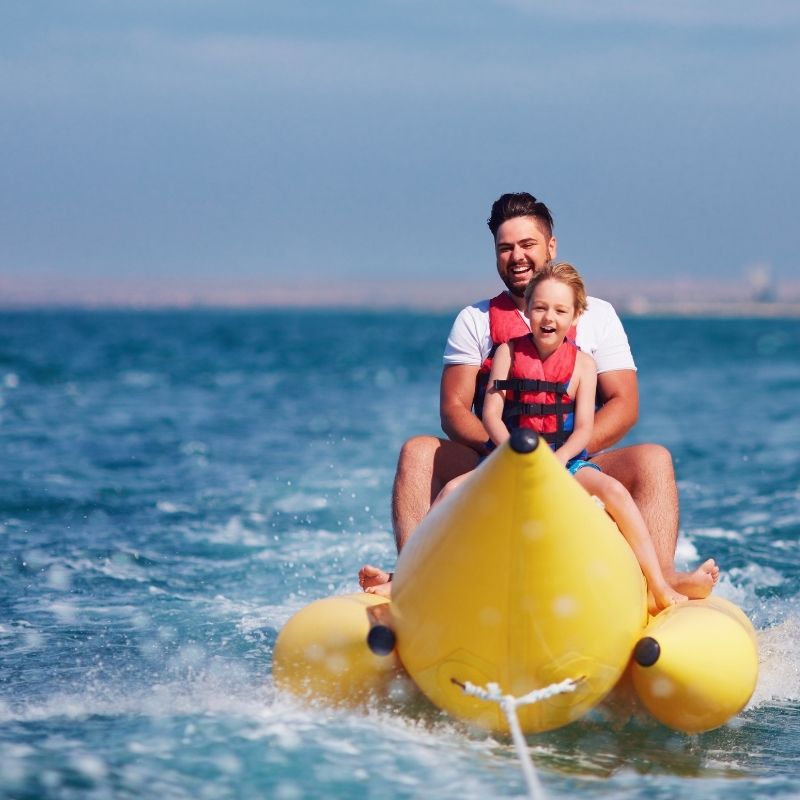 A ride on a banana boat is the equivalent of a banana split as a holiday dessert: a must! This is a watersport activity that is as fun for (pre)teens as it is for adults.
And if a banana boat ride isn't your thing, try getting on a ski tube instead – pure adrenaline!
The best place to enjoy it? At El Chiringuito Puente Romano in Marbella. All your safety equipment and instructor training comes included in these 10-20 minute rides.
Once you've exhausted your adrenaline fix for the day, change into your fancy beachwear and explore the rich and famous Puerto Banus.
Go bananas, here: Marbella Banana Boat, Puente Romano Beach with the best Fun!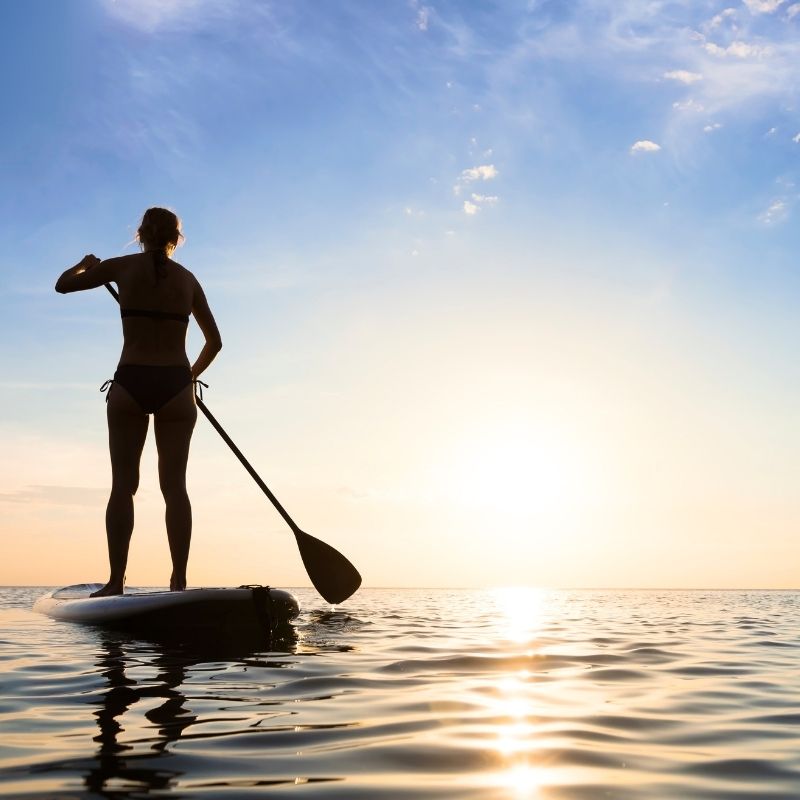 Regardless of your preference, there needs to be a good balance between the extreme types of watersports – kite surfing, water flyboarding, etc. – and laid-back activities, such as kayaking and SUP.
NaluSur Adventure Tours at the Real Club Marítimo de Marbella, take the Stand-Up Paddle Board experience to a whole new level, by taking you out at sunset.
Float your way towards the setting sun by keeping your breaths long and steady and your focus trained on the beauty
You will return relaxed and recharged for another day of exploring the best watersports in Malaga.
Book your board here.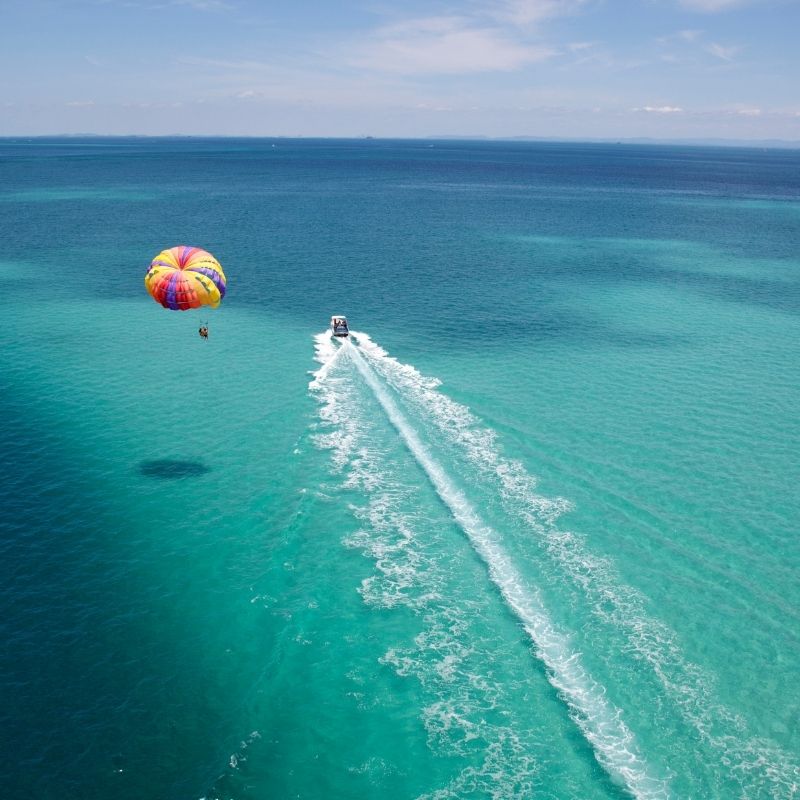 Who better to oversee all your watersport adventures and a parasailing session than a bunch of experienced sea pirates?
Fuengirola's Pirate Parasailing crew has more than 22 years of experience taking people of all ages on their experience of a lifetime!
This is a disability-friendly company that will go above and beyond to ensure you have a fabulous time.
Check out prices and availability here.
Flyboarding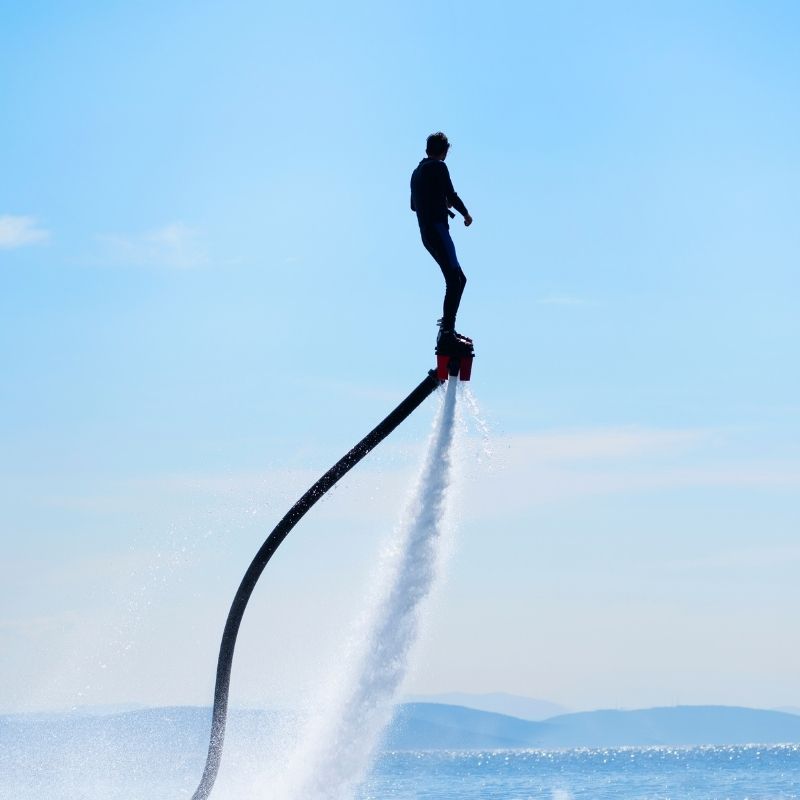 Want to feel like a superhero for a day and shoot out of the water like Aquaman, levitating over the ocean and doing crazy somersaults and jumps on a water flyboarding adventure?
If you're that kind of daredevil, visit Jet Water Sports in Fuengirola or Marbella – or both!
For those who are considering their first go at flyboarding, this is the perfect place to do so: "In just 15 minutes, 95% of the people that try FlyBoard can fly! Easy, fun, and safe!"
Test your bravery here.
Water Skiing and Wakeboarding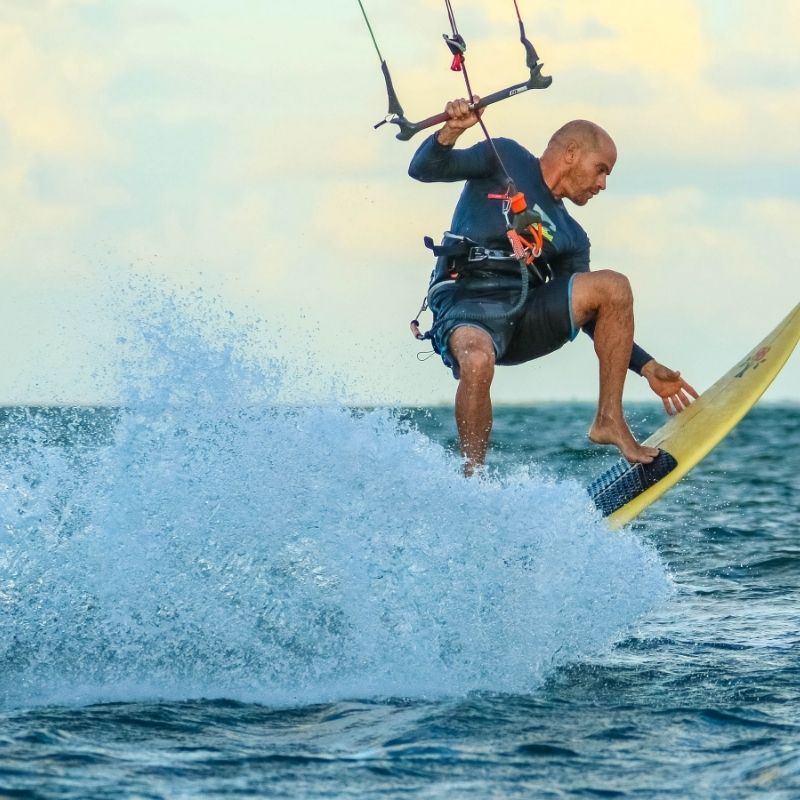 If you've come to the Costa del Sol to enjoy some of the best watersports in Malaga, you can't get by without visiting the Cable Ski and Wakeboard Center in San Pedro.
San Pedro is a beachside town conveniently nestled between Estepona and Marbella.
This is where you'll get the best of your ultimate sports holiday – waters skiing, wakeboarding, it's all happening right here.
San Pedro's Cable Ski and Wakeboard Center offer a great lake and a super friendly staff who are eager to help you have a safe but exciting experience.
There's a bar for those who would rather kick back and watch others engage in all the fun water activities and lots of play areas for kids.
Check out Cable Ski and Wakeboard Center's offers here.
Big Sup/ Paddle Surf (SUP)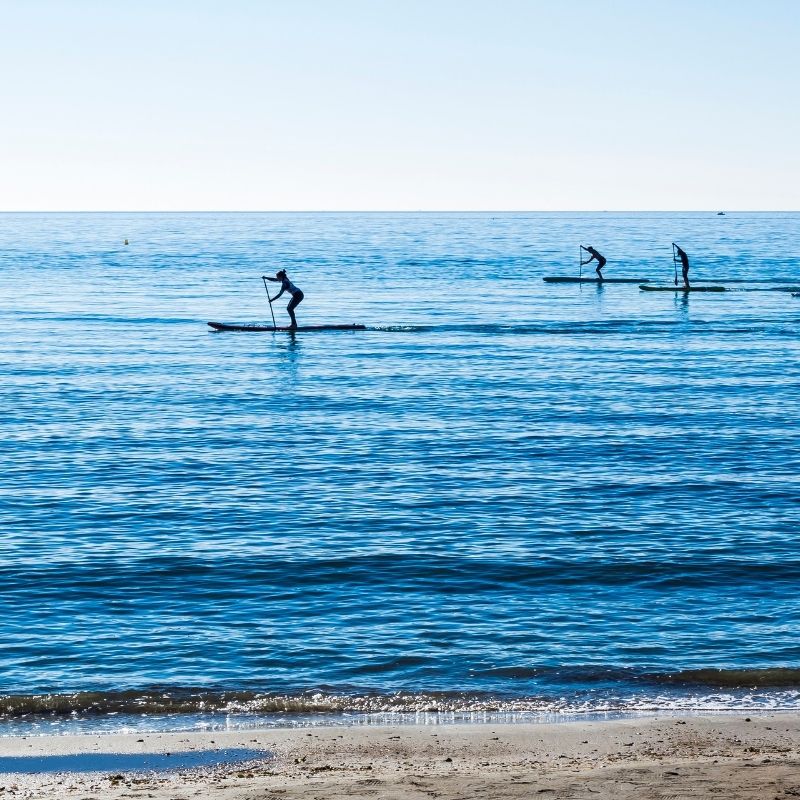 Looking for a combination of exclusivity and action of the beach watersports kind? Then the Alcazaba Lagoon just outside of Estepona is the place for you.
This luxurious resort offers first-class facilities including a wonderful restaurant and manicured gardens.
The resort is a 1.4-hectare lagoon in which you can practice all types of non-motorized water sports such as paddle surf, kayaking, and more.
If you want something different from the best watersports in Malaga and beyond, then a visit here should definitely form part of your itinerary.
It will also give you an opportunity to explore the beaches of Estepona, and the white-washed mountain town of Casares.
Contact the Alcazaba Lagoon staff here to make your reservation.
Hydro pedals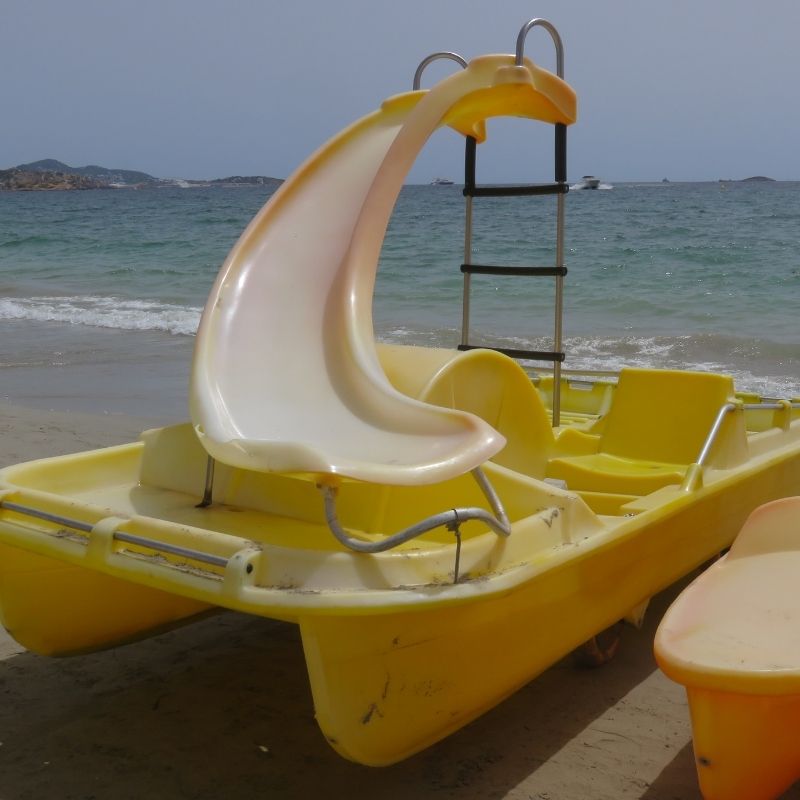 For a chillout day, you can never go wrong with renting some hydro pedals – in the shape of a swan, a dragon, or a giant chicken – and cruising down the river, past the Castillo Sohail in Fuengirola.
With the beach to one side and the river leading you to the waterfall next and under a funky bridge, you'll immediately find yourself desconectando and enjoying the ride.
Contact Multiaventura Castillo Sohail for prices and availabilities.
Best Hotels in Malaga, Southern Spain
After spending your days going on wild jet ski rides and surfing the Andalusian waves, you're going to need a comfortable bed in an accommodation that invites you to lay back and refuel.
Here are our top picks of where to stay in Malaga, with options for every budget range.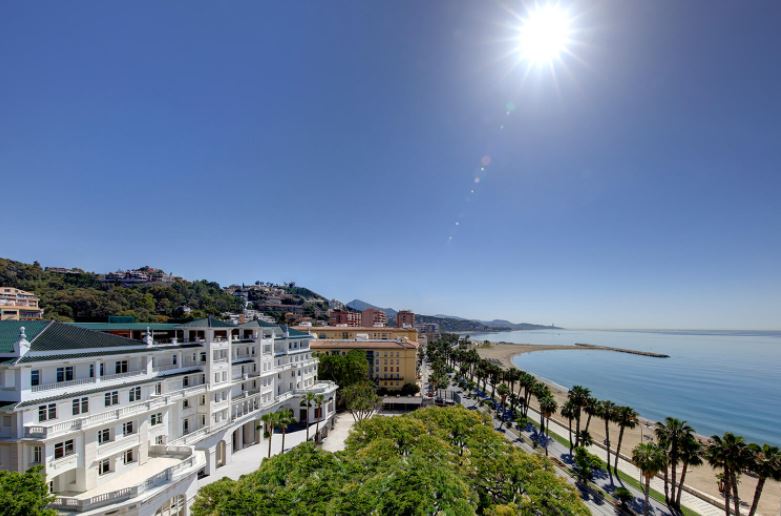 Its name says it all – the Palacio Gran Hotel Miramar looks like the backdrop to a period drama on Netflix, complete with a spectacular entrance hall with a stained glass ceiling.
The hotel has its own spa, two outdoor swimming pools, a gym, and a babysitting service.
What could possibly stress you out during a stay in this hotel?
Just a short ten-minute walk from the Calisthenics Park and Playa de la Malagueta, Gran Hotel Miramar offers the perfect location for your stay.
Here you can find prices & reviews.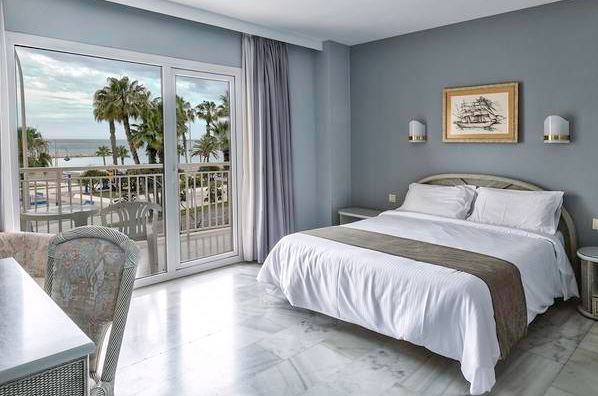 With a view of Playa de la Malagueta from your own private balcony and the center of Malaga at a walking distance of just fifteen minutes, the Soho Boutique Hotel Las Vegas is a favorite amongst holidaymakers.
Surrounded by great bars and restaurants, you have your choice of breakfast and dining possibilities – unless, of course, you decide to hang out at the hotel's poolside café instead.
This hotel includes a continental breakfast and is decorated in a warm and inviting style that makes guests feel right at home.
The Soho Boutique Hotel truly does have it all – the location, the decoration, and everything you need for a comfortable stay.
Check our rates and reviews here.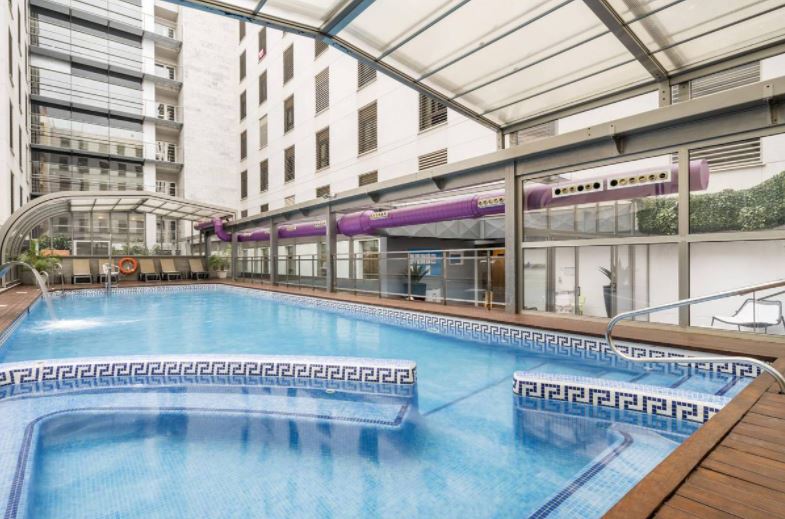 Hotel Ilunion is the perfect choice if, next to having a go at all the best watersports in Malaga, you're also looking to explore this beautiful city.
Just a five-minute walk from the CAC Malaga and the popular Soho district, this hotel is an excellent base for those who never tire of sports, culture, and cuisine.
With a pool, a spa, fitness area, and wellness area, the Ilunion offers affordable luxury. At just 85€ a night, you have access to everything a luxury hotel might offer, plus sea views!
Take a look at prices and reviews here.
Getting Around Malaga
Want to get to know all of Malaga's must-sees without doing all the walking? The hop-on-hop-off bus is an ideal way of getting to know this wonderful city.
With audio offered in eight languages, you can rest assured you'll learn the ins and outs of the city.
Opt for the essential tour, and you'll get a whole new perspective of Malaga – by seeing it from aboard a relaxing boat tour.
Short FAQ about the Best Watersports in Malaga and Costa del Sol
Is the sea clean in Malaga?
The sea in Malaga is very clean. Unfortunately, there are beaches that can get a bit dirtier during the high seasons, mainly due to people being irresponsible and leaving their trash lying around.
Where can I swim in Malaga?
There are lots of fantastic beaches for swimming in Malaga. Playa la Malagueta, for example, or Playa Pedregalejo are always a good choice for a good swim.
Does Malaga have sandy beaches?
Yes, most beaches in Malaga – especially those around the city center – are sandy beaches. You will find a few rocky beaches on the outskirts of Malaga, but even these are inviting and offer a pleasant massage for the feet.
---
---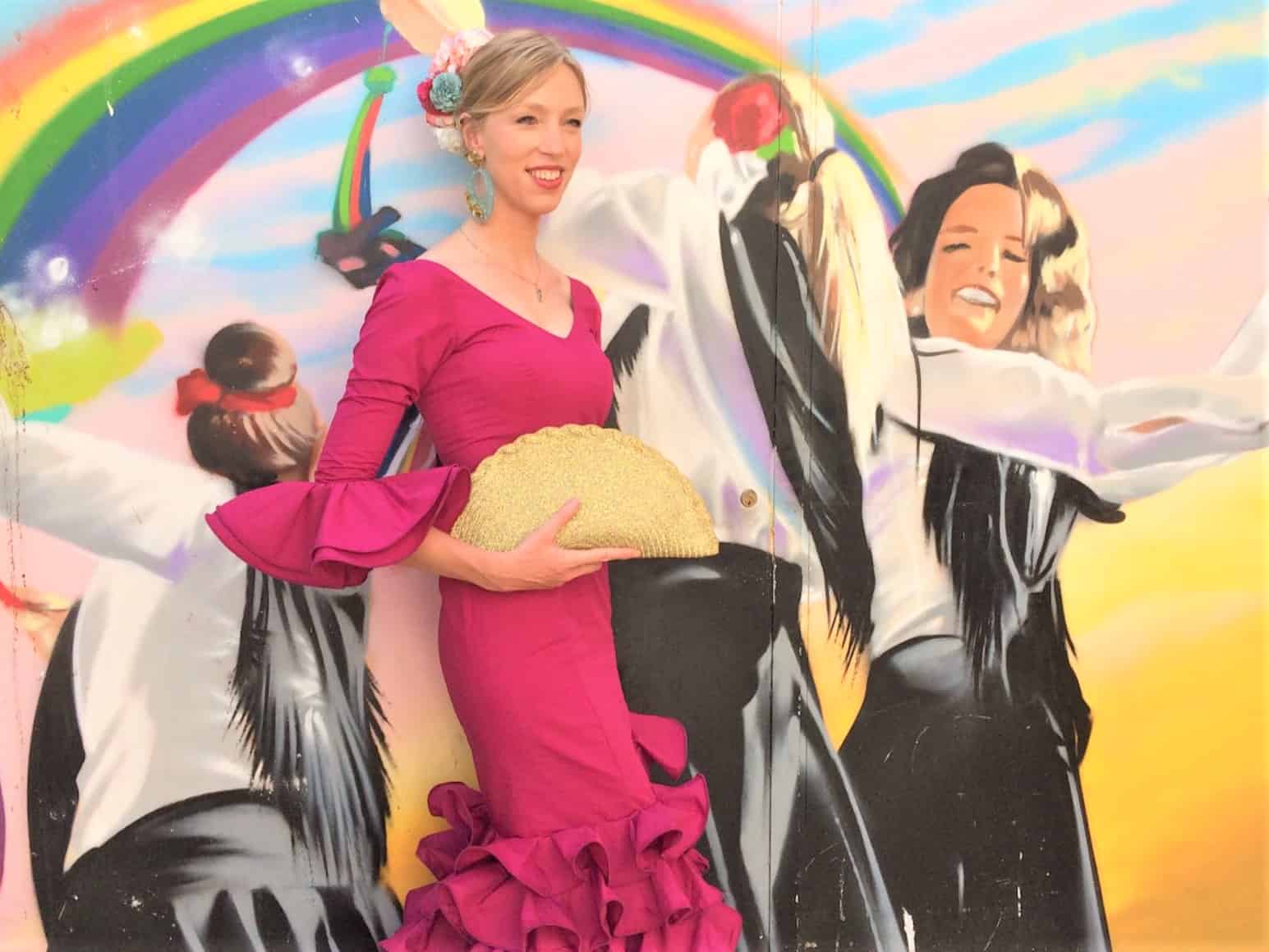 Hola, I'm Paulina! Together with my team, we are passionate about Southern Spain. Here we share all you need to know for great times in Southern Spain with the best places to visit, stay and, of course, the best food to eat.
Let's dive in and explore Southern Spain's outdoors, food and culture con pasión!