A guide on where to eat in Malaga, Southern Spain and where to eat in typical food from Malaga, Andalucia
I have been living in the Málaga area for about ten years now, and one thing I've learned and have truly come to love is the fact that everything revolves around food here!
Social activities, family reunions, cultural festivities, seasonal changes – here, in beautiful Andalusia, we associate all the good things in life with food.
This is why you will find some of the best places to eat in Málaga – the city that offers an exciting fusion of urban delights and fresh seafood to be enjoyed with a beachy breeze gently tousling your hair.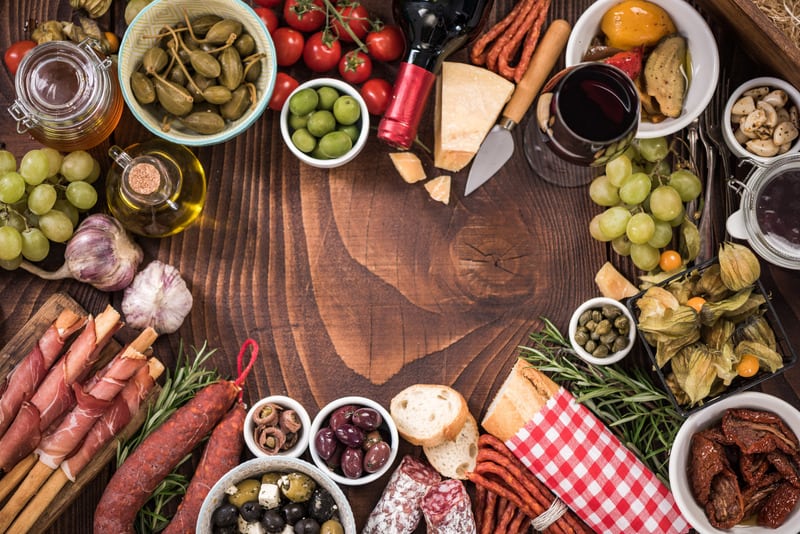 Only have 48 hours in Málaga? Don't you worry – that's plenty of time to eat your way through some of the best bars, restaurants, cafes, and chiringuitos in the city centre and the casco antiguo, Málaga's old town. So let's get you started on your culinary itinerary!
If you happen to be a foodie in Malaga, make sure to check out our guide about what typical food to eat in Malaga.
This post contains affiliate links. If you buy via them, I'll earn a small commission which helps me to keep this blog running. As an Amazon Associate I earn from qualifying purchases. All opinions are my own.
Best food tours in Malaga
Check all food tours in Malaga here
Best Breakfast in Málaga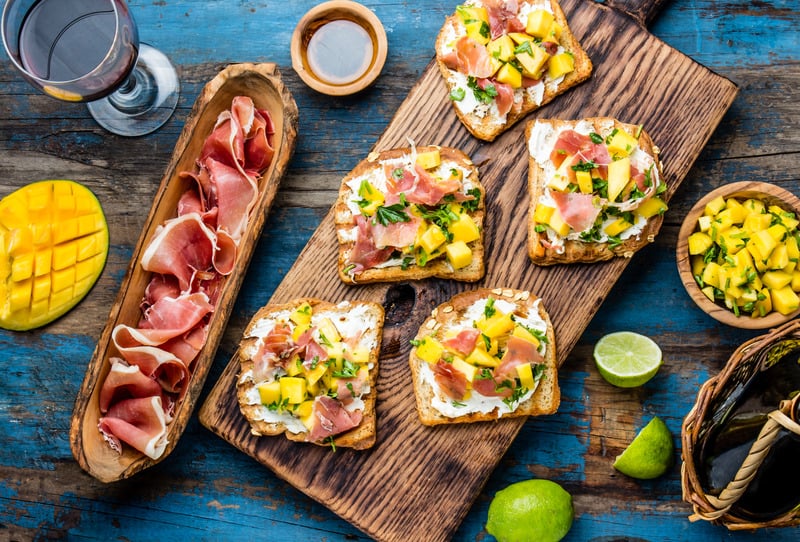 They say breakfast is the most important meal of the day – the one that will set you up with the energy and fuel needed to get through all your planned activities in Málaga. Start your day out right by having the best breakfast in Málaga in one of the cafes mentioned below.
Foodie Travel Tip:
One of the most popular breakfast options you'll come across in Andalusia, is the simple but oh-so scrummy pan con tomate – toasted bread, usually coated in raw garlic, with a healthy drop of olive oil and grated tomatoes. Delicious all year round!
Check food tours in Malaga here
Where to eat breakfast in Malaga
Cafe Central – Plaza de la Constitución, 11, Málaga
The Cafe Central is the place to start your morning people-watching whilst sipping on a steaming hot coffee of your choice – from cafe sombra to nube– and chowing down on a pitufo, the best Spanish bread with olive oil and a choice of jamón serrano or iberiíco, tomate or marmalade.
Bertani Cafe – Calle San Juan 40, Málaga
Those of you who need nothing more than a shot of espresso to get you going in the mornings should head to Bertani Café.
This intimate little café has the art of cappuccino and foam making down to a science! Take your coffee and small breakfast bites to go, or enjoy your breakfast inside the retro pink premises.
La Galerna – Paseo Marítimo el Pedregal, 66, Málaga
If you're looking for an idyllic seaside restaurant in Málaga, Spain that serves breakfast with sea views, you're going to love La Galerna.
Offering a variety of breads ranging from multigrain to soy and even gluten-free, a range of fresh juices and an exciting assortment of tea, La Galerna is all about offering healthy choices and an atmosphere of buen rollo – i.e. good vibes.
Santa Coffee – C. Tomás Heredia, 5, Málaga
Whether you like your breakfast sweet or savory, the Santa Coffee in Málaga specializes in specialty coffee and homemade cakes. They sell their roasted coffee too.
Enjoy a breakfast of fresh avocado on an open sandwich with a side of greens and tomatoes or opt for a melt-in-your-mouth cookie, cake or pastry to go along with your morning coffee. These products are all homemade and sold at fair prices.
Mia Coffee Shop – Plaza de los Mártires, 4 Málaga
Another one of the best places to eat in Málaga in the mornings is at the Mia Coffee Shop, a lovely little establishment in the Plaza de los Mártires, just a few minutes' walks from the famous Museo Carmen Thyssen.
Here you'll get your dose of fresh croissants, fabulous coffee, and divine muffins and brownies – stellar breakfasts for the sweet-tooths out there!
Best Brunch in Málaga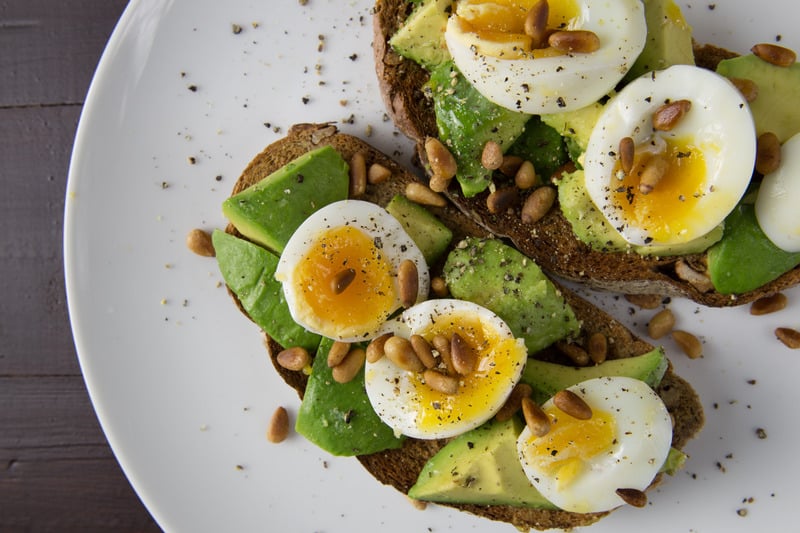 Up until recently, brunch wasn't really a thing here in Andalusia. Most locals have breakfast at around 10 AM and lunch at 14:00, so that doesn't leave a lot of hueco to squeeze in another meal type.
Following in the trend of big, cosmopolitan cities such as Madrid and Barcelona, however, Málaga and the Andalusian region, in general, have now adopted this new meal type too.
Foodie Travel Tip:
The Spanish use brunch to serve a wonderful fusion of dulce (sweet) and salados, and often incorporate new spins on traditional tapas dishes to elevate the experience.
Where to eat brunch in Malaga, Spain
Brunchit Coffee & Kitchen – Calle Carretería, 46, Málaga
For the best food in Málaga to eat during that sweet spot sometime between breakfast and lunch, hit the Brunchit Coffee & Kitchen and feast on a stack of fluffy, American-style pancakes covered in chocolate sauce, egg benedict, fresh smoothies and a choice of homemade, rustic bread from the house own bakery.
Santa Canela – Calle Tomás Heredia, 5, Málaga
The creative, super artsy Soho district – one of the best places in Málaga – is full of awesome surprises, and Santa Canela is one of them.
Kick back for a brunch of Spanish crepes, artisanal cakes, smoothies, salads and cereals that will fill your belly, whilst feasting your eyes and heart on this exciting district full of breathtaking murals, funky little shops, and galleries.
Desal Cafe – Calle Nosquera 2, 29008 Malaga
For a healthy brunch in a cozy, beautifully designed setting, you can't go wrong with the Desal Cafe, located between the Museo del Vino-Málaga and the Museo Carmen Thyssen.
The brunch choices here are endless and range between cheese and jamón platters, creatively prepared salads, and hearty sandwiches that will keep you going for the rest of the afternoon.
Byoko – Plaza de la Merced, 22, Málaga
Located on the famous Plaza de la Merced, where people gather on summer nights to get the party started prior to hitting the clubs and bars, you will find one of the best restaurants in Málaga city – Byoko: the brunch spot dedicated to feeding your world.
This is the first bio restaurant that serves only local produce sourced within Málaga, i.e. within a 0km radius!
Here you'll get the best bagels this city has to offer: with salmon and avocados, fried goat cheese with honey, rucula, and nuts, or "guacamozza" – a heavenly fusion of mozzarella and guacamole.
Gloria Hoyos – Calle Carreteria 89, Local Bajo, Málaga
For "eggs and other delights", an internationally inspired assortment of sandwiches, burgers, and dips including baba ganoush and lagrimas de cocodrilo – chicken fried with nachos and covered in melted cheddar cheese – make your way to Gloria Hoyos, close to the Museo Picasso.
This is the type of brunch cuisine you'd usually expect from a massive city like Barcelona, but what do you know? Málaga definitely delivers too!
Best Restaurants for Lunch in Málaga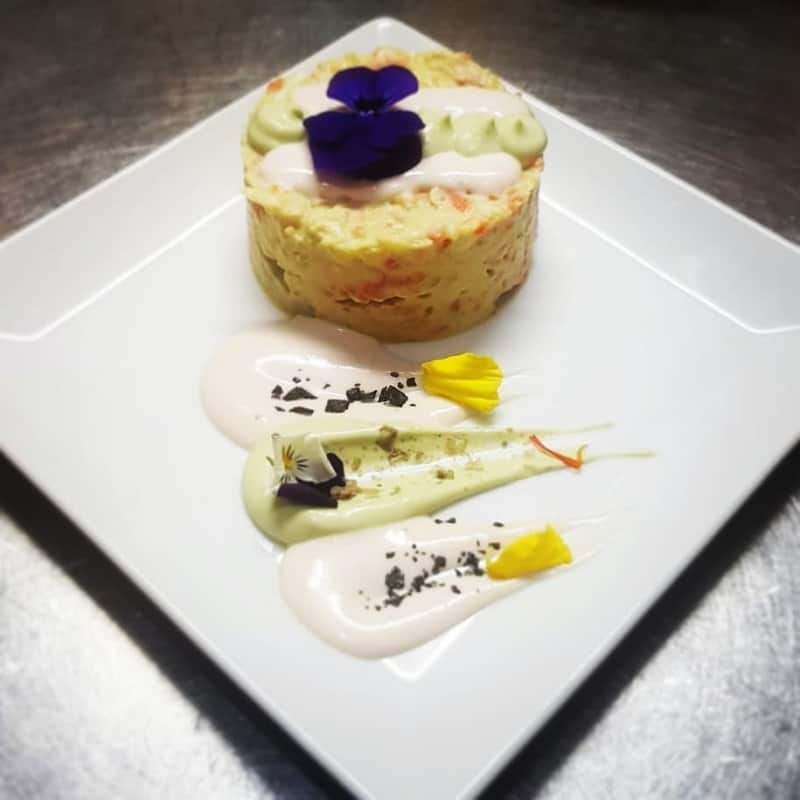 Without a doubt, one of the most important meal times in Andalusia – and Spain in general – is lunch.
The Spaniards are all about la hora de comer (lunchtime) and, if time permits, they will turn it into a leisurely, social affair most likely followed by a siesta in the hot summer months.
If you're looking forward to grabbing some lunch in Málaga, be sure to check out these five highly recommended restaurants!
Foodie Travel Tip:
When going out to lunch in Málaga, don't just go for a boring old appetizer a la ensalada followed by your choice of mains – do like the locals do!
Start out with a variety of tapas to share, take your time with them, savor them, and then order your mains.
Check food tours in Malaga here
Where to eat Lunch in Malaga, Spain
Andino Gastrobar – Calle Calderón de la Barca 3, Málaga
Ready for lunch and not sure where to eat in Málaga? How about the Andino Gastrobar in the heart of the city?
This restaurant offers a fusion of Latin American specialties and Spanish tapas and exciting cocktails made with fresh fruits.
Whether your diet is vegetarian, vegan, or meat-based, the Andino Gastrobar caters to every taste. Though this restaurant is on the pricier side, every bite is worth every last penny!
Casaamigos – Calle Nosquera, 14 Local Izq, Málaga
As the name of this restaurant already suggests, this is one of the best places to eat in Málaga with your friends.
With a large outdoor terrace and a modern atmosphere inside, Casaamigos serves appetizers, fish, and meat dishes with a contemporary spin.
So, if you're ordering patatas bravas, don't expect the traditional recipe – here, they are served on a bed of spicy foam.
Restaurante Picasso – Plaza de la Merced 19-20, Málaga
Located behind the Museo Casa Natal de Picasso, you will find a restaurant named after Málaga's most renowned painter.
Restaurante Picasso offers a fantastic 5 tapas for €10 deal and fabulous meat dishes from around the world.
Round your lunch off with a house wine or a round of chupitos to aid digestion, and you're all set for a leisurely afternoon/evening of exploring the city feeling pleasantly full. It's perfect when looking for typical food from Malaga!
Siete Semillas – Plaza Arriola 1, Málaga
This 100% ecological restaurant located close to the Guadalmedina river, offers a variety of lovingly prepared dishes, based on seasonal availability.
If you're a carnivore at heart, not to worry – just because Siete Semillas is named after seeds, it doesn't mean you won't be served any meat here.
On the contrary, their meat and fish dishes are as beloved as their vegetarian/vegan, gluten, sugar, and lactose-free mains and desserts.
Kortxo – Calle Salinas 3, Málaga
For something a little more special – ideal for celebrating occasions such as birthdays and anniversaries – you can't go wrong with the elegantly designed Kortxo, one of the best restaurants in Málaga city.
Their croquetas de bacalao a la vizcaína (cod croquettes prepared with biscay flavours) and ensalada rusa con mayonesa de aguacate (russian salad with avocado mayonnaise) are to die for.
Best Paella in Málaga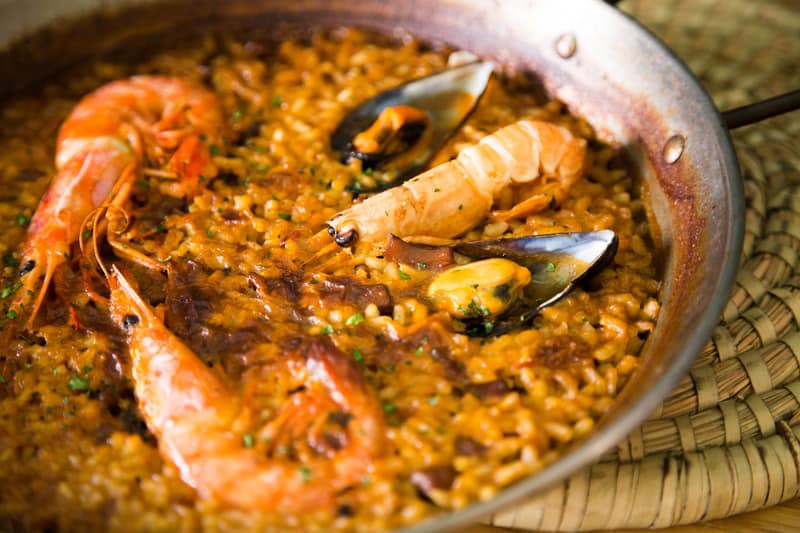 Málaga is known for many things – including scorching hot temperatures during the summer season, brought to you by the famous terral, a northern wind that feels as though you're holding a hairdryer right up to your face.
This is why the summer calls for light cuisine and, although the traditional paella is packed full of wonderful seafood and/or meat delights, it is easy on the stomach and won't weigh you down for the rest of the day or night. If you are wondering what to eat in Malaga, paella on the beach is a must!
Foodie Travel Tip:
Each region of Spain prepares its paella differently; up north, you might find a game in your paella, whereas in Málaga, it is typically made with a mixture of seafood and chicken.
Where to eat paella in Malaga, Spain:
El Gastronauta – Calle Echegaray, N. 3, local 2, Malaga
Locals and visitors all agree on one thing: the best paella in Málaga is to be consumed at El Gastronauta, close to the Jardines de Pedro Luis Alonso.
With indoor and outdoor spaces, this restaurant attracts visitors hungry for paella all year round. It offers vegetarian paella options, as well as the paella negra de marisco (black paella with seafood).
La Proa de Teatinos – Calle Andrómeda 11, Málaga
Located just a five-minute drive from Teatinos, the student district of the city, where the tapas are cheap and the beers are a-flowing, you will find La Proa de Teatinos, one of the best restaurants in Málaga – especially where paella is concerned.
Their paella, caldoso y fideuà prepared with lobster, monkfish, prawns, black paella, and iberían meats and vegetables, counts as one of their many specialties.
Chiringuito El Cachalote – Paseo Marítimo Pablo Ruiz Picasso, Málaga
Beachside views, a sea breeze, sunshine, and a cold Cerveza – what more could you want from a hot summer's day?
A traditionally prepared paella dish! Chiringuito El Cachalote counts as one of the best restaurants in Málaga, Spain, and is always ready to serve you with their scrumptious paella specialties.
Best Tapas in Málaga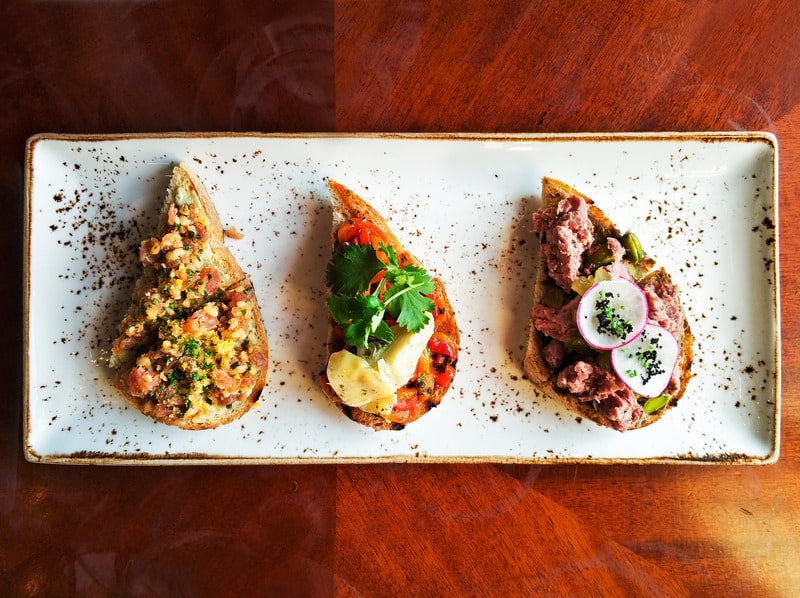 Regardless of where in Andalusia you're staying, tapas in Málaga should always be a top priority.
As I've mentioned before, eating – whether it's tapas or just your standard lunch or dinner – is a social event here, and nothing invites quite as much joy and conversation as sharing an assortment of delicious tapas with your friends and family.
Foodie Travel Tip:
So, if you're headed out for the best tapas in Málaga in a group, this is how you do it: you each order two to three tapas that most appeal to you.
Once they have been served, and your table is full of mouth-wateringly tasty raciones to choose from, dig into all of them – it's all about sharing!
Check tapas tours in Malaga here
Where to eat tapas in Malaga, Spain
Las Niñas del Soho – Calle San Lorenzo 27, Málaga
After a late morning of exploring the latest exhibitions at the Centro de Arte Contemporàneo (CAC), a two-minute walk will take you to one of the coolest tapas bars in Málaga – Las Niñas del Soho.
Offering a surprising variety of traditional tapas with original additions and fusions, this spot has become a city favorite.
El Tapeo de Cervantes – Calle Càrcer 8, Málaga
Just around the corner from the city's historic Teatro Cervantes, you'll find El Tapeo de Cervantes, one of the best tapas bars in Málaga in which to tapear prior to hitting the theatre to catch a show.
Serving the traditional food such as porra Antequerana, as well as their own creations like grilled, bluefin tuna in a cauliflower emulsion, you'll be tempted to try everything on the menu. Make sure to try their sweet wines too!
La Tranca – Calle Carretería 92, Málaga
This tapas bar, Málaga won't just lure you in byways of its fantastic menu, it also happens to be one of the most beautifully decorated establishments in the city.
The walls are lined with vintage photographs of some of Spain's and Andalucia's most famous figures, including different toreros (bullfighters), pop stars such as Rocio, and the renowned Andalusian guitarist, Paco de Lucia.
Bodeguita el Gallo – Calle San Agustín 19, Málaga
If you're trying to decide on one of the many great bars in Málaga old town, settle on the Bodeguita el Gallo, right around the corner from the Museo Picasso.
This family-owned restaurant serves authentic tapas – available in small, medium, or full portions – and always serves their dishes with a smile.
Best Restaurants in Málaga for Dinner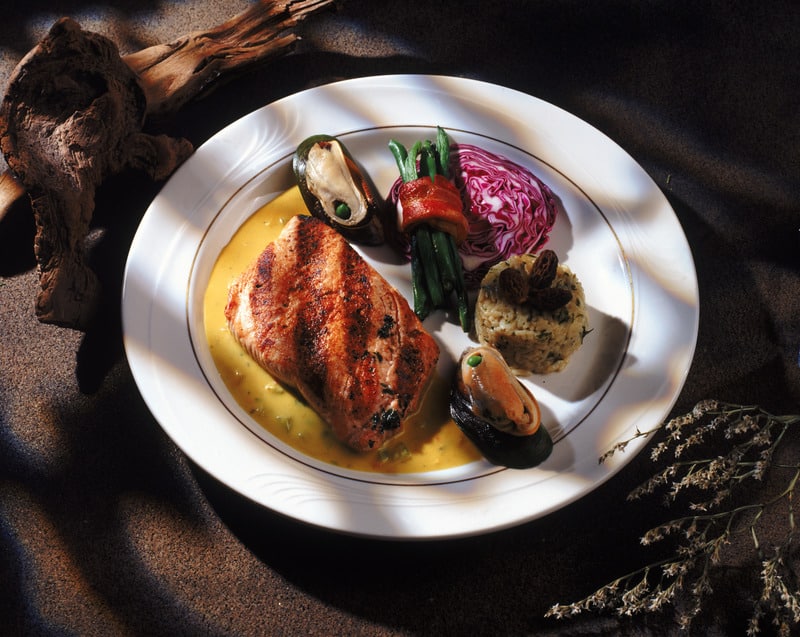 If you happen to be visiting Málaga during the high summer season, there's a chance you won't be able to eat much throughout the day – your appetite can take a bit of a hit in this heat, and that's absolutely normal.
This gives you all the more reason to aprovechar (take advantage of) the cooler temperatures in the evenings and nighttime when suddenly you'll find your stomach growling for attention!
Obviously, Málaga restaurants such as El Pimpi, the bodega bar known for their wine cellar where you can find barrels signed by national celebrities such as Antonio Banderas and Pablo Alborran, or El Tintero, a chiringuito that has been described as "seafood heaven", are a must.
But there are plenty of other dining hot spots to discover in the city too!
Foodie Travel Tip:
A lot of northerners are shocked to find that dinner in Spain isn't typically served until around 9 or 10 PM – precisely for the reason mentioned above!
Where to have dinner in Malaga, Spain
Casa Lola – Calle Granada 46, Málaga
One of the best ways to spot good restaurants in Málaga is based on the number of people – tourists and locals alike – queuing outside.
At Casa Lola, you'll almost always have to endure a little wait until you get a table – that's how popular this place is. And let me tell you, it is well worth the wait!
Serving all the Andalusian classics in a bustling atmosphere, you're truly going in for an authentically Malagueñan dinner experience.
You should definitely take a look at an article we wrote on the best Andalusian food, Spain and plan your foodie trip to Malaga asap!
Ocho– Calle Pedro de Toledo 2, Málaga
Offering a seductive selection of Mediterranean cuisine made from locally sourced products, Ocho has established itself as one of Málaga's prime choices for "slow food" in a warm, cozy atmosphere.
Surrounded by the city's most popular museums, this is a great place to round off a perfect day.
El Balneario – Calle Bolivia 26, Málaga
Nothing quite brings on the holiday vibe more than having dinner in an idyllic setting – such as at the seaside, with beach views.
At El Balneario, you can have exactly that as you feast on all the best dishes and fried fish specialties Málaga has to offer. Espetos for example is must when it comes to fish. When wondering what to eat in Malaga, you certainly can't skip it!
Crack open a bottle of Malaga wine, dig into your choice of seafood, and let the sea breeze tickle your cheeks as you wind down a day of sightseeing.
La Alacena de Francis – Calle Montalbán 1, Málaga
The rustic style tavern, La Alacena de Francis, is something truly special.
With inviting decor and a whole variety of meat and fish specialties, this is one of the top restaurants in Málaga that keeps locals and tourists from all over the world coming back for a unique dining experience and quality service.
One can feel the owners' passion for quality cuisine with every bite.
Be sure to also check out our 3 day itinerary Malaga for more info.
---
A short FAQ about where to eat in Malaga
Where do locals eat in Malaga?
Locals and visitors all agree on one thing: the best paella in Málaga is to be consumed at El Gastronauta, close to the Jardines de Pedro Luis Alonso.
What to eat and drink in Malaga?
You should definitely try some tapas at Restaurante Picasso with some house wine.
Where to eat in Malaga city centre?
You should definitely try Kortxo when looking for places to eat in Malaga city centre.
---
Best Restaurants in Malaga – Map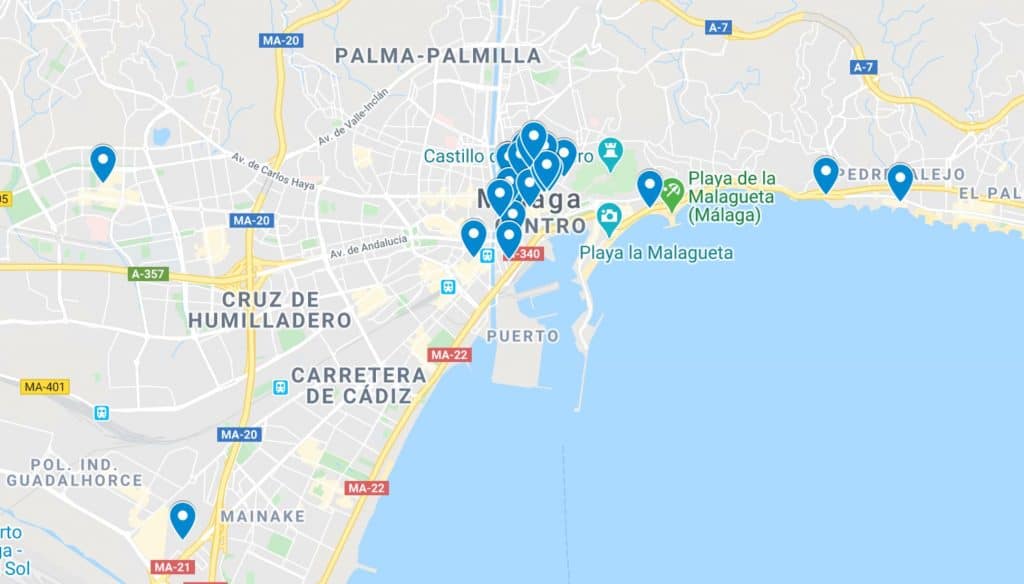 ---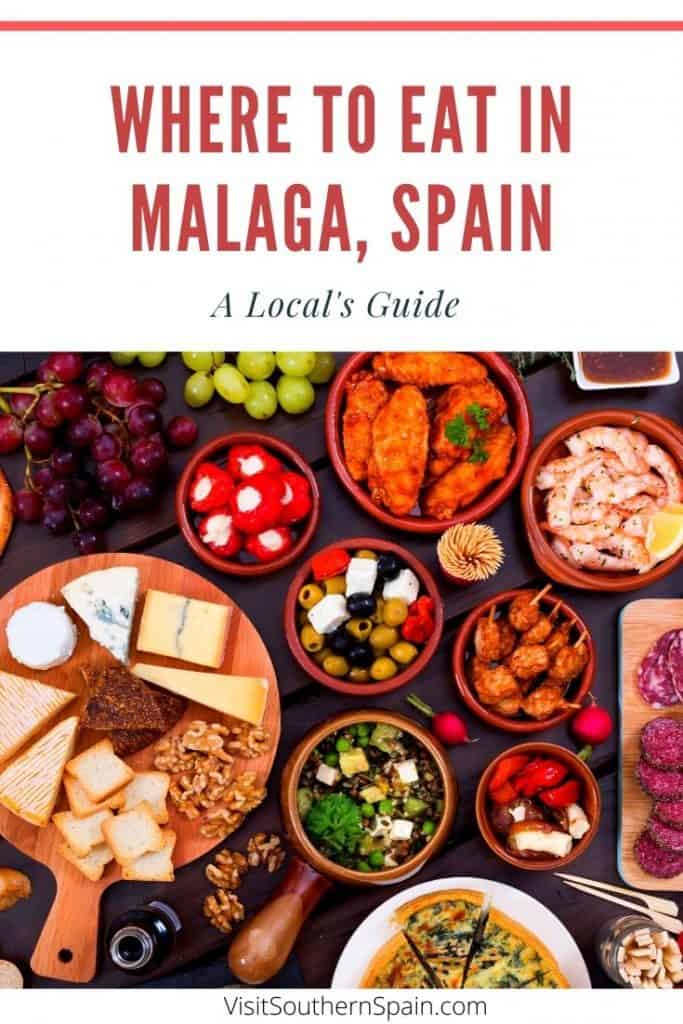 ---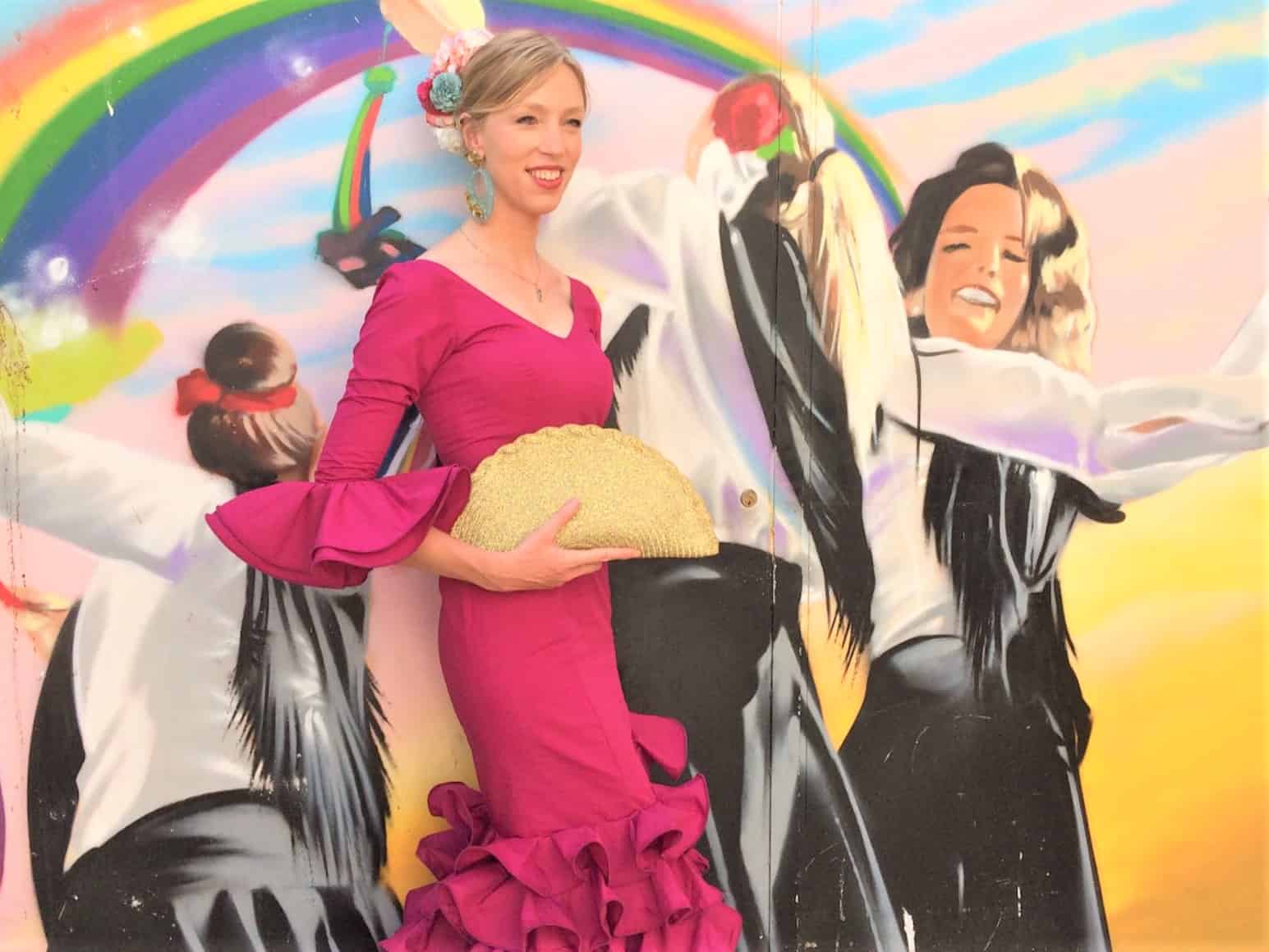 Hola, I'm Paulina! Together with my team, we are passionate about Southern Spain. Here we share all you need to know for great times in Southern Spain with the best places to visit, stay and, of course, the best food to eat.
Let's dive in and explore Southern Spain's outdoors, food and culture con pasión!