An extensive guide to the best breakfast you could have in Spain
In Spain, it is quite common to have a delicious breakfast every morning to ensure you get the energy you need to start your day.
This post is aimed to provide the 26 best Spanish breakfast foods to make the most of your morning.
Some of the recipes you have here can be quickly prepared, which is ideal to prepare on busy days, and others are ideal to elaborate on your free weekends.
Now let's dive into the list of Spanish breakfast foods list which might help you choose your favorite dish for your next trip to Spain.
Hey! Don't forget to grab my free Weekly Meal Plan with Spanish Food below!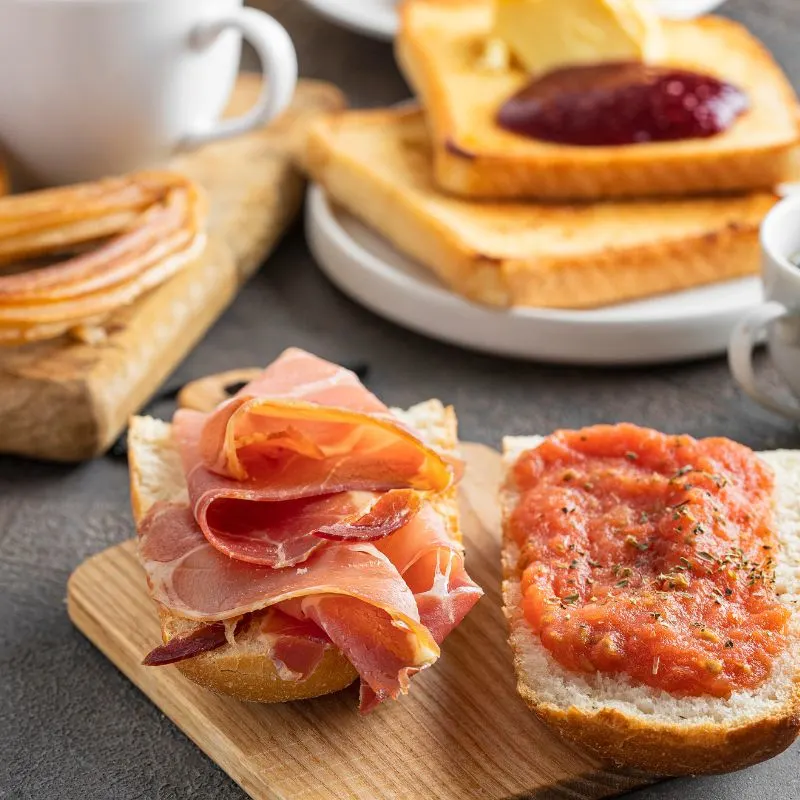 This blog is supported by you, dear reader. If you purchase through a link, we earn a small commission. As an Amazon Affiliate, we earn from qualifying purchases.
Best Spanish Breakfast Foods – Savory Breakfast
1.Tortilla de Patatas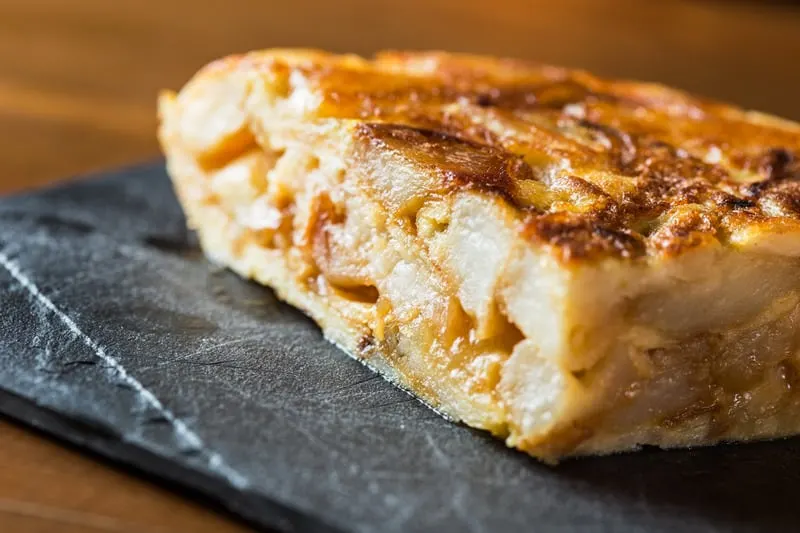 One of the most popular Spanish breakfast foods is the tortilla de patatas.
To prepare this delicious Spanish recipe you should have quite a lot of time because you will need to peel, cut, and fry some potatoes.
Then, you will have to beat some eggs, mix them with the fried potatoes, stir the mixture, and cook it in the frying pan with just a little bit of olive oil.
Onion is also an ingredient that could be added to the tortilla in order to make it tastier.
If you do not have enough time you can make a tortilla francesa which is the same but without having to fry the potatoes.
Get the recipe: Tortilla de Patatas – Spanish Omelette Recipe
2. Empanadas
Simple Spanish breakfast foods that are enjoyed in Spain are empanadas.
These are salty and nutritious snacks that will provide you with everything you need to face a hard working day or a busy traveling journey.
You can find them in local bakeries and they can be filled with lamb, pork, chicken, and seafood.
It doesn't really matter which one you choose because all of them are delicious.
Get the recipes:
3. Spanish Tomato Toast
One of the best Spanish breakfast dishes is toasted bread with tomatoes and olive oil.
These Hispanic breakfast foods are served in almost all bars and they usually offer the option to top them with some regional cheese or cured ham.
The tomato toast is a simple and fast way to prepare a Spanish breakfast and even though it isn't an elaborate dish, the flavors are on point.
Get the recipe: Easy Spanish Tomato Toast [Pan con Tomate]
4. Bocadillos (Sandwiches)
Another typical Spanish breakfast is bocadillo. They are usually prepared with a baguette, or Spanish bread, pitufo – a mini bread bum.
The great thing about bocadillos is that you can choose the filling you like the most.
Fill them with calamari rings, tortilla de patatas, Jamon and cheese. Or make a serranito with pork loin steak and Jamon.
Add some mayonnaise to it or your favorite sauce and it will be delicious. As it is a big sandwich, you can have it as lunch.
Get the recipe: Easy Spanish Sandwich Recipe [El Serranito]
5. Pan-fried eggs with Potatoes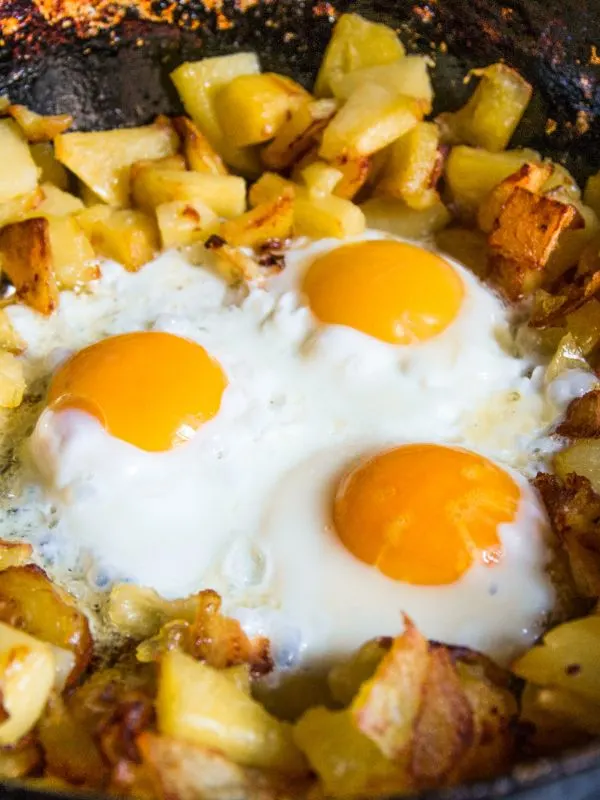 If you are looking for some breakfast egg recipes, you should definitely prepare pan-fried eggs with potatoes.
This Spanish breakfast dish may be a little time-consuming but the result will never disappoint you.
As with most Spanish breakfast foods, you just need to use some great olive oil to fry the ingredients all together and make the most of each bite.
Get the recipe:
6. Migas
Migas were one of the most widespreadSpanish breakfast foods among peasants in the past. The main reason is that its ingredients were cheap and easy for them to get.
Migas are fried pieces of wet bread that can be cooked with some meat, like for example chorizo.
Nowadays, it is eaten throughout Spain and it has become increasingly popular because of its exquisite taste.
Get the recipe: Traditional Spanish Migas Recipe
7. Patatas a lo Pobre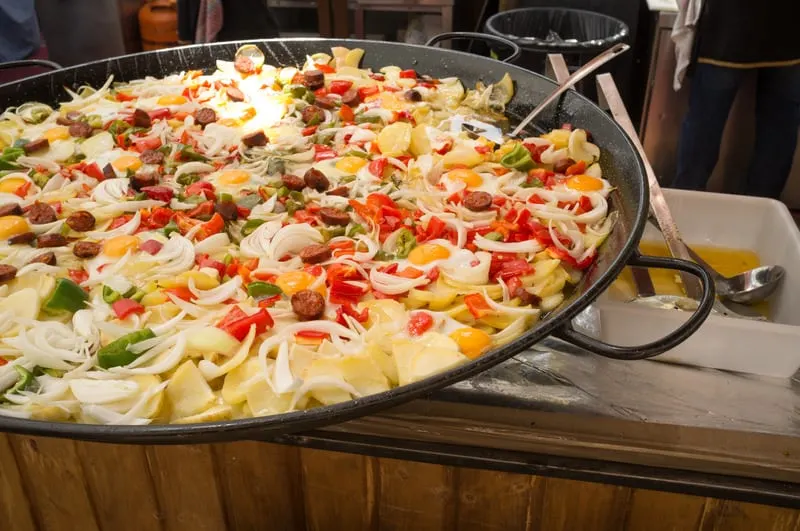 A typical Spanish breakfast to get tons of energy is patatas a lo Pobre. This Spanish breakfast recipe requires potatoes, green pepper, garlic, and of course, onion.
You just need to fry the potato slices, green pepper, garlic, and onion in a pan with olive oil.
To get the perfect texture, you will have to fry them slowly because you don't want burnt onion or potatoes in this dish. It is very caloric but delicious also.
Get the recipe: Patatas a lo Pobre – "Poor Man's Potatoes" Recipe
8. The Mediterraneo Breakfast
Complete breakfast in Spain is called the Mediterraneo and it is one of the most popular breakfast foods among locals.
It consists of a combination of a hot drink such as coffee, tea, or hot chocolate, a natural orange juice, toast with olive oil and tomato, cold cuts, fruit, and yogurt.
The idea behind this Spanish breakfast is to add food that is from the Mediterranean diet, so basically you can put together whatever you like. As long as they are Mediterranean.
Get the recipe:
9. Pitufo with different fillings
A pitufo is a small bread very popular in Málaga and it can be translated as smurf bread.
In fact, it is just called pitufo in this region of Spain, so you shouldn't be surprised if you order it somewhere else and they don't understand what you are asking for.
They are filled with cheese and ham, fried eggs, or sausages and it definitely makes a difference if the pitufo is fresh.
Get the recipe: Easy Spanish Bread Recipe [Pitufo Bread from Malaga]
10. Vegan Spanish Omelet Recipe
Tortilla española vegana is one of the healthiest Spanish breakfast recipes that can be considered a savory plant-based alternative to the usual Spanish omelet, which is normally cooked with eggs and potatoes.
Vegan Spanish omelets are a delicious substitute for people who have a plant-based diet or want to consume less animal products.
They provide a tasty and cruelty-free choice for everyone to enjoy while capturing the flavor of the classic Spanish omelet.
If we want to prepare it at home, we just need to prepare a mixture of chickpea flour and water that will resemble beaten eggs and sauté the vegetables we most like.
Get the recipe: Vegan Spanish Omelette Recipe
11. Huevos a la Flamenca Recipe
Huevos a la Flamenca is a tasty baked meal made with eggs, a variety of vegetables, and some meat or fish.
In Spain, eggs a la flamenca are commonly eaten during brunch or lunch; nevertheless, small servings of this dish may also be offered as a tapa.
Spanish breakfast recipes like these seem to be connected to Andalusia, which is the region where flamenco was born.
In fact, the name huevos a la flamenca, which can be translated as 'flamenco-style eggs', maybe a tribute to the local culture.
Get the recipe: Huevos a la Flamenca
12. Spanish Omelette with Chorizo Recipe
A delightful variant of the traditional tortilla española that integrates the flavors of chorizo is the Spanish omelet with chorizo.
Adding chorizo to the classic tortilla gives a savory and spicy twist to this common meal and it can be eaten hot or cold.
Omelets are one of the easiest and quickest Spanish breakfast recipes to prepare at home.
If we want to impress our guests with this peculiar tortilla, we should just sauté some diced chorizo and while these are getting cooked, we need to beat some eggs.
Then, we have to pour the chorizo into the beaten eggs and pour all the ingredients together into the frying pan again.
Get the recipe: Spanish Omelette with Chorizo
13. Spanish Potatoes and Eggs Recipe
Spanish potatoes and eggs is a common regional dish also known as huevos rotos.
The translation of the Spanish name is 'broken eggs' and it makes sense because it consists of some fried sliced potatoes and eggs that should be cut to allow the yolk to spread on the potatoes.
It is one of the easiest Spanish breakfast recipes we will ever read because to have it ready we just need to fry sliced potatoes and eggs.
The fresher the ingredients you get, the better the dish will taste.
Get the recipe: Spanish Potatoes and Eggs
Best Spanish Breakfast Foods – Sweet Breakfast
14. Churros con Chocolate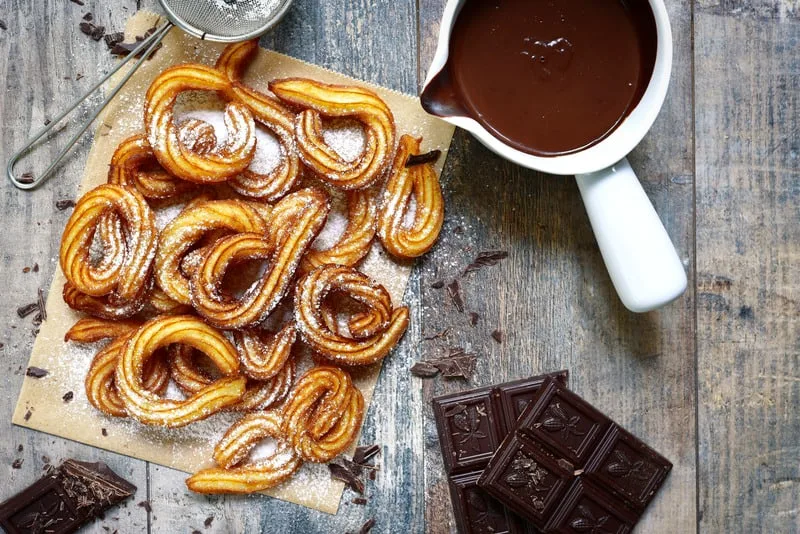 A very popular sweet Spanish breakfast recipe is churros con chocolate. Churros are sweet fried pastries that are usually eaten as breakfast or as an afternoon snack.
You should bear in mind that churros con chocolate are commonly eaten in winter because they help you get warmed when walking around the city looking for some Christmas presents.
In Spain, hot chocolates are quite thick and you will need just a few churros to feel your tummy full.
Get the recipe: Authentic Churros Recipe from Spain
15. Spanish Pastries
Some traditional Spanish breakfast foods are varied pastries, which are usually loved by those who enjoy having tea in the morning.
Each region of Spain has different kinds of Spanish breakfast sweets but everywhere you go you will find delicious pastries.
In Winter, locals love to have some ginger or cinnamon pastries, whereas in Summer pastries like napolitanas are the best fit for your coffee.
Get the recipes:
16. Torrijas
Torrijas are one of the most typical breakfast examples of Easter. This Spanish breakfast dish was traditionally prepared to avoid wasting bread.
This sweet breakfast recipe consists of soaking some slices of hard bread in milk that has been warmed with some lemon peel and a vanilla stick.
After that, you will have to coat them with sugar and cinnamon and fry them. A healthier version of the traditional torrijas can be made by cooking them in the oven.
Get the recipe: Delicious Torrijas Recipe (Spanish French Toast)
17. Spanish Crepes
When looking for some easy and yummy Spanish breakfast recipes, you may want to try to prepare some crepes at home.
You just need to blend some flour, eggs, milk, and sugar to prepare the mixture.
After that, pour the batter into a pan and wait for 30 seconds to get the consistency that allows you to flip it.
The great thing about crepes is that you can fill them with sweet or savory ingredients.
Although the most popular ones are chocolate crepes, you can also have them with cheese and ham.
Get the recipe: Best Spanish Crepes – Tasty Recipe from a Local
18. Toast with Butter and Jam
As mentioned above, toasted bread with tomato and olive oil is a typical breakfast in Spain.
However, you can easily get a toast with butter and jam if you feel like eating something sweet early in the morning. Apricot and strawberry ham are the most popular among locals.
And to make this toast even more Spanish, prepare some dulce de membrillo (quince paste) in autumn and put some slices on your buttered toast.
19. Spanish Muffins (Magdalenas)
A delicious and easy Spanish breakfast is a magdalenas. These Spanish breakfast foods are very similar to American muffins, however, they are usually smaller.
The main difference between Spanish magdalenas and American muffins is that magdalenas are like a small portion of a sponge cake, they are just a mixture of flour, eggs, and sugar that is baked in a cupcake tray.
Spanish magdalenas do not contain chocolate chips or fruit jams but if you want you can add the. They won't be the authentic Spanish ones but your kids will love them.
Get the recipe: Best Ever Spanish Magdalenas Recipe
20. Bizocho (Spanish Sponge Cake)
Sweet Spanish breakfast foods like bizcochos are very popular to have with coffee and tea.
A bizcocho is a sponge cake and they might be different for each part of Spain.
You can get a fruity bizcocho, flavored with some orange or lemon peel, a chocolate one, or you may prefer the one that contains nuts.
Nevertheless, the plain Spanish sponge cake is made with flour, eggs, sugar, baking powder, and vanilla.
Get the recipe: Best Spanish Sponge Cake for Breakfast
21. Ensaimada
Your list of Spanish breakfast foods should definitely contain the ensaimada. Ensaimadas are a traditional sweet pastry from Mallorca.
It consists of baked dough made with flour, sugar, baking powder, and pork fat.
The kind of pork fat that is used to prepare it is known as saim, and ensaimada literally means 'with saim'.
Ensaimadas can be plain, filled with sweet ingredients, or topped with cream, apricots, or, sobrasada (Mallorcan sausage).
They are delicious so you should never miss the opportunity to try them.
Get the recipe: Soft Ensaymada Recipe from Spain
22. Cafe con Leche and Orange Juice
Two of the local's favorite drinks are café con leche, which is a strong coffee latte, and orange juice.
Spain is one of the major producers of oranges in Europe and the quality of their oranges is outstanding, that's why their juices are extremely tasty.
Order a coffee with milk, a glass of orange juice, and some magdalenas, and next time you're in Spain if you want a real Spanish experience.
23. Spanish Almond Cake
A typical dessert that can also be eaten as breakfast is the Spanish almond cake. In Mallorca, there is a regional almond cake called gató.
To prepare it you will need to get some crushed almonds, flour, eggs, sugar, and baking powder.
You will need to mix all the ingredients inside a blender and bake the mixture in your oven at 180ªC for approximately 30 minutes.
Once it's cooled down, dust it with powdered sugar or your favorite frosting and serve with next to a cup of coffee.
Get the recipe: Spanish Almond Cake
24. Apple Empanada
Apple pies or apple empanadas are also one of the favorite Spanish breakfasts among locals.
To prepare them at home you can buy some empanada dough and apples to make a compote.
The compote can be made by heating small apple cubes in the microwave and adding sugar and cinnamon.
Cut the dough into rounded shapes and fill it with the apple compote and give them an egg wash in order to have a golden color once they're baked.
Get the recipe: Delicious Apple Empanada from Spain
25. Spanish Bread Pudding
Bread pudding is one of the most popular Spanish breakfast recipes and it is a simple but delicious sweet delicacy prepared with stale bread, milk, eggs and sugar.
Spanish bread pudding is a tasty dessert that can be prepared in several different ways by using regional ingredients and flavors.
This dessert is pretty simple to make at home; all we need to do is soak some crusty bread in milk and make a custard with eggs, sugar, vanilla essence, and lemon zest.
Place all of these ingredients in a baking dish and bake them for 40 minutes with a water bath.
Get the recipe: Spanish Bread Pudding
26. Pan de Leche Recipe
Pan de leche, or Spanish milk bread, is a soft, lightly sweet bread that is popular among Spaniards because it is perfect for breakfast or as a snack.
It is usually consumed plain but we can also have it with some butter, chocolate, or jam.
To make Spanish breakfast recipes like these at home, we just need to combine milk, yeast, flour, sugar, and salt to make a dough that will be divided into small spherical rolls and baked for 30 minutes.
Get the recipe: Pan de Leche Recipe
---
Short FAQ about the Best Spanish Breakfast Foods
What time is breakfast in Spain?
Spanish breakfast foods are usually eaten from 7 a.m. to 10 a.m.
If you have breakfast later than that it is considered brunch.
What bread do they eat in Spain?
A typical Spanish breakfast is toast and the bread that is typical of Spain is the pan moreno.
This kind of bread is not as processed as white bread and it contains more nutrients and fiber.
What is a Spanish cheese?

Bread in Spain is usually accompanied by some regional cheese.
In fact, most breakfast examples in which toast is involved also include typical cheeses like queso manchego.
---
---
Hola, I'm Paulina! Together with my team, we are passionate about Southern Spain. Here we share all you need to know for great times in Southern Spain with the best places to visit, stay and, of course, the best food to eat.
Let's dive in and explore Southern Spain's outdoors, food and culture con pasión!