A guide to the best Spanish desserts that you need to try
Spain is well-known for the high quality of its distinctive and delectable cuisine. Not only are the main courses delicious, but I am sure you will enjoy some of their best Spanish desserts as well.
If you are not familiar with typical Spanish desserts, this post will provide you with a list of the tastiest treats from Spain.
I would encourage you to take some notes if you are planning to make them at home. When you are visiting Spain next time you will know exactly what you want to try from their tasty desserts.
Hey! Don't forget to download our free Weekly Meal Plan with Spanish Food below!
This blog is supported by you, dear reader. If you purchase through a link, we earn a small commission. As an Amazon Affiliate, we earn from qualifying purchases.
20 Best Spanish Desserts
1. Authentic Churros Recipe
There is no doubt about the fact that the best Spanish desserts are delicious.
Sweet churros are one of the most popular treats from Spain because these sweet churros are eaten all day long.
Locals find it fancy to have them as breakfast, dessert after a light meal, or as an afternoon snack.
These are usually advertised as churros con chocolate because this thick drink is perfect to dip them in.
When you see how churros are made, you might see that it is a highly caloric food because they are fried in oil. However, once a year they won't hurt your shape.
Get the recipe: Spanish Churros Recipe
2. Homemade Spanish Flan Recipe
Some treats from Spain are a little bit healthier than churros. This is precisely what happens when you choose to try a Spanish flan.
The Spanish flan recipe is one of the quickest desserts to prepare if you have some milk, sugar, and eggs and that makes it one of the best Spanish desserts.
The Spanish flan recipe is also one of the most famous dessert recipes from Spain and you can find it in almost every restaurant.
If you want to try the authentic and easy flan recipe, do not hesitate about checking the following link.
Get the recipes:
3. Spanish Fried Milk
Fried milk is one of the most popular Hispanic desserts since it has all the spices and textures that the Spanish people love so much.
Leche frita is a delicious dessert aimed to avoid the waste of some of the most common ingredients of Spanish cuisine: milk, flour, and eggs.
This preparation may be a little bit tricky when you try to prepare them for the first time; however, when you get used to the steps you need to follow, it gets easier to prepare them quickly.
After you've tried it, you will reach the conclusion that this might just be one of the best Spanish desserts you've ever tried.
Get the recipe: Leche Frita Recipe
4. Crunchy Spanish Turron
One of the most traditional desserts in Spain is the turrón. It is traditionally eaten during Christmas but you can find it throughout the year in every supermarket.
There is a wide variety of Spanish turrones. Some are very soft and made with crushed almonds and others are made with chocolate.
The soft one is called Turrón de Jijona and the crunchy one is turrón de Alicante but both of them are made with almonds and egg whites.
My favorite kind of turrón is the turrón de Alicante, which is a hard bar made with sugar, almond, and wafer. Below, you will find the recipe for one of the best Spanish desserts yet!
Get the recipe: Spanish Turron Recipe
5. Alfajores Recipe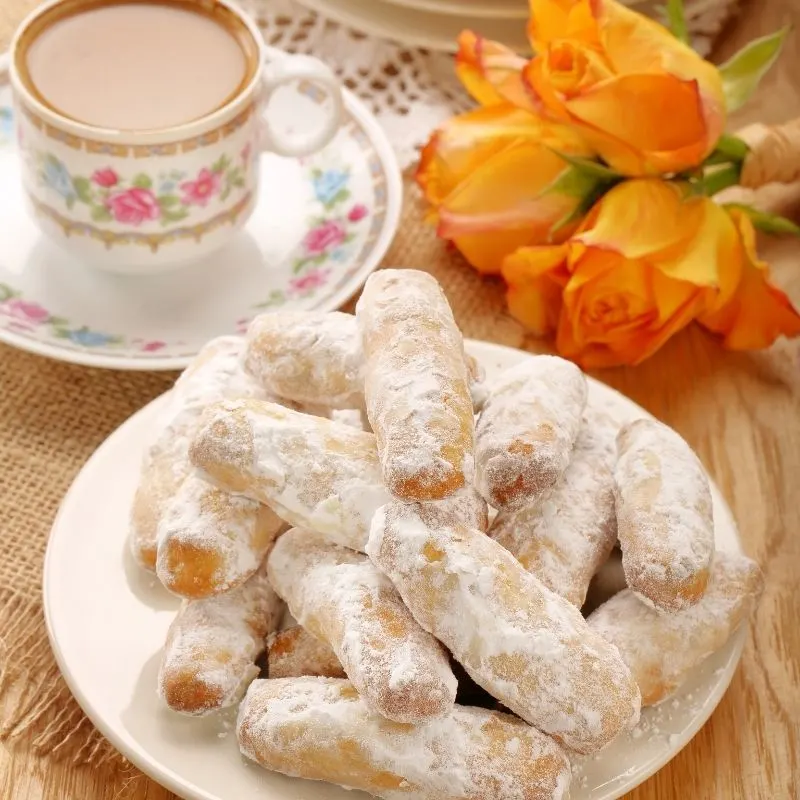 The alfajor is a traditional sweet dessert from the south of Spain that is typically eaten around Christmas, however, you can purchase it in Andalusian bakeries all year round.
It resembles a cylinder and is essentially comprised of a paste of almonds, other nuts, honey, sugar, and flour.
Alfajores is one of the best Spanish desserts and a favorite one for the Andalucian people who take pride in its Mozarab origin.
If you are a dulce de leche lover, you should know that for the other version of alfajores, two cookies are filled with dulce de leche and usually embellished with some grated coconut.
Get the recipe: Alfajores Recipe from Spain
6. Delicious Torrijas Recipe
Another traditional Spanish dessert you will surely enjoy in Spain is the Torrijas.
These Spanish treats are incredibly easy to make with ingredients that you must definitely have around your kitchen – hard bread, milk, eggs, and sugar.
This typical Spanish dessert is usually eaten during the Easter Festive but an interesting food fact about them is that they were already cooked 2000 years ago by Romans.
This treat is simple to make yet for many people this is one of the best Spanish desserts due to its textures and flavors – crunchy on the outside and very cinnamony.
Get the recipe: Spanish Torrijas Recipe
7. Easy Spanish Cheesecake Recipe
One of the most popular desserts all around the world is cheesecake. What seems surprising is that there are lots of different ways to prepare this delicious bite.
If you are looking for some easy Spanish desserts, you may try to cook one of the basque cheesecakes from Spain.
For this type of Spanish cheesecake, you don't need to prepare the base like other recipes with biscuits.
The cream cheese mixture is put into a mold that was lined with parchment paper and baked until it has a nice burnt appearance.
You need to refrigerate it for a couple of hours to let the burnt cheesecake set. You can then decorate it with cream, fresh fruits, jam, or chocolate ganache or eat it just as it is.
Get the recipe: Spanish Cheesecake Recipe
8. Spanish Olive Oil Cake Recipe
If you are looking for some different desserts, this Spanish cake may be ideal for you. In order to prepare it, you will need to split the whites from the yolks of 4 eggs.
After that, you will need to mix the yolks with some sugar, milk, and olive oil.
Then, it's time to sift 400 grams of flour with the previous ingredients and add some whipped egg whites with them.
Get the recipe: Spanish Olive Oil Cake
9. Delicious Apple Empanada
Apple empanadas are tasty fruit snacks that you can have on your way to the office and these are ideal to combine with your coffee.
If you want to prepare this yummy recipe, you will need the dough and the filling.
The apple empanada dough is made in a food processor with flour, sugar, butter, eggs, and milk.
After that, you can start with the filling. To have it ready you have to mix some apple slices with sugar, cinnamon, lemon juice, and vanilla extract.
Once all the ingredients have been together for half an hour, you can place them inside the dough and put them inside the oven for half an hour.
These delicious desserts empanadas will melt inside your mouth.
Get the recipe: Spanish Apple Empanada
10. Spanish Crepes
One of my favorite Spanish sweets is definitely Spanish crepes. I love them because you can combine this dough with both salty or sweet fillings depending on what you fancy.
However, I really love them with some chocolate spread or dulce de leche. The best about this sweet snack is that you can easily and quickly prepare them.
You just need to put in your food processor an egg, some milk, and flour. What is also great about it is that you can make them healthy if you avoid adding some sugar.
Get the recipe: Spanish Crepes Recipe
11. Honey-glazed Pestiños
Some popular desserts in Spain are typical of a region of the country and they are just eaten during a certain period of the year.
It is precisely what happens with pestiños. This Spanish recipe is typical of Andalucía during the Easter Holidays and Christmas as well.
To prepare these delicious pestiños, you will have to knead some flour, olive oil, and white wine and get a really thin dough.
Then, you need to wait for half an hour and to cut the flat dough into small squares that you will fold and fry.
These tasty bites will be delicious if you aromatize the oil with some lemon peel and anise and pour a generous amount of honey on them.
Now tell us! Aren't pestiños some of the best Spanish desserts you've ever tried?
Get the recipe: Pestinos Recipe from Spain
12. Spanish Polvoron
One of the best Spanish desserts for Christmas is polvorones. A polvorón is a special kind of cookie that is just commercialized during this time of the year.
They are usually offered as a dessert on Christmas and New Year's Eve. What is surprising about polvorones is that there is a wide variety of flavors.
The plain kind tastes like anise but you can also purchase some with chocolate, lemon, and almond flavor among others.
You should know that it is a highly caloric cookie because it is made with pork lard. Nevertheless as delicious as they are, you should definitely try them.
Get the recipe: How to make Spanish Polvorones
13. Spanish Almond Cake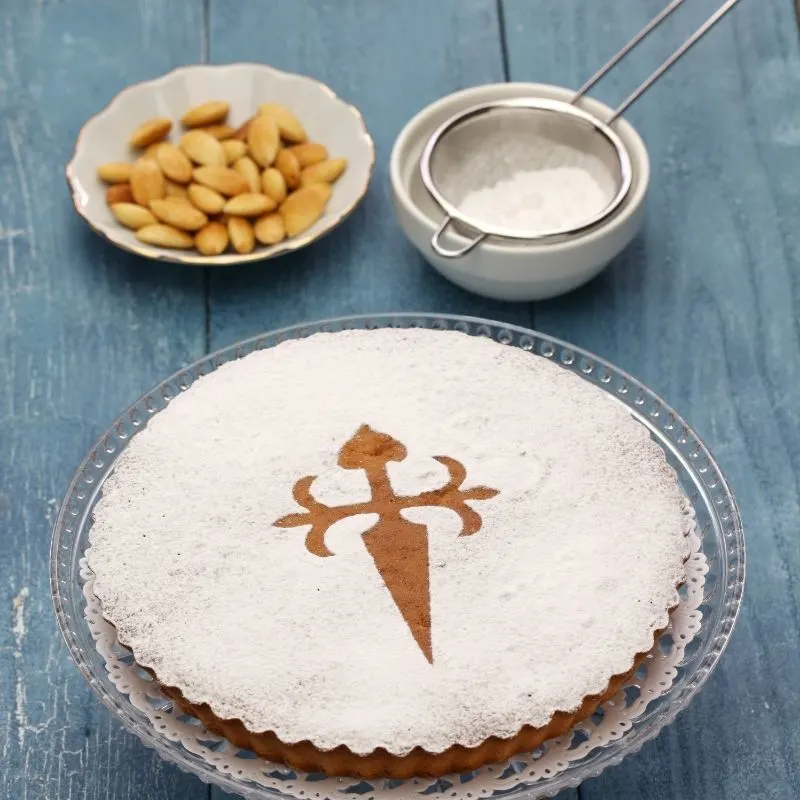 An amazing Spanish dessert is the almond cake, which is also known as Gató. This tasty sponge cake is ideal to have with some vanilla ice cream.
Gató is typical of the Balearic Islands but can be eaten in other places in Spain.
For example, if you visit Galicia and ask for a tarta de Santiago, you will also be ordering an almond cake but with a different name.
If you want to make this fantastic dessert at home, you will probably have to try to make it several times to get the perfect texture because it gets easily too dry and the flavor gets compromised.
But don't get discouraged in advance.
Get the recipe: Tarta de Santiago Recipe
14. Spanish Rice Pudding
The Spanish rice pudding is known in the country as Arroz con leche, which literally means 'rice with milk'.
One of the positive aspects of this Spanish dessert is that it is very easy to prepare. In order to have it ready for your guests, you just need to boil some milk with a cinnamon and vanilla stick and some lemon peel.
After a few minutes, you will have to add the rice and stir for 5 to 10 minutes. Place the mixture in a bowl and refrigerate it for an hour.
You might think it's a simple treat yet it's considered by many, one of the best Spanish desserts.
Get the recipe: Spanish Rice Pudding
15. Delicate Spanish Marzipan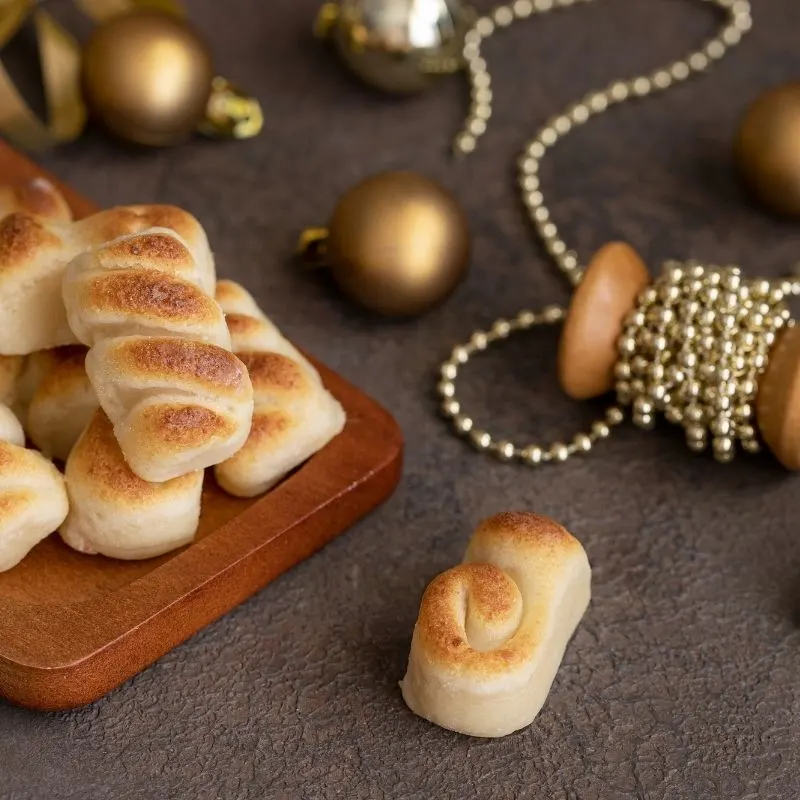 In Spain, Christmas is the perfect moment of the year for sweet lovers. In addition to the polvorones and turrones, you will also find in supermarkets the famous Spanish Marzipan, whose name in their language is Mazapán.
The Spanish Marzipan cookies are made with almond flour and eggs and baked in the oven until they are golden in color.
If you like the marzipan flavor, then these Spanish cookies are the right ones for you.
Get the recipe: Spanish Marzipan Cookies Recipe
16. Roscos de Vino Recipe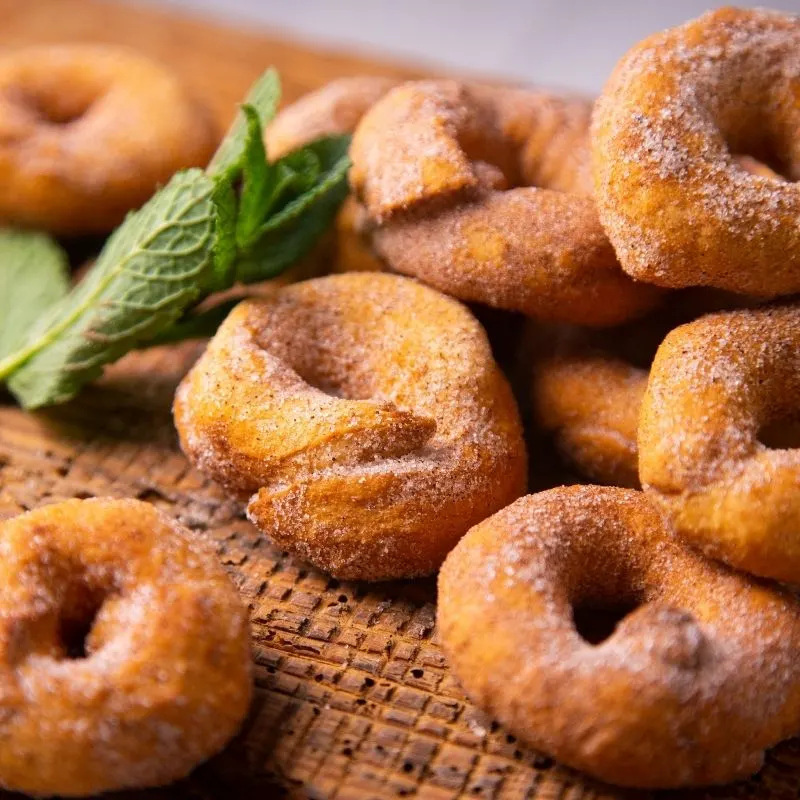 The best Christmas Andalusian dessert are the roscos de vino. They may seem similar to polvorones, however, they are fried instead of baked.
As a result, you will get a slightly greasier dough that will make you lick your fingers.
If you want to prepare this delicious sweet at home, you should previously know that it is not easy to get the donut shape of the roscos de vino.
But you don't need to get discouraged if they do not look like a doughnut. Maybe their appearance won't be on point, but the taste won't disappoint you.
Below you can get the recipe for one of the best Spanish desserts.
Get the recipe: Roscos de Vino Recipe
17. Roscón de Reyes
The most traditional dessert in Spain is the Roscón de Reyes. The Three Wise Men's day is a festivity that it's just celebrated in Spain.
In fact, it is even more important than Christmas Eve. On the 6th of January, local families meet to have lunch together and the typical dessert is the Roscón de Reyes.
This cake comes with a crown on top and it is filled with whipped cream or chocolate. Inside the filling, there is a dried bean and a Wise Men figure.
If you get the piece of the roscón that contains the figure, you will have to wear the crown during the rest of the meeting.
However, if you find the bean, you will have to pay for the dessert. Even though this cake is made around holidays, it's still one of the best Spanish desserts and it has a well-deserved spot on this list.
Get the recipe: Roscos de Reyes Recipe
18. Quince Pastel
If you want to surprise all your guests with a delicious and uncommon sweet cake, you should definitely try to make a tarta de membrillo or quince pie.
Quince pies are loved in Spain because of the fresh and citric notes and rich quince flavor. This pie is one of the best Spanish desserts that you can make once autumn sets in.
In order to prepare the dough you will have to mix some blended butter with flour. If you need to get a lighter texture you should add some water to the mixture.
The filling will contain quince. If you want to make the cooking process easier, you may purchase some already prepared membrillo.
However, if you want to make sure that the taste is unbeatable, you should definitely purchase quince and make yourself some dulce de membrillo.
Get the recipe:
19. Saint's Bones
When Halloween is just about to happen, bakeries in Spain start to sell huesos de santo, whose literal translation is Saint's bones.
However, you should know that Halloween is not a traditional festivity in Spain, there it is called día de todos los santos, which is a day to remind your loved ones who passed away.
This pastry is made with a cylindric marzipan filled with some egg yolk cream. Its shape will surely remind you of a tibial bone.
This sweet dessert is quite difficult to prepare at home, that's why if you want to avoid disappointment, you should probably buy some huesos de santos from the bakery.
If you want to spook your guests this Halloween, you should know this is one of the best Spanish desserts that can do that. Add some red jam and fake the blood and there you have it.
Get the recipe: Huesos de Santos Recipe
20. Spanish Buñuelos Recipe
Buñuelos is the favorite dessert of children from Spain. The main reason is that in Spain, there is a celebration called día de las vírgenes in which young boys give a flower to the girls they like and they share some buñuelos.
There are two kinds of buñuelos, the plain ones and the buñuelos de viento. The plain ones are similar to the roscos de vino, whereas the buñuelos de viento are lighter and ball-shaped.
The buñuelos de viento are very fluffy on the inside and are usually dusted with powdered sugar but you can also serve them with some whipped cream, chocolate, or vanilla cream.
Get the recipe: Spanish Bunuelos de Santos Recipe
---
Short FAQ about the Best Spanish Desserts
What is the most popular dessert in Spain?
Spanish desserts are quite varied, and the most popular dessert in Spain may depend on the region you visit.
However, one of the most popular desserts may be considered the Arroz con leche because it is prepared in almost every county of Spain.
What sweets are popular in Spain?
Spanish treats that you will always find in every restaurant in Spain are homemade flan and burnt cheesecake.
Also, every restaurant will serve their version of these desserts, so expect some rather delicious changes.
What is a popular snack in Spain?
The most popular snacks in Spain are definitely churros. The main reason to explain why, among all the Hispanic desserts, churros are the preferred ones is their versatility.
Churros may be eaten as breakfast, dessert, or afternoon snacks and locals love to have them anytime!
---
---
Hola, I'm Paulina! Together with my team, we are passionate about Southern Spain. Here we share all you need to know for great times in Southern Spain with the best places to visit, stay and, of course, the best food to eat.
Let's dive in and explore Southern Spain's outdoors, food and culture con pasión!