Spanish cuisine is well-known all around the world. Most regional dishes are incredibly tasty because of the high quality of their Spanish ingredients.
This post aims to explain the best Spanish ingredients you should purchase if you want to cook as Spaniards do.
Keep reading if you want to give a unique and authentic taste to your Spanish recipes.
This blog is supported by you, dear reader. If you purchase through a link, we earn a small commission. As an Amazon Affiliate, we earn from qualifying purchases.
The 20 Best Spanish Ingredients
1. Saffron
One of the most used Spanish ingredients is azafrán. It is the stigma of a flower and it has to be collected manually, checking the Crocus Sativus flowers one by one.
This, and the small amount of saffron spice you get by plant, makes this spice really expensive.
However, you just need a tiny bit of azafrán to give subtle notes of it to your authentic paella recipe.
Moreover, saffron spice is the best one to give some color to Spanish bomba rice.
2. Olive Oil
There is no doubt about the fact that Spanish olives are used to make the best Spanish olive oil.
The olive oil taste is one of the most iconic Spanish flavors.
There is a wide variety of olive oil because there are lots of different varieties of olives that you can use to make it.
The most popular ones are picual olives, which are harvested in Jaen. The Spanish olive oil made with picual olives is characterized by its strongness and bitterness.
If you want to make some Spanish recipes with olive oil, you must definitely try the Spanish olive oil cake for dessert. The Spanish sofrito and the Spanish octopus recipes, both use olive oil.
3. Paprika & Peppers
One of the best Spanish ingredients is paprika powder. If you are looking for the most aromatizing one, you should definitely buy some pimentón de la Vera.
It may be considered the king of paprika powders. Moreover, it has a positive impact on your well-being because it is rich in antioxidants and vitamins that may reduce cholesterol levels.
If you are a green pepper lover, you should definitely order a tapa of pimientos de padrón.
What you should know is that some of them are very spicy and others not. This is precisely what makes sharing this tapa with your friends a funny and exciting experience.
4. Bomba rice
The best Spanish rice for paella is bomba rice. It should definitely be included in your food ingredients list to prepare amazing rice dishes such as risotto or paella.
The best thing about bomba rice is that it does not get overcooked and it's the one of the most used Spanish ingredients.
Nevertheless, you should know that you will need twice as much broth or water to boil this kind of rice than the one used to cook a normal one.
5. Sherry Vinegar
Sherry vinegar is known in Spain as Vinagre de Jerez. Spanish ingredients like olive oil and sherry vinegar are the healthiest seasoning for your salads.
Spanish sherry vinegar is characterized by its acidity and its wood and wine notes.
To make the most of this vinegar flavor in a salad, you should add some apple dice to it because the combination of fruit and Spanish sherry vinegar is absolutely delicious.
6. Citrus Fruits
Citrus fruits are typical of Spain because their lands are ideal to harvest them. If you visit Andalucia for the first time you will see that orange trees grow everywhere.
It is not the only place where oranges are delicious but these are definitely the most popular.
For example, in Granada, you can buy some delicious and artisanal orange ice cream while Seville has the best freshly squeezed orange juice from local orange groves.
These are very refreshing so they are ideal on hot summer days and when having breakfast in Spain, make sure you order a glass of orange juice with your cafe.
7. Jamón Ibérico and Serrano
Jamón serrano is a common food in Spain that you can purchase from all butchers in the country.
The main difference between jamón serrano and jamón ibérico is the amount of time the meat is dried and the quality of it.
Jamón ibérico is more expensive because the pork meat used to make the jamón is better.
Ibérico means that the meat comes from a certain breed of pork that has been fed with natural food following a specific diet to ensure the best taste possible.
Try the Spanish ham croquettes or order a simple cold cuts dish tapas next time you eat out in a Spanish restaurant.
8. Anchovies
Anchovies are loved by Spaniards. Some of the best anchovies are quite expensive but they are worth their price.
Premium Spanish anchovies are characterized by the tenderness of the fish meat and the appropriate salty notes of them.
If you are a vinegar lover, you may want to try the anchoas al vinagre recipe. These have been preserved in vinegar and their taste is unique.
Spanish Fried Anchovies is another must-try recipe that you will absolutely love.
9. Garlic & Onions
Some of the most common Spanish ingredients are garlic and onions.
In fact, lots of local dishes are based on a sofrito, which consists of frying some garlic, onions, pepper, and tomatoes. Here's the recipe for Spanish sofrito.
As a result, you will be able to find garlic and onion notes in most of their servings.
These ingredients are very healthy and full of antioxidants maybe this is the reason why Spaniards are in the fourth position on longevity rankings.
Spanish Recipes with garlic and onions:
10. Chorizo
Chorizo is one of the best Spanish ingredients to have with some pa amb oli, which is a bread slice with some tomato and olive oil.
Nevertheless, Spanish chorizo is also used to give some unique flavor notes to several dishes.
If you add some small dice of chorizo to your sofrito, it will make the most of its taste.
But do not abuse chorizo or your meals may end up being too salty.
Try other Spanish recipes with chorizo like Spanish Chorizo Pasta, Chorizo a la Sidra aka chorizo baked in cider, or the Classic Spanish Chorizo Rice.
11. Tomatoes – Canned, Fresh, or Paste
There are lots of different ways to eat tomatoes in Spain. Fresh tomatoes are ideal to prepare light salads or Spanish pan con tomate.
Canned tomatoes are ideal for quickly starting a sofrito because you do not have to spend time chopping and crushing tomatoes.
You can even make a simple gazpacho with canned tomatoes if you can't get fresh ones. It'll be just as good.
Tomatoes paste is ideal to get strongly flavored tomato sauce which you can use to make a Spanish romesco sauce.
12. Herbs
Some Spanish herbs are essential in order to give your meals the flavor these dishes have when Spaniards cook them.
If you are preparing frit mallorquí, which is small dice of potatoes and lamb meat fried, you need to bear in mind that adding some fennel is essential.
The same happens with pinchos morunos or Spanish Pork Skewers, which are made with marinated meat with cumin, parsley, oregano, and other spices like ginger, cinnamon, and ground pepper.
13. Olives
Olives in Spain are usually served as a snack in bars and restaurants. There is a huge variety of olives in this country and depending on the region you visit, you will find one kind or another.
Some of the most popular ones are the olives stuffed with cheese characterized by their delicate taste.
Another kind of olives is olives trencades which are strong-flavored and not suitable for all palates.
14. Spanish Cheese
Buy Spanish manchego cheese here
One of the best Spanish ingredients to have with some jamón serrano is Spanish cheese.
In fact, lots of restaurants offer the possibility to combine both in a tabla de jamón y queso.
There is a huge variety of Spanish cheese that depends on the milk used to elaborate it and the amount of time needed to cure it.
If you love hard and cured cheese, you should definitely buy a piece of Flor de Esgueva. And by far, the most famous one is queso manchego.
When tender cheese is more suitable to your palate, the best Spanish cheese may be some Tronchón cheese.
15. Spanish Marcona Almonds
One of the most popular Spanish ingredients from the Basque region is Marcona almonds.
These are special kind of almond that is softer and sweeter than any almond variety.
These can be toasted or fried but the healthiest way to eat them is as they come.
You can eat them as a snack or crush them to give your sauces some crunchiness.
And if you are looking to prepare a Spanish dessert with almonds, the infallible Turron de Alicante or Turron de Jijona are the best recipes.
16. Piquillo Peppers
Piquillo peppers are a non-spicy variety of peppers, characterized by their softness and sweetness.
If you prepare some homemade bechamel-filled piquillo peppers, you should use the best olive oil for cooking to avoid inferring their unique flavor.
Try the Spanish stuffed peppers recipe and see for yourself why these peppers are so beloved by the Spaniards.
17. Bread
In Spain, you will find lots of different loaves of bread. Some of them are made using a tiny bit of their best olive oil brands.
There are certain kinds of bread that you can just find in particular regions of Spain. For example, pitufo bread is a type of bagel typical of Malaga.
Depending on the flour used, the bread can be white or brown and some bakeries add dried nuts or pipes.
Gazpacho recipes use bread as one of their ingredients and there's also a delicious Spanish bread soup recipe that is quite unique.
Check out other Spanish soup recipes and incorporate the Spanish ingredients like a pro.
18. Nora Peppers
To prepare the best paella you need to know how to use saffron and ñora peppers because these spices are key to giving the best flavor to your dish.
Ñora peppers are dried and used to get paprika powder, which is used in sofritos, Galician octopus, chorizos, and patatas bravas.
19. Black Pudding – Morcilla
A special kind of chorizo sausage is the black pudding, known in Spain as morcilla.
This black chorizo sausage is made with pork blood and rice and it's one of the most interesting Spanish ingredients.
It has a strong flavor that will make your stews delicious such as the comforting Fabada Asturiana recipe.
Although black pudding is originally from the United Kingdom and Ireland, Spaniards made their own in a genuine way to give a unique flavor to their rice dishes.
20. Potatoes
When thinking about the most common Spanish ingredients, potatoes are definitely one of those.
One of the best consequences of discovering America was the importation of potatoes to the rest of the world.
When mixing fried potatoes, eggs, and some jamón ibérico, you get Spanish potatoes and eggs.
If you are visiting Spain, this is definitely the best tapa to enjoy with a cold beer on sunny days.
Famous Spanish recipes like tortilla de patatas, patatas a lo pobre, and Spanish beef stew with potatoes are known all over the world for a reason.
Bottom Line
As you can see, the Spanish ingredients are quite common and there is nothing out of the ordinary.
I'm sure all of you have in your pantry potatoes, peppers, tomatoes, garlic, and onion.
These are the most used ones but ingredients like saffron, sherry vinegar, chorizo, jamon, or anchovies can further improve your Spanish recipes.
And now you know that bomba rice is perfect for an ultimate paella recipe, the fabada asturiana is not the same without the black pudding sausage or how almost every dish must have Spanish paprika powder.
Short FAQ about the Best Spanish Ingredients
---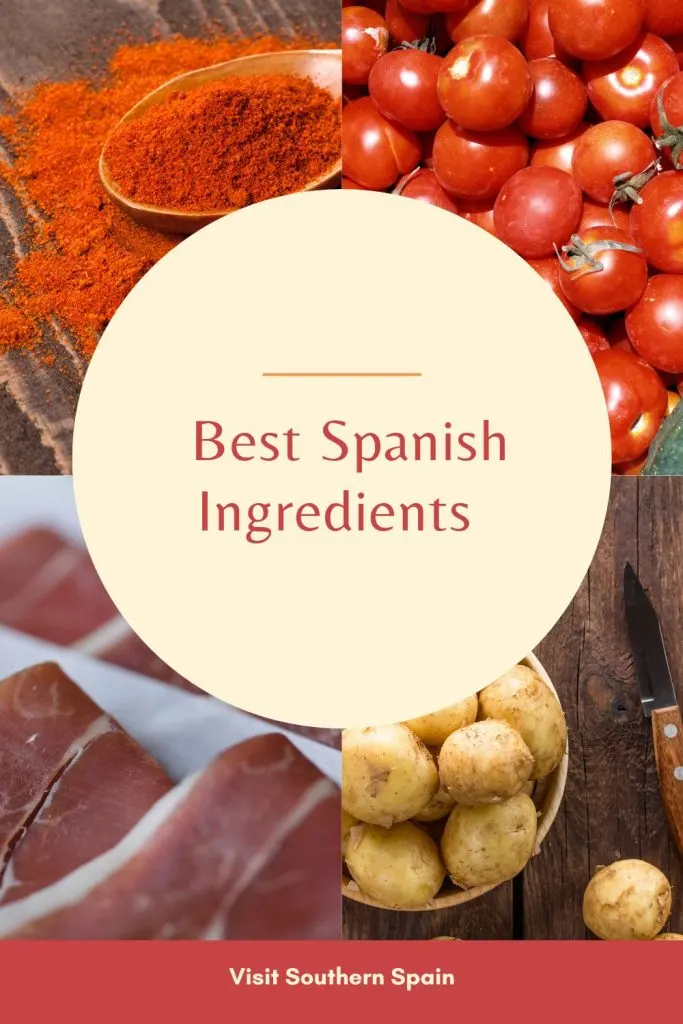 ---