A guide on where to eat in Seville, Southern Spain and where to eat in typical food from Seville, Andalucia
If we could pinpoint at the heart of Spain's food culture, Seville would be its center. Whether you are planning to spend 1 day in Seville or to stay for a while, be prepared to experience dishes you will cling to for a long time.
This city is one of the brightest examples where traditional and modern approaches clash and create a variety of delicious choices for both, tourists and locals.
There are a lot of places that offer an authentic taste of life and diversity throughout different areas of Seville.
As former locals, we take pride in our history and gourmet heritage, which is why the following guide on where to eat in Seville that will satisfy any type of traveler.
Hey! Don't forget to grab our free Seville Foodie Checklist below!
This blog is supported by you, dear reader. If you purchase through a link, we earn a small commission. As an Amazon Affiliate, we earn from qualifying purchases.
Best Food Tours in Seville
Check all food tours in Seville here
Best Breakfast in Seville
Typically it consists of toast, coffee, and juice, and despite being simple, it represents a huge part of typical life in Seville, and for those who aim to experience food in Seville from the local's point of view, this meal creates the sense of belonging.
Here is a fun fact about the importance of breakfast as food in Seville Spain: the local governing body named Junta de Andalucía, even has a school program known as ''Know the Andalusian Breakfast'' that highlights the significance of quality food.
Travel Tip: Breakfast is a meal that deeply embodies the food culture across the whole Andalucía.
Check all food tours in Seville here
Where to have breakfast in Seville
Bar Alfalfa – Calle Candilejo 1
This bar located near the Plaza Alfalfa is one of the best places to eat in Seville, especially when it comes to breakfast.
Visiting this little and comfy place without ordering their Andaluz breakfast would be a fault, and it would be a shame to miss the best salmorejo in town too.
Add to the equation good service and the fact that the average price for a meal is from 3eur to 10eur per person, and you will understand why Alfalfa is an enchanting bar in Seville.
La Cacharreria de Sevilla – Regina 14 St
This is another popular yet very trendy place, and with a reason! Moreover, it is vegan friendly, and despite being overly crowdie, it is loved by locals.
Besides the average price range of 12eur for a big breakfast, what makes this café one of the best places to eat in Seville, Spain in terms of breakfast is that it offers a wide choice of muesli bowls and all sorts of toasts and milkshakes.
Pan y Piu – Calle Cabeza del Rey Don Pedro Esquina calle Aguilas
To enjoy a truly remarkable combination of three countries (Spain, Italy, and France), Pan y Piu is the place to go.
Bread being the main product that represents the authenticity of this bakery, it brings forth the desired experience of the food prepared the way the previous generations taught us.
Whether you choose a classic Spanish pan con tomate or some of their pastries, you'll get a taste of tradition and genuineness, and for an affordable price.
Confeteria la Campana – Calle Sierpes, 1-3
One of the oldest confectioneries in the town is an ideal breakfast spot for those with a so-called sweet tooth.
La Campana is a great representative of Sevillian centuries-old recipes for sweets, thus, sweet breakfasts, and it is among the first choices for anyone wondering where to eat in Seville.
You can order typical Andalusian pastries such as piononos, or simply have a club or mixed sandwich before you continue exploring Seville.
Café Piola – Plaza Alameda de Hercules 57
When feeling uncertain about what to eat in Seville in the morning, stop by Piola café.
Not only you will encounter a lot of locals, but you will be offered a wide range of toast bread, and accompanying ingredients to put on it such as tomato (a Spanish classic), or jam and butter if you prefer something sweet.
Also, efficiency in service and good prices, made this place stand out for both passengers and residents of the city.
Best Brunch in Seville
Travel Tip: The brunch trend, also known as a late breakfast or even early lunch has become increasingly popular in the last few years.
Spanish cuisine didn't stay behind, so it is no wonder that you can find a variety of brunch options in many restaurants in Seville. Besides brunch, there are several other engaging things to do in Seville.
Depending on the atmosphere wanted while eating, there are traditional tapa places, and on the other hand, a lot of contemporary, chic restaurants that serve all kinds of brunches.
Where to eat brunch in Seville
To get the most out of the brunch options in Seville, you should visit some of the following places:
La Cacharreria – Regina 14 St.
You are not seeing double, La Cacharreria was already on the list.
However, with the price range from 5eur to 15eur, their open-toasted sandwiches with all sorts of toppings that include tomato, different cheese types, guacamole, or hummus for veggies is worth mentioning twice.
La Escalona – Plaza de la Alfalfa, 12, 41002 – is one of those family restaurants that has been ''in the neighborhood'' for quite some time.
Nowadays, it is among the best Seville restaurants for those who are eager to try traditional Andalusian cuisine, especially the dishes such as patatas bravas or Jamon Iberico.
The price range from 10€ to 25€ along with excellent service and reviews qualifies La Escalona as one of the best restaurants in Seville Spain.
Brunchit Sevilla – Calle de la Feria 83 Esquina con Peris Mencheta
For those who like to post food they eat on social media rather than just eat it, Brunchit is a perfect spot. This is a trendy gastropub that meets the needs of those who are not in Seville primarily for its historical foody heritage.
When it comes to price range, it is average (8€-15€), but when it comes to taste and atmosphere, it can be a perfect choice for contemporary lovers.
Viriato – Calle Madre María de la Purísima, 7
For a more pub-like feeling while enjoying a brunch Viriato is a perfect choice.
And if you are a soccer fan, it's even better, since this place is full of friendly people who gather to watch matches that are streaming on TV regularly.
It is a rather modern place where you can order food in a price range from 2eur to 12eur, so it is quite affordable too. And to feel like a full-fledged local here, you need two things: a pint of craft beer, and a burger (one of the best in the city).
Uno de Delicias – Paseo de las Delicias 1
As its name suggests, it's a sweet restaurant, with an intimate atmosphere that is perfect for those traveling with their significant other.
Uno de Delicias is known as the ''house of the best Spanish omelet in the world''.
The great thing about this place is that one can enjoy all sorts of Mediterranean dishes for a good price (menu items varying from 3eur to 12eur), which makes it additionally good for small groups, not only couples.
Best Restaurants for Lunch in Seville
Lunch or La Comida in Spanish is typically served between 2 pm and 4 pm here. Moreover, for us, lunch is the biggest and the most important meal of the day which is why it usually consists of several courses.
Check all food tours in Seville here
Travel Tip: When visiting Seville, or any other city in Spain to be honest, it is important to know that lunchtime is considerably later than in other cultures.
Where to eat Lunch in Seville
Note that in most of the places, including the best restaurants in Seville, food is gastronomical, but also a cultural experience. Here are a few restaurants that will blow you away with their quality:
Antigua Abacería de San Lorenzo – Calle Teodosio 53
For those who didn't have a chance to meet a local while on their visit to Seville, this is the best place to enjoy a typical Spanish meal.
Moreover, it is a restaurant that showcases the hospitality of Seville to the fullest.
When it comes to price range, we can put it in a mid-range restaurant, but in every other aspect, it is safe to say that it is among the best places to eat in Seville Spain.
El Rinconcillo – Calle Gerona 40
Considered to be the oldest tapa bar in Seville (opened in 1670), El Rinconcillo is a place for those who want to fuse elegant and luxurious food taste with the old, yet verified reputation with the price range from 20eur to 40eur.
We are talking about first-class garbanzos, tuna steaks, and many other dishes worthy of a Michelin star.
La Chalá – Plaza de la Puerta Real 6
It's a perfect spot for those who enjoy creative and vivid food.
They have something for everyone, so it is possible to order traditional dishes such as Granada pastry, and more contemporary options such as curry chicken pastry with almond sauce.
The price range is also reasonable, it goes from 10eur to 25eur on average, and the best thing is that they always have some unexpected meal for us to explore.
ConTenedor – Calle San Luis 50
For those looking for beauty and high-quality service, ConTenedor should be an obvious choice.
It is perfect for special occasions, and the price range follows by going from 10eur to 45eur on average.
Trying out the duck with the crispy rice which is their signature dish is a must.
La Brunilda – Calle Galera, 5
It is a well-known restaurant to locals, but it is also one of the busiest places in Seville.
The food quality is out of this world, still, people are waiting in line before it even opens to snag a table.
If you are lucky enough to find a place, you should try their croquettes – they are homemade, or you can go with super delicious mushroom risotto. P.S La Brulinda doesn't work on Mondays.
Best Coffee in Seville
In fact, a lot of people couldn't imagine their day without at least one cup. Make sure to also check out the list of the best boutique hotels in Seville since many of them have tasty coffee bars.
When it comes to Seville, the most common coffee is café con Leche, and it is usually made with the Andalucian brand known as Catunambu.
Travel Tip: Just like in many countries surrounding Spain, coffee is heavily incorporated into our daily lives.
Where to have the best coffee in Seville
Still, few bars offer distinctive coffee types, thus serving the best coffee in Seville. Without further ado, here they are:
Virgin Coffee – Calle Regina, 1 Local 6
Known as the first specialty coffee shop in Seville, Virgin Coffee is an ideal address for coffee-lovers.
With over six different types of coffee beans from all over the world, it is established following the example of Mr. Chava Cafeteria which will be mentioned later.
The latte from Virgin Coffee is said to be the best in Sevilla, so it's a must-order while visiting the town.
Torch Coffee Roasters – Paseo Las Delicias 3
Well, this place is for more serious coffee fans. It has everything that a caffeine-addicted person would wish for – exotic offers such as Guatemalan or Ethiopian coffee to classical blends such as Columbian.
The price varies from 3eur to 10eur, and you can even buy a packet of the blend you like to enjoy in the comfort of your own home.
Mister Chava – Calle Francisco del Carpio 1 Frente al Hospital de la Merced de Osuna
Although it is located in the province of Seville, Mister Chava is one of the so-called ''cult'' places for locals when it comes to coffee specialized shops, not only in Seville but throughout the whole Andalusia.
From naturally processed Columbian espresso to all sorts of dry-processed blends, this cozy yet refined place where you get to see the master of coffee himself is one of the all-time favorites among the people of this part of the country.
After a tasty coffee, make sure to head over to our favorite beach resorts near Seville and enjoy the gorgeous seaside near Seville.
Best Churros in Seville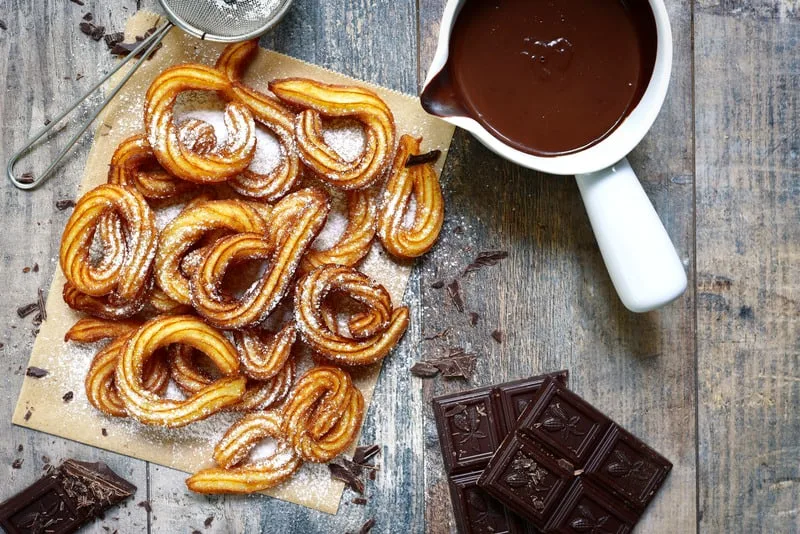 Those who want to sound more like locals while visiting Seville will order calentitos rather than churros.
And if you want to go further, you can order one of the following two types: calientito de Rueda (soft) or calientito de papa (crispy).
Travel Tip: Churros are one of the most classical representatives of traditional food in Spain.
They are commonly dipped in hot thick chocolate and served as breakfast or as a snack. However, in Seville, there is another expression used when referring to churros.
Where to eat churros in Seville:
Some of the places to taste the best churros in Seville are:
Bar El Comercio – Calle Lineros 9
It is a place known for the best churros in town, and guess what – this is one of those bars that lives up to its reputation.
Aside from having amazing calientitos, El Comercio gives a great price of 4.5eur for both churros and chocolate sauce. It can hardly get better than this.
The Churreria Alfalfa – Calle Candilejo 1
This churreria has been around for more than three decades. It is a nice and cozy family place with good prices (starting from around 3eur), and great service. They have a special Spanish hot chocolate recipe served exclusively on weekends, and it is another must-try order.
Dona Carmen – Calle San Eloy 19
A lot of locals hang out at Dona Carmen's, especially because the food tastes great, and the portions are large.
The price varies from 2€ to 15€, thus, there are people with all kinds of backgrounds. Not to mention that churros con chocolate is delicious, and among the best in the city center.
Best Tapas in Seville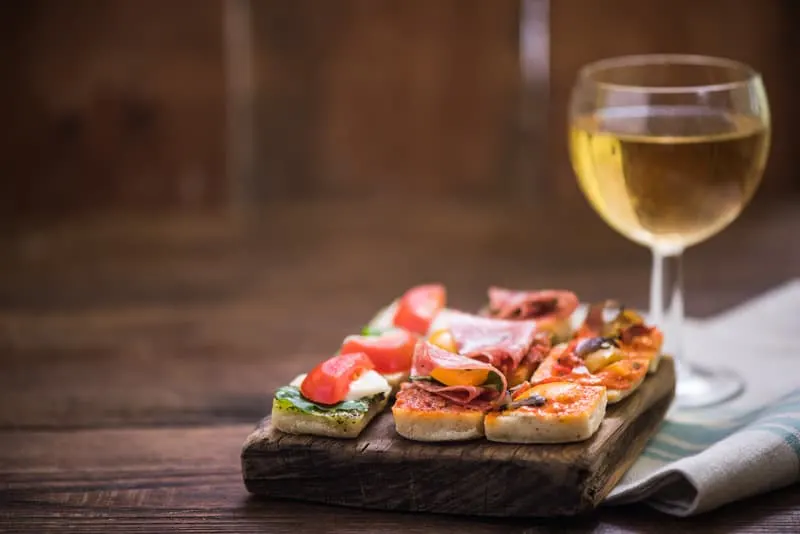 Usually, tapas were paired with drinks in bars, and they served as a snack, mostly for free. However, nowadays, tapas are the core of food culture in Spain, and Seville is no exception.
If you want to make the most of your time, we recommend going on a tapas tour in Seville. – Check tours here
Travel Tip: Tapa is another signature dish coming from Spain. The simplest definition of tapa is that it represents a small plate of food.
Where to eat tapas in Seville:
There are countless tapas bars, and here are some that serve the best tapas in Seville, and that we like the most:
Bartolomea – Calle Pastor y Landero 10
Remember La Brunilda, the busiest restaurant in Seville, that even the locals don't visit often anymore?
Well, Bartolomea is its sister restaurant, and it doesn't lack in quality.
The price range goes from 15eur to 20eur, and when it comes to tapa offers, choose a perfectly cooked salmon or lobster burger and you won't regret it.
Bar Las Teresas – Calle Santa Teresa 2 Barrio de Santa Cruz
Located in the Jewish quarters, Las Teresas is an old and cozy tapa bar, opened more than a century ago.
It is famous for its pulpo aliñado which is a cold tomato soup with octopus. The price range goes from 9eur to 27eur.
It should be pointed out that Las Teresas has one of the best Jamon Iberico selections in the whole Seville.
Bodeguita Romero – c/ Harinas 10
Considered one of the best restaurants in the town, Bodeguita Romero is adored by tourists as much as by locals.
They have been in business for decades, serving both classical Spanish cuisine and their own specialties such as montadito de pringá that was recognized as the best in Spain.
You'll fall in love with their traditional tapas and make sure to try their virgin olive oil on a warm toast. A delight!
La Fresquita – Calle Mateos Gago 29
This is a place mainly visited by Sevillan residents. There are not many tourists around, but still, it is a great choice for those who are really into experiencing the authenticity of Spanish culture.
The best tapas to choose when visiting La Fresquita are definitely their aged manchego, espinacas or cheese, and montaditos.
Best Restaurants in Seville for Dinner
The fact is that restaurants serving dinner won't open before 8 pm, and in most of the cases, locals won't show up before 9 pm. Before booking your stay, make sure to check out our guide about the best neighborhoods to stay in Seville.
Following the logic of lunch being the largest meal of the day, dinner is usually light and at the same time, it is an important part of socialization for people of the city.
This is the main reason why restaurants and bars in Seville are crowded in the evening, and it is very important information for those looking to experience food in Seville from the perspective of a local.
Travel Tip: Just like with lunch, dinnertime in Spain is also later than in most other cultures.
Where to eat dinner in Seville:
Here are some of the best restaurants in Seville for dinner:
Abantal – Calle Alcalde Jose de La Bandera 7
When talking about luxury and quality, Abantal is considered to be the best restaurant in Seville, and they have a Michelin star confirming it.
There are multiple level courses to choose from, and you can even enjoy some extravagant options such as edible candles, mini ice-cream cones, anchovies, and so on.
Abantal is the epitome of fine dining in Sevilla, combining the Andalusian tradition in the kitchen and contemporary touch in design.
Mamarracha – Calle Hernando Colón, 1-3 Plaza San Francisco
Now, Mamarracha is a more down-to-earth place, but with a lot of tasty options. It is located near the City Hall, and it has a very nice vertical garden in the dining area.
The prices are super affordable, every dish is below 10eur, and you can accompany it with even more wallet-friendly beer pines that are priced around 1.5eur.
Mariatrifulca – Puente de Triana Corner Plaza del Altozano
Another so-called ''mid-range'' restaurant in terms of price, and still one of the coziest places to eat in Seville. Whether choosing tuna tataki, mushroom risotto, or croquettes, it is frequent that guests over-order.
Mariatrifulca is said to be a particularly romantic restaurant in Seville so make sure not to go alone.
El Pinton – C/ Francos 42
El Pinton is also considered to be among the best Seville restaurants.
The menu is characteristic because of their twists on the classical recipes, and in terms of price, two people need around 50eur to get a decent dinner with some accompanying drink such as the fruity sangria.
Gazpacho is one of El Pinton fortes, and they have really good shellfish rice.
You can't get enough of Seville restaurants? Have a look at my webstory about where to eat in Seville.
---
Best Restaurants in Seville – Map
---
A Short FAQ about best restaurants in Seville
Where to eat in Seville Old Town?
Most of the restaurants in Seville's Old Town are highly reputable, and all offer a range of the best Spanish cuisine.
Where to eat in Seville on a Sunday?
For a delicious Sunday meal in Seville, ou should consider Antigua Abacería de San Lorenzo or El Rinconcillo.
Is it expensive to eat in Seville?
Compared to some of the bigger cities in Spain, food is relatively cheap in Seville, with varying prices between the restaurant of your choice.
---
---
Hola, I'm Paulina! Together with my team, we are passionate about Southern Spain. Here we share all you need to know for great times in Southern Spain with the best places to visit, stay and, of course, the best food to eat.
Let's dive in and explore Southern Spain's outdoors, food and culture con pasión!