A guide to help you choose the place with the best tapas in Seville, Spain
You've planned that longed-for trip to Seville. You've prepared everything but now you're wondering what to eat in Seville, right? Well, that's easy. Tapas, of course!
Seville food is famous and features some of the best tapas places in Seville. Food in Sevilla is taken seriously and as we'll discover in this article, tapas are far more than just Spanish appetizers.
With around 3000 Seville tapas bars to choose from, you'll find yourself surrounded by many options.
When it comes to seeking out the best tapas in Seville, finding those hidden gems can be far trickier.
Hey! Don't forget to grab our free Seville Foodie Checklist below!
This blog is supported by you, dear reader. If you purchase through a link, we earn a small commission. As an Amazon Affiliate, we earn from qualifying purchases.
With the multitude of possibilities on offer, selecting where to eat in Seville can be a dilemma in itself. Well don't worry, this guide is here to help you discover the best tapas in Seville.
Keep reading and you'll unearth that dream Seville bar with the best tapas for you. Eating out is quite simply one of the best things to do in Seville.
Where do you find the best tapas restaurants in Seville you might ask yourself? So let's take a look at some of the finest Seville bars and tapas restaurants.
OVERVIEW: Best Tapas in Seville
If you want to experience some of the best tapas in Seville, make sure to check out one (or more) of these options:
Castizo
El Rinconcillo
Pelayo Bar de Tapas
Restaurante Eslava
Bartolomea
Bodeguita Romero
What is Tapas
So, what is tapas? Quite simply, tapas plates are small portions of food that are consumed either as appetizers, snacks, or even as part of a more substantial offering.
Throughout Spain, you'll find that the main meal is consumed in the afternoon with tapas typically consumed as part of a tapear in the evening.
A tapear is the Spanish name for a 'tapas crawl', where several bars are visited and a tapa is consumed in each. Check out this article for some fascinating facts about tapas.
Many regions in Spain claim to be the home of tapas and you'll find several provincial variations of the cuisine throughout the country.
However, what is indisputable is that Andalucía provides a far greater variety of quality tapas than any other region.
Rumored to have originated in the 13th century when King Alfonso X was recovering from an illness and could only consume small quantities of food, tapas today are some of the Seville foods that must be on any to-do list when visiting the city.
Traditional tapas can be served either hot or cold and in the best Seville restaurants, tapas can form sumptuous feasts. So, jump straight in and start sampling some!
Also, read about the best Spanish food facts that you probably didn't know.
20 Best Tapas in Seville
The Mercado Lonja del Barranco (Lonja del Barranco Market) is a gourmet market set in a beautiful wrought-iron former fish market that was designed by Gustave Eiffel (of Eiffel Tower fame).
Built in 1883, the market is now home to a range of gastronomic delights. In addition to the plethora of local delicacies on offer here, you'll find tapas fusion takes on dishes from the wider Mediterranean region right through to Asian creations.
Opening times: 12:00 – 01:00
Address: Calle Arjona, S/N, 41001 Seville
The highly rated Castizo is an archetypal Sevilla restaurant where you can feast on some of the best tapas in Seville.
Castizo prides itself on the creativeness of the delicious tapas dishes. Prepare to be amazed!
Castizo serves modern, innovative tapas, with a focus on hot dishes. The atmosphere here is electric. Be warned though, that it can get busy at this popular hotspot so it's best to book ahead.
Opening times: 13:00 – 16:30 / 20:30 – 23:30 (Sun-Thurs). 13:30 – 00:00 (Fri-Sat)
Address: C. Zaragoza, 6, 41001 Seville
Established in 1670, El Rinconcillo is a Sevilla restaurant and tapas bar that is an institution that claims not only to be the oldest bar in Seville (probably true), but also the oldest bar in the whole of Spain (debatable!).
The ornate bar, redolent with wonderful examples of the ceramic work for which Seville is famed, simply breathes history. Go along and soak up some of the magnificent atmospheres.
Opening times: 13:00 – 01:30
Address: C. Gerona, 40, 41003 Seville
Located in the heart of Seville and just a stone's throw from the famous La Plaza de Toros de la Real Maestranza de Caballería de Sevilla (Maestranza Bullring), Bartolomea is a fantastic place to take a break from sightseeing and relax for a while.
There is a focus on fish dishes here, though you will find many other Mediterranean dishes to select from. You'll find friendly service and a great ambiance to welcome you.
Opening times: 13:00 – 16:00 / 20:30 – 23:30 Tues-Sat. 13:00 – 16:00 Sun. Closed Mon
Address: C. Pastor y Landero, 10, 41001 Seville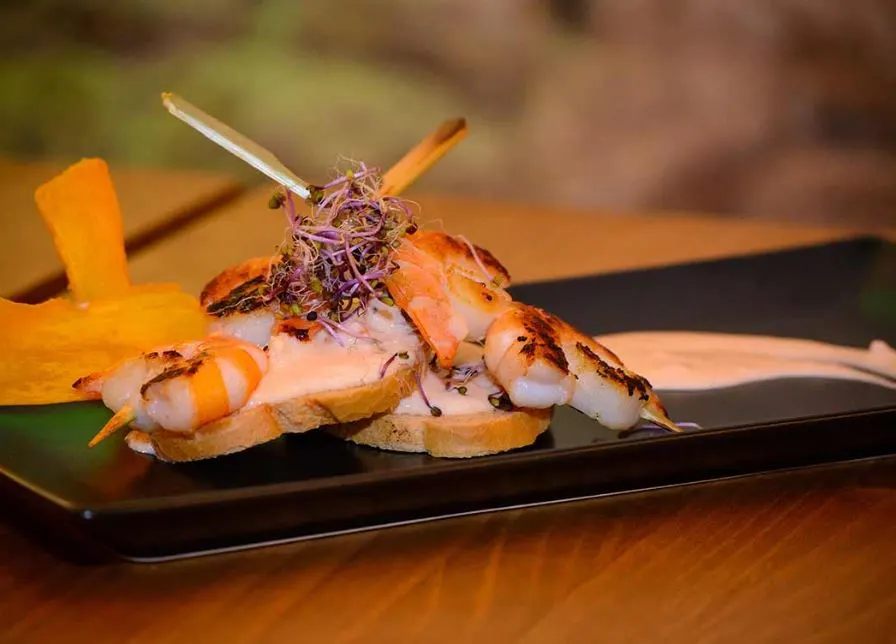 Pelayo Bar de Tapas offers a wider range of cuisine than the usual local staples, encompassing Italian, Mediterranean, and European influences in addition to those of the Spanish regions.
The entrance to this lively bar is claimed to be at the exact point at which the famous Giralda Tower would crash if it fell over.
Best take a table further inside then! There's a youthful vibe making this a great fun place to eat.
Opening times: 12:00 – 00:00
Address: C. de Placentines, 25, 41004 Seville
Bodeguita Romero is a classy option for food lovers where you'll be able to sample some of the best tapas in Seville.
Established over 70 years ago, the historical Bodeguita Romero is one of the best restaurants in Seville for those who want to savor some traditional tapas.
This restaurant remains in the hands of the same family that established it all those years ago. You'll find a fantastic homely atmosphere waiting for you here.
Opening times: 13:00 – 17:00 / 20:30 – 00:00 Tues-Sat. Closed Sun-Mon
Address: C. Harinas, 10, 41001 Seville
For those wishing to sample some of the finest food the city has to offer, La Azotea Vinos y Tapas is one of the Seville restaurants you must make sure to visit.
The menu focuses on lots of fresh fish and seafood as well as quality meats. There's also a terrific wine list.
The friendly, helpful staff will help you navigate the menu and recommend wines with which to sample some of the best tapas in Seville. Highly recommended.
Opening times: 13.30 – 16.30 / 20.30 – 00:00 Tues-Sat. 13.30 – 16.30 Sun
Address: C. Mateos Gago, 8, 41004 Seville
Bodega Santa Cruz Las Columnas Sevilla, to give the place its full title, is a fantastic local-style tapas bar that is incredibly popular with the inhabitants of Seville.
Offering traditional Andalucían fare, this place is a truly local bar among the tourist hotspots.
The bar can get very crowded but is well worth it. Dishes you must try are the famous tortilla de patatas, fried Spanish calamari (calamares fritos), and Gambas Rebozdas (fried prawns).
Opening times: 08:30 – 00:00 Mon-Thu, Sun. 8:00 – 12:30 Fri-Sat
Address: C. Rodrigo Caro, 1, 41004 Seville
In the heart of the fascinating Macarena area, Dúo Tapas is a wonderfully laid-back place to sample some local delicacies.
There's a good wine list and the prices are very reasonable, making it a popular choice.
The modern environment is great for sampling everything from traditional dishes such as the carrillada de cerdo (pork cheek) for which Seville is famous, right through to Asian fusion fare.
Opening times: 13:30 – 16:30 / 20:00 – 00:00 (00:30 Fri-Sat)
Address: C. Calatrava, 10, 41002 Seville
Set downtown within easy reach of many of Seville tourist attractions and sights, Bar El Baratillo is a busy restaurant offering fantastic traditional tapas in a great atmosphere.
You'll be able to try many local specialties here.
Be warned that the tapas here are much larger than those that you will usually encounter in Seville so bear that in mind when ordering. Make sure to try the solomillo al whisky (pork fillets in whisky sauce).
Opening times: 12:00 – 00:00
Address: C. Adriano, 20, 41001 Seville
The Bodega Dos de Mayo with friendly staff who will be only too happy to make recommendations for you, allowing you to find the dish that's perfect for you. The fire-roasted peppers are excellent.
Although located in the heart of downtown, this place attracts a crowd of main locals, many of whom you'll find here every day; a fantastic endorsement in itself.
Opening times: 12:30 – 16:30 / 20:00 – 00:00
Address: Pl. de la Gavidia, 6, 41002 Seville
Blanca Paloma de Sevilla is a contemporary dining establishment located in the heart of the atmospheric Triana neighborhood. You'll find many innovative plates among the more traditional fare here.
There's a fantastic terrace out the front from which you can while away an afternoon or evening taking in the comings and goings of beautiful Triana.
Opening times: 12:30 – 16:30pm / 20:00 – 00:00 Tues-Sat. 20:00 – 00:00 Mon. Closed Sun
Address: C. San Jacinto, 49, 41010 Seville
Seis Tapas Bar is an ultra-modern venue located in the basement of the Hotel Inglaterra.
This spacious establishment is known as among the hippest places in Seville so only choose this option if you're prepared to pay the associated prices.
You'll find a wide range of gastronomic delights on offer here to satiate your culinary desires. There are great people-watching opportunities in this chic venue.
Opening times: 13:00 – 16:30 / 20:00 – 01:00
Address: Pl. Nueva, 7, 41001 Seville
You'll discover some fanatic culinary creations on offer at La Bartola, with many great vegan options on the menu too (which is not always the case in carne-loving Spain). The vegan options are clearly labeled on the menu.
Even if you're not vegan, the vegan tapas are so good that you could comfortably dine out on those alone. Many vegans return here again and again.
Opening times: 12:00 – 00:00
Address: C. San José, 24, 41004 Seville
The menu at the contemporary Restaurante Eslava features traditional recipes with a modern twist.
The extremely talented chef at this highly-rated restaurant ensures that the place is always busy so you may have to wait for a table, but it's worth it!
You'll find Restaurante Eslava in that part of Seville known as El Barrio de San Lorenzo (the San Lorenzo neighborhood) which is just to the southwest of the Macarena district.
Opening times: 12:30 – 00:00 Tues-Sat. Closed Sun-Mon
Address: C. Eslava, 3, 41002 Seville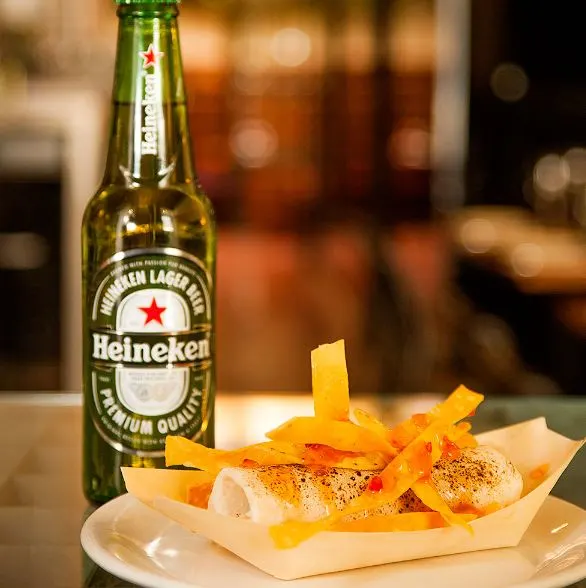 El Pasaje Tapas is another fantastic option in the heart of Santa Cruz, only a stone's throw away from the Cathedral and its famous Giralda Tower.
This modern tapas bar provides highly-rated Mediterranean fusion cuisine.
The menu here is not as extensive as you'll encounter in many tapas bars, but there's a great range of dishes so finding something to suit your tastes will not be a problem, and the food is amazing!
Opening times: 12:30 – 00:00
Address: Pje. de Vila, 8, 41004 Seville
If you're looking for somewhere to sit down and spend the whole night sampling an array of fabulous food (as opposed to indulging in a tapear (Spanish for 'tapas crawl'), then El Pimenton is the choice for you.
El Pimenton is only a small place but there's some seating outside. The food, wine, and staff here are all excellent and it's easy to see why it has such a dedicated following.
Opening times: 13:00 – 16:00 / 20:00 – 00:00
Address: C. García de Vinuesa, 29, 41001 Seville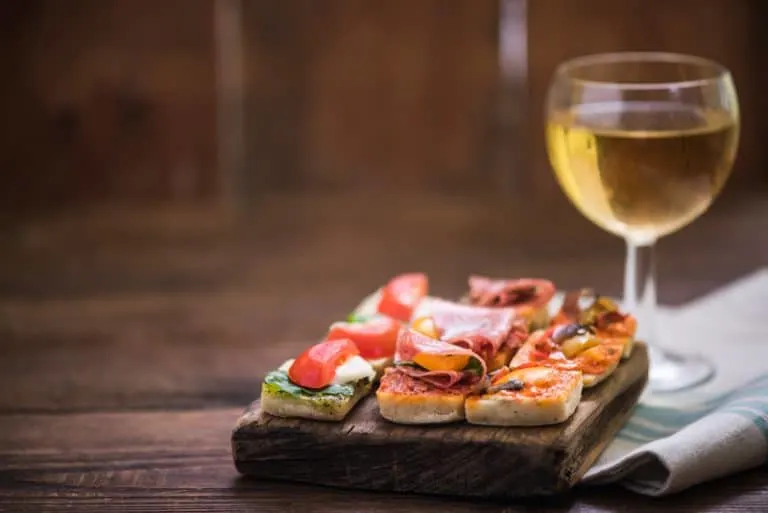 Ovejas Negras Tapas is a surprisingly affordable option for a range of well-prepared tapas and other international cuisines.
The menu here is not extensive but covers a broad range of cuisine so you should find something to your taste.
You'll find this trendy, vibrant eatery just behind the cathedral. It can get busy though so if this is your favored option, make sure to book in advance.
Opening times: 13:00 – 16:00 / 20:00 – 11:30 (00:00 Fri-Sat)
Address: C. Hernando Colón, 8, 41004 Seville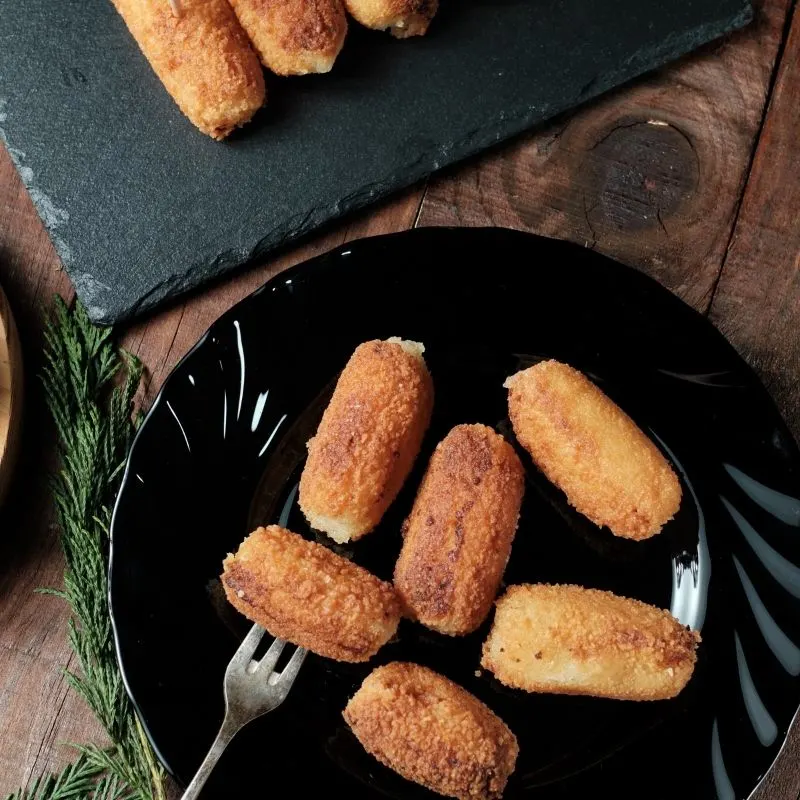 Modestly describing themselves as el mejor restaurante (the best restaurant – though they don't specify exactly how or why they are the best restaurant!) Alcázar Andalusí Tapas specialize in fusing modern Andalucían fare with oriental cuisine.
Located right in the heart of the vibrant Macarena neighborhood, Alcázar Andalusí Tapas features a fantastic outdoor terrace that is great for relaxing.
Opening times: 12:00 – 00:00
Address: C. Peris Mencheta, 22, 41002 Seville
La Bodega de la Alfalfa is a sensational tapas bar that focuses on the quality of the products they offer.
You can order any tapas here and be sure that they will be of the highest quality and extremely well-prepared.
The focus is on traditional tapas that are executed perfectly. The menu is extensive and the attention to detail is second to none. It's easy to see why it's such a popular choice.
Opening times: 12:30 – 16:30 / 20:00 – 00:00 Wed-Mon. Closed Tue
Address: Calle Alfalfa, 4 – 41004 Sevilla
The first Michelin star in Andalusia was awarded to "Casa la Viuda" in 1930. Since 1995, the restaurant is a standard for Sevillian cuisine.
Casa la Viuda's main priority is working with premium raw materials, serving traditional Sevillian cuisine with a modern twist and attentive service that is always based on an understanding of our goods and our clients.
They offer a large variety of tapas, and no matter what you'll choose, you're going to be impressed and you'll definitely come back for more.
Opening times: 12:30-16:30 / 20:00 – 00:00 Mon-Sat. Sunday 12:30 – 00:00
Adress: C/ Albareda, 2 (esquina General Polavieja) Sevilla
Tips on Ordering the Best Tapas in Seville
The first thing to do when entering a tapas bar is to order a drink. In many places throughout Andalucía, you will be given a tapa complimentary.
However, when that's not the case, there are a couple of simple tricks to order the best tapas in Seville.
As every tapas bar has its own specialties, the number one tip is to ask the staff ¿Qué recomiendas? (What do you recommend?) or ¿Qué es Bueno? (What's good?).
Another simple method for the non-Spanish speaker is to see what the locals are eating and if you like the look of it, simply point at it and order!
The Best Tapas Tours in Seville
This 3-hour bike tour around several of Seville's finest tapas haunts is a great way of discovering not only the plethora of culinary delights the city's sensational tapas scene has to offer but also the city itself.
The center of Seville is quite compact so you won't find this overtly strenuous, though you will burn off some of those extra calories. – Check the guided tour here.
A river boat tour along the storied Guadalquivir River offers a unique perspective on Seville's famed monuments. And what better to accompany this beautiful experience than some delicious tapas?
This is considered the best tapas tour in Seville, especially since you get to cruise down the Guadalquivir river.
Trips run throughout the day but for the full experience take the after-dark tour, where you will witness Seville's stunning architecture illuminated to display its full magnificence. – Check out the guided tour here.
As the center of Seville is quite compact, a walking tour is a fantastic way to explore the hidden gems of this historical city.
Your local guide will explain the history of tapas and provide insider knowledge as you discover some of the city's hidden alleyways.
This highly recommended tour will take you around Seville's oldest taverns, providing you with fascinating insight that only a local could impart. – Book your guided tour in advance here.
Do like the locals and indulge in a tapear (tapas crawl)! Not only is this a great social activity but you'll learn so much, not only about tapas but also about Spanish culture in general.
And this is a great way to meet locals and make new friends.
This evening tour will take you around some of the best tapas bar in Seville the city has to offer. Prepare to have fun! – Check the guided tour here.
Map of the Best Tapas in Seville
Short FAQ about the Best Tapas in Seville
What is a typical tapas in Seville?
You'll find an emphasis on seafood and stews among the tapas of Seville. Pescado frito (fried fish) is one of the most popular tapas you'll encounter in the city.
How many tapas bars are in Seville?
You can hardly move for tapas bars in Seville! At the latest count, there were in the region of 3000 tapas bars in the city.
What is the most famous food in Seville?
Carrillada de cerdo (pork cheek) is one of the famed tapas in Seville. The carrilladas are slow-cooked in a wine-reduced tomato-based sauce, with onion, carrots and often garlic.
---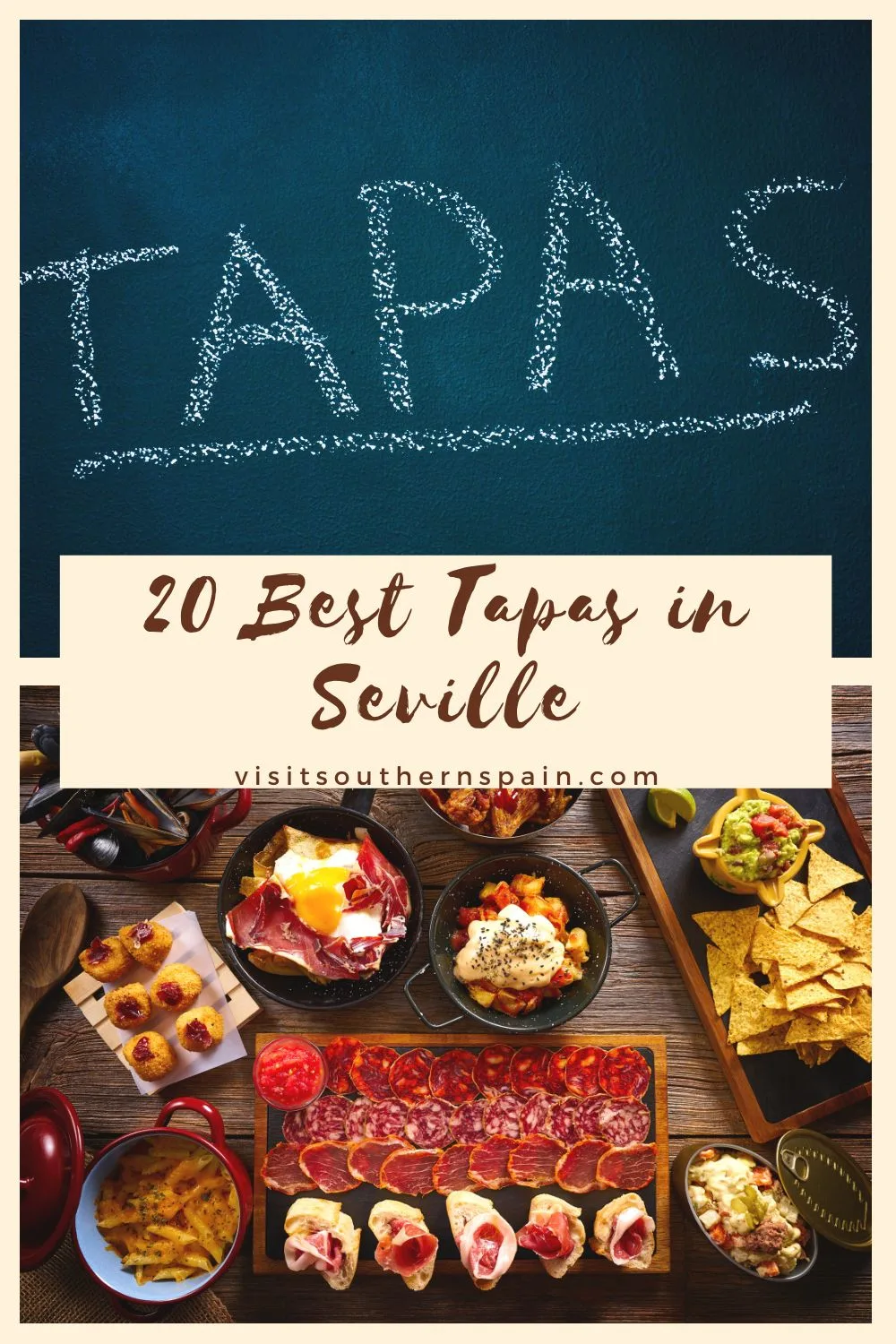 ---
Hola, I'm Paulina! Together with my team, we are passionate about Southern Spain. Here we share all you need to know for great times in Southern Spain with the best places to visit, stay and, of course, the best food to eat.
Let's dive in and explore Southern Spain's outdoors, food and culture con pasión!