Are you ready for the ultimate Seville experience?
Get ready to explore vivid colors, captivating artistry, and a culture unlike anything else in Europe.
As one of Spain's most beloved cities, Seville is filled with majestic cathedrals, lush gardens, and bustling plazas – all brimming with an infectious energy that will fill your heart! You just never run out of things to do in Seville.
Whether this is your first trip or 50th, prepare yourself for a unique journey as we take you through what to see in Seville for First-Timers.
Discover why generations before us have come to love it here and see why everyone worldwide keeps returning!
This blog is supported by you, dear reader. If you purchase through a link, we earn a small commission. As an Amazon Affiliate, we earn from qualifying purchases.
Resources to visit Seville, Spain
✈ Book cheap flights to Seville with Skyscanner

⚘ Avoid tourist traps and get the customizable "Andalucia Like a Local" itinerary. – Get it here

✔ Book tours in Seville with GetYourGuide

➳ Find the best hotels in Seville with Trivago

❖ Rent a car at the best rates with DiscoverCars

✎ Never leave without travel insurance! I get mine at HeyMondo. It is easy to set up, cheap and reliable.

$ Withdraw money without hidden fees and avoid exchange charges with Wise (A free Mastercard debit card to spend money abroad)
Overview: What to see in Seville
1. Explore the Historic Center of Seville
The Historic Center of Seville is a must-experience during your time in the city.
The mesmerizing district will captivate you from the moment you step onto its cobblestone streets, as you will be unable to take your eyes off its beautiful architecture steeped in history.
Plus, you will be spoilt for options regarding nearby accommodations, and you can easily choose a hotel in Sevilla with Voyage Privé to save you time and money during your stay.
Often referred to as the old Town or Casco Antigo, the Historical Center is world-renowned for its trio of unmissable UNESCO World Heritage Sites: the Archivo de Indias, the Cathedral and La Giralda, and Royal Alcazar.
There is no question that Alcazar is the most popular attraction in all of Seville, as it is the oldest royal palace in Europe, and its history dates back thousands of years.
2. Visit Alameda for a Splash of Culture
If you want to sip on a great-tasting coffee, browse stunning works of art, or shop until you drop at various quirky shops, make a play for the unique neighborhood of Alameda.
The alternative area is bursting with culture and cool restaurants and bars that provide another side to Seville.
One moment, you could walk through the picturesque tree-lined square decorated with gorgeous Roman columns, and the next minute, you could be sipping on a delicious drink in a sleek bar.
It is a must-visit for a short or long break when in the city.
3. Grab a Drink at El Rinconcillo
They literally don't make bars like El Rinconcillo anymore. The small but mighty spot is steeped in Spanish history, as it is the oldest bar in the city, stretching back to 1670.
Popular with tourists, the historic bar serves chilled fino and delicious tapas by famously moody waiters.
Also, no bar in Seville will chalk your tab on the countertop, and you will want to take a snap with the hung hams and dusty bottles that decorate this unique venue.
Avoid looking back on your trip to Seville with many regrets. Add the above spots to your itinerary to return home with many memories you will treasure.
4. Seville Cathedral and the Giralda Tower
One attraction that should be at the top of your list is the Seville Cathedral and the Giralda Tower.
With its stunning Gothic architecture and awe-inspiring interior, the cathedral is the largest church in Spain and the third-largest in the world. – Buy tickets now
Visitors can also climb the Giralda Tower, a former minaret of a mosque that offers breathtaking city views.
Check visiting hours and ticket information before heading to this magical site. It's a must-see for anyone visiting Seville.
5. Plaza de España
As a first-timer to the city, you cannot miss visiting Plaza de España, one of the most impressive squares in Europe.
With its unique semi-circular design, ornate bridges, and gorgeous fountain, the plaza perfectly blends Spanish Renaissance and Moorish Revival styles. But the plaza is not only a feast for the eyes.
You can also take a boat ride along the canal, admire the colorful ceramic tiles that depict each province of Spain, or relax in the Plaza's manicured gardens and soak in the local atmosphere.
Whether you are a history buff, an architecture enthusiast, or a nature lover, the Plaza de España has something for everyone!
6. Flamenco in Seville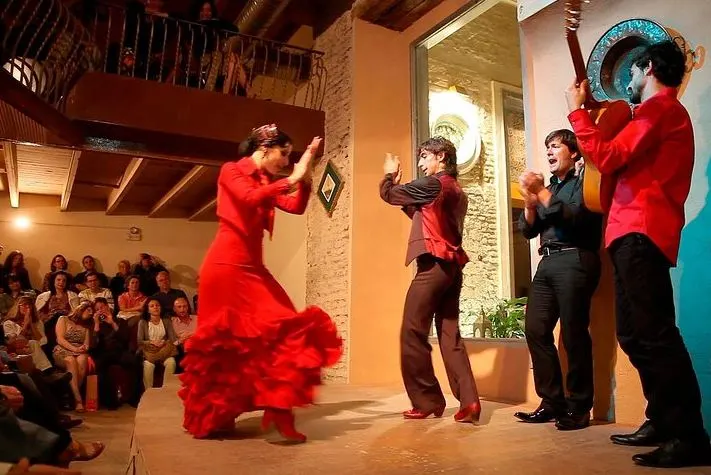 As you embark on your first trip, Flamenco shows in Seville to your must-see list. Flamenco is an art form practiced in the city for centuries and is deeply ingrained in its cultural roots.
To experience Flamenco at its finest, head to one of the traditional Flamenco clubs in the city, such as La Carbonería or Casa de la Memoria. – Get tickets here
These venues offer an intimate and authentic setting where you can witness the passion and energy of Flamenco up close.
For the ultimate experience, opt for a tablao Flamenco show which combines music, dance, and singing.
Remember to dress comfortably and arrive on time to secure your spot for this unforgettable night of entertainment.
7. Barrio Santa Cruz
For first-timers, a must-see spot is Barrio Santa Cruz.
This vibrant neighborhood was once the largest Jewish quarter in the world and is now a go-to spot for anyone looking to explore the city's rich history.
From its charming alleys to its cobblestone streets, Barrio Santa Cruz offers a unique blend of ancient and modern architecture that will leave visitors in awe.
When wandering through the area, stop at one of the many restaurants or shopping boutiques, where you can sample some of the city's finest cuisine and pick up some truly unique souvenirs.
8. Metropol Parasol
There's one place that you can't afford to miss: the Metropol Parasol.
This incredible modern structure, known locally as "Las Setas" or "the mushrooms," is a sight to behold.
As you step beneath the soaring, undulating wooden canopy, you'll feel a sense of awe at the sheer scale and complexity of the structure.
But it's not just the architecture that makes this place so special – the views.
Take the elevator to the top of the "mushrooms," and you'll be treated to breathtaking panoramic city views.
Finally, if you're wondering when to go and how to get tickets, the Metropol Parasol is open every day from 10 am until midnight, so you can fit it into your schedule no matter what.
And while there is a small admission fee, it's absolutely worth it for the experience of a lifetime.
9. River Guadalquivir and Triana
A walk along the tranquil River Guadalquivir is a great way to take in the picturesque views of Seville.
The vibrant Triana neighborhood should also be on your list, with its colorful streets and charming plazas.
And of course, no trip to Seville is complete without indulging in the local cuisine and tapas bars.
With so much to explore and discover, Seville is a city that will leave a lasting impression on any traveler.
Our final thoughts on what do see in Seville for first-timers
All in all, there is so much to explore and discover in Seville!
From exploring fascinating monuments with UNESCO World Heritage status to getting lost in Barrio Santa Cruz's cobbled streets to tasting the flavors of classic Andalusian food, it offers visitors unique experiences that will surely be remembered for years.
Seville remains true to its traditional roots while constantly reinventing itself and forging a bright future.
With its many attractions, activities, and offerings – not just those listed here – Seville is an adventure waiting to be explored. Get your bags ready: it's time for a journey you won't forget.
Hola, I'm Paulina! Together with my team, we are passionate about Southern Spain. Here we share all you need to know for great times in Southern Spain with the best places to visit, stay and, of course, the best food to eat.
Let's dive in and explore Southern Spain's outdoors, food and culture con pasión!