Spain is renowned for its gastronomy. As you are surely aware, we eat more cold dishes than people in other nations due to our hot climate.
If you have been to our country, I am sure you have had the opportunity to try some of the best Spanish cold soups.
In case you haven't been to Spain or you miss the Spanish flavors, this post will allow you to discover some of our tasty regional Spanish soups.
This blog is supported by you, dear reader. If you purchase through a link, we earn a small commission. As an Amazon Affiliate, we earn from qualifying purchases.
No matter in which position you are, this article will help you replicate some of the most popular traditional Spanish cold soups at home.
Best Spanish Cold Soups
1. Salmorejo
Salmorejo is a typical cold tomato soup that is the most representative dish of Córdoba and one of the most well-known Spanish cold soups.
Salmorejo is a simple thick puré prepared using ripe tomatoes, garlic cloves, and a slice of bread. It goes well with some olive oil and a boiled egg on top.
If you want to make the perfect salmorejo we advise you to prepare it with fresh vegetables and do not forget to refrigerate the mixture for at least one hour before serving it.
Get the recipe: Savory Spanish Salmorejo Recipe
2. Ajoblanco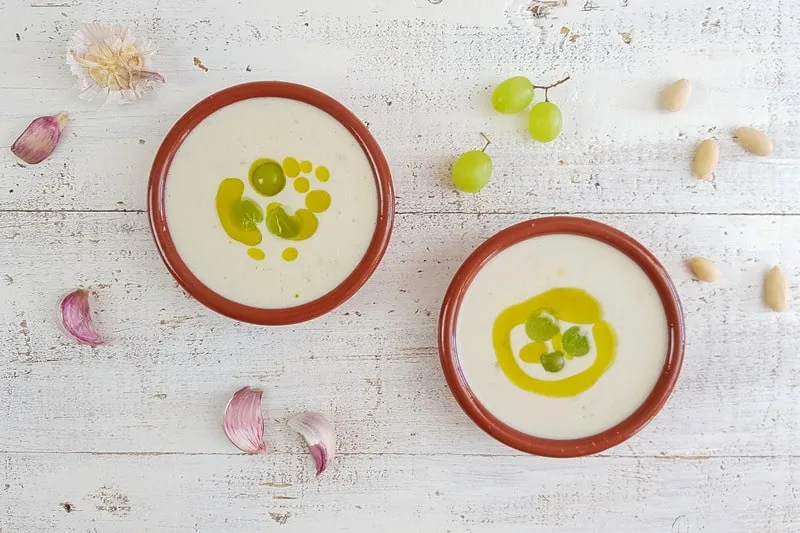 Ajoblanco is one of the most peculiar Spanish cold soups and it is characterized by its white color and the smoothness of its texture.
Although the literal translation of ajoblanco is 'white garlic' people may wrongly think that garlic is its main ingredient.
Spanish ajoblanco is prepared using raw peeled almonds, a slice of bread, a small garlic clove, and a glass of water.
If you want to season it and make it even tastier, you can add olive oil and some vinegar splash.
After that, you should leave the Ajoblanco inside the refrigerator for at least an hour before it's ready to be enjoyed.
Get the recipe: Cold Garlic Soup – Spanish Ajoblanco Recipe
3. Spanish Gazpacho with Canned Tomatoes
If you want to enjoy a delicious Spanish gazpacho off-season, you can do it using canned tomatoes.
A traditional Andalusian gazpacho can be easily prepared using preserved tomatoes.
By preparing this gazpacho with canned tomatoes you are going to save a lot of time and it can be done whenever you are in a hurry but want something homemade.
If you want to enjoy this cold serving you should crush the tomatoes with green pepper, onion, cucumber, and garlic clove. Do not forget about refrigerating the mixture to get the most of its flavor!
Get the recipe: Spanish Gazpacho with Canned Tomatoes – Easy Recipe
4. Chunky Gazpacho Recipe
As mentioned above, gazpacho can be prepared all year round. However, chunky gazpacho is a popular and traditional Andalusian food enjoyed mainly in summer.
The chunky gazpacho recipe is characterized by having a thicker texture than the plain gazpacho, which can be achieved by adding some bread slices.
To prepare a homemade chunky gazpacho for two you just have to beat 800 grams of ripe tomatoes, a green pepper, a cucumber, an onion, a garlic clove, and some bread.
You can also season it with a little bit of olive oil and vinegar. After that, you should let the gazpacho cool and serve it!
Get the recipe: Spanish Chunky Gazpacho Recipe
5. Watermelon Gazpacho Recipe
A special yet popular kind of gazpacho is the fruit gazpacho. Some of the most popular fruits to add to the mixture are mango, strawberries, and watermelon.
Watermelon Spanish gazpacho is ideal to serve as an appetizer to surprise your guests.
It is a light, refreshing and nutritious starter that locals love to enjoy before ordering a main dish.
To prepare it you will have to blend together some watermelon, a cucumber, a garlic clove, and onion.
I suggest you season it using some salt, a tiny bit of ground black pepper, and some serrano ham as a topping.
This is one of the most perfect Spanish cold soups if you are looking for a fresh but still healthy recipe from Spain.
Get the recipe: Watermelon Gazpacho Recipe [Easy Summer Soup]
6. Gazpacho with Shrimp
A sophisticated Spanish gazpacho is one that includes shrimp. It is not as common as the ones presented above because it is usually just prepared in expensive restaurants.
Nevertheless, it is easy to put together the gazpacho with shrimp as it doesn't need a lot of ingredients.
To make this cold tomato soup, you can just follow the recipe of chunky gazpacho recipe, and once the soup is ready you just have to add some grilled shrimp.
This is one of the fanciest Spanish cold soups that you can serve at a dinner party on a special occasion.
Get the recipe: Gazpacho with Shrimp – Healthy Recipe
7. Cucumber Gazpacho
Green cucumber gazpacho with mint may be the ideal cold soup to have as a light and fresh appetizer.
If you are not very hungry but you still need to get some nutritive food, do not hesitate on making this tasty and refreshing snack.
To prepare this gazpacho you should blend together the cucumber, half onion, yellow pepper, two garlic cloves, a small bunch of mint, and natural yogurt.
After that, you should chill the mixture until cold and you can season it with some Tabasco to give it a spicy note.
Get the recipe: Cucumber Gazpacho Recipe from Spain
8. Mango Gazpacho from Axarquia
As it has been already mentioned, gazpachos made with fruits are delicious smoothies to enjoy on hot days.
If you are a fruit lover and enjoy Spanish cold soups, the mango gazpacho will make you fall in love!
Axarquia is a province of Malaga and the mango gazpacho is particularly famous in this area. Lots of restaurants in this area offer this special and typical Andalusian gazpacho.
If you visit this region, you should not miss it! And if you intend to prepare it at home, you will have to blend some mango pulp with some cucumber, half onion, and a slice of bread.
It may be really helpful to add some water to the mixture until you get the texture you like.
Get the recipe: Refreshing Mango Gazpacho from Axarquia
9. Cucumber Avocado Gazpacho
The cucumber avocado gazpacho may be considered one of the most nutritious Spanish cold soups.
Although the cucumber avocado gazpacho is been popularized lately, as avocado was not traditionally used in Spanish gazpachos, this cold soup is nowadays adored by locals.
The main ingredients of this cold Spanish soup are cucumber and avocado, but you can give some spectacular tasty notes to it by adding celery, jalapeño, or cilantro.
The cucumber avocado gazpacho is a very light appetizer that will take 10 minutes to make and does not need any cooking.
Nevertheless, its flavors will still make your guests fall in love with Spanish cold soups.
Get the recipe: Spanish Cucumber Avocado Gazpacho
10. Vegan Gazpacho Recipe
Most gazpachos are elaborated using just fresh vegetables, that's why they are suitable for vegetarian and vegan gazpacho lovers.
If you avoid putting meat toppings on it, you make sure everyone is going to adore it. You can put together the best vegan gazpacho by blending some of your favorite vegetables.
As you may have already noticed, there is no need to get bored of Spanish could soups because there is a wide variety of vegan-friendly ingredients to use.
Below, you will find an easy recipe for the best vegan gazpacho to enjoy on hot days.
Get the recipe: Spanish Vegan Gazpacho Recipe
11. Classic Andalusian Gazpacho
The classic gazpacho Andaluz is a traditional dish of this southern region of Spain.
It is one of the most famous Spanish cold soups and it can be found all over Spain in supermarkets as well.
To prepare it, you should buy and blend together some ripe tomatoes, cucumber, and green pepper and it must be topped using some bread croutons or raw peppers.
If you want to give the dish a colorful touch, do not hesitate about selecting peppers of different colors, so they will look even tastier!
Get the recipe: Classic Andalusian Gazpacho Recipe
12. Beet Gazpacho
One of the most beautiful-looking Spanish cold soups is definitely the beet gazpacho.
Its purplish color makes this cold Spanish soup the best one to make children eat some healthy food.
It definitely tastes and looks amazing! If you want to prepare a delicious beet gazpacho, you will need to boil and blend together some beet, cucumber, avocado, and fresh dill.
Toppings like croutons will make the most of this luscious and healthy summer snack.
Get the recipe: Nutritious Beet Gazpacho from Spain
13. Avocado Gazpacho
The avocado gazpacho may be considered one of the best Spanish cold soups to have as lunch because it is very easy to prepare and it contains a wide variety of healthy fresh summer ingredients.
This silky soup may be quickly prepared using a food processor to blend the avocado, tomatoes, garlic, onion, olive oil, vinegar, paprika, and salt until smooth.
I personally enjoy the avocado gazpacho garnished with some basil leaves.
Get the recipe: Delightful Avocado Gazpacho Recipe
14. Fruit Gazpacho – Raspberry Orange Gazpacho
Spanish fruit gazpacho is especially loved by children because its sweet notes will make them devours it!
There are different ways to make this cold soup, with as many fruits as you can select as the main ingredient.
On this occasion, the basic ingredients are raspberries and orange juice.
The raspberry puree is added to the vegetable soup and everything is blended together – one of the most delicious Spanish cold soups is finished with orange juice.
You may want to top the mixture with some mint, strawberries, peach, and blueberries, you will make the most of it!
Get the recipe: Fruit Gazpacho with Raspberry
15. Asparagus Gazpacho
Asparagus Gazpacho is a delicious appetizer not suitable for all palates because its main ingredient does not like by everyone.
Nevertheless, I strongly encourage you to try it because it may surprise you!
This may be one of the most time-consuming cold Spanish soups because you will have to grill the asparagus and the onion.
After they have a caramelized texture you puree all the ingredients until creamy in a blender with some avocado and lemon juice.
This tasty soup may also be eaten in winter as it is also delicious when served hot.
Get the recipe: Best Asparagus Gazpacho Recipe
Short FAQ about the Best Spanish Cold Soups
---
What is the difference between salmorejo and gazpacho?
Salmorejo is thicker than gazpacho and it does not contain cucumber, green pepper, vinegar, or water.
Salmorejo is usually served with boiled egg and serrano ham on the top, whereas vegan gazpacho is accompanied by croutons or small pieces of pepper and onion.
Why is gazpacho served cold?
Gazpacho is served cold because most of its seasonal ingredients are ready to be harvested in Summer and the high temperatures of this period in Spain make light cold soups ideal.
Moreover, refrigerating the gazpacho highlights the fresh notes of the vegetables used to elaborate this tasty dish.
---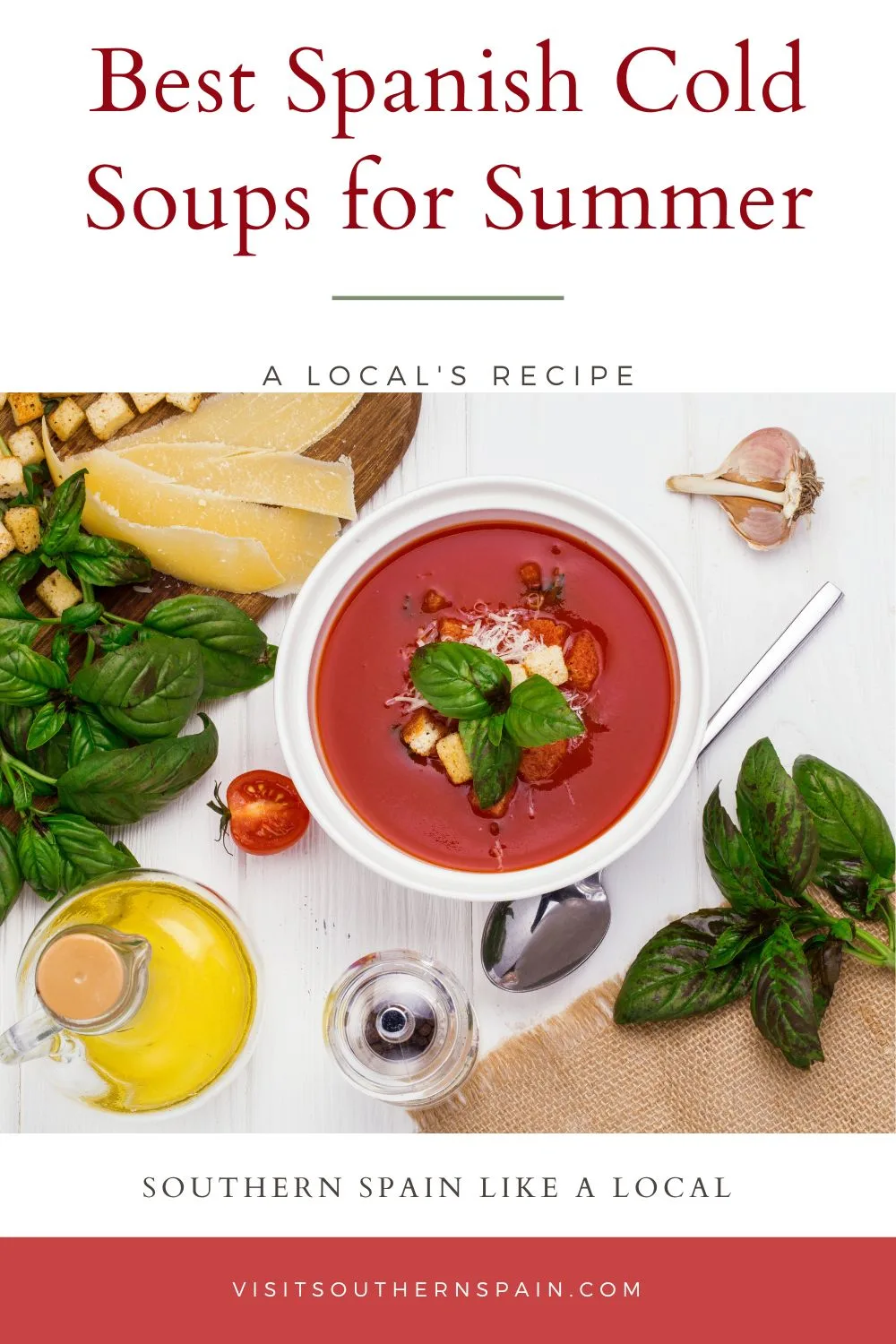 ---
Hola, I'm Paulina! Together with my team, we are passionate about Southern Spain. Here we share all you need to know for great times in Southern Spain with the best places to visit, stay and, of course, the best food to eat.
Let's dive in and explore Southern Spain's outdoors, food and culture con pasión!