A guide to amazing boutique hotels in Sevilla, Southern Spain for every budget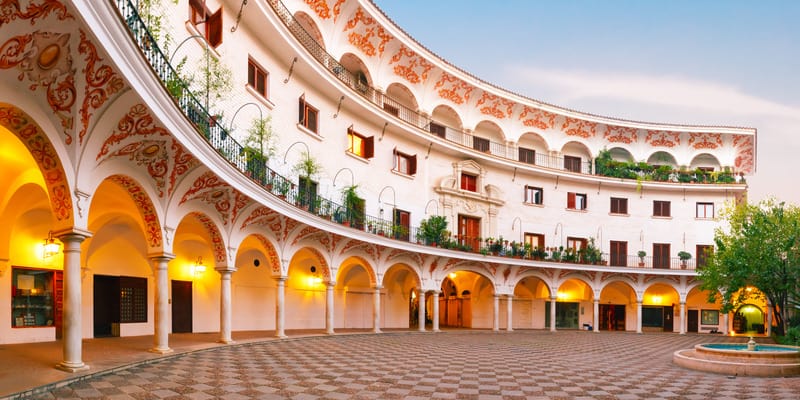 When you think of Seville, you usually picture eating tapas and drinking cold beer. However, there is more to the capital city of Andalusia.
It is rich with Moorish heritage which is visible in everything, from the colorful tiles adorning the buildings, to the largest Gothic cathedral in the world, to taking in an authentic flamenco show that makes Seville worth exploring.
It is the best way to enjoy this exotic city in southern Spain combined with staying at one of the best boutique hotels in Seville.
They offer you an authentic, unique, and one-of-a-kind stay as compared to other hotels. Staying in a boutique hotel is the best way to give your stay in Seville a personalized touch because you'll stay in fabulous, historic hotels that are often family managed.
Are you ready to head to Seville? I will help you find the best boutique hotels for your next stay in this Moorish heritage city. Whether you are looking for budget boutique hotels or absolute five-star boutique hotels in Seville, I've got you covered.
If you are heading to Seville, make sure to check out my complete Seville 3-day itinerary, the best beach resorts near Seville, and the typical Andalusian food that you should try.
Comparison Of The Best Boutique Hotels In Seville
Where to stay in Sevilla, Spain
If you are heading to Seville and you're looking for a hotel, the situation might be overwhelming.
Despite its limited size, Seville has many different districts and neighborhoods that all vary in their vibe.
If it is your first time in Seville, I recommend staying in El Arenal or Santa Cruz since it is close to the most important attractions in Seville. Both are considered Old Town Seville.
If you are traveling with kids or with a family, I recommend the residential area of Los Remedios. In case you are visiting Seville on a budget, La Macarena and Triana might be great options!
Check out as well our 22 best hotels in Andalucia for every budget if you are planning a trip to the south.
Best 5-star Boutique Hotels in Seville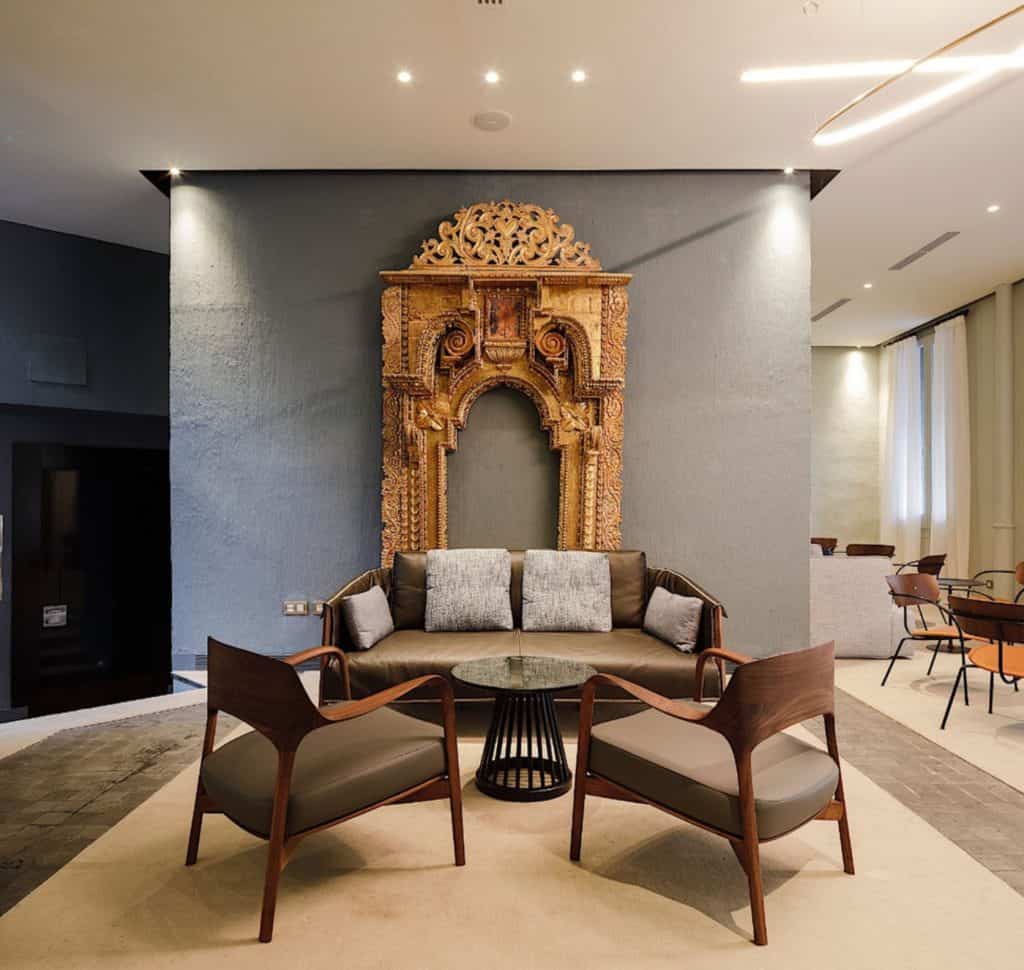 Thinking of where to stay in Seville for that authentic but luxury living experience? Then, without further ado, book the EME Catedral Hotel. This chic boutique hotel in Seville is a 5-star boutique hotel located on the street close to the Gothic cathedral and just 60 meters from La Giralda.
It is a favorite among celebrities making it one of the best hotels in Seville, Spain combined with modern design and spectacular views of the city.
This converted 16th-century townhouses hotel offers 60 spacious modern rooms with high-beamed ceilings, and each room offers a great view as it has ceiling-high French windows.
Facilities at the EME Catedral Hotel include a rooftop swimming pool and a bar with views over the city. The boutique hotel has free WiFi, a wellness center, and a steam room. All the rooms have a flat-screen TV, private bathrooms with freestanding tubs or walk-in rain showers.
Best Parts?
There are three restaurants. One is run by chef Paco Perez serving Mediterranean cuisine for lunch and dinner. The tapas bar, La Esquina del Bacalao offers alfresco dining for dinner. The Corner, located in the lobby serves Mediterranean cuisine daily.
The Santo Copas cocktail bar with glass floor that exposes subterranean Roman ruins make the EME Catedral Hotel unique and adorable.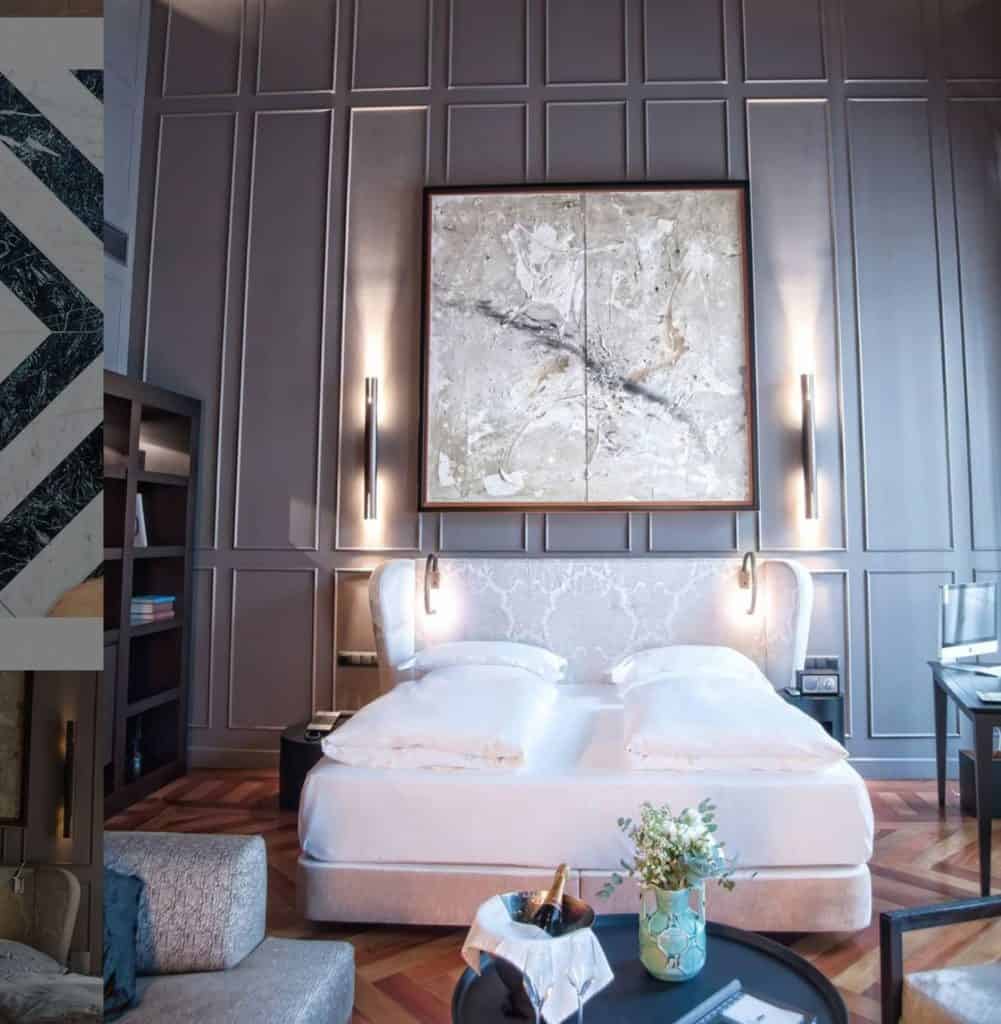 The Hotel Palacio De Villapanés boasts a stunning architecture from the 18th century Seville with gorgeous ornate gates, fountains, cloisters, tiles, and contemporary designer furniture.
This century mansion is located on a street at the edge of the Alfalfa area with the cathedral and Alcazar just a few minutes away. The upside of this 5-star hotel in Seville is that it is quiet and located off the beaten tourist track.
The facilities offered by this charming hotel include a spa, a gym, and free Wi-Fi. There are 50 rooms around the two patios that preserve period details. All rooms have TV, free minibar, and the morning newspaper. Bathrooms have all the amenities with hydromassage showers and freestanding tubs.
The second floor has six suites equipped with iMac, coffee machine, and goodies basket.
The hotel has 4 restaurants where you can grab a bite or stay in and take advantage of the 24-hour room service. Relax with a refreshing drink at the poolside bar or at one of the 3 lounges. Other amenities include limo car service and dry cleaning/laundry services.
Summary
Among the many converted boutique 5 star hotels in Seville, Spain the Hotel Palacio De Villapanés stands out for its sheer majesty and class, making it special, unique, and adorable.
Best 4-star Boutique Hotels in Seville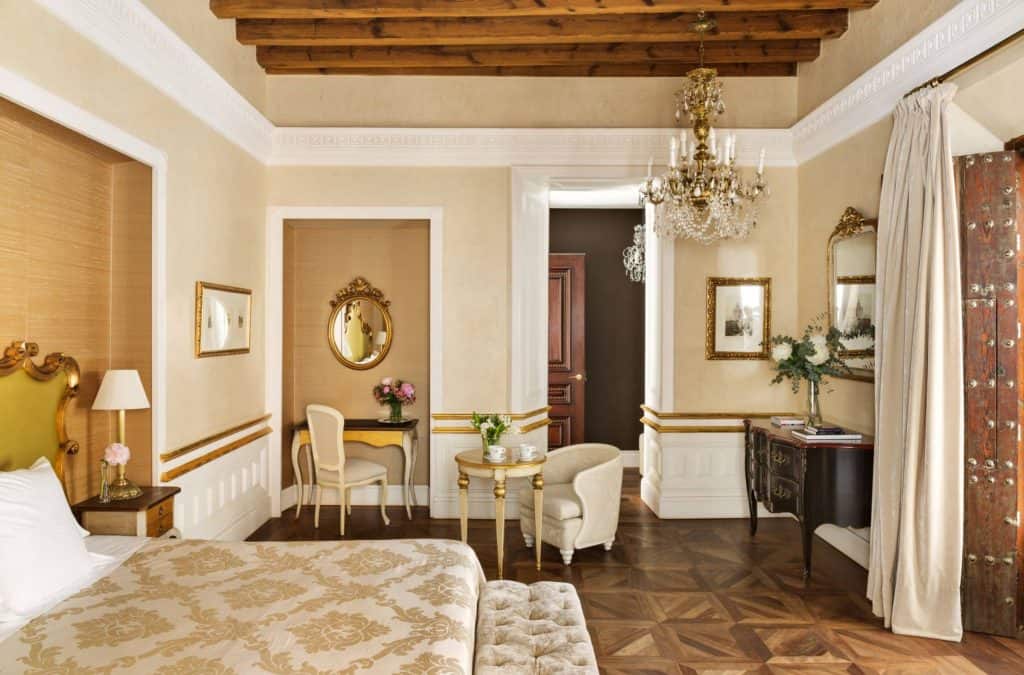 Built around a courtyard, this 4-star hotel is one the most surprising luxury hotels in Seville, Spain. Situated in a restored 19th-century mansion, it is just a few minutes away from the Gothic cathedral and several excellent Barrio Santa Cruz restaurants.
The Hotel Casa 1800 Sevilla is a perfect blend of historic charm and modern comfort. All the rooms are individually decorated with champagne-colored stucco, vintage tiles, and velvet sofas with facilities like flat-screen TVs and coffee makers. Six rooms of the 33 total have their private terrace with a hot tub.
Facilities offered by this boutique hotel in Seville, Spain are a rooftop pool and a terrace with a grand view of La Giralda bell tower with plenty of seating, free Wi-Fi as well as tourist information. The hotel also offers a free snack in the afternoon.
Customized service is one of the best features that make this hotel unique and adorable.
Best Parts?
The Hotel Casa 1800 Sevilla's lobby sets the tone. It is chic, warm, and welcoming, thus making it a great boutique hotel in Seville.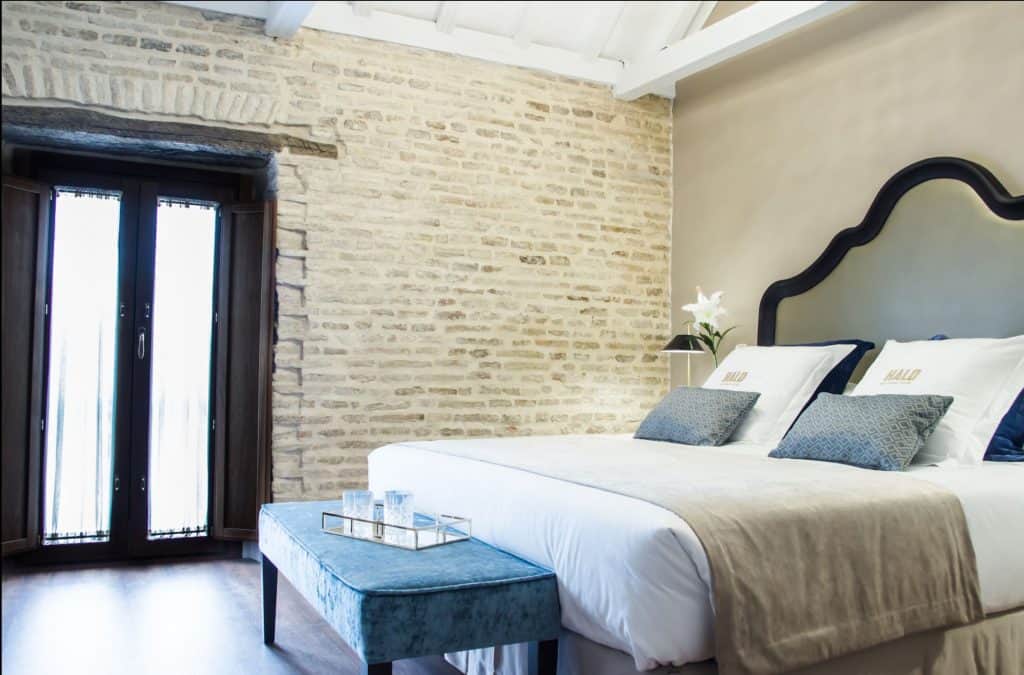 Conveniently located in the middle of Seville, the Halo Boutique Hotel is next to Plaza Doña Elvira and Plaza de Los Venerables. The Cathedral and Alcazar are just a five minutes walk away and the shopping area is 15 minutes.
In an area with lots of hotels, the Halo Boutique Hotel stands out and is the best place to stay in Seville when looking for a unique experience. The hotel stands out for its luxurious touches like jewel-colored velvet chairs and chandeliers. Colorful flowering plants dot around the hotel, adding splashes of vibrancy.
There are 18 rooms, all with wooden floorboards, fitted with a desk and wardrobe, complete with a private bathroom with rain showers or freestanding bathtub. Free Wi-Fi is available in all areas.
Best Parts?
Other facilities include a rooftop pool divided into two parts, a whirlpool, and a plunge. Breakfast is served in the ground floor dining room with an enclosed patio. There is no restaurant in the hotel.
This hotel is unique and adorable in the sense that it is made of three 17th century casa palacios and mixes contemporary glam décor and high tech touches.
This stylish boutique hotel is located in charming Old Town in Seville and is just 3 minutes walk from La Alameda Boulevard and 5 minutes away from Macarena neighborhood, home to trendy bars, lively markets, and microbreweries. The Cathedral and the historic area are just 15 minutes away.
The Casa Romana Hotel Boutique is made of adjoining 18th-century casa palacios and has 26 rooms arranged around two patios. Deluxe and superior rooms are spacious with high ceiling, fitted with a desk, chairs, and a large TV.
The bathrooms have hydro massage baths and separate showers. The standard rooms are small with a regular bath.
Best Parts?
The Casa Romana Hotel Boutique is a gem as it is elegant and dotted with repro Roman sculptures and located in the center of the hip Alameda district and main central shopping area.
The rooftop bar and restaurant offer fabulous city views.
The Monte Triana breaks from the other top hotels in Seville, both in size and the location. By Seville standards, this 4-star hotel in Triana is a bit of a trek from the city center but is great for people looking to delve into the city's ceramic part.
Triana is also famous for being the birthplace of flamenco in Seville.
Located west of the Guadalquivir River, it is close to popular sights like the Triana Market and the Triana Bridge.
The Monte Triana, Seville has 116 soundproof rooms featuring a separate bedroom and equipped with LCD TVs, air conditioning, minibar, safe, telephone, pillow menus, and free Wi-Fi. All bathrooms are private and equipped with a cosmetic mirror and hairdryer.
Best parts?
Other facilities include a fitness center, a computer station, a small business center, a restaurant serving a breakfast buffet, and a bar. The parking garage is provided for extra charges.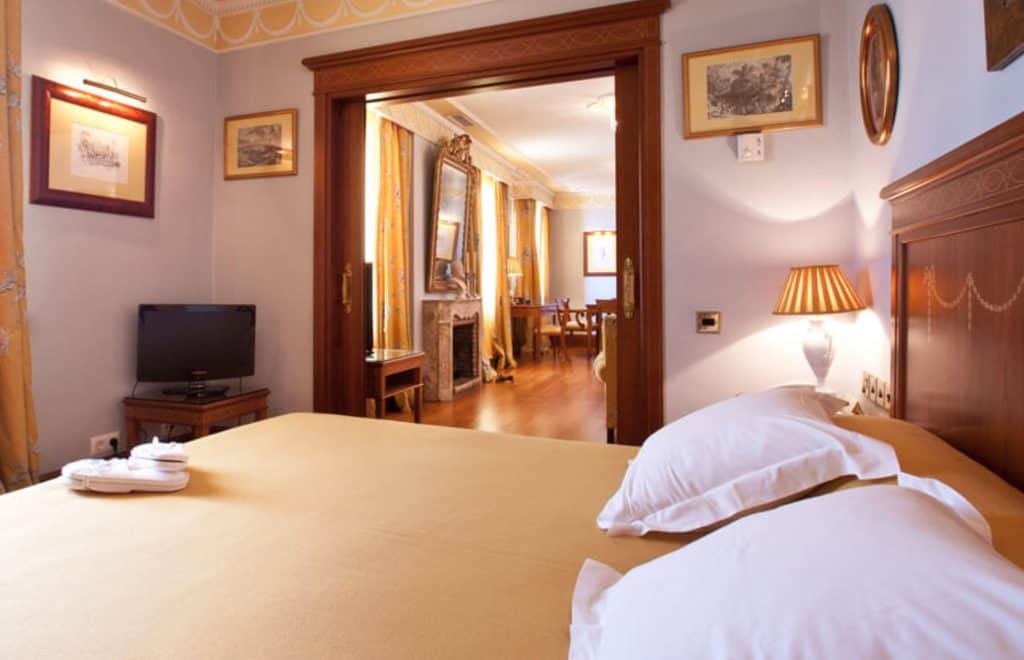 One of the premier 4-star hotels in Seville, the Hotel Inglaterra is designed to provide an unforgettable stay. There is no other centrally located hotel in Seville that excels in the quality of services offered.
Located in Plaza Nueva, the center of the city, this elegant hotel is just a few minutes away from the Cathedral and next to the Reales Alcazares Palace.
Services offered are warm and friendly with a nice roof-terrace bar offering a contemporary feeling with modern, white furniture and a spectacular view of Plaza Nueva through the glass walls. The hotel also has a gym equipped with plenty of machines, and wellness rooms providing massage and beauty treatments.
The Hotel Inglaterra has a gastro tapas bar and offers an impressive breakfast buffet featuring a variety of foods and fruits. Each food item has a sign indicating allergens for your safety.
The hotel has four floors with 86 air-conditioned rooms, all beautifully decorated with classic style decor and spacious. They all include a balcony, flat-screen satellite TV, and a safe. The bathroom is made in marble, including all amenities while some even have hydromassage baths.
Best parts?
What makes this hotel unique and adorable is that it is classic and traditional with antique clocks, ceramic tiles, and stained glass windows without being stuffy.
This hotel is right in the heart of the city overlooking Plaza Nueva and the City Hall.
The Hotel Casa del Poeta is a large restored 17th-century mansion carefully maintaining its original architecture and decorative elements, thus making it ideal for romantic getaways.
Located in the heart of Barrio Santa Cruz, the Hotel Casa del Poeta is picturesque and one of the best boutique hotels in Seville. The traditional building will definitely capture your breath. The cathedral and the Alcazar Royal Palace are just five minutes away while the shopping district is 10 minutes away.
The hotel offers all the facilities and amenities for a comfortable stay. It has a bar that serves a great selection of drinks with extremely courteous service. You can hear live music on the patio, and the roof terrace offers majestic views on the Seville Cathedral and Santa Cruz. The other facilities include free Wi-Fi, laundry, and room service.
A lavish breakfast is served, either on the patio or in the dining room, and consisting of fresh fruits, pastries, toast, cereals, tea, coffee, and cooked dishes.
Best parts?
The Hotel Casa del Poeta is a 4-star luxury hotel in Seville with 14 uniquely decorated rooms and three suites offering a great view of the cathedral from the roof terrace.
Built-in typical Sevillano style, the rooms around the patio with a fountain make this hotel unique and adorable.
The Hotel Casa del Poeta is one of the best places to stay in Seville, Spain as it offers services worthy of a 5-star resort.
Best 3-star Boutique Hotels in Seville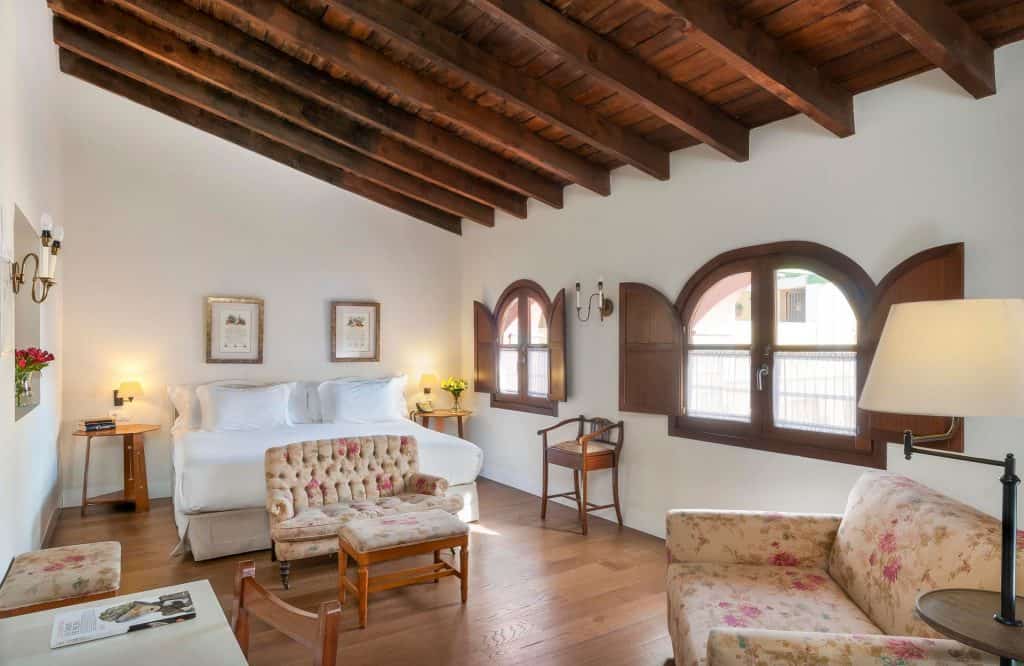 The Hotel Amadeus & La Musica is made up of two connected Sevillano houses based on classic music themes with various instruments available to play, thus making it great for music lovers.
Located down a narrow pedestrian alley, both the Cathedral and Alcazar are just a stone throw away. Also, the Casa de Salinas and the Museo Bellver, the two small museums are nearby.
The Hotel Amadeus & La Musica, Seville is great for music lovers, especially pianists as there are two soundproof practice rooms and some rooms even have a piano. The pretty rooftop terrace has comfortable seating with a small hot tub and a bar offering cocktails, tea and cake.
The breakfast is served, either in the rooftop dining room, small salon on the ground floor, outside on the sunny roof terrace, or in your room. You can have your breakfast wherever you like.
The rooms are spacious and the decor is simple, yet classy. The hotel is equipped with wooden wardrobes, armchairs, TV, and many rooms feature showers while some have hydrotherapy baths.
Best parts?
Music is the main theme of the hotel, from the artwork to 60 instruments on display, and each room is named after a famous music composer, making it a unique hotel in Seville.
This friendly family-owned hotel has a delightful roof terrace.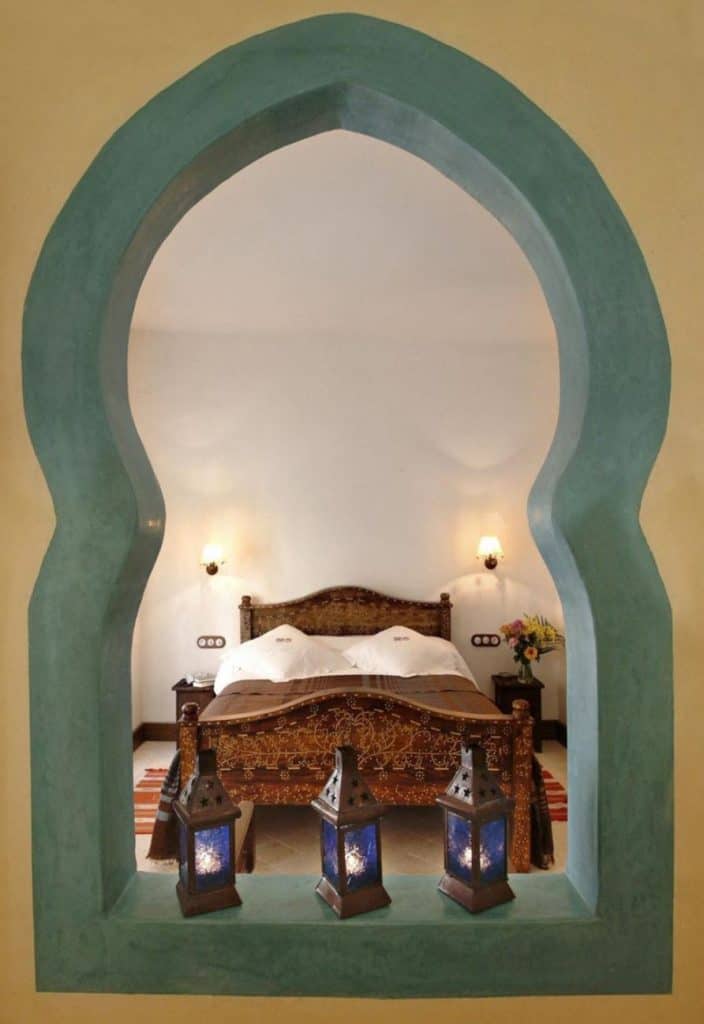 The Alcoba del Rey de Sevilla is a charming boutique hotel preserving the Moorish heritage thus creating a romantic oasis for the couples.
Located opposite the Andalusian parliament and close to other monuments like the Santa Maria de la Macarena church, Las Setas, and the shopping district, as well as the cathedral, this hotel is one of the best places to stay in Seville, Spain.
The hotel offers facilities such as free Wi-Fi, massage or beauty treatments, and has a rooftop terrace with a bar and a mini hot tub for two.
This classy and elegant hotel has a tapas bar, El Rincon de Rosita where breakfast is served as well. As the hotel is located next to the Andalucian parliament, many politicians visit here.
The Alcoba del Rey de Sevilla has 15 rooms decorated in individual color schemes with carved wood furniture, ceramic tiles, and mirrors. The vibe of the rooms is romantic with a shower opposite the bed.
Best parts?
The Alcoba del Rey de Sevilla is unique in the sense that each room is named after a Moorish-era personality like princesses, poets, and philosophers.
The hotel is located in the same spot where king Al Mutamid, the 11th-century famous poet lived.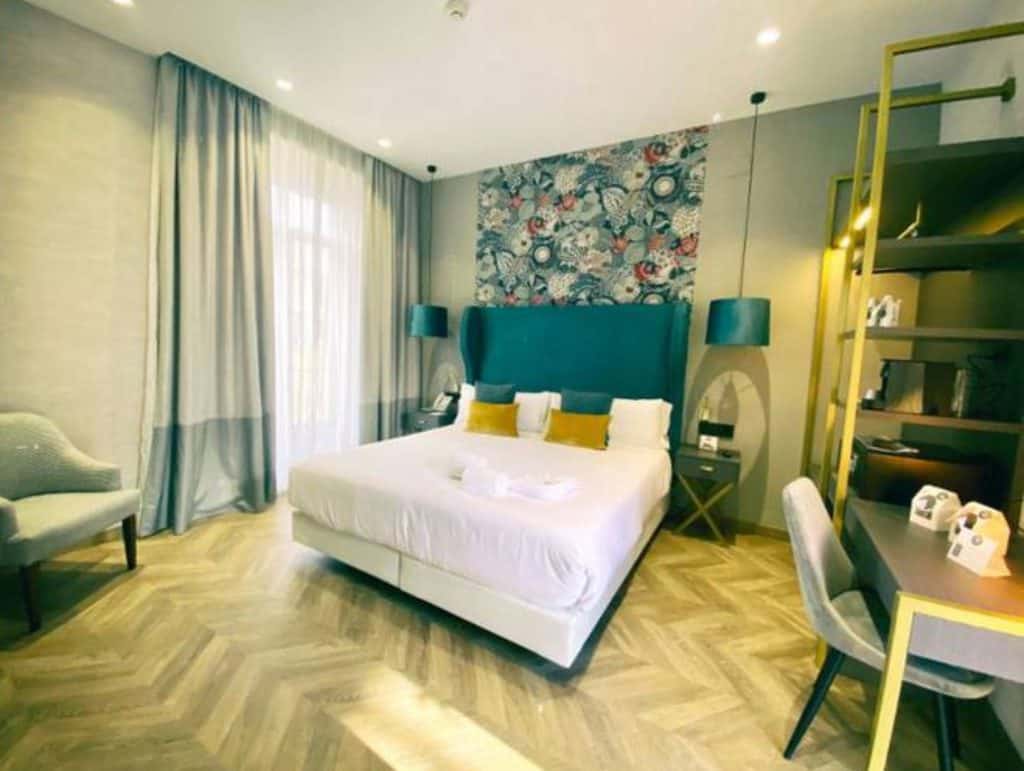 Located close to the main Cathedral, this is one of the best 3-star and eco-friendly hotels in the center.
Located in an old Sevillian palace, the Soho Boutique Hotels Sevilla has a beautiful interior patio that you will love.
Offering great morning breakfasts, a rooftop swimming pool, and very cozy, home-like bedrooms. it's a great choice for those who are looking for a quality stay at a good price.
Best parts?
The Andalusian flair and fabulous value for your money! And did I mention that there is a rooftop pool too?!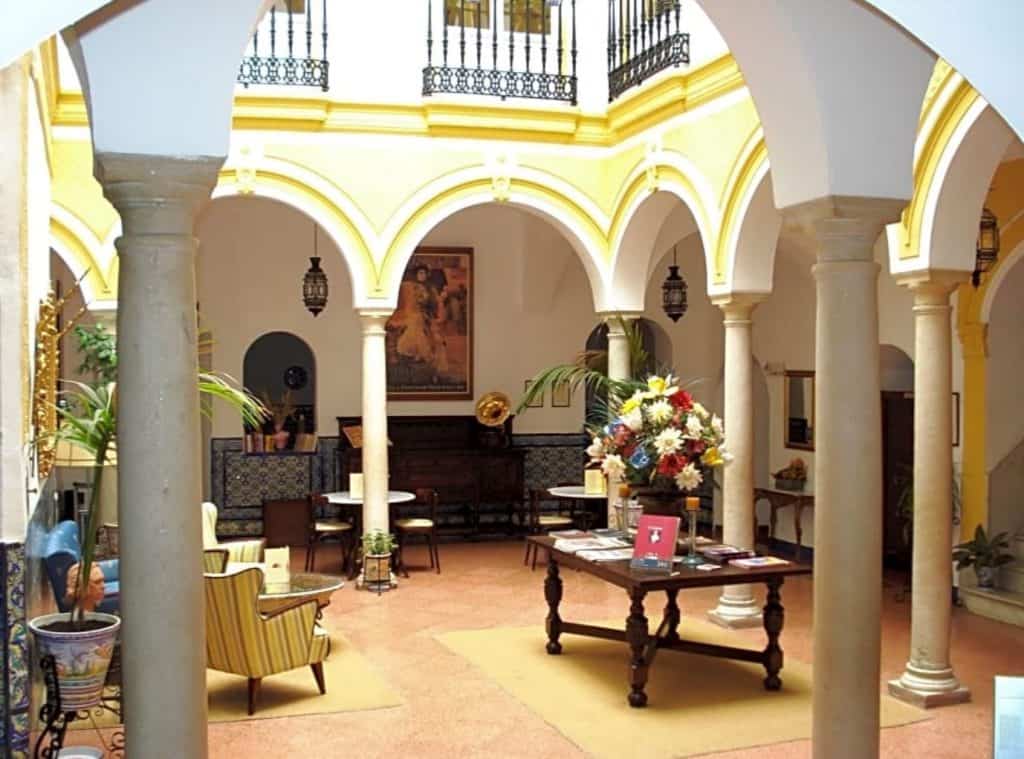 The Hotel Abanico is a sunny 3-star comfortable accommodation right in the center of the city. It features a typical Andalusian patio with traditional Seville-style tiles.
The hotel is located close to the city's many attractions, and the Cathedral, Alcazar, and Giralda all are nearby. The city's restaurants, bars, and cafes are nearby as well.
There is no restaurant in the hotel but they serve continental breakfast in the breakfast room for which you need to pay extra.
Best parts?
All the 22 rooms are decorated in charming, traditional Seville style. The rooms have private bathrooms equipped with a bathtub and shower as well as toiletry kits.
The restaurants, shops, and public transportation are close by, thus it is a great accommodation.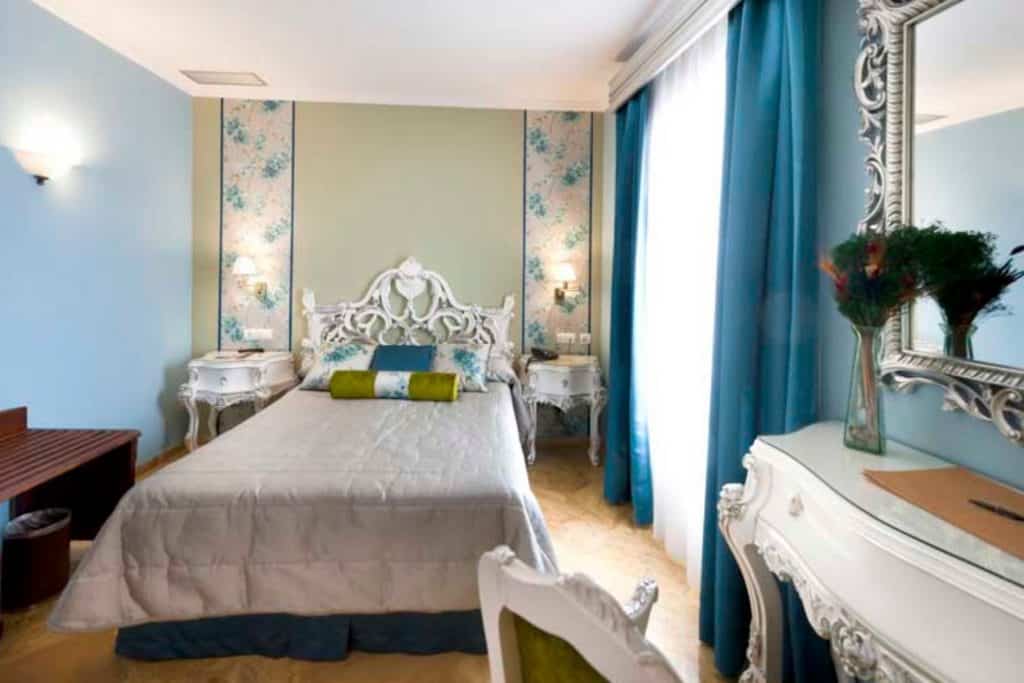 The Adriano Boutique Sevilla is located in a 18th-century building with classic old-style Seville decor.
Located on the main street near the La Maestranza bullring, it is just 250 m away from the Cathedral, and Giralda and Triana, as well as the shopping area, are just 10 minutes' walk away.
I love the rooftop bar with a huge variety of gins and comfortable seating.
All the 34 hotels have their distinctive color theme with a free minibar. The standard rooms have a kettle with tea and coffee making facilities, while the deluxe rooms have a real coffee machine. Bathrooms have either bathtubs or showers.
Best parts?
The individually themed rooms make this hotel unique.
The Adriano Boutique Sevilla is a value hotel in the historic district where shops, bars, attractions, and restaurants are within easy walking distance.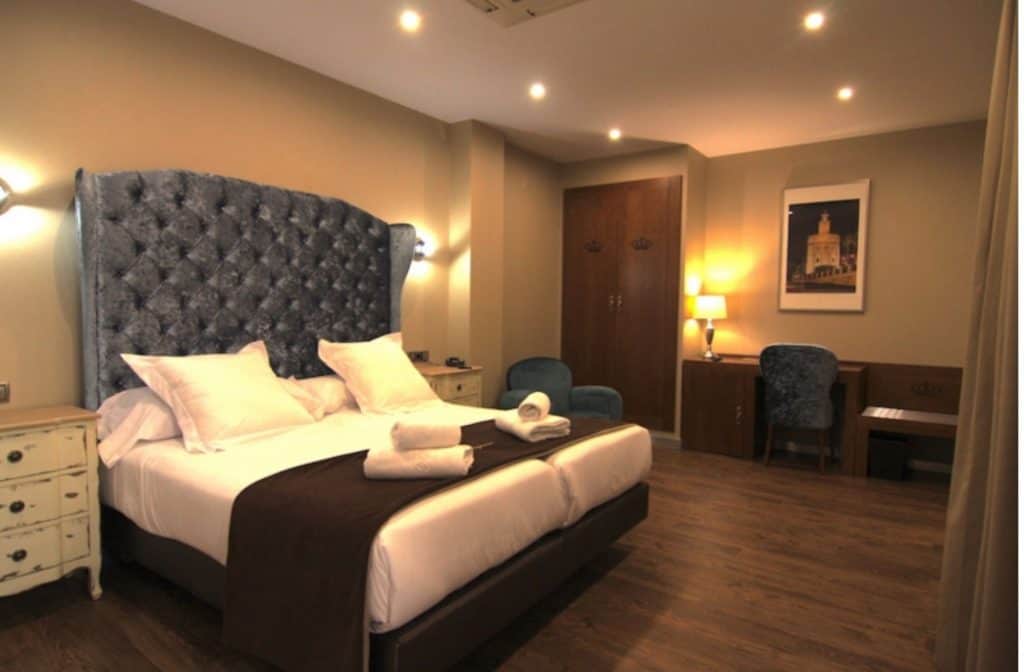 It is a luxury Seville hotel centrally located in Seville's Encarnación Square close to the Metropol Parasol Building.
The hotel is located close to Seville's Cathedral and the Alcázar Palace as well as the Maestranza Bullring and the Guadalquivir River.
The 34 rooms at the Hotel Palace Sevilla have a classic décor and each has a TV, coffee and tea makers, and a minibar. The bathrooms are fitted with a hydromassage shower.
Best parts?
I particularly love the bar's terrace which offers great views of Seville's Old Town and the Cathedral.
Best 2-star Boutique Hotels in Seville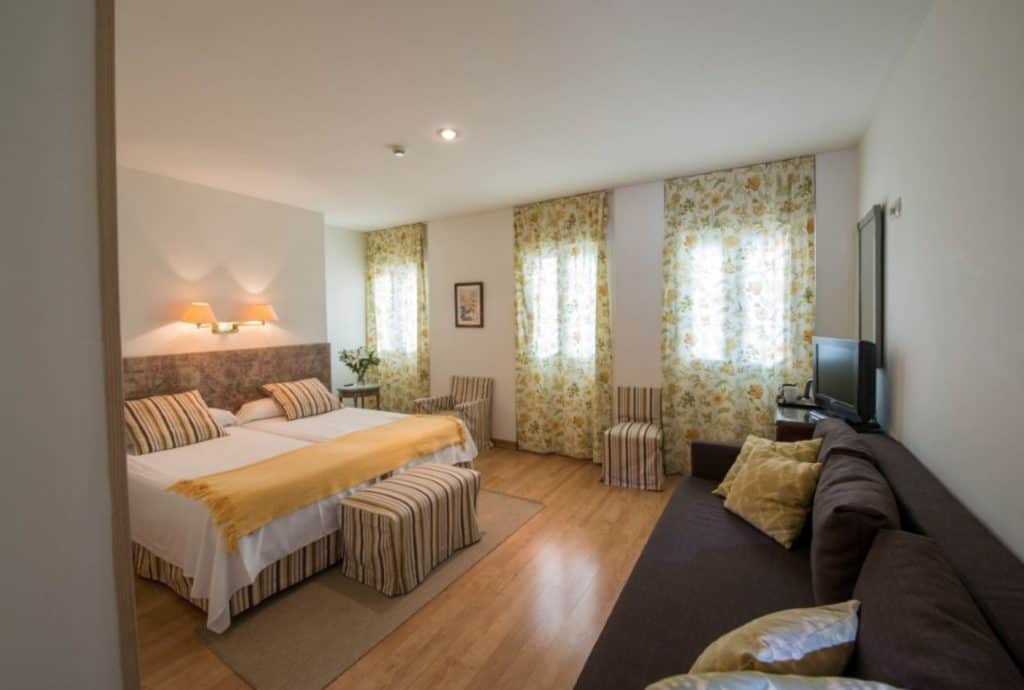 The hotel is set around a large courtyard in an excellent location, and offers superb value for money. It is great for people traveling on a budget.
Located on a pedestrian street in the Jewish Quarter, the same building as La Casa del Flamenco is close to the cathedral and Alcazar. Also, nearby are Jewish museums, classic tapas bars, cafés, and boutiques.
This inexpensive hotel does not offer many facilities, but there is a bar and free Wi-Fi. Often, the hotel offers special discounts for flamenco shows at La Casa del Flamenco which is a bonus.
The hotel has 22 spacious and bright rooms, thanks to the courtyard space that allows plenty of light to enter. The rooms are equipped with kettles and small TVs, while the bathrooms have showers and toiletries in a dispenser.
Set around a large courtyard, the rooms are quiet and offer a good sleep after a long hectic day.
Best parts?
The Hotel Alcántara has a pleasant vibe preserving the traditional decor with a delightful courtyard at the heart of the hotel.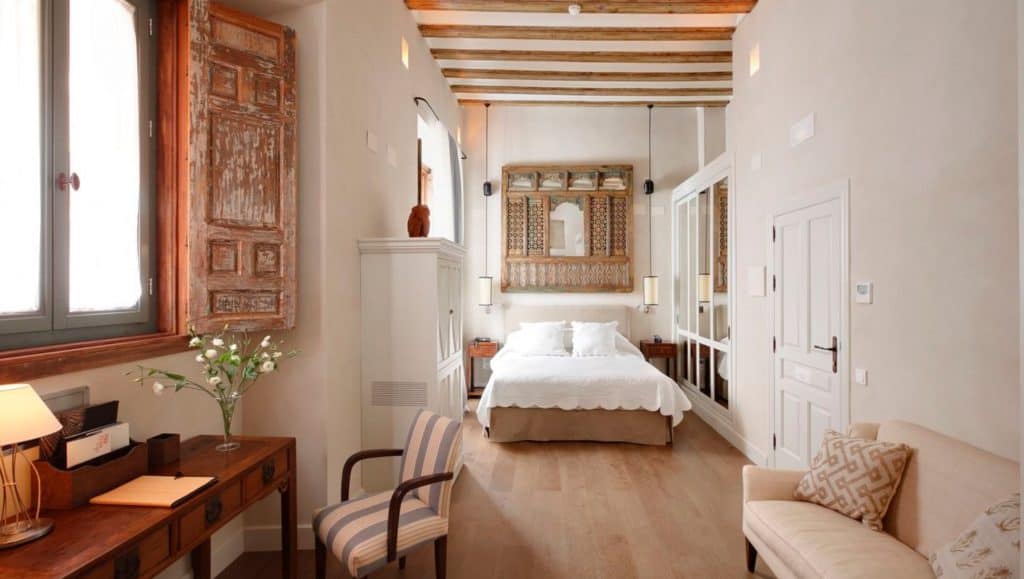 The Hotel Boutique Corral del Rey is a 17th century reinvented deluxe boutique hotel in Seville's old town.
Located on a quiet, narrow street in Alfalfa, the Cathedral and Alcazar are about 10 minutes' stroll, while the Museo del Baile Flamenco, a venue for excellent shows is on the next street.
There is a rooftop bar with a plunge pool, spa, free Wi-Fi, and laundry service. Continental breakfast is served either in the restaurant, on the roof terrace, or in your room.
The 17 rooms of the hotel are furnished beautifully with oak floors and equipped with coffee machines, international plug sockets, and some even have a mini kitchen with a sink and microwave. The pool terrace suites offer private chill-out areas like a plunge pool, sofa, minibar, music, and the Giralda view.
Best parts?
What makes this hotel unique is its classy affair with fine art, Romanesque pillars, wooden beams, and state-of-the-art lighting.
It is located close to many monuments and offers value for money making it one of the best places to stay in Seville.
---
Useful Travel Information About Seville
✈ Book cheap flights to Seville with Skyscanner

⚘ Avoid tourist traps and get the customizable "Andalucia Like a Local" itinerary. – Get it here

✔ Book tours in Seville with GetYourGuide

➳ Find the best hotels in Seville with Trivago

❖ Rent a car at the best rates with DiscoverCars

✎ Never leave without travel insurance! I get mine at SafetyWing. It is easy to set up, cheap and reliable.

$ Withdraw money without hidden fees and avoid exchange charges with TransferWise (A free Mastercard debit card to spend money abroad)
---
Map – Best Boutique Hotels in Seville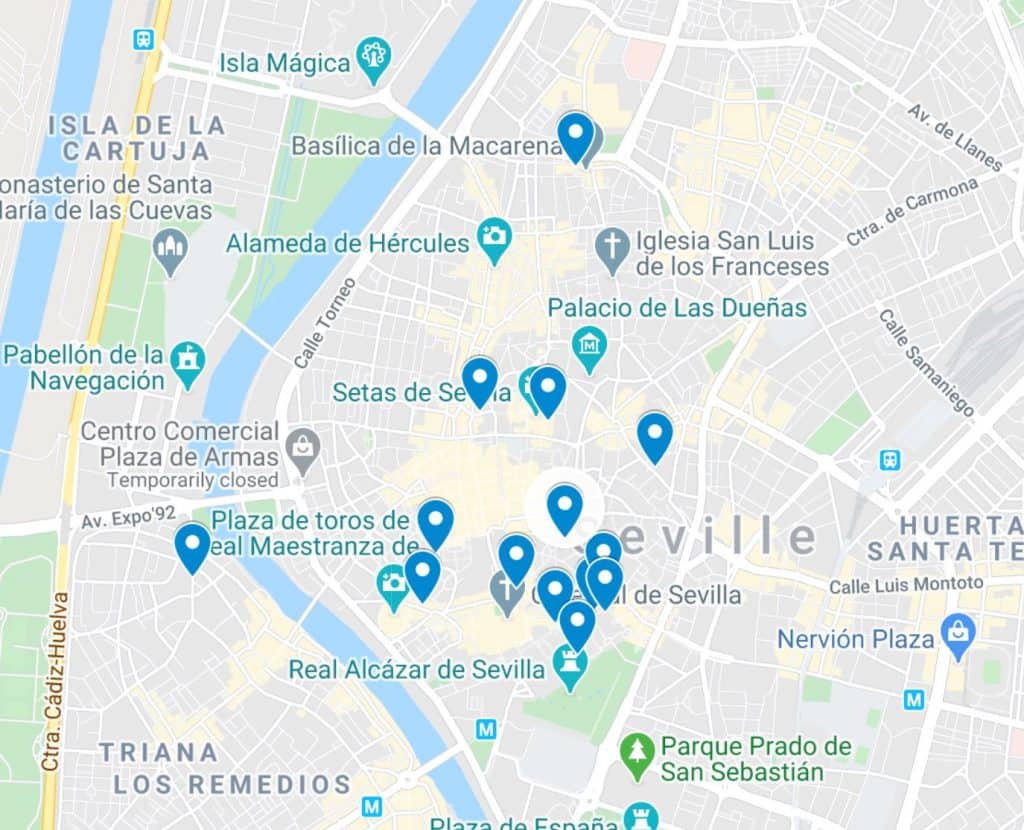 ---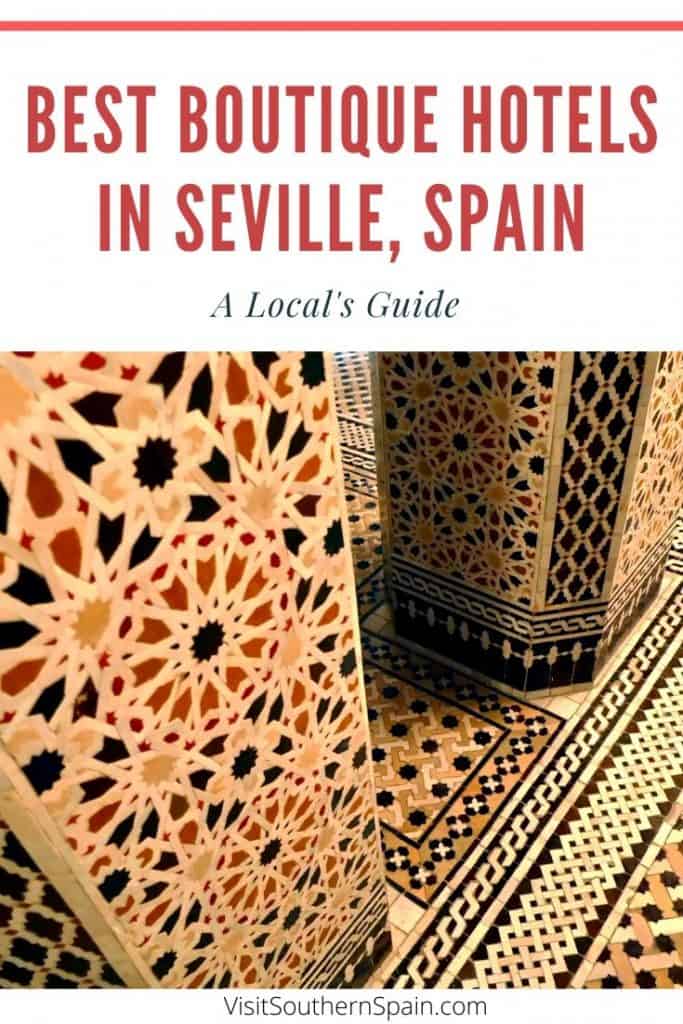 ---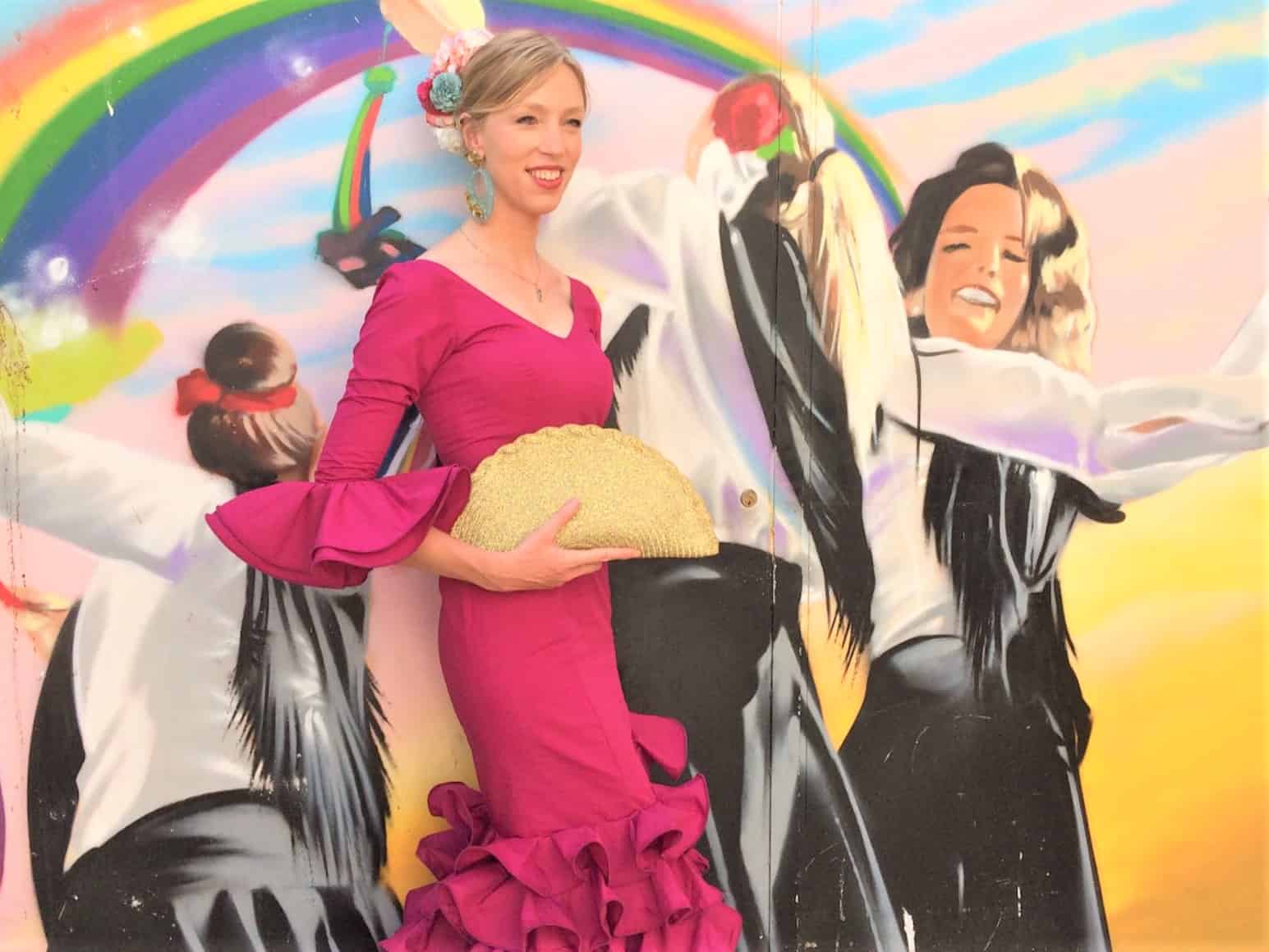 Hola, I'm Paulina! Together with my team, we are passionate about Southern Spain. Here we share all you need to know for great times in Southern Spain with the best places to visit, stay and, of course, the best food to eat.
Let's dive in and explore Southern Spain's outdoors, food and culture con pasión!