A Guide to the best attractions in Seville, Southern Spain – 3 Day Itinerary
Seville, the capital of Andalusia, is not only the fourth largest city in Spain but also contains the quintessence of the region known for flamenco, corrida, tapas, and amazing architecture! There are so many things to do in Seville; we've broken them down into the perfect 3 day itinerary in Seville.
You'll find yourself wandering along picturesque, narrow streets and stepping into little orange trees on every corner!
But don't be tempted to try them as many tourists do – they are extremely sour and only here to make your walks more magical and fresh.
This itinerary is perfect for a 3-day trip, during which you'll find time to explore, relax and enjoy this lively city, and spend some time visiting its neighboring towns!
If you only have 48 hours in Seville and need a 2-day itinerary, it's best to skip visiting the nearby towns.
And if planning to stay more than 36 hours and are looking for a 3-day itinerary, it's highly recommended to stay a day or two longer on one of the day trips!
Whatever you are choosing, know that you'll be spending some quality time in one of the best cities in Southern Spain.
This blog is supported by you, dear reader. If you purchase through a link, we earn a small commission. As an Amazon Affiliate, we earn from qualifying purchases.
Top Things To Do In Seville, Andalucia – Our Seville Itinerary For 3 days
If you're wondering what to see in Seville, here's what we'll take you through in this post:
Discovering the best places to see in Seville in 3 days
Learning the history of Seville
Enjoying the best Spanish tapas and delicious vine from local vineyards
Relaxing at the cities' river bank and parks
Visiting nearby towns
Resources to visit Seville, Spain
✈ Book cheap flights to Seville with Skyscanner

⚘ Avoid tourist traps and get the customizable "Andalucia Like a Local" itinerary. – Get it here

✔ Book tours in Seville with GetYourGuide

➳ Find the best hotels in Seville with Trivago

❖ Rent a car at the best rates with DiscoverCars

✎ Never leave without travel insurance! I get mine at HeyMondo. It is easy to set up, cheap and reliable.

$ Withdraw money without hidden fees and avoid exchange charges with Wise (A free Mastercard debit card to spend money abroad)
How to get to Seville
How to get from Malaga to Seville:
You can take a direct bus from the Main Bus Station (3h), or travel by train from the Malaga Maria Zambrano station (1h 55m). – Book tickets here
Really quick, before getting into the other cities, you might also want to check this 3-day Malaga itinerary.
How to get from Granada to Seville:
You can take a direct bus from the Main Bus Station (3h 25m), or travel by train from the Granada Train Station (3h 15m). – Book tickets here
View EXACTLY how to get from Granada to Seville here >>
How to get from Cordoba to Seville:
You can take a direct bus from the Main Bus Station (1h 20m), or travel by train from the Cordoba Train Station (45m). – Book tickets here
How to get from Barcelona to Seville:
You can take a direct flight from Barcelona BCN to Seville SVQ (1h 40m), or travel by AVE high-speed train from the Main Train Station (5h 35m). – Check tickets here
How to get from Madrid to Seville:
You can take a direct bus from Madrid Estacion Sur to Seville (6h), or travel by AVE train from Madrid to Seville from Puerta de Atocha Station (2h 40m). Direct flights from Madrid MAD airport are also available (1h 5m).
View our complete guide to traveling from Madrid to Seville here >>>
Airports Near Seville
If you're traveling to Seville from outside of Spain or even a city far from Seville in Spain, there are some good airports near Seville you could fly into. The closest ones are:
The most popular airport to travel to Seville is Seville Airport (SVQ), also known as San Pablo Airport. The airport is 6km from Seville city center and is served mainly by airlines Vueling and Ryanair. View the destinations you can fly to from Seville here.
Other options include:
Jerez Airport (71.5km) – A range of European destinations
Gibraltar International Airport (147.9km) – Mainly UK destinations
Málaga Airport (152.9km) – Europe, USA, and The Middle East
How to Get From Seville Airport to the City Centre
Bus from Seville Airport to the City Centre
€4 single or €6 return
The Seville Airport bus takes 35-minutes to reach Seville city center, stopping at lots of main destinations on the way, including Santa Justa Station (AVE train station).
The bus runs from 05:20 am to 01:15 am to Seville city center and 04:30 am to 00:30 am. from Seville to Seville airport. You'll find the Seville airport bus just outside the main terminal.
Taxi from Seville Airport to Your Accommodation
Many taxi companies serve Seville airport, the main ones being Taxi Sevilla Aeropuerto, Eurotaxis de Sevilla, and Radiotaxi. Fares vary between € 22.81 and € 31.78 depending on the distance, date, and time of day. – Book a private transfer here
Private Transfers
You could also book a private transfer, where your driver will wait for you with a named sign in the arrivals hall. I highly recommend a private transfer, so you can miss the taxi queues and get to your destination faster. View private transfer prices for your dates here.
Picking Up a Rental Car at Seville Airport
Many hire companies, including well-known car rental brands such as Enterprise, Goldcar, and Hertz serve Seville Airport.
If you pick up your Seville rental car at the airport, you'll save money on transport to the city center. Book your rental car here.
Day 1 – Your Ultimate 1 Day Seville Itinerary
Visit the Real Alcazar Palace
The Royal Palace is simply a must-see in Seville! This UNESCO architectural gem remembers the times of Arabic influences in Seville, and in later years has been rebuilt according to the architectural styles of the successors – making it one of the most diverse and unique architectural structures in Spain. View more amazing architecture in Seville here.
You'll be able to marvel at azulejos and horseshoe arches, floral decorative motifs, mosaics, tapestries, and renaissance finishes all around the place!
This well-known tourist attraction is also loved by visitors for its magnificent gardens full of blooming trees and plants. No wonder it's considered one of the top things to do in Andalucia for 1st-time visitors.
Remember to buy the tickets online beforehand! The best time to visit Alcazar in Seville is early in the morning, and if you don't have the tickets, try to get to the box office even an hour before opening not to waste time in ques! – Book Skip-the-line tickets here
Opening times:
Mon-Sun: 9:30 – 17:00
Seville Cathedral
The designers of the Cathedral of La Catedral de Santa María de la Sede de Sevilla are known for following the motto: "Let us build a temple so large that those who see it in all its glory will state that we have lost our senses."
Looking at this building, it's hard to disagree. La Catedral de Sevilla is today the largest Gothic cathedral in the world and the third-largest Christian church!
No wonder it is considered a World Heritage site.
Built on the site of a former mosque, it is known to symbolize the triumph of the Christian faith over Islam.
The high, ornamented ceilings and columns of the inside halls are truly breathtaking, and being able to admire this piece of art is definitely on the list of top 10 things to do in Seville! – Book tickets in advance here
Opening times:
Mon-Sat: 10:45 – 17:00
Sun: 14:30 – 18:30
La Giralda Tower
The former minaret is today the belfry of the cathedral, from which you'll find a beautiful view of the entire city and the surrounding square.
The cathedral is one of the best places to go in Seville.
To climb the tower you will have to walk up 35 gently cobbled ramps instead of stairs – this is how the Muslim clergyman rode to the top on a horse and called the people to pray.
The Giralda Bell Tower, 97 meters high, is today one of the city's main symbols, and one of Seville's top sights – not only because of its altitude but also because of the amazing panorama of the city you'll be able to discover from its peak! – Book tickets in advance here
Opening times:
Sun: 14:30 – 18:00
Tue-Sat: 9:30 – 16:00
Visit the tomb of Christopher Columbus
The Seville Cathedral hides one more attraction – the beautiful Tomb of Christopher Columbus! Transported to Seville from Cuba in 1899, it is held on the shoulders of four representatives of the regions of Spain.
The artwork put to the statue's ornamentation and details are very interesting to see up close!
To this day it is not 100% sure whether the body of Columbus is or isn't inside the tomb, but the 1900 tombstone is still worth admiring and is a definite must-see while wandering and exploring the Cathedral.
Walk to Plaza de España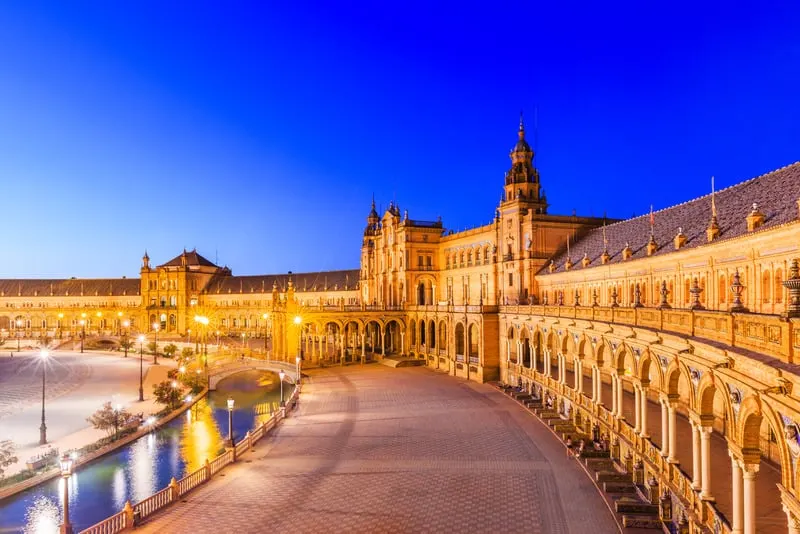 The undeniable heart of Seville! Plaza de España is a building complex from the 1929-1930 world exhibition.
The semicircular square is surrounded by beautiful galleries, the Palacio Español ocher, and water canals, where you can swim with rented boats!
You'll be able to walk across 4 bridges of the channel, which refer to the famous Venetian bridges and symbolize the four kingdoms: Aragon, Leon, Navarre, and Castile.
Even just walking around the square, you'll be able to find paths and benches gorgeously ornamented with azulejos. It's one of the most famous Seville attractions.
Lunch in Baco Borbolla
Located just across the street from Plaza de Espana you'll be able to rest and enjoy an authentic, and very Spanish culinary experience.
A perfect place to sit outside and observe the city life passing by, while sipping some Vino de casa!
Known for amazing paellas, juicy prawns with almonds and best quality Iberico ham, Baco Borbolla will be a perfect lunch stop and place to discover Andalusian cuisine!
Do a Seville Bike Tour
After regaining some energy, why not try something different and discover the city on two wheels?
Bike tours are one of the most popular activities in Seville, and you'll find plenty of places offering their services around town!
Food and tapas tours, architectural wonders of Seville, street art routes – you name it! Based on your interest you will be able to enjoy a few hours of active sightseeing. – Check rates and tours with BajaBikes
Maria Luisa Park
Wandering through the most important city park is simply a must-do in Seville. A spot to rest from the city hustle and bustle just next to the Plaza España!
It's not only an amazing park to explore by itself, but has also many historical buildings and monuments waiting to be discovered in its shaded corners!
Entry is free, making the park one of the best free things to do in Seville
Full of little ponds, benches, palm trees, and exotic floral gardens – a true wonderland opening its arms for all in need of a bit of peace and quiet.
Opening times:
Mon – Sun: 8:00 – 12:00
Visit the Archeological Museum of Seville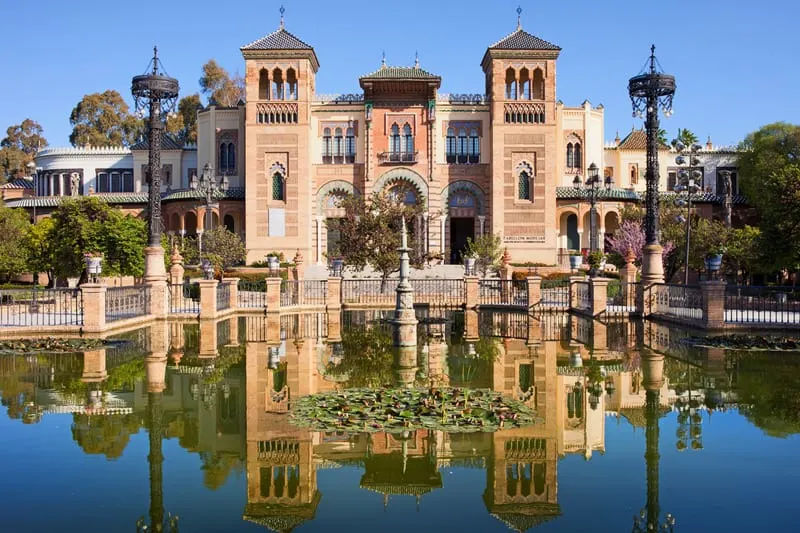 While walking through Maria Luisa Park it's a great idea to stop by the Archeological Museum, one of the best attractions in Seville. You'll find the museum in the southern part of the park.
It holds exhibitions from the Neolithic age, Roman occupation and the rules of Mores.
The building itself is just a wonderful architectural gem right by a lovely water fountain!
Watch the sunset from Metropol Parasol
This wooden structure is one of the most modern things to see in Seville and Spain in general!
Known also as Las Setas – mushrooms in Spanish – it definitely is an interesting project that gives the city a slightly abstract and unreal look!
Inside you'll find market halls, restaurants, and cafes, and for those who love to see the city from above, it's one of the best sunset viewpoints!
Read more about the best places to eat in Seville and what typical food to eat in Seville.
Opening times:
9:30 – 12:00
See Authentic Flamenco in Seville by Attending a Flamenco Show
Wondering what to see in Seville after the sun goes down? An authentic and passionate flamenco show is one of the top things to do in Seville at night!
For the most mesmerizing and breathtaking experience, you should head to Tablao Flamenco El Arenal – a traditional
Andalusian flamenco bar where you will not only see amazingly talented dancers and musicians but will also be able to choose your ticket including tapas or a gourmet 3-course dinner! – Check rates & reviews here
Day 2 – 2 Days in Seville Itinerary
Breakfast in Triana
There's no better way to start your day, than having a delicious breakfast in Tirana – one of the oldest and most picturesque districts of Seville.
If you're looking for healthy, tasty and beautiful breakfast options in Seville you should visit Ejona, and enjoy a relaxing morning in their cozy garden patio.
The beautiful, floral ambiance of the place and welcoming staff will give you a great energy boost for the rest of the day!
Visit Triana Market
Mercado de Triana (Calle San Jorge 6) is the best place to buy fresh local products and try some amazing wine!
It truly is culinary heaven and will blow away your senses with all the colors, smells and vivid chatter going on at the market.
It's a great idea to stop at one of the stands and try some Andalusian flavors and observe the vendors cutting slices of serrano ham with their amazing precision! – Book a food tour in Seville
Opening times:
Mon – Sun: 8:00 – 18:00
Wander on the banks of Rio Guadalquivir
After exploring the culinary side of Seville it's time to head closer to the river bank and enjoy a walk along its side.
The paths are kept tidy, with beautiful green spaces and plenty of space to sit and enjoy the view of the passing boats.
A place to go back in time, when the river was one of the most important highways of Sevilla!
Climb Torre de Oro
The Golden Tower, proudly standing on the Guadalquivir River, was built at the beginning of the 13th century and is a twelve-sided building with 166 defensive towers.
Visiting the Golden Tower is one of the best things to do in Seville.
It was part of the city's fortifications, and today presents us with a fantastic example of Arabian architecture. Go ahead and climb to its top to gaze at the panoramic view of the city, split in half by the rushing river!
Opening times:
Mon – Fri: 09:30 – 18:45
Sat-Sun: 10:30 – 18:45
Lunch in Abades Triana Seville
Fancy having lunch in the sky, and an amazing view of the city? One of the best restaurants in Seville, with a wonderful open-space terrazze is just across the river from Torre de Oro.
Great attention to quality, flavor, and presentation of most traditional Spanish dishes with a modern and healthy twist! Abades Triana is a modern classic.
Wander in Santa Cruz
A short walk from Abades, you'll stumble upon the Jewish quarter in the old town – a place you simply must visit in Seville!
A labyrinth of narrow streets with atmospheric squares, local pubs, and taverns, buildings with open courtyards, and many craft workshops!
The Barrio Santa Cruz district is a great place to get lost and a very interesting area to discover far away from the rumble of the busy car streets. – Book a guided walking tour here
Visit Casa de Pilatos
It's time to check out one of the most beautiful attractions in Seville – a palace and garden complex from the 15th century. Casa de Pilatos is often called the miniature version of the famous Alcazar, and is definitely worth the comparison!
The richness of the mosaic art, architecture, and beautifully maintained gardens are truly inspiring, and definitely worth exploring on a sunny afternoon in May – the best time to visit Seville!
Opening times:
Mon – Sun: 9:00 – 18:00
Visit the Seville Bullring
Corrida in Seville is still very popular and is one of the historically preserved performances in Spain, as well as one of the top Seville attractions.
Fortunately, if you prefer not to take part in it, you can only see the bullring as an architectural site.
A magnificent 12,000-seat arena and an amazingly well-prepared audio tour will allow you to discover this vigorous, yet violent side of Spain. – Book tickets in advance here
Opening times:
Mon, Tues, Wed, Thurs and Sat: 9:00 – 18:00
Fri and Sun – 9:00-19:30
Tapas in Seville
One of the best tapas bars in Seville, El Baratillo, is located very close to the Bullring and is a great place to try some traditional dishes in a cozy and warm atmosphere.
A rich selection of meat and vegetarian tapas will definitely please your belly. So go ahead and try their "Langostinos con jamon" or "Tortilla de patata" to get the most Spanish experience! – Check food tours in Seville here
Learn more about Tapas in Seville here >>>
Why not try making some traditional Tapas at home before your trip? Try making my delicious Crispy Patatas Bravas, or mouthwatering Mushroom Croquettes.
Day 3 – 3 Day Itinerary in Seville
If you're wondering what the best things to do in Seville in 3 days are, this 3 day Seville itinerary can be added to the 2 day itinerary above.
Day Trip to Italica
If you're lucky enough to spend 72 hours in Seville, you'll be able to go on a day trip on day 3.
Just a half-hour bus ride out of Seville you'll find the 3rd largest Roman arena in Spain (free for EU citizens).
With excellent exhibitions and well-preserved archaeological sites, it's a great way to discover more about the ancient history of Spain and Roman engineering.
The whole surrounding is full of fields and trees and making this an even better destination after spending nearly 48 hours in the city, so pack your backpack and get ready for a trip into the ancient past! – Check rates for guided tours incl. transfer here
This trip can easily be combined with a day trip to the best beach resorts near Seville. Seville is not on the coast, so you won't find any beaches in Seville, Spain! However, there are some amazing beaches close to Seville.
Opening times: Tue – Sun: 9:00 – 15:30 (Varies by Season)
Day Trip to Cordoba
Following the river of Seville, eventually, you'll get to the beautiful city of Cordoba – by many often overlooked as a travel stop.
Fortunately, this means fewer crowds, and a more relaxed pace in the city itself, making it a perfect day trip destination from Seville!
Places such as Feria de los Patios or the mighty Mosque-Cathedral, are one of the city's breathtaking sights.
How about some delicious pastel cordobés – this traditional pastry is definitely worth the visit and will make you fall even more in love with Spanish cuisine!
To have a more in-depth insight into Cordoba, please check out this post we wrote on the things to do in Cordoba.
Day Trip to Granada
Located 2 and a half hour train trip from Seville, you'll find Spain's most appreciated city and a simple must-see while traveling around Andalusia!
Granada offers not only an amazing atmosphere of a smaller, yet rich and busy city, but also gives you a chance to change the surrounding completely.
Visiting the famous Alhambra castle, or spending a day sprawling up the hillside of the picturesque and artistic district of Albaicín is enough to forget yourself in the arms of Granada for a day!
No wonder that it's one of the most popular day trips from Seville.
To have a more in-depth insight into Granada, please check out this post we wrote on the 3-day itinerary, Granada as well as how to get from Seville to Granada travel guide.
Best Hotels in Seville, Southern Spain
Here you have three options of the best hotels in Seville.
They will definitely add to your trip by making it easier to discover the main attractions in no time, and will provide with many commodities – making it possible to relax after a busy day!
Choose from the more luxury to budget hotels and find the perfect fit for your trip to Seville.
Located close to the most interesting places in Seville, such as Centro Historico de Sevilla and Torre Giralda, Hotel Alfonso XIII is one of the best 5-star hotels in Seville and Spain in general – perfect for the most demanding travelers!
A swimming pool, indoor gym, spa, bike rental and one of the best hotel restaurants in the city are at your disposal throughout the stay!
Not to mention the amazing rooftop terrace with an amazing view of the Old Town! – Check rates & reviews here
Hotel Alfonso is one of the best hotels in Seville with a pool. View more of the best Seville hotels with a pool here.
If you'd like something more private and relaxed, there is no better place to stay than this 18 room, 4-star hotel!
This authentic Sevillan villa is located close to Real Alcazar and Catedral de Sevilla – which you can see from the rooftop terrace!
Known for delicious breakfasts, availability of bike and car rental on spot, guided tours and many spa treatments available at the hotel, Casa del Poeta is a great choice for those in need of a peaceful and relaxing stay! – Check rates & reviews here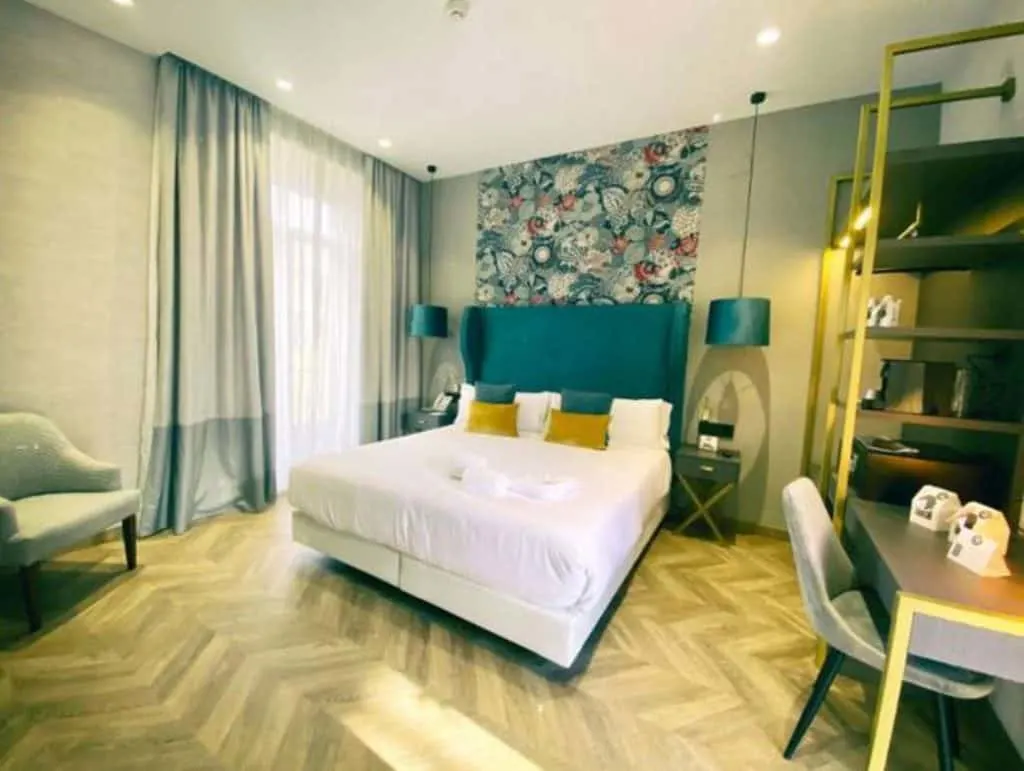 Located close to the main Cathedral this is one of the best 3-star and eco-friendly hotels in the center.
Offering great morning breakfasts, a rooftop swimming pool, and very cozy, home-like bedrooms it's a great choice for those who are looking for a quality stay and a good price.
We loved the Andalusian patio and the rooftop pool. No wonder it is considered one of the best boutique hotels in Seville. – Check rates & reviews here
Getting Around Seville
The best way to discover the city center and surrounding areas is definitely on foot.
If you are planning to discover the city's further districts a good choice would be using the bus, tram, or metro and buying a few-day ticket pass, depending on the length of your stay.
I also love getting around Seville by bike since it is mostly flat and you see much more than if you travel by metro.
You can also try out the Hop-on-Hop-off bus, which allows you to explore the city from the red double-decker as many times as you want, and from wherever you currently are on the busses route – the ticket is valid for 24 hours from your first boarding!
Check out our guide to the best things to do in Seville with kids so you and your little ones can enjoy this beautiful city.
---
Seville Itinerary: Map
---
A short FAQ about Things to do in Seville
What is the best time to visit Seville?
Spring is the ideal season for visiting Seville, when plants blossom and the temperatures are pleasant without being insanely hot.
What are fun random things to do in Seville?
Al Aljibe is one of the best tapas bars in Seville's most popular nightspot.
What are the best things to do in Seville when it's hot?
Disconnect even more from reality by going to the waterpark at Isla Magica.
Is Seville a walkable city?
Yes, you can walk around most areas of Seville easily. All the main landmarks in Seville are very close to each other, and the UNESCO world heritage sites are even next to each other. There are lots of hidden gems in Seville that you wouldn't discover if you weren't on foot.
Is Seville a cheap Spanish city?
Seville is cheaper than many other cities in Spain. The cost of living is much lower, and the price of things can be lower than in nearby cities. If you go to Seville, you'll definitely get more for your money.
What food is famous in Seville?
Seville is famous for its food, especially many traditional dishes. There's plenty to try, from the local Gazpacho to the many fish dishes, including cod with tomato, fried fish, and grilled squid.
---
Hola, I'm Paulina! Together with my team, we are passionate about Southern Spain. Here we share all you need to know for great times in Southern Spain with the best places to visit, stay and, of course, the best food to eat.
Let's dive in and explore Southern Spain's outdoors, food and culture con pasión!