A guide to the best hotels in Seville with pool for hot summers.
Seville is an excellent destination with stunning architecture, incredible history, vibrant nightlife, great food, and more culture than you'd be able to soak in if you stayed there for a lifetime.
But there's a problem. Seville is hot, hot, hot! It isn't called "the furnace of Europe" for nothing!
So, you need to find a hotel pool to cool down in. That's where we come in. We've compiled a list of the best hotels in Seville with pool to help you out.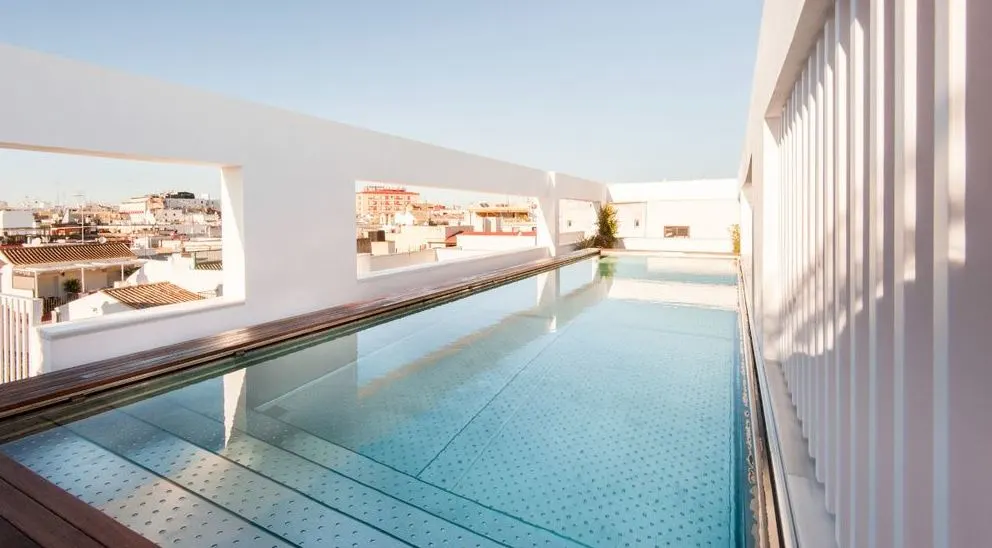 This blog is supported by you, dear reader. If you purchase through a link, we earn a small commission. As an Amazon Affiliate, we earn from qualifying purchases.
Whatever your budget and who you're going with, there are many great things to do and great hotels with pools to base yourself in.
So if you're looking for things to do in Seville with kids, free things to do in Seville, day trips from Seville or simply wondering what to eat in Seville, there are many hotels with a pool from which to set out on your adventures.
Hotels in Seville with pool come in many shapes and sizes. We've taken into consideration everything so if you're looking for hotels with swimming pools, this article will provide you with a wider range of options.
So keep reading and let's discover the best hotels in Seville with pool.
OVERVIEW: Best Hotels in Seville with Pool
Hotels come in all shapes and sizes from budget hotels to romantic hotels to family-friendly hotels. However, if you're looking for hotels in Seville with pool then check these out:
| Hotel | Highlight | Location | Price | Reviews |
| --- | --- | --- | --- | --- |
| Radisson Collection Hotel | Best for luxury | Pl. de la Magdalena, 1, 41001 Sevilla, Spania | $$$$ | Check here |
| Hotel Ateneo Sevilla | Best for location | C. Angostillo, 10, 41003 Sevilla, Spania | $$$$ | Check here |
| Soho Boutique Sevilla | Best for relaxation | C. Javier Lasso de la Vega, 6, 41002 Sevilla, Spania | $$$ | Check here |
| Edificio Luxsevilla | Best for budget | Calle Casuarina, 1, 41020 Seville, Spain | $$ | Check here |
| Welldone Quality | Best for pool | C. Cerrajería, 29, 41004 Sevilla, Spania | $$ | Check here |
Best 5-Star Hotels in Seville with Pool
Opulent luxury
Great for couples
This luxurious hotel has every amenity you could possibly wish for. Quite simply, it's one of the finest hotels in Seville, Spain.
The rooms are bright, modern, and contemporary in design. If you're looking to treat yourself, this makes a great option.
The Radisson Hotel has a fantastic rooftop pool where you can while away a day or spend an enchanting evening looking out over the architecture of central Seville.
This alone makes this hotel an excellent option for those seeking a perfect room for couples.
Stunning design
Extravagant luxury
At the upper end of the price bracket, the sensational five-star Hotel Colón Gran Meliá is not just one of the best hotels in Seville, but one of the world's finest hotels.
When considering hotels in Seville with pool, the spectacular rooftop pool makes this an incredible option.
If you're looking for opulence and wondering where to stay in Seville, look no further than this luxury hotel.
With a great location in the center of town, this is one of the best hotels in Seville for luxury-seeking travelers.
Great for sightseeing
Relax in luxury
If you love design then this five-star Hotel Mercer is one of the best hotels in Seville you could possibly ask for.
Featuring tastefully designed rooms and light, airy common areas that are adorned in a minimalist, unfussy fashion, this hotel is a delight.
The rooms have everything you would expect from a five-star establishment and the rooftop pool is a great place to chill out and take a break from all the sightseeing.
Don't miss the hotel bar in this establishment, it is a truly special experience.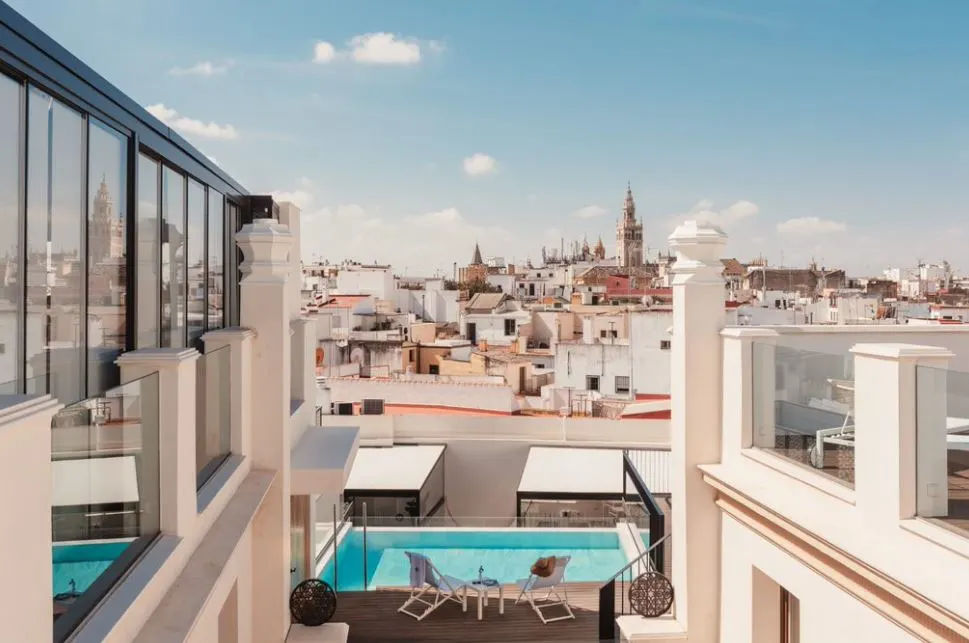 Incredible suites
Santa Cruz location
For a once-in-a-lifetime experience, check in to one of the suites at the Hotel Unuk.
These spectacularly opulent suites feature an amazing, spacious private terrace and a hot tub, among many of the other luxurious extras you'll find here.
Should you check in to one of these amazing suites you won't want to venture outside for your entire vacation.
However, steel yourself to do this as the hotel is set right in the heart of Seville's old town, the incredible Jewish Quarter of Santa Cruz.
Best 4-Star Hotels in Seville with Pool
Great location
Great restaurants nearby
This beautifully ornate, classically designed hotel is like a step back in time.
Set on the southern edge of Macarena and close to historic Santa Cruz, the Hotel Ateneo is also surrounded by magnificent restaurants, making this a food lover's paradise.
The elegant vintage décor of this 4-star hotel is worth the trip alone.
Opposed to the modern minimalism of most hotels we've looked at so far, the lavish interiors of the Hotel Ateneo Sevilla are something to marvel at.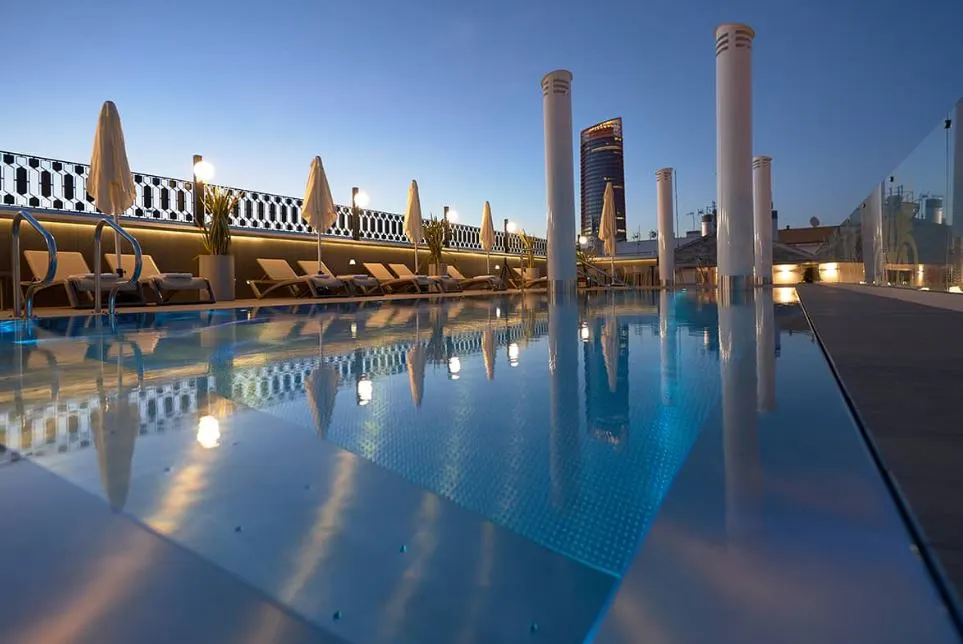 Triana location
Great for activities
The facilities at Monte Triana are superb. The rooftop pool is absolutely amazing! Set in beautiful Triana there's also a sun terrace and fitness center.
For pool lovers, this is quite simply one of the best hotels in Seville with pool that you could possibly find.
The Monte Triana is an excellent choice for those who like to take part in activities while on vacation as the hotel offers several activities (at additional cost) including bike and walking tours, horse riding, canoeing, fishing, and golf.
Stunning restored building
Macarena location
The Palacio Bucarelli is an absolute treat. The hotel is a recently restored 17th-century building with spectacular features that preserve much of the original structure.
While the pool is small (actually a plunge pool), wait until you see its setting! Truly magnificent.
The hotel is set around a beautiful central courtyard and features colorful, modern rooms.
Located in the lively Macarena area and just a stone's throw from the Río Guadalquivir (Guadalquivir River), this is an excellent choice for culture vultures.
Unique setting
Incredible building
Located next to the Metropol Parasol, this is a large hotel that has absolutely everything you could wish for.
The facilities here are second to none and the Parasol provides a unique backdrop, almost extending over the rooftop terrace and pool.
This beautifully restored historic building comes complete with a listed courtyard, stairs, and a façade. Many of the tastefully decorated rooms feature the original brickwork.
The unique roof terrace makes this one of the finest hotels in Seville with pool you could find.
Best Budget Hotels in Seville with Pool
Spacious apartment
Close to airport
Located near the airport, this spacious apartment is a great choice for those business travelers who need to be near those all-important travel connections.
The self-contained apartment is also a great choice for those seeking a longer stay.
The apartment consists of a living room, a fully equipped kitchen, one bedroom, a bathroom, bed linen, towels, a flat-screen TV, and a fully equipped kitchen.
There's also a private pool, patio, garden, and free private parking.
Relaxing rooms
Stylish decor
The soothing rooms at the Soho Boutique Sevilla offer a great respite from the heat and hubbub of downtown Seville.
Located at the southern end of Macarena, this is a great place from which to explore Seville's main shopping area and main Seville attractions.
This stylish hotel is set around a covered courtyard with tasteful rooms leading off the surrounding floors.
Soho Boutique is a perfect choice for those seeking somewhere to retreat to after a day's shopping or a late night in Macarena's numerous bars.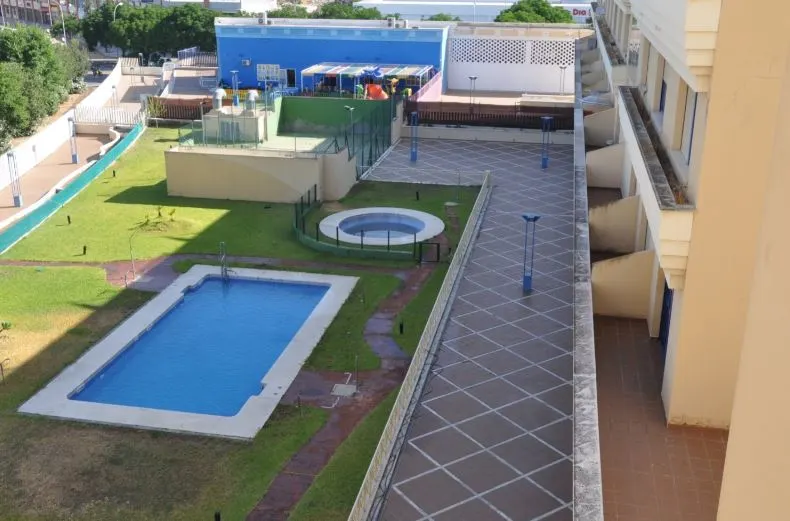 Spacious apartment
Close to Guadalpark
This spacious and modern one-bedroom apartment is situated in the Edificio Luxsevilla (Luxsevilla building) and has proximity to both the airport and the Guadalpark water park.
The apartment is in a nice residential neighborhood with shops, bars, and restaurants nearby.
There's a bedroom, bathroom, living room, and a kitchenette complete with a dining area, making this a great option for those on a budget who are wishing to self-cater.
You'll also find a swimming pool onsite plus a garden and free private parking.
Fully-equipped apartments
Quiet, residential location
limehome Sevilla Calle Torcuato Luca de Tena provides fantastically furnished apartments that each feature a fully equipped kitchen (complete with a stove) and a washing machine.
The generous apartments make this a great choice for those requiring a longer stay.
Located in a quiet area in the south of the city, the apartments are still within easy reach of the central attractions. There's a rooftop pool and lots of space.
The apartments are equipped for those who like to self-cater, making this a good choice for family-friendly holidays too.
Unique pool
Fantastic budget option
As far as hotels with pools go, the Welldone Quality provides amazing bang for the buck.
This is certainly the cheapest hotel that you will find in Seville offering this range of amazing facilities.
It is unusual to have a facility such as the unique glass-bottomed rooftop pool available in a budget hotel.
Should you take a dip, you'll be able to see down several floors into the hotel and see all the guests looking up at you from below!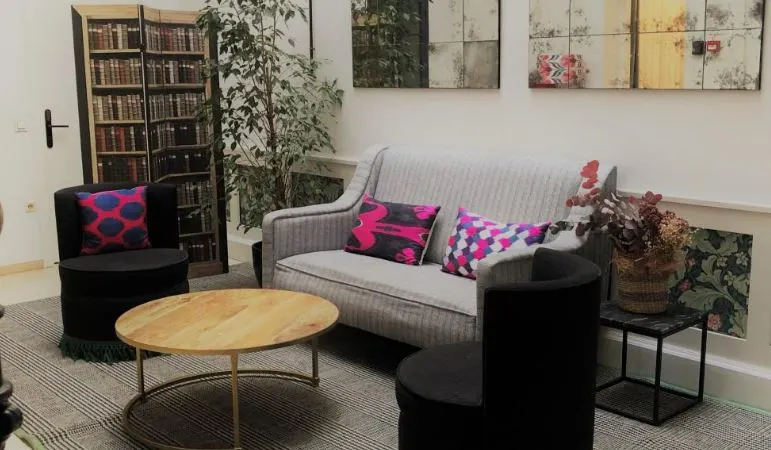 Amazing terrace
Modern facilities
While the pool here is tiny and shallow, Hostal Hom Museo more than makes up for this in other areas. With fantastic rooms and an amazing terrace, this is a fantastic budget option.
There's no bar here, so if you'd like to enjoy a drink on the stunning terrace, bring your own.
Located in a quiet square right in the center of Seville, this classical 19th-century home has undergone a tasteful conversion to provide bright, airy modern rooms.
It's a small hotel with only eleven rooms so make sure to book early.
Best Places in Seville with Pool for Families
Great attractions
Good for families
Guadalpark is a medium-sized water park located close to Seville airport and makes for a great family day out. There are attractions to suit all ages.
For the brave, try the daredevil water slides with names such as Kamikaze, Turbulence, and Black Hole!
Although there is no accommodation available onsite, two of the options that we have covered already in this list make for great bases from which to take in Guadalpark.
Edificio Luxsevilla and Apartamento Fibes y Congresos both offer family-friendly apartments nearby.
Amazing rides
Great family fun
La Isla Magica (Magic Island) is a large amusement park that sits just north of Triana on the Isla de la Cartuja (Cartuja Island).
The park features a great selection of attractions, from thrill rides right through to those more suitable for younger children.
If you're looking to explore the delights of the magnificent Isla Mágica, then you'll obviously need somewhere to stay.
Well, don't worry, we've already covered a couple of great options in this list. The Monte Triana and Palacio Bucarelli are both within easy reach of the park.
adrenaline-fueled experiences
Unique family adventures
Urban Planet Lagoh is one for the thrillseekers since there's a surf simulator with artificial waves to ride.
Also, you can have fun on an upright wind tunnel allowing you to experience flying; a trampoline park, and a multi-adventure zone featuring various obstacles to climb, dodge, and zip-wire through.
Located on the Southernmost edge of Seville, you can either base yourself in the center and travel out here or alternatively, limehome Sevilla Calle Torcuato Luca de Tena is conveniently located in the nearby Heliopolis area.
Best Things to do in Seville
Seville is an enchanting city with so many wonderful things to see and do. There are famous sights such as the magnificent must-see Plaza de Espana with its surrounding Maria Luisa Park, the Torre del Oro, and the Maestranza bullring.
Get the most out of your trip with guided tours which are a great way to immerse yourself further into the history and culture of this fantastic city.
If you take the Alcázar Guided Tour you will join a small group led by a knowledgeable local guide who will impart fascinating facts about the history of this sensational UNESCO World Heritage Site. – Check the guided tour here.
Queues for the Cathedral can get very looooooong. Skip them with Cathedral and Giralda Tower Guided Tour and Tickets.
This is (yet another!) UNESCO World Heritage Site to which your erudite guide will give you priority access. Don't miss it!
Seville is regarded as the true home of flamenco so to discover more about this fascinating art form, get yourself along to the Flamenco Show with Optional Flamenco Museum Ticket.
The venue itself is worth the visit alone! – Check out the guided tour to the flamenco show.
The Seville: Hop-On Hop-Off City Sightseeing Bus is an absolutely superb way in which to explore magnificent Seville.
The 24-hour ticket allows you to see the city and its many sights at your own pace. This is a great option for those with limited time.
To get a different perspective on the city go on a river cruise and you can check the guided tour to the 1-hour cruise on Guadalquivir here.
This wonderful cruise along the historical Guadalquivir River offers fabulous views of the city's most famous monuments from the water. You get a nice breeze too!
The Alcazar is one of the most visited sites in the whole of Spain so skip the (often lengthy) queues if you book a guided tour in advance. – Check out the guided tour here.
Your incredibly well-informed guide will fill you in on the fascinating history of this must-see palace.
Short FAQ about the Best Hotels in Seville with Pool
Which hotels with pools in Seville are good for couples?
If you're seeking a room for couples, the Radisson Collection Hotel, Magdalena Plaza Sevilla is one of the finest romantic hotels there is.
Not only does this luxurious facility have a great location, but there is also a fantastic rooftop pool offering sensational views of Seville.
Which hotels with a pool are close to Sevilla Airport?
If you need to be near those all-important flight collections then don't worry, there are some great accommodation options near the airport for you.
Both Edificio Luxsevilla and Apartamento Fibes y Congresos are great choices within proximity of the airport.
---
---
Hola, I'm Paulina! Together with my team, we are passionate about Southern Spain. Here we share all you need to know for great times in Southern Spain with the best places to visit, stay and, of course, the best food to eat.
Let's dive in and explore Southern Spain's outdoors, food and culture con pasión!