A travel guide to the best things to do in Seville with Kids
Planning a vacation with the kids in tow is never easy, especially if the children are young. Full of energy one moment and then tired the next visiting a big city like Seville with kids can be pretty challenging.
Before we get into the best things to do with kids in Seville, let's first look at the best time of year to visit Seville.
Regarding the weather and what is going on, March to May is the best time to visit Seville. The weather is mild during the spring months, and the city is not full of tourists.
This blog is supported by you, dear reader. If you purchase through a link, we earn a small commission. As an Amazon Affiliate, we earn from qualifying purchases.
It is also when Seville has its two biggest fiestas, Semana Santa and the Feria de Abril, which could turn out to be one of the best things to do in Seville with kids.
However, if you are restricted by school vacations and can only visit Seville during the summer, a word of warning as it can get scorching with temperatures often exceeding 100 degrees Fahrenheit.
While it cools off during the fall, it is also the time when Seville receives the most rain.
The winter months in Seville are mild, but many of the outdoor activities you can do with children are limited.
Top Things To Do In Seville with Kids, Andalucia
Of the many attractions and historical places to visit in Seville below is a list of our favorites for kid activities:
Real Alcázar
Catedral de Sevilla
La Giralda:
Plaza de España
Guadalquivir River Cruise
Magic Island
Resources to visit Seville, Spain
✈ Book cheap flights to Seville with Skyscanner

⚘ Avoid tourist traps and get the customizable "Andalucia Like a Local" itinerary. – Get it here

✔ Book tours in Seville with GetYourGuide

➳ Find the best hotels in Seville with Trivago

❖ Rent a car at the best rates with DiscoverCars

✎ Never leave without travel insurance! I get mine at HeyMondo. It is easy to set up, cheap and reliable.

$ Withdraw money without hidden fees and avoid exchange charges with Wise (A free Mastercard debit card to spend money abroad)
Where is Seville?
Seville is situated on the lower reaches of the River Guadalquivir in southwest Spain.
Most of the city is to the east of the river leaving only the neighborhoods of Triana, La Cartuja, and Los Remedios on the west side.
Geographically Seville is on the same latitude as San Jose, California, and just south of Athens, Greece.
Seville has a typical Mediterranean climate with mild winters and scorching summers.
With an annual average temperature of 67 °F, Seville is the warmest city in Continental Europe, making it one of the top places to visit in Spain.
How to get to Seville
How to get from Madrid to Seville:
You have four options when traveling to Seville from Madrid. You can drive, take the bus, train or fly.
Driving will take a little over five hours and is the most expensive due to the cost of fuel.
Depending on the time and day you are traveling, flying between Madrid and
Seville can be reasonable.
The best option, though, is the high-speed AVE train as it takes you from the center of Madrid to the center of Seville.
Taking a bus is the least expensive option, but it is a long 6.5-hour journey.
Bus: Buses depart from Madrid – Estación Sur and arrive at Seville, Plaza de Armas Bus Station. One way ticket prices. – Get your tickets here.

Train: Trains depart from Madrid-Puerta De Atocha and arrive at Seville Santa Justa. The journey takes a little over 2.5 hours and costs around 80€ depending upon the time of day. – Check tickets here.
How to get from Malaga to Seville:
Because Seville is only 131 miles from Malaga, there are no flights which means you have three options.
You can drive there by taking the A92 motorway a journey time of around 2hrs and 16mins.
Bus: If you are on a budget, the least expensive way to get to Seville from Malaga is to take the bus. The buses depart from Malaga Central Bus Station and arrive at Seville Plaza de Armas Bus Station. All the buses are modern with air conditioning and free WiFi. The journey takes 2hrs 45mins and has one-way ticket prices starting from 7.50€. – Check bus tickets here.

Train: Trains to Seville depart Malaga Maria Zambrano Station every 30 minutes. The fast train takes 1hr 56mins. The slow train takes an hour longer and makes a stop in Cordoba. Please remember that tickets on the direct high-speed trains are more expensive. – Get train tickets here.
How to get from Cadiz to Seville:
Considered the oldest continually inhabited city in Europe, Cadiz and its Atlantic Ocean beaches make for a beautiful day trip from Seville.
Located on the southernmost tip of Spain, Cadiz is 75 miles from Seville and a 1hr 15 min drive when taking the E-5 and A-4.
Also worth mentioning on the route is the beautiful city of Jerez de la Frontera, the home of sherry, and the Royal Andalusian School of Equestrian Art.
Bus: Buses between Seville and Cadiz depart from Estación de autobuses Prado de San Sebastián and arrive at Estación de Autobuses de Cádiz. Transportes Comes and Alsa offer up to 20 buses a day with oneway ticket prices starting at 15€. The journey time between Seville and Cadiz is 1hr 45mins. – Check bus tickets here.

Train: Cadiz is easily reached from Seville by train, with Spanish rail operator Renfe offering 14 trains a day. All trains to Cadiz depart from Seville Santa Justa train station and arrive at Cadiz train station near the port. The journey time from Seville to Cadiz is 1 hr 45 mins and one-way tickets cost 17€. – Get tickets here.
Best Things To Do In Seville With Kids
1. Flamenco Shows in Plaza de España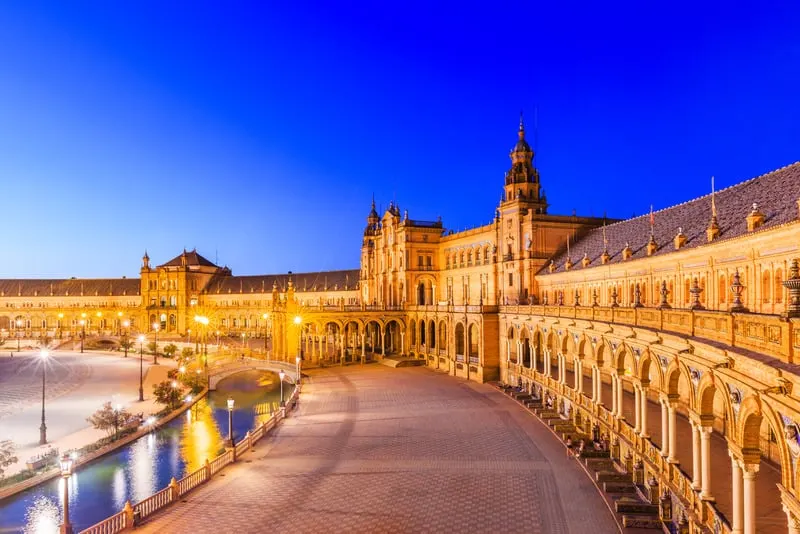 Constructed for the Ibero-American Expo at the 1929 World's Fair, the Plaza de España is an architectural tour de force.
Offering one of the most picturesque panoramas in Seville, the Plaza de España is a must-visit attraction.
The Flamenco dancers in the Plaza de España are street performers; therefore, the show is free unless you want to give them something. – Check the Seville Flamenco Show guided tour here.
You can also choose from one of the best flamenco shows in Seville if you want to see an authentic show while visiting the city.
Opening times: All day and into the evening
2. Seville Aquarium
A visit to the Seville Aquarium is one of the best things to do in Seville with kids.
With its 7,000 sea creatures, the Seville Aquarium recreates the trip that Magellan took in 1519 when he sailed west in search of a route to the Spice Islands of Indonesia.
The 36 exhibits in the aquarium feature the marine animals and fauna that the Portuguese explorer encountered on his epic journey. Kids will love it!
Tip: The Seville Aquarium and its air conditioning make it a great place to cool off on a hot summer's day.
Opening times: Open seven days a week, 10:00 to 18:00
Admission: Adults 17€ Children 4-14 12€
3. Metropol Parasol and Museo Antiquarium
Called the "Setas" by locals because it looks like mushrooms, the Metropol Parasol is one of Seville's newest attractions.
Built entirely of wood, the architectural wonder serves as a popular gathering place for tourists exploring the city.
The structure features a winding rooftop walkway that offers some of the city's best views.
At the Metropol Parasol, you will also find the Museo Antiquarium, a 16,000 square foot archaeological space containing important Roman, Visigothic, and Islamic relics.
Not only is a visit to the Museo Antiquarium one of Seville's best kid-friendly activities, but it is also educational and exciting, showing how the city has evolved over the centuries.
Opening times: 09:30 to 23:00
Admission: To ride the elevator to the walkway costs 5€, including a free drink at the bar.
4. Lunch in Vinería San Telmo
When it comes to where to eat in Seville and what to eat in Seville for lunch, you can't go wrong selecting Vinería San Telmo.
A wine bar/taperia, Vinería San Telmo, is located at Paseo Catalina de Ribera 4, in Seville's Santa Cruz neighborhood.
Always using traditional Spanish cuisine as a reference, the chefs at Vinería San Telmo create flavors from around the world, which they then pair with their extensive wine list.
Opening times:
Monday to Sunday from 13:00 -16:30 and 20:00-23:30.
5. Magic Island
If you are visiting Seville with kids during the summer, Magic Island is one of the best things to do in Seville with kids as it has plenty of fun activities.
Kind of like a smaller version of Disney World, Isla Mágica is a theme park built on the Seville 1992 World Fair site.
More suitable for younger kids than teenagers, the park is divided into six themed sections, each with rides, attractions, and magical stuff.
Magic Island also has a small water park called Aqua Mágica, the perfect place to cool off on a hot day.
Opening times: 11:00 to 22:00
Admission: A day pass costs 44€ for adults and 32€ for children and pensioners.
6. Royal Alcazar of Seville
Constructed in the 7th century by the Moors and later adapted as a royal residence for the King and Queen of Spain, the Real Alcázar is a blend of Muslim and Christian artistic fusion unique to Andalusia.
HBO used the Real Alcázar as the location for Dorne in the hit series Game of Thrones.
This is one of the best things to do in Seville with kids since the place itself is quite Instagramable. – Get your guided tour here.
Opening times: 09:30 to 17:00
7. Cathedral de Sevilla
Located in the heart of the city built on top of what was once a mosque, the Catedral de Sevilla is the largest Gothic building in Europe and home to the tomb of Christopher Columbus.
The indoor hallways' high, ornate ceilings and columns are extremely magnificent, and admiring this work of art is undoubtedly one of the top ten things to do in Seville.
Check out the guided tour here.
Opening times:
Monday to Saturday: 10:30-16:00. Sunday: 14:00 to 19:00
8. Columbus' tomb in Seville
As soon as you enter the cathedral, you will see the tomb of Christopher Columbus.
Held aloft by four massive pillars that represent the kingdoms of Spain during the Italian explorer's life
Castille, Aragon, Navara, and Leon.
The tomb was one of the last things added to the cathedral when it was shipped from Havana, Cuba, following the Spanish-American War of 1898.
Of all the things to do in Seville with kids, visiting Columbus's tomb will turn into a history lesson for your little ones. – Check the guided tour here.
Opening times:
Monday to Saturday: 10:30-16:00. Sunday: 14:00 to 19:00
9. Climb the Giralda Tower
The Giralda is one of the only things remaining from the site's original mosque.
Together with the minarets in Rabat and Marrakech, it is one of the Muslim world's oldest towers.
While it looks like it might be a tiring climb, the top of the tower is reached by climbing 34 wide sloping ramps and only 17 steps.
Opening times:
Monday to Saturday: 10:45 -17:00. Sunday's 14:30-18:00
Tip: Visit the cathedral and the Giralda tower on the same day as buying one ticket for both attractions is less expensive than paying for them separately. – Get the guided tours here.
10. Enjoy tapas in Freiduría La Isla
With Seville located not far from the Bay of Cadiz and the Atlantic Ocean Freiduría La Isla is a no-frills tapas bar specializing in fish dishes.
A popular dish in Seville is deep-fried chipirones (baby squid). The prices at Freiduría La Isla are reasonable, and the place is always busy.
Freiduría La Isla is located at Calle Garcia de Vinuesa 13, in the Arenal neighborhood of Seville.
Open times:
Monday-Saturday 13:00-16;00 and 20:00-23:00.
Sunday 13:00-16:00.
Closed on Monday.
11. Maria Luisa Park
Donated to the people of Seville in 1893 by the Duchess of Montpensier, the 84-acre green oasis stretches along the Guadalquivir River and is the principal park of Seville.
Located close to the Plaza de España, the park offers visitors an escape from the hustle and bustle of the city and the opportunity to enjoy hundreds of plant species and exotic wild birds.
Opening times: In winter, the park is open from 08:00 to 22:00 and from 08:00 until midnight in summer.
12. House of Science (La Casa de la Ciencia)
Located inside the Peru Pavilion, a building of outstanding architectural heritage built for the 1929 Worlds Fair, the Casa de la Ciencia is a museum geared towards science and technology.
Located close to the Plaza de España, the Casa de la Ciencia is a family-friendly museum and a great place to escape the heat.
This is one of the most interactive and fun things to do in Seville with kids and the entire family will love it.
Be sure and check the museum's website to look at upcoming temporary exhibits.
Opening times: Tuesday-Sunday 10:00 to 20:00
Admission: 3€
13. Lunch in La Escaloná Restaurant
When deciding where to eat in Seville, you cannot go wrong by visiting La Escaloná restaurant.
Located in the Plaza de La Alfalfa, in the heart of Seville, this midpriced eatery never disappoints when it comes to the traditional dishes of Seville.
Address: Plaza de la Alfalfa, 12,
Opening times: 08:00 to 23:30
14. Take a Food Tour
If you are visiting a city like Seville for the first time, an excellent way to get a feel for the place is to go on a food tour with a local expert.
They know all the best places to go and can make suggestions about things to see and do in their city.
Seville guided food tours are geared towards small groups of people to keep things intimate.
There are tours where you go shopping at local markets and get a bite to eat at a buzzing bar and a history lesson about the culture of Seville and how people live in the city.
There are also tapas tours where you will go bar-hopping while tasting delicious bite-sized foods popular in Spain. – Get your guided tour here.
15. Explore Seville with the 24-Hour Hop-On Hop-Off Bus
If you are visiting a new city and want to make the most of your time, consider going on a hop-on-hop-off-bus-tour.
Companies offering these tours select their routes so that they stop at all the city's main tourist sites.
Buying a day ticket for the hop-on-hop-off bus lets you explore Seville at your own pace getting on and off the bus wherever you like.
The hop-on-hop-off bus in Seville has a one-hour route that makes stops at 12 of the city's main attractions.
As far as things to do in Seville with kids go, we guarantee you that they'll love it the most. – Get the guided tour here.
Opening Times: 10:00-19:00 every 30 minutes
Ticket price: 22€
16. Cruise Along The Guadalquivir River
The Guadalquivir River has played a central role in Seville throughout history.
Being the only navigatable river in Spain, it helped Seville grow rich during the exploration of the New World.
Today a cruise through the heart of Seville will give you a better understanding of the city. – Check out the guided tour here.
Opening times: Boats leave the Torre del Oro Wharf every hour on the hour from 10 to 20:00
17. Day Trip to Gibraltar
Uniquely British since 1713 following the Treaty of Utrecht that ended the War of the Spanish Succession, Gibraltar is a strategic location that controls the waterway between Europe and Africa.
Always on people's list of must-see places, Gibraltar is not far from Seville but challenging to visit. There is no rail service to Gibraltar, and buses only go to the nearby city of La Linea.
From La Linea, you can walk across the border but with the United Kingdom no longer in the European Union; you could face a long wait at the border.
With the bus taking four hours to get from Seville to Gibraltar, it doesn't lend itself to a day trip.
However, if you have a rental car, you can reach Gibraltar in 2hrs and 15 mins by taking the AP-4 to Jerez and then the A-381 to La Linea.
Check out the guided tour to Gibraltar here.
18. Day Trip to Doñana National Park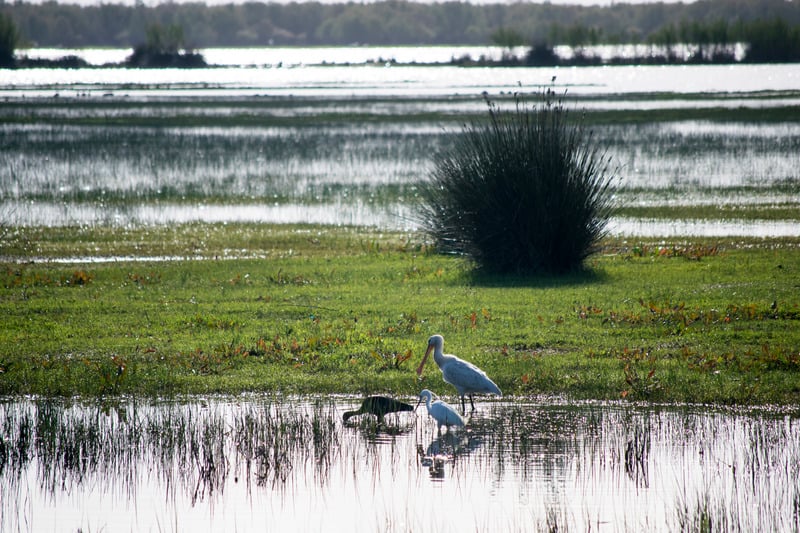 Home to Europe's largest white stork colony and thousands of migrating birds, Doñana National Park is one of Europe's most important wetlands.
Because most of the park is accessible only with a licensed guide, you are better off paying a tour operator for the day trip.
Visiting the park is one of the most exciting things to do in Seville with kids, and if you are lucky, you may spot an Iberian Lynx. – Check out the guided tour here.
At the Doñana National Park, you can go on one of the best hiking trails near Seville and have a bit of adventure with your little ones.
19. Day Trip to Bolonia Cadiz
Located a 15-minute drive from Tarifa on Spain's Costa de la Luz, Bolonia is a tiny town with one of the best beaches in Spain.
Two and a half miles long and nearly half a mile wide, Playa Bolonia is an unspoiled white sandy beach with crystal clear water.
Again like Gibraltar, Bolonia is too far for a day trip using public transport. If you have a rental car and fancy a day at the beach with the kids, it will take you 2hrs and 14 mins via the AP-4 motorway.
Best Hotels in Seville, Southern Spain
Seville was once one of the world's wealthiest cities, evident in its gigantic cathedral and ornate buildings.
Today Seville serves as the capital of Andalucia, attracting business people and company representatives from around the globe.
Also, Seville is connected by high-speed rail to Madrid, making it a popular destination for tourists. If you plan to visit Seville, we have listed three favorite hotels.
Located in Seville's historic Santa Cruz area next to the cathedral and Real Alcázar, the 5-star Hotel Alfonso XIII, a Luxury Collection Hotel Seville, is a city landmark.
Commissioned by the King of Spain to host international dignitaries during the 1929 exposition, the luxurious hotel maintains its links to the past.
Still, it has been upgraded with modern conveniences for a new generation of travelers. Features at the hotel include:
24-hour front desk
Concierge service
Business center
Luggage storage
Tour desk
Currency exchange
Bar
Restaurant
Exceptional fitness center
Sauna
Swimming pool
Sun terrace
Free WiFi
Parking 25€ per day
Following an extensive restoration, the 4-star Hotel Zenit Sevilla reopened in 2017.
The hotel is located in the city's center near the Triana neighborhood, a short walk from Seville's main attractions.
Decorated in a modern style, each spacious air-conditioned room comes with a flat TV and Free WiFi. Guests at the Hotel Zenit Sevilla particularly like the hotel's rooftop terrace.
Features at the Hotel Zenit Sevilla are:
Luggage storage
Tour desk
Express check-in/check-out
24-hour front desk
Bar
Restaurant
Cafe
Swimming pool
Sun loungers or beach chairs
Solarium
Fitness center
Free WiFi
Parking 19€ per day
Located in the Alfalfa neighborhood of Seville, a five-minute walk from the cathedral, the 2-star Hotel Boutique Corral del Rey occupies a restored 17th Century building.
Converted into a stylish boutique hotel, don't let the 2-star rating fool you as this is a chic hotel that deserves more than its current rating.
While not having a restaurant, the hotel does have a bar that serves both drinks and snacks.
Guests at the hotel particularly liked the rooftop plunge pool and the panoramic views of the city.
Facilities at the Hotel Boutique Corral del Rey include the following:
24-hour front desk
Luggage storage
Tour desk
Bar
Free WiFi
Terrace
Rooftop plunge pool
Pets allowed on request
Getting Around Seville
Despite Seville being Spain's fourth-largest city, it is easy to navigate using public transport or on foot. Most of all of Seville's attractions are within walking distance.
Bicycles are another popular way of getting around, thanks to bike lanes and a bike-share service called "Sevici."
For people only in Seville for a day or two, the hop-on-hop-off bus is an excellent way to visit Seville's main attractions.
Taxis are all over the city and relatively inexpensive. All fares are calculated using a taximeter with supplements added for nighttime, weekends, and holidays.
Seville has an excellent bus network that can take you anywhere in the city. A one-way fare
costs 1.40€.
If you intend to be in Seville for some time, you can buy a multiride ticket which cuts the price per journey in half. The tickets can be purchased at any tobacconist or machines at some bus stops.
If you don't know what to do in terms of accommodation, you can choose from the best Airbnbs in Seville or the best hotels in Seville for families.
---
Short FAQ about the Best Things to do in Seville with Kids
Is Seville child friendly?
It's a must-see on your next family trip to Spain because it's one of the most family-friendly cities in the country! Seville will enthrall both children and adults alike.
The entire city resembles a scene from a fairy tale, and Spain's family-friendly culture will ensure that even the tiniest visitors have a good time.
What is the best part of Seville to stay in?
The best neighborhoods to stay in Seville are either in the center or within walking distance.
Centro (Old Town), Santa Cruz, and if you want something a little quieter and away from the tourists the Triana neighborhood across the river is a nice location.
How many days do you need in Seville?
To make the most of your time in Seville and get a feel for the city, you need at least three days.
All the main attractions can be seen in a couple of days, but you would be rushing around.
---
---
Hola, I'm Paulina! Together with my team, we are passionate about Southern Spain. Here we share all you need to know for great times in Southern Spain with the best places to visit, stay and, of course, the best food to eat.
Let's dive in and explore Southern Spain's outdoors, food and culture con pasión!