A travel guide to things to do in Seville at night for a memorable vacation
There are so many tourist attractions in Spain that when planning a trip, it's difficult to know where to start. And on holiday you always want fun things to do at night, right?
Well don't worry, there is a solution! Visit Seville and you'll find a plethora of magical things, including a whole host of unique things to do.
As one of Southern Spain's major tourist cities, the copious amount of Seville attractions is enough to satiate even those with the most demanding requirements.
This post contains affiliate links. If you buy via them, I'll earn a small commission which helps me to keep this blog running. As an Amazon Associate I earn from qualifying purchases. All opinions are my own.
In addition to exploring some of the great things to do in Seville at night, this guide will also cover where to stay in Seville, the best cheap hotels in Seville, and the best places to eat in Seville. Keep reading to find out more.
Top Things to do in Seville at Night
There are so many things to do in Seville at night you'll be spoilt for choice. These are just 6 of the main highlights:
Flamenco Shows
Clubs & Discos
La Noria de Sevilla Ferris Wheel
Sleep with the Sharks
Cruise on the Guadalquivir River
Just enjoy the street lights
Useful Travel Information About Seville
✈ Book cheap flights to Seville with Skyscanner

⚘ Avoid tourist traps and get the customizable "Andalucia Like a Local" itinerary. – Get it here

✔ Book tours in Seville with GetYourGuide

➳ Find the best hotels in Seville with TripAdvisor

❖ Rent a car at the best rates with DiscoverCars

✎ Never leave without travel insurance! I get mine at SafetyWing. It is easy to set up, cheap and reliable.

$ Withdraw money without hidden fees and avoid exchange charges with TransferWise (A free Mastercard debit card to spend money abroad)
Where is Seville?
So, where is Seville? Located in the province of Andalucía, Seville is the largest city in Southern Spain.
With many major Spain attractions, Seville is also the fourth largest city in Spain, ensuring transport links to the city are excellent.
How to get to Seville
How to get from Madrid to Seville:
Bus: Buses between Madrid and Seville cost around €30 to €35 and the trip takes 6 to 7 hours. – Get your tickets in advance for a better price here.

Train: Trains between Madrid and Seville cost from €30 to €70, with the journey taking on average 2.30 to 2.45 hours.
How to get from Malaga to Seville:
Bus: The website of Andalucian regional bus company Alsa provides details on how to get from Malaga to Seville. The journey takes 2.30 to 4 hours, with tickets costing €10 to €20. – Book your tickets in advance.

Train: Trains between Malaga and Seville take 2 to 3 hours and cost €25 to €40. Omio has all you need to know about times and routes. – Check train tickets here.
How to get from Cadiz to Seville:
Bus: Alsa runs buses between Cadiz and Seville. Tickets cost €15 and the trip takes 1 hour 45 minutes. – Get your ticket to Seville in advance.

Train: Trains between Cadiz and Seville cost from €8 to €28 and the trip takes 1. 30 to 1.50 hours. Once more, Renfe has all you need to know about times and routes. – Check train tickets here.
Things to do in Seville at Night
Enjoy Seville's Nightlife
When it comes to things to do in Seville, the city's renowned nightlife is a must-not-miss.
Famous throughout Spain for its vibrancy, Seville has a multitude of clubs and discos to choose from.
You can dance flamenco, wander through the Seville streets marveling at the illuminated attractions, take a cruise down the Guadalquivir or explore the city's 3000 tapas bars.
There are simply so many things to do in Seville at night you won't know where to start!
In this section, we'll explore some of the best things to do at night, so you can get the most out of your trip to this vivacious city.
Top Clubs & Discos in Seville
Sala X feature mainly rock and indie bands with entry price ranging from €5 to €20. It opens at 8 p.m. You'll find it in the Macarena district at C/ José Díaz, 7, 41009 Sevilla.
Antique Theatro is a large club playing with DJs playing pop, Latin, and house music. It opens from midnight to 6 am and entry costs between €15 to €20. It's located near the Isla Mágica theme park at C. Matemáticos Rey Pastor y Castro, s/n, 41092 Sevilla.
Obbio is a gay-friendly dance club open on weekends from 23.00 to 04.00 It's located centrally at C. Trastámara, 29, 41001 Sevilla.
Uthopia Sevilla is a huge club spread over three floors playing (mainly Spanish) commercial dance music.
It opens between 22.00 and 07.00 from Wednesday to Saturday. It's located near the Plaza de Armas bus station at Pl. la Legión, s/n, 41001 Sevilla.
Groucho Disco Bar plays Spanish music in the afternoon and has either live bands or DJs playing house at night.
It's open between 15.30 and 05.30 (depending on the day) and is near the Cathedral at C. Federico Sánchez Bedoya, 20, 41001 Sevilla.
See a Flamenco Show
As the home of the dance, going to some of the best flamenco shows in Seville is an absolute must.
There are numerous venues throughout the city putting on shows but for the most authentic, head to Triana, where many of Spain's most renowned flamenco dancers hail from.
Seeing a flamenco show is not just one of the best things to do in Seville at night, but one of the best things to do in Spain. – Check out flamenco guided tour here.
If you are traveling to Seville during the April's Fair (Feria de Abril), you will see Sevillian will be out on the streets, some even on horse and carriage, dressed in their most stunning traditional (flamenco) fiesta attire.
Together with Semana Santa, Feria de Abril is one of the best festivals in Andalucia which are worth attending at least once.
Top Flamenco Bars in Seville
Tablao Los Gallos run two shows nightly from 19.00 to 20.15 and 20.45 to 22.00. They feature 8 artists every day and entry is €35. You'll find it near the Alcazar.
Open from 19.00 to 01.00, La Carboneria is larger than many of the venues showing flamenco, however, you may find it difficult to find as there's no sign at the entrance.
It's centrally located at Calle Céspedes, 21, A, 41004 Sevilla.
This venue is not cheap, with tickets starting at €40, however, it is very highly rated among flamenco aficionados.
They have two hour-long shows per night starting at 19:00 and 21:30. If you are dining or want drinks there, you can gain access an hour before showtime.
Tapas and Drinks are Always a Good Idea
When it comes to things to do in Seville at night, no visit is complete without visiting some of the city's legendary bars.
You can find some of the best tapas in Seville, where you can eat just like a local and taste the real flavor of Andalucia.
The dishes to try range from the classic potato tortilla to anchovies and fried squid to the traditional carillada de carne and the Spanish sandwich, serranito.
With over 3000 tapas bars to choose from, you'll never make more than a dent in this aspect of Seville nightlife.
Sevillanos love to bar hop and with so many to explore, make sure you do too! – Check out a tapas guided tour.
The Best Tapas Bars in Seville
Open from 19.00 to 01.00, La Carboneria has a great patio serving tapas and live flamenco. You may find it difficult to find as there's no sign at the entrance.
It's centrally located at Calle Céspedes, 21, A, 41004 Sevilla.
Gigante Bar is a beautifully appointed place offering respite for those who've gorged on too much local cuisine.
They have great international options and magnificent cakes and cocktails. They're open every day from 1 p.m. to midnight.
Gallo Rojo has an exceptional range of craft beer, so if that's your tipple, make sure to head there. They also feature live music on some nights.
Opening hours vary depending on events so make sure to check out their website.
La Terraza Bar is set within the five-star MEM Catedral Mercer hotel. Located on the hotel's rooftop, this upmarket bar offers spectacular views of the Cathedral and Giralda Tower.
It's open from midday to midnight Sunday to Thursday, with an additional hour on Fridays and Saturdays.
Located in the Macarena district and with views over the lively Alameda de Hércules square, the Terraza Rooftop Bar serves up excellent cocktails.
It's open between 17.30 and 01.00 every day except Mondays and Tuesdays.
Take a Boat on the Guadalquivir River in the Evening
History flows along the Guadalquivir River. In 1519, Ferdinand Magellan set off from Seville on the first trip around the world.
Splitting the center of the city in two, many of the major sights are visible from the river.
An evening cruise is one of the most relaxing things to do in Seville at night.
There are several companies offering a range of boat trips, some with dining options. Prices start from €15. – Check out guide tour here.
Opening times: Evening departures from 18.00 until 21.30.
La Noria de Sevilla Ferris Wheel
For a bird's eye view of Seville at night, take a trip on the La Noria de Sevilla Ferris Wheel. The 30 cabins are all air-conditioned, great for taking respite from the Seville heat.
The Noria de Sevilla, at a height of 40 meters, is a tourist attraction that provides the best panoramic views of the city.
This new way of experiencing Seville's heritage is located next to the river. For those not perturbed by heights, some cabins even have glass bottoms.
Other than that, this is one of the most entertaining things to do in Seville at night. Trips cost €7.50.
Opening times:
Monday – Thursday 10:00 to 20:00
Friday – Sunday: 10:00 to 21:00
Explore the Illuminated Monuments
With its rich and varied history and a multitude of spectacular sights, Seville is a great city through which to take an evening stroll.
Most of the main Seville Spain attractions are centrally located and the center of the city is actually quite compact, ensuring the major sights are all within walking distance of each other.
At night, the city's monuments are all illuminated, making this option cheap and accessible to all.
Visit Seville's Football Stadiums
For sports lovers looking for things to do in Seville Spain, the city is home to not one but two of Spain's biggest football clubs.
Located close to San Bernardo Station is the Ramon Sanchez-Pizjuan Stadium, home to Sevilla FC, the more successful (though lesser supported) of Seville's two giant clubs.
In the Heliópolis district to the south of the center, you will find the Benito Villamarín Stadium, home to Sevilla FC's fierce rivals, Real Betis.
Opening times: Matchdays are Sundays, though you may also get midweek games throughout the season. Stadium tour times vary, so check the above links to the clubs' websites before visiting.
Metropol Parasol
Opened in 2011 (and causing great controversy), the Metropol Parasol is the largest wooden structure in the world and it's located in the Plaza de la Encarnación.
Metropol Parasol is also known as the mushroom of Seville (Las Setas de Sevilla) and was designed by the German architect Jürgen Mayer.
The Metropol Parasol mushrooms are not just a wooden structure that covers the square, but there is also a particular pathway and a terrace with a great view on top of the parasols ("El Mirador").
And seeing Metropol Parasol after sundown is one of the most beautiful things to do in Seville at night and also it's one of the best Seville architecture you should see.
You can also find shops, bars, and restaurants within Metropol Parasol, as well as an archaeological museum (Antiquarium).
Opening times:
The Metropol Parasol is open daily from 09.30 until midnight, with nighttime tickets available from 21.00.
Standard prices for nighttime tickets are €10, though discounts are available for children and families.
Sleep with the Sharks
Seville Aquarium offers a truly unique chance to sleep with sharks. Yes, you read that right!
The aquarium has an underwater glass tunnel in which you can sleep while surrounded by magnificent sharks.
The aquarium is based on Ferdinand Magellan's travel across the globe. With over 7000 different species of marine life, your visit to the Seville Aquarium is likely to seem like a cruise.
The major attractions are two bull sharks, who are kept in a gigantic nine-meter-deep tank with a walk-through glass tunnel.
Opening times:
General opening hours to the aquarium are 10.00 until 18.00 (19.00 Saturdays and Sundays), tickets from €17.
Unfortunately, for those wishing to sleep with the sharks, this option is only available to groups of 15 or more and with advance booking.
Things to do in Seville at Night – Accommodation in Triana and Macarena
Triana Neighbourhood
Across the Puente de San Telmo (San Telmo Bridge) from the famous Torre del Oro, the atmospheric Triana district is a world of flamenco dancers and bullfighters.
If you are wondering what things to do in Seville at night, you can lose days wandering the narrow, cobbled streets, immersing yourself in the rich cultural heritage that surrounds you.
Below, we have recommended 2 accommodation options for every type of budget in these two magnificent areas.
Luxury Hotels
The superb riverside location of these beautifully appointed apartments makes this an excellent choice. Many of the rooms have balconies overlooking the river, providing spectacular views of Giralda and Sevilla Cathedral.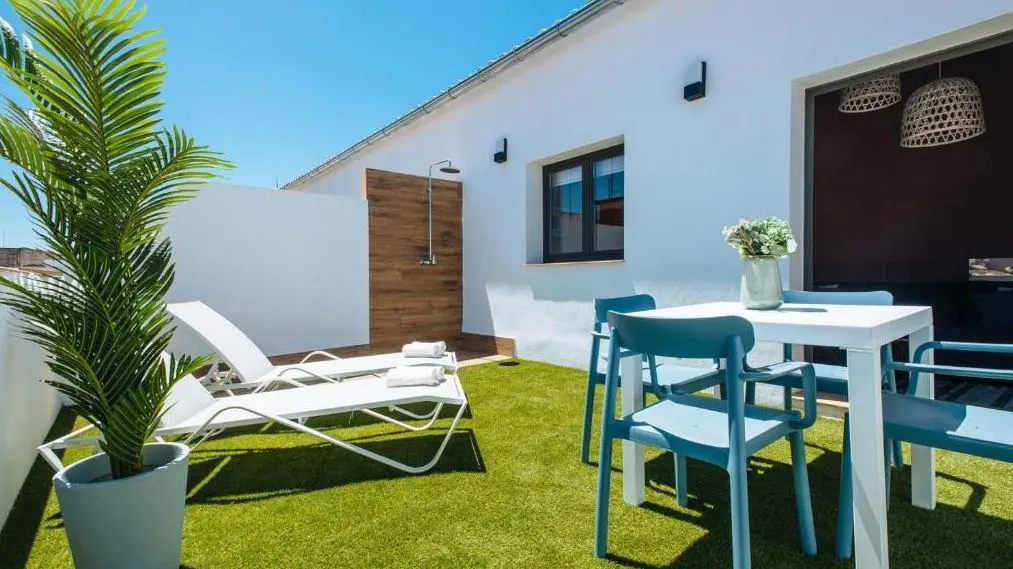 Located in the northern part of Triana, these apartments are for those looking for a home away from home. Set on a quiet residential street, this is a great place to escape the hustle and bustle of Seville while remaining in touching distance of the action.
Mid-Range
Zenit Sevilla is worth staying at for the rooftop pool alone! This is a great place to relax, providing excellent views over Triana. There's a coffee shop, bar, restaurant, and fitness center onsite.
The facilities at Monte Triana are superb. It's a great choice for more active types as the hotel provides several activities (at additional cost) including bike and walking tours, horse riding, and canoeing. fishing and golf. There's also a rooftop pool, sun terrace and. fitness center
Book your stat at Monte Triana here
Budget
Set on a beautiful street right in the heart of Triana, Hotel Triana Montalvan provides an atmospheric location for those who like to be in the thick of things. The hotel is a work of art in itself, providing a wonderful example of the ceramic work for which Seville is famous.
With a superb riverside location and balconies that provide views across the Guadalquivir, this is great for those wanting to explore all that the local area and Seville, in general, have to offer. The Spanish name is Piso a Orillas del Guadalquivir y Vistas a la Giralda.
Macarena Neighbourhood
If you're looking for an alternative to the more touristy attractions of the city center, the Seville neighborhoods of Triana and Macarena provide attractive options.
If you're looking for things to do in Seville at night then Macarena is a great choice. The area is a magnet for Seville's alternative culture, with numerous independent boutiques selling vintage clothes, books, and art and craft products.
For cheap tapas, make sure to visit the Mercado de la Feria (Feria Market Hall), where the seafood tapas are said by locals to be among the best in Andalucía.
Luxury Hotels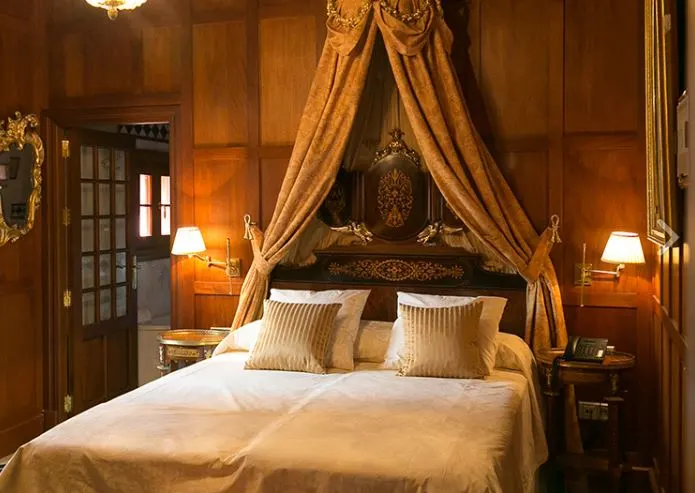 This beautifully ornate, classically designed hotel is like a step back in time. Set on the southern edge of Macarena, this is a perfect location for those wishing to explore all that Seville has to offer.
Next to the Metropol Parasol, this large hotel has absolutely everything you could wish for. The facilities here are second to none and the Parasol almost extends over the rooftop terrace and pool.
Mid-Range
This recently refurbished hotel provides excellent value for money. Located in the eastern part of Macarena, it is also a great place from which to head into the Jewish Quarter. And there's a rooftop pool!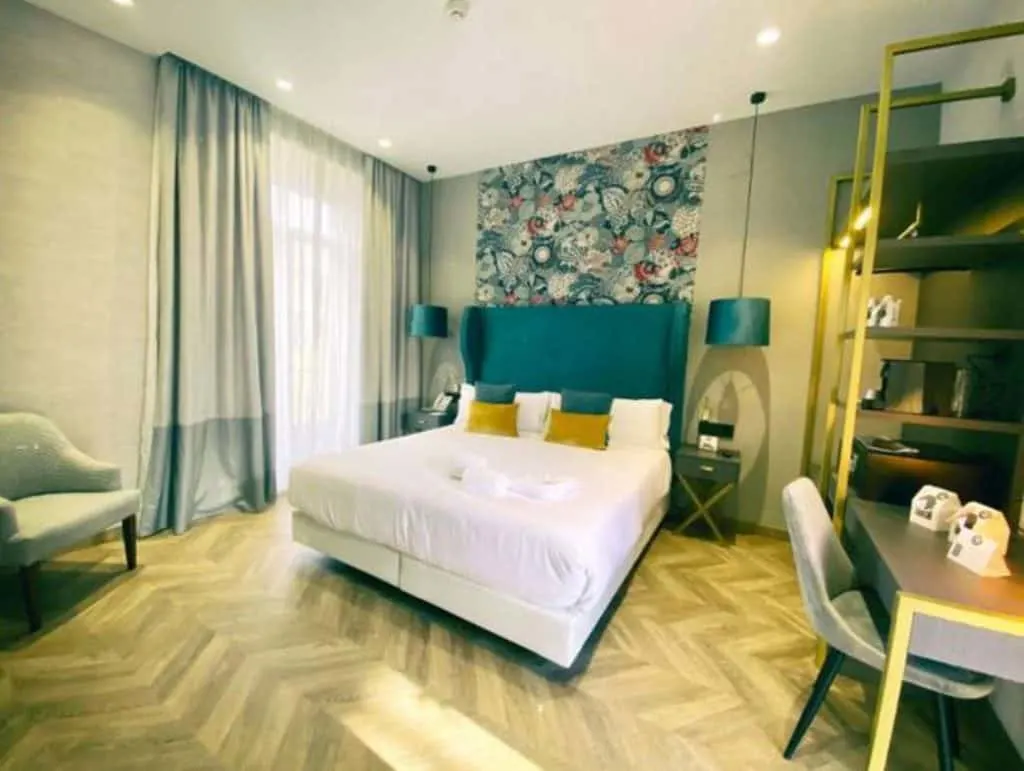 The calming rooms at the Soho Boutique Sevilla offer a great respite from the hustle and bustle of downtown Seville. As this hotel is located in the southernmost part of Macarena, with great access to Seville's main shopping area.
Budget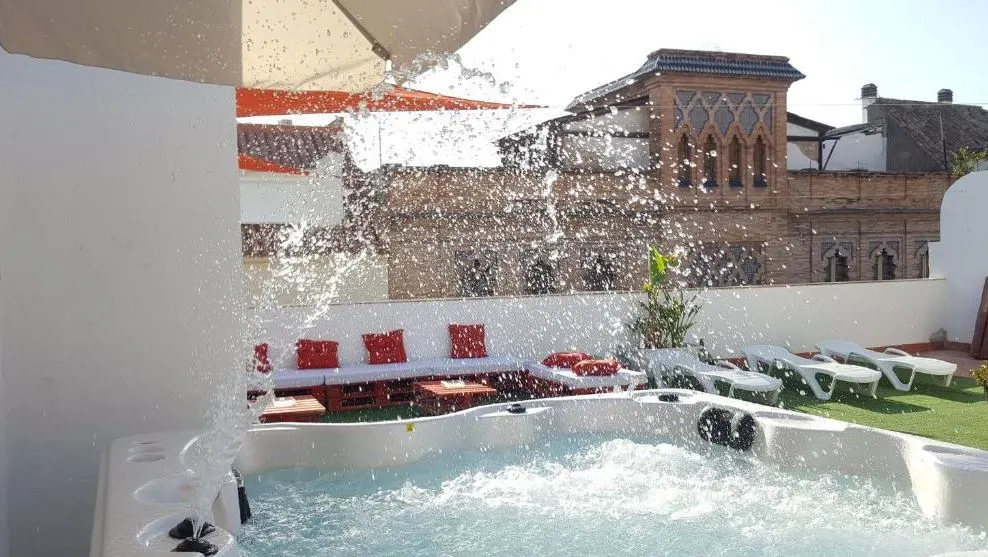 The simple and charming rooms here are a great budget option for those wishing to explore both Macarena and downtown Seville. You'll find the best of both areas within easy walking distance of here.
The bright and airy rooms at the Hotel Sevilla are a great place to escape the heat of Seville. Try to get a room with a balcony for sensational city views. Some rooms even have their own terrace!
Getting Around Seville
Many hotels offer walking and/or bike tours. If not, they'll be able to point you in the right direction to someone who does.
Seville has an extensive bus network, run by TUSSAM. Most useful for tourists are the circular C3 and C4 routes (just look for the red buses). – Get your ticket in advance here.
If you're going to be staying a few days it may be worth considering a travelcard.
There are various options, including a pay-as-you-go reachable card, and both one-day and three-day cards that offer unlimited travel.
You will find several open-top buses offering a hop-on/hop-off service. As these buses are aimed at tourists, you'll find them a great way of getting between the major sights. – Get your ticket here.
There is also a one-line Metro that is of limited use to tourists unless you are moving on and require connections to other major bus or train stations further out.
Interested in free things to do in Seville? Rest assured the are plenty of attractions that don't require a ticket or a fee.
Short FAQ about the Things to do in Seville at Night
---
Are 2 nights enough in Seville?
The center of Seville is surprisingly compact. This means that a short stay of 2 nights is enough to see the sights and sample many of the attractions on offer.
Also, Seville is superb for nightlife! There are so many things to do in Seville at night the only problem you'll have is choosing which option to take.
Is there a beach in Seville?
No. Seville is located inland, almost 80 miles from the nearest beach.
However, for those who love being near the water, the beautiful Guadalquivir River that flows through the center of the city provides a great place to take a cruise along.
---
Hola, I'm Paulina! Together with my team, we are passionate about Southern Spain. Here we share all you need to know for great times in Southern Spain with the best places to visit, stay and, of course, the best food to eat.
Let's dive in and explore Southern Spain's outdoors, food and culture con pasión!