A guide to help you spend a perfect one day in Seville
Imagine you're in one of the world's most fascinating cities. You're surrounded by magnificent architecture and incredible history…but there's a problem: you've only got one day in Seville.
But don't fear, we've prepared a travel itinerary example for you to make the most of your one day in Seville.
The itinerary has been designed to be adapted for longer stays, depending on your travel rhythm.
This post contains affiliate links. If you buy via them, I'll earn a small commission which helps me to keep this blog running. As an Amazon Associate I earn from qualifying purchases. All opinions are my own.
OVERVIEW: One Day in Seville
If you're struggling to fit all the items below into one day in Seville, make sure not to miss out on these six:
One Day in Seville Itinerary [StepbyStep]
1. Start the Day with Breakfast at Triana Market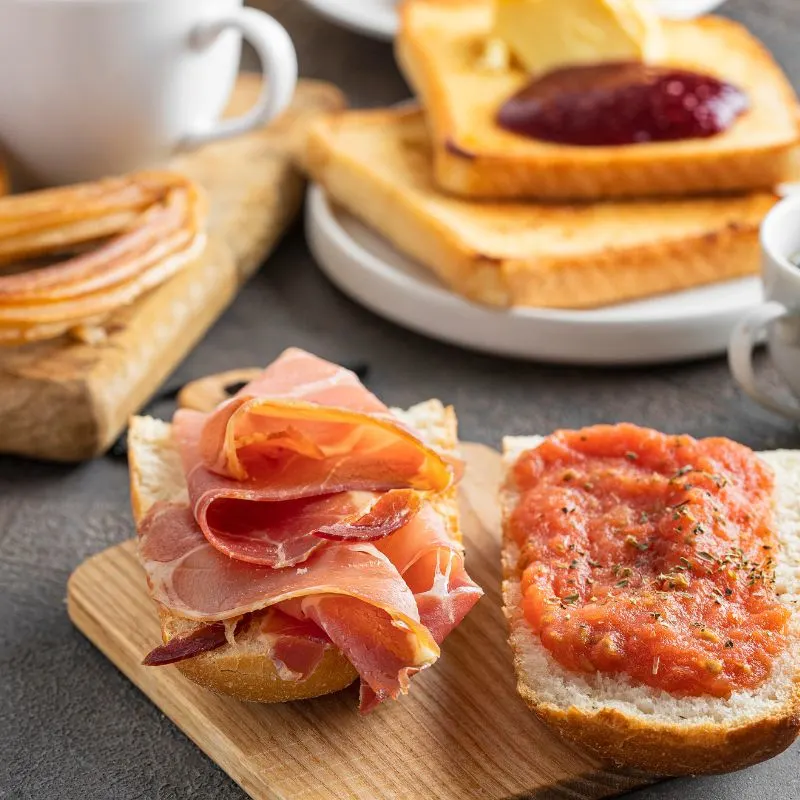 Beautiful Triana is the home of renowned local spectacles such as flamenco dancing and bullfighting.
So what better way to start your one day in Seville than with breakfast at the colorful Triana Market (Mercado de Triana in Spanish)?
From the city center, walk over the historic Puente de Isabel II (Isobel II Bridge) at the northern end of the Triana district, and on the right-hand side, you'll see the charming, bustling market.
This is a working market where locals go to do their shopping. Among the wares being offered here, you'll find a number of food vendors where it's possible to get the best breakfast in Seville (high praise indeed).
The ornate signs above each vendor's stall are worth the visit in their own right, as they're decorated with the beautiful ceramic tilework for which the area is famous.
If you're confused over what to eat in, just look at what the locals are eating, point and order.
Opening times: 9 am to 5 pm (except Sundays 12 pm to 5 pm)
2. Visit Triana Ceramic Centre and Shop for Souvenirs at Cerámica Santa Ana
If you want to further explore the magnificent ceramic work for which the region is famed, then make sure to visit the Centro Cerámica Triana (Triana Ceramics Center).
A brief walk through the streets of Triana will have given you an introduction to this magnificent craftwork, but the Triana Ceramics Center will provide an in-depth look at this.
The Triana Ceramics Center is actually a museum that spreads over two floors of a typically ornate building.
This informative museum contains a permanent collection of artifacts such as traditional kilns on the ground floor.
The upper floor is dedicated to a documentation center that tells you everything you need to know about the history of this exquisite craft.
Attached to the ceramic center is the Cerámica Santa Ana shop, a ceramics factory that has been meticulously restored, retaining numerous historic elements of the factory.
Here, you'll be able to stock up on the best Spanish souvenirs from Andalucia such as intricately designed ceramic tiles, dishes, bowls, jugs, and even statues, which is a perfect activity for your one day in Seville.
Opening times: Tues-Sun 10:00-18:00 / Closed Mon
3. Go on the Guadalquivir River City Cruise
History flows along the Guadalquivir River. It was from here in 1519 when Ferdinand Magellan set off on their first voyage around the world.
The magnificent river splits the city center in two, with many of the major sights visible from the river.
Therefore, what better way to get a completely different perspective on the city than to take a Guadalquivir River City Cruise?
Not only will you get to see many of the major sights Seville has to offer, but you'll also get a wonderfully cooling river breeze (most welcome in the furnace-like heat of Seville summer).
If you're pushed for time and only have one day in town, this is one of the best city trips you can possibly do.
The cruise will take you under historic bridges and past the splendid Triana district, offering views of noted landmarks such as the Torre del Oro, the cathedral and its famed Giralda Tower, the Maestranza bullring, and the magnificent Plaza de España.
There are also evening departures, allowing you to see the magnificent building illuminated. The cruise is the perfect option for spending one day in Seville and avoiding the busy city.
4. Explore the Alcázar, Seville's cathedral, and the Giralda Tower
One day in Seville is not complete without seeing the sensational Catedral de Sevilla (Seville cathedral) and the equally magnificent Alcázar of Seville.
The Royal Alcazar Seville is a UNESCO-listed palace that oozes history.
The intricate detailing of the ceilings and walls is worth a visit in its own right. This is an absolute must for fans of architecture.
Make sure to see the sensational Courtyard of the Maidens.
The architecture of the buildings around the central courtyard is so intricate and ornate that you'll be spellbound.
The world-famous cathedral and its Giralda Tower make for a special treat to all who visit them. Since 1987, this has also been recognized by UNESCO as a World Heritage Site and it's easy to see why.
The cathedral is actually the largest Gothic cathedral in the world. The attached Tower of Giralda Sevilla was built in the 12th century, originally as part of a mosque.
Opening times:
Alcázar is open daily from 09:30-17:00.
Cathedral and the Giralda Tower are open from 10.45 am to 5 pm (Sundays from 2.30 pm to 6.30 pm)
5. Lunch at Restaurante Mirador de Sevilla
It's now getting close to lunchtime and you're looking for Seville restaurants in which to take a break from all that sightseeing and sample some of the magnificent local cuisines.
Well, what better place to stop for a while than the excellent Restaurante El Mirador de Sevilla?
It's only a stone's throw away from the cathedral so you won't have far to venture from the last stop on the itinerary.
This beautifully decorated restaurant occupies a terrace that offers spectacular views out over the cathedral. And the food is absolutely sensational.
The Restaurante El Mirador de Sevilla specializes in innovative spins on traditional local dishes.
Everything, from the food to the service and the magnificent views are absolutely top-notch here.
And, let's face it, you have a busy afternoon ahead and you'll need the energy for all the fantastic things that are in store.
The restaurant is open all week from Monday to Sunday, from 13:30 to 23:00 (lunch and dinner).
6. Learn about Flamenco at the Flamenco Dance Museum
To learn more about the fascinating historical roots of flamenco dancing, then why not visit the Museo Del Baile Flamenco (Flamenco Dance Museum)?
This museum is one of the most interesting you could possibly head to.
The museum is full of historical artifacts that tell the history of flamenco dancing.
As Seville is the home of Flamenco, there are so many fascinating articles here that even if you're not a fan of dance, you'll still find the museum well worth the visit.
As well as being among the best museums in Seville, there are elaborate shows staged here every night.
The shows are rated among the best flamenco shows in Seville and you'll always find lots of locals attending (always a good sign).
The venue is worth visiting in its own right. Located in the narrow, labyrinth streets of the historical Santa Cruz district, the 18th-century building is surrounded by orange trees and built on top of a Roman temple.
Opening times:
The museum is open daily from 11:00 – 18:30. Three shows nightly at 17:00, 19:00, and 20:45
7. Relax at the Plaza de Espana and Maria Luisa Park
If you've only got 1 day to see some Seville attractions then make sure to include the magnificent Plaza de España.
In fact, no example of a travel itinerary would be complete without it. The sensational example of Seville architecture will take your breath away.
You may recognize it from Game of Thrones, where it was used as a backdrop to several of the scenes for the show.
It has also been used as a setting for movies like Star Wars and Lawrence of Arabia.
Opened in 1929 for the Ibero-American exhibition, this imposing and ornate structure is always close to the top of any 'to-do' list when it comes to visiting Seville.
Set within the grounds of the beautiful Parque de María Luisa (Maria Luisa Park) and surrounded by a boat-filled moat, this sensational building will take your breath away.
You'll find Maria Luisa Park full of fountains, streams, and pavilions. It's a great place to while away an afternoon in the shade from the stifling Seville summer heat.
Opening times: 8 am to 10 pm daily
8. Go on an evening tour with tapas
If you've only got one day in Seville, then sampling as much of the local cuisine as possible is an absolute must.
And what better way to do this than to take an evening tour with tapas?
This tour will allow you to savor the best tapas in Seville. Over the course of the evening, you'll try between ten and twelve servings and also have a dessert. Four to five drinks are also included.
There are over 3000 tapas bars in Seville to choose from, so you'll never be able to comprehensively cover this aspect of Seville life, even if you stayed here for a lifetime.
However, this tour will guide you away from the tourist traps towards a more authentic experience.
Local specialties you can expect to sample include pescado frito (seasoned small fried fish) and carrillada de cerdo (Spanish pork cheeks – the carrilladas are slow-cooked in a wine-reduced tomato-based sauce, with onion, carrots, and garlic).
For those who love gastronomy, this is one of the very best things to do in Seville if you're pushed for time.
Opening times: Tours start at 8 p.m. (duration 3 hours)
9. Drinks at La Terraza-Bar, EME Catedral
If you're looking for a bar with spectacular views, then look no further than La Terraza-Bar (The Terrace Bar) at the sensational EME Catedral Hotel.
Located on the rooftop of the hotel, La Terraza-Bar offers views out over the Cathedral and its famous Giralda Tower, as well as the historical skyline of wider Seville.
The specialty here is cocktails, cocktails, and more cocktails. You'll discover a very extensive cocktails list here, with something to suit all tastes.
It's not cheap so you probably won't want to stay here all night, but the truly unique setting makes it worth staying for at least one…or maybe two.
If you really want to splash out and treat yourself, then stay the night here in the hotel, the highlight of which is the stunning rooftop pool that overlooks the Cathedral and its famous Giralda Tower, providing you with the same spectacular views.
Opening times: Every day from 13:00 to 01:00
10. Dance the night away at Uthopia Sevilla
Your one day in Seville is approaching an end and you want to round things up with a trip to a famous Sevilla nightclub.
Then why not head to Uthopia Sevilla, undoubtedly one of the best things to do in Seville at night for those who like to stay out into the early hours?
Uthopia Sevilla is an absolutely enormous club spread over three floors (it's actually the largest nightclub in the whole of Seville).
The club opened in 2015 with the intention of providing the type of clubbing experience typically found in Madrid, Barcelona, or Ibiza.
The music they play here is primarily Spanish commercial dance music but international DJ's also frequently appear here.
Each floor features a different theme and every night offers different DJs that attract different crowds (for example, Thursday night is big amongst the local student population).
It's open between 22.00 and 07.00 Wednesday to Saturday and is located near the Plaza de Armas bus station at Pl. la Legión, s/n, 41001 Sevilla.
Best Time to Plan for 1 Day in Seville
Seville is known as 'the furnace of Europe' and if you visit during the scorching summer months, it's easy to see why.
So, if you're planning what to do in Seville, and your itinerary includes lots of sightseeing, then it's probably best to avoid the peak summer months.
To get the best of the weather (and fewer crowds), try either side of this, in the spring or fall. Read about the weather in Southern Spain here.
It's impossible to state how oppressive the summer heat can be here but suffice it to say the needle rarely drops below 100 degrees Fahrenheit. Therefore, plan accordingly.
Best Hotels in Seville, Southern Spain
If you're wondering where to stay in Seville, do worry, we've recommended 3 accommodation options, one for each type of budget.
This upscale boutique hotel in Seville is a 5-star establishment that's situated just 60 meters from La Giralda on a street near the Gothic cathedral.
The EME Catedral Hotel has 60 roomy, contemporary suites with high-beamed ceilings and great views available in this hotel made from repurposed 16th-century townhouses.
The EME Catedral Hotel's amenities include a rooftop pool, a bar with city views, a wellness center, and a steam room.
Located right next to the magnificent and controversial Metropol Parasol, this huge Casa de Indias Hotel offers everything you could need to make your stay a great one.
The Metropol Parasol provides a unique backdrop, almost extending over the rooftop terrace and pool.
Parts of this ornate building are actually listed, including the stunning courtyard.
This hotel will put you right in the heart of the action, so is great for those seeking an eventful city break.
This unique (and quirky) hotel is located close to the cathedral. The uniqueness comes from the classical music theme of the hotel.
There's even a soundproof rehearsal room, complete with musical instruments for you to tap into your inner Mozart.
The rooms of hotel Amadeus Seville offer everything you could possibly require and there's a fantastic terrace bar and a rooftop hot tub on a terrace that offers cathedral views.
Getting Around Seville
The center of Seville is very compact, so if you're staying downtown, you'll find most of the major attractions within easy walking distance.
Fortunately, the public transport in Seville is excellent, with an extensive bus network run by the local operator, TUSSAM. Tickets are cheap and can be purchased on board. – Get your tickets in advance here.
If you're planning on staying for more than one day in Seville then consider getting a travelcard (available from the kiosks/tobacco shops you'll see around the city).
There are also many open-top buses jotted around the city that offer a hop-on/hop-off service.
These are strictly for tourists so you'll find them very useful for getting between the major sights. – Check out tickets for the hop-on/hop-off bus here.
The aforementioned travelcards are also valid for the tram, which is also run by TUSSAM. The tram weaves through the historic center, providing an alternative to buses.
You can find out more about travelcards, tickets, and routes on the TUSSAM website.
Check out other one-day itineraries in Southern Spain:
Short FAQ about One Day in Seville
Is Sevilla a walkable city?
Seville is a very walkable city. The center is quite compact so you'll find many of the very best things to do in Seville within easy walking distance.
Is one day in Seville enough?
The center of the city is very compact. Therefore, one day in Seville is enough to see the sights and sample many of the attractions on offer.
What should I not miss Sevilla?
There are so many magnificent things to do in Sevilla but make sure not to miss the magnificent Plaza de España.
And no trip to the city is complete without sampling at least some of the city's 3000 tapas bars.
---
---
Hola, I'm Paulina! Together with my team, we are passionate about Southern Spain. Here we share all you need to know for great times in Southern Spain with the best places to visit, stay and, of course, the best food to eat.
Let's dive in and explore Southern Spain's outdoors, food and culture con pasión!