A guide where you can find all about the weather in Southern Spain and the best time of the year to visit it.
Known around the world for its hot sunny summer and winters where it is still possible to sit outdoors at a cafe, the weather in Southern Spain can vary significantly from one part to another.
The main reason is the Iberian peninsula's location on the Atlantic Ocean and the Mediterranean Sea coasts.
Spain is also the third most mountainous country in Europe, so altitude also plays a part in the weather.
This blog is supported by you, dear reader. If you purchase through a link, we earn a small commission. As an Amazon Affiliate, we earn from qualifying purchases.
Consequently, we can divide Spain into three climates: the Atlantic in the north, the continental in the center, and the Mediterranean in the south.
Of these three areas, the weather in Southern Spain is regarded as being the best, with long hot summers and mild winters.
Having said this, various factors influence the weather, such as cold fronts blowing in from the Atlantic and heat waves moving north from the Sahara.
How is the Weather in Southern Spain Like?
With its milder and more pleasant Mediterranean climate, Andalucia is what most people think of as typical Spanish weather.
Because of the region's long hot summers with little to no rain, the Costa del Sol attracts millions of visitors each year to its Blue Flag sandy beaches and inviting warm, crystal clear sea, and to the best weather in Southern Spain.
Because it can get scorching during the summer, the best time to visit places like Cordoba, Seville, Granada, Malaga, and Cadiz is during the late spring and early autumn.
Outside the peak season, there are fewer tourists, and it's much more pleasurable learning about Andalucia's Moorish past without the hot sun beating down on you.
Check out the weather in Andalucia in October so you'll be fully prepared if you travel to Southern Spain during the fall months.
1. Weather in Southern Spain – Seville
Known for its somber Santa Semana celebrations and lively April Fair, Seville is one of the most visited cities in Andalucia.
Located on the only navigable river in Spain, the Rio Guadalquivir Seville is dominated by its massive Gothic Cathedral and impressive old quarter.
Because Seville is located inland, a couple of hour's drive from the Atlantic Ocean beaches, many people describe Seville as like being in an oven during the peak summer months of July and August.
In fact, at the height of summer, it's not unusual for the temperature to get up to 100°F/37°C and that's why Seville has one of the best weather in Southern Spain.
Again because of its inland location, the winters in Seville can be pretty chilly and especially so at night when it can get down to as low as 23°F/-5°C in January and February.
If there were a time to avoid visiting Seville, it would be in December and March, the months in which the city receives its highest amount of rainfall.
The hottest and coldest months are July and January
The best time to visit Seville is in the late spring and early autumn
Most rainfall occurs during December and March
2. Weather in Southern Spain – Granada
Being home to the Alhambra Palace, Granada is one of the most visited cities in southern Spain.
It is also unique as it sits on the edge of the Sierra Nevada mountains at an altitude of 2,300 feet. Because of the height, the winters in Granada can be cold, with temperatures below 23°F/-5°C not uncommon.
Despite dropping below freezing, snow in Granada is rare despite being close to Europe's most southerly ski resort.
June to August is hot and sunny, with temperatures rising to 99°F/37°C. Still, because of a lack of humidity, it is not unpleasant and makes for excellent al fresco dining during the evenings.
The highest ever recorded temperature in Granada occurred in July 2015 and 2017, when the mercury peaked at 114°F/45°C.
Rain in Granada is relatively scarce, with the region following a typical Mediterranean pattern where it rains in the fall and spring.
In summer, you are virtually guaranteed no rain at all and when it comes to diversity, Granada has the most interesting weather in Southern Spain.
The hottest and coldest months are July and January
The best time to visit Granada is in the late spring and early fall
The most rainfall occurs in November and December
3. Weather in Southern Spain – Cordoba
Located at an altitude of 330 feet at the foot of the Sierra Morena mountains, Cordoba is known as the hottest city in Spain and all of Europe.
Even eclipsing Seville during the summer, Cordoba can feel more like a city in North Africa than in continental Europe.
From June until September, it rarely rains, with temperatures as high and sometimes even hotter than 99°F/37°C during July and August.
The highest temperature ever recorded in Cordoba occurred in August 2021, when it got as hot as 116.5 °F/46°C.
The springtime in Cordoba can be wet, with March and early April vulnerable to endless days of rain. By the second half of April, the weather clears, and temperatures get into the upper 80s, making it an enjoyable time of the year to visit.
One of the best times of the year to visit Cordoba is October, when it is dry and cooled off a bit from the scorching heat of summer. In November and December, the rain arrives as people prepare for winter.
Despite being well inland from the sea, snow in Cordoba is rare, but it does get cold at night, with temperatures going down to as low as 21°F/-6°C in January.
The hottest and coldest months are July and January.
The best time to visit is late April and early May.
The most rainfall occurs in December.
4. Weather in Southern Spain – Almeria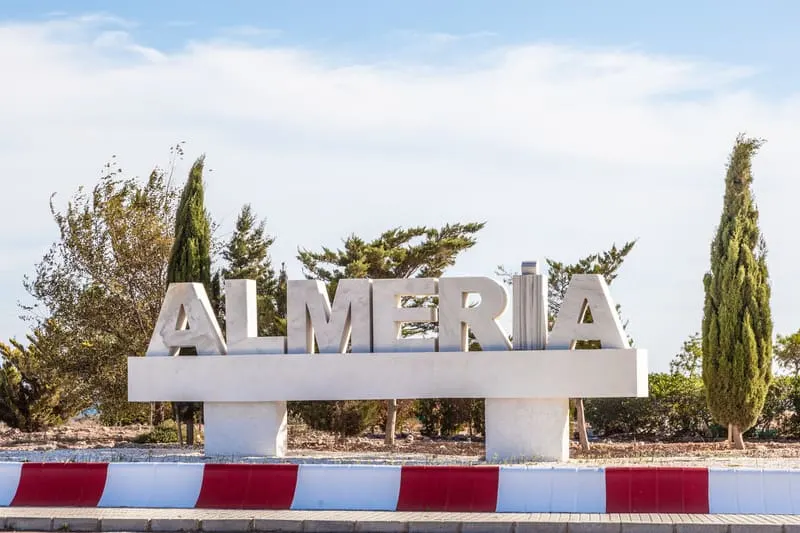 Often overlooked by tourists in favor of the Costa del Sol, the province of Almeria has some of the nicest beaches and best weather in Southern Spain.
With a desert-like landscape and protected areas like Cabo de Gato, Almeria is divided between holiday resorts and unspoiled regions of natural beauty.
Unlike Cordoba and Seville, where the summer can be oppressive, Almeria is much more bearable thanks to sea breezes.
While there are days when it can get sweltering, the temperatures rarely reach 100°F737°C.
Because of Almeria's protected location with mountains to the north and warm winds from Africa, the winters in Almeria are relatively mild, with daytime temperatures as high as 68°F/20°C.
While it seldom rains, the two months of the year when you can expect precipitations are April and October.
While May and June are sunny, the sea temperature can still be a little cold, so July, August, and the first two weeks of September are the best times to visit.
The hottest and coldest months are August and January.
The best time to visit is during July, August, and early September.
The most rainfall occurs during the months of January and February.
5. Weather in Southern Spain – Huelva
Located in the southwest of Andalucia near the Gulf of Cadiz, Huelva has a relatively mild climate with rainy winters and hot, dry summers.
From December until February, the temperatures are mild during the day but chilly at night, with fog often forming in the early mornings.
Despite the favorable conditions, winter can see extended periods of rain as storms blow in from the Atlantic.
Rainfall is rare between June and mid-September, and the temperatures can get as high as 95°F/35°C, with the highest recorded highest being 111°F/43°C in July 2004.
The best time to visit Huelva is during April and May, while late September and early October are when the sea temperature is at its warmest.
The hottest and coldest months of the year are January and August.
The best time of year to visit is May and early
The most rainfall occurs in November.
6. Weather in Southern Spain – Jaen
Located in the eastern part of Andalucia, bordered by the provinces of Ciudad Real, Albacete, Granada, and Córdoba. Jaen is a landlocked province.
Less touristy than other parts of Andalucia, Jaen contains the UNESCO World Heritage cities of Úbeda and Baeza and has more castles than any other part of Europe.
This is due in part to Jaen's strategic location during the Reconquista. Weatherwise, Jaen enjoys short hot summers where temperatures of up to 104°F/40°C are not uncommon.
The winters in Jaen are generally mild, with periods of rain and sometimes snow on the higher elevations.
The best time to visit Jaen is during April and May, from mid-September until mid-October.
The hottest month of the year is August, and the coldest month is January.
The best time to visit Jaen is in April and May, and from mid-September until mid-October.
The most rainfall in Jaen occurs during the month of November.
Best Things to do while Visiting Andalucia
Steeped in history and blessed with an array of natural beauty, Andalucia is the most visited region of Spain.
Whether it is the Moorish city of Granada or the bustling metropolis of Seville, Andalucia and its warm, friendly people capture the hearts of everyone who visits.
With endless interesting and entertaining things to see and do, and some of the best fiestas in Spain, Andalucia is overflowing with history, art, and culture.
Boasting both an Atlantic and Mediterranean coast, Andalucia and its Blue Flag beaches are some of the most popular in all of Europe thanks to the region having long hot summers without a rain cloud in sight.
There's no wonder, the weather in Southern Spain is the most pleasant throughout the entire year.
Sports enthusiasts love Andalucia, too, for its rugged mountains and world-class golf courses designed by people like Jack Nickolas and Seve Ballesteros.
Enjoy the Beautiful Seville
With its impressive Gothic Cathedral and charming old quarter Seville is one of the most visited cities in Andalucia. While there, we recommend you go on one of the following guided tours.
1. Kingdom of Dorne Game of Thrones Tour
Chosen by the hit HBO series Game of Thrones as the location for the Kingdom of Dorne on the one-and-a-half-hour tour, you will learn why the Alcazar in Seville was chosen to represent Southern Westeros.
While visiting the royal palace and water gardens, you will understand why the Moors built it in the 9th century and how it was improved by Christian rulers who followed. – Check out the guided tour here.
2. Visit the Cathedral + Tower
Arguably one of the most popular attractions in Seville, you can skip the long lines by booking a ticket online.
Visit the tomb of legendary Italian explorer Christopher Columbus and take in the views of Seville from La Giralda Tower, which was once a minaret belonging to the original Mosque. – Get your guided tour here.
3. Skip-the-Line Alcázar Guided Tour
Skip the long lines and purchase a ticket ahead of time to visit the Royal Alcázar Palace and water gardens.
An oasis of tranquility and beauty, a visit to the Alcázar is top of everyone's must-do list when visiting Seville. – Check the guided tour here.
4. Seville: Casa de la Memoria Flamenco Show
Enjoy a traditional Andalusian Flamenco show in an 18th-century building surrounded by orange trees.
Witness professional Flamenco dancers doing what they do best in an intimate setting that is as popular with locals as it is with visitors. – Book your guided tour here.
Malaga for the Romantics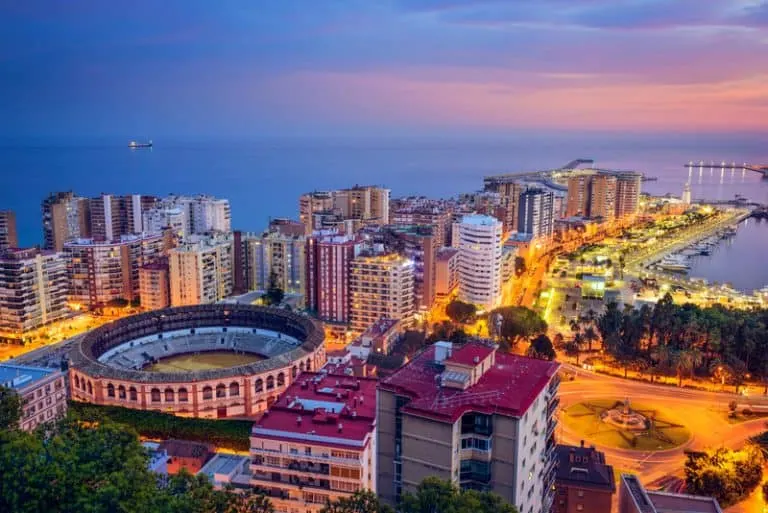 With its wonderful seaside promenade and one of the best shopping streets in Andalucia, Malaga has a wealth of attractions to keep visitors busy for days.
Below is a suggestion of things to see and do while visiting Malaga.
1. Roman Theatre and Alcazaba Guided Tour
Malaga's Roman theater is located in the heart of the city at the foot of the Alcazaba fortress. While taking a tour of the restored ruins, you will learn how Emperor Augustus built it in the first century BC.
Sitting on the top of a hill overlooking the port, the Alcazaba fortress is the finest example of a Moorish citadel in Spain. – Check the guided tour here.
2. Traditional Andalusian Bath
While visiting Malaga, why not experience the relaxing sensation of a traditional Hammam massage and bath?
The one-and-a-half-hour tour in which you will spend time in both hot and cold baths and a steam room will have you feeling on top of the world. – Book your ticket here.
3. Picasso Birthplace Museum
Did you know that Pablo Picasso was born in Malaga and lived in the city for the first ten years of his life?
A visit to the house, he grew up in not only allows you to see some of his famous paintings but also provides an insight into how he and his family lived. – Check out the guided tour here.
4. Malaga: 3-Hour Tapas Tour and Flamenco Show
Renowned for grilled sardines and excellent tapas, a three-hour tapas bar crawl and flamenco show will give you a feel for Malaga and its people. – Get the guided tour here.
Have a stroll through History in Granada
No other city in Andalucia captures the feel of what it was like when the Moors ruled southern Spain than Granada.
Home to the iconic Alhambra Palace and the Arabic Albayzín old quarter, Granada was the Moor's last stronghold in Spain.
1. Alhambra and Nasrid Palaces
Because Alhambra is one of the most visited tourist sites in Spain, they only admit a certain amount of visitors each day, so booking a ticket in advance is a must.
By booking a guided tour, you will not only secure your place but be accompanied by a knowledgeable guide who will explain Alhambra's history and what it would have been like for the Nasrid Emirs who lived in it. – Book your guided tour here.
2. Sacromonte: Flamenco Show at Cuevas Los Tarantos Tickets
When Gypsies arrived in Granada in the late 15th century, they settled in caves in what is now the Sacromonte neighborhood of the city.
They brought a unique form of music and dance called "Zambra," which we now refer to as flamenco. As the home of flamenco, there is no better place to experience it than in a Sacromonte cave. – Check out the guided tour here.
3. Los Cahorros de Monachil Canyon Hiking Tour
Located a few miles from Granada is the Los Cahorros de Monachil Canyon hiking trail. With groups limited to eight people, you experience tunnels, narrow suspension bridges, and waterfalls while hiking through the canyon. Not difficult or strenuous, the hike takes around three hours. – Get your guided tour here.
4. Granada Cathedral
Why the Alhambra Palace is the Muslim highlight of Granada, the city's magnificent Cathedral is the Christian heart of the city.
Built on top of what was the city's main Mosque following the Reconquista, a 90-minute walking tour with a guide will help you understand what went into creating such a magnificent structure. – Check the guided tour here.
Short FAQ about Weather in Southern Spain
What is the best month to visit Andalucia?
Although there is a potential for rainstorms, April, May, late September, and October often enjoy pleasant days and colder evenings.
Traveling to Andalucia during these months is a terrific idea if you want to mix beach activities with some out-of-season sun.
Which is the warmest part of Spain in October?
While Malaga and the Mediterranean coast remain warm for the first couple of weeks, the hottest place in Andalucia in October is Seville, with daytime temperatures climbing to close to 79°F/29°C.
Is Andalucia warm all year round?
While Andalucia does have endless days of sunshine, it is not warm all year.
Atlantic cold fronts in the winter bring with them rain and, in some cases, even snow, and with houses not built for cold weather, it can feel very chilly.
---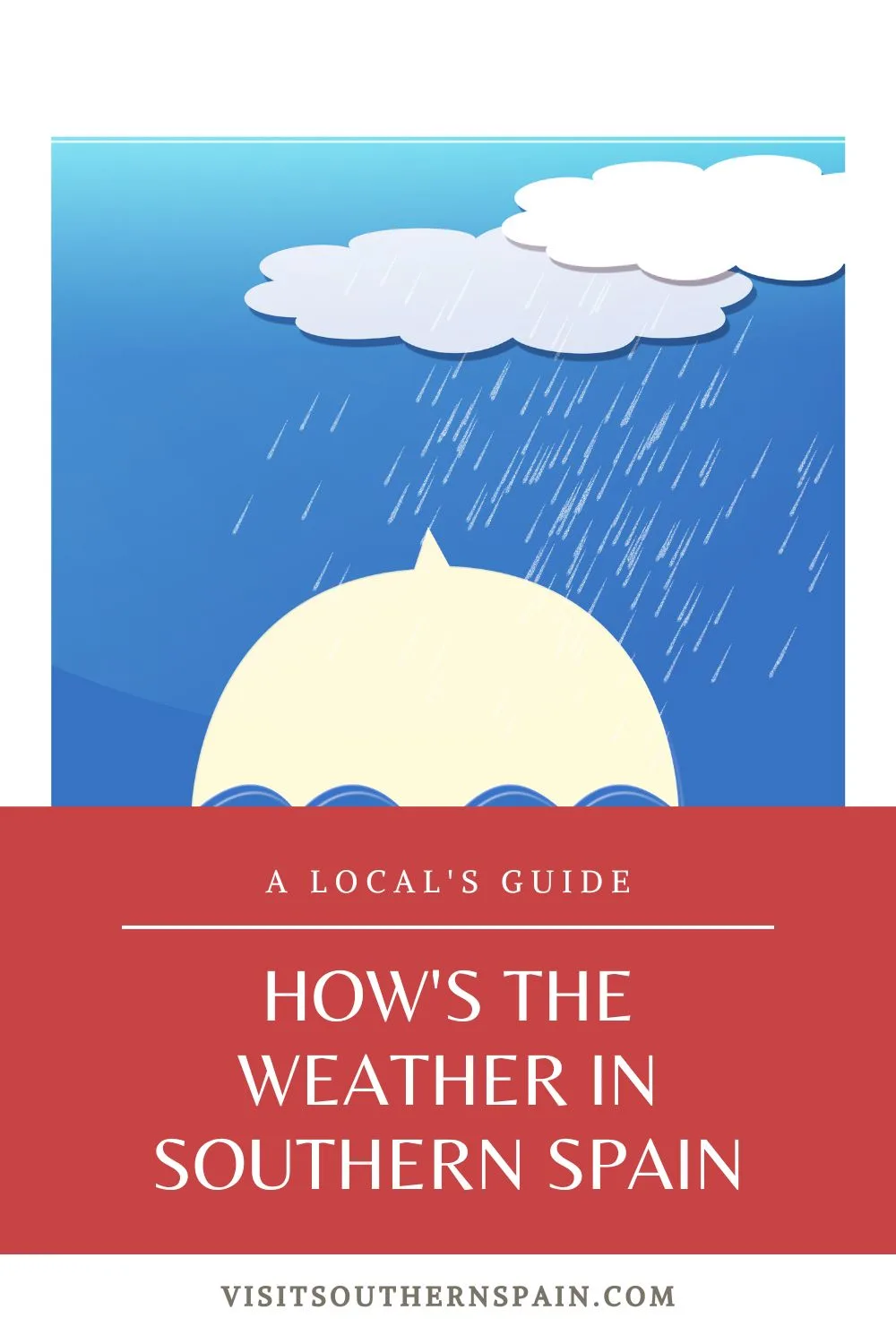 ---
Hola, I'm Paulina! Together with my team, we are passionate about Southern Spain. Here we share all you need to know for great times in Southern Spain with the best places to visit, stay and, of course, the best food to eat.
Let's dive in and explore Southern Spain's outdoors, food and culture con pasión!