A guide to help you find out more about the weather in Andalucia in October
The weather in Andalucia in October makes it an excellent time to visit the region as it sits between climatic changes, neither too hot nor too cold. There are so many things to do in Andalucia too at this perfect time of year.
Here we'll take a look at precisely what the weather in Andalucia in October holds for visitors, and provide helpful tips to navigate this changeable autumnal climate with Southern Spain guides.
Read on to discover our insider advice for visiting in this gentler season so your trip to Andalucia will be one to remember for all the right reasons.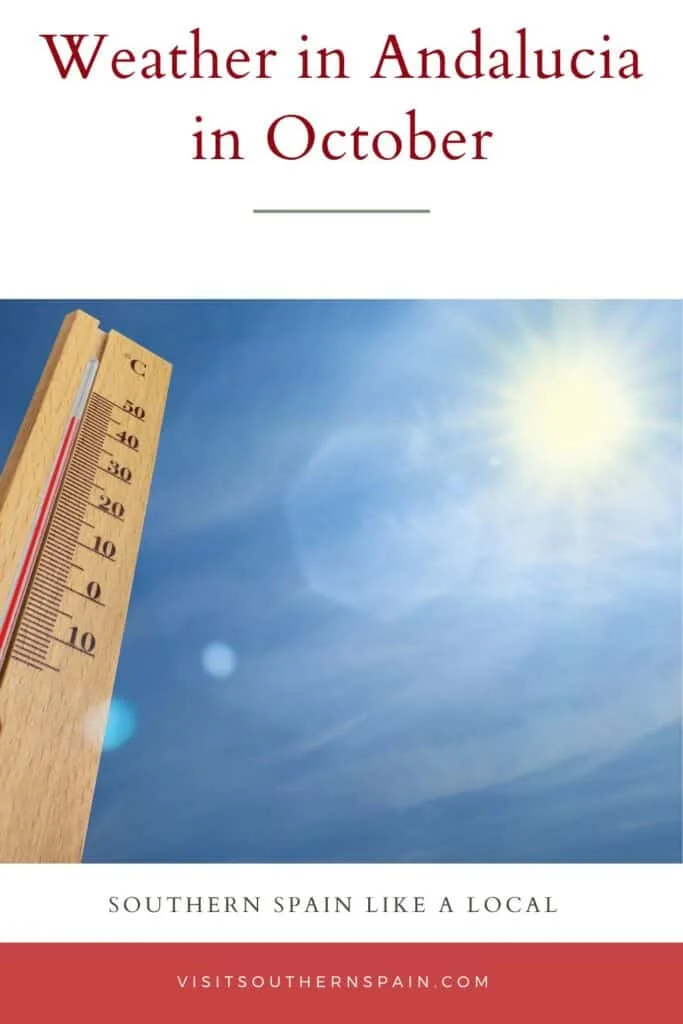 This blog is supported by you, dear reader. If you purchase through a link, we earn a small commission. As an Amazon Affiliate, we earn from qualifying purchases.
Psssst…!!?? You can't get enough of Andalucia? Have a look at my other posts:
Discover the Perfect Weather in Andalucia in October
This area of Spain can be in complete contrast when it comes to the weather you can expect to experience.
Surfing in Andalucia during October is a great way to spend time outside since the waves are way bigger than the rest of the year.
Weather in Andalucia in October varies depending on location, with Marbella and Torremolinos offering sun-kissed beaches and mountainous areas offering cooler temperatures. – Check out guided tours in Marbella.
This diversity makes sure that the Spanish coastal region has something for everyone, the heat of the Med or the crisp and cool ranges of the Sierra Nevada.
The region's geography also contributes to its weather patterns, and the location between the warm Mediterranean Sea to the south and the cooler oceanic temperatures of the Atlantic to the west greatly influence the temperatures in southern Spain.
The mountain regions create a microclimate too, so while the coast is basking in the sun, other places can experience a chilly evening which requires a sweater. – Get a hiking guided tour in Granada here
The weather in Andalucia in October is transitional as the fading summer gives way to autumn climes.
Days will still be warm, especially around the coast, but night temperatures begin to drop from the end of August onwards.
This is most noticeable when you move inland as autumn takes hold of the landscape.
It's actually one of the best times of year to visit and experience the weather in Andalucia in October without the scorching sun or winter blasts. – Get a Caminito del Rey guided tour here
Typical Weather in Andalucia in October
The weather in Andalucia in October is a bridge between 35°C+ days and nights where heaters and blankets are needed.
The region as a whole is blessed with a typical Mediterranean climate that stretches across southern Spain, France, and Italy.
Places like Marbella and Malaga at this time of year are mild, whereas the inland valleys such as Guadalquivir can feel a touch cooler during daytime hours, ideal for exploring. – Book a cruise on the river here.
In Andalucia, October temperatures offer ideal opportunities to explore cities like Seville, immersing in culture and history while enjoying evening meals outside. – Check out a sightseeing in Seville guided tour here
The warm days and crispness of the evenings give visitors a unique experience, with the warmth of the sun on your face during the day but the ideal temperature for a leisurely walk in the evening in comfy clothes.
Weather in Andalucia in October experiences a change in rainfall patterns, with coastal cities like Cadiz expecting 65mm and overcast skies. Some areas may experience heavy showers, while others remain dry. –
The rain brings with it much-needed moisture after the sun bakes the Spanish soil, and you can expect to see the area become greener in the run-up to winter. – Get a guided tour in Sierra Nevada here
You might think that rain would make the experience of visiting Andalucia in October a gloomy one, however, there are still lots of sunlight hours to make the most of.
The abundance of sunny days means you can still enjoy a coffee in the local marketplace outdoors, or a range of delicious dishes at the many marinas and beach cafes in this region.
Whether you like ancient ruins begging to be explored or just like to lay on the beach without having to worry about too much UV, the weather in Andalucia in October caters to just about any type of holiday you wish to enjoy.
Packing for Weather in Andalucia in October
If you're planning to visit Andalucia in October, packing the right clothes will ensure you are prepared for any eventuality.
Sunny days are coupled with infrequent drizzles, so packing can be somewhat challenging, however, it doesn't take much effort to pack for whatever Spain has to throw at you in this month.
As the weather in Andalucia in October fluctuates, it's advisable to think of packing layers so you can quickly adapt to the changing weather.
It's not uncommon to wear t-shirts, shorts, skirts, and dresses in October as temperatures are still in the mid-20s, but an extra layer consisting of a sweater, cardigan or thin breathable top is your best chance to accommodate the changing season.
Although rainfall in October in Andalucia isn't as heavy as in later winter months, heavy downpours can and do occur, so having an umbrella or a lightweight waterproof layer will come in handy.
Sandals are not advisable but instead, choose light and airy footwear which can be used to skip around puddles after a period of light drizzle.
If you're planning to head out into the countryside on an excursion, then walking boots and a hat should be on your list to keep the sun off your face and neck. – Check out a walking guided tour in Ronda here
The sun doesn't lose its strength until the end of the month, so sun cream is also something to consider, even if it's a low factor.
In October, the weather in Southern Spain makes it one of the best times to visit the region.
Top Destinations and Activities in Andalucia
The entire area of Andalucia is rich in culture and history, with lots of activities to keep tourists entertained whether they wish to visit for a weekend or a fortnight.
No matter what things to do in Andalucia you're after, each city has its own magic and beauty and can offer a great deal of activities for everyone.
Each of the towns offers its own distinct charm, making the region highly desirable for any kind of holiday, as couples on a sightseeing adventure or as a family unit.
1. Sevilla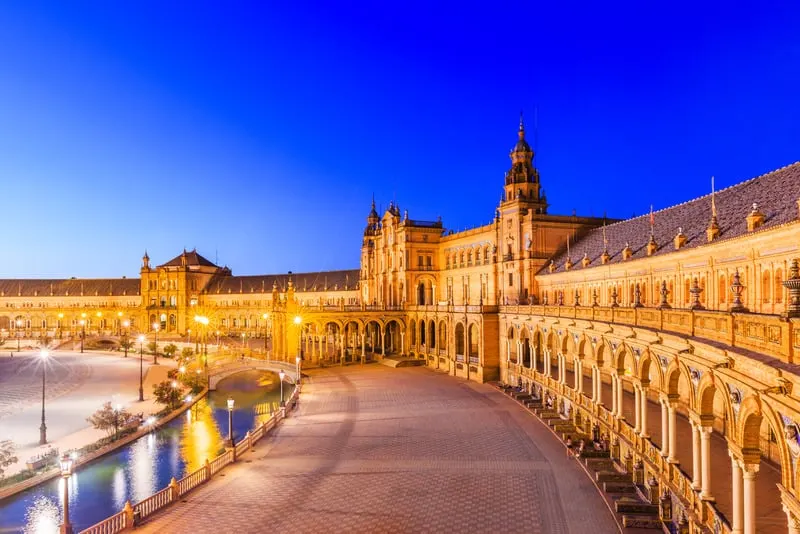 A city bursting with gorgeous architecture, this is the capital of the region and boasts stunning locations such as the Cathedral and the Plaza de España. – Get a guided tour here
It's one of those cities you can wander in at your own leisure absorbing the culture including flamenco bars and tapas restaurants to give you a real experience of traditional Spain.
The city is so lovely at its time of year so take advantage of the things to do in Seville in October, as it's the best time to visit.
2. Granada
One of the most iconic places in the Andalucia region, Granada's Moorish history can be seen just about everywhere you visit in the city.
No visit is complete without beholding the Alhambra, a huge palace with intricate designs and a cool, calming interior. – Check out the guided tour here.
Tourists can also lose themselves in the Albayzin district, with winding streets lined with quaint bars and cafes.
3. Cordoba
With influences of both Romans and the Moors, Cordoba blends Islamic and Christian inspirations in its buildings. – Book your guided tour here.
The Mezquita is a classic example of this, but you can also take in the sights and the sounds of Cordoba with beautiful, cobbled streets lined with flowers and gushing fountains, ideal for once-in-a-lifetime photo opportunities.
4. Marbella
The holiday destination of the rich and famous, Marbella offers marinas and beaches alongside a host of modern and traditional restaurants.
The seaside charm of this town attracts tourists in their droves, however in October you can benefit from a quieter experience as you stroll the promenades or enjoy a meal al fresco. – Check out a sailing and dolphin–watching guided tour here.
Marbella in October is just perfect, so if you're looking for things to do in Marbella in October, you couldn't have chosen a better time to visit.
5. Nerja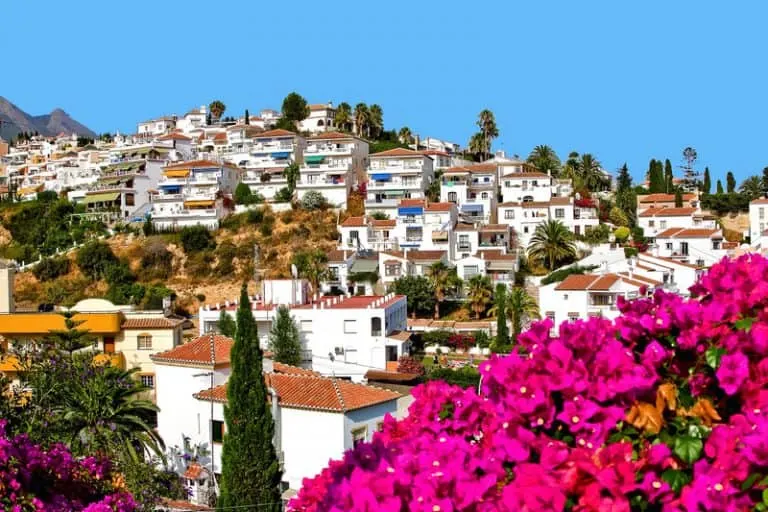 Offering rocky coves and caves to be explored, Nerja is a top tourist destination in Andalucia.
Panoramic views of the Mediterranean Sea can be enjoyed from multiple positions in this town, and there are crystal clear waters that offer swimming and snorkeling opportunities.
As expected, you can always enjoy a delicious seafood meal at one of the contemporary eateries in Nerja. Get a cave-exploration guided tour here
In the local area, there are also some of the best villages in Andalucia to soak up the culture with the locals.
Best October Festivals in Andalucia
As in many parts of Spain, October in Andalucia brings with it a selection of the best festivals in Andalucia and celebrations unique to the region.
Towns come to life with cultural heritage displays, drawing locals and tourists in their thousands to the streets to lose themselves in the atmosphere.
The Feria De La Virgen De Las Nieves Y San Roque takes place in Malaga at the beginning of the month, and the Romeria Del Cristo Del Paño in Granada occurs a few days later which sees elaborate street processions.
Not to mention that Halloween in Malaga is a must-attend festivity, as it lasts 3 days and is full of magic and, of course, delicious sweets like huesos de santos, bunuelos de viento, or pestinos.
The weather in Andalucia in October also holds significance for wine harvest festivals, as the area is awash with traditions related to viticulture dating back centuries. – Check out wine-tasting guided tours here.
One festival that shouldn't be missed is the Wine and Chestnut Festival in Serrania de Ronda.
Here you can learn about harvesting grapes, how wine is made, and the best part – tasting the various wines of the region.
Where to Stay in Andalucia in October
Prices across the region for accommodation drop in October after the crowds of summer depart, which means there is usually lots of affordable accommodation across the major cities like Seville and Malaga to suit all budgets.
Choose from luxury hotels with panoramic vistas, or dialed-down hotels in the most historic districts with the bustling streets below.
The best places to visit in Andalucia can be that little bit sweeter when you're making savings on off-peak accommodation rates, giving you a more authentic experience.
Suppose you are visiting as part of a large family. In that case, then villa rental in the local countryside is one option if you hire a car too to make the most of the area, or there are plenty of urban apartments available for rent for those who want to be right in the heart of the action, a stone's throw away from restaurants and entertainment venues.
Final Conclusion on the Weather in Andalucia in October
More than just another Spanish tourist destination, the weather in Andalucia in October offers unique experiences as the trees drop their colorful leaves.
Blend this with temperate weather and history bursting from every street corner, Andalucia won't disappoint when making cherished memories.
In the morning you can enjoy pastries fresh from a local panaderia like famous mantecados and churros.
In the afternoon you can take in historic venues or soak up some rays on the beach, and the evening can be enjoyed with a glass of wine al fresco while listening to some invigorating flamenco music. – Check out a flamenco show guided tour here.
It's best to put together a 1 week itinerary in Andalucia so you can be sure to take in the weather in Andalucia in October.
Short FAQ about Weather in Andalucia in October
Is October a good time to visit Andalucia?
Yes, October is a good time to visit Andalucia because the weather is much more favorable for a range of activities.
Most cities will reach a balmy 25°C during the day in this month and night times will be crisp at only 13°C.
In October, you can expect a whopping 220 sunshine hours to escape gloomier climates, and although there can be showers it varies across the wider region.
Can you swim in Andalucia in October?
The Mediterranean Sea temperature drops from the end of August, however coastal areas are generally temperate, and you can swim in the sea in the first half of the month.
Hotel outdoor swimming pools are still open this time of the year too, so there's no reason you shouldn't pack a bathing suit for a dip in the water.
What is the best time of year for Andalucia?
The best time of year for Andalucia is October and it's ideal for visits to the region.
Similar months before the heat of the summer hits in July are also popular for those looking to avoid crowds.
---
---
Hola, I'm Paulina! Together with my team, we are passionate about Southern Spain. Here we share all you need to know for great times in Southern Spain with the best places to visit, stay and, of course, the best food to eat.
Let's dive in and explore Southern Spain's outdoors, food and culture con pasión!