An Essential Guide to the Best places to visit in Andalucia during Christmas
Sure, there is something quite surreal about spending Christmas surrounded by palm trees and daring tourists still sunbathing at the beach in their bikinis during December.
And yet, there is something truly unique about this strangely fun twist on the Christmas season, especially if you make it your holiday mission to visit the most beautiful places in Spain.
Where better to start than Andalusia, the Spanish south with its historic towns and pueblos and views of Africa?
This blog is supported by you, dear reader. If you purchase through a link, we earn a small commission. As an Amazon Affiliate, we earn from qualifying purchases.
Marvel at the Andalusian architecture, indulge in the region's irresistible cuisine, and learn about Christmas traditions in Spain. What an exciting season to be exploring a different culture!
So if you're ready to swap your summer holiday on the Costa del Sol to see what Spain at Christmas is like, here is our list of the best southern Spain cities to visit.
Top Best Places To Visit In Andalucia during Christmas
The Living Nativity Scene on the Streets of Arcos De La Frontera
Estepa: The Town Of Mantecados
The Chocolate Nativity Scene in Rute
Mercadillo Navideño Jardin Botanico La Concepción, Málaga
Feria del Belén, Sevilla
The International Christmas Fair in La Cala de Mijas
Short Cultural Background Information
Before you get ready to hit all the best places to visit in Andalucia during Christmas, it's never a bad idea to learn more about the region's customs and traditions. And it might be a great idea to visit Andalucia in winter.
Did you know, for example, that the real day of Christmas celebrations is not actually celebrated on the 24th of December but on the 6th of January?
While family and friends do gather on Noche Buena (Christmas Eve) for a festive meal, it's the Three Kings – Los Reyes – who bring the presents for the kids in January.
Their arrival is celebrated with huge cabalgatas, a parade of floats that sees the kings throwing candy for the kids.
If all you're really interested in is Spanish Christmas food, the first thing you should buy at a local bakery is a Roscón de Reyes, a large, ring-shaped sweet-bread topped with dry fruits.
You can opt for a simple, classic roscón with no filling, or one filled with nata (cream), or new, modern trends like Nutella, for example.
Now that you know a little more about Spanish Christmas traditions, it's time to figure out where you'll be spending your festivos. Here are the best places to visit in Andalucia.
Best Places To Visit In Andalucia During Christmas
Estepa: The Town Of cadiz
Tucked away to the north of the Sierra del Becerro mountains, you will find the ancient town of Estepa, the place where one of Spain's most popular Christmas pastries is made: mantecados.
As is the case with British mince pies, mantecados are also a case of, you either love them or hate them.
Made with lard, this incredibly crumbly shortbread-style cookie is not everyone's cup of tea, but it's worth giving them a try: you might find yourself loving them.
To learn more about the history of mantecados, visit La Estepeña, an entire museum dedicated to the preparation of mantecados and polvorones.
And, psst – if you don't like mantecados, there's still plenty of reason to visit: it also happens to be home to a Chocolate City!
Opening times: 10AM – 2PM and 4PM – 8PM
There's no better way to ring in the Christmas season, than by visiting an artisanal market dedicated to the season.
One of the most popular mercados Navideños of the region also happens to be in one of the most popular cities in southern Spain: Sevilla.
The Mercado Navideño de Artesanía de Sevilla takes place from the 17th of December to the 5th of January, and really brings those Chrimbo vibes to the city.
Here you'll find that last-minute gift for a special someone – even if that someone is you! There's just nothing more special than a present, handmade by a local artist.
Opening times: 11 AM – 3 PM and 5 PM – 9 PM
Feria del Belén, Sevilla
Every family has its own very special seasonal traditions and, in some houses, a Christmas without a belén – a nativity scene – is simply unthinkable.
If you would like to add a unique piece to your family's nativity scene this year, then be sure to visit the Feria de Los belénes in Sevilla – an entire Christmas market dedicated to the craft.
Whether you're looking for a hand-carved donkey to complete the scene or some natural decorations to make it all come to life, you will find it here.
Opening times: 10:30AM – 2PM and 5PM – 9PM
Antequera the City of Mantecados
Here's a planazo for your Christmas holidays in Andalusia: plan an entire day in Antequera for a unique hiking experience and your fix of mantecado.
That's right, Estepa isn't the only place to have mastered the art of mantecado. Antequera and Rute are popular destinations for snacking on these Spanish Christmas specialties too.
So, after a strenuous hike through El Torcal, head down into the town of Antequera and stock up on mantecado to ensure there's plenty to go around on noche buena.
Just stroll through the streets and you'll pass many bakeries – such as La Perla and San Pancracio Obrador Artesano – specializing in this Christmas treat.
Puente Genil – The Light Of Christmas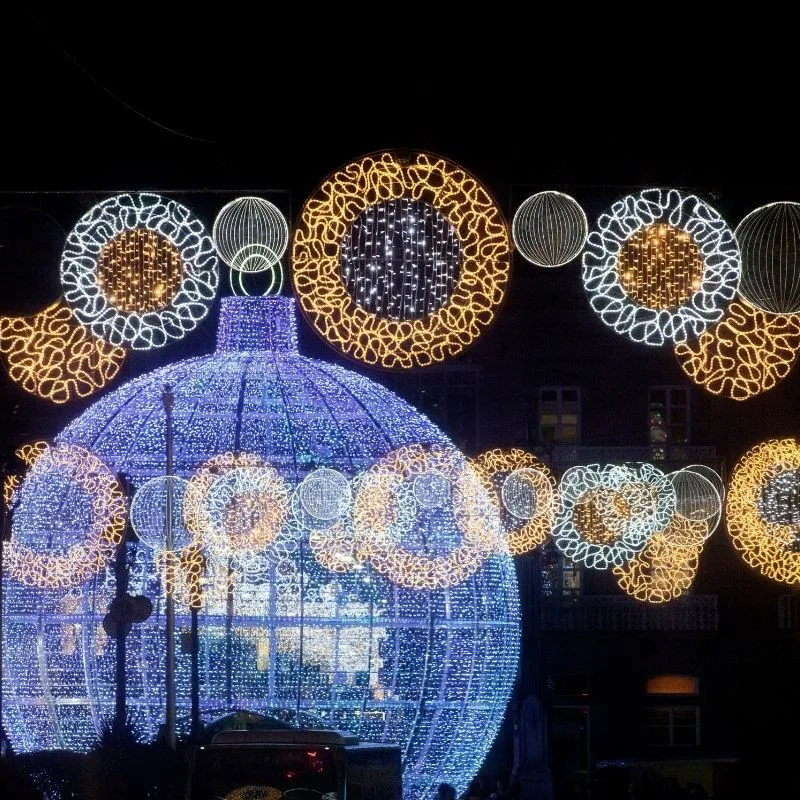 If you want pure Christmas magic, one of the best places to visit in Andalucia is without a doubt Puente Genil in the Cordoba region.
This town could be straight out of a Hallmark holiday movie – the entire town is decorated with complicated and beautifully artistic light assemblies and the shops are all decked out in Christmas glory.
Take a tour of the town on the tourist train to the sound of carols and children laughing with holiday joy, and vote for your favorite nativity scene during the annual contest.
If you're going to be celebrating Christmas in Spain, you can't get by without visiting Granada – a place that is romantic all year round but especially during this time of year.
This city at the foot of the Sierra Nevada mountains is an important part of Andalusia history and, as such, has plenty to offer for cultural sightseeing.
During November and December however, the mercados navideños must form part of your travel itinerary.
Selling everything from belén figures to churros con chocolate, this market has stalls on all the important plazas in town – from Puerta Real to the Fuente de las Batallas.
Opening times: 11 AM – 2 PM and 5 PM – 9:30 PM
Medina Sidonia
Another one of the top cities in Andalusia to visit is Càdiz, and not just because the pueblo of Medina Sidonia is said to make the best alfajores.
Càdiz is an exciting city with a long history and, while it is one of the most popular places to visit during the Andalusian summers, it is also worth a visit in winter.
The alfajores – almond pastries – are just one of many reasons to make the trip to the Costa de la Luz. Try the recipe for Alfajores as well.
Want to experience an unforgettable Christmas light show? You'll find it at the Jardín Botánico de la Concepción, one of the most unique places to visit in Spain – especially during this time of year.
Complete with its own Mercado navideño and plenty of Spanish Christmas carols going around, the Jardín Botánico de la Concepción transforms into a winter wonderland to be enjoyed by all ages.
The lights that bring these dreamy surroundings to life have been described as nothing less than spectacular, so prepare to feel your jaws drop in awe.
Opening times: 6 PM – 11 PM (weekends until 12AM)
Bethlehem Nativity Scene in Torremolinos
Already thinking of things to do on Christmas Eve in Spain? If you happen to be in the Malaga area, pack the whole family into the car and head to Torremolinos.
Best known as a touristic beachside town, Torremolinos also happens to be popular for its annual Christmas nativity scene outside the town hall.
As far as Spanish Christmas traditions go, this is a lovely one to enjoy with the kiddos, whose faces light up at the intricately presented and decorated belén.
The International Christmas Fair in La Cala de Mijas
How is Christmas celebrated in Spain? Well, that differs from family to family, but noche buena and Los Reyes tend to be the two most important days throughout the Spanish Christmas period.
And while the kids spend all year waiting for the cabalgatas, the grown-ups love nothing more than to stroll through local Christmas markets – such as the one in La Cala de Mijas.
It may be small, but this little beachside town packs a whole lot of atmosphere around Christmas with an international market, big light ornaments, and its own special charm.
Christmas in Jerez de la Frontera
If you want the perfect fusion of Spanish Christmas carols, flamenco, local wine, and tapas, you'll need to head to Jerez de la Frontera – one of the best places to visit in Andalucia.
This is where people flock to the streets, pubs, and other cultural establishments to dance and sing around and along with the Zambomba.
The Zambomba is a traditional friction drum, but in Jerez and Arcos de la Frontera, it's much more than that – it's an event that brings people together, typically around a fire.
You can also book a Sherry Winery and Tasting Tour that will take to the most important sherry wine cellars in Jerez. – Book your guided tour here.
Córdoba is one of the best places to visit in Andalucia regardless of which time of year you're considering – but the Christmas period truly is something special here.
Córdoba's Mercado de Navidad is one of the most beloved Christmas markets in Andalucia, it just has that unbeatable historic, romantic vibe.
Made up of around sixteen stalls selling everything from Spanish turron and other Christmas treats, to toys and gifts, it also features a big tree and an even bigger belén.
Opening times:
Monday – Thursday 10AM – 2PM and 5PM – 9PM
Friday & Saturday 10AM – 12AM
Sunday 10AM – 9PM
The Living Nativity Scene on the Streets of Arcos De La Frontera
Once you've witnessed a traditional Zambomba gathering in Jerez de la Frontera, continue your journey to the streets of Arcos de la Frontera to see the living nativity scene.
This live nativity scene in the Plaza del Cabildo features donkeys, sheep, chickens, and actors in traditional costume – a true delight for children and adults alike.
You can go as far as to call it a street theatre, with the scene stretching into some of the pueblo's narrow streets for an entire day.
Opening times: December 18th, 5 PM – 12 AM
Fuengirola
Spain, beautiful places by the beach and in the middle of bustling towns, tapas, and Spanish marzipan – what more could you possibly want for Christmas?
How about a charming little Christmas market that guarantees (artificial) snow every Saturday night? This is what you'll find in Fuengirola, at the Plaza de la Constitución.
Here you'll find some of the coast's most spectacular lights of Christmas and lots of exciting bars and restaurants to visit once all that wading through the snow sparked your appetite.
Opening times: 10:30AM – 2:30PM and 5PM – 9PM
Puerto Deportivo in Marbella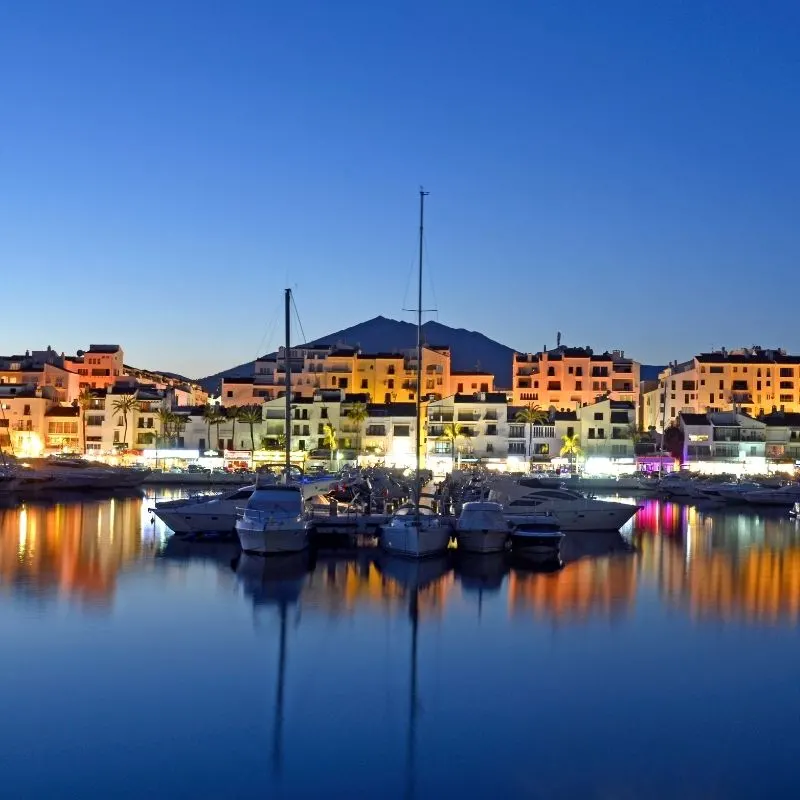 If you're headed to the Costa del Sol, you can't get by without a visit to Marbella for a stroll along the Golden Mile, a fancy brunch, and an exploration of the old town.
And, if you happen to be here for Christmas, you'll have to visit the mercadillo de Navidad at the Puerto Deportivo too.
Featuring a little bit of everything – from jewelry to toys, gifts, and food – this is the perfect opportunity for a little last-minute Christmas shopping.
Opening times: 11:30 AM – 9 PM
The Town of Bethlehem from Almayate
Another Andalusian town that takes the traditional nativity scene to a whole other level, is Almayate, in the Axarquía region.
With more than 200 people taking part in a living nativity scene that is split into twelve acts lasting around two hours, it attracts people from all over Andalucia and beyond.
The performances as well as the decorations on stage offer a perfect medley of traditional and modern touches that will get your Christmas spirit well on its merry way.
The Christmas Lights of Malaga
The night the Christmas lights of Malaga are turned on is a whole happening in Andalucia.
Never will you see the streets of Calle Larios that full – not even when the rebajas are on. Nor during Semana Santa, and that's saying something.
The Christmas lights of Malaga are something the whole region looks forward to and set the tone for the festive season of December.
Opening times: December 5th, 7 PM – 10 PM
The Chocolate Nativity Scene in Rute
Has it always been your dream to visit a place that rivals Willy Wonka's chocolate factory? Well, then we're here to make your biggest Christmas wish come true.
The famous chocolate nativity scene in Rute – one of the best places to visit in Andalucia – takes more than 1,500 kg of chocolate and roughly four months to make.
While you won't be invited to bite huge chunks out of recreated streets, belén characters, and temples, you can eat your way through all the other treats surrounding this sweet scene.
Opening times: 4 PM – 7 PM
The Dragging of Cans of Algeciras
In Algeciras, a city and port nestled between Gibraltar and Tarifa, the children need to work for their gifts on dia de Los Reyes.
They need to scare off the giant and the fog, so the three kings can find their way to them to deliver their gifts. And how might they do that? By making lots of noise!
This is done by dragging strings of cans through the streets of Algeciras, tradition kids are more than happy to partake in – it's fun and guarantees their gifts will find their way to them.
Opening times: 10 AM
Best Hotels in Andalucia, Southern Spain
The Las Dunas Hotel Health & Spa is situated between the popular beach town of Estepona and the mountain pueblo of Benahavis.
Located right at the beach, it is surrounded by all the amenities you might possibly need – supermarkets, bars, restaurants, bus stops – whilst still being a quiet area.
Take full advantage of this prime, beach-line location and the hotel's fabulous spa facilities and treatments, and return home feeling relaxed and rejuvenated.
Check out prices & photos here.
Ample rooms, modern designs, and an unbeatable location make the Petit Palace Santa Cruz in Seville one of the best hotels in the Andalusia
In walking distance of the Giralda and Reales Alcázares, this historic hotel located in the old Jewish quarter of Santa Cruz is not only kid-friendly but pet friendly too.
The hotel's family room consists of a large double bed and bunk beds – a spacious set-up that will have everyone feeling comfortable, including the family pet.
Fuel yourself for the day on the hotel's delicious breakfast before renting a bike directly at the front desk and exploring the city on two wheels.
Offer & photos can be found here.
Located between the Plaza de Toros and the Avenida Álvaro Domecq. – an area famous for its selection of bodegas and restaurants – you'll find the Hotel Soho Boutique Jerez & Spa.
This hotel is as comfortable and relaxing as it is visually pleasing, featuring exciting artwork in its spa areas whilst keeping the bedrooms in classic two-tones.
Partially constructed upon the old Williams & Humbert bodega, this hotel has its own unique history and charm – one you will fall absolutely in love with during your stay.
Book your stay here.
You may not be enjoying the Soho Boutique Castillo de Santa Catalina hotel's rooftop swimming pool during Christmas, but you'll definitely enjoy the view.
Overlooking the Malaga bay, the building dates back to 1932 and has maintained much of its original charm. Just 800m from La Caleta Beach, it's a perfect base for winterly beach strolls and big city life.
With more than 3, 500m2 of gardens and terraces, this hotel counts as one of the greenest in the city, offering a perfect calm setting after a busy day out.
Click here for reviews & prices.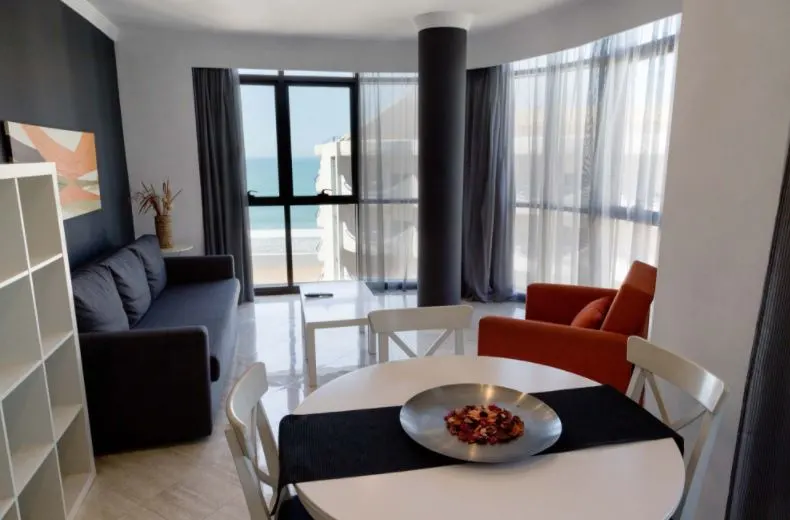 It may be your first time in one of the best places to visit in Andalucia – namely Cadiz – but the staff at the Hotel Spa Cádiz Plaza will make you feel right at home.
Well…if your home offered a luxurious spa, massage, and thermal treatments, that is! This is the perfect hotel to opt for if you'd like to treat yourself to a little Christmas pampering.
The rooms are equipped with everything you'll need for a cozy stay including an armchair, a desk, and a kettle so you can enjoy your tea or coffee in bed.
Situated in the heart of the city, you'll never have to walk far to enjoy your sightseeing itinerary of the day.
Check prices here.
Located at just 300 meters from the Centro Historico and 550m from the beach, the Marbella Inn Aparthotel is the perfect accommodation for your holiday in Andalucia.
Whether you're traveling on your own, as a couple, or as a family, you'll love the freedom these apartments will give you, with each featuring its own kitchenette and balconies with sea views.
If you rather keep it simple and opt for the classic hotel option with breakfast included, that's possible too. Whatever you require for your stay, you'll find it here.
Find the offers here.
The Eurostars Puerta Real Hotel promises to let you "feel the essence of Granada" – situated in a prime location, you can absolutely take them by their word.
With rooms ranging from singles to family to suites, this hotel suits any type of traveler and offers everything you need for a perfect stay.
The rooms offer modern elegance with a touch of Nasrid art style we see all over the city in tones of aquamarine and turquoise.
If you'd like breakfast included in your stay, you'll be happy to know that the hours fit great into any itinerary: weekdays from 7:45 AM to 10 AM, weekends and holidays from 8:30 AM to 10:30 AM.
Book your stay here.
Within walking distance from Viana Palace and Cristo de los Faroles, you will find one of the most breathtaking Hacienda-style aparthotels Córdoba has to offer.
La Quinta Hacienda is made up of six private apartments – including a suite with a balcony and a duplex that sleeps up to 15 people – an outdoor pool and immaculately kept gardens.
Each room is equipped with a flat-screen TV and bright and charming furnishings such as wooden floors, warmly colored bedding, and genius space-saving features.
Major sightseeing attractions such as the Roman Temple and the Cordoba Mosque are just 2km away, making this the ideal base from which to explore the city.
Check out prices and reviews here.
The Best Places to Eat in Andalucia
Hospes Palacio de los Patos, Granada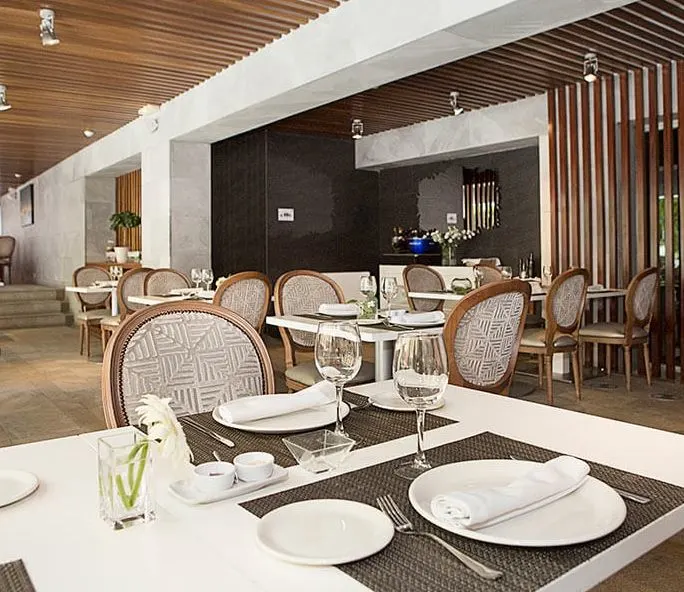 You may not get your Spanish Christmas turkey at the Los Patos Restaurant in Granada, but you can rest assured you will be served only the most natural, authentic, and healthy products.
Offering innovative fusions of modern and traditional styles, you're invited to try dishes such as their red tuna fillet dressed in lime and wasabi cream.
The Beach House, Marbella
We don't all have the luxury of owning our own house by the beach but Marbella's Beach House Restaurant will give you an inkling of what it might be like.
Serving you halloumi, black olive tapenade, and avocado super bowl with an incredible view, Beach House Marbella is a must for foodies.
Bendito Restaurant, Malaga
For a modern ambiance and an exciting culinary experience in Malaga, head to the Bendito Restaurant, just a two-minute walk from the Museo Carmen Thyssen.
Try the avocado fried in yellow corn with langostinos topped with chipotle – to die for!
El Giraldillo, Seville
Located in the atmospheric Barrio de Santa Cruz, Restaurante El Giraldillo will give you an authentic, Spanish culinary experience. Will you be dining here for Christmas or New Year?
Here's what to expect: pumpkin cream with langostinos cooked in Brandy, followed by veal solomillo with roasted potatoes and grilled seasonal vegetables.
For dessert? Lingote de Turrón de Jijona in an almond mousse. *Chef's kiss!*
---
Short FAQ about the Best Places to Visit in Andalucia during Christmas
What is there to do in Andalucia in the winter?
Plenty! Book yourself into one of the best Sierra Nevada Hotels for a winter sports holiday in Granada, or simply tour the Costa del Sol and beyond for mercados navideños and other Christmas activities.
Is Andalucia hot in winter?
It's not hot but you can usually expect the weather to be mild during the day – i.e. think hoodie vs. parker.
What do the Spanish do on Christmas Day?
Christmas Day isn't a big thing here in Spain, though some families will get together for lunch or dinner. The majority of Spaniards attend 'La Misa Del Gallo,' or Midnight Mass. (The Mass of the Rooster).
It gets its name from the fact that a rooster is said to have crooned the night Jesus was born.
You can't get enough of Christmas in Southern Spain? Have a look at our Google Story here.
---
---
Hola, I'm Paulina! Together with my team, we are passionate about Southern Spain. Here we share all you need to know for great times in Southern Spain with the best places to visit, stay and, of course, the best food to eat.
Let's dive in and explore Southern Spain's outdoors, food and culture con pasión!