An Essential Guide to the best things to do in Andalucia in winter
While Spain's Andalucia may be best known for the Costa del Sol and endless days of summer sunshine, Spain's largest autonomous community has plenty of things on offer during the winter months.
Hundreds of thousands of people visit Andalucia during the summer, often making it challenging to see historical sights like Granada's Alhambra and the Seville Cathedral.
During the winter, the crowds are gone making Spain's cultural icons much more accessible.
This blog is supported by you, dear reader. If you purchase through a link, we earn a small commission. As an Amazon Affiliate, we earn from qualifying purchases.
The article below has laid out a few reasons why you should visit Andalucia in winter that can be adapted to a two or four-day itinerary depending on your travel rhythm.
If you are in a hurry, they can also be done in a single day.
Top Reasons to Visit Andalucia in Winter
Jerez de la Frontera and its sherry wine.
Museums like Picasso Museum or the Automobile and Fashion Museum
Surfing, kite surfing, windsurfing in Tarifa
Ski the Sierra Nevada
UNESCO World Heritage Sites from Andalucia
Flamenco Show in Granada
Reasons to Visit Andalucia in Winter
Ski the Sierra Nevada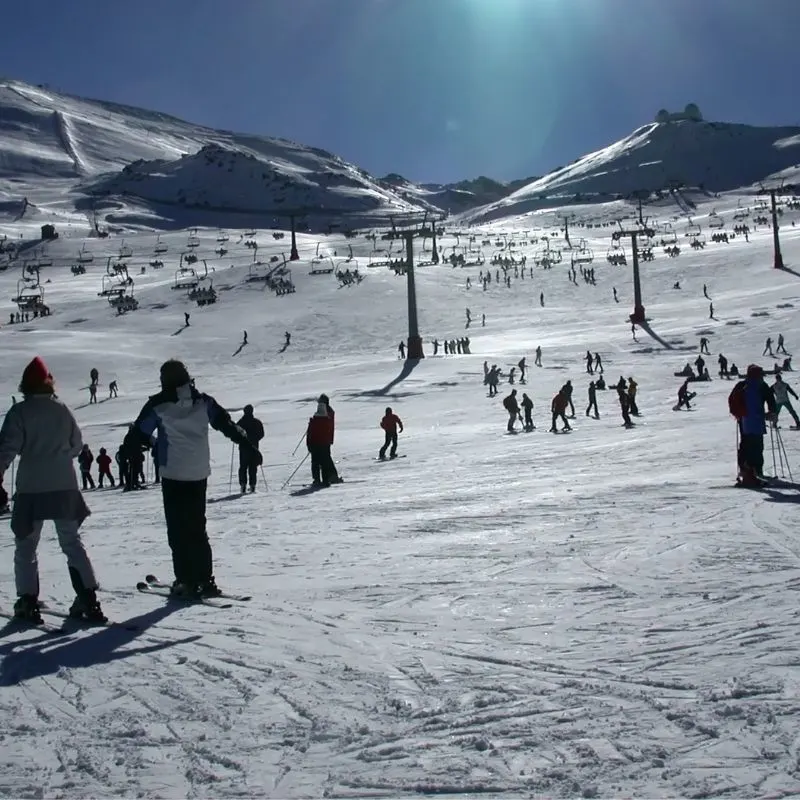 Located in the province of Granada on the northwestern slopes of Veleta, the third highest peak in peninsular Spain, the Sierra Nevada ski resort is the most southerly in Europe.
The ski season lasts from late November until early because of its high elevation above the tree line at around 10,000 feet and there are plenty of things to do in Sierra Nevada ski resort.
With the resort only being an hour's drive inland from Spain's Mediterranean beaches, the Sierra Nevada is one of the few places on earth where you can ski in the morning and be on the beach for lunch.
Here you will find some of the best Sierra Nevada hotels to suit all budgets and plenty of options for renting equipment.
Be advised that the ski resort can be bustling on weekends and holidays. If you visit mid-week, you will have the slopes to yourself and never have to wait in line for a lift.
Opening times: From late November until early May.
Andalucia's Winter Cuisine
While traditional Andalusian recipes remain the base for all Andalucian winter dishes, they have evolved thanks to available non-seasonal products.
When the temperature starts to drop and those hot summer days seem a thing of the past, soups, stews, and roast meals begin to dominate the stove.
Museum Tours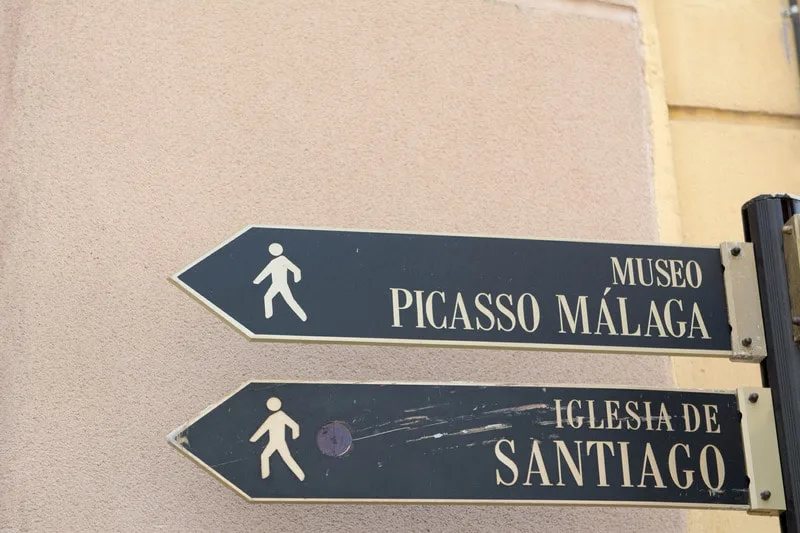 Despite having hundreds of days of sunshine, there will be times in the winter when the weather takes a turn for the worst.
And if you're looking for things to do in Andalucia during wintertime, know you have many options.
If it should be raining during your trip to Andalucia, consider a tour of one of the province's many museums.
Regarding southern Spain cities, both Malaga and Seville are standouts for museums.
Pablo Picasso was born in Malaga, and the city has a museum with a collection of 285 works donated by family members. You can book a guided tour of the Picasso Museum here.
Also in Malaga is the Centre Pompidou, a contemporary modern art museum housed in a multi-colored glass cube and for which you can get a guided tour also. – Check out the guided tour here.
For people who are not art lovers, the Automobile and Fashion Museum features a collection of 94 classic cars.
As for fashion, it has a collection of haute-couture clothing that matches each vehicle in the collection.
Here you can get a guided tour of the Automobile and Fashion Museum.
Besides its mighty cathedral and elegant Alcazar gardens, Seville boasts the Museo de Bellas Artes (Museum of Fine Arts).
Considered one of the best collections of 17th-century Spanish paintings, the museum is a must-see place while in Seville.
Also in Seville is the Museo Arqueológico de Sevilla (Archaeological Museum of Seville). During your visit, you will be given an insight into Roman and Moorish rule.
Generally, most Andalucia museums open from 10:00 until 20:00 and are closed on Mondays.
UNESCO World Heritage Tour
As a tourist, some of the best places to visit in Spain are UNESCO World Heritage Sites and one of the most diverse things to do in Andalucia.
Founded in 1972 by the United Nations, UNESCO World Heritage Sites can be natural wonders or manufactured but must be deemed as being of outstanding universal value for the common heritage of humanity.
Of the 49 UNESCO World Heritage Sites in Spain, seven are in Andalucia, of which five are cultural, one natural, and one both natural and cultural.
Below we have listed what we think are five of the best places to visit in Spain for first-timers on a guided tour:
The Alhambra Guided Tour with Nasrid Palace is a must-see attraction and is the most visited site in Spain.
Located in Granada, the Alhambra is a palace-fortress built by the Moors during their 700-year conquest of southern Spain.
The great Mosque-Cathedral and Jewish Quarter Guided Tour is the perfect way to get a feel for Cordoba.
A knowledgeable guide will explain the complicated history of the mosque-cathedral before taking you on a walking tour of what was once the Western world's largest economic and cultural center.
Of all the cities in Andalusia, there is no place to understand Spain's "Golden Age" than to visit the city of Seville.
Straddling the Guadalquivir River, Seville can be best seen by taking a guided tour of the Cathedral, Giralda Tower, and the Alcazar Palace.
Encompassing parts of Huelva, Seville, and Cadiz, the Doñana National Park is one of the most important wetlands in Europe.
The best way to visit this natural wonder is to take a Doñana National Park 4WD Tour.
Located in the Andalusian mountains south of the city of Antequera, the El Torcal de Antequera is a 17 square kilometer national park full of impressive rock features.
The best way to see all the wonders the park offers is to go on Guided Hike in El Torcal de Antequera.
Surfing, Kite surfing, Windsurfing
Blessed with an Atlantic and Mediterranean coastline, Andalucia is a great place for surfing, kite surfing, and windsurfing so you won't have to look very much for things to do in Andalucia.
While it might not be Hawaii, the Costa de la Luz south of Cadiz sees large waves providing excellent surfing conditions during the winter months.
For beginners or intermediate surfers, the village of El Palmar and its surf schools are where you need to go.
For windsurfing and kite surfing, there is no place better in Europe than the wide beaches of Tarifa.
There are constant winds because of its location on the Straits of Gibraltar, where the Atlantic Ocean and the Mediterranean Sea meet, creating ideal kite and windsurfing conditions.
Sherry Winery and Tasting Tour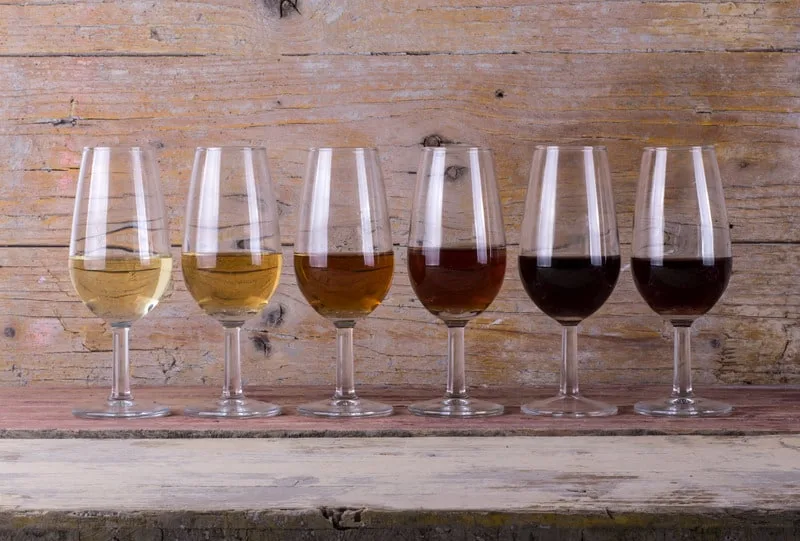 Ever since Sir Francis Drake raided Cadiz in the summer of 1587 and brought back 2,900 barrels of fortified wine, the British have been in love with Sherry.
Today, a wine tasting tour is one of the most exciting things you can do during any visit to Jerez de la Frontera.
During the 1.5 hour tour, you will learn all about all the region's wines while tasting some of the best sherries in the world. You can get your guided tour here.
Paella Cooking Experience on a Rooftop Terrace
While the province of Valencia may be the home of paella, this uniquely Spanish rice dish is found throughout the country.
Always made using bomba rice cultivated in eastern Spain, paella was made initially using rabbit and green beans but has evolved over the years.
Today the most popular paella's that appeal to tourists are made using a variety of seafood with prawns almost always the star.
To learn how to make an authentic Spanish paella while in Andalucia, attend a rooftop cooking class in the heart of Seville.
Highly rated on TripAdvisor, the 2.5-hour Paella Cooking Experience is one of the top things to do in Andalucia.
Reasons to Visit Andalucia in Winter – Seville
Must-Visit Places:
1-Hour Walking Tour Barrio de Santa Cruz
2-Hour Seville Panoramic Walking Tour
Experience Seville in a different way:
Guadalquivir 1-Hour Cruise
Kayaking Tour
Tapas Tour Across the River in Triana
Experience Seville's culture:
Flamenco Dance Museum – Show
1-Hour Flamenco Dance Lesson
Tapas Cooking Class
Insider and off-the-beaten-track:
Spanish Cooking Class & Triana Market Tour
The Triana Market in Seville is where chefs get the freshest local ingredients and is a must-see place during any visit to Seville.
If you want some interesting things to do in Andalucia that could be fun and very educational you can try something different.
To truly get a feel for the market and learn something about Andalusian cooking, why not take a 3.5-hour Spanish cooking class and Triana market tour.
The class is a great way to learn how to cook classic local dishes and is something you can replicate for your friends when you return home.
Flamenco Show in Granada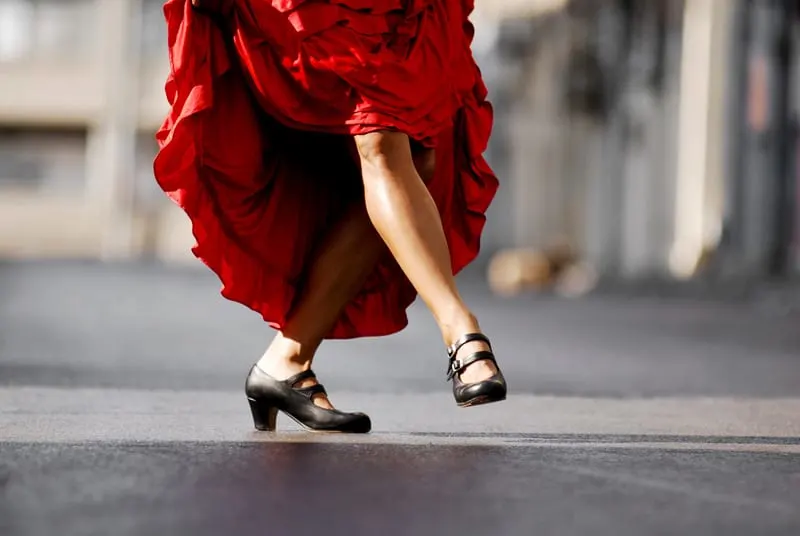 Granada is not only famous for being the home of the Alhambra Palace, but it is also the birthplace of flamenco.
When gypsies arrived in the Iberian Peninsula during the 15th century, they brought their folk songs which evolved into the flamenco music and dance we enjoy today.
When the gypsies arrived in Granada, they lived in the caves in what is now referred to as the Sacromonte neighborhood.
Today visitors to Granada can see an original flamenco show combined with a guided tour of the old Muslim area of Albayzin.
Reasons to Visit Andalucia in Winter – Granada
Best Day Trips from Granada:
Lavaderos de la Reina – Sierra Nevada: Hiking
Sierra Nevada: Snowshoe Hiking Tour
Tropical Coast and Caves of Nerja Day Tour
Full-Day Tour of Sierra Nevada Mountains
Hike the "Gran Senda de Malaga"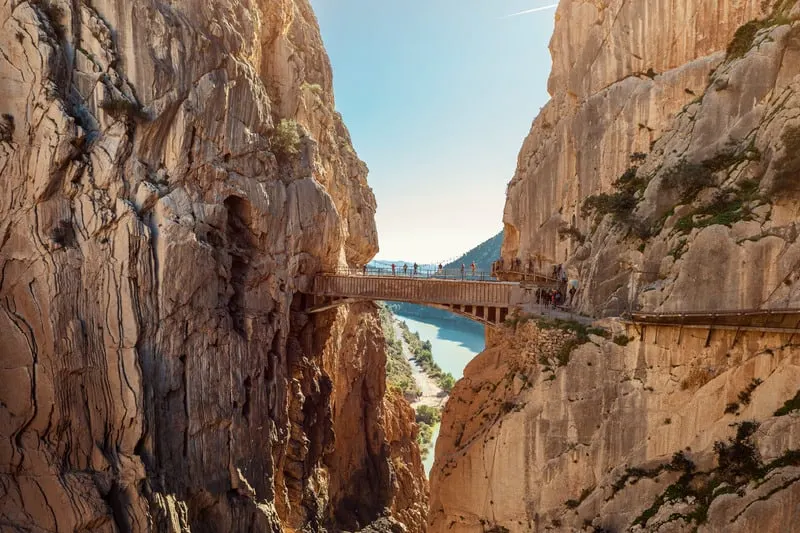 Often overlooked by tourists intent on staying on the Costa del Sol's lovely beaches, the Gran Senda de Malaga (The Great Malaga Path) is a hiker's dream.
Divided up into 35 stages, the 403 miles long signposted route circumnavigates the province of Malaga.
A highlight along the route is the Caminito del Rey (The King's Little Path), a narrow walkway that hangs 328 feet above the Guadalhorce River near the town of Ardales.
Tickets for the Caminito del Rey sell out fast, but you can guarantee your place by going on a guided tour. So if you are looking for things to do in Andalucia and want to go for a hike, this will be ideal.
Reasons to Visit Andalucia in Winter – Malaga
Must Visit Places in Malaga:
Roman Theatre and Alcazaba Guided Tour
Best Day Trips from Malaga:
Day Trip to Gibraltar
One Day Trip Ronda
Insider and off-the-beaten-track:
Antequera: Private Tour
3-Hour Private Sightseeing Treasure Hunt
Visit the White Towns of Andalucia and Ronda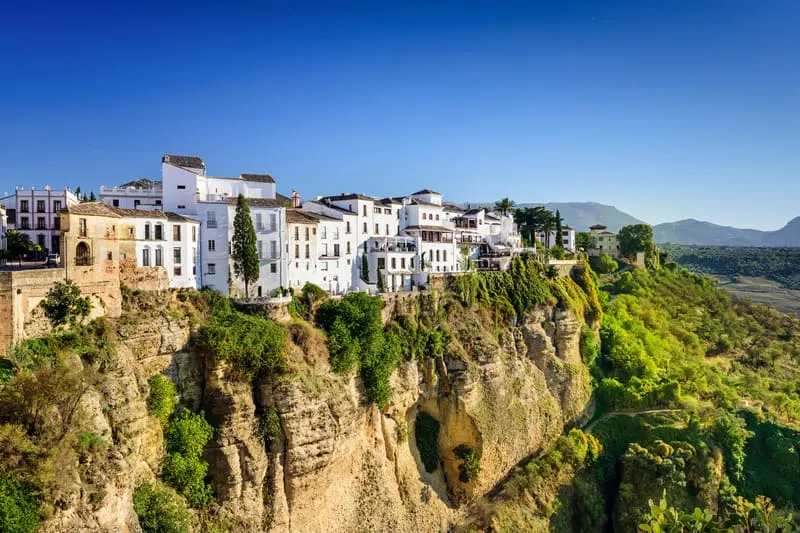 Dating back to the Moors who painted their houses white to keep them cooler during the summer, the white towns and villages of Andalucia are now a popular day trip for tourists.
Of all the white towns in Andalucia, the most popular has to be Ronda and its famous Puente Nuevo (New Bridge).
While it might be called the "New Bridge," it was completed in 1793 and played a sinister role during the Spanish Civil War.
Ronda is also the birthplace of bullfighting and was Earnest Hemmingway's favorite place in Spain.
Hollywood actor and director Orson Wells loved Ronda so much that he had his ashes buried in the town.
The best way to visit the white towns and villages is to go on a guided tour and also while in Ronda don't miss the chance to see the ancient Roman settlement of Acinipo.
Tangier, Tetouan, or Asilah Private Tour
With Spain and Morocco only separated by the Straits of Gibraltar, a day trip to visit the Moroccan cities of Tangier, Tetouan, or Asilah is easily doable.
Departing from either Gibraltar or Tarifa, the ferry takes less than an hour to make the nine-mile crossing. In comparison, all three cities offer an authentic Moroccan experience.
The biggest bang for your buck, however, is Tangier. For centuries, Tangiers has been the African gateway to Europe and is today a vibrant city full of things to see and do.
A great way to visit Morocco from Spain is to take a guided day trip tour.
Golfing Courses on Costa del Sol
With more than 320 days of sunshine a year, it's no surprise that Spain's Costa del Sol has become one of the most sought-after golf holiday destinations in Europe.
Andalucia has over 100 golf courses with spectacular mountain and sea views.
In Andalucia, you will find a course to suit your budget but be aware that tee times on some of the upmarket courses can be on the expensive side.
Designed by Robert Trent Jones Sr, Valderrama is considered by many as being the finest golf course in Europe, and even if you only get to play it once, it is well worth doing.
Related article: The Best 19 Golf Courses in Andalucia
Discover the ancient Andalusian Arab Baths
If you are in Spain on vacation, you are likely looking to slow down and unwind from the stresses of everyday life.
One of the best things to do in Spain to achieve this is to visit a hammam (Turkish baths).
After being first discovered by the Romans, the Moors built beautiful spas to bathe in the naturally occurring hot spring water.
In Andalucia, there are several hammams where you can relax and clear your mind just like others have done for hundreds of years.
Two of the best Andalucian Arab bathhouses can be found in the city of Granada Hammam Al Ándalus and Hammam Al-Andalus in Malaga.
Why Winter is the Best Time to Visit Andalucia
There is no denying that Andalucia can be particularly busy with tourists during the summer.
Trying to get tickets for the Alhambra can be near impossible while waiting to get in places like the cathedral in Seville can mean queuing for up to an hour.
You can avoid all the hassles and have all of Andalucia's attractions to yourself if you visit during the winter.
As we mentioned earlier, Spain gets plenty of sunshine, and even though the weather may be cold and miserable at home, Spain can be pretty pleasant.
Also, remember that Southern Spain gets incredibly hot during the summer, making cities like Seville feel like you are walking around inside a convection oven.
Best Hotels in Andalucia, Southern Spain
With Andalucia being a popular tourist destination, there are plenty of hotels to select from to meet any budget.
For many, a hotel is just a place where you sleep for the night, while for others, it is the highlight of their vacation.
We have listed three of the best hotels in Andalucia to suit any budget with that in mind.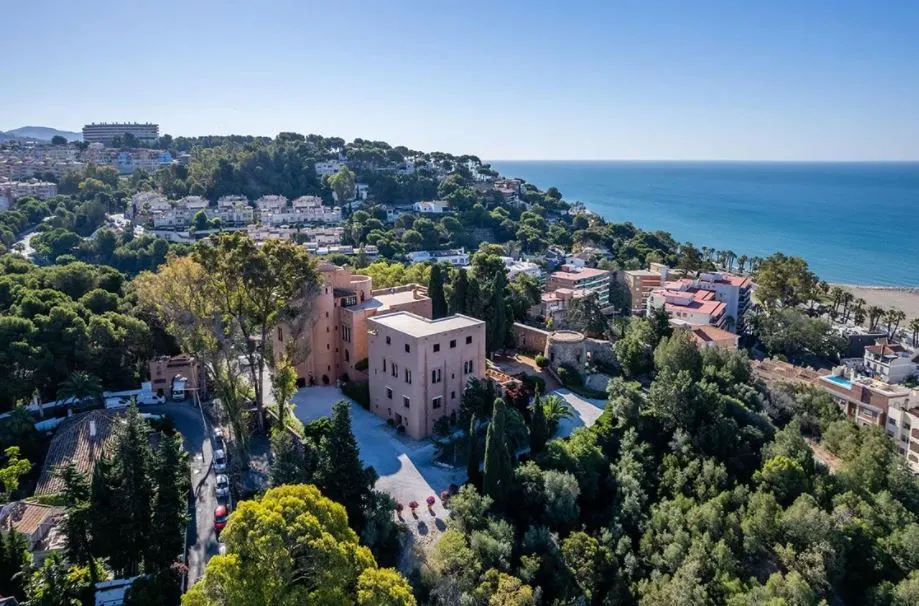 When it comes to where to stay in Malaga, you won't find a better hotel than the 5-star Soho Boutique Castillo de Santa Catalina.
Located in the exclusive El Limonar area of Málaga, 800 feet from La Caleta Beach, this charming luxury hotel and gardens offer guests the choice of 22 rooms, each of which has sea views.
Constructed in 1932 as a luxury private residence, the hotel retains many original features.
Check prices & reviews here.
Located in the southeasternmost part of the province of Cordoba, the 4-star Hotel Patria Chica is ideal for day trips to Cordoba, Granda, and Malaga.
Like Spain's famous Parador Hotels, the Hotel Patria Chica feels like a living museum.
Horseback riding is available in the surrounding countryside, and there are numerous hiking trails.
Guests particularly like the comfortable beds and the continental breakfast.
Book your stay here.
Malaga is an exciting city to visit any time of the year and is known throughout Spain for its fantastic Christmas lights and music show on Calle Larios.
The city is packed with tourists during the summer, many of whom arrive on cruise ships.
A weekend break in Malaga is a popular option for northern Europeans looking for winter sun.
If you are the type of person who wants a clean no fuss hotel room in a great location, the 2-star Ibis Malaga Centro Ciudad is a terrific budget option.
Here you can find their offers & reviews.
---
Short FAQ about the Reasons to Visit Andalucia in Winter
Is February a good time to visit Andalucia?
Yes! February is a great time to visit Andalucia as there are plenty of fun things to do in the winter.
The Christmas, New Year, and Three Kings celebrations are over, and there are no crowds to battle while visiting museums and historical buildings.
The Sierra Nevada Ski resort is in full swing, and if you can manage to visit midweek, you will have all the best Sierra Nevada hotels to choose from.
Does it snow in Andalucia, Spain?
While Andalucia is renowned for having one of the best climates in the world, up in the Andalusian mountains, it snows during the wintertime.
The Sierra Nevada mountains near Granada are the highest peaks on mainland Spain with Mount Mulhacén over 11,000 feet.
Not only do the snow-capped mountains offer spectacular panoramic views, but they also provide a multitude of things to do with kids in winter.
Still dreaming about Andalusia in winter? Have a look at our Google Story here.
---
---
Hola, I'm Paulina! Together with my team, we are passionate about Southern Spain. Here we share all you need to know for great times in Southern Spain with the best places to visit, stay and, of course, the best food to eat.
Let's dive in and explore Southern Spain's outdoors, food and culture con pasión!