If you are spending Christmas in Spain for the first time, you will notice a few differences in how the holiday is celebrated here compared to other parts of the world.
The main difference is that Santa Clause does not arrive with the presents on Christmas Eve. Instead, that job is left to the three wise men Gaspar, Melchior, and Balthasar, who come on January the 6th.
Other than this and perhaps the "El Gordo" (The fat one) Christmas lottery, many other festivities will be familiar.
This blog is supported by you, dear reader. If you purchase through a link, we earn a small commission. As an Amazon Affiliate, we earn from qualifying purchases.
To help you better understand how Spaniards celebrate Christmas, we have compiled a list of 13 Spanish Christmas traditions from Andalucia.
We hope you enjoy it and find it helpful. Feliz Navidad!
Top Spanish Christmas Traditions from Andalucia
Christmas Nativity Scenes in Andalusia: In Andalucia, it is traditional for homes to be decorated with a nativity called "Belén" (Bethlehem) to celebrate the birth of Jesus.
The Christmas Lights in Malaga: Famous throughout Spain the magical Christmas lights on Calle Larios are switched on the last Friday in November.
El Gordo – Traditional Spanish Christmas Lottery: On the 22nd of December, Spain hopes that they will have the winning number.
Spanish Christmas Dinner in Andalusia: On Christmas Eve (Nochebuena), families in Andalucia join each other for a special dinner.
Eating 12 Good-Luck Grapes: To bring good luck in the New Year, it is traditional in Spain to eat 12 grapes as the clock ticks down to midnight.
Baking for Christmas Sweets: Made with almonds, honey, sugar, chocolate, and fruit, Spanish Christmas sweets are delicious.
Why Visit Andalucia during Christmas Time
While Andalucia is mainly known for its historic cities and beautiful beaches, visiting around Christmas can be a rich and rewarding experience and there are many things to do in Andalucia, especially for holidays.
Andalucia has managed to preserve many of its ancient Spanish Christmas traditions, making it an attractive place to visit for tourists.
Leading up to Christmas, all towns and villages set up their nativity scenes and turn on the Christmas lights, with the most spectacular being the Christmas music and lights on Calle Larios in Malaga.
What does Christmas mean for the Spanish
Aside from the major religious celebrations and regional festivities, the Spanish Christmas traditions mean family gatherings and meeting up with old friends.
The official start to the Christmas season is the Feast of the Immaculate Conception on December 8th.
From then on, and all the way to the Epiphany, or Three Kings on January 6th, you have the El Gordo Christmas lottery on December 22, Nochebuena on the 24th, and the eating of the 12 grapes on New Year's Eve.
Spanish Christmas Traditions from Andalucia
1. Spanish Christmas Carols and the Zambomba
Christmas carols or "villancicos" as they are referred to in Spain originate from medieval songs called "canto de Villano's."
Villancicos were popular in the second half of the 16th century and were sung during the feasts of the Catholic calendar and it's one of the most beloved Spanish Christmas traditions.
Accompanying them were the percussion sounds made by a zambomba, an instrument made from an old paint can or flower pot that had a membrane stretched over it and a stick or rod inserted that makes a droning rhythm sound when moved.
In Andalucía, the villancicos are performed during the run-up to Christmas and are always sung in a flamenco style.
2. The Christmas Lights in Malaga
Over the years, the Christmas light show in Malaga has become one of the most talked-about attractions in Spain and is just one of the many reasons to come to Andalucia.
Each year the Malaga city council spends thousands of euros to decorate the city's main shopping street Calle Larios, turning it into an electrifying light and sound show.
The lights are turned on the last Friday in November and stay on until January 5th.
Each evening two Christmas music concerts accompany the lights show at unspecified times to avoid crowds.
While in Malaga, you can visit some of the best museums, or relax in one of the best Spas in Malaga.
Spending Christmas in Andalucia will bring joy to your entire family and you can also rent one of the best holiday villas in Malaga for a fully Spanish Christmas experience.
3. Baking Christmas Sweets
As the temperatures start to drop in the lead-up to Christmas, the holiday season in Spain is the time of year when grandma is in the kitchen baking delicious Christmas sweets and cookies.
One of the season's main baking ingredients is a combination of almond flour, sugar, and water that we know as marzipan.
Legend says that nuns created marzipan in Toledo during the Batalla de las Navas de Tolosa of 1212.
Baking sweets is one of the best Spanish Christmas traditions since it has been done for thousands of years.
Starving with little left to eat, the nuns of Convento de San Clemente made marzipan to stave off hunger.
Other Spanish Christmas sweets and desserts include the following:
Mantecados: A small shortbread sugar cookie
Polverones: A heavy, soft, crumbly shortbread made of flour, sugar, milk, and nuts
Roscón de Reyes: A crown-shaped cake adorned with candied fruit to resemble jewels
Turron: Made from almonds, honey, and egg white, turron is a nougat confection popular at Christmas
Pestiños: Deep-fried dough glazed with honey or sugar
Christmas Pastries (Wine Donuts): Donuts made with sweet wine and cinnamon
Convent sweets: Handmade cookies and sweets baked in convents
Pan de Cadiz: A large marzipan confection that resembles a loaf of bread
Authentic Spanish Buñuelos: Spanish donuts that are fluffy on the inside and covered in powdered sugar.
4. Christmas Nativity Scenes in Andalusia
Creating a nativity scene in the town square at Christmas is a Spanish tradition that dates back seven centuries and it's one of the most famous Spanish Christmas traditions.
Designed to replicate the birth of Jesus in a Bethlehem stable and the arrival of the Three Wise Men, some of the nativity scenes in Spain are pretty elaborate.
The best places to visit in Andalucia during Christmas to see a Nativity scene are the chocolate nativity scene in the charming town of Rute and the live nativity scene on the streets of Arcos De La Frontera.
The nativity scene in Rute is the most extensive in the world, made of chocolate.
In Arcos De La Frontera, the townsfolk dress up in costumes and reenact biblical events.
In Spanish homes, the Belem takes pride in place and often contains an extensive collection of pieces that have been lovingly gathered over the years.
5. El Gordo – Traditional Spanish Christmas Lottery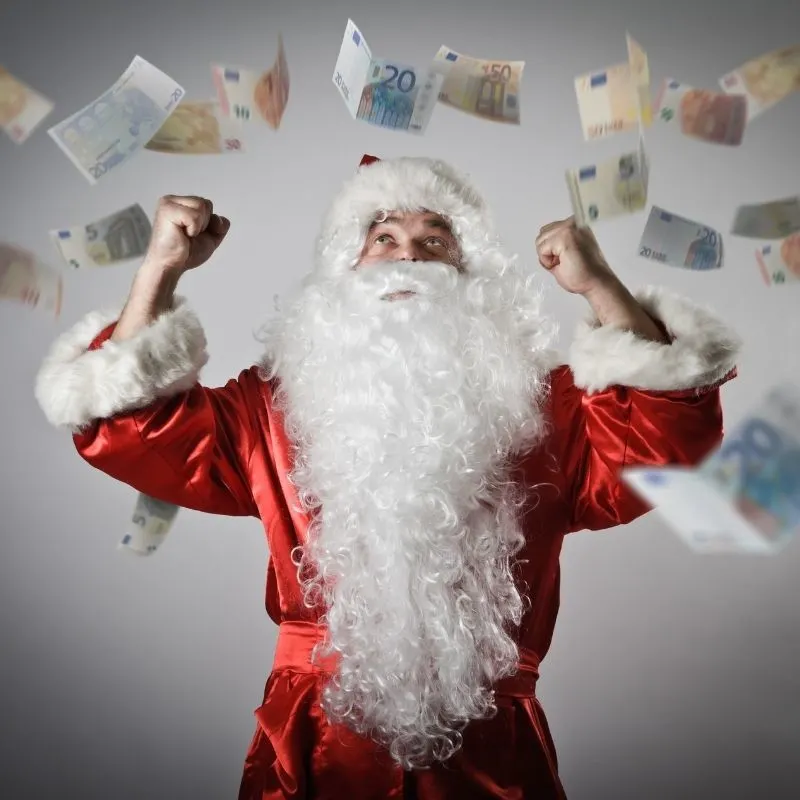 In what can only be described as a national obsession, the El Gordo Christmas lottery pays out millions of euros in prize money.
On the morning of December 22, millions of Spaniards are glued to their television sets, watching the balls appear from what looks like something out of an H.G. Wells's time machine.
Once the balls are out of the device, boys and girls from Madrid's San Ildefonso school hold the balls in the air while singing out the numbers.
First drawn in 1812, the El Gordo is the biggest lottery of the year in Spain, and rather than having one colossal prize pays out thousands of winners.
An El Gordo lottery ticket can be bought in bars and from street vendors who charge a 3€ commission for selling the tickets.
6. Day of the Holy Innocents
Similar to April Fools Day, the Day of the Holy Innocents is when Spaniards play practical jokes on each other.
Always taking place on December 28, it is one of Spain's most popular and entertaining Spanish Christmas traditions.
In Spanish, "inocentada" means practical joke, and there are plenty of Christmas markets selling props to help you pull off your trick.
One of the most widely used pranks is to cut a person's silhouette from a piece of paper and stick it on their backs without them knowing.
7. Day of the Wizard Kings or the Three Wise Men
Although Spanish children now receive gifts on Christmas, the biggest day of the year is when the Three Wise Men (Los Reyes Magos) arrive with presents.
Just like children in other parts of the world write letters to Santa Claus, they do the same thing in Spain but send them to Melchior, Caspar, and Balthazar.
Early in the evening of January 5, the day before the Epiphany, the Three Kings and their entourage ride into town on their camels, showering the onlookers with sweets.
While all cities and towns in Andalucia hold Three Kings Parades, two of the best to attend are in Malaga and Torre del Mar.
8. Eating 12 Good-Luck Grapes
Despite not having its roots in Andalucia, the Spanish tradition of eating 12 grapes as the clock ticks down to midnight is a must-do-thing for all Spaniards.
The practice came about following a bumper grape harvest in 1909.
Having more grapes than they knew what to do with enterprising growers in Alicante popularized the custom of eating 12 grapes on New Year's Eve, saying it would bring good luck in the coming year.
Today people celebrate the New Year in Spain by congregating in the town's main square or at home with family watching the Puerta del Sol in Madrid celebrations on television.
9. White Christmas in Sierra Nevada
Blessed with having the second-highest mountain range in Europe after the Alps, it is not uncommon to have a white Christmas in Andalucia's Sierra Nevada mountains.
Located around the town of Pradollano is the Sierra Nevada Ski Resort, Granada which offers skiers over 70 miles of downhill runs.
Open from November until late April, the ski area's modern snowmaking equipment guarantees a white Christmas for every visitor, whether they are there to ski or just relax in front of a roaring fire.
Tip: If you want to spend Christmas in the Sierra Nevada, you will need to book early as holiday apartments and hotels are sure to be fully booked.
You can take a look at some of the best Sierra Nevada hotels and see what your options are.
You will also find a variety of things to do in the Sierra Nevada ski resort that you and your family can enjoy.
If you are planning to visit the Sierra Nevada from Malaga, you can book a guided tour that takes you from Malaga to the Sierra Nevada. – Get your guided tour here.
For a fun winter activity, you can also check the snowshoe hiking tour in the Sierra Nevada and with a guided tour you get all the info you need. – Check out the guided tour here.
10. Roscón de Reyes
Traditionally eaten on the morning of the Epiphany ( Three Kings), the Roscón de Reyes is a sweet ring-shaped cake adorned with candied fruit of various colors.
This is one of the most well know sweet Spanish Christmas traditions that is cannot be omitted.
Made to resemble a king's crown, tradition dictates that either a small figurine of Jesus or a coin is baked inside the cake and that whoever finds it must pay for the Roscón de Reyes the following year.
No matter where you are around Christmas time in Andalucia, Roscón de Reyes will be for sale in every supermarket and bakery.
11. Spanish Christmas Dinner in Andalusia
In Andalucia and all of Spain, the big Christmas dinner "Nochebuena" takes place on the night of Christmas Eve and typically runs into the early hours of Christmas day.
With the main present giving reserved for the arrival of the Three Wise Men on January 6th, all attention is focused on having an extravagant Christmas Eve meal.
In all Andalucian households, the dinner kicks off with a large plate of grilled prawns, slices of acorn-fed Iberican ham, and manchego cheese, followed by a bowl of hot homemade soup such as the Andalusian picadillo soup.
As for the main course, three popular choices for an Andalusian Christmas Eve dinner are roast turkey with fruit stuffing, baked lamb, or roast suckling pig.
For dessert, coffee is served with turron or other Spanish Christmas sweets. You can make a true Spanish dinner with some of the best Spanish Christmas food ideas and impress everyone.
12. Christmas Shopping In Andalucia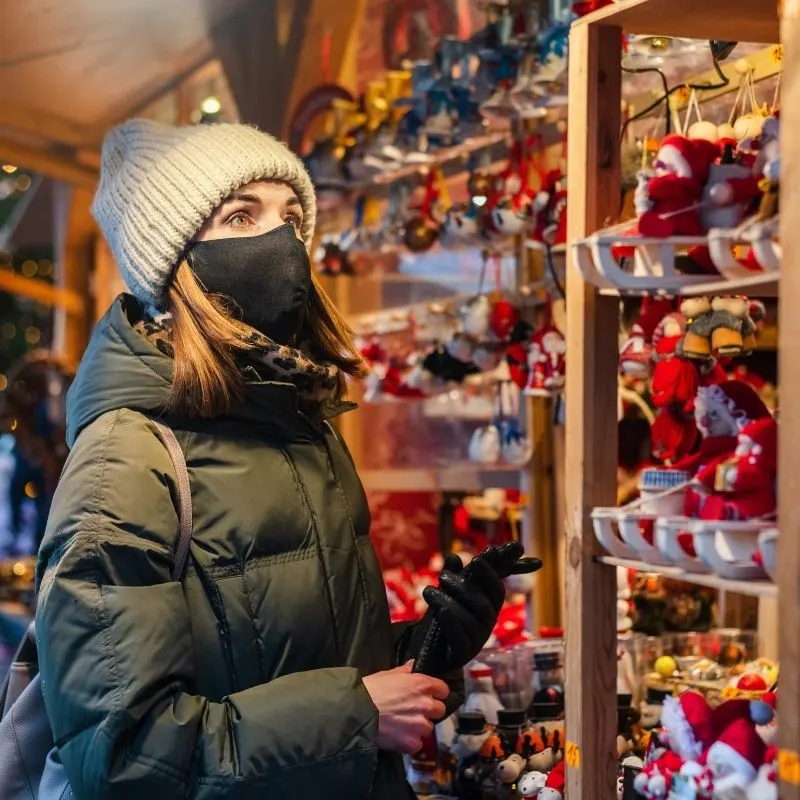 If you are expecting the frenzied rush up to Christmas shopping people are used to in Northern Europe and North America, you may be surprised.
Christmas shopping in Andalucia is less commercialized and more laid back.
From the beginning of December, shops will have Christmas displays in the windows, and shopping centers will play Christmas music, but that's about it.
However, suppose you are looking for a great place to go Christmas shopping in Andalucia and want to get in the spirit of the season.
In that case, Calle Larios in Malaga will not disappoint as it is a truly spectacular Christmas shopping experience. It's one of the top things to do in Malaga.
13. The Christmas Tree or Belen
Ever wary of losing its traditions to foreign influences, households are divided over certain Spanish Christmas traditions regarding Santa Claus and having a Christmas tree.
As to who brings the presents in recent years, Santa has been credited with bringing something on Christmas Eve, but it is still down to the Three Wise Men to arrive with the top gifts on January 6.
As for having a Christmas tree or not, many families in Spain have now started to put up trees, as is evident from all the twinkling lights in people's windows. However, the Belen or nativity scene will always take pride of place.
---
Short FAQ about the Spanish Cristmas Traditions from Andalucia
What are the 3 traditions in Spain for Christmas?
Christmas in Spain may be a little different than what you may be used to back home. If we had to pick three Spanish Christmas traditions that are unique to Spain, they would be:
The El Gordo Christmas lottery held on December 22
The extensive nativity scenes erected in all the towns and villages
The Three Kings parade on the evening of January 5
Where can I spend Christmas in Andalucia?
Where to spend Christmas in Andalucia very much depends on what you are looking for. If you want to immerse yourself in the spirit of Christmas in a similar fashion to what you have in the United Kingdom or America, the city of Malaga is full of Christmas cheer.
In towns and villages, Christmas is more about family than it is about anything else, so unless you plan on spending time alone, it is probably best to avoid quiet or rural locations for Christmas.
If you're dreaming of a white Christmas, head to the Sierra Nevada mountains near Granada, where you can enjoy a fantastic Christmas Eve (Nochebuena) dinner in a top hotel. Remember to book early as places to stay sell out fast.
What traditions does Andalucia have?
While Spanish Christmas traditions in Andalucia are pretty much the same as everywhere else in Spain, if we had to pick something that stands out, it would have to be:
The Christmas music and lights show on Calle Larios in Malaga
The live nativity scenes in Arcos de la Frontera and the port city of Cadiz
You can't get enough of Christmas traditions from Spain? Have a look at our Google Story here.
---
---
Hola, I'm Paulina! Together with my team, we are passionate about Southern Spain. Here we share all you need to know for great times in Southern Spain with the best places to visit, stay and, of course, the best food to eat.
Let's dive in and explore Southern Spain's outdoors, food and culture con pasión!