Christmas is just around the corner! Have you noticed that caroling is already on every supermarket loudspeaker? Or that Christmas lights will soon be switched on?
That's fantastic! But… Have you got any Xmas dinner ideas? If you are still wondering about what to eat for Christmas, you should definitely keep reading this article!
Here you will find some easy and tasty recipes to learn how to elaborate traditional Spanish Christmas food and delicious Christmas pastries.
This blog is supported by you, dear reader. If you purchase through a link, we earn a small commission. As an Amazon Affiliate, we earn from qualifying purchases.
Best Spanish Christmas Food Ideas
1. Spanish Deviled Eggs
A traditional Spanish Christmas food served as a great appetizer are Spanish deviled eggs.
The strengths of the dish are the quick elaboration process, the possibility to prepare them in advance, and that they can be easily stored in the fridge until your guests arrive.
In order to have them ready, you will just need to mix easy-to-get ingredients such as eggs, tuna, or mayonnaise.
Get the recipe: Spanish Deviled Eggs – Huevos Rellenos Recipe
2. Entremeses
Entremeses are small portions of varied meals that are usually served before the main course.
Most entremeses are served cold, which makes these elaborations the ideal snack to have prepared in advance so if you want a simple Spanish Christmas food idea, then entremeses are just perfect.
Moreover, as you will have to select different meals you will be able to transform them easily into Christmas-themed appetizers.
They're mostly made up of hand-carved food pieces, with chorizo, cheese, and lomo being the most authentically Spanish ingredients.
Even so, if you have some Jamon on hand, you can spice things up a little.
3. Tortilla de Patatas
One of the Spanish entremeses that won't disappoint anyone is the tortilla de patatas.
In Spain, there is a division between those who love to add onion to it and those who hate that! That's why in order to avoid confrontation, maybe you should prepare one of each.
Although omelets are a traditional dish, they are not usually considered Spanish Christmas food.
Nevertheless, if you like them, a tortilla de patatas may be suitable for this special occasion.
Get the recipe: Tortilla de Patatas – Spanish Omelette Recipe
4. Grilled Prawns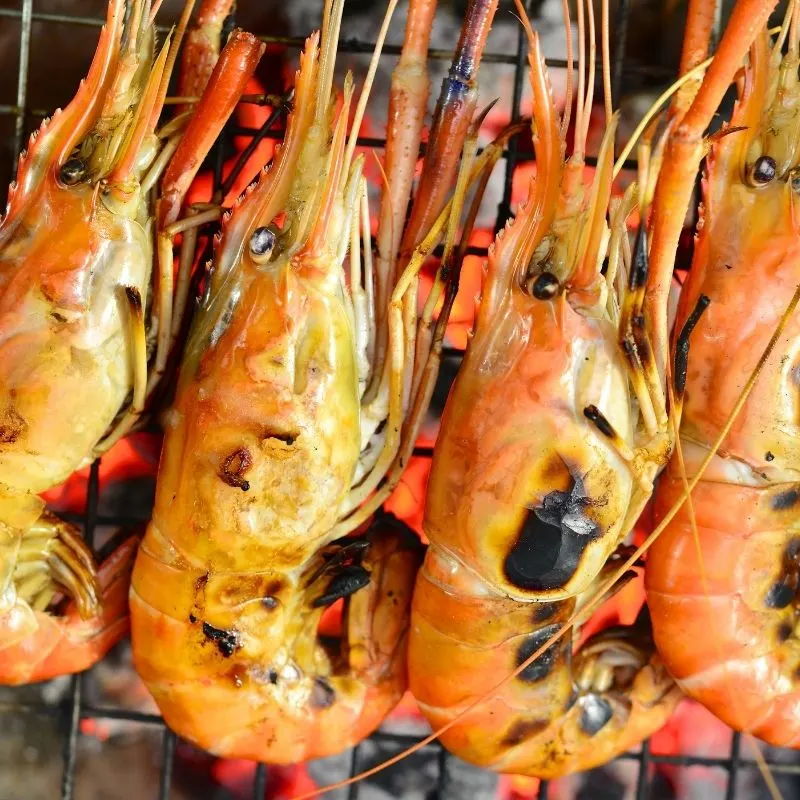 One of the most popular Christmas meals in Spain is freshly grilled prawns, which are also usually served as appetizers.
In order to make them even tastier, we usually add some picadillo after cooking them.
A traditional picadillo consists of olive oil and small pieces of raw garlic and parsley.
Without any doubt, grilled prawns are the most typical Spanish Christmas food. Maybe that's why sometimes its price soars and they can be unaffordable.
Get the recipe: Appetizing Spanish-Style Grilled Prawns
5. Cold Cream of Leeks
Many Andalusians enjoy making Spanish leek soup during the winter months. This is due to the low cost of the ingredients, their ease of availability, and the fact that most people have them on hand.
Traditionally, on Christmas Eve in Spain, families get together to dinner and enjoy abundant and heavy meals.
However, there is a rising trend to have a healthier Spanish Christmas food menu in order to avoid weight gain.
If your aim is to offer a light main course, you can prepare a delicious cream of leeks to serve either cold or hot.
Because this soup is quite creamy, you can serve it with some grated cheese, which goes very well with the creaminess of the soup.
Get the recipe: Spanish Leek and Celery Soup Recipe
6. Picadillo Soup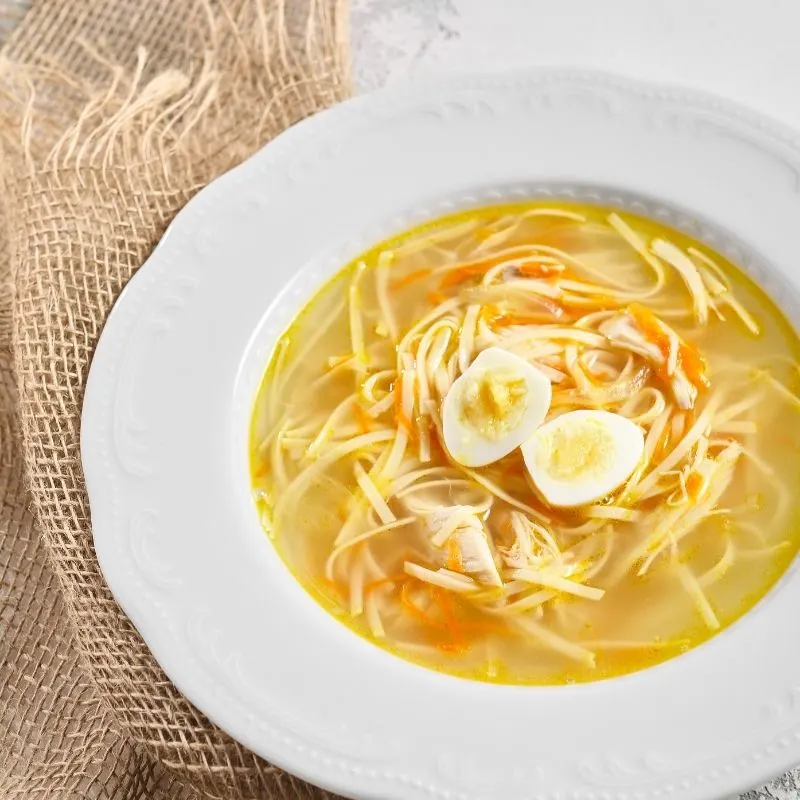 A traditional Andalusian meal is picadillo soup, especially in Sevillian cuisine. This soup has the same name as the sauce used to marinate fresh prawns because the ingredients in both mixtures have to be cut very small.
Recipes for Christmas like this one require a lot of time for preparation; however, the result will be worthy.
This is a Spanish Christmas food that is very savory and nutritious.
Picadillo soup is usually prepared in winter and it is served very hot as the first course in the special Christmas dinners.
Get the recipe: Andalusian Picadillo Soup Recipe
7. Spanish Seafood Soup
Some special Christmas Eve recipes are made using seafood, which is a very precious food in Spain, especially in winter.
However, you should bear in mind that some of the ingredients that you will need to prepare this Basque Seafood Soup may be quite expensive.
This recipe is going to rise to the occasion as it is a sophisticated combination of seafood, vegetables, and varied herbs that perfectly match with a Spanish Albariño.
Get the recipe: Spanish Seafood Soup Recipe
8. Ensalada Rusa
One of the most popular Spanish starters is the ensaladilla rusa, which is a cold meal made with boiled potatoes, carrots, and peas.
Despite the fact that the name of this dish is "Ensalada Rusa," which literally translates to "Russian Salad," historians have been unable to determine why it is called Russian because nothing links this recipe to the country.
After boiling all these ingredients together, you just have to add some mayonnaise and carefully stir the mixture to avoid breaking the ingredients and ending up with a puree.
If you are a tuna lover, you can add it too! It truly gives the serving a savory touch!
Get the recipe: Spanish Potato Salad – Ensaladilla Rusa Recipe
9. Grilled Spanish Mackerel
For many years, this Spanish mackerel meal has been a staple in practically every Andalusian household, owing to its low cost and high nutritional value.
If some of your guests don't like prawns, you can offer them some grilled Spanish Mackerel.
It may be a perfect option because you can use the same marinating sauce in both dishes.
The picadillo explained before, the one made with olive oil, garlic, and parsley will help you make this elaboration absolutely delicious too.
In order to have it ready, you just need to clean the whole fish, mince it with garlic and parsley, place the Mackerel on the grill, cook it for 10 minutes on each side and it is ready!
Get the recipe: Delicious Grilled Spanish Mackerel
10. Traditional Spanish Paella
On Christmas, people usually have more time to cook, that's why preparing a paella may be one of the best Spanish Christmas food ideas.
Paella is one of the most worldwide known dishes of Spanish cuisine and the key of the recipe is its sofrito.
A sofrito consists of frying mashed tomatoes and small pieces of onion, garlic, and red pepper all together. You can also check the recipe for the Spanish sofrito here.
In order to prepare the paella, you will have to add some meat or fish broth (depending on the ingredients you will use) and let everything boil together until the rice is cooked.
Get the recipe: Traditional Spanish Paella Recipe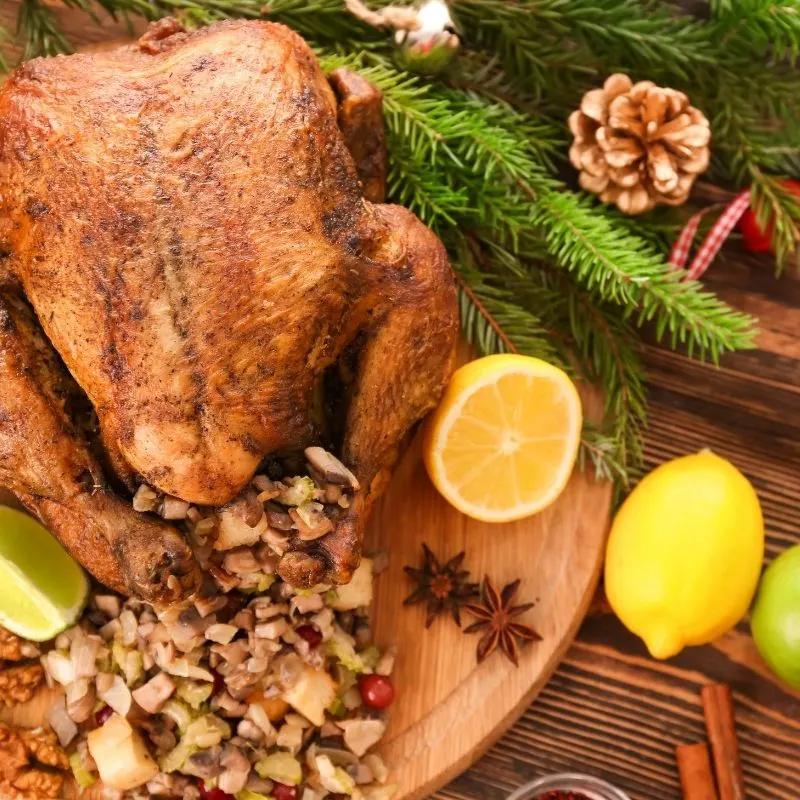 Turkey is also great meat to use on your Christmas recipes dinner as it is a versatile meat.
You can use pavo navideño to elaborate either a stew or a healthy baked dish.
For this special occasion, the link below will show you how to cook a traditional Andalusian recipe that will make your guests lick their fingers.
As a personal piece of advice, you should accompany the pavo navideño with fresh and seasonal roasted or grilled vegetables that will make this Spanish Christmas food even more appetizing.
Get the recipe: Christmas turkey from Spain
12. Spanish Baked Lamb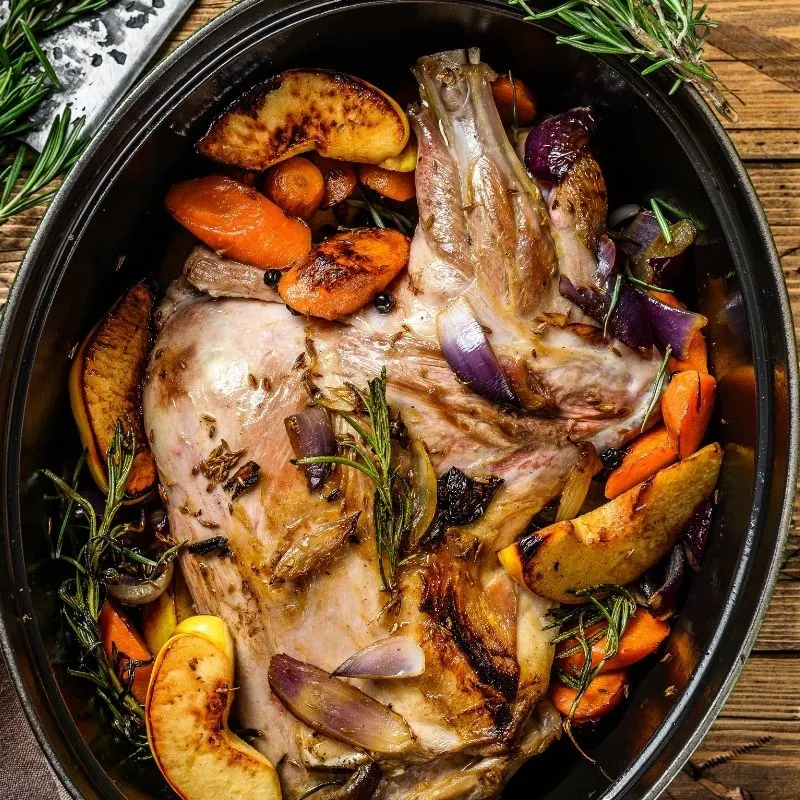 A truly traditional Christmas Eve dinner in Spain includes baked lamb as a main dish. However, it is flavorful meat that doesn't suit all palates.
That's why you should make sure that everyone is going to enjoy the meal before cooking it.
In order to achieve excellent results, you should let the lamb meat macerate for at least an hour in some red wine and bake it at low temperature with some plums inside the oven tray.
Spanish mashed potatoes may be the perfect fit for this typical Spanish Christmas dinner.
Get the recipe: Excellent Baked Lamb Recipe from Spain
13. Cochinillo or Roast Suckling Pig
Another typical Spanish Christmas food is the roast suckling pig, which is known in Spain as cochinillo.
It is quite complex to get the perfect cooking point and this meat is sensationally tasting when cooked in a stone furnace with embers.
Nevertheless, if you do not have the chance to prepare it that way, you can still get a delicious cochinillo if you follow the recipe you will find below.
An intense red wine will be essential to make the most of each bite.
Get the recipe: Succulent Spanish Roast Suckling Pig
14. Spanish Clams
If you are still wondering about how to offer a great appetizer to your family, do not hesitate about adding a dish of clams.
Spanish traditional Christmas dinner usually includes some clams and one of the most popular forms of elaboration is a la marinera.
This basically consists of simmering them with white wine, onion, and saffron when cooking them in a pan.
The better the white wine used, the tastier the Spanish clams will be.
Get the recipe: Best Spanish Clams Recipe [Almejas a la Española]
15. Roscón de Reyes
When talking about traditional Christmas desserts in Spain, the most popular one is the roscón de Reyes.
It is usually eaten on the 6th of January, after the Three Wise Men night. It is a sweet dough that can be filled with whipped cream, chocolate, or Spanish turrón.
If you are lucky, inside the roscón you may find a small figure of one of the Three Wise Men, which means that you will have to wear the paper crown that is on the cake during the rest of the meeting.
However, you can also find a dried bean, which implies that you should pay for the dessert.
Get the recipe: Heavenly Roscón de Reyes – The Epiphany Cake of Kings
16. Spanish Marzipan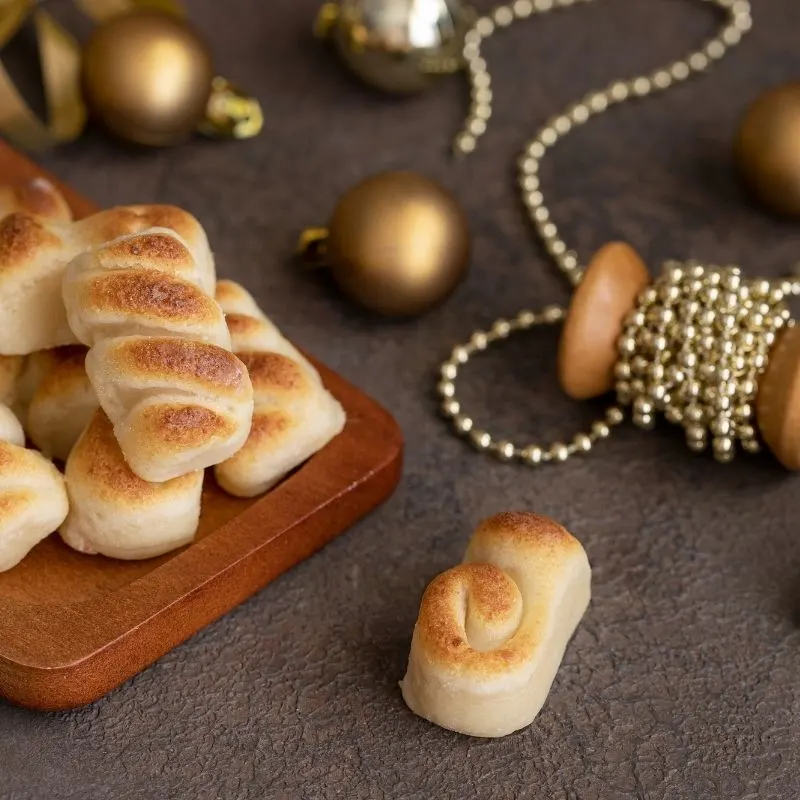 Spanish Marzipan is another one of the most popular Christmas pastries. They are usually small bites with cute shapes, such as fish or flowers.
Its main ingredient is egg yolk and sugar, which makes the dessert an intense flavor that justifies the small portions of these traditional Christmas desserts.
It matches perfectly with the flavor of pine nuts, that's why you can find small balls of marzipan breaded with them.
Get the recipe: Delicate Spanish Marzipan – Figuritas de Mazapán
Roscos navideños are another popular Spanish Christmas food usually consumed on various Spanish feasts.
Spanish rosquillas are made from a sweet dough with a touch of anisette flavor that is usually served when the coffee or tea time starts.
If children are coming to your Christmas dinner, you may want to offer them some hot chocolate with this pastry, I am sure they will be delighted.
Get the recipe: Spanish Christmas Pastries – Roscos de Vino Recipe
18. Spanish Churros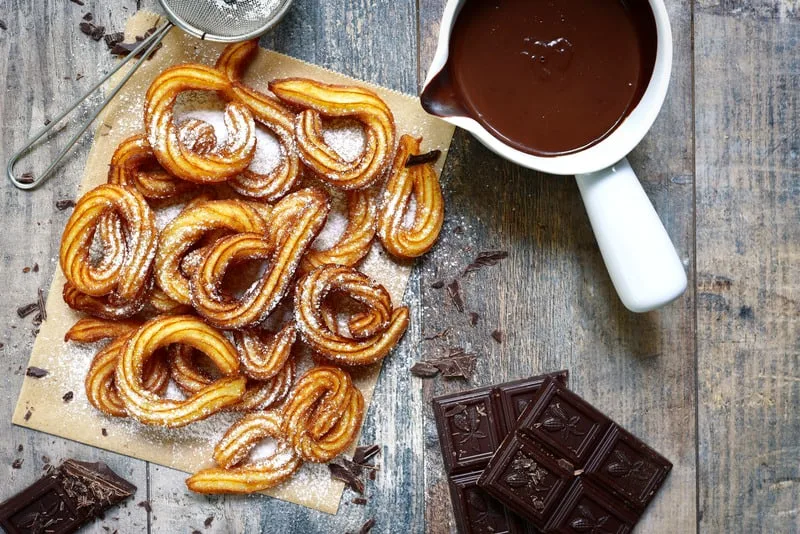 Churros are undoubtedly one of the most popular Hispanic desserts. They are similar to the Spanish rosquillas as they are also fried dough but spongier.
In order to prepare them, you will need a pastry bag to get their iconic shape.
Churros are always accompanied by hot chocolate, which makes them the ideal dessert of cold winter days. Moreover, they are usually eaten while playing some board games.
Do not hesitate to sweeten your evenings with delicious churros!
Get the recipe: Authentic Churros Recipe from Spain
19. Best Coquito Recipe
Coquito drink is a simple alcoholic drink for Christmas that is made with 3 types of milk – condensed milk, coconut milk, and evaporated milk.
These three ingredients are mixed with a dash of good white rum and seasoned with cinnamon and vanilla.
Coquito is the best drink for holidays, its flavor is very typical for Christmas and if you're hosting a dinner party, your guests will absolutely love it.
You can serve it in a cocktail glass, or in shot glasses decorated with cinnamon, and the best part, you can add any other flavor to finish up this Christmas drink.
Get the recipe: Best Coquito Recipe for the Holidays
20. Irresistible Mantecados from Spain
Mantecados are delicious cookies made with lard and have a crumbly texture. The cookie is quite soft and creamy on the inside thanks to the lard and wine.
In Spain, you will find Mantecados in every supermarket before Christmas and they come in various flavors – lemon, cinnamon, chocolate, and even gluten and sugar-free.
These mantecado cookies are quite easy to make and their basic ingredients are lard, flour, wine, and sugar.
And in 15 minutes you'll have some of the best Spanish cookies for Christmas that you can serve next to a cup of Spanish hot chocolate or, if you feel bolder, a glass of Coquito rum cocktail.
Get the recipe: Irresistible Mantecados from Spain
---
What food is Andalucia famous for?
Andalucia is famous for lots of different things. However, some of the most iconic ones are its culture and its gastronomy.
Flamenco is the most famous regional dance and you should definitely taste the picadillo soup!
What is a traditional Spanish Christmas dinner?
At this point, you should be able to answer this question on your own! However, I am sure you will bear in mind that not only grilled prawns or mackerel are great Spanish Christmas dinner recipes, but also baked turkey or lamb.
What do they drink in Spain for Christmas?
One of the most popular drinks on Christmas is Cava, which can be either drink during your meals or with dessert.
Cava is a kind of Spanish Champagne and two of the most famous brands are Anna Codorniu and Freixenet.
You can't get enough of Spanish Christmas food? Have a look at our Google Story here.
---
---
Hola, I'm Paulina! Together with my team, we are passionate about Southern Spain. Here we share all you need to know for great times in Southern Spain with the best places to visit, stay and, of course, the best food to eat.
Let's dive in and explore Southern Spain's outdoors, food and culture con pasión!