The ultimate transportation guide between Madrid and Malaga
There's a reason why the people of Madrid flock to Malaga during the winter and summer months – they're all craving the Andalusian temperatures the North has been denied.
While Madrid is an exciting city, there are two downsides to it: it's very cold during the wintertime and ridiculously hot during the summer, with unbearably dry heat.
Hence, you'll never meet more Madrileños on the Costa del Sol than during these two seasons, when they all make their way from Madrid to Malaga.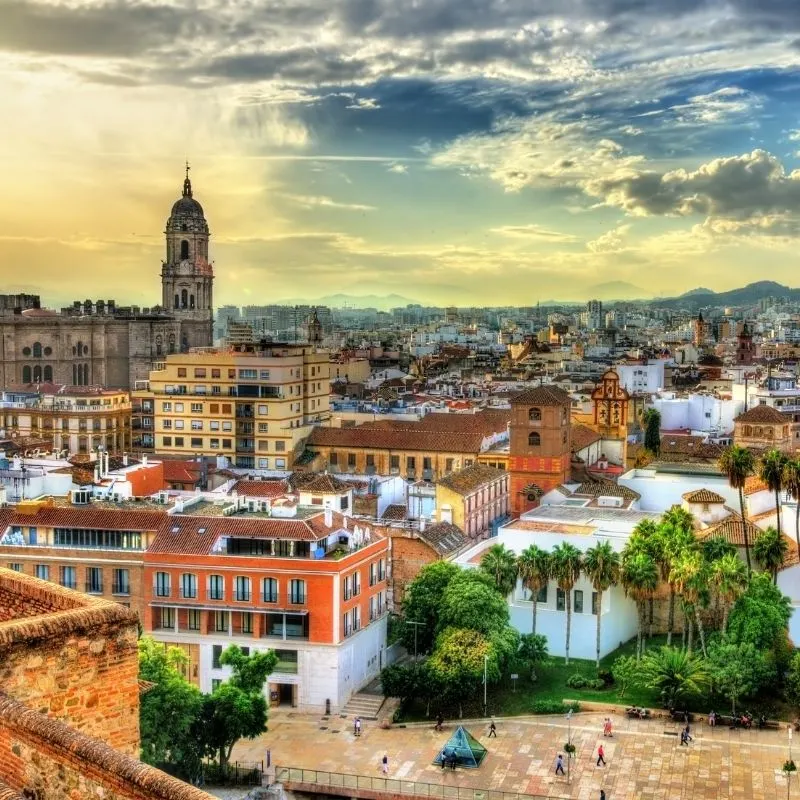 This blog is supported by you, dear reader. If you purchase through a link, we earn a small commission. As an Amazon Affiliate, we earn from qualifying purchases.
Are you planning to make the trip too? Perhaps as part of a winter road trip or just a way to add more adventure to your holiday in Spain? Here's exactly how to get from Madrid to Malaga.
Useful Travel Information About Malaga
✈ Book cheap flights to Malaga with Skyscanner

✔ Book tours in Malaga with GetYourGuide

⚘ Avoid tourist traps and get the customizable "Andalucia Like a Local" itinerary. – Get it here

➳ Find the best hotels in Malaga with Booking.com

❖ Rent a car at the best rates with Discover Cars

✎ Never leave without travel insurance! I get mine at SafetyWing. It is easy to set up, cheap and reliable.

$ Withdraw money without hidden fees and avoid exchange charges with TransferWise (Free Mastercard debit card to spend money abroad)
Distance from Madrid to Malaga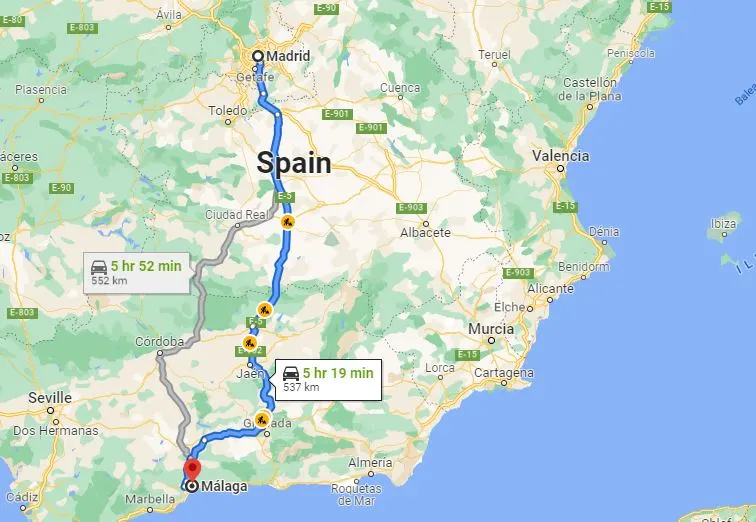 Depending on what route you take from Madrid to Malaga, the distance is somewhere between 530 and 545 km.
This typically depends on whether you will be populating the toll roads (which can be rather pricey during the high season) or sticking to the public roads.
By car, the journey will take you between 5 ½ to 6 hours; by bus, you're looking at around 7 hours.
The fastest way to get from Madrid to Malaga is to travel by train – via the AVE, to be exact.
Leave the Puerta de Atocha train station in Madrid at 4:35 PM and you'll arrive at the Maria Zambrano Station in Malaga by 7:25 PM – in other words just a little under three hours.
Selection of Day Trips from Madrid to Malaga
Visit Museo Picasso Málaga – book your guide here
Go on a Tapas Tour and Flamenco Show tour – here you can find the guided tour
Relax on La Malagueta Beach
Stroll around Alcazaba – find the guided tour here
Get lost in Ataranzas Market
A spa day at Hammam Al Andalus Malaga – get your guide here
BEST OPTION: How to get from Madrid to Malaga
The best travel options to get you to Malaga are either by train or by plane – they are certainly the quickest way to the Costa del Sol beaches and mild temperatures. – Buy train tickets here

For a smooth journey from the airport or train station in Malaga, to your chosen accommodation, consider booking a transfer for a hassle-free experience. – Book a transfer here.
From Madrid to Malaga by Train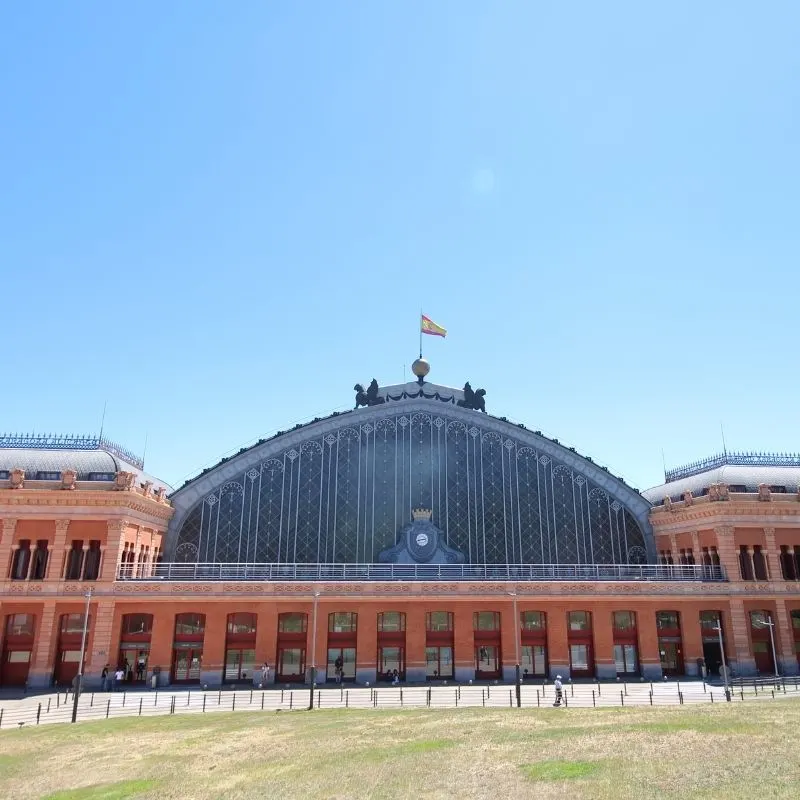 Taking the train from Madrid to Malaga is favorable for two accounts: firstly, it's the fastest way to your favorite Malaga beach.
Secondly, the Atocha train station in Madrid is well worth a visit, even if you decided not to hop on the Madrid to Malaga train.
The striking building was designed by Alberto de Palacio Elissagne in collaboration with Gustave Eiffel, whereas the modern terminal designs were brought to the public by Rafael Moneo.
You can make a one-way trip to the Spanish south for around €60 unless you're planning on traveling during the festivos or a puente.
The AVE trains tend to leave on the hour, so you'll have no problem finding a time that best suits your itinerary.
Get train tickets here
From Madrid to Malaga by Bus
If you don't mind the concept of slow travel and are always happy for an excuse to hang back with some good tunes or the latest craze on Netflix, you can choose to travel by bus.
Not only does it make for cheap transportation, but it will also give you a chance to watch the Spanish world roll by from your window seat (hint: book a window seat!).
Most buses from Madrid to Malaga are direct, though you will encounter some lines which will reserve longer breaks on the road, than others.
The longest stop for a coffee and bathroom break is typically in Granada which isn't bad at all – it'll give you a chance to breathe in the air afoot the Sierra Nevada mountains.
Prices start from as little as €14,95 and you can book your ticket here.
From Madrid to Malaga by Car
One of the best things besides the weather in Malaga Spain, are the roads that will lead you there.
Whether you choose to drive alongside the Mediterranean sea or inland, the trip from Madrid to Malaga by car merece la pena, as the Spanish would say – is worth it.
The trip is between five and six hours, and with the many roadside Ventas offering delicious food along the way, it can easily be broken up with a scrumptious break halfway.
Now here's the big question you've been waiting for: how much does it cost to rent a car? You'll be happy to know that there is always a good deal to be found online.
If you're flying into Madrid and then heading down South, you can opt to reserve a car at the same time you're booking your flight.
How to book a car spontaneously? Just hop online and check out rental car companies such as Sixt, Golden Car, and Eurocar for the best offers.
Rent a car here
From Madrid Airport to Malaga
Flying into the Adolfo Suárez Madrid-Barajas airport couldn't be more comfortable – it's huge, with lots of shops, cafes and restaurants to while away the time, and it's well connected.
The airport is situated just 12km from the center of Madrid and, as such, is easily accessible using taxi services, a rental car or by train or metro.
Book airport transfers here
From Madrid airport to Malaga by train
If you're looking to continue straight on from Madrid to Malaga by train immediately upon arriving at the airport, you'll need to make your way to the Atocha train station first.
The easiest way to reach Madrid's main train station is by taxi, metro or train. A taxi will cost you around €35, regardless of whether you're traveling during the day or night.
In terms of public transport, your cheapest (€6.80) and fastest option is by train, followed by the bus at €10, and finally, the metro, which clocks in at €16.
The schedule for all is relatively flexible though if you've been hit with a nighttime flight, the bus is the only option offering rides 24/7.
You can catch the metro from 6 AM to 1:30 AM, and the train from 6 AM to 11:30 PM, on an hourly basis.
None require changing and offers a direct journey to the Atocha train station, where you can continue your journey to the warm Andalusian south.
While pre-booking your train or metro tickets from the airport to Atocha isn't necessary, you should definitely buy your ticket to Malaga in advance for the best prices.
If you're traveling outside of the festivos or high season, you can expect your train ticket from Madrid to Malaga to cost somewhere around €40 to €60.
You can book your ticket here.
From Madrid Airport to Malaga by Bus
There is no direct bus from Madrid airport to Malaga, but not to worry – you can still get to your favorite Costa del Sol holiday destination in no time.
Take a bus or a cab to the Estacion Sur and hop on your Malaga-bound bus there. Yes, it's as easy as that!
The bus from Madrid to Malaga costs around €30 and takes eight hours, with a change in Granada.
If changes make you nervous, know there's no reason to be. You just get off at the Granada station and wait around for your connecting bus – no biggie!
Get your ticket here
Return: Travel from Malaga to Madrid
Once you've made good use of your time away by exploring all the things to do in Malaga Spain, it's time to travel back – this time al revés: from Malaga to Madrid.
The Malaga train stations Maria Zambrano and Alameda are great starting points, and not just if you're going by train.
They are also close to the bus stations and offer direct trips to the airport.
Flights from Madrid to Malaga are quite cheap during the low season, and the same is true for the return trip.
So once you've tasted your way through restaurants in Malaga, Spain, jump on a plane back to Madrid and get ready to explore the culinary classics of the Spanish north.
Final words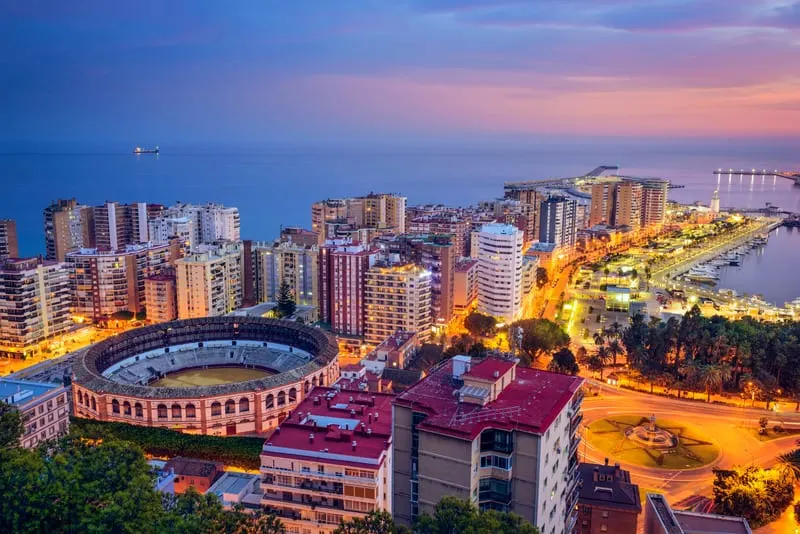 Madrid vs Malaga? There's no real winner here for the two can't possibly be compared.
Both cities have their own charm, so whether you're headed one way or the other, it's worth the trip.
For the most relaxing journey from Madrid to Malaga or vice versa, we definitely recommend traveling by train. It's cheap, fast and comodo.
If you are want to travel from Barcelona to Malaga, or you want to know where to stay in Malaga we stand by you with our travel guides.
While in Costa del Sol, you can try the best free things to do in Malaga or travel from Malaga to Marbella, or Malaga to Cadiz to relax on Malaga's best beaches.
You can also read how to get from Malaga to Seville or from Madrid to Seville and enjoy a city full of history.
---
Short FAQ about How to get from Madrid to Malaga
What is the best area to stay in Malaga?
Málaga Centro is the best location in Málaga for sightseeing and first-time visitors.
Centro, which is home to the city's most popular tourist attractions, is the best place to stay in Málaga if you want to be close to the action.
Málaga Centro is by far the greatest location to stay in Málaga, with Larios Street as its primary core.
How many miles is it from Madrid to Málaga by train?
The distance between Madrid and Málaga by train should be approximately 257 miles (415 km).
The average train journey time between Madrid and Málaga is 2 hours and 28 minutes, although the time might vary.
---
---
Hola, I'm Paulina! Together with my team, we are passionate about Southern Spain. Here we share all you need to know for great times in Southern Spain with the best places to visit, stay and, of course, the best food to eat.
Let's dive in and explore Southern Spain's outdoors, food and culture con pasión!