The ultimate transportation guide between Malaga and Gibraltar
While it is possible to fly directly to Gibraltar from the United Kingdom, you cannot fly there from any other country.
It is not that airliners from other countries cannot fly there; they do not see a significant enough demand for flights when Málaga-Costa del Sol Airport (AGP) is only 78 miles away.
Touted as the gateway to sunny Spain's gorgeous "Blue Flag" beaches, AGP saw close to 20 million passengers a year before the COVID-19 pandemic.
This post contains affiliate links. If you buy via them, I'll earn a small commission which helps me to keep this blog running. As an Amazon Associate I earn from qualifying purchases. All opinions are my own.
While many people flying into Malaga are eager to get to their hotels and rental properties, others want to rent a car and explore Southern Spain.
There are plenty of fascinating places to visit in the south of Spain like Marbella, Ronda, Cordoba, Granada, Nerja, and Gibraltar.
Ceded by Spain to Britain in the 1713 Treaty of Utrecht following the end of the War of the Spanish Succession, the "Rock," as it is affectionately called, has remained a British Overseas Territory ever since.
If you have ever wondered how to get from Malaga to Gibraltar, we have listed all the ways to travel between Malaga and Malaga Airport below.
What you need to know before traveling to Gibraltar
You must hold a valid passport to enter Gibraltar, and it must be good for the duration of your stay.
With the United Kingdom no longer in the European Union, Gibraltar is no longer a part of the EU Common Customs Territory.
This means that the amount of some goods (tobacco and alcohol) you can take into and out of Gibraltar is limited.
When returning to Spain, you should declare any duty-free goods to Spanish customs officers.
If you are from a country in the European Union, all you need to show is a valid national identity card.
All other nationalities, including citizens of the United Kingdom, must show a valid passport. If you need a visa to enter the United Kingdom, the same applies to Gibraltar.
Useful Travel Information About Seville
✈ Book cheap flights to Seville with Skyscanner

⚘ Avoid tourist traps and get the customizable "Andalucia Like a Local" itinerary. – Get it here

✔ Book tours in Seville with GetYourGuide

➳ Find the best hotels in Seville with TripAdvisor

❖ Rent a car at the best rates with DiscoverCars

✎ Never leave without travel insurance! I get mine at SafetyWing. It is easy to set up, cheap and reliable.

$ Withdraw money without hidden fees and avoid exchange charges with TransferWise (A free Mastercard debit card to spend money abroad)
Distance from Malaga to Gibraltar
Car: The distance between Malaga and Gibraltar is 84 miles. The distance from Malaga Airport to Gibraltar is 78 miles. The journey takes around 1hr 30 mins when taking the AP-7 motorway.
Public transport: There are five buses a day with a journey time of around 3hrs.
Selection of Day Trips from Malaga to Gibraltar
BEST OPTION: How to get from Malaga to Gibraltar
The best way to get from Malaga to Gibraltar is by car, taking the AP-7 motorway. Having your own vehicle or renting one allows you to move at your own pace and gives you the ability to stop off in places like Marbella and Estepona. – Check out car for rent here.
From Malaga to Gibraltar by Bus
Price: Either 19€ or 15€ one-way depending on what bus you take
Schedule: From Malaga buses depart at 08:30, 11:30, 13:15, and 14:30. From La Linea buses depart for Malaga at 07:45,11:45, 12:35,16:30, and 20:00
The only public transport option for getting from Malaga to Gibraltar is the bus. There are no buses between Malaga and Gibraltar, but you can travel from Malaga to La Linea and then walk across the border.
Spanish bus company Avanza has five buses a day from Malaga, Estación de Autobuses (Malaga Bus Station). – Check tickets here.
The first bus leaves Malaga at 08:30 and arrives in La Linea at 10:50. The last bus back to Malaga departs La Linea at 20:00 and arrives back in Malaga at 11:05.
Tip: During the summer seats sell out fast, so be sure and book your ticket well in advance to avoid disappointment.
From Malaga to Gibraltar by Car
Driving is easily your best option given the short amount of time you would have in Gibraltar if you traveled from Malaga to Gibraltar by bus.
Also, by driving, you can stop off in places like Marbella and Estepona. If you do not have a car of your own, consider renting one from the car rental companies at the airport. – Check out car rentals here
From Malaga or Malaga Airport, get on the Autovía de Circunvalación de Málaga/MA-20 via the ramp in the direction of the airport, Torremolinos, Algeciras, Cadiz.
Merge onto the AP-7 motorway and stay on the highway until exit 119. Continue on CA-34 to your destination.
Tip: Driving and finding a place to park in Gibraltar is a big hassle; plus, with the UK no longer in the EU, border checks take a long time.
Better to park your car in the Spanish town of La Linea de la Concepción and walk across the border. Expect a total journey time of around 1hr 30 mins.
From Malaga Airport to Gibraltar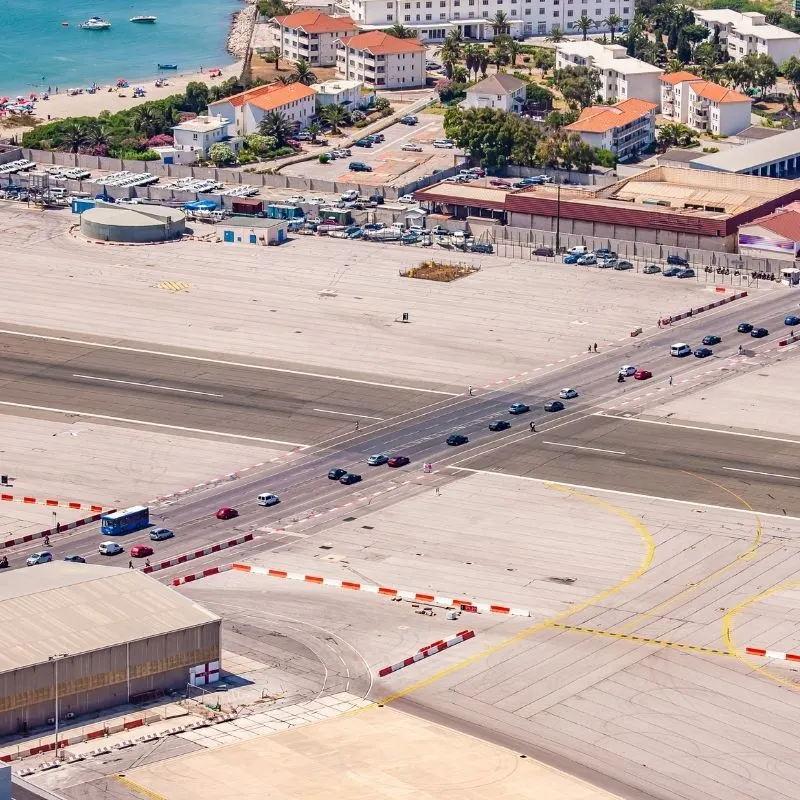 If you drive from Malaga Airport (AGP) to Gibraltar, follow the instructions above.
There is also a direct bus from the airport to La Linea, from where you can walk across the border into Gibraltar.
The buses are operated by Avanza and depart Malaga Airport at 08:35, 13:40, and 18:05.
From Malaga Airport to Gibraltar by Train
There are no trains between Malaga Airport and Gibraltar. You can, however, take a bus from the airport to Gibraltar or the central bus station in Malaga.
From Malaga Airport to Gibraltar by Bus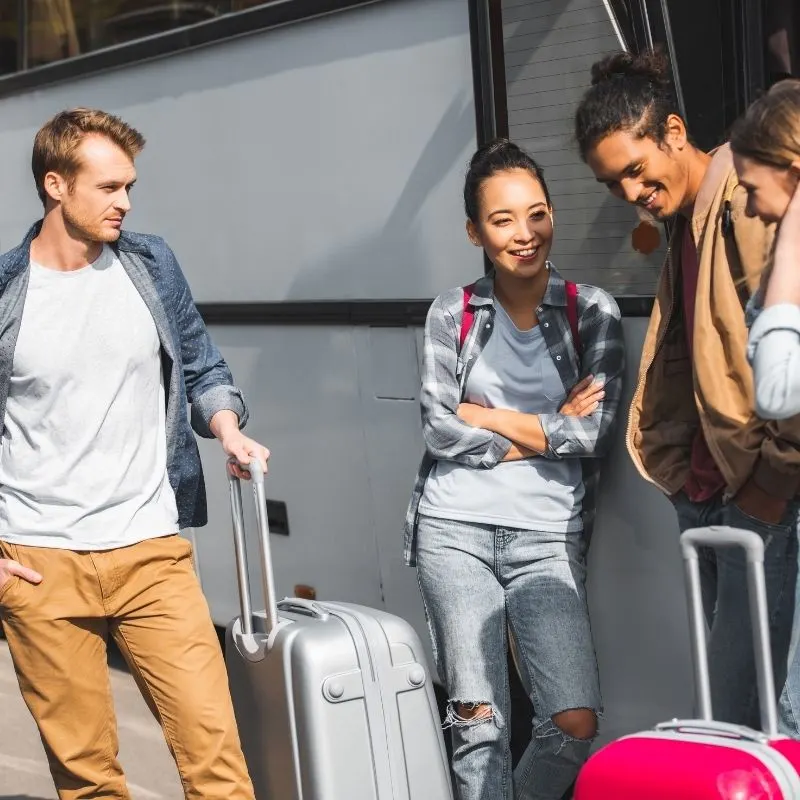 Price: 10€ or 16€ one-way depending on which bus you take.
Schedule: The buses are operated by Avanza and depart Malaga Airport at 08:35, 13:40, and 18:05. Buses from La Linea to Malaga Airport depart La Linea at 07:45, 11:05, and 12:35.
Avanza Grupo operates a bus from Malaga Airport to La Línea de la Concepción three times daily.
You can purchase tickets from the kiosk near the exit, pay the driver on the bus or buy them in advance here.
Tickets cost €10 – €16 one way, and the journey takes 1hr 55mins. The bus stop is located just outside the Malaga airport arrivals hall.
Check tickets for the bus here
Taxi from Malaga Airport to Gibraltar
The taxi rank at Malaga Airport is located outside the arrivals hall. All Malaga taxis are metered and accept payment by credit card.
Depending on whether or not it is a weekend or holiday and what time of the day it is, you can expect to pay between 162€ to 195€ to get from Malaga Airport to Gibraltar.
During the peak summer months, you may have to wait up to an hour to get a taxi.
A much better and less expensive option is to rent a car from Costa del Sol Airport Malaga to the Gibraltar-Spain border with car rentals services like Kiwitaxi
Prices start from 189 $ for an economy car and after you've entered Gibraltar you need a local taxi to drive you to your final destination.
Book airport transfers from Malaga to Gibraltar
How to get around Gibraltar
Despite only occupying 2.6 square miles, Gibraltar can be pretty arduous as getting too many of the attractions is an uphill slog.
With no hop-on-hop-off-bus, you can still get around the Rock using red public buses from Casemates Square.
With the cable car to the top of the Rock and entry to the nature reserve expensive, not to mention the long queues in Summer, the best way to see Gibraltar's attractions is by taking a taxi tour.
The two-hour tour, including admission to the attractions, costs £22 ($28) per person and takes you to the Pillar of Hercules, St Michaels Cave, the top of the Rock where the apes are, and the Napoleonic tunnels.
If you're planning a vacation to Southern Spain, check our other travel guides to help you arrive to your destination:
Guided Tours to Gibraltar from Malaga
1. Gibraltar: Rock of Gibraltar History Tour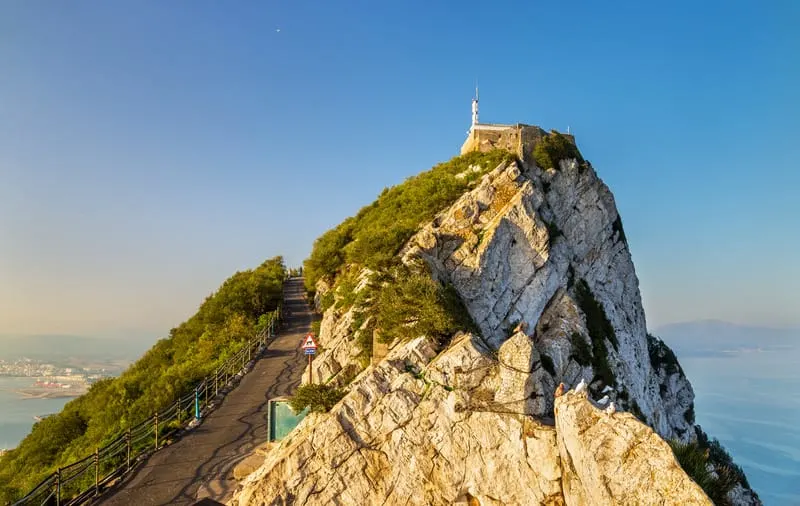 This tour allows you to explore the history of Gibraltar from its Moorish Castle, 100 Ton Gun, Trinity House Lighthouse, and St. Michael's Caves.
While on tour, you will meet the Rock's famous Barbary apes and enjoy panoramic views across the Straits of Gibraltar to Africa.
The tour takes 2.5 hours and costs around 42€ ($54) per person. – Check out the guided tour here.
2. From Malaga: Day Trip to Gibraltar with Guided Tour
From Malaga: Day Trip to Gibraltar with Guided Tour: Leave Malaga early in the morning for an entire day in Gibraltar.
At the same time, visit all the main attractions in the morning before having lunch in a British pub.
After lunch, explore Gibraltar's historic center and shop in some of the United Kingdom's big-name stores while snapping up some duty-free bargains. – Get the guided tour here.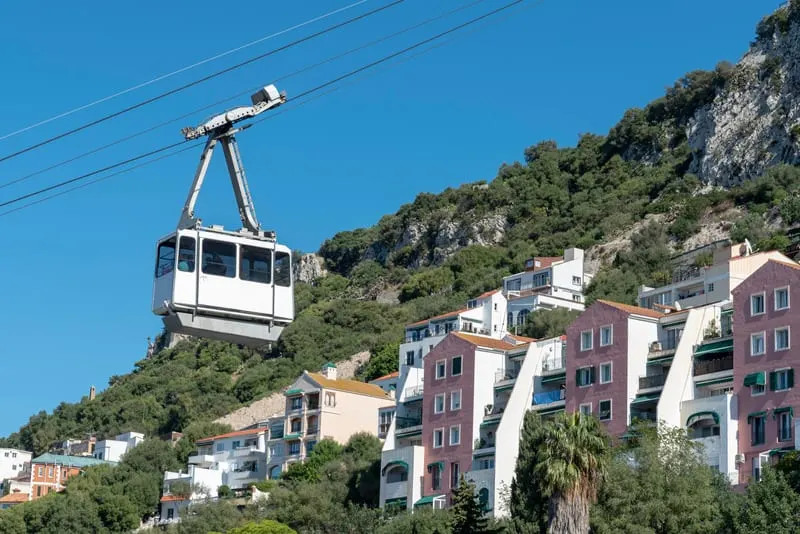 One of the must-do things when you travel to Gibraltar for the first time is to go to the top of the Rock, and the easiest way to get there is by cable car.
Built in 1966 by Swiss cable car manufacturer Von Roll Holding, the cabins can hold 30 passengers and an attendant.
The journey up to the station takes six minutes, and once at the top, you have incredible views of Spain and the Rif Mountains in Africa.
Cable cars run every ten minutes throughout the day and cost 34€ ($37) for adults and 22€ ($24) for children; the ticket includes entry into the Nature Park and all the attractions at the top of the Rock.
Going on an eco-friendly Dolphin tour is a great way to see these marine aquatic mammals up close.
The Bay of Gibraltar has two species of dolphins, the short-beaked common and striped dolphins.
It is possible to see bottlenose dolphins migrating whales, and the endangered Loggerhead turtle during the summer.
The tour lasts approximately 1.5 hours and costs £25 ( $32.50) for adults and £12.50 ($16.25) for children. – Check out the guided tour here.
Short FAQ about visiting Gibraltar from Malaga
---
What is the best way to get to Gibraltar?
The quickest way is to drive from Malaga to Gibraltar by car.
If you are visiting Gibraltar as a solo traveler, take the early morning bus from Malaga and the 20:00 bus back from La Linea.
How do I get from Gibraltar to Spain?
Crossing the border from Gibraltar into Spain is probably one of the most accessible trips between two countries you'll ever make while on vacation.
If you are a citizen of the European Union, all you need to show is your national identity card. If you are from a non-European Union member country, you must show your passport to enter Spain.
---
---
Hola, I'm Paulina! Together with my team, we are passionate about Southern Spain. Here we share all you need to know for great times in Southern Spain with the best places to visit, stay and, of course, the best food to eat.
Let's dive in and explore Southern Spain's outdoors, food and culture con pasión!