A local guide on how to celebrate Semana Santa in Spain
Before we get into what is arguably Spain's most important religious holiday, we will try and explain how it came about and why it is something well worth witnessing for yourself.
Semana Santa in Spain, or "Holy Week" as it is also known, is an annual tribute to a short final period in Jesus Christ's life.
With its roots in Spain dating back to the Middle Ages, Catholic religious brotherhoods and fraternities perform penance processions in all Spanish towns and cities.
This post contains affiliate links. If you buy via them, I'll earn a small commission which helps me to keep this blog running. As an Amazon Associate I earn from qualifying purchases. All opinions are my own.
Colorful, sorrowful, and passionate are adjectives used to describe what can be, for many, a very moving experience.
Depending on one's views, the Passion of Jesus Christ can include some or all of the events below:
Jesus' triumphal entry into Jerusalem
His cleansing of the Temple
His anointing, the Last Supper
His trial before Pontius Pilate
His crucifixion and his death on Good Friday
His burial and the resurrection
Some Christian communities also commemorate the sorrow of Mary, the mother of Jesus, on the Friday of Sorrows.
Semana Santa in Spain – Main Traditions
Prevalent in the Andalucian cities of Granada, Malaga, and Seville, the main Easter traditions of Semana Santa in Spain (Holy Week) are:
Religious Processions: People performing the Sacrament of Penance walk through town in hooded robes to hide their identity carrying candles or wooden crosses.
Easter Food: Foods typical of Santa Semana include fish stews and sweet pastries.
Brotherhoods carrying magnificent "Pasos": Brotherhoods and fraternities carry ornate statues relating to the Passion of Christ.
The Good Friday: El Viernes Santo honors the day Jesus died on the cross and is a day of fasting and repentance.
Mourners: Dressed in black with veils, mourners follow behind the brotherhoods and Pasos.
Candles and balls of wax: Children collect wax from the many candles during the processions and make balls with it.
History of Semana Santa in Spain
The Semana Santa processions came about as a way for the Catholic church to teach non-religious people about the Passion of Christ.
Throughout the week leading up to Easter, parades were held first with people carrying simple wooden crosses.
It later evolved into elaborate Pasos with sculptures depicting different scenes relating to the crucifixion and resurrection of Jesus.
The most spectacular processions during Holy Week can be seen in Andalucia, while further north, they tend to be more sober and pious.
Semana Santa Traditions
1. Processions
A big part of Semana Santa in Spain is the processions and the wearing of a hooded cloak called a "Nazareno."
Fashioned from a wide variety of colors depending on which brotherhood the wearer belonged to, the hoods only have slits cut out for the eyes so that onlookers cannot recognize the sinner doing their penance.
During the processions, the penitents carry candles or roughly made wooden crosses. Some even go so far as to walk barefoot or have shackles and chains fastened to their ankles.
In some areas of Spain, you may also see some people wearing clothes that the Roman Legions inspired.
2. Easter Food
Like every festival or event in Spain, there is a food that typifies it and Semana Santa is no different.
Because Catholics are supposed to abstain from eating meat on Ash Wednesday, Good Friday, and all Fridays of Lent, Semana Santa is a big week for seafood.
One dish that typifies Holy Week in Andalucia and has become a Spanish Easter tradition is chickpea and cod stew called garbanzos con bacalao.
For people looking for a humbler simple dish, the fish is replaced with garlic and spinach known as garbanzos con espinacas.
Rice pudding is also popular throughout Andalucia, and in Seville, torrijas is the star attraction.
Like what we call French Toast, torrijas are sliced bread dipped in egg and milk and deep-fried.
Once lovely and crispy, it is coated with sugar and cinnamon. Another typical sweet dish that you will come across is honey-glazed pastries called pestiño and of course, Mona de Pascua.
3. Brotherhoods carrying magnificent Pasos
During Semana Santa in Spain, brotherhoods or local fraternities carry elaborate floats through the streets of the city or town.
Sometimes weighing hundreds of pounds, sculptures and scenes depicting the Passion of Christ are carried on the shoulders of believers.
Many of these sculptures are artistic masterpieces over 300 years old and only brought out once a year.
In most cases, the men carrying the Pasos are hidden from view by a cloth surround to give the impression that the Paso is floating in the air.
The men carrying the Pasos are called portadores or costaleros, and their leader or the head man a capataz.
The capataz determines how long the Paso is carried before being set down.
As the Paso is paraded through the streets, it is followed by a band and a group of veiled women dressed in black who are referred to as the mourners.
4. The Good Friday
Good Friday, or El Viernes Santo as it is known in Spanish, is a public holiday in Spain and honors the day Jesus died on the cross.
It is a day of fasting and repentance for sinful acts. With meat banned from being eaten on Good Friday, many Spaniards eat the Potaje de Vigilia, a simple dish made with cod, chickpeas, and spinach.
6 Top Places to go for Semana Santa in Spain
If you genuinely want to experience Semana Santa in Spain at its best, you must head to Andalucia, where they have the most spectacular celebrations.
While in principle the celebrations are the same no matter which city you visit there are slight differences that set each one apart.
1. Seville
As the capital of Andalucia, you would expect Seville to pull out all the stops for Easter celebrations and Semana Santa.
The highlight of Easter in Seville is on Good Friday when the brotherhoods, known as estación de penitencia (stations of penance), carry the Pasos from their neighborhood church to the Cathedral of Seville and back.
Following days of celebrating and repenting, Semana Santa reaches its climax in Seville in the early morning hours of Good Friday.
Starting just after midnight, the city's most prized Pasos weave their way through the narrow streets to the Cathedral.
The most haunting of the processions and the one that you will remember for a lifetime is performed by Seville's oldest brotherhood, El Silencio.
As the name suggests, the parade takes place in complete silence. Read here how to get from Malaga to Seville.
2. Malaga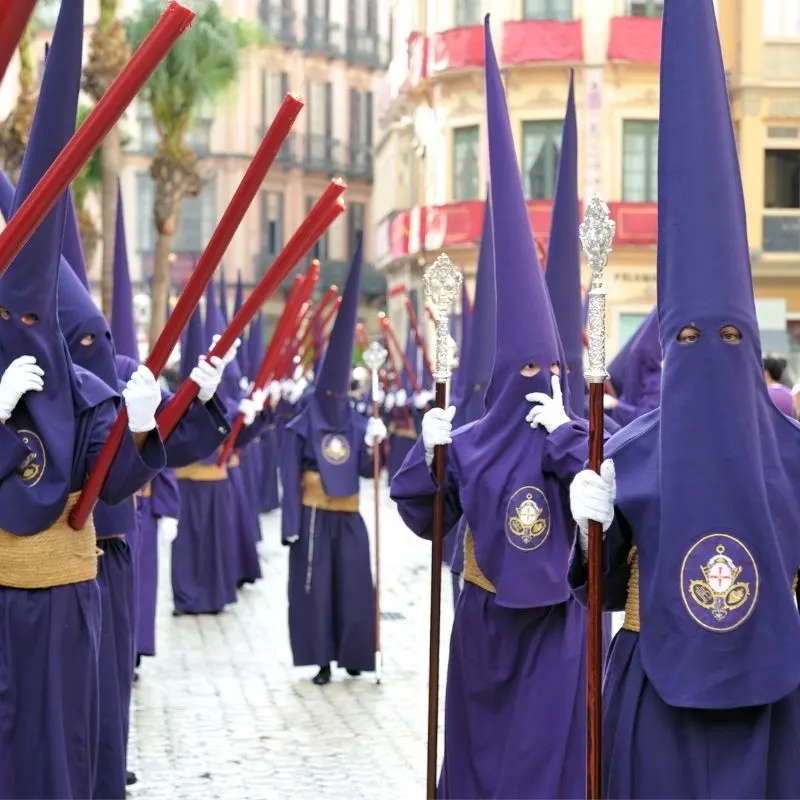 In all of Spain, Malaga is regarded by the Spanish as the place to go if you want to see Holy Week celebrations.
For more than 500 years, this Southern Andalucian city has celebrated with a fervor unlike anywhere else.
The festivals and processions begin on Palm Sunday and last until Easter Sunday, with the most solemn and dramatic occurring on Good Friday.
Unlike other Andalusian cities, where the celebrations are very sad and dark, Malaga celebrates Semana Santa differently.
Rather than sadness, Malagueños are full of happiness, cheering and singing as the processions pass.
Because of the demand for attending Semana Santa, where to stay in Malaga can be a problem as many hotels are booked well in advance.
If you are lucky enough to find accommodation for the week you could also see the celebrations in Seville as getting from Malaga to Seville is very easy.
3. Cordoba
With so many things to do in Cordoba, what was once the most advanced city in Europe is an ideal place to visit during Semana Santa.
At one time in its long history, Christians, Jews, and Muslims all lived in harmony, making Cordoba an ideal setting for reflection and coexistence.
Unlike Malaga, Holy Week in Cordoba is silent and collected. The processions of the 37 Brotherhoods of Penance stand out in the historic center, an area designated as a UNESCO World Heritage Site.
Cordoba is located on the Seville to Malaga rail line, allowing visitors during Semana Santa to see two completely different ways Easter is celebrated in Spain. Joy in Malaga and sadness in Cordoba.
3. Granada
Famous for being the home of the Alhambra Palace, Granada offers the perfect backdrop for Semana Santa celebrations.
Holy Week in Granada, while still solemn, is unique thanks to the simplistic beauty of its Pasos.
In Granada, 32 Brotherhoods participate in the Easter celebrations parading through the narrow cobblestone streets of the old Arab Quarter and the fire-lit caves of the Sacromonte hills.
As an onlooker, the two processions you want to see are the procession of the Cristo de Silencio on Holy Thursday and the Soledad de San Jerónimo on Good Friday.
During the procession on Good Friday, people take to the streets dressed as figures from the Bible, and then on Easter Sunday, children walk through the streets carrying ceramic lanterns that jingle as they walk.
4. Cadiz
With its mild spring climate, Cadiz is an excellent place to go to celebrate Easter.
In Cadiz, the Semana Santa celebrations are every bit as good as they are in larger cities like Malaga and Seville, with the streets of its old town serving as the center stage.
More akin to the celebrations in Malaga, the bars and restaurants in Cadiz are buzzing day and night.
Also, with Holy Week restricting what people can eat, there is no better place to be than in Cadiz if you want to eat fresh seafood.
Unlike the larger cities where the Pasos are carried on a frame that then rests on the costaleros' shoulders, the Pasos in Cadiz rest solely on the shoulders, giving a uniquely different movement to the way they are carried.
If you are lucky enough to have pleasant weather between the processions, you can spend some time on the beach.
6. Almeria
Of all the places to experience Semana Santa in Andalucia, the city of Almeria and its imposing Moorish fortress does not automatically spring to mind.
Again unlike Malaga, where there is a party atmosphere in Almeria, Holy Week is a solemn affair where people reflect on their sins.
A highlight of the processions during Semana Santa in Almeria is on Thursday night when the processions of María Santísima de la Amargura and Jesús Nazareno meet on Plaza Emilio Pérez.
During Easter week, other things to do in Almeria include:
Visiting the 16th Century Almeria Cathedral.
The Alcazaba fortress. – Get your guided tour here
Exploring a unique underground network of Civil War tunnels.
Our Recommendations If You Want To Celebrate Semana Santa In Spain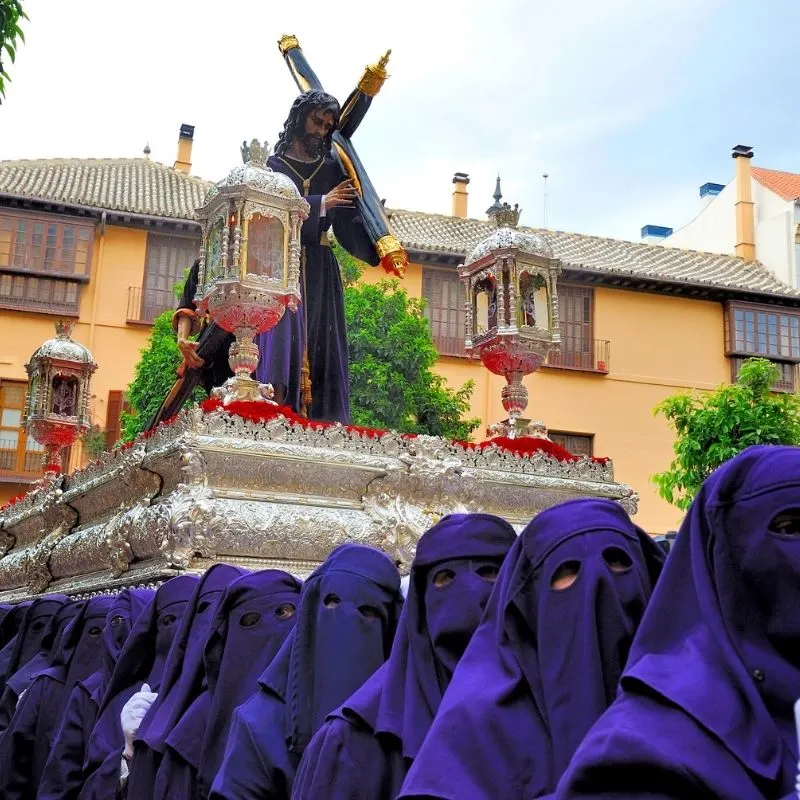 As you can gather from what we have already said, Semana Santa in Spain is a huge event involving millions of people.
While all of the cities we have mentioned above are excellent places to experience Holy Week in Spain as a visitor, our first two choices would be Malaga and Seville.
Of the two, Malaga is the easiest to get to if you are arriving from Europe, with Málaga-Costa del Sol Airport (AGP) having connections to most European cities.
If you are arriving from outside Europe, fly into Madrid and then take the high-speed AVE train from Madrid Atocha train station to Seville Santa Justa train station.
The journey takes 2hrs 30 mins and is an excellent introduction to Spain.
Both Malaga and Seville are home to the best hotels in Andalucia but be sure and make your reservations early as rooms sell fast for Easter week.
Semana Santa is one of the most famous celebrations in Spain and of the best festivals in Andalucia, you should consider attending.
Accommodation in Malaga and Seville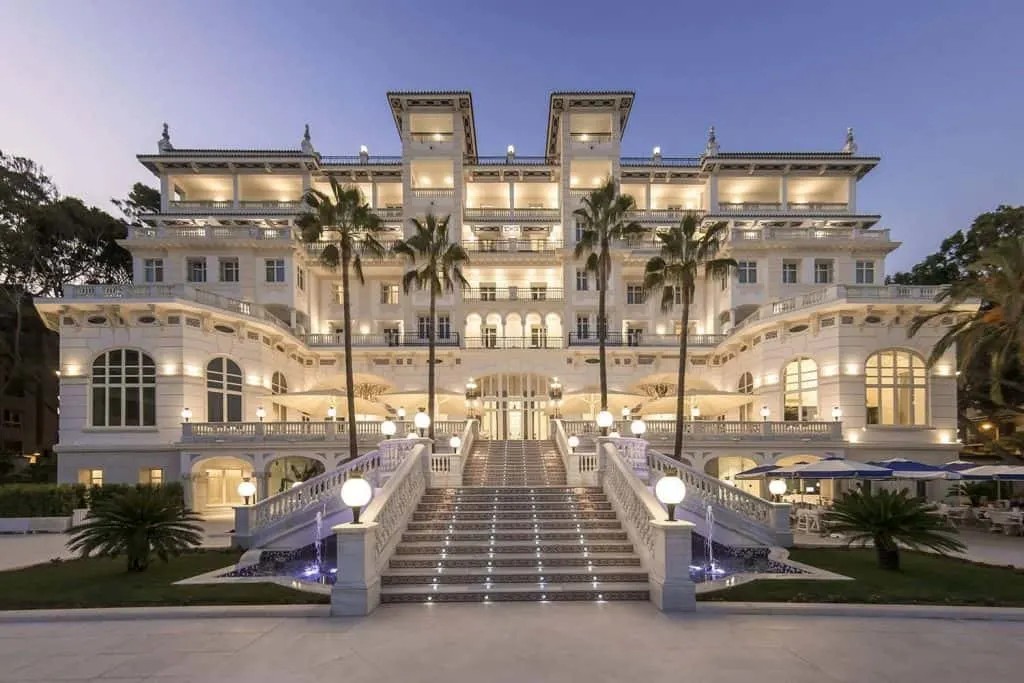 When it comes to a luxury hotel, you will not do much better than the 5-star Gran Hotel Miramar.
Inaugurated on February 10, 1926, by King Alfonso XIII, this spectacular beachfront hotel underwent a complete makeover reopening four years ago to become a member of the Leading Hotels of the World consortium.
Located in downtown Malaga near all the city's main attractions, the 4-star NH Malaga is the perfect hotel for your Semana Santa in Spain getaway.
The NH Malaga features 245 modern rooms, a rooftop swimming pool, and every amenity you would expect to find in a property of this caliber.
Easily accessible from Malaga Airport, the 189 room 2-star Ibis Malaga Centro Ciudad is close to all the principal tourist sites in Malaga.
Unlike many hotels in Malaga, the Ibis Malaga Centro Ciudad also accepts pets.
Housed in a historic building with a traditional courtyard, the boutique Hotel Casa 1800 Sevilla is ideal for a city break in Seville.
Situated in the heart of the old town within walking distance of the main attractions, this 33 room hotel is a great place to stay in Seville during the Semana Santa festivities.
Check out prices & reviews here
Located on Seville's "Mile of Gold," the modern NH Hotel Sevilla is a 15-minute walk or two metro stops from the city's historic center.
Guests at the hotel particularly like the hotel's bright sun-filled rooms and the outdoor swimming pool.
The sophisticated affair with beautiful art, Romanesque pillars, oak beams, and state-of-the-art lighting distinguishes this hotel.
Despite being a budget property, the Hotel Boutique Corral del Rey has a a rooftop pool with a plunge pool, sofa, minibar, music, and the Giralda view.
---
Short FAQ about Semana Santa in Spain
Why is Semana Santa celebrated in Spain?
Paying homage to Jesus Christ's last days before his crucifixion, the Catholic Church started the Santa Semana celebrations to help educate non-religious people about Jesus.
Of all of Spain's many festivals, Semana Santa is the most somber and the most captivating festival you are ever likely to witness.
What activities are reflective of Semana Santa?
Of all the activities related to Holy Week, the ones that stand out the most are the hooded sinners seeking repentance for their ungodly deeds.
Second would be the candlelight processions of the brotherhoods taking their ornate Pasos to the city's main church or Cathedral.
What do they eat during Semana Santa?
With meat-eating banned, people eat fish stews and vegetables. Garlic soup also plays a prominent role as does chickpea and spinach stew.
A highlight of Semana Santa is the sweet French toast-like Torrijas.
---
---
Hola, I'm Paulina! Together with my team, we are passionate about Southern Spain. Here we share all you need to know for great times in Southern Spain with the best places to visit, stay and, of course, the best food to eat.
Let's dive in and explore Southern Spain's outdoors, food and culture con pasión!