The ultimate transportation guide between Malaga and Nerja
So you've finally landed in Malaga, Spain you have explored the city, and now you can hear Nerja calling, beckoning you to the Balcón de Europa and all the charming little boutiques tucked away in its typically narrow Andalusian streets.
Nerja is one of the most prominent tourist attractions on the Costa del Sol, located around 58 kilometers east of Malaga. It is renowned as an old fishing community.
Wondering exactly how to get from Malaga to Nerja, Spain? Read on for all the roads – and methods of transportation – that will lead you to this idyllic coastal town.
This blog is supported by you, dear reader. If you purchase through a link, we earn a small commission. As an Amazon Affiliate, we earn from qualifying purchases.
Useful Travel Information About Nerja
✈ Book cheap flights to Nerja with Skyscanner

✔ Book tours in Nerja with GetYourGuide

⚘ Avoid tourist traps and get the customizable "Andalucia Like a Local" itinerary. – Get it here

➳ Find the best hotels in Nerja with Booking.com

❖ Rent a car at the best rates with Discover Cars

✎ Never leave without travel insurance! I get mine at SafetyWing. It is easy to set up, cheap and reliable.

$ Withdraw money without hidden fees and avoid exchange charges with TransferWise (Free Mastercard debit card to spend money abroad)
Distance from Malaga to Nerja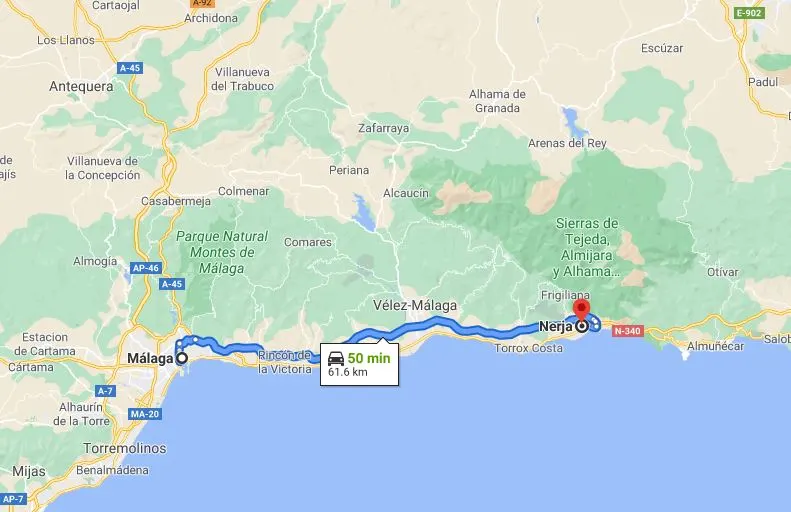 The distance between Malaga and Nerja is just a little over 50km – in other words, it is well worth the short trip, whether you're planning on a day out or an overnight stay.
Getting to Nerja by car takes around 45 minutes when the traffic is good – which it usually is, unless you're headed there in the middle of August. In that case, the drive might be nearer to an hour.
If you prefer to travel by bus and take in the passing scenery, your best option is to get on the Alsa line of buses. This will get you to Nerja in about an hour in a comfortable, air-conditioned style.
And as far as cheap transportation goes, you're in luck – a bus ticket to Nerja will cost you €4.70
Selection of Day Trips from Malaga to Nerja
Relax on the beaches of Maro, close to Nerja
Drive a quad bike
Enjoy the mesmerizing view from the Balcony of Europe
Explore the caves of Nerja. – Book here your tickets
Enjoy kayaking, paragliding, fishing, snorkeling, and other water sports near Nerja.
Wander around the historical center and its narrow streets. There are plenty of shops to be discovered.
BEST OPTION: How to get from Malaga to Nerja
By car: To get from Malaga to Nerja, the easiest options are by car. Going by car will always give you more flexibility to explore pueblos and cities around Nerja. For more convenience, you can hire a rental car. – Check here the best rental prices

By bus: Going by bus, however, will also present you the option to arrive directly in the centre of Nerja or the caves of Nerja, which are a little ways out of town and a major attraction in the area. – Get tickets here

By taxi: If you're planning on going directly to Nerja beach from Malaga airport, consider booking a transfer for the most comfortable and convenient way to get you to your destination. – Book a transfer here
From Malaga to Nerja by Train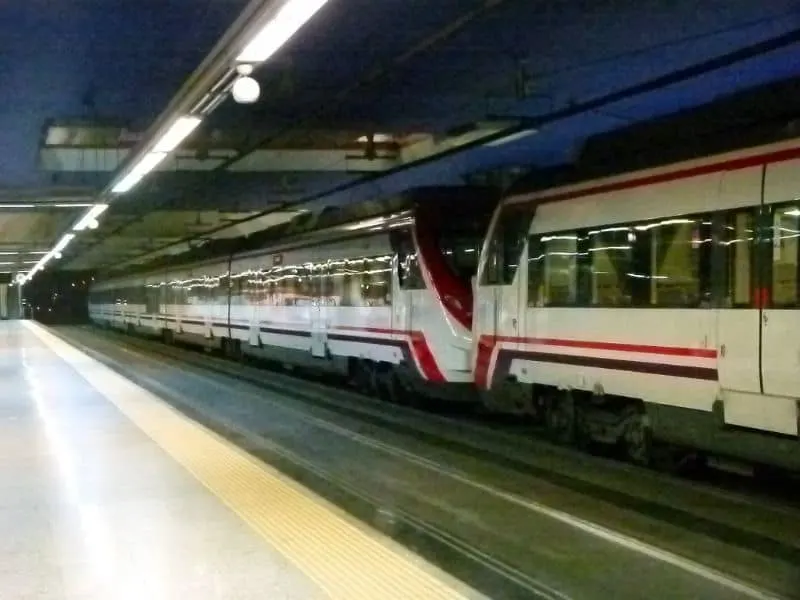 The Malaga train stations will take you to a lot of places, but not to Nerja – nope, not even on the cercanias. You'd probably get to Nerja faster by bicycle than trying to attempt to travel by train!
The Costa del Sol's public transport system is built on buses for the moment, but there are hopes for a more inclusive train circuit in the future.
From Malaga to Nerja by Car
One of the best ways to explore the Costa del Sol and southern Spain, in general, is by car. Most towns, cities, and pueblos are only reachable via the highway and curvy mountain roads, so unless you're a real, sporty adventurer, biking isn't really an option either.
If you want to avoid having to take several buses and a few hours to reach Nerja hotels and beaches for a lovely little getaway, rent a car.
Not only is it the most efficient way to travel, but it will also take you past some beautiful pueblos including La Cala de Moral and Rincón de la Victoria, with their inviting beaches and mysterious caves.
You will also have the option to head up to Frigiliana on your way there – an absolute must if you want to experience the authentic Andalusian charm.
How much does it cost to rent a car, you wonder? That's dependent on the season; during the low season you can get a little Peugeot for as little as €25 a day; during the high season, this can go up to about €35.
Want to know how to rent a car with the least hassle? If you're the kind of person who likes to plan ahead, you can do it at the same time you book your ticket to Malaga – most airlines will provide you with a selection of car hire companies available at the airport.
If you like to be spontaneous, go online and search for the best options near you. Prefer customer service that involves an actual person?
Then just walk into one of the many car hire companies such as Sixt, Hertz, etc., and ask them to advise you on the best deals.
Once you've got your wheels sorted, head on to the A-7 until you reach exit 295; from here follow the Carretera de Almería/N-340 all the way to Nerja.
From Malaga Airport to Nerja
If you're looking to get from Malaga to Nerja immediately upon arriving at the airport, there are several ways you can go about planning your trip.
From Malaga Airport to Nerja by Train
There is no direct train from Malaga airport (or Malaga, for that matter) to Nerja, but you can catch a train to the city center of Malaga.
Once you've disembarked the plane and secured your luggage, head to T3, where you'll find the underground train line. A ticket will cost you €1,80.
The journey on the L3 train takes around 20 minutes, and trains go daily from 6:30 AM to 12:30 AM. This train will take you to the María Zambrano or Centro-Alameda train station.
If you're looking to head directly from Malaga to Nerja, get off at María Zambrano and take advantage of the bus station right next door.
From Malaga Airport to Nerja by Bus
Now that you are already at the María Zambrano train station, head from Malaga to Nerja by catching a bus. With the bus station just a three-minute walk from the train station, things really couldn't be more convenient in terms of efficiency.
A bus ride from Malaga to Nerja will cost you between €2 and €9 depending on the time of day and bus line. There is no need to change buses along the way, you will be taken to Nerja and its wonderful bars and restaurants directly.
If you need a bit of a breather from all the traveling, why not make the best of all the cool things to do in Malaga before you get on the bus?
Visit the CAC or enjoy a delicious tapa at Malaga beach. Buses go from 7 AM to 11 PM, so there's no rush.
Taxi from Malaga Airport to Nerja
If you're not going to be renting a car and you don't want to waste any time making your way to the city only to catch a bus, book an airport transfer in advance.
Depending on the number of people you are traveling with – or the level of luxury you are looking for – you can opt for an "executive taxi" (starting €76 during the high season), a people carrier fitting up to six passengers (€84), or a standard-size taxi (€64).
Your driver will meet and greet you at arrivals, help you pack your luggage into your chosen car and off you go in direction Nerja, with guaranteed sea views along the way.
Book airport transfers from Malaga to Nerja
Return: Travel from Nerja to Malaga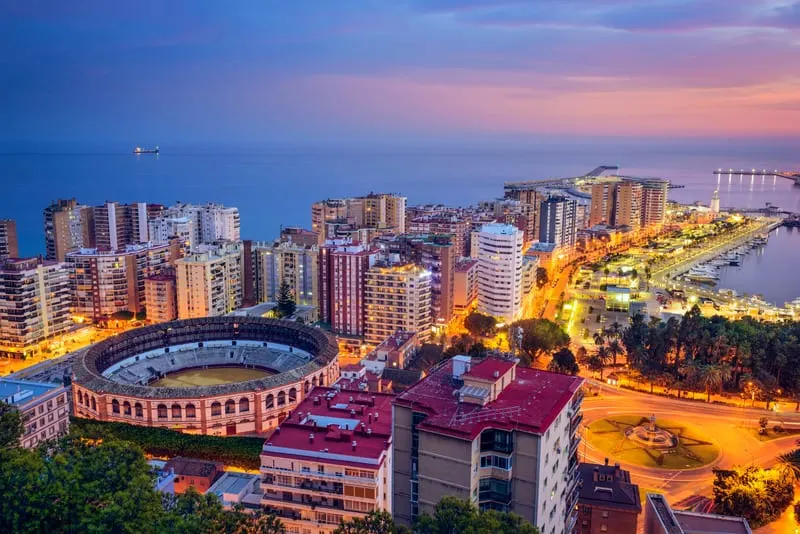 Ready to make your way back from Nerja, Spain to Malaga? With the various travel options described above, you can rest assured you will have a smooth trip back to Malaga – only this time you will be doing it all in reverse.
If you're going to be taking a bus from Nerja to Malaga, make your way to Nerja's bus station in the Calle Antonio Jiménez, where you can catch a bus back to Malaga any time between 6:15 AM to 8:55 PM at a price of €5 – €7 per ticket.
The journey is direct and takes an hour and you can book your ticket in advance here.
If you have some time to spend in Malaga upon arrival, be sure to take full advantage of it! Just like the Nerja, Spain weather, the temperatures in Malaga are of the kind northern Europe is envious of, so soak in as many rays of sunshine as you can.
And if you're traveling with the family, check out our article on the best things to do in Malaga with kids.
Alternatively, you can book a transfer service back to Malaga airport with pick-up points at Nerja Burriana Playa, Parador de Nerja, Marinas de Nerja Beach & Spa, NerjaRooms, or Hotel Nerja Club & Spa.
Indeed it's worth visiting Nerja from Malaga and while you're at it you should also try some of the best typical Malaga food.
Final words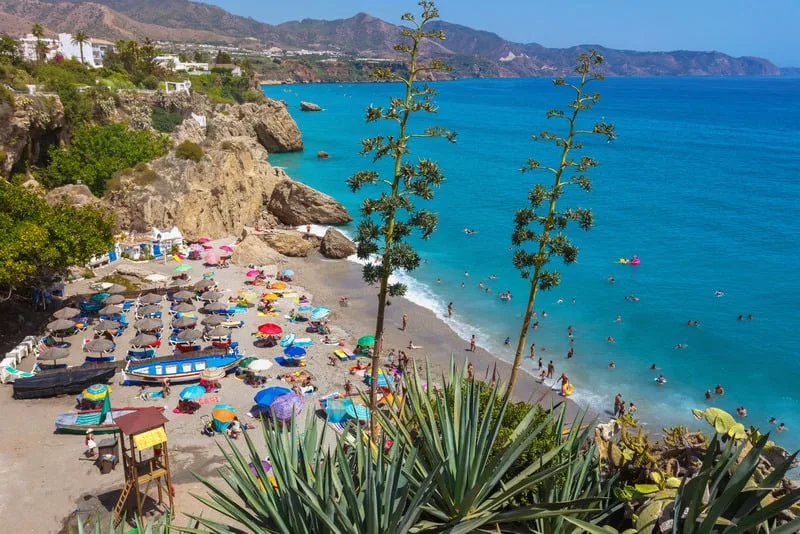 If you're going to visit the Costa del Sol, be sure to include a trip from Malaga to Nerja into your itinerary – it will not disappoint. Nerja is thus one of the best day trips from Malaga as it boasts some of the best beaches in Southern Spain.
With various marvelous pueblos to visit – Frigiliana, for example – sites to see – the caves of Nerja are a must! – and restaurants serving ajoblanco – cold garlic soup along the way, you're in for a real treat.
And if you're planning to stay a little longer on the Costa del Sol, make sure to check out our area guide on where to stay in Malaga.
Wondering about the other best day trips from Malaga in 2021? Reserve enough time for a trip from Malaga to Marbella while you're on the coast – there's plenty to see and do here for the whole family.
To make travel easier for you, we've compiled a travel guide if you want to get from Barcelona to Malaga, Madrid to Malaga.
---
How far is Nerja from the airport?
It is situated 68,7 km from Málaga Airport, on the eastern edge of the Costa del Sol. The A-7 motorway is free of charge and takes approximately 45 minutes from Málaga airport to Nerja.
Does Nerja have a train station?
Maria Zambrano is the closest main railway station to Nerja from Malaga. Things couldn't be more convenient in terms of efficiency, with the bus station only a three-minute walk from the train station.
Is Nerja worth visiting?
Despite its small size, Nerja's 22,000 residents can rightfully brag about their wonderful white-washed homes, which have earned the town a place among the 'White Villages.' Crystal clear waters, 16 kilometers of beach, and a variety of other activities make Nerja a must-see if you're visiting the east of Malaga province.
---
---
Hola, I'm Paulina! Together with my team, we are passionate about Southern Spain. Here we share all you need to know for great times in Southern Spain with the best places to visit, stay and, of course, the best food to eat.
Let's dive in and explore Southern Spain's outdoors, food and culture con pasión!