A guide to the most beautiful places in Granada that are worth seeing
Are you ready to discover the most beautiful places in Granada? This historic city is the beating heart of the Andalusia region. Its breathtaking beauty and stunning landscapes will never fail to impress.
There are so many amazing things to discover on a Granada sightseeing trip. Whether you're fascinated by history, enjoy local cuisine, or revel in nature, this part of Spain is perfect for you.
So, what are the best things to do in Granada? Where should you go and what should you do? Read on and find out more about everything you really must do in Granada Spain.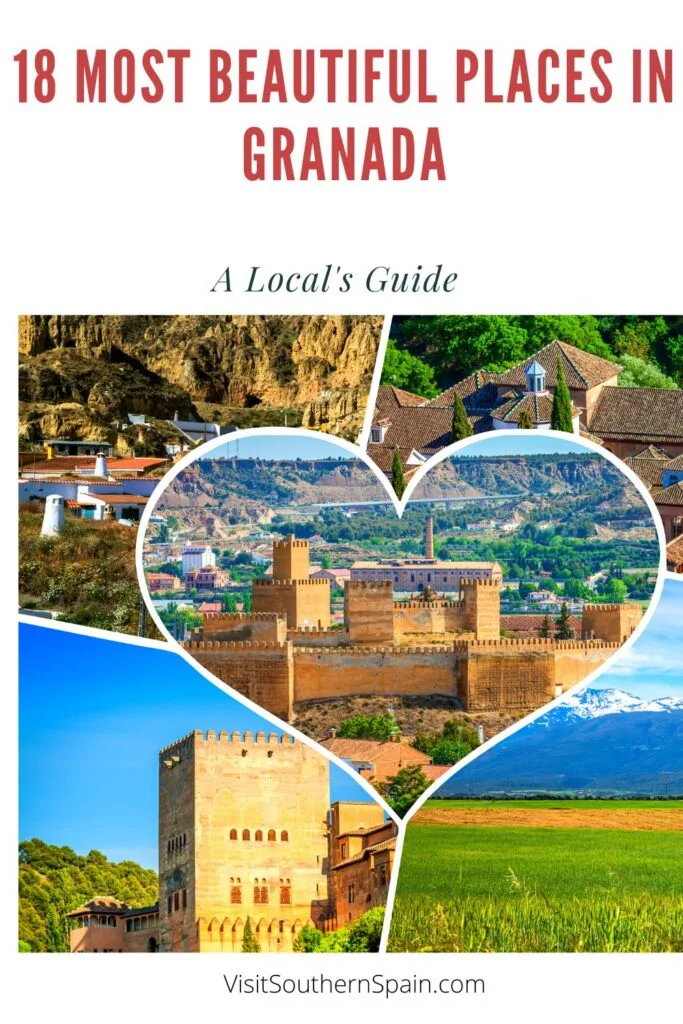 This blog is supported by you, dear reader. If you purchase through a link, we earn a small commission. As an Amazon Affiliate, we earn from qualifying purchases.
Pssst…!!?? You can't get enough of Granada? Have a look at my other posts:
Most Beautiful Places in Granada
Visit the Most Beautiful Places in Granada
1. The Albaicin neighborhood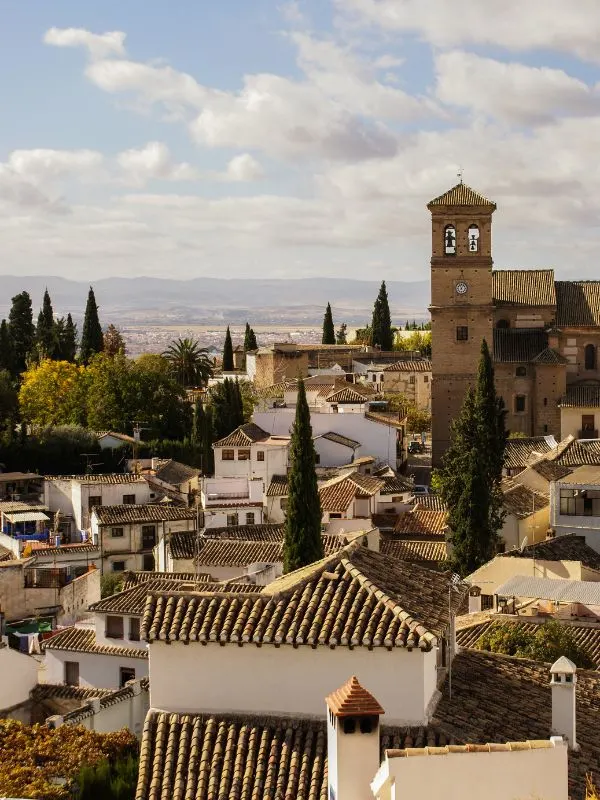 One of the top places to visit in Granada Spain has to be the Albaicin neighborhood. This area of the city contains some of the most famous sights in Granada.
You'll find the Mirador of San Nicolas, the Church of San Salvador, the Puerta Nueva, and the Carrera del Darro in this district. – Check out guided tours here.
If you only have one day in Granada, you should head straight to this neighborhood. Packed with history, it's a charming and authentic district. It's certainly one of the most beautiful places in Granada.
Once the Arab part of the city, it is a great place to discover dried fruits and spices. If you're wondering where to eat in Granada, this could also be the perfect spot.
There are countless delightful restaurants here serving delicious local cuisine.
Stroll through the narrow paved streets and admire the pretty whitewashed houses that line them. They're equally beautiful both by day and by night, making this an ideal place to lose yourself at any time.
As a UNESCO World Heritage site, the Albaicin Quarter is one of the most beautiful places in Granada. It boasts a unique character all its own thanks to its Moorish heritage.
Discover the best views from the Church of San Nicolas's front terrace. Known as the Mirador of San Nicolas, this panorama has been painted countless times thanks to its vistas over the Sierra Nevada.
2. Alhambra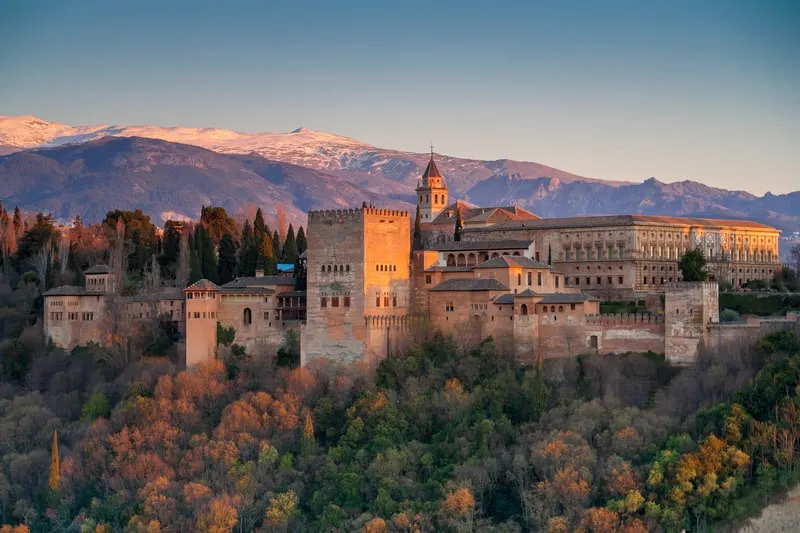 If you were to think of tourist attractions in Granada Spain, the Alhambra would surely come to mind.
Another of the city's World Heritage sites, the Alhambra is sometimes known as the Red Palace. Originally built in the 1200s, it was the home of Moorish rulers.
Today, it is one of the top attractions in Granada Spain, so much so it has a daily limit on visitor numbers!
Tours take no less than three hours, so you need to set plenty of time aside. There are several distinct areas within the palace to discover.
The Nasrid Palaces, and specifically the former Sultan's palace known as the Comares Palace are truly stunning.
You can also explore the summer residence of the sultans known as the Generalife. Its gorgeous flower gardens complete with fountains and basins takes you back in time.
The most ancient part of the Alhambra is the Alcazaba. Dating back to the 1000s, this military fortress boasts amazing views over the city, allowing you to admire the most beautiful places in Granada.
A later addition is the Palace of Charles V. Begun in the 16th century, its construction wasn't completed until 1930.
If you're planning a visit to the Alhambra, make sure you book in advance as ticket numbers are limited. You can choose from a guided tour, an audio guide, or even a night tour. – Check the guided tour here.
Not every ticket includes the Nasrid Palaces, so make sure yours does. Take note of the time of your visit too as only 300 people can enter every half hour.
Visit these palaces first before visiting the Alcazaba and Generalife. And stay in Granada hotels near Alhambra if you're planning to visit this beautiful fortress.
3. The Royal Chapel
The Gothic Royal Chapel is 500 years old. Built in the 16th century, it is the final resting place of the famous Catholic Monarchs, King Ferdinand and Queen Isabella.
You can learn more about the reigns in the sacristy museum.
As one of the most popular attractions in Granada, the chapel offers regular tours. These take place throughout the whole year, except during religious celebrations and masses.
Be aware, though, that taking videos and photographs is strictly forbidden.
You can book your tickets online with combined tickets to other popular Granada tourist attractions that save you money on your visit. – Get tickets here.
Opening times: 10 am to 6:30 pm Monday to Saturday, 11 am to 6 pm Sundays.
4. Lunch in Granada
If you're wondering what to eat in Granada for lunch, there's nothing quite like tapas! Head to Tendido 1 in the bull ring to discover classic Andalusian cuisine.
You can sample local Iberian sausages, charcoal-grilled meats, and delicious cheeses with a glass of wine on the side.
In the summer, you can even sit on the outdoor terrace and enjoy the Andalusian sunshine. It's one of the best places in Granada to sit back, relax, and watch the world go by.
5. Paseo de los Tristes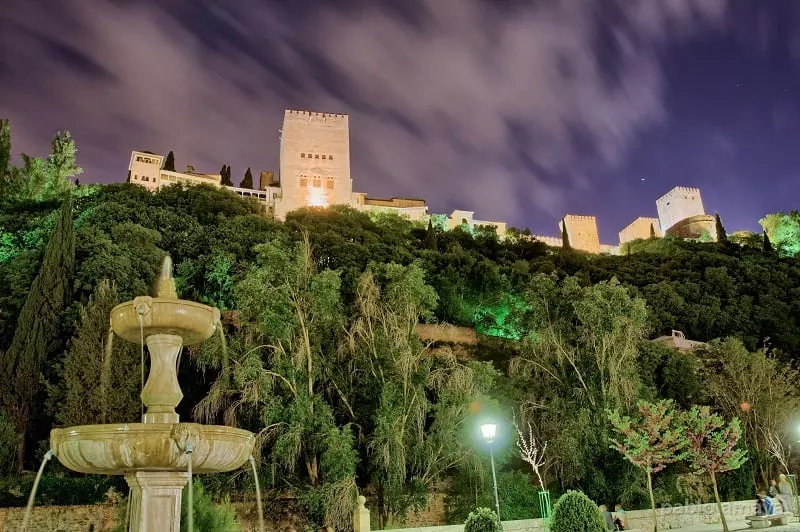 Another must-do in Granada is a stroll down the Paseo de los Tristes. A truly bohemian and romantic street, the Padre Manjon, to give it its real name, is famous around the world.
It takes its name from the many funeral processions that once passed along this street to San Jose cemetery.
Meaning "Promenade of the Sad Ones", this street is now the site of many competitions and festivals. It's far more lively these days and is a great spot to discover the real city.
Open all day and night, it's one of the most beautiful places in Granada to visit after dark for a romantic walk.
6. Catedral Santa María de la Encarnación
One of the most visited religious attractions in Granada Spain, the city's cathedral is breathtakingly beautiful. Its construction began in the 1500s but wasn't completed for almost two centuries!
As a result, it boasts an amazing mix of architectural styles from Gothic to Baroque.
Discover the chapels inside the cathedral and admire the two pipe organs dating back to the 1700s.
You can also visit the museum and view religious art, sculptures, painting, tapestries, and sacred objects.
Special services are held here if you're visiting during Easter week or Christmas. – Check out guided tours here.
Opening times: 10am to 6:15pm Monday to Saturday, 3pm to 6:15pm Sunday.
7. Carmen de los Martires garden
One of the best places to visit in Granada if you're looking for greenery and calm is the Carmen de los Martires garden.
Well-maintained and beautiful, it boasts patios and lovely fountains to keep you cool in summer. As one of the most beautiful places in Granada, it's also the ideal spot for a peaceful picnic.
Discover the French and British gardens, the lake, and the Nasrid patio with its maze. It's the perfect place to take a little time out from visiting the crowded Granada attractions.
Open all day at the weekend, the park closes between 2pm and 6pm on weekdays, but entrance is free.
8. La Alcaicería (Arab Spice Market)
One of the more unusual places of interest in Granada is the Alcaiceria or Arab spice market. With its unique atmosphere and amazing range of wares, it's a must-see in Granada.
Reflecting the city's Arabic heritage, the Alcaiceria is Granada's big souk and it's a great place to find souvenirs of your trip.
Postcards, jewelry, magnets, ceramics, and colorful lamps are just some of the bargains to be had.
Make sure you don't buy at the first place you stop though – take your time and don't forget to haggle!
Free to visit, you'll find the market open every day from 10m until 8:30 pm or 9 pm during the summer months. From 6th January to 19th March, it is closed on Sundays.
9. Enjoy tapas in Granada
If you're looking for authentic things to do in Granada, sampling tapas in Jerez has to be high on your list. Known as the birthplace of tapas, this area is one of the most beautiful places in Granada for when you want to eat traditional cuisine.
Bar Juanito, hidden away from the busy squares, is a great spot to try local fried fish and artichokes. Tabanco las Banderillas specializes in stewed oxtail, while La Cruz Blanca is known for its delicious stewed pork cheeks.
10. Gypsy quarter on the Sacromonte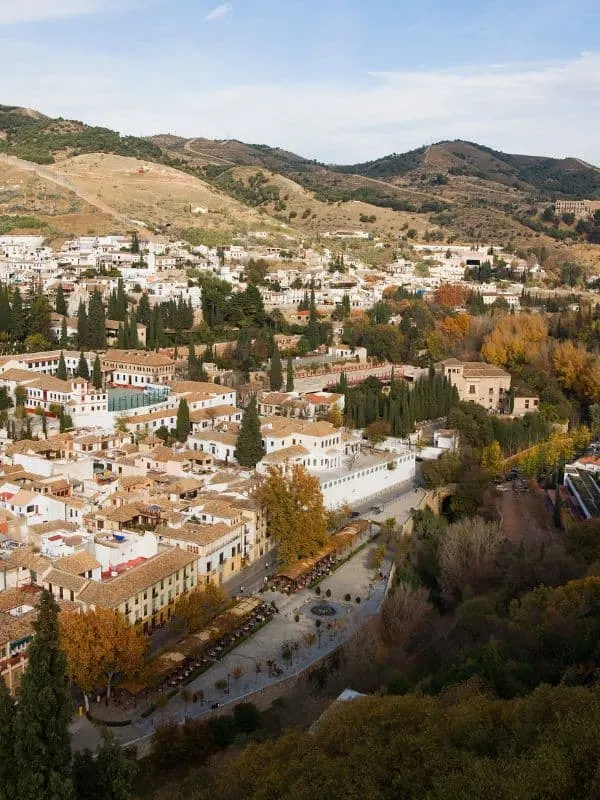 Another of the top things to do in Granada is to discover the cuevas or troglodyte houses in Sacromonte. This former gypsy neighborhood has its own museum where you can learn about the history of the area.
The views from Sacromonte Abbey are among the best sights in Granada Spain, looking out over the Albaicin and Alhambra.
This part of the city is also famous for its flamenco dance shows. As the gypsies' traditional dance, you'll find performances here held regularly in spectacular venues. – Check flamenco guided tour here.
The most famous of these is the Cueva de la Rocío which is known for the La Zambra style of dancing. No wonder it's considered one of the most beautiful places in Granada.
11. Hamman Al Andalus
Discovering the region's Arab culture is key for many visitors to this part of Spain. That's why the Hamman Al Andalus is one of the most popular places to visit in Granada.
Paying a visit to the Arab baths should not be missed when you visit Granada. It'll take you back in time to the days of the Sultans. – Get your entrace here.
Located in the historical quarter of the city, these atmospheric baths are unique in their waters, aromas, and decoration.
Open 10am until midnight, the baths offer a variety of wellness treatments and experiences.
12. Lunch in Granada restaurant
Continue discovering Granada's Arabian heritage with a visit to a North African lunch spot. Papas Elvira is a hidden gem close to the Royal Chapel serving Moroccan food at affordable prices.
Try the falafel pitas, the lentil soup or the spinach and meat empanadas, all of which are mouth-wateringly tasty.
Offering many healthy options, it's a perfect spot for a light meal before heading off to another attraction.
You'll find this restaurant at Calle Elvira 9, Granada, open between noon and midnight every day.
13. Casa del Chapiz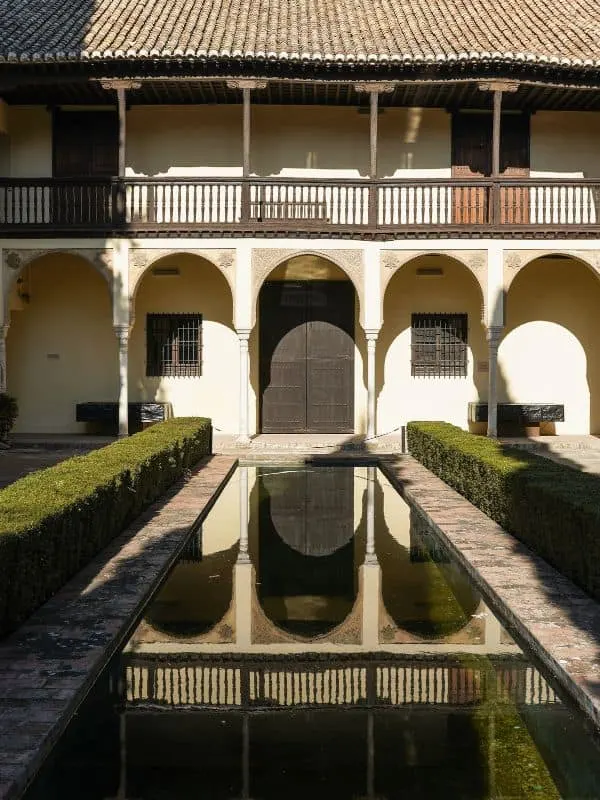 This place takes its name from its two Moorish former owners who became Christians. Dating back to 1500, it boasts a mix of Christian and Arabic decoration and architecture.
The beautiful white marble columns and old pool in the courtyard reflect an Arabic heritage. Meanwhile, the upper wooden galleries have distinctive Gothic and Renaissance elements.
Open 7 days a week from 10am until 5pm, it costs 2 Euros to visit the gardens.
14. The 16th-Century Monasterio de la Cartuja
Located around 3km outside the city center, visit one of the most beautiful places in Granada, the Cartuja monastery.
Built over three centuries, its first bricks were laid in the 1500s. Once home to Carthusian monks, an especially strict and old Christian order, it's now a popular attraction.
A visit to this beautiful Renaissance and Baroque building will give you an insight into the reclusive life of the monks. You'll get a true feel for their daily routine of prayers, fasting, and silence.
You'll find the monastery open every day throughout the year except on 25th December and 1st January and during services.
Opening times are 10am until 1pm every day then 4pm until 9pm in summer and 3pm until 6pm in winter. Entrance costs 4 Euros.
15. Centro Federico García Lorca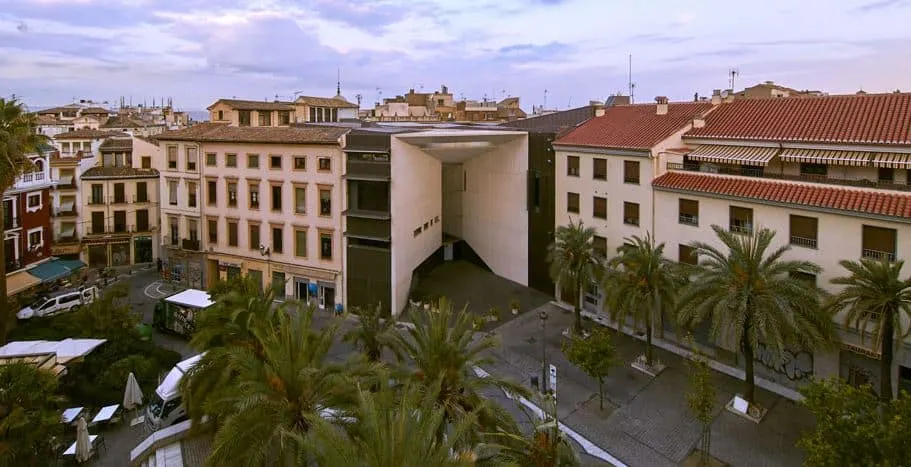 If you're a literature fan, you'll certainly have heard of Federico Garcia Lorca. Born near Granada, the poet's work is conserved in this center. It's also a venue for cultural and educational activities and programs.
Here, you'll find prose, plays, and poetry manuscripts by the writer himself together with artistic pieces and letters he created. For art and poetry enthusiasts, there's no better place to discover.
The center is open between 11am and 2pm, then between 6pm and 9pm Tuesday to Saturday.
On Sunday it's open from 11am until 2pm and it's closed on Mondays.
16. The Science Park
If you're wondering what to do in Granada with children, Science Park is the ideal attraction. There are lots for families to discover here within easy reach of the city's historic center.
Here, you'll find the Biosphere Pavilion where you can explore the environment and geology. There's also a Perception Pavilion showcasing vision-oriented technologies like kaleidoscopes. The planetarium that projects seven thousand stars and the interactive outdoor exhibits are all fun to visit.
Open Monday to Saturday from 10am until 7pm and 10am until 3pm on Sundays, with general admission costing 7 Euros.
17. Gate of Elvira
Once the Albaicin and Alhacaba's old entrance, the Gate of Elvira is a large horseshoe-shaped arch.
Constructed in the 11th century by Zirid Sultans, it is one of the city's oldest monuments and one of the most beautiful places in Granada.
18. Basílica San Juan de Dios
The San Juan de Dios basilica is dedicated to John of God, the patron saint of nurses and hospitals. From the outside, it has a simple look that belies the breathtaking interiors.
The gold-covered ceilings, pillars and walls, together with the wood sculptures and paintings make this attraction a must-see.
You can enjoy an audio-guided visit for just 4 Euros, with opening times between 10am and 1pm and 4pm and 7pm Monday to Saturday.
Best Hotels in Granada, Southern Spain
If you're wondering where to stay in Granada, you'll find our hotel recommendations very helpful. We recommend three options to suit every budget to ensure you find your perfect stay.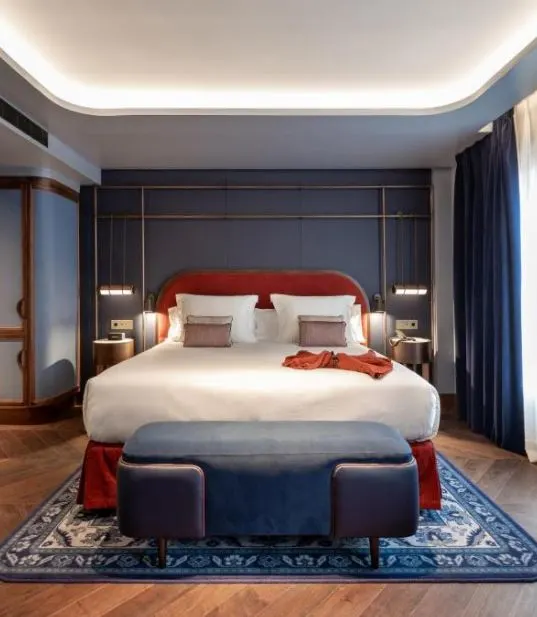 If you're looking for a luxurious stay in the heart of the historic city, the Seda Club Hotel is an ideal choice. Elegant and sophisticated, this small hotel has a boutique feel.
Located in the Plaza de la Trinida, one of the most beautiful places in Granada, it boasts a tranquil, peaceful atmosphere.
Relax in well-appointed, stylishly-designed rooms, or dine on the best of traditional and modern cuisine in the Club restaurant. Alternatively, sip a cocktail on the roof terrace and watch the world go by.
Its historic setting makes the Parador de Granada the perfect place to stay when you want to immerse yourself in the city's culture.
Occupying the city's first convent, it enjoys gorgeous surroundings of fountains and gardens. Meanwhile, its rooms are elegant and tastefully furnished.
Dine on the terrace or in the restaurant, or step outside the front door and find yourself in the heart of the action when you stay in this mid-range property.
Affordable yet perfectly located for exploring the city, this hotel has everything you need for a comfortable stay.
Located in a converted historic house dating back to the 15th century, the Casa Morisca offers cozy rooms just a kilometer from the center.
Offering free parking and easy access to public transport, this convenient property represents great value. Guests benefit from free wifi, a 24-hour reception, and breakfast and bar service.
Getting Around Granada
Granada is a small city and can easily be explored on foot. However, for journeys further afield you can take a local bus or hop in a taxi or Uber. If you prefer to be more energetic when exploring, you could even rent a bike.
There are 28 local bus lines, although the most useful include the C30 linking the city center to the Alhambra, the C31 through the Albaicin district, and the C34 through Sacromonte.
You can buy tickets on the bus but if you'll be doing several journeys you can buy a Credibus Pass from a tobacconist or newspaper kiosk.
Some more unusual ways to explore Granada include taking the hop-on-hop-off train or bus or taking a segway tour. – Get your tickets here.
Short FAQ about the best places in Granada
What is the one main tourist attraction in Granada?
The best-known tourist attraction in Granada has to be the Alhambra. With its UNESCO World Heritage status, it's famous around the globe for its historical and cultural interest.
Is one day in Granada enough?
One day in Granada is a great way to discover the Alhambra, but if you want to make the most of the city you should certainly plan to spend at least three days exploring the area.
That will give you enough time to see the best the city has to offer and all the most beautiful places in Granada.
Is Granada the most beautiful city in Spain?
Granada claims to be the most beautiful city in Spain, and indeed it certainly boasts plenty of splendid sights.
Of course, beauty is always in the eye of the beholder, but if you love historical buildings, splendid natural attractions, and authentic culture, this is certainly a stunning place to explore.
---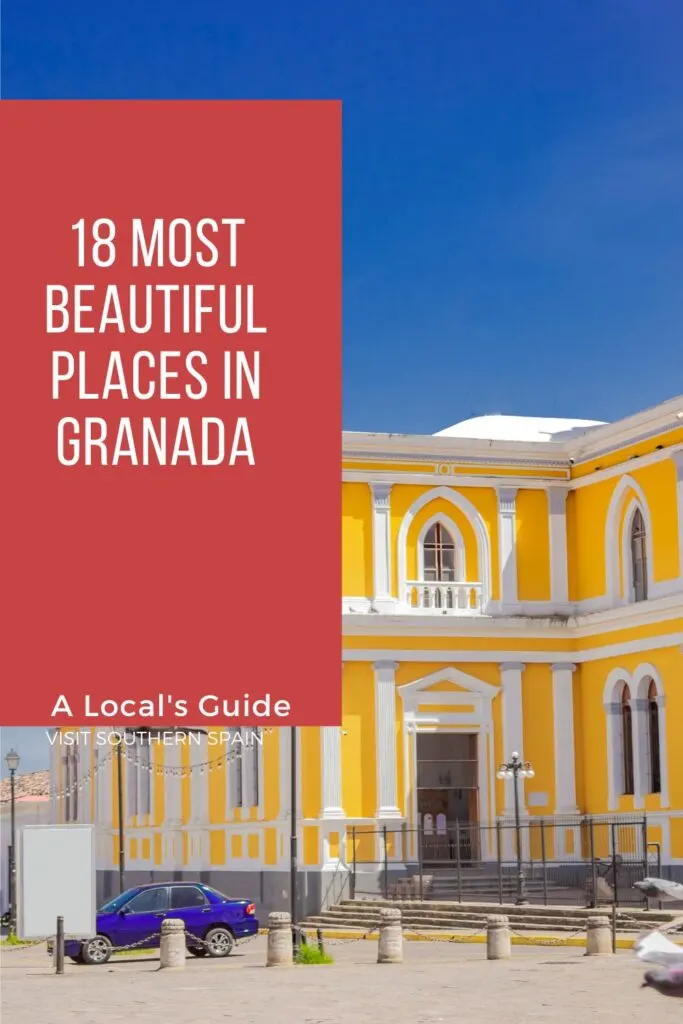 ---
Hola, I'm Paulina! Together with my team, we are passionate about Southern Spain. Here we share all you need to know for great times in Southern Spain with the best places to visit, stay and, of course, the best food to eat.
Let's dive in and explore Southern Spain's outdoors, food and culture con pasión!