A guide to the best white villages in Andalucia, Spain
More often than not the poster boy for Spain Andalucia is a sun-drenched fiesta-loving region that for eight centuries sat on the frontier of two religions: Christianity and Islam.
Andalucia underwent a cross-fertilization that produced some of the world's most iconic architecture and cuisine infused with North African spices.
One of the province's most remarkable features is its Pueblos Blancos, or white villages, that lie scattered across the hills of Andalucia.
This blog is supported by you, dear reader. If you purchase through a link, we earn a small commission. As an Amazon Affiliate, we earn from qualifying purchases.
OVERVIEW: Top White Villages in Andalucia
Ronda: Dramatic location with incredible views
Arcos de la Frontera: Fabulous hilltop location with a Parador Hotel
Frigiliana: A picture postcard white village
Mijas Pueblo: Close to the Costa del Sol
Olvera: Not overrun with tourists
Tarifa, Cadiz: A Mecca for windsports
White Villages in Malaga
1. Ronda (Malaga)
Regarded as the birthplace of bullfighting, Ronda, with its population of nearly 35,000 inhabitants, is easily the largest of Andalucia's white villages.
Ronda'smain attraction is its Puente Nuevo bridge linking the old and new towns 400 feet above a dramatic gorge.
The absolute joy lies in exploring Ronda's back streets, where you will be rewarded with panoramic views and a feel for those who call Ronda home. – Check out the guided tour here.
While Ronda may be crowded with Costa del Sol day trippers in the morning and afternoon, they are all gone by the evening, and the locals reclaim the town with a thriving tapas scene.
During the seven hundred years of Moorish rule, Ronda's hilltop location was a strategic bastion that was one of the last places to be retaken by the Christian armies in 1485.
2. Mijas Pueblo (Malaga)
Not to be confused with the seaside town of Mijas Costa, Misas Pueblo is a pretty white mountainside village famous for its donkey taxis.
While dating back to the Phoenicians and settled by the Romans, Mijas Pueblo is best known for its Moorish past and white-washed houses.
Again similar to many other white villages, Mijas Pueblo has two parts, the newer section, and the old town, separated by the town's main square Plaza Virgen de la Peña.
Because the village is located near some of Costa del Sol's busiest resorts, it can be overrun with tourists during the summer months. – Check out guided tours from Malaga here.
Don't let this put you off, though, as the village is big enough to find a secluded corner where you can enjoy views stretching from Benalmadena to Gibraltar.
On a clear day, you can also make out the Rif Mountains in Morocco.
3. Frigiliana (Malaga)
Located not far from the famous resort town of Nerja, the village of Frigiliana is often referred to as the prettiest village in Spain.
The town is so picturesque that Coca-Cola recently used it as the setting for one of its commercials. Frigiliana is divided into two sections the new town and the higher-up old Moorish old town.
The upper section is where you want to explore the narrow winding streets full of nooks and crannies, where you are rewarded with views down to the Mediterranean Sea.
For a drink or a bite to eat, visit one of the bars/restaurants in the main square, as they all have rooftop terraces with amazing views.
With Frigiliana only a few miles from Nerja, combine the village with a visit to the Balcon de Europa and the Nerja Caves, one of the most visited attractions in Spain. – Check out the guided tour for Nerja Caves here.
4. Ojén (Malaga)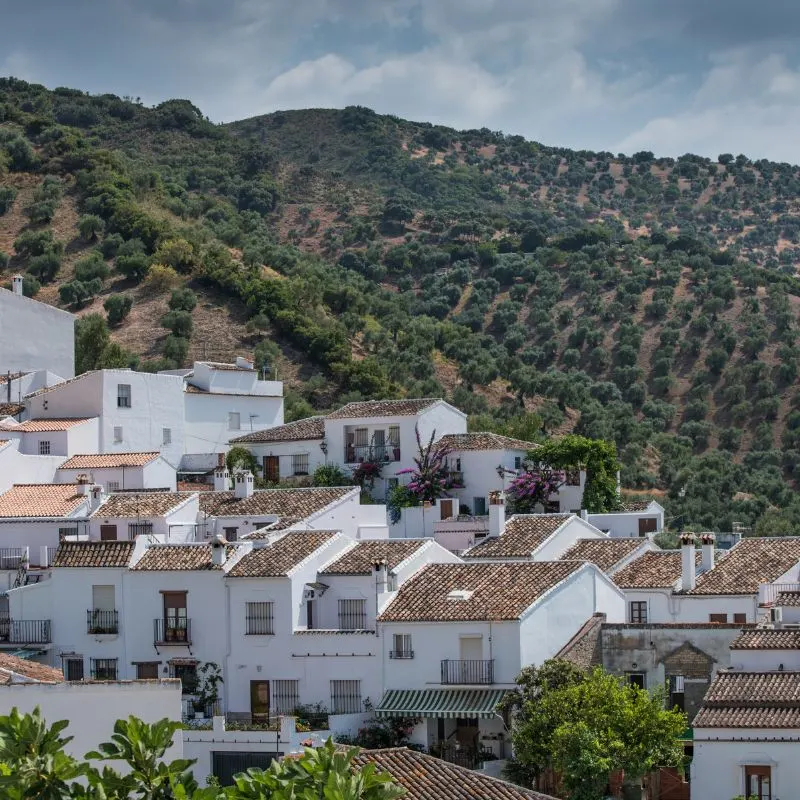 Despite being located not far from the city of Marbella, Ojén has managed to retain all the charms of a traditional Andalucian white village.
Tranquil and beautiful, the village was allowed to survive the embargo on the Moors following the Reconquista.
The reason may be more to do with the Moor's determination to stay and the location 650 feet above the River Real.
With its cobbled street and numerous fountains, Ojén may not be the prettiest of Andalucia's Pueblo Blancos.
Yet, it remains popular with hikers who climb La Concha mountain for the stunning views of Marbella and the Mediterranean coastline 3,000 feet below.
5. Istan (Malaga)
Istan is situated beneath the Sierra Blanca in the Rio Verde valley, about nine miles northwest of Marbella and the Mediterranean coast.Istan is near a large reservoir created by the Presa de la Concepción dam.
Like other Moorish villages a fair distance inland from the coast, Istan remained untouched, while those closer to the sea were depopulated to stop the Muslims from communicating with their kinsman in Morocco.
Today Istan is a popular day trip from Marbella but remember to park your car on the outskirts and explore the delights in Istan on foot.
White Villages in Cádiz
6. Setenil de las Bodegas (Cádiz)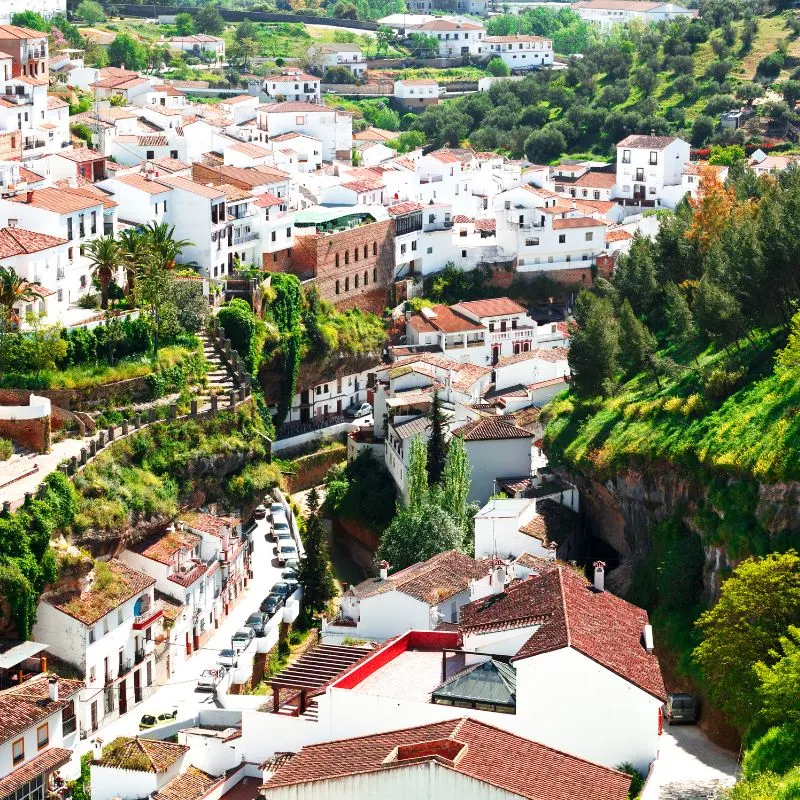 Located just under 100 miles northeast of Cadiz, Setenil de las Bodegas is famous for its white-washed houses built into rock overhangs above the River Guadalporcún.
Occupied since the Roman invasion in the 1st century AD. Setenil de las Bodegas evolved into a fortified Moorish town that survived multiple Christian sieges before eventually being captured in 1484.
While visiting Setenil de las Bodegas a side trip to the Roman town of Acinipo is recomended. Acinipo was created for retired veterans of Caesar's legions following the battle of Munda in 45 BC.
Meant to be a mop-up action after Pompey's main forces were defeated in Greece; the battle of Munda was no cakewalk, with tens of thousands of Romans killed on both sides. – Check out guided tours in Cadiz here.
7. Zahara de la Sierra
Zahara de la Sierra is not just one of the most beautiful white villages in Andalucia, but also one that offers a large variety of beautiful landscapes. From a stunning blue lake, to its heavenly location, Zahara has it all.
Zahara is also very close to the Parque Natural Sierra de Grazalema, a place considered by many one of the best place for hikes in Andalucia.
The town itself is a charming collection of Moorish structures and winding lanes lined with pink bougainvillea that are fun to meander through.
The Castillo de Zahara de la Sierra, the area's major attraction, is accessible after a 15-minute, moderately steep climb.
However, the amazing view you will see from the Castillo's tower makes the effort completely worthwhile. In addition, it is highly recommended that you visit the historic center.
8. Arcos de la Frontera (Cádiz)
Often referred to as the gateway to the white villages, Arcos de la Frontera is an easy day trip from Seville.
The white village of Arcos de la Frontera is located 20 miles east of Jerez in a thrilling hilltop location.
Featuring a swanky Parador hotel in what was once a local magistrates house, the hotel offers spectacular views over the Guadalete River.
Declared a National Historic and Artistic Monument, the white village of Arcos de la Frontera is one of Andalucia's most beautiful pueblo Blancos and was for a brief period during the 11th century an independent Berber-run Tarifa.
The area around Arcos de la Frontera is known for its wine, and there are several wineries you can visit to sample the local Petit Verdot and the indigenous Tintilla de Rota.
The area is also ideal for outdoor adventure sports, and the nearby Arcos Lake is perfect for bird watchers wanting to catch a glimpse of migrating flamingos or storks.
9. Grazalema (Cádiz)
The pretty mountain village of Grazalema is dominated by a rocky outcrop called "Peñon Grande."
The village serves as a base for people wanting to visit the Sierra de Grazalema Natural Park, famous for being the rainiest area in Spain.
With limestone peaks over 4,900 feet high and a lush green landscape, a unique microclimate have developed in the Sierra del Pinar close to Grazalema.
While Grazalema is a lively village with a population of around 2,250, the town swells in summer with an influx of visitors eager to go hiking in the Natural Park.
The steep cobbled streets of the town are immaculate, and the colorful flowers spilling over the balconies of the white-washed houses make for some excellent photos.
10. Vejer de la Frontera (Cádiz)
Surrounded by orchards and orange groves, the town of Vejer de la Frontera sits on a hilltop overlooking the Straits of Gibraltar.
Vejer de la Frontera's most known for its Arab-Andalusian architecture, white-washed houses, and narrow winding streets.
The town's highlights are an 11th-century medieval castle, its old Jewish quarter, and the ten-foot thick gateway into the city known as the "arch of Segur."
Known for breeding fighting bulls, the town makes its living on agriculture and fruit farming.
11. Medina Sidonia (Cádiz)
In the Province of Cadiz, south of the Ruta de Pueblos Blancos, Medina Sidonia is a melting pot of many civilizations dating back to the Phonecians.
While flourishing under Muslim rule, the name Medina Sidonia refers to the city of Sidon in southern Lebanon.
Medina Sidonia was also one of Spain's most important ducal seats in the 15th century, with an Admiral born in the town leading the Spanish Armada against England.
Picturesque with its medieval walls, a ruined castle, and narrow cobbled streets, there are numerous buildings and places of interest worth seeing.
Some include the Church of Santa María de la Coronado and the Roman Archeology Museum.
12. Olvera (Cádiz)
Again located in the province of Cadiz, near Seville and Malaga's borders, Olvera is not overrun with tourists like some of Andalucia's other white villages.
Rising on the horizon, 2,100 feet above sea level, as you approach the town, it looks like something that belongs in a movie and is a great first impression.
With a history dating back to the Romans, Olvera was a strategic location during the Reconquista and a town the Christian armies failed to conquer at their first attempt.
Knowing that it was only a matter of time, the town's Muslim ruler Ibrahim-ibn-Utmain negotiated its surrender with a concession that the inhabitants could keep their houses and goods.
Surrounded by more than a million olive trees, Olvera is credited with producing the best olive oil in Andalucia.
13. Ubrique (Cádiz)
As part of the Pueblos Blancos (white towns) in southern Spain's Andalusia region, Ubrique reminds visitors of that area's Moorish past.
Situated at the foot of Cadiz's Sierra de Ubrique mountains, Ubrique is one of the larger white villages with 17,362 inhabitants.
Ubrique is the birthplace of revered Spanish bullfighter Jesús Janeiro Bazán and is famous throughout Spain for its leather industry.
Some of the town's finest examples can be seen in the Ubrique Leather Museum, which occupies the 17th-century Convent of the Capuchins.
14. Tarifa (Cádiz)
Located on the Costa de la Luz at the southernmost end of the Iberian Peninsula, Tarifa is best known for being one of the world's best destinations for wind sports.
Before being discovered by windsurfers, the white town attracted tourists to its historic center and the many bars and restaurants serving freshly caught grilled fish.
Besides exploring Tarifa's pretty squares and fortress ramparts, the town is one of the best places in Spain to go dolphin watching, with plenty of trips leaving from the port.
Also nearby is the ancient Roman city of Baelo Claudia, where you can learn about Hispania's two centuries of Roman rule.
White Villages in Cordoba, Jaen and Granada
15. Zuheros (Cordoba)
Lying within the boundaries of Cordoba's Sierra Subbetica Natural Park, Zuheros is set in a stunning location at the foot of towering limestone mountains.
Comprised of traditional Moorish white houses with ochre-colored roofs, Zuheros offers visitors a wealth of things to see and do. – Take a look at guided tours here.
Nearby is the Cueva de Los Murciélagos, an archaeological site of great importance that contains cave paintings dating back thousands of years.
Compliment a visit to the caves by going to the local Archaeological Museum.
16. Baños de la Encina (Jaen)
Located in the Sierra de Andújar Natural Park in the Province of Jaen Baños de la Encina has a charming town center, and a majestic Moorish castle built by Al-Hakam II in the 10th centurey.
Baños de la Encina is a magical place with a rich artistic heritage dating back a thousand years. It is listed as one of the most beautiful towns in Spain for a good reason.
Plan your visit by stopping at the tourist office on Avenida José Luis Messía, which houses the Torreón del Recuerdo Ethnographic Museum.
You will be taken on a journey through eight centuries of Baños de la Encina history. – Check out guided tours in Jaen here.
17. Cazorla (Jaén)
Located within the largest and most visited protected natural space in Spain, the Segura and Las Villas National Park, the white village of Cazorla lies in the shade of mountains amongst a colossal sea of olive trees.
First settled by the Romans who mined silver in the area, the town is constructed around three main squares connected by narrow winding streets.
During the 700 years of Moorish rule, Cazorla became a stronghold for the Muslims. After a fierce battle in 1235, Cazorla was eventually taken by the Christian armies, who used the location as an outpost for their troops.
Because of its altitude at 2,700 feet, winter nights can be cold, while summers relieve the surrounding plains' heat.
Today Cazorla is heavily dependent on tourists and the production of olive oil.
18. Castril (Granada)
Located in the north of Granada province, Castril offers visitors a mixture of history, nature, and tradition.
First settled by the Romans, who built a camp there, Castril was occupied by the Moors, who built a fortress to protect the Nasrid Kingdom of Granada. – Check out the guided tour for Nasrid here.
Over the years, a fusion of cultures has left its mark on Castril, as is evident in the remains of Arab walls, towers, squares, churches, and the reroofed white-washed houses in the old town.
Today Castril is popular with hikers who enjoy the area's popular routes that offer waterfalls, caves, and the feeling of connecting with nature.
---
What are White Villages in Andalucia?
Many of the villages were once fortresses that marked the dividing line between Moorish and Christian rule. For this reason, a lot of white villages have names that end in "de la Frontera" or "of the frontier."
While most visitors to Andalucia are drawn to the cities of Granada, Córdoba, and Sevilla, or the beaches of the Costa del Sol, for a more authentic experience, explore the interior along the Ruta de Los Pueblos Blancos.
Known for their dramatic landscapes and narrow winding lanes, these charming white villages were painted white during the Roman occupation to help them stay cool during the long hot summers.
Characterized by their white-washed walls and red or brown tiled roofs, they also share common attributes such as a lookout point and a central square with a church and town hall.
Today visitors are drawn to the towns for their charm and history, with perhaps the most famous of them all being Ronda.
This magical place captured the imaginations of Ernest Hemingway and Orson Wells and is one place that should be on your must-see list of places to visit in Andalucia.
While there are established routes of how best to see the Pueblo Blancos, it is entirely up to you, depending on your travel rhythm.
If you are limited in time, it is possible to visit several white villages in a day, but it is a more rewarding experience if it can be done over several days.
Get the Best of What Andalucia has to Offer
A grouping of several countries within a country, Andalucia has something to offer everyone and the best villages in Andalucia are so unique.
You can find some of the best castles in Andalucia as well as the best lakes in Andalucia if you want to spice up your holiday.
And this proves it, Andalucia is a paradise just waiting to be explored, not to mention you can attend the best festivals in Andalucia all year long.
This is not all, of course! Have fun and relax at the best golf courses in Andalucia with some of the best courses in Europe, and with the lovely weather in Southern Spain, the courses are a pleasure to play year-round.
And speaking of golf courses, you can also find some of the best resorts in Andalucia, famous all over the world for the services they offer.
Whether you are looking to rent one of the best villas in Southern Spain or would like to stay in a historic Parador hotel, we recommend putting together a one-week itinerary for your Andalucian vacation.
Short FAQ about the Most Beautiful While Villages in Andalucia
Why are Andalucia houses white?
The houses were painted white to help them stay cool during the hot Andalucian summers.
Buildings were whitewashed because of the antibacterial properties of the alkaline whitewash, as well as because a completely whitewashed village appears socially cohesive.
Where is the best place to live in Andalucia Spain?
This is a matter of personal choice, but most people prefer living on or near the Mediterranean coast.
Cordoba, Sevilla, and Granada are the 3 most famous cities in Andalucia, so you can start from here.
---
---
Hola, I'm Paulina! Together with my team, we are passionate about Southern Spain. Here we share all you need to know for great times in Southern Spain with the best places to visit, stay and, of course, the best food to eat.
Let's dive in and explore Southern Spain's outdoors, food and culture con pasión!