Huelva
Fall In Love With The Best Beaches In Southern Spain And Spectacular Food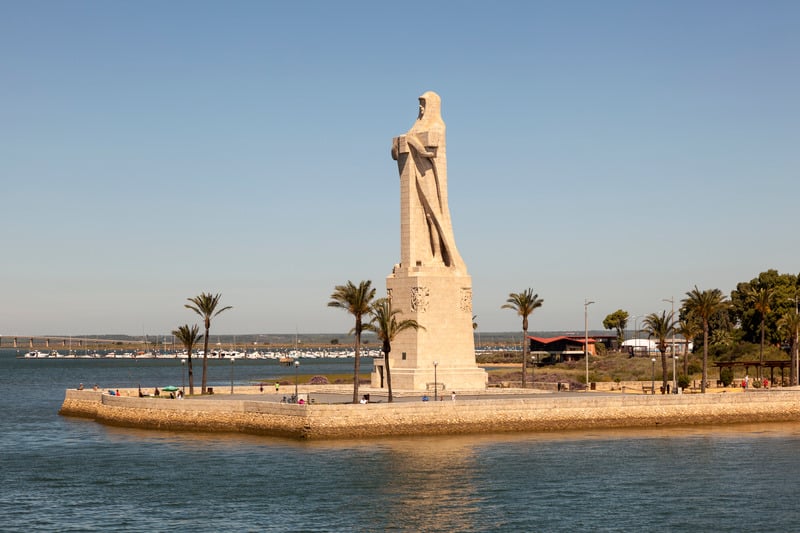 Huelva is located along the Gulf of Cadiz in Southwestern Spain in the estuary formed by the Tinto and Odiel rivers' confluence.
Mainly off the beaten track by foreign tourists, Huelva is home to miles of unspoiled coastline and Spain's most beloved national park, the Parque Nacional de Doñana. Bordering Portugal to the west and Extremadura to the north, inland Huelva boasts the delightful Sierra de Aracena mountains littered with sleepy villages and home to Spain's delicious Iberico ham.
While visiting Huelva, you cannot help but notice all the greenhouses. This is because Huelva is the largest grower of strawberries in Europe.
***
Visit Andalusia like a Local!
After calling Southern Spain my home for several years and organizing customized Andalusia trips, it was about time to put the best places in Andalusia into
this handy travel itinerary.
Save time and money, avoid tourist traps and see only the very best of Andalusia.
Most Famous Attractions in Huelva
Famous for being the departure point for Christopher Columbus's voyage of discovery, Huelva boasts the unspoiled Costa de la Luz or the Coast of Light.
The  Parque Nacional de Doñana is one of Europe's most important wetlands with an enormous variety of bird species, and a hikers paradise in the Sierra de Aracena mountains.
Discover Huelva city – Not the most beautiful of Andalucia's capitals due to the Lisbon earthquake of 1755, Huelva is nevertheless well worth spending a day to unlock its hidden charms.
Mezquita in Almonaster la Real – Looking like a miniature of the great mosque of Cordoba, the Moorish-built place of worship retains its original features despite being Christianized in the 13th century.
Gruta de las Maravillas – Beneath the castle in Aracena is a fantastic 1.2 kilometer long stretch of caves and tunnels with six underground lakes.
Parque Nacional de Doñana – Regarded as being one of Europe's most important wetlands the Parque Nacional de Doñana is a paradise for bird watchers.
Peña de Hierro – Located 3km north of Nerva, Peña de Hierroold is the old Rio Tinto company's copper and sulfur mines.
Castillo de los Guzmanes – Located in the town of Niebla, this 15th-century Moorish fortress contains a spine-chilling torture museum.
Best Accommodation in Huelva
Relatively unknown outside of Spain, Huelva province remains a bit of a mystery.
This is good news for the independent traveler as the price of accommodation is relatively cheap compared to other areas. Given that all points in the province are easily reached from the coast, we recommend choosing a hotel or apartment on the Costa de la Luz.
Favored by backpackers and people just needing a bed for the night, hostels have evolved into new no-frill places to stay that have both dormitory-style and single private rooms.
In Huelva, we recommend the Hostal Manuela in the historic town of Punta Umbría. The Hostal Manuela is just 350 meters from the beach and only a 30-minute drive to Huelva city. – Check reviews here
Given the low prices, getting a mid-range hotel is within the budget of most travelers. Usually, family-owned and operated, Huelva has some reasonably priced rooms that fetch a premium in another location. If you have never stayed in one of Spain's Parador Hotels.
The Parador de Ayamonte offers views across the Guadiana River to Portugal and the beaches of Isla Canela. While staying here, be sure to try Huelva's famous white prawns while watching the sun slowly set in the Atlantic Ocean. – Check rates & reviews here
Holidaying with the kids is best done by either renting a holiday apartment, villa, or booking a stay at an all-inclusive 4-star resort like the Meliá Atlántico ****, Isla Canela. Extremely popular with well-heeled Spanish families, the Meliá Atlántico, Isla Canela has a massive pool and is a couple of minutes from the beach.
The resort has a dedicated children's program that keeps the kids occupied so that mom and dad can relax and enjoy their holiday. – Check prices & reviews here
There are several to choose from on Huelva's Costa de la Luz when it comes to luxury hotels with spas. These hotels compete against one another for Sevillanos looking to escape the oppressive summer heat in the city.
The Isla Cristina Palace is an elegant Andalusian-style resort overlooking the Atlantic Ocean. The hotel features two swimming pools, a spa, and offers complimentary beach loungers and towels. – Check rates & reviews here
Flights
Huelva does not have an airport which means you must fly to Seville, Jerez de la Frontera, or Faro in Portugal. From all three airports, you can catch a bus to Huelva. For people staying at the beach resorts of Isla Cristina and Isla Canela, Faro Airport is the most convenient. – Check flights here
Train
Huelva train station receives three trains a day from Seville and one high-speed train from Madrid via Cordoba. From Huelva, you can take a train to Jabugo, Sierra de Aracena, which continues north to Extremadura. – Get tickets here
Bus
If you do not have a car traveling around Huelva by bus is your next best option. The central bus station in Huelva is located on Calle Doctor Rubio, where you can catch frequent buses to Seville and the resorts along the coast.
There is also a twice-daily service to Portugal and the Sierra de Aracena mountains in the north of the province. The cities of Cadiz, Malaga, and Granada each have one bus a day.- Check schedules here
Car
If you want to get out and explore the province properly and perhaps pop over to Portugal, having a vehicle will make your life easier. Not relying on buses and trains, you can set your schedule and move at a pace that suits your style of travel. – Check car rentals here
Huelva Travel Guide: Booking Resources
In order to make travel planning as easy as possible, we gathered below a selection of our favorite companies. We love them for being reliable and offering the best deals in Southern Spain. All of the recommended companies have top-notch customer service and have been tested by us first-hand.
When you want to visit, Huelva depends very much on what you want to see and do.
For beachgoers, June, July, and August are the hottest months, while May and September are enjoyable with fewer tourists. If you want to avoid the rain, skip December and early spring.
For birdwatchers, October and April are the best two months of the year.
Famous for its free-roaming acorn-eating black pigs, Huelva produces the best-cured ham in the world and is something you want to eat as often as you can.
Jamon Ibérico is not only suitable for people on a low-fat diet, but it also contains healthy properties that help lower cholesterol.
Along with Jamon, seafood plays a significant part in Huelva's cuisine and rightly so given its Atlantic Ocean location.
Jamon Iberico – Carved from the leg of a dry-cured black Iberian pig Jamon Iberico is an obsession with Spaniards and gourmets around the world.
Caldereta del Condado – A countryside favorite Caldereta del Condado is a slow-cooked lamb dish accompanied by streaky bacon and Jamon.
Gambas de Huelva – Unique to the Gulf of Cadiz, the white prawns that thrive here have a unique taste that you will never forget. Boil them in water or chargrill and let your taste buds do the rest.
Raya al Pimentón – Transmitting all the flavors of a fishing village, Raya al Pimentón is a simple dish of skate cooked with sweet paprika.
What to do in Huelva for Outdoor lovers?
The province of Huelva in Southwestern Spain is a paradise for lovers of the great outdoors.
Unspoiled by mass tourism, Huelvas beaches and mountains offer visitors the chance to partake in sports or get closer to nature with sustained ecotourism.
Kayaking in Isla Cristina marshlands – Learn all about the Isla Cristina ecosystem as you explore the marchland channels while being propelled along by the tide.
Birdwatching in Doñana – Declared a UNESCO World Heritage Site in 1994, the National Park of Doñana is home to more than 300 species of birds. These species include 50,000 Greylag Geese, who arrive each October from Scandinavia. – Check tours here
Sierra Morena Starlight Reserve – Learn all about the stars and constellations while visiting one of the best places in Spain to see the milky way.
Kite surfing Isla Canela – Isla Canela is regarded as being one of the best places in Spain to learn how to kitesurf. With vast expanses of sand, gentle breezes, and calm waters, you should master kitesurfing in a few days.
Hiking and Mountain biking – In the westernmost part of Huelva, the Sierra de Aracena is a range of round-topped mountains crisscrossed with hiking and mountain bike trails.
What to do in the surroundings of Huelva?
The city of Huelva is situated halfway between Faro and Seville and has excellent road connections throughout the province. This opens up a wide variety of places to easily visit on morning excursions or day trips. Some of our favorites places are listed below in no particular order.
Huelva city
With a history dating back to the Phonecians, Huelva city lacks the architectural beauty of Seville. Yet, once you get past the industrial outskirts, you will discover a pleasant city center full of bars and restaurants.
Be sure and visit the Museo de Huelva and later tour Barrio Reina Victoria a testament to the British Rio Tinto mining company. – Book tours here
El Rocío
Looking like it was built to be used as a film set in a western, El Rocío's streets are made of drifting sands blown by the wind. In El Rocio, people still ride horses to get around and tie them up outside businesses like they would have done in the olden days.
Walk in the footsteps of Christopher Columbus
If it were not for Huelva's people, Christopher Columbus might never have reached the new world. His boats and men to crew them were all procured from villages along the Rio Tinto. Travel the Ruta Colombina to the medieval Santa Clara Monastery. It was here that the Italian navigator convinced the head nun to persuade her nephew, King Ferdinand, to fund Columbuses' adventure.
Visite Ayamonte and take a boat trip to Portugal
The best thing about Ayamonte is that it is the jumping-off point to a new time zone and language. The ferry ride across the Río Guadiana takes just 15 minutes and operates every half hour during the summer. The nice thing is that Spain and Portugal use the same money, so there is no messing about with changing currencies.
Rio Tinto Mining Park
This is an excursion that will please everyone, a visit to the Rio Tinto Mining Park will allow you to understand why the Tinto River has its unique red color and why this area has been in mind for over 3,000 years. Activities include riding a steam locomotive that was manufactured in 1875, a museum tour, and a trip to the mine.
Latest Posts about Huelva: