A simple guide to help you choose from the best things to do in Marbella in October
Spain is known for summer getaways, but there are still so many things to do in Malaga, especially in Marbella in the cooler months once the tourist craziness has subsided.
Here we'll look at all the best places to visit in Marbella, a Mediterranean paradise that is so much more than a fancy beach resort for the rich and famous.
Let's take a look at the things to do in Marbella in October whether you are traveling solo, as a couple, with your family or part of a group.
This blog is supported by you, dear reader. If you purchase through a link, we earn a small commission. As an Amazon Affiliate, we earn from qualifying purchases.
Pssst…!!?? You can't get enough of Malaga? Have a look at my other posts:
Top Things to do in Marbella in October
Best Things to do in Marbella in October
1. Enjoy a less crowded Puerto Banús walk
Puerto Banús is one of the main areas of Marbella's luxury zone. This marina is crammed with large and glamorous yachts and boasts a nightlife like nothing else in the region as well as high-end shops for shopping splurges on designer gear.
However, the temperatures in Marbella in October mean you can enjoy a more scenic and serene stroll along the promenade, especially as the sun dips below the horizon.
A great activity for this time of year and one of the best things to do in Marbella in October is renting a luxurious boat and exploring the sea around Marbella. The views from the sea can't be compared with anything. – Check out the guided tour here.
Opening times:
Open throughout the day and late into the evening.
2. Go on a Catamaran tour with dolphin-watching
With so much marine life in the Mediterranean Sea, it's no surprise that playful porpoises are also abundant in these waters during the month of October.
One of the fun activities in Marbella for families is jumping aboard a catamaran to see these creatures glide alongside the boat and flip in the water.
The things to do in Marbella in October like sailing or dolphin-watching are a must during that time of year. – Get the guided tour here.
Opening times:
Tours can start from 9am depending on the tour operator.
3. Book a food tour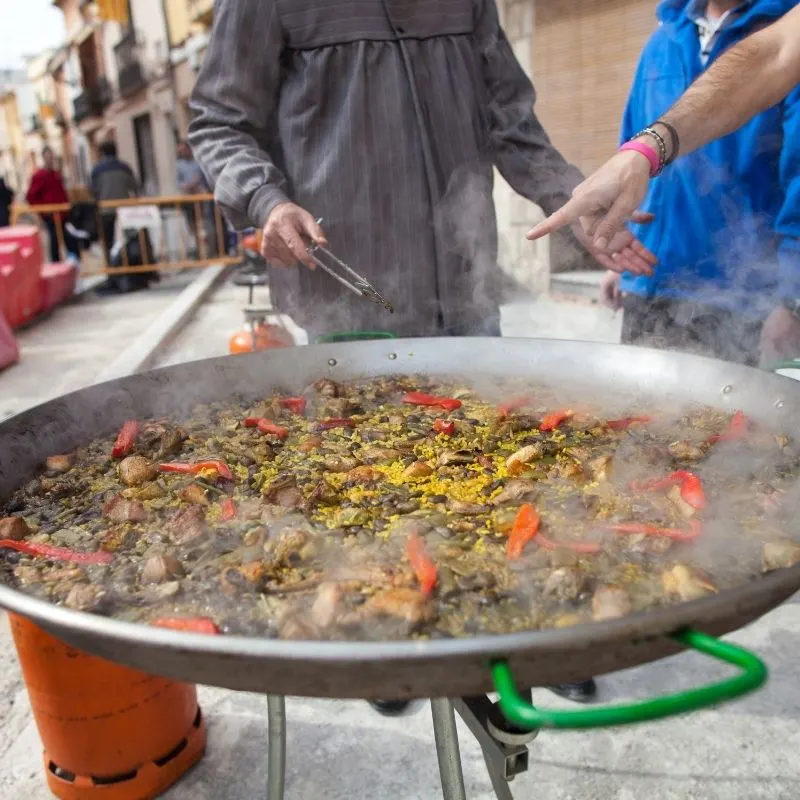 There's nothing quite like Spanish cuisine, voted as one of the best in the world, and one of the cool things to do in Marbella in October is to take in the many varied flavors of the Andalusia region as well as international dishes.
You can learn about the culinary history of the region and be led to places only the locals know to celebrate some of the best tastes around. – Buy a guided tour here.
You should never leave Southern Spain without trying its best Spanish tapas like tortilla de patatas, patatas bravas, or ham croquettes.
Opening times:
Dependent on tour operator, but usually mid-afternoon tours are the best.
4. Head to La Quinta Golf and Country Club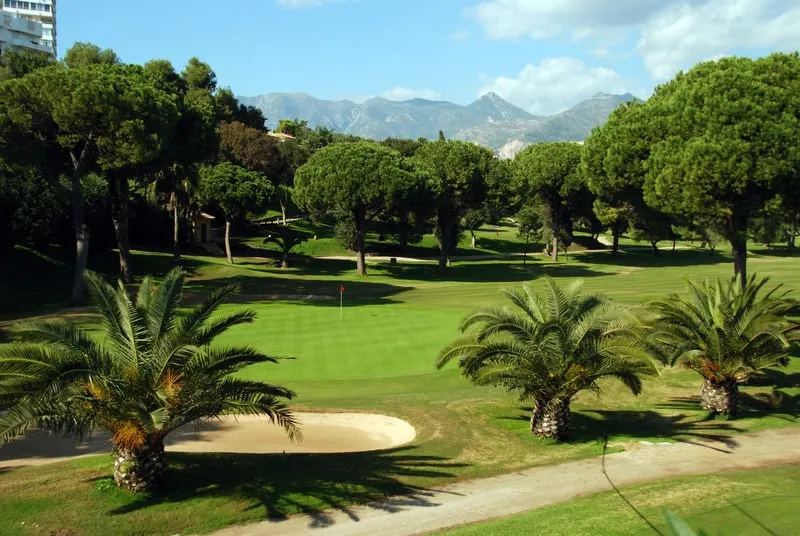 La Quinta Golf and Country Club, nestled in the picturesque surroundings of Marbella, is a premier destination for golf enthusiasts and leisure seekers alike.
Renowned for its world-class golf courses, the club offers an exceptional golfing experience set against the backdrop of the stunning Sierra Blanca mountains.
The meticulously designed courses cater to players of all skill levels, providing challenging fairways and immaculate greens.
Beyond golf, the club's elegant amenities and facilities include a luxurious country club, exquisite dining options, and a range of leisure activities.
Whether one seeks a round of golf in a captivating environment or a refined leisure escape, La Quinta Golf and Country Club stands as a testament to Marbella's allure as a destination that seamlessly blends sporting excellence with refined relaxation.
Opening times:
Open from 7am until late, tables can be booked in advance
5. Guided Quad Tour with Spectacular Views
If you're a thrill seeker then a quad bike tour is sure to rev your engine. Not only do you cruise across the countryside with a great deal of power under you, but you can also take in some of the sights such as the Rock of Gibraltar.
Embark on a thrilling adventure with Marbella's Panoramic Quad guided tour, a two-hour journey that unveils the stunning landscapes of the region.
Traverse rugged terrains and picturesque trails, all while aboard a powerful quad bike, and immerse yourself in the breathtaking panoramic views of Marbella's natural beauty. Check the guided tour here.
It's advisable to wear closed shoes or trainers and remember to bring your camera for those wide-reaching panoramas.
Opening times:
Varies according to operator so book in advance.
6. Kayaking tours and boat renting
If you fancy a fun and serene activity in Marbella this October why not jump aboard a kayak and paddle in the afternoon sun?
Let the waves wash your troubles away in the crystal blue water, discovering secret coves and beaches along the way. – Check out guided tour here
It gives you a great view of Marbella too and with a world-class marina, renting a boat is one of the best things to do in Marbella with family for a day of adventure on the water.
You can rent for as many hours as you want, enjoying food on your boat or just jumping overboard to snorkel.
A sense of freedom like nothing else and a great Marbella sightseeing trip from the sea.
Opening times:
Afternoon or morning excursions can be booked in advance.
7. Marbella Bay Stand-Up Paddleboarding Tour
One of the great things to do in Marbella in October, paddleboarding is accessible to all and is a top way to take in Marbella from the blue waters.
Experience the tranquil beauty of Marbella's coastline with the Stand-Up Paddle Board at Sunset guided tour.
As the sun dips below the horizon, glide along the gentle waves on your paddleboard, enjoying a unique perspective of the sea and the stunning colors of the sky, making for a serene and memorable evening.
Stay on your feet or lay down to soak up some rays, cooling off with a splash in the sea if the Marbella weather in October gets too uncomfortable at midday. – Book your guided tour here.
Opening times:
Variety of start times available, lasting 2 hours.
8. Attend the Marbella International Film Festival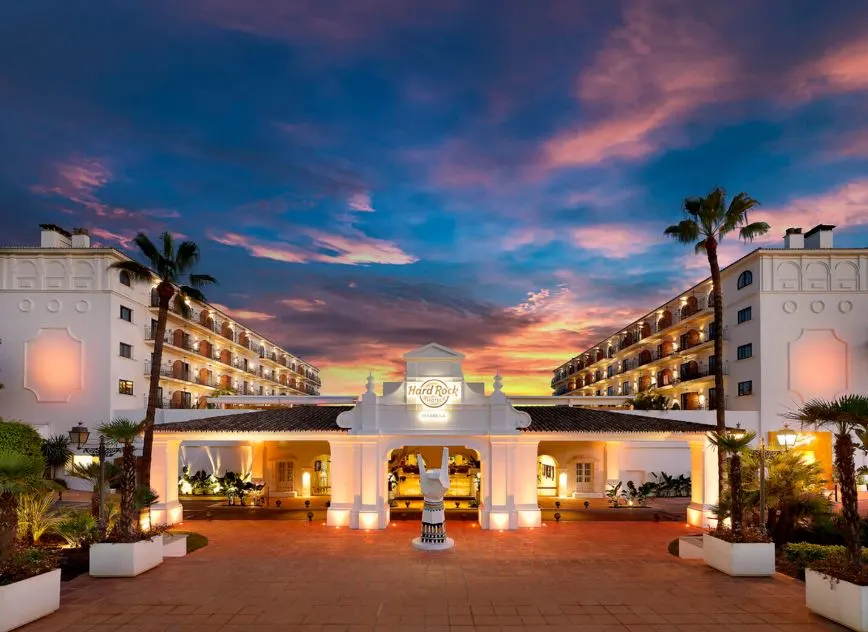 As a location famed for its well-known international guests who come to soak up the sun, one of the best things to do in Marbella in October is attending the Marbella International Film Festival.
It began in 2006 and will celebrate its 18th annual edition this year. It's not only the festival itself that draws the crowds, but there are lots of opportunities to network, fancy galas, and other glam events you can be part of.
The Hard Rock in Marbella becomes a central hub of activity, so hang out there to catch a glimpse of famous faces and dinners.
Opening times:
In 2023, the festival will run from the 4th to the 8th of October.
9. Wander around the Orange Square
Plaza de los Naranjos is situated right in the center of Marbella's historic old town, with traditional whitewashed townhouses, cafes, and of course the citrusy scent of oranges thanks to the many trees planted in the square.
It's a lovely area to absorb the history and culture of the Andalusian region, and there are a range of delicious delicacies available in the local cafes dotted around the square.
When it comes to things to do in Marbella in October, this is the one relaxing thing you will love especially during that time of year.
Opening times:
Open all day to walk around, but cafes and restaurants have their own opening times.
10. Visit Iglesia de Nuestra Señora de la Encarnación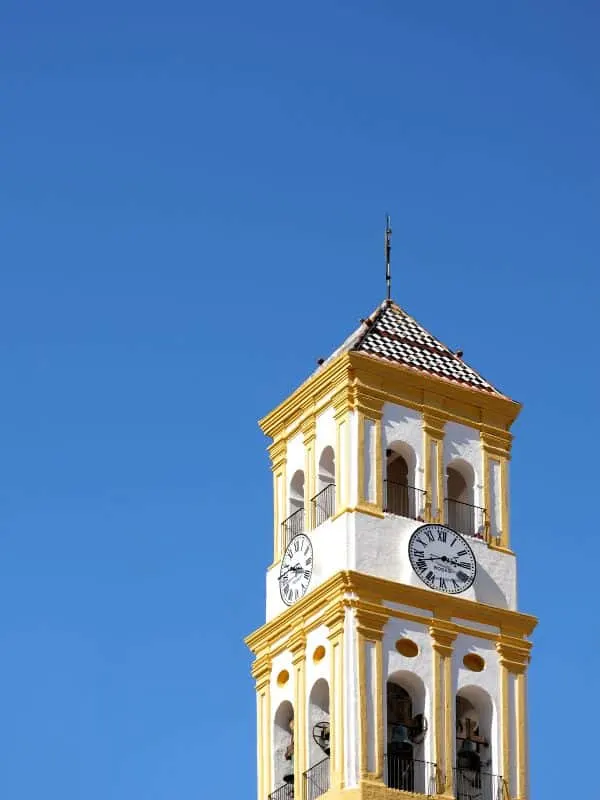 In the heart of Marbella's old town you'll discover an amazing work of architecture in the baroque style – the Iglesia de Nuestra Señora de la Encarnación.
This church has a beautifully decorated interior with intricate details, and you can easily lose yourself looking at all the details in this historic place.
To experience the full glory, why not try to attend on a Sunday when hymns resonate throughout the place?
Opening times:
In October, the church opens from 9am and closes at around 8pm.
11. Explore Castillo De Marbella
Marbella Castle is one of the Marbella tourist attractions perfect for October weather, as you can stroll around the cool historic building at your own leisure.
If you love history and culture then this is a must, giving you the chance to touch and experience the architecture and past of this once a great Muslim architectural relic dating back to 1485.
What's more, you'll get great panoramas of Marbella town so don't forget your camera.
Insider tips: Don't forget to bring a camera; the castle offers panoramic views of the town.
Opening times:
Open from 10am-6pm during October
12. Go on a hot air balloon ride
If you're looking for one of the most fun things to do in Marbella that you wouldn't usually get to experience, then why not opt for a hot air balloon ride?
Get breathtaking views of the coastal region and our towards the inland hills in this amazing experience.
There are plenty of options in Marbella and it's a must-do activity when it comes to things to do in Marbella in October. Remember to pack a sweater as it can get pretty chilly up there.
Opening times:
Rides start from just before sunrise and run all day.
13. Hiking at La Concha
Thanks to the cooler temperatures this time of year, a hike to the top of La Concha is one of the things to do in Marbella, Spain in October if you want a good workout and be rewarded with gorgeous expansive views across the town.
It can still reach over 25 degrees at midday in October, so set off early and be sure to take a water bottle.
Opening times: Open all day, but aim for an early start.
14. Relax in Parque De La Alameda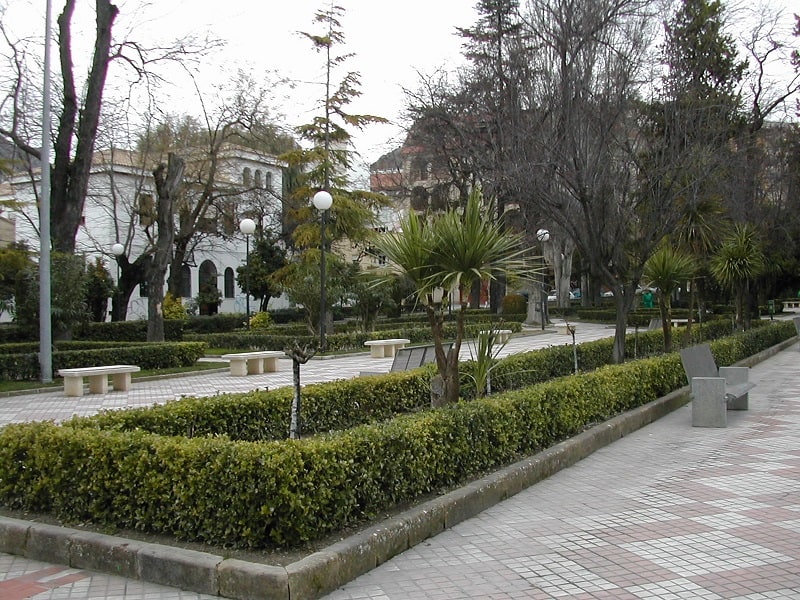 If you want a break from the hustle and bustle of Marbella town, this is the perfect place to park yourself to rejuvenate tired legs and minds.
It boasts tropical trees and plants, gushing fountains and benches where you can pass some time people-watching before discovering what's on in Marbella in October.
Opening times: Open all day, but an evening walk will ensure positive Andalusian memories.
15. Visiting Museo Ralli
Museo Ralli in Marbella is a captivating oasis of art that enchants visitors with its remarkable collection of contemporary and Latin American art.
Situated in the heart of the city, this museum offers a unique cultural experience, showcasing an array of paintings, sculptures, and artworks that span diverse styles and periods.
The museum's commitment to promoting Latin American artists is evident through its extensive and thoughtfully curated exhibits, providing an insightful journey through the region's artistic evolution.
With its elegant architecture, lush gardens, and a harmonious blend of indoor and outdoor displays, Museo Ralli stands as a cultural gem that not only celebrates artistry but also offers a serene escape into creativity for all who venture through its doors.
Opening times:
In October the museum is open from 10am to 3pm.
Best Hotels in Marbella, Southern Spain
Don't know where to stay in Marbella? We've sourced the best places to stay in Marbella for whatever budget you're on to ensure you have a comfy stay no matter how long you wish to enjoy the area.
There are things to do in Marbella in October wherever you want to call home for your holiday, and here are our top picks:
Right in the center of the town with lots of access to all of the Marbella nightlife, shopping and beaches, the Puente Romano is a seafront location with views over the Med.
Whether you want to play tennis under the Spanish sun, dine in gourmet restaurants or stroll in the botanical gardens, you will never be far from everything the town has to offer.
A top-tier location, you're just a stone's throw away from the Old Town and Puerto Banús.
If luxury and relaxation is on your agenda, then you can't go wrong with this 4-star spa hotel located on the Golden Mile.
Fust a 5 minute stroll from a white sand beach and encompassed by shops, fancy eateries, and typical Spanish pubs, guests can make the most of their stay.
Rooms at the Senator Marbella are high-quality, with air-con, soundproofing and wide screen TVs, making sure every aspect of your stay is as relaxing as the massages and spa treatments you can receive here.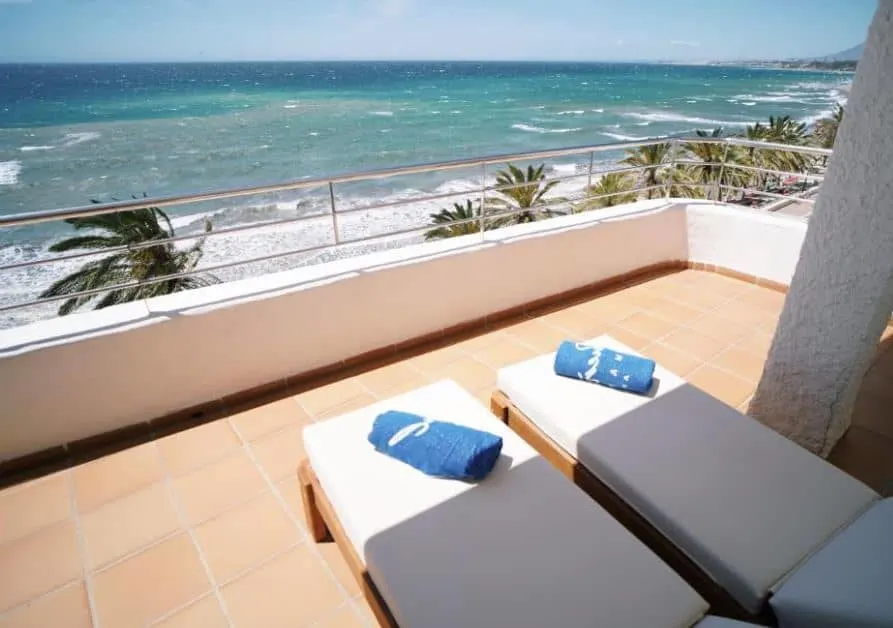 Cheap and cheerful, you'll get affordable accommodation and comfort at Puerto Azul Marbella.
Guests can benefit from easy access to the beach and pool area, and apartments are all equipped with the modern amenities you'd expect.
If you don't feel like eating in one of the two restaurants at Puerto Azul, a short walk away you'll discover the center of Marbella with a huge range of bars, cafes, and restaurants to suit all budgets.
Is Marbella Hot in October?
Marbella weather in October is one of the main reasons tourists choose to wait until the scorching heat of summer has subsided but the colder winter weather has not yet moved in.
The climate is temperate, and coupled with the drop in tourists it makes for an excellent place to discover what's on in Marbella in October.
Yes, there are still warm days to kiss your skin whether you want to lounge by the pool or on the beach, however, temperatures will tend to drop in the evening to a comfortable range.
This cooler climate makes it ideal for exploring the city without the heat of the day being too oppressive as you trail around the streets.
With so many things to do in Marbella in October, your Spanish getaway will live up to expectations during this time of year.
It doesn't matter whether you like to explore the historic buildings in the town, love to chill on the beach and have the occasional dip in the water, or are swayed by the authentic food culture, Marbella in October has something for everyone.
If the idea of having the streets to yourself in the late evenings, and watching the sunset on the Mediterranean from a beachside restaurant sounds like your kind of holiday, then you should visit Marbella in October.
Short FAQ about the best things to do in Marbella in October
Is Marbella worth visiting in October?
Marbella is worth visiting in October because you can take advantage of the clement weather and the lack of tourists still hanging on past peak season and enjoy a more relaxed and casual vacation.
All of the top things to do in Marbella, whether it's sipping a sangria on the beach or exploring the historic Old Town, can all be enjoyed in a much more leisurely way.
Is Marbella lively in October?
Marbella is lively in October even though it's not heaving with sunburned tourists or clubbers partying until the wee hours.
Marbella weather in October means it's still possible to join in with group activities in the town without the heat of summer but enjoy a lively evening of dancing al fresco.
Is Marbella still warm in October?
Marbella is still warm in October and you can expect temperatures exceeding 20°C in October in Marbella.
This balmy and temperate weather makes it ideal for outdoor activities like quad biking or water-based fun such as jet ski hire.
---
---
Hola, I'm Paulina! Together with my team, we are passionate about Southern Spain. Here we share all you need to know for great times in Southern Spain with the best places to visit, stay and, of course, the best food to eat.
Let's dive in and explore Southern Spain's outdoors, food and culture con pasión!