I know the problem: you're short on time and want to make the most of your holiday in Southern Spain. While planning your Andalusia itinerary, you end up wondering: "Is Cadiz worth visiting?"
Whether you want to explore stunning beaches, eat delicious seafood, or discover some of the city's culture, you will be spoilt for choice during your break.
Close to major Spanish cities like Seville, Granada or Malaga, first-time travelers to Southern Spain often wonder whether it is worth visiting Cadiz, Spain?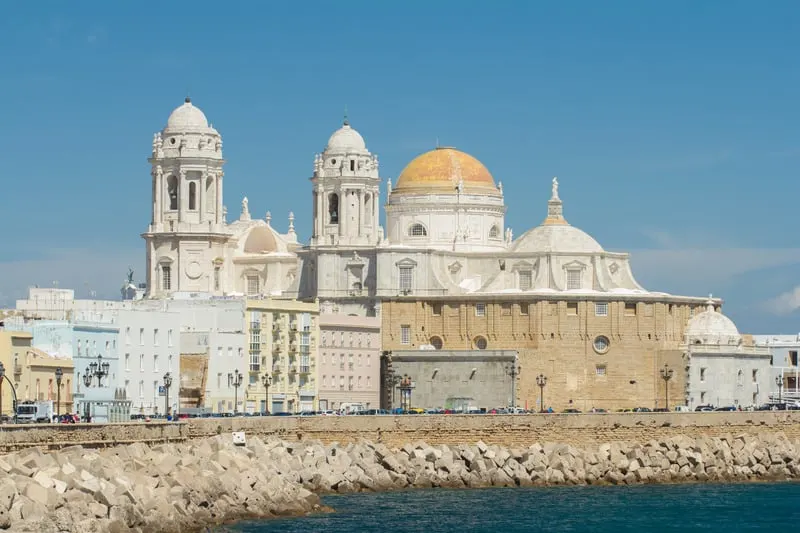 As someone who has been multiple times, I want to share with you what makes Cadiz so different from other places in Andalucia.
Here, I share some of my favorite things to do in Cadiz, and hope that they inspire you to visit this wonderful destination for yourself.
This blog is supported by you, dear reader. If you purchase through a link, we earn a small commission. As an Amazon Affiliate, we earn from qualifying purchases.
Resources to visit Cadiz, Spain
✈ Book cheap flights to Cadiz with Skyscanner

⚘ Avoid tourist traps and get the customizable "Andalucia Like a Local" itinerary. – Get it here

✔ Book tours in Cadiz with GetYourGuide

➳ Find the best hotels in Cadiz with Trivago

❖ Rent a car at the best rates with DiscoverCars

✎ Never leave without travel insurance! I get mine at HeyMondo. It is easy to set up, cheap and reliable.

$ Withdraw money without hidden fees and avoid exchange charges with Wise (Free Mastercard debit card to spend money abroad)
Home to some of the best beaches in Southern Spain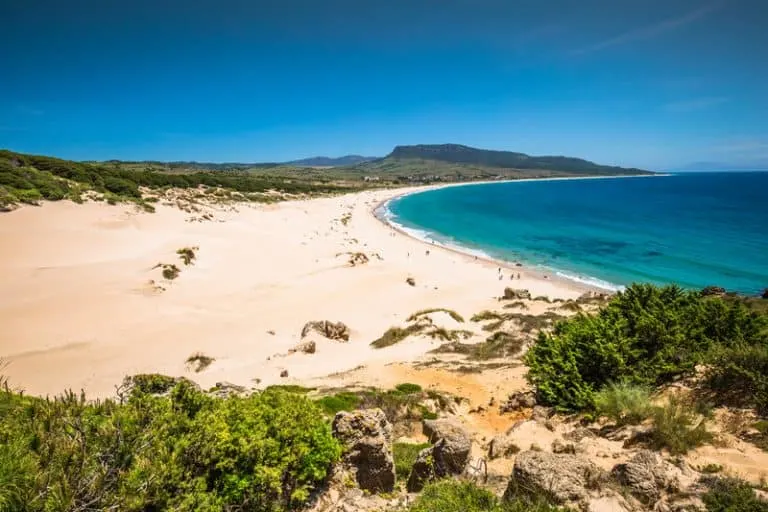 If you love spending time on the beach, you won't be disappointed during your time in Cadiz, as this city boasts a whole number of beaches that I just love spending time on during my visits there.
One of the most beautiful beaches that you can visit is Playa la Caleta, which looks like it has come straight from the front of a postcard.
Set in a pretty setting with a natural harbor that has a long and interesting history, one of the most fascinating things about this beach is that every rock was given a name centuries ago. Usually, an animal or object name and those names still exist today!
Playa la Caleta is set between two castles, Castillo de Santa Catalina and Castillo de San Sebastián, which gives it a very cultural feel. As a Blue Flag beach, this sandy stretch has all of the facilities that you will need in order to have a stress-free and relaxing day in the sun.
Should you prefer a slightly quieter beach, opt for the Playa de la Victoria instead, as this 2.8 km beach is big enough to mean that you can avoid the crowds if you like.
One of Europe's best urban beaches, Playa de la Victoria is also a great choice if you want to get active, as it is home to volleyball courts, and an outdoor gym, and it is possible to play football there too.
There are many 4-5 stars hotels in Cádiz that are only a stone's throw from the beach. The city boasts numerous hotels from international brands such as Iberostar. They are the perfect place to stay in order to make the most of your trip to Cadiz.
You will also find children's playgrounds here, making it the ideal destination if you are travelling with kids, and there are plenty of restaurants, bars, shops, and hotels to choose from.
Plus fantastic nightlife too, so there is always lots to do if you would like a bit of entertainment.
Read: Best beaches in Southern Spain
Probably the most delicious food in Andalusia
Famous for its delicious seafood, if fresh fish is one of your favorite meals, you will absolutely love dining in Cadiz.
With many restaurants offering Mediterranean dishes, you can be sure that the food you eat here will be fresh and healthy until you get to a dessert of course! Cadiz has one of my favorite food in Andalusia.
Tapas is one of the most popular options in Cadiz, and you will find that most restaurants here serve tapas either for meals or as bar snacks to have alongside a couple of drinks.
You simply have to try shrimp fritters during your stay, and if you are feeling brave, you can opt for ortiguillas (deep fried sea anemones), or fish eggs!
You'll also find amazing tuna in Cadiz, and this is often served as sushi, which is another food type that you will find a lot of throughout the city.
When it comes to dessert, you must order churros at least once, as these thin and crispy treats are some of the best that you will find in Spain. You might also like Pan de Cadiz, a marzipan log with candied fruits that is delicious but not to everyone's taste.
The most delicious bacalao croquettes or Spanish shrimp dishes, I have probably eaten them in Cadiz.
When it comes to drinking in Cadiz, the most favored drink is sherry, and this really complements seafood dishes.
One of the best things to do is to ask your waiter for a recommendation about which sherry will go best with what you are ordering. That way, you can't go wrong!
Enjoy Andalusian culture at its best!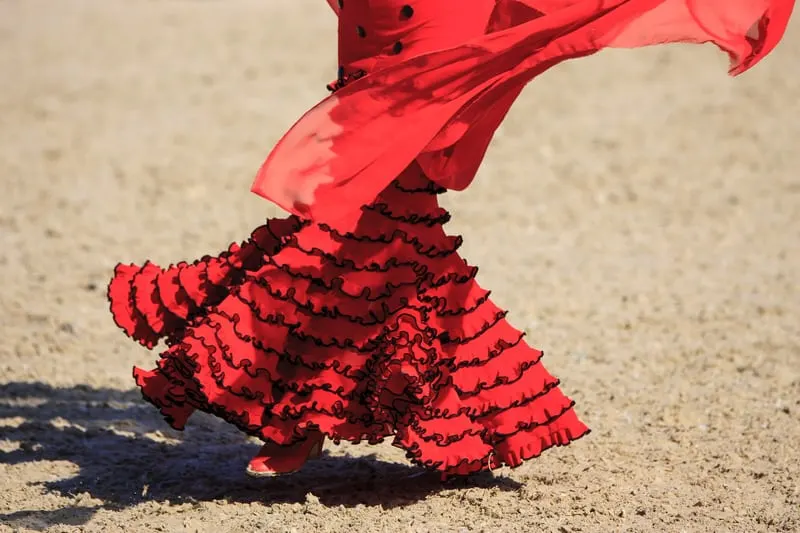 The only way to spend time in Cadiz is laid back and relaxed, just as the locals are. Explore the city without a plan, and simply wander the streets and take in places of interest as you go.
You will often hear the sound of flamenco music which provides a wonderful atmosphere, and you can tell where you should be eating and drinking as these places will be full of locals having fun.
To embrace Cadiz's folk culture, head to the city during February and March when you will be able to enjoy their carnival.
When the carnival is in full swing, you will be able to hear music playing across the city, no matter where you go. You will see plenty of impressive fancy-dress costumes as you explore the streets.
The carnival is a really big deal in Cadiz and it is an absolute joy to see how passionate the locals are about it.
Outstanding architecture
For the best views of the city, climb the Torre Tavira's 170 steps and look over Cadiz from 45 metres above sea level.
From here, you will be able to see Castillo de San Sebastián and Cadiz Cathedral, both of which look amazing up close and from a bird's eye view.
The cathedral's Poniente Tower also offers impressive views, and from here, you will be able to see over the port.
This building is definitely worth a visit during your time in the city, as you are sure to be amazed by its blend of baroque, rococo, and neo-classical styles.
Easy to reach
Thanks to the train and bus station, Cadiz is very well connected to other major cities in Southern Spain. While I recommend spending at least a couple of days in Cadiz in order to absorb its vibes, you can easily visit in a one-day trip.
Many visit Cadiz with a day trip from Marbella or Malaga in order to enjoy the tasty food. Indeed, Cadiz is one of the most popular day trips from Malaga.
So are you still doubting is Cadiz worth visiting?
There are so many amazing things to do in Cadiz that you are guaranteed to have a fantastic holiday here. So, why not start planning your break today?
---
---
Hola, I'm Paulina! Together with my team, we are passionate about Southern Spain. Here we share all you need to know for great times in Southern Spain with the best places to visit, stay and, of course, the best food to eat.
Let's dive in and explore Southern Spain's outdoors, food and culture con pasión!