A guide that's perfect for choosing from the best things to do in Seville in October for your next holiday
Bursting with culture, tradition, and history, Seville is a top destination for tourists and a welcome break from the bustling seaside locations in Andalusia which draws thousands of holidaymakers each year.
When it comes to the range of things to do in Seville in October you'll be pleasantly surprised. The city is awash with life after the energizing heat of the summer, and you can take in a passionate and inspiring flamenco show or walk the Alcazar to soak up its history.
Here we'll look at some of the things to do in Seville and we guarantee you'll have the best time during this time of year.
This blog is supported by you, dear reader. If you purchase through a link, we earn a small commission. As an Amazon Affiliate, we earn from qualifying purchases.
Pssst…!!?? You can't get enough of Seville? Have a look at my other posts:
Top Things to do in Seville in October
Best Things to do in Seville in October
1. Festival de las Naciones
Translated as the 'Festival of Nations', this is a feast for the eyes and ears with colorful and vibrant costumes from all over the world, accompanied by a wide variety of traditional music.
Not only will you see the many world cultures on full display throughout the city, but you can also experience every aspect of their individual cultures.
Food and dance go together in this celebration and it is a real eye-opener to the diversity found in this Spanish city, especially the tasty tapas in Seville city center.
Opening Times:
Live performances take place throughout the day at various locations all day long
2. Royal Alcazar of Seville
The Royal Alcazar in Seville is a gorgeous palace with architecture giving a nod to both the Moorish and Christian heritage of the city.
Walk the well-maintained gardens in the cool of the day, one of the many benefits of visiting Seville in October. – Check out the guided tour here.
It's actually a UNESCO heritage site and you will quickly come to understand why when you see the intricate detailing of this building, each part speaking of the wealth of history it has witnessed across the centuries.
If you're a fan of Game of Thrones, know that many of the scenes were filmed at Royal Alcazar, making this one of the most interesting things to do in Seville in October.
Opening Times:
Open from 9.30am daily until early evening.
3. Noche en Blanco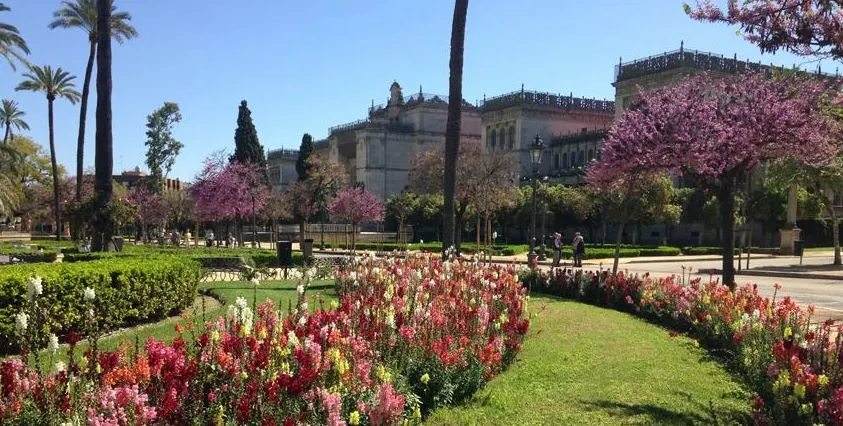 Looking for free things to do in Seville? You're in luck! Once a year, known as 'White Night' in English, all of the cultural establishments in the city are accessible completely free of charge.
Museums, cultural public spaces, and galleries all allow free entry all day long and late into the evening.
It gives locals and tourists alike the opportunity to soak up as much city culture as possible and gain a greater appreciation of these important locations. – Get museum guided tours here.
Opening Times:
Noche en Blanco this year lands on the 6th of October and lasts all night long.
4. Perfect weather for bike tours
One of the more unusual things to do in Seville in October as it is quite a large city with a well-developed infrastructure, bike tours can be a great way to take in multiple activities to do in Seville in the most scenic way possible.
Weave your way around the city's bike lanes, which are mostly flat, and take in any number of Seville tourist attractions that take your fancy.
There are even guided bike tours which will make your learning experience all the more memorable and the best part is you can choose an electric bike as well. – Book your guided tour here.
Opening Times:
Most rental locations open from 9am and close early in the evening, for a full day of biking.
5. Plaza de España and Parque Maria Luisa
If you have a passion and penchant for architecture, then there are many places to visit in Seville that won't disappoint.
The Plaza de España is one such location with its mixture of bridges and canals surrounded by flowing geometric-shaped buildings in both Moorish and later Renaissance formats.
Next to it lies Seville's largest public park, filled with verdant tropical plants, calming fountains, and ponds. Why not rent a boat to give you a memorable experience?
Opening Times:
There are no set times, instead opening from dawn until dusk all year round.
6. Halloween at Isla Mágica
Things to do in Seville in October that should not be missed are, obviously eating Halloween sweets and attending the festivities.
If you're seeking Seville tourist attractions as a family with children, then why not check out the theme park of Isla Mágica for a Halloween treat?
Located within the city limits, on the 31st of October, it transforms into a scary wonderland complete with shows, a haunted house, and lots of spooky performers.
Do your own Halloween costume and join in the fun late into the night as it stays open until the Witching Hour.
Opening Times:
On 31st October 2023 the park is open from 3 pm until midnight.
7. Seville Cathedral
One of the most awe-inspiring things to do in Seville in October, the Seville Cathedral is the largest of its kind in the world. – Book a guided tour here.
Towering above the city with classic Gothic architecture, it's a must for any Seville sightseeing inventory.
You can venture inside and gaze up at the lofty interior space adorned with stained-glass windows, or climb up the Giralda tower if you have the energy to gain some magnificent views of the cityscape below.
Opening Times:
11 am to 5 pm, but we advise going as early as possible to avoid crowds.
8. Attend a Flamenco Show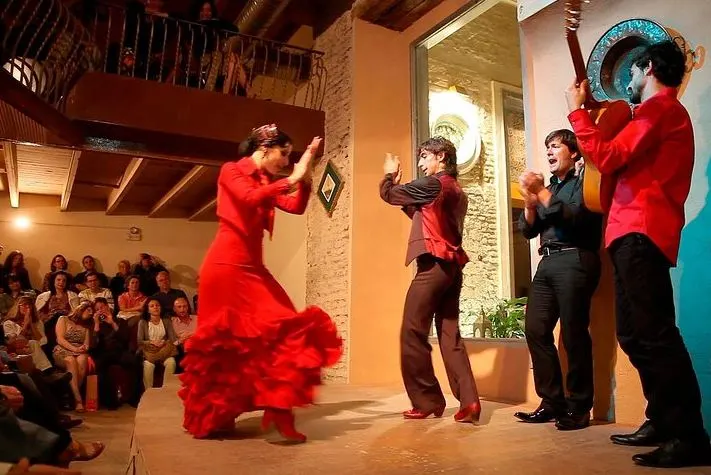 Looking for something to inspire you and fill you with a greater sense of cultural appreciation on your visit to Seville?
Why not attend one of the many flamenco shows in Seville and watch as dance, song, and music join together to create an unforgettable mesmerizing experience for old and young alike? – Get your guided tour here.
There's nothing quite like the atmosphere at a flamenco show, and it's always a good idea to enjoy traditional Spanish tapas and a glass of local wine to really get you in the mood.
Opening Times:
These vary by venue, but most shows start between 7 p.m. and 9 p.m.
A center of culture in Seville, the Navigation Pavilion is a landmark location used for many events including theater shows and musical acts.
The design of the Pavilion itself pays homage to the seafaring nation of Spain famed for its worldwide explorations in centuries gone by.
Always be sure to check the schedule ahead of time to see the plays and shows on offer that are most suited to your visit.
Opening Times:
Open throughout the day into the evening, but be sure to see performance times in advance.
10. Celebrate the Hispanic Day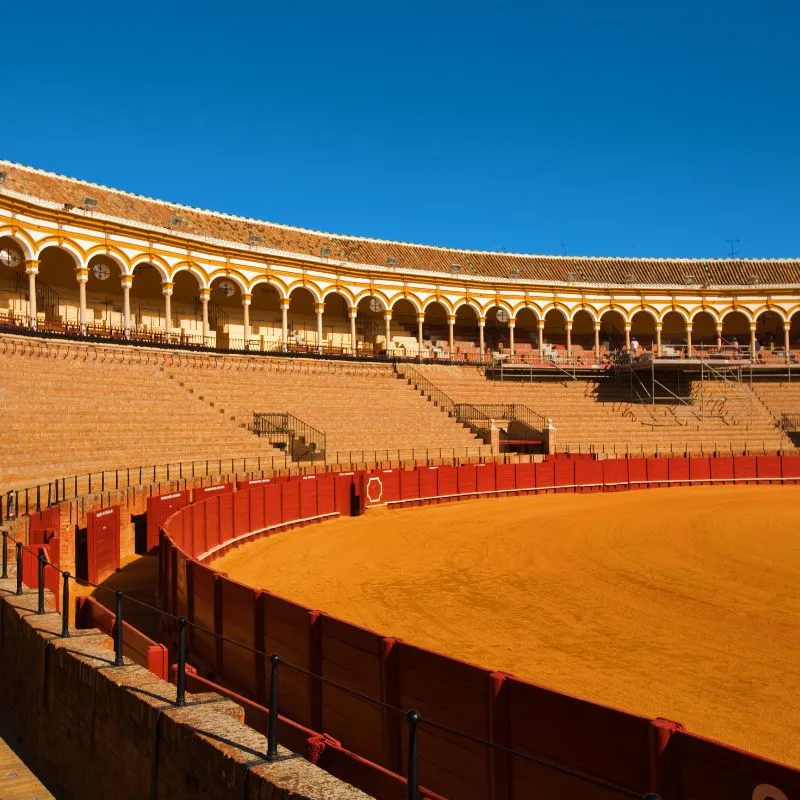 The 12th of October is Hispanic Day. A flower offering is made at the Cathedral's tomb, which houses Christopher Columbus's corpse.
On the 12th, a traditional bullfight will take place in the Royal Arsenal to benefit the Red Cross.
During this fortnight, the Virgin of the Rosary is also celebrated, with one of the most popular being Saint Julius, la Macarena, and the Waters in the Arsenal.
During this month, processions are organized in parishes, which are particularly popular activities.
Best Hotels in Seville, Southern Spain
As the capital of Andalusia, there's a large number of places to Stay in Seville to choose from when it comes to your ideal vacation.
There is history blended effortlessly with modernity in many hotels, giving you the feeling and flavor of traditional Spain at the best boutique hotels in Seville.
You can find cheap hotels in Seville in the main areas of the city along popular boulevards, or equally quaint and special holiday villas in Seville down cobbled streets right in the heart of the bustling thoroughfares lined with shops and cafes.
Whether you want family hotels in Seville that give you that authentic experience or want to explore the Sevillle architecture as you wander the streets, we have our top three picks for you no matter what your budget is.
If opulence and luxury is what you're craving when you visit Seville in October, then the Hotel Lobby Room won't disappoint!
With high-end services available around the clock coupled with beautiful and elegant décor, this hotel is ideal for those looking to vacation in opulence.
Although the Seville October weather is cooler than summer, you can still make use of the rooftop pool as you gaze out across the skyline.
If sampling the delights of the region and beyond is more your thing, then the onsite restaurant will surely cater to your tastes.
What's more, this hotel is just a stone's throw from locations like the Royal Alcazar and the Cathedral which make for a pleasant evening stroll.
Everything you need is taken care of in advance when you opt for this five-star accommodation in Seville.
When you need a central location and a hotel that delivers a high level of comfort, the Hotel Giralda Center is the perfect choice.
Boasting four stars thanks to its well-decorated interior space and second-to-none hospitality from the staff, this is a perfect place to retreat to after a day of taking in all of the things to do in Seville in October.
Escape from the hustle of the city in the rooftop pool which gives wide-reaching views and a pleasant atmosphere for relaxing.
When you want to sample Spanish delights without leaving your accommodation, then the in-house restaurant is sure to thrill your tastebuds.
If you'd like to leave the Hotel Giralda for an evening strolling the streets in temperate Seville weather, Giralda Tower is right on your doorstep as well as a myriad of shopping opportunities that won't break the bank.
If you'd like to experience the many things to do in Seville in October but don't have the budget for five-star accommodation, there are so many great options to choose from.
We've selected the Soho Boutique Sevilla for numerous reasons, including its rooftop terrace where you can chill in peace after a day taking in the top things to do in Seville.
It does have a small pool that can be used to cool down on those warmer October days, and its location is so central that you're never more than a five-minute walk from restaurants, fresh food markets, and places of historic interest.
This accommodation is a classic example that budget places to stay in Seville don't have to mean low quality or lack of comfort.
We think this is an excellent base to explore the city, especially if you're going to be away from the hotel for most of the day or evening.
Weather in Seville in October
There are so many things to do in Seville in October and year round that it is always a hive of activity no matter the weather; choose from history, art, culture, and gastronomy on your vacation here.
There is something magical about the city in October as the heat of the summer is taken out of the equation and leaves it feeling similar to other places across Europe, especially thanks to the fact it is more inland than some of the more touristy locations like Marbella and Malaga.
Breakfast in Seville is usually pleasant and you can sit at one of the cafes and enjoy some pastries and coffee anytime before noon.
The Cathedral and Royal Alcazar are much better experienced in October without the crowds and stickiness associated with the summer months.
This provides a much more intimate holiday, allowing you the freedom to walk the many streets and small alleyways to discover the real heart of Seville.
You'll also be able to experience the citrusy bursts from orange trees that line it, and there's nothing more relaxing than parking up on a bench with your loved ones by the water.
Short FAQ about the best things to do in Seville in October
Is October a good time to visit Seville?
October is a good time to visit Seville especially if you dislike the heat of summer which can reach into the high 30s.
Seville sightseeing and tourist attraction exploration is much easier in this cooler month, as well as gentle walks at any time of the day without having to worry about exhaustion from the heat.
What happens in Seville in October?
Seville in October is amazing since the city becomes less crowded and the weather is more breathable.
One day in Seville is enough if you're staying nearby, but a weekend or even a week-long adventure is recommended so you can visit the many museums in Seville and soak up the traditional Seville architecture.
Is Seville warm in October?
Seville is warm in October even though the city isn't as hot as the summer months.
There's a charming vibe during autumn in Seville, and whether you like historic places or cultural shows, there's sure to be something for every taste.
---
---
Hola, I'm Paulina! Together with my team, we are passionate about Southern Spain. Here we share all you need to know for great times in Southern Spain with the best places to visit, stay and, of course, the best food to eat.
Let's dive in and explore Southern Spain's outdoors, food and culture con pasión!