Are you looking for the tastiest Spanish chorizo recipes? Look no further! We have compiled 20 Spanish chorizo recipes, guaranteed to make your mouth water.
From smoky Spanish-style paella with chorizo and chicken to spiced Spanish pork, these Spanish chorizo recipes are packed with flavor.
Whether you want something to make for dinner tonight or weekend brunch, these Spanish recipes have got you covered.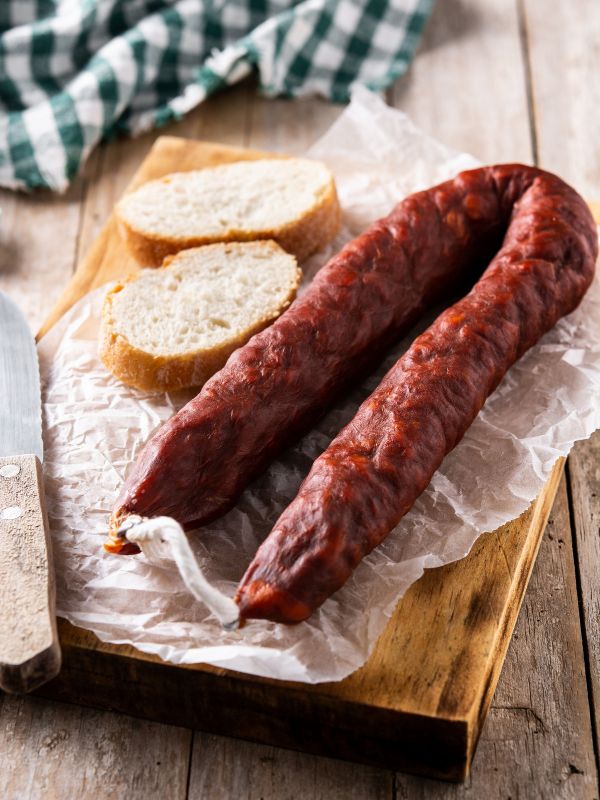 This post contains affiliate links. If you buy via them, I'll earn a small commission which helps me to keep this blog running. As an Amazon Associate I earn from qualifying purchases. All opinions are my own.
20 Spanish Chorizo Recipes
1. Meaty Spanish Chorizo Soup Recipe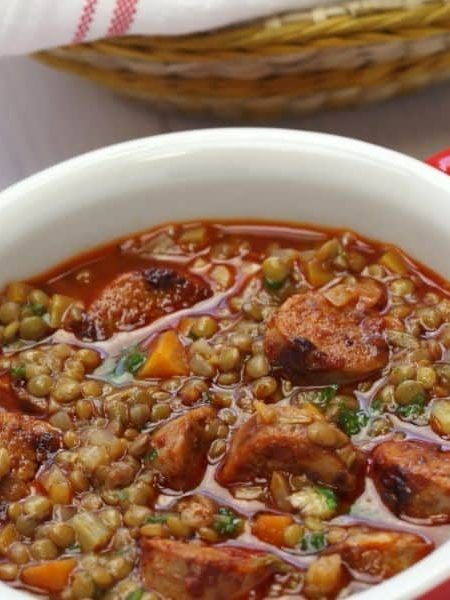 This traditional Spanish dish will surely be a hit with the whole family.
The recipe uses Spanish chorizo sausage, spiced with garlic and paprika, and complemented by potatoes, lentils, carrots, and celery.
The soup is often served as a starter or main course in Andalusia, but it can easily make a delicious evening meal for everyone.
Get the recipe: Meaty Spanish Chorizo Soup Recipe
2. Classic Spanish Chorizo Rice
When you think of Spain, you automatically think of rice dishes and paella.
This classic Spanish chorizo rice is made with chorizo, saffron, and aromatic vegetables.
This dish is popular in the Andalusia region and is often served as the main course for dinner parties or simply as lunch.
It uses short-grain rice, such as arborio or bomba, spiced chorizo sausage, and a selection of vegetables, but the secret ingredient that makes all the difference is lemon thyme.
Although it can be made in one pot, some people prefer to cook the rice separately to ensure it absorbs all the flavors and stays perfectly firm.
Get the recipe: Classic Spanish Chorizo Rice
3. Chorizo a la Sidra – Chorizo in Cider Recipe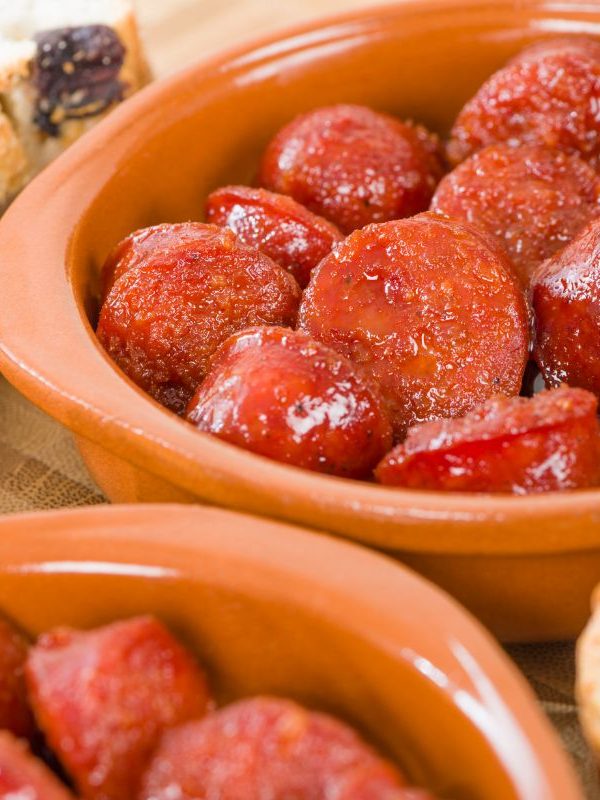 Staying in Southern Spain, Chorizo a la Sidra is a restaurant classic that feels like something your abuela would make.
Initially from Asturias in Northern Spain, Chorizo a la Sidra worked its way through to southern Spain and into the hearts of its residents and a firm family favorite.
This is one of the quickest Spanish chorizo recipes but it packs a serious punch of flavor.
A combination of paprika-spiced chorizo sausage and hard apple cider, this dish takes little effort but tastes excellent.
The key ingredient is the Asturian sidra (any cider will do at a push) which helps to create a unique flavor that blends beautifully with spiced homemade chorizo.
Get the full recipe here: Sizzling Spanish Chorizo Recipe [Chorizo a la Sidra]
4. Spanish Chorizo Pasta with Tomato Sauce Recipe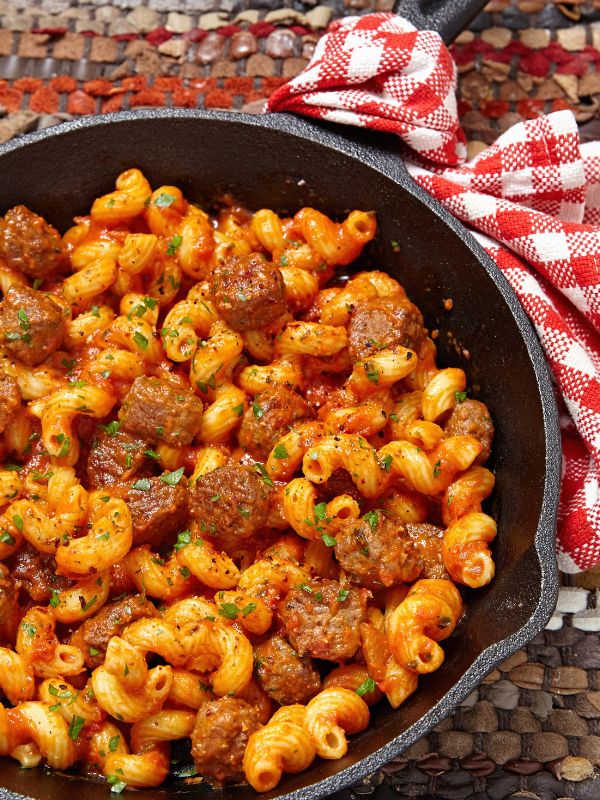 The Spanish chorizo pasta dish is a mixture of Italian and Spanish cuisine.
Italian pasta and ripe Spanish tomatoes, chorizo, and onions make this dish perfect for a quick midweek dinner that looks great and tastes delicious.
With spiced homemade chorizo sausage, garlic tomatoes, and penne or macaroni has all the flavor of an Italian classic with a spicier Spanish twist.
Add fresh parsley or basil to garnish the dish for extra flavor and color.
Get the full recipe here: Spanish Chorizo Pasta with Tomato Sauce Recipe
5. Spanish Chorizo Bean Soup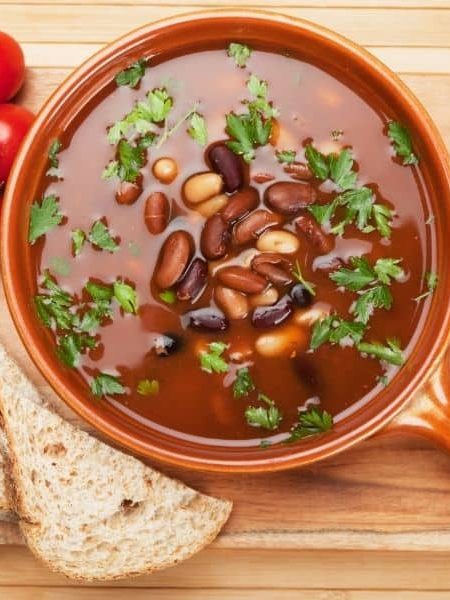 One of the most commonly eaten soups in Spain—especially in Southern Spain during the winter—is Spanish Bean Soup or Sopa de Garbanzo.
This is one of the tastiest Spanish chorizo recipes because it's a traditional winter dish and generally consists of chorizo, pork, garbanzo beans, smoked paprika, garlic, and onions.
The chorizo's spiciness and the paprika's smokiness give this soup its unique flavor. This dish is best enjoyed with crusty bread and Spanish red wine.
Get the full recipe here: Easy Spanish Bean Soup Recipe
6. Spanish Omelette with Chorizo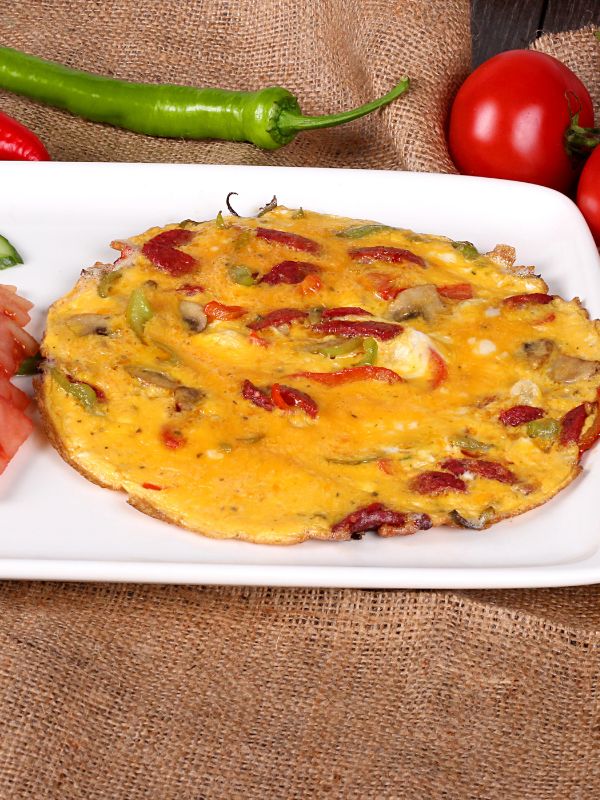 A homemade chorizo omelette is a joy to eat. It's one of the easiest Spanish recipes for which you only need chorizo, potatoes, and eggs.
The potatoes are fried first and set aside. At the same time, the chorizo is fried before adding it to the egg mixture, which creates a delicious spiciness that makes this Spanish omelette with chorizo a favorite.
Serve it hot or cold, with fresh greens and crusty bread for an easy Spanish meal everyone will love.
Get the full recipe here: Easy Spanish Omelette with Chorizo Recipe
7. Chorizo Paella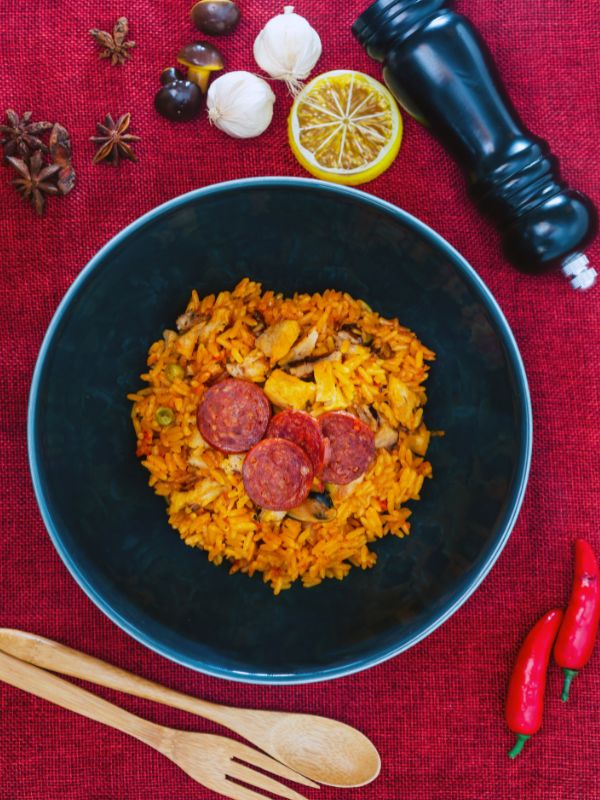 Unlike chorizo rice, paella traditionally comes from Valencia in Eastern Spain and has many variations.
This recipe is one of the most popular arab influenced Spanish chorizo recipes.
Chorizo paella it's made with chorizo, saffron, and vegetables such as tomatoes, garlic, bell peppers, and artichokes.
The key to achieving paella's characteristic yellow color is to use bomba rice, which has a much higher absorption rate than other types, such as arborio.
The chorizo's spiciness and paprika and saffron's smokiness give paella its unique flavor. Unlike chorizo rice, paella doesn't use lemon thyme.
8. Spanish Chorizo and Shrimp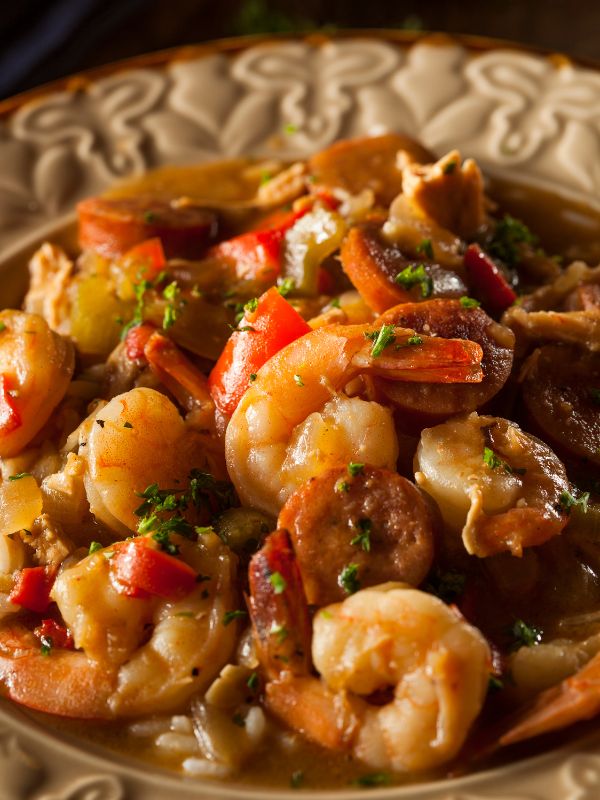 Considering how good it is, shrimp with chorizo is surprisingly straightforward.
In only about 30 minutes, shrimp, smokey sausage, garlic, chili, and lemon are the main ingredient in this favorite tapas dish.
This Spanish chorizo recipe has its roots in Mexican cooking, so it's best to use smoked paprika (Spanish paprika is also good) from that region for an authentic flavor.
This Spanish chorizo and shrimp tapas dish are perfect for sharing with friends or as a main course. Serve over steamed rice or with warm crusty bread and a salad.
Get the recipe here: Tasty Spanish Shrimp and Chorizo Recipe
9. Pumpkin Chorizo Soup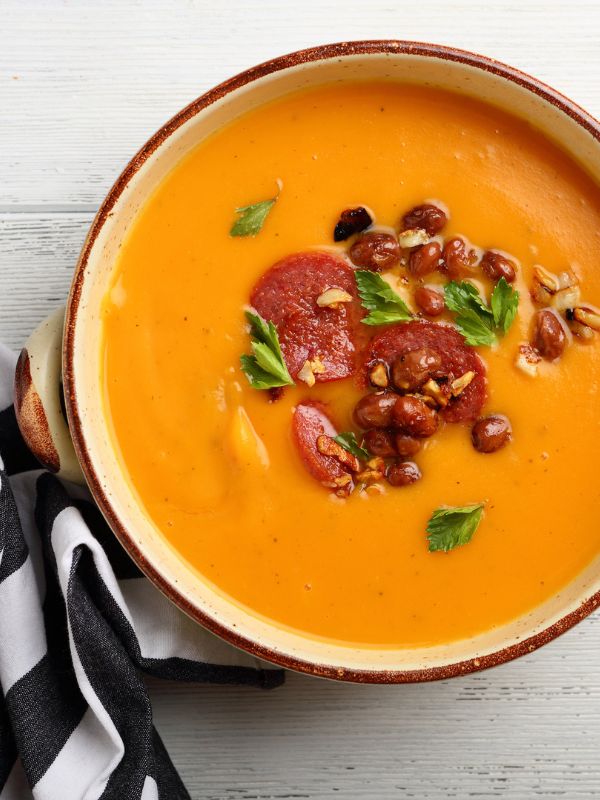 This spiced pumpkin chorizo soup is a traditional Spanish recipe created in the 19th century.
It was eaten in the fall and winter because the abundant pumpkin harvest needed to be used.
The dish uses only two main ingredients, spiced chorizo sausage, and pumpkins; sometimes people use cream in this dish, but often the soup remains plain.
This tasty pumpkin chorizo soup is the definition of comfort food and can be served with crusty bread or toasted garlic bread.
Get the recipe here: Irresistible Pumpkin Chorizo Soup from Spain
10. Fabada Asturiana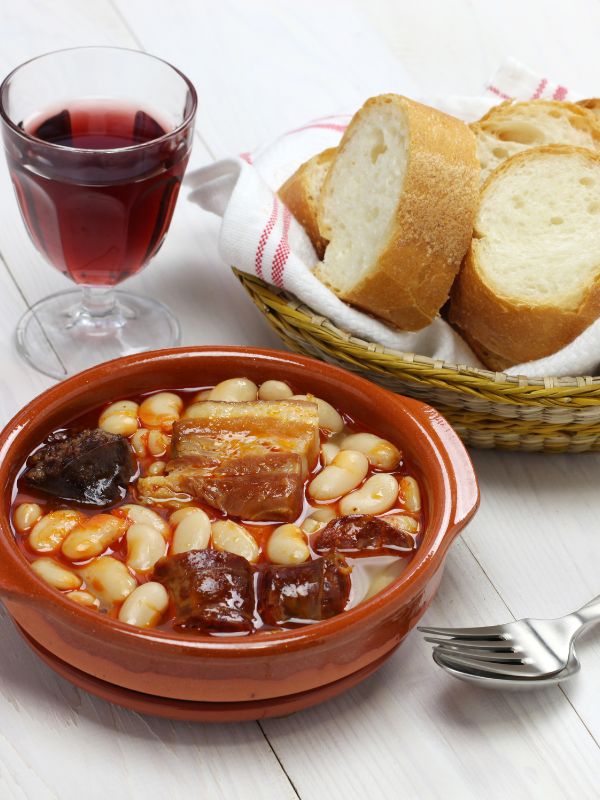 Fabada Asturiana is a classic Spanish stew dating back to the 16th century.
It uses fabes de la Granja, a type of large white bean found in Spain, and spiced chorizo sausage and pork shoulder or bacon.
The Fabada Asturian is best cooked slowly for several hours in order to bring out the most flavor and tenderness.
People make these kind of Spanish chorizo recipes during winter, but it can be enjoyed all year round Asturias, a region in Northern Spain, is particularly famous for this dish.
Get the full recipe here: Comforting Fabada Asturiana Recipe
11. Spanish Chorizo & Potato Stew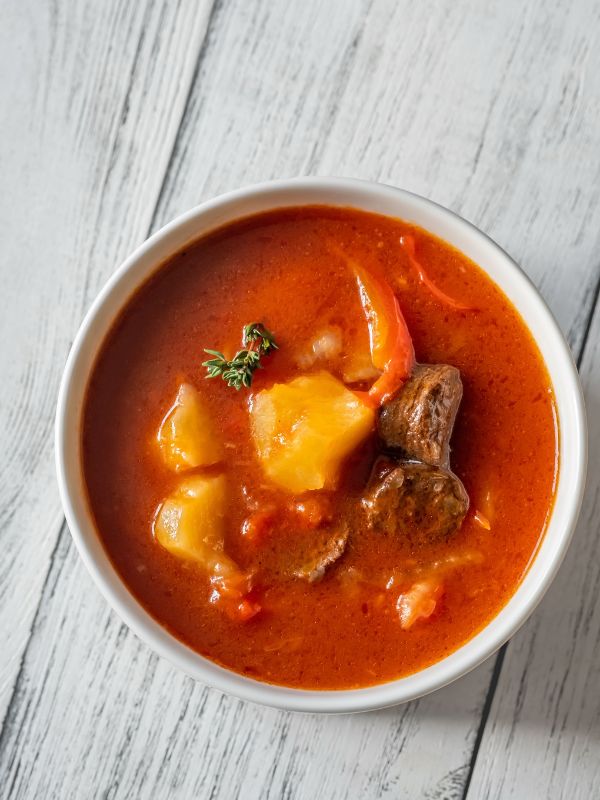 Chorizo and potatoes are a classic Spanish combination for a delicious meal.
This Spanish chorizo and potato stew is cooked in a rich tomato sauce spiced with smoked paprika, garlic, and onions.
The chorizo's spiciness gives it an extra kick of flavor that can't be replicated.
Originally from Rioja, in northern central Spain, Patatas a la Riojana is a simple but delicious Spanish chorizo recipe.
Serve it with crusty bread and an ice-cold beer or glass of wine for a satisfying dinner.
Get the recipe: Easy Spanish Chorizo Stew Recipe
12. Spanish Chicken with Chorizo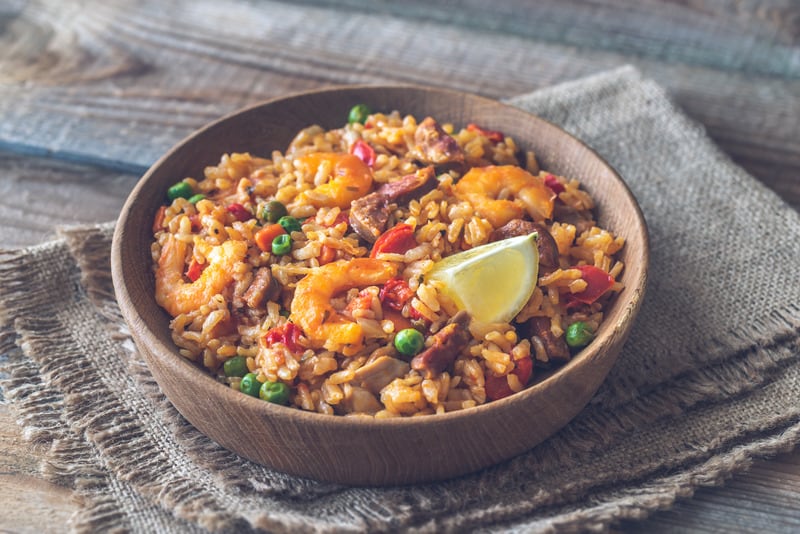 This Spanish classic uses paprika as its prominent flavor.
Semi-cured, uncooked chorizo is cooked with onions, garlic, and tomatoes to create a delicious spiciness that makes this Spanish chicken with chorizo recipe a favorite.
For an easy Spanish meal, serve it hot or cold with fresh greens and crusty bread.
The key here (in case you missed it) is the semi-cured, uncooked chorizo.
Semi-cured or raw chorizo differs from Spanish chorizo recipes that use cured chorizo, giving the dish a smokier flavor.
Read the full recipe here: Classic Spanish Chorizo Rice
13. Chorizo Empanadas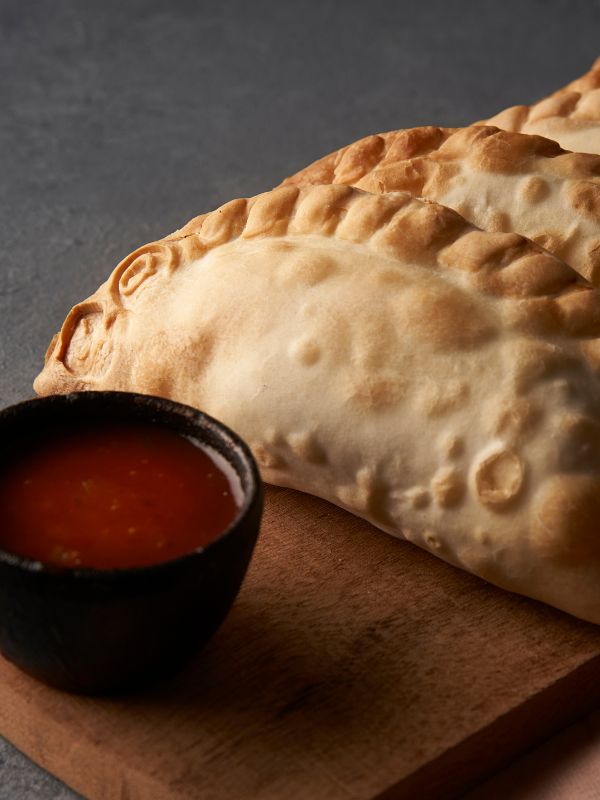 Empanadas are little pies with spiced chorizo sausage filling popular throughout Latin America and Spain.
This Spanish chorizo recipe is an excellent appetizer or main dish, and chorizo in combination with potatoes makes these tapas incredibly delicious.
These empanadas are usually deep-fried but can also be baked in the oven. Serve them with spiced tomato salsa or your favorite dip for an easy yet delicious Spanish meal.
14. Caldo Gallego Soup Recipe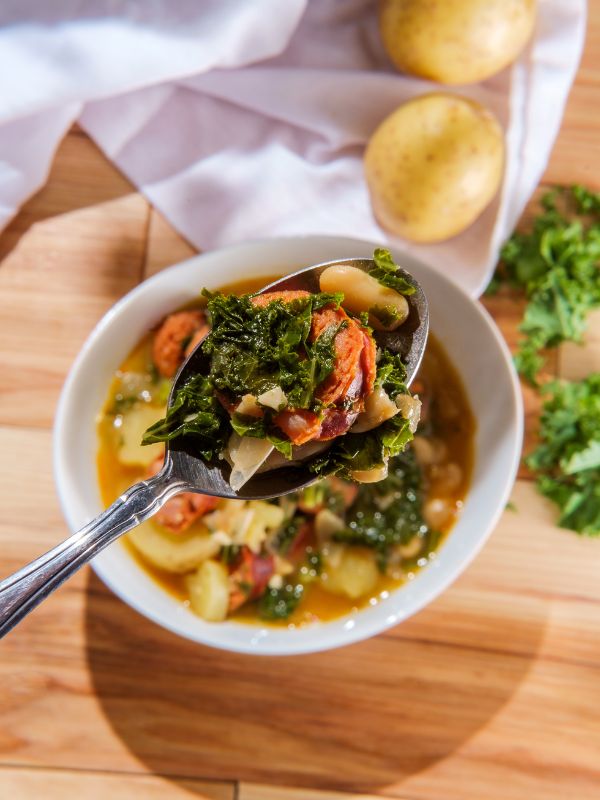 Many recipes we know and love were developed immediately out of necessity.
The Galician broth is one of the few that originated in the rural region of Galicia.
In the countryside, in the early 1900s, people were starving, and winters were very harsh.
To survive, they cooked with whatever they had: beans, turnips, potatoes, and greens feature heavily in the original dish.
Today's soup is an easy Spanish recipe and lunchtime favorite, spiced with Spanish chorizo sausage, garlic, and cumin. Serve it over steamed rice or bread and a salad for a hearty Spanish meal.
Get the full recipe here: Healthy Caldo Gallego Soup Recipe
15. Spanish Lentils Stew with Chorizo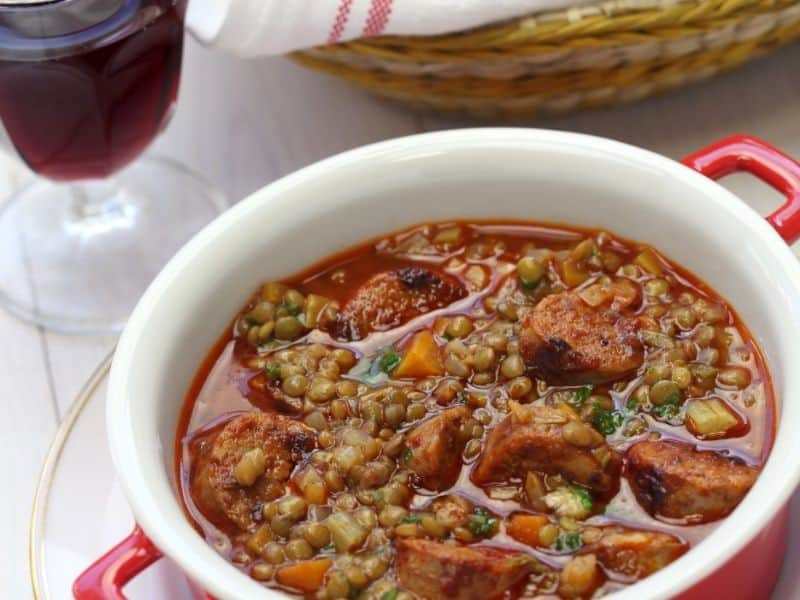 The Spanish love lentils and this spicy recipe is a sure hit.
This traditional stew uses Spanish chorizo sausage, green onions, garlic, and smoked paprika for an aromatic spiciness that can't be replicated.
This classic Spanish lentils recipe comes to Andalusia from Egypt and is an easy Spanish chorizo recipe that grandmothers have passed down for generations.
Get the recipe here: Nourishing Spanish Lentils Recipe
16. Chorizo Casserole Recipe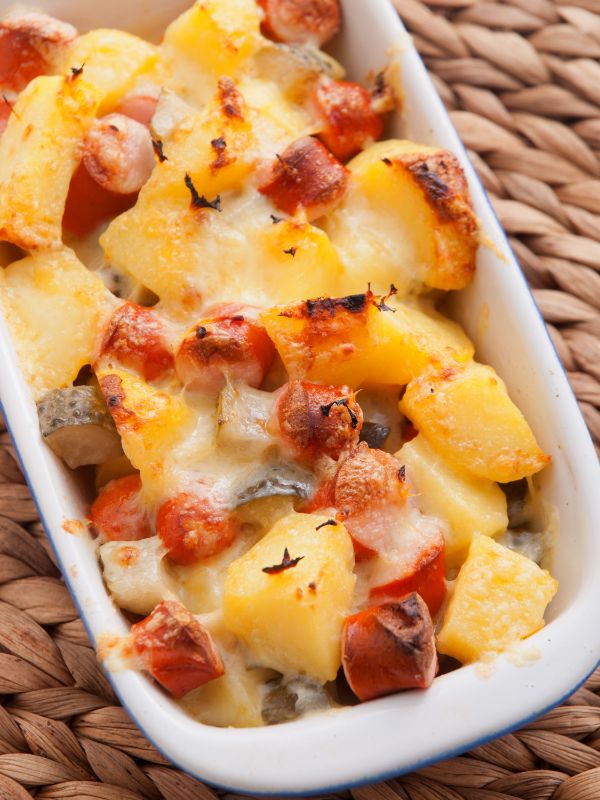 There are many types of casserole recipes, but our favorite one is chorizo and potato casserole.
This spiced chorizo casserole is a classic Spanish recipe with chorizo, potatoes, and tomatoes.
The chorizo casserole stands out thanks to its simplicity and it's exactly what you need for an easy lunch or dinner
Many chorizo casserole dishes come originally from southern Spain. Nowadays, you can find chorizo casserole in most restaurants and cafes nationwide.
Get the recipe: Simple Spanish Chorizo Casserole Recipe
17. Tortilla de Patatas with Chorizo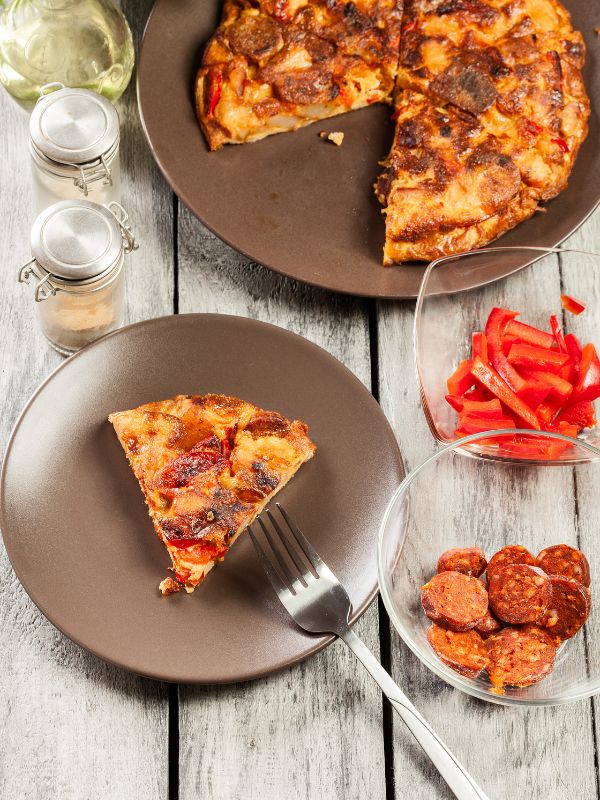 There is no exact date for the creation of the Spanish omelet. Still, it is known that since its beginnings, it has already differed from a French omelet recipe because it had cheese and potatoes as ingredients.
This tortilla de patatas with chorizo recipe combines spiced chorizo sausage, potatoes, and onions in a delicious tortilla base.
Tortilla is a famous Spanish dish known globally and exported widely from Madrid originally. However, the local tortilla de patatas with chorizo is more prevalent in Andalusia.
The cheese and chorizo combination makes it a southern Spanish delicacy.
18. Chorizo and White Bean Salad
This chorizo and white bean salad can be eaten hot or cold and features spiced chorizo sausage, white beans, tomatoes, and red onions.
It's an old Spanish chorizo recipe that dates back hundreds of years and is the perfect marriage between Latin American and southern Spanish cuisine.
Olive oil, parsley, and garlic are staples of Andalusian cuisine, while white beans and tomato are ingredients of Latin American culture.
This chorizo salad is a flavourful celebration of both cuisines.
19. Spanish Sweet Potato with Chorizo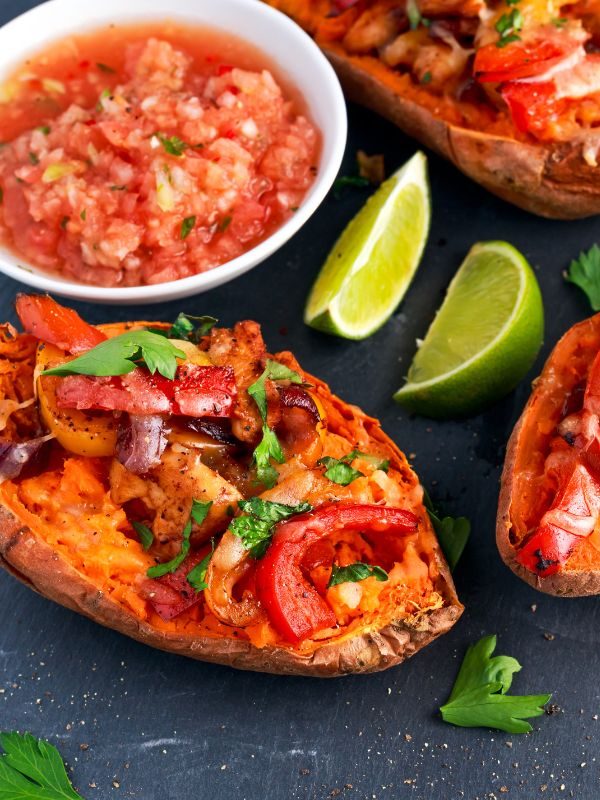 During the 16th century, Malaga became the largest producer of sweet potatoes in Spain, which only increased even more during the autumn months.
Therefore, people began adding it to their dishes and spicing it with chorizo.
This sweet potato with chorizo dish is a delicious main course or side dish perfect for dinner or a leisurely lunch.
Find the recipe here: Stuffed Spanish Sweet Potato Recipe
20. Seafood Soup with Chorizo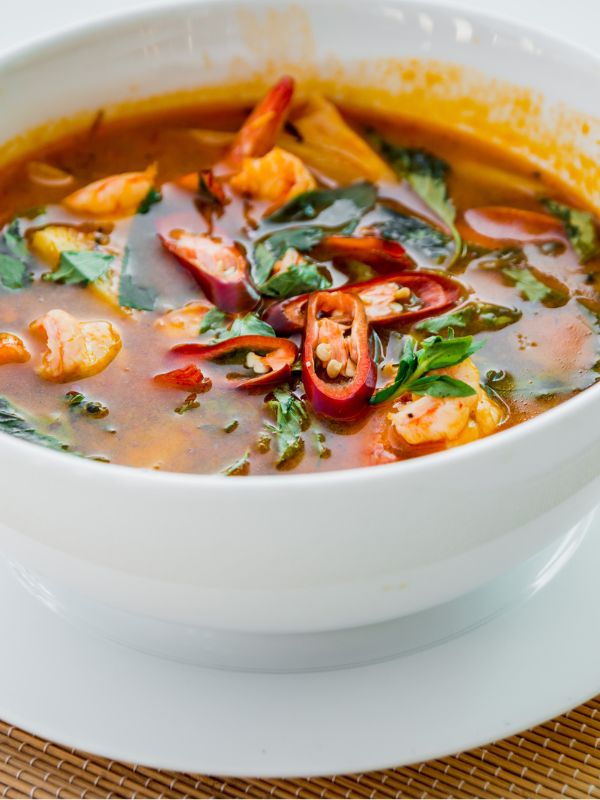 This seafood soup with chorizo combines spiced sausage, shellfish, garlic, and cumin to make a unique aromatic spiciness.
This recipe has been passed down for generations in the small coastal town of Vigo, Spain, where it has become a world-famous dish.
Seafood soup with chorizo is an easy Spanish recipe that can be served as a starter or main course.
The spiciness of the chorizo sausage gives it depth and flavor, while the addition of clams and shrimp make this an exceptional soup.
Check out other delicious Spanish food roundups:
Short FAQ about The Best Spanish Chorizo Recipes
What does chorizo go well with?
Chorizo goes well with potatoes, tomatoes, onions, and seafood.
Chorizo can also be used in many dishes, such as casseroles, soups, and salads.
What is the difference between chorizo and Spanish chorizo?
Chorizo is a spiced pork sausage originating in Spain and Portugal.
Spanish Chorizo is spicier than regular chorizo due to the addition of pimentón (smoked paprika). It also has a more intense flavor since it is cured for longer.
Spanish chorizo can be eaten raw or cooked. While regular chorizo is usually cooked, Spanish chorizo can be cooked or eaten raw.
---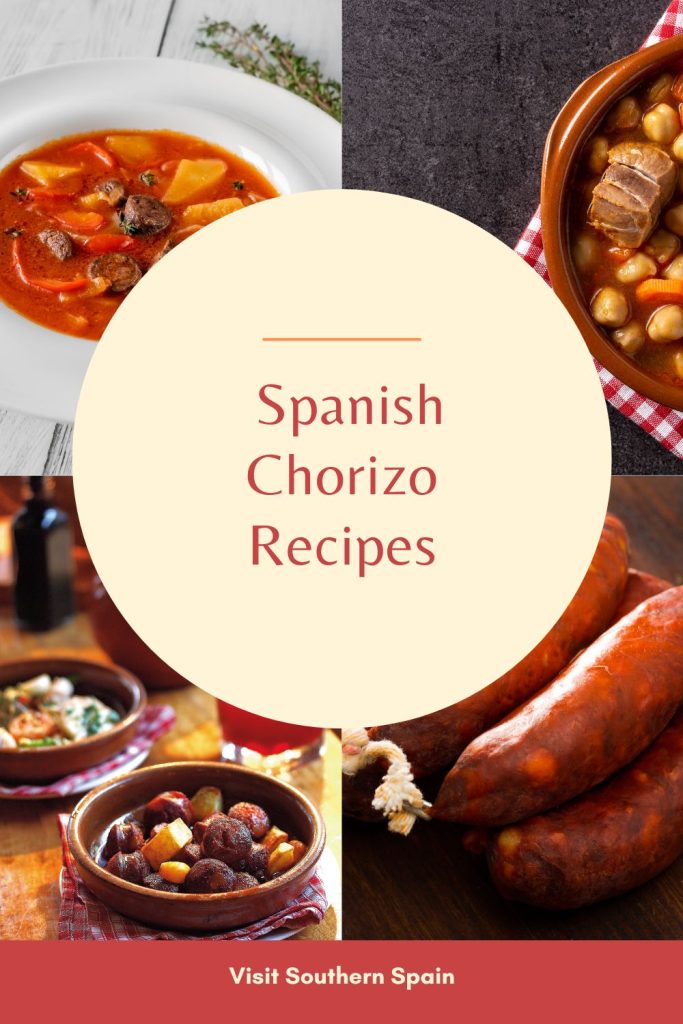 ---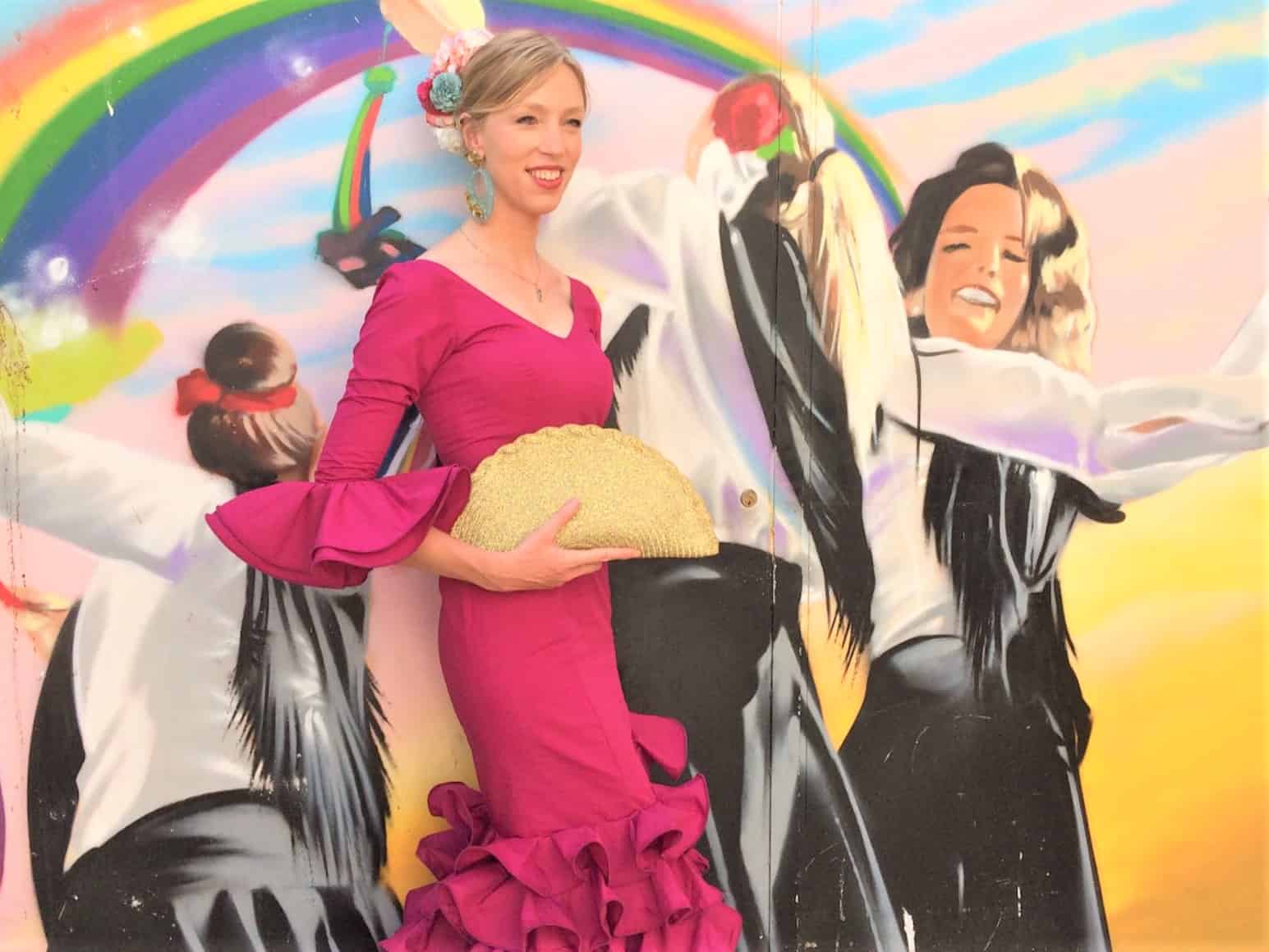 Hola, I'm Paulina! Together with my team, we are passionate about Southern Spain. Here we share all you need to know for great times in Southern Spain with the best places to visit, stay and, of course, the best food to eat.
Let's dive in and explore Southern Spain's outdoors, food and culture con pasión!