A guide on where to eat in Cordoba, Southern Spain, and where to eat typical food from Cordoba, Andalusia
Are you planning a trip to Cordoba and wondering where to eat? Look no further! We've got you covered with our guide on where to eat in Cordoba.
This beautiful city in southern Spain is famous for its rich cultural heritage and impressive architecture, but it's also a foodie's paradise. With so many options to choose from, it can be overwhelming to decide where to start.
From cozy tapas bars to fine-dining restaurants, our list of recommendations will ensure that you don't miss out on any culinary delights. So sit back, relax, and let us take you on a gastronomic journey through the streets of Cordoba.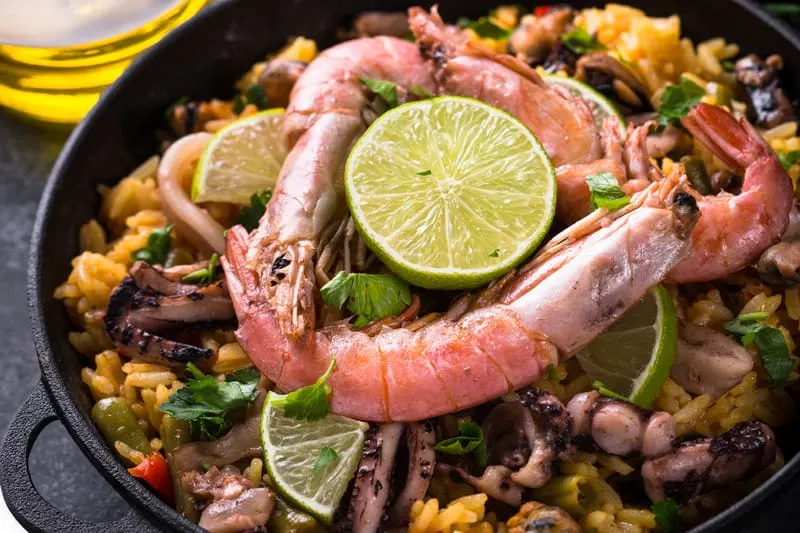 This blog is supported by you, dear reader. If you purchase through a link, we earn a small commission. As an Amazon Affiliate, we earn from qualifying purchases.
Where to Eat in Cordoba: Best Food Tours in Cordoba
Check all food tours in Cordoba here
Where to Eat in Cordoba:
The Best Breakfast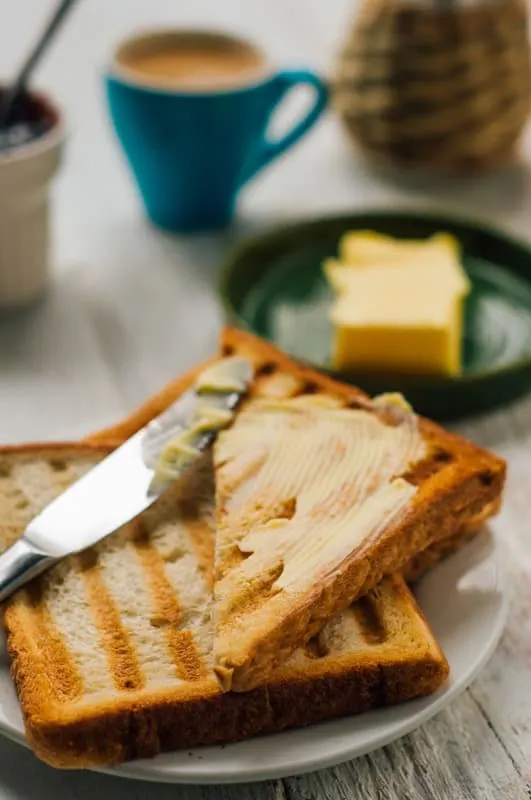 Travel Tip: While Spaniards love to eat breakfast, it is not the fried type that most of us are used to or the continental breakfast style favored in France.
The Spanish supplement their morning coffee with a "tostada."
Simply put, it is a crusty bread roll cut in half and toasted under the grill. Once cooked, you can have it drizzled with olive oil or served with butter.
Another option, known as "Tostada Catalan," is the toasted roll served with freshly grated tomatoes.
To make it even more special, ask for a slice of Serrano ham on top. Be sure to also order a glass of orange juice as no one in Spain would dare serve you juice out of a carton as only freshly squeezed will do!
Hours: Most of the places on our list open for breakfast at 09:00. If you prefer to get an early start on the day, you can find a bar serving tostadas open from 07:30.
Where to eat breakfast in Cordoba:
Aromas Cafe Bar – Calle de San Fernando 84
Located close to the Mezquita, Aromas Cafe Bar is a cozy place to start your day. The restaurant offers a variety of freshly made tostadas and superb coffee.
Free Wi-Fi is available, and if you are not sure what to order, try the Iberic ham toast. It's yummy!
Breakfast Club & Co – Calle Lucano 12
This modern American-style bohemian eatery is a million miles from fast food. At Breakfast Club & Co, they serve freshly prepared breakfasts like poached eggs and smoked ham on an English muffin with hollandaise sauce. This is the place to go if you miss your eggs and bacon.
La Cantina Miguel – Calle de los Reyes Católicos 5
If you are looking to immerse yourself in how Spaniards eat breakfast, visit La Cantina Miguel. This is also an excellent place for lunch and tapas in the evening.
Maddow Coffee Shop – Calle Cardenal Gonzalez 44
Cute and cozy with original decor, the Maddow Coffee Shop offers a youthful environment. While maybe more suited to brunch than breakfast, you won't be disappointed with their breakfast offerings.
Canadian Bar and Tapas – Calle Albeniz and Calle Serrano
Don't let the name fool you as there is nothing Canadian about this popular locals hangout. The Canadian Bar and Tapas serve a terrific cup of coffee and the tostadas we mentioned in the introduction.
Where to Eat in Cordoba:
The Best Brunch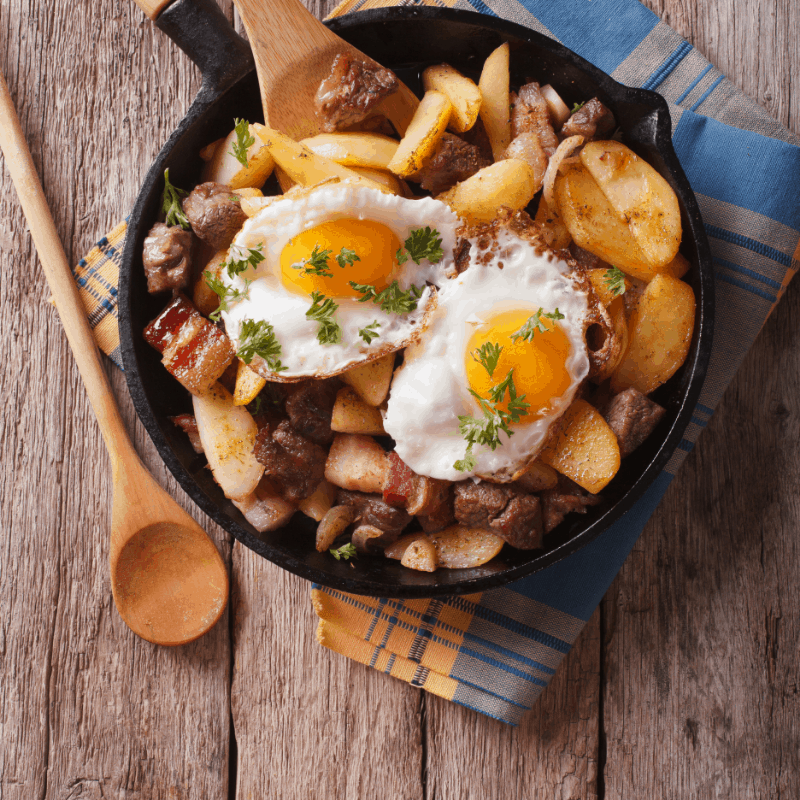 While breakfast and lunch combined may seem a little odd to Spaniards, who sit down to their main meal of the day at 14:00, brunch is catching on in the big cities.
Perhaps spurred on by tourists and their desire to eat something more substantial before the afternoon, many eateries and hotels are starting to warm to brunch. Below is a list of what we consider to be the best places to eat brunch in Cordoba.
Once you've finished your brunch, make sure to enjoy this beautiful town, by checking out our 3-day itinerary of things to do in Cordoba, Spain.
Hours: Most of our brunch recommendations open at 09:30
Where to eat brunch in Cordoba:
La Bicicleta – Cardenal Gonzalez, 1
With its quaint, cute, and cozy atmosphere, La Bicicleta offers fresh salads, bread, juices, and an array of creative menu options.
Vegetarian-friendly La Bicicleta has a wide variety of choices for people looking to avoid meat or fish. If you are visiting during the summer, be sure and try the gazpacho/salmorejo.
Patio Romano – Calle Deanes 11
Located in the Jewish Quarter, Patio Romano takes traditional Andalusian gastronomy to the next level.
Using only the freshest local ingredients with a menu based on the season, Patio Romano offers guests dishes that embody the Guadalquivir Valley's true essence.
Sojo Fusión – Calle Enrique Romero de Torres S/N
Located on the banks of the Guadalquivir, the Jewish Quarter Sojo Fusión is a restaurant concept that combines traditional Cordoban food with touches of innovation.
With its riverside location and outdoor patio, Sojo Fusión is also worth considering for dinner.
Canadian Bar and Tapas – Calle Albeniz and Calle Serrano
Offering generous portions of good unpretentious food, the Canadian Bar and Tapas are ideally suited as a place to go for brunch.
Add to these reasonable prices, and you will soon understand why this city-center bar is so popular with locals.
Breakfast Club & Co – Calle Lucano 12
If your idea of brunch combines Eggs Benedict and Mimosas or perhaps Eggs Florentine with spinach avocado and asparagus, you won't be disappointed with this popular American-style eatery.
Breakfast Club & Co also makes killer hamburgers, something you might want to consider for lunch.
Where to Eat in Cordoba:
At the Best Restaurants for Lunch
If you are not Spanish, eating your main meal of the day at lunchtime may seem a bit strange, yet everyone to a man every Spaniard sits down to lunch at 14:00.
This is due to the working hours in Spain where businesses open early but shut for a siesta between 14:00 and 17:00.
One thing we love about lunch in Spain is the "menu del dia," a three-course meal introduced by the dictator Franco. The idea was to provide workers with a healthy meal at a price they all could afford.
Hours: In the center of the city, many restaurants open at noon to cater to tourists.
Tip: Get away from the tourist areas and look for a place that seems busy with locals. Prices and the menu of the day selections will be written on a blackboard.
Where to eat lunch in Cordoba:
Restaurante Damasquino Halal – Calle Lucano 19
Owned by a Syrian chef from Damascus, the Restaurante Damasquino Halal immediately transports you to the Eastern Mediterranean.
Grilled meats, rice, salads, hummus, and mutabal are what you can expect in this homestyle Arabic family restaurant. The restaurant only has a few tables, so if you can, call ahead for a reservation.
Maridame – Calle Cespedes 5
Located just a few minutes walk from the Mezquita in Cordoba's Jewish Quarter, Maridame will take you back to Abd al-Rahman I. Focusing on traditional dishes of the region, Maridame's menu features dishes that even the pickiest of eaters will like.
Restaurante Regadera – Rda. de Isasa, 10
With a small but delicious menu, you can expect that everything Regaderas does is done right. With both indoor and outdoor seating, Regaderas is an excellent choice for lunch in the center of Cordoba.
Bodegas Mezquita Cruz del Rastro – Plaza de La Cruz del Rastro 2
Serving up traditional Andalucian quality cuisine using only the freshest local produce, Bodegas Mezquita Cruz del Rastro offers a set lunch menu for 14.85€.
There are plenty of options to select from, including popular dishes like beer-battered aubergines (a fabulous variation of fried eggplants) with Pedro Ximénez wine, slow-cooked Cordoban-style oxtail stew, and a dessert pastry with orange, olive oil, sugar, and cinnamon making it one of the best places to eat in Cordoba, Spain.
Vaquena Burger – Calle de la Virgen del Perpetuo Socorro 2
Specializing in gourmet hamburgers made from grass and acorn-fed beef served on homemade buns, Vaquena Burger may well serve the best burger you have ever eaten.
Despite only having a Spanish menu, the helpful wait staff will do their best to explain everything.
Where to Eat in Cordoba:
The Best Coffee
Originally introduced into Spain by Turkish merchants, coffee plays a vital role in everyday Spanish life and is the drink of choice to kickstart your day.
Before you consider asking for a coffee in Spain, you have to understand the various options available and how to order.
Cafe Solo: A cafe solo is a small cup of robust coffee similar to an Italian espresso.
Cafe con Leche: A Cafe con Leche is a cafe Americano with hot milk added.
Cafe Americano: No surprise here, a cafe Americano is a black coffee made using twice the amount of water that makes a cafe solo. This will be as close to what you are used to at home for most English and North American tourists. If you want it with milk, ask for a "cafe Americano con Leche."
Cafe Bombón: As the name might suggest, this is a very sweet coffee made from condensed milk added to a cafe solo.
Cafe Cortado: Simply a cafe solo with added milk
Cafe Carajillo: A cafe carajillo is simply a cafe solo topped up with either brandy or whiskey. If you look around, you will be surprised to see how many Spaniards order this first thing in the morning.
Where to have the best coffee in Cordoba:
La Sultana – Calle del Cronista Salcedo Hierro 6
La Sultana has everything you could want: good coffee, delicious sweets, and homemade goodies in a pleasant atmosphere.
Savoy – Avenida Republica Argentina 10
Located in a pastry shop rather than a bar, the Savoy offers some of the best-tasting coffee you will find in Cordoba. Like most things, good coffee comes down to the ingredients' quality, as is evident in this delicious-tasting coffee.
Taberna Bar Santos – Calle Magistral Gonzalez Frances 3
Made famous by its amazing Spanish omelets Taberna Bar Santos is a great place to pop in for a coffee. Nothing fancy here, just a traditional bar serving great coffee in the styles we mentioned in the introduction.
Colombia 50 Café – Plaza de los Banuelos
With a commitment to top-quality products and attentive service, Colombia 50 Café uses a blend of only the finest Colombian coffee beans. Open from 07:30 Colombia 50 Café is ideal for people looking to get an early start.
Heladería Piccola – Plaza Moreal 4
Like Italy, ice cream in Spain tends to be homemade and sold in family-run ice cream shops.
They are also places where you will find an excellent coffee cups like what they serve at Heladería Piccola. If you are tempted, try the ice cream too as it is delicious.
Where to Eat in Cordoba:
The Best Churros
Churros are the Spanish version of donuts yet somehow so much better. Traditionally only eaten during the colder winter months Churros are a particularly popular breakfast for Spanish families on a Sunday or people crawling home after a night on the town.
Churros are also popular dipped in thick hot chocolate, but it is imperative to find a place that doesn't skimp on using high-quality ingredients.
Tip: Never accept churros that have been sitting around as they can be a little soggy.
When you just want to try to make some for yourself, without traveling to Spain, our authentic churros recipe from Spain is a must!
If you love chocolaty desserts then our Spanish Chocolate Chip Cookies are the perfect dessert for you – make sure to try it out!
Check all food tours in Cordoba
Where to have the best churros in Cordoba:
Churros Bar Marta – Calle Jose Cruz Conde 32
Regarded by locals for having the best churros in the city, Churros Bar Marta is a ten-minute walk from the center but well worth the effort.
Churros Bar Marta also offers various chocolate dipping sauces that include dark and milk chocolate, and chocolate flavored with orange or cinnamon.
Churreria Arroyo de San Andres 1 – Lugar Arroyo de San Andres 1
Churreria Arroyo de San Andres 1 offers fresh churros cooked to order. Unpretentious with a couple of tables out on the pavement, Churreria Arroyo de San Andres 1 is a typical neighborhood churreria.
Where to Eat in Cordoba:
The Best Tapas
Without going into a long introduction, tapas are tiny bite-sized snacks served with drinks in Spain.
Very popular in Andalucia, tapas used to be free with drinks and still are at some bars, but more and more they are being charged for.
Usually, we would say that this is a bad thing, but it is not as now tapas bars are pushing the envelope to come up with new and exciting twists on traditional offerings.
Below we have put together a list of what we consider to be the best tapas in Cordoba.
Check tapas tours in Cordoba here
Where to have the best tapas in Cordoba:
Bodegas Mezquita Cespedes – Calle Cespedes 12
Established in the early 1960s as a tapas bar, Bodegas Mezquita Cespedes is one of three establishments in Cordoba serving traditional Cordoban tapas made from only the best ingredients.
Specialties include Salmorejo Cordobes, Berenjenas a la miel, Flamenquin, and Rabo de Toro some of the best food in Cordoba.
Casa Pepe de la Judería – Calle Romero 1
Located in the heart of the Jewish Quarter Casa Pepe de la Juderia has pleasant dining rooms an an outdoor patio and a rooftop terrace.
The restaurant is located in the heart of the city's Jewish quarter. It has an interior that comes as a pleasant surprise, replete with a typical Andalusian patio, friendly dining rooms, and a charming rooftop terrace serving Southern Spanish cuisine with a modern touch.
At Casa Pepe de la Juderia, you will be served authentic Andalusian tapas with a modern twist. Michelin recognized casa Pepe de la Judería for excellence in its 2020 guide.
Bodegas Campos – Calle Lineros 32
Rather than sit down to a full meal in one of Cordoba's most recognized restaurants, hang out at Bodegas Campos's bar and fill up on tasty tapas. At the same time, be sure and sample the restaurant's own sweet Montilla wine, one of the best Spanish wines.
Garum 2.1 bistronómic tapas bar – Calle de San Fernando 120-122
Garum 2.1 bistronómic tapas bar is not your average tapas bar. This is cutting-edge local cuisine taken to the next level. Perhaps a little more pricey than you would pay elsewhere but worth every penny.
Taberna La Montillana – Calle San Alvaro 5
Old school Cordoba-inspired tapas at their best. Try the Jamon ibérico from the hills just north of Cordoba, and the fried aubergine drizzled with honey.
As a last tapa, ask for a ration of flamenquin, a deep-fried roll made up of pork and ham.
Taberna La Montillana can get quite busy and especially on weekends, so make sure you get there early.
Where to Eat in Cordoba:
The Best Dinner
When it comes to selecting a place to eat dinner, remember most Spanish do not eat out until 21:00. Many restaurants are either closed on a Sunday or Monday, so check first to make sure they are open.
Of the places on our list, it is highly recommended that you make a reservation if you want to dine at Noor or Choco. Below we have compiled a list of the best restaurants in Cordoba Spain.
Where to have dinner in Cordoba:
Noor Restaurant – Calle Pablo Ruiz Picasso No 8 Esquina Pintor Muñoz Lucena
Despite being outside the center, a detour to Noor is definitely worth the effort as it is one of the top restaurants in Cordoba.
Influenced by Andalucia's Moorish past, this two-star Michelin restaurant is described as being "refined, inspired, and sometimes original."
Noor's prices represent the restaurant's high standing, making it one of the best places to eat in Cordoba.
Choco Restaurant – Calle Compositor Serrano Lucena 14
The single Michelin star Choco Restaurant has been renovated in a style that is both restrained and elegant.
The chefs at Choco create detailed modern dishes with a strong emphasis on flavor. To make your visit even more memorable, try and get a table in the kitchen.
Celia Jiménez – C/ Escritora Maria Goyri Complejo Deportivo Arena
The location might surprise seeing how it is located in a sports center, but the Spanish food from this talented young chef will certainly not.
Celia Jiménez offers two tasting menus, one of 8 and one of 12 dishes that will give you a real insight into Andalusian cuisine and the best food in Cordoba.
Con Acento Parrilla Resto Bar – Avenida Al Nasir, 13 Vial Norte
If you are a meat lover and enjoy a good steak, Con Acento Parrilla Resto Bar is definitely for you. Chicken fish and vegetarian options are also available.
This restaurant may be a little out of the way but is one of our favorite places to eat in Cordoba.
Cielito Lindo Cafe – Ronda Manca 5
Why not spice things up with a visit to Mexican favorite the Cielito Lindo Cafe for a change of pace?
Here you will find an authentic Mexican restaurant reminiscent of the Plaza Garibaldi serving everything from nachos to freshly made fajitas at a very reasonable price making it one of the best Mexican restaurants in Cordoba Spain.
Check out our travel itinerary if you're planning to spend one day in Cordoba, with the best things to do and visit.
---
A short FAQ about Where to Eat in Cordoba
Where to eat breakfast in Cordoba?
For the best breakfast experience we either recommend Zumeria El Arbolito or Breakfast Club & Co.
Where to eat lunch in Cordoba?
Depending on your taste and preference, we either recommend trying the highly recommended Restaurante Damasquino Halal, or the Maridame.
Where to eat tapas in Cordoba?
To find the most authentic and tasty tapas, we recommend Bodegas Mezquita Cespedes, or Casa Pepe de la Judería.
---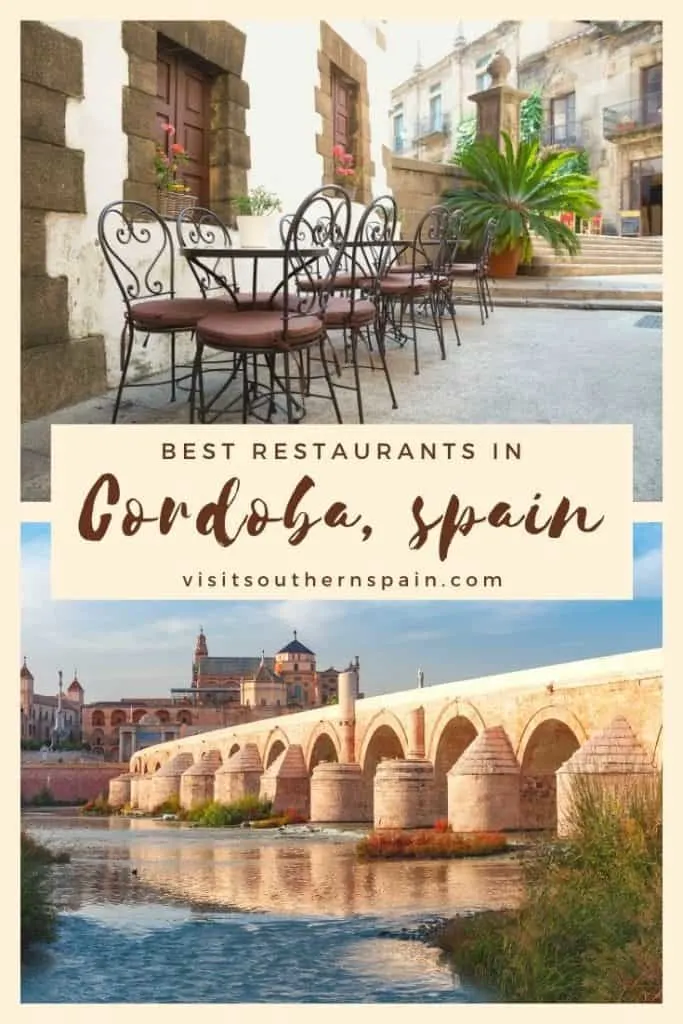 ---
Hola, I'm Paulina! Together with my team, we are passionate about Southern Spain. Here we share all you need to know for great times in Southern Spain with the best places to visit, stay and, of course, the best food to eat.
Let's dive in and explore Southern Spain's outdoors, food and culture con pasión!