A guide on what to eat in Cordoba, Southern Spain and the best local food to eat in Cordoba, Andalusia
If you plan a trip to Cordoba, Spain, you're in for a treat. This beautiful city not only boasts a rich history and stunning architecture but also a diverse and delicious culinary scene.
But with so many options, it can be overwhelming to decide what to eat in Cordoba. Don't worry, we've got you covered.
In this blog post, we'll take you on a culinary journey through Cordoba, sharing some of the must-try dishes and specialties that will tantalize your taste buds. So, let's dig in and discover the flavors of Cordoba.
This blog is supported by you, dear reader. If you purchase through a link, we earn a small commission. As an Amazon Affiliate, we earn from qualifying purchases.
Why not take a food tour in Cordoba?
For me to truly understand a new place and the people who inhabit it, I need to immerse myself in their culture, and there is no better way of doing that than to understand what they love to cook and eat.
Whenever I visit a new city, one of the first things I do is sign up for a food tour.
Often language can be a barrier when ordering food in a new country. By going on a food tour, you will learn not only about what to eat in Cordoba but where to eat in Cordoba. Plus, having a local guide with you takes all the guesswork out of ordering.
Cordoba's food tours allow you to sample local favorites without committing to what could be an expensive restaurant meal. If by chance, one of the places you visit turns out to be a big hit, you can always come back on your own another time.
As well as discovering the best places to eat in Cordoba, your guide can give you some inside knowledge of the best things to do in Cordoba during your stay, plus some local insight into something that you might not find in a guidebook.
The one day in Cordoba itinerary is worth checking, especially if you can spend more than one day in this beautiful city.
When we say food tour, it might sound kind of generic, so let me explain the three different types of food tours you can do in Cordoba.
Check all food tours in Cordoba here
Tapas tour – A Cordoba tapas tour is the most popular tour as it has you hopping from bar to bar sampling popular local dishes that the natives love to eat. It is also a great way to discover the best bars in Cordoba. – Check prices here
Wine tasting – While not in the same league as La Rioja, the Montilla-Moriles region to the south of Cordoba produces some excellent sweet dessert wines. Made using similar techniques to those used for sherry production, wines from Montilla-Moriles have a distinct almond note. A great way to sample the various wines of Cordoba is to go on a wine tasting tour. – Check prices here
Olive oil tour – Andalucia is one of the world's largest olive oil producers, as is evident from the miles upon miles of olive groves scattered about the province. Brought to Spain 3,000 years ago by the Phoenicians, the humble olive tree is the lifeblood of many families. – Check prices here
By going on an olive oil tour, you will understand the entire process from the harvest to extraction time. During the tour, you will visit an old 18th-century olive mill and sample various varieties of extra virgin olive oil.
Or a cooking workshop in Cordoba?
The main difference between a cooking class and a cooking workshop is that you do the cooking rather than just watch someone preparing a meal.
The best food in Cordoba you will ever eat comes from recipes that have been handed down over the years. By attending a Cordoba cooking workshop, you will learn how to make delicious local dishes and new techniques you can use every day.
Cooking class and market tour – One cooking class in Cordoba that is particularly popular involves a trip to the historic Mercado La Corredera. Here you will learn about the ingredients that are essential to Andalusian cuisine.
Once you have all the ingredients, it's back to the cooking school to prepare lunch under a local chef's guidance. Just think how fun it will be when you get home and make an authentic Spanish meal for friends and family. – Check prices here
---
25 Food You Must Try in Cordoba
While much of Andalucia's food comes from the same roots, Cordoba and its location in the fertile Guadalquivir Valley offer a variety of dishes unique to the city.
One rule of thumb I always stick to when travelling is never to eat seafood unless I am close to the ocean.
Regarding Cordoba in Roman times, it was possible to navigate the Guadalquivir from the Bay of Cadiz. Still, today the nearest body of salt water is the Mediterranean Sea some 160 kilometres away, which is why fish is absent from much of Cordoba's cuisine.
Below is a list of where to eat in Cordoba and some of the best restaurants in Cordoba, along with foods you should try while visiting this exciting city.
1. Salmorejo
While not really a fan of cold soups on a hot day, this thick, cold, tomato-based soup similar to gazpacho goes down a treat.
Exemplifying Spanish food's simplicity, Salmorejo is a cold tomato soup made from tomatoes, garlic, bread, olive oil, salt, and sherry vinegar.
Top with a hardboiled egg and Serrano ham for a delicious combination. La Bicicleta is also the place to go for the best breakfast Cordoba and also the best coffee in Cordoba.
If you love tomato soups, have a look at our creamy Spanish tomato soup recipe.
Where to try: La Bicicleta – Cardenal Gonzalez, 1, 14003 Cordoba Spain.
2. Flamenquin
Flamenquín is made using slices of Serrano ham wrapped in pork loin pieces, coated with egg, breadcrumbs, and then deep-fried.
Often accompanied by french fries and mayonnaise, the dish, meaning "little Flemish," gets its name from the Flemish assistants' blond hair who came to Spain attending Emperor Charles V during the 16th century.
Where to try: Cafe-Bar Hermanos Bonillo – Calle Sagunto Nº 27, 14007 Cordoba Spain.
3. Rabo de Toro (Bull tail)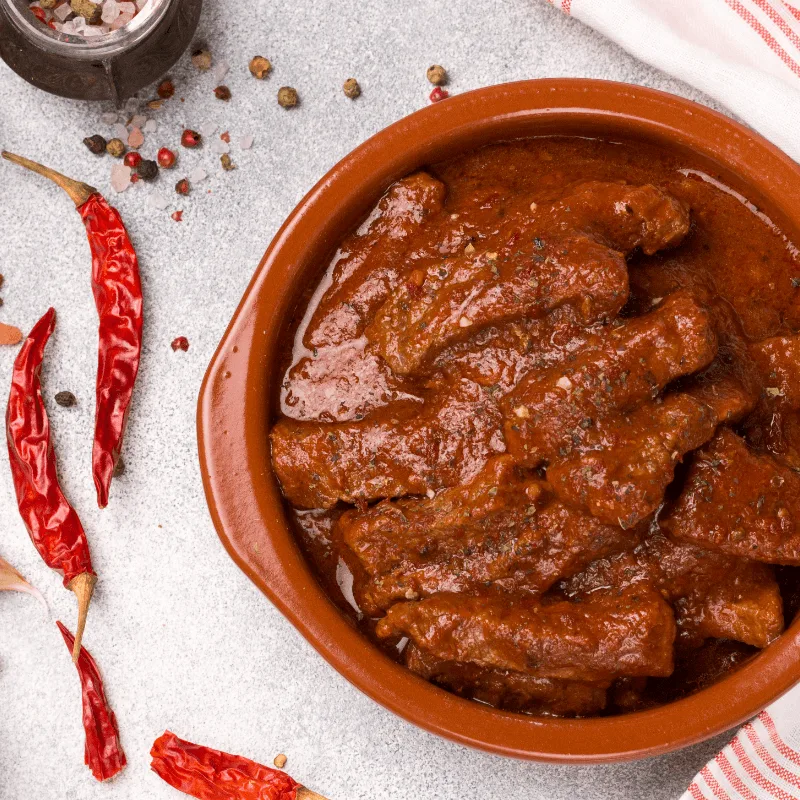 With its roots dating back to the glory days of bullfighting, Rabo de Toro is a bull's tail (oxtail) that is simmered to perfection in a rich red wine sauce.
The result is incredibly tender meat with flavors that will have you asking for more.
Where to try: El Caballo Rojo Calle Cardenal Herrero 28, 14003 Cordoba Spain
4. Churros
Similar to doughnuts, churros are a popular Spanish breakfast or Sunday treat during the cold winter months.
Deep-fried and sprinkled with confectioners sugar churros are often eaten after having dipped them in thick hot chocolate. Churros Bar Marta has the best churros in Cordoba.
Where to try: Churros Bar Marta Calle Jose Cruz Conde 32, 14001 Cordoba Spain.
5. Pastel de Cordobés
Made in a circular shape from puff pastry Pastel de Cordobés (Cordoba cake) is filled with sugared angel hair made from fruit and Serrano ham basted in egg and baked.
The result is a sweet, salty pastry unique to Cordoba.
Where to try: Pastelerías Roldán Calle Doctor Gregorio Maranon 7, 14004 Cordoba Spain.
6. Berenjenas con Miel
Rich in Moorish heritage Berenjenas con Miel is a Cordoban dish of fried eggplant drizzled with sweet honey-like molasses.
Where to try: Casa Pepe de la Judería Calle Romero 1, 14003 Cordoba Spain.
7. Montilla Moriles Wine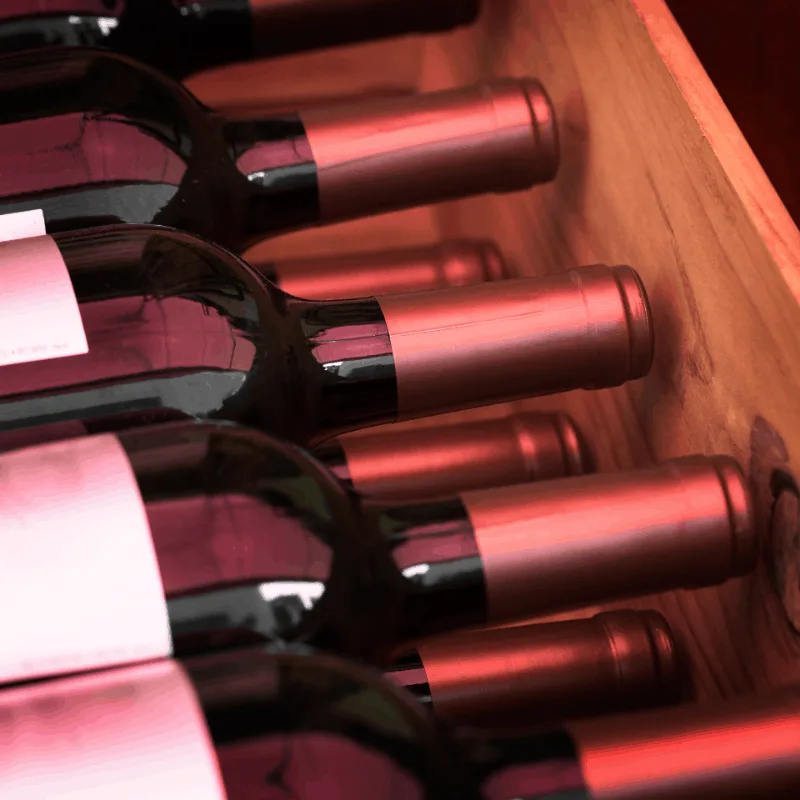 Typical of the region, all bars in Cordoba will serve Montilla-Moriles wine. Like sherry and produced using the same technique except with Pedro Ximenez grapes, Montilla-Moriles is a sweet dessert wine with a note of almonds.
Where to try: Jugo – Vinos Vivos Plaza de San Andres 5, 14002 Cordoba Spain.
8. Pincho Moruno
Pincho Moruno's are skewered pork pieces seasoned with a blend of cumin, coriander, turmeric, and cayenne pepper. Unusually spicy compared to other Spanish dishes, Pincho Moruno's will immediately transport you to North Africa.
Where to try: El Tema Calle del Periodista Jose Luis de Cordoba 22, 14010 Cordoba Spain.
9. Caracoles (snails)
A springtime ritual for locals as they gather at specially set up temporary stalls for a beer and a dish of snails with friends. While not high on most people's things to try, give them a go, you might be pleasantly surprised.
Where to try: Caracoles Los Patos – Avenida de Cervantes Intersection Avenida Ronda de Los Tarjares, Cordoba Spain.
10. Regañás
Usually served as an accompaniment to various dishes or snacks, Regañás are small, hard, and very thin bread slices, typical of Andalusia.
There is not one specific place to try Regañás as all restaurants and tapas bars serve them. For the true connoisseurs, here's a list of the best Andalusian foods in Spain.
11. Mazamorra de Almendras
Considered as the antecedent of Salmorejo, Mazamorra de Almendras is a cold soup that dates back to the Roman treaty of Apicio.
Made from a mash of bread, oil, vinegar, water, and garlic tomato was later added when it was brought back from the New World.
Where to try: Rincón de Chico – Medina Calle Historiador Diaz del Moral 5 14008, Cordoba Spain.
12. Cogollos al Ajillo
Simply put Cogollos al Ajillo is simply romaine lettuce hearts cut in half or quartered fried in olive oil cut side down with garlic. Once the lettuce has browned a little turnover and drizzle with a bit of white wine vinegar and a good pinch of salt, serve on a plate topped with the pan's garlic and juices.
Where to try: Cafe Bar El ArcAngel – Avenida del Arcangel 15 Centro Comercial El Arcangel, 14010 Cordoba Spain.
13. Croquetas
Usually containing ham, mushrooms, chicken or cod, croquetas are a popular tapa that you can find in most places to eat Cordoba.
Croquetas are made by mixing one of the above ingredients with mash potatoes or bechamel sauce and then rolled in breadcrumbs and deep-fried.
Where to try: Taberna El Abanico – Calle Velazquez Bosco 7, 14003 Cordoba Spain.
14. Japuta en adobo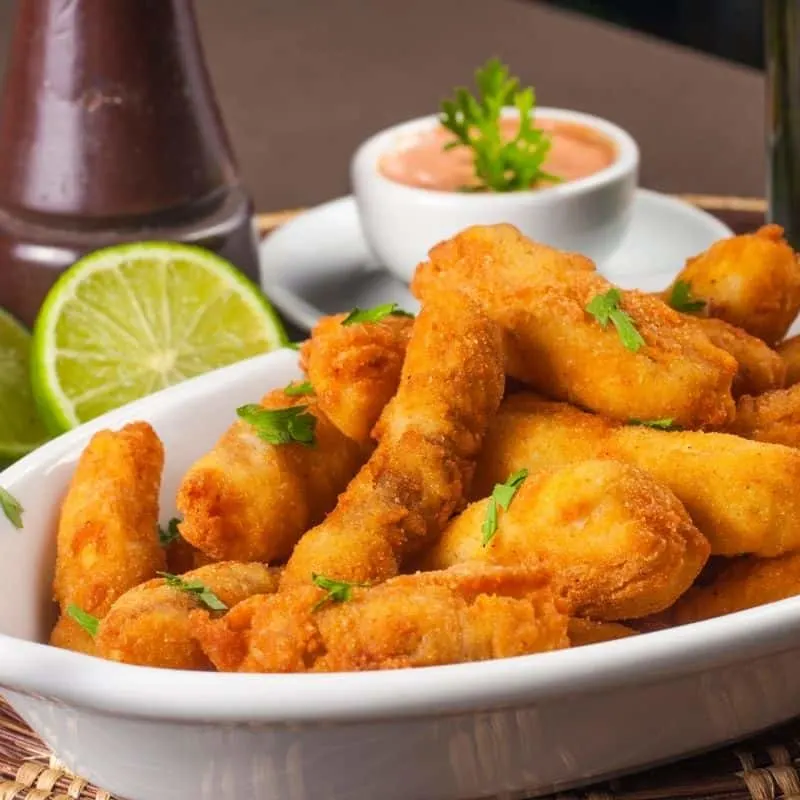 Japuta en adobo is a pomfret fish that is cleaned cut up and then marinated in paprika, oregano, salt, garlic, and vinegar for 24 hours.
Once this is complete, the fish is drained, patted dry, floured and then fried in olive oil.
Where to try: Taberna La Fabrica – Plaza flor del olivo, Cordoba Spain.
15. Tocino de Cielo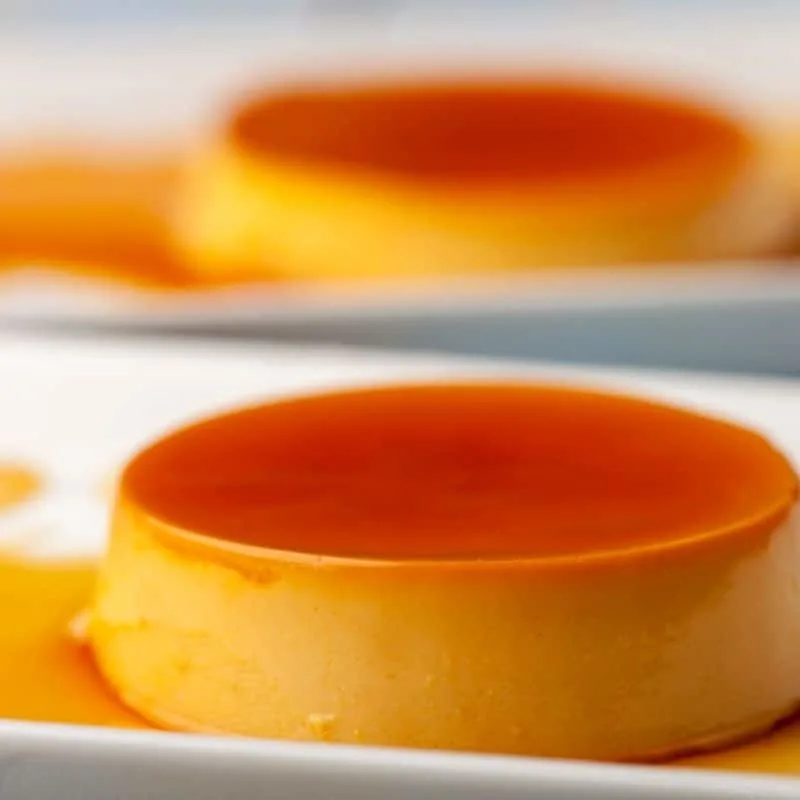 Tocino de Cielo is a dessert made from caramelized egg yolk and sugar. The tradition of baking this flan-like dessert dates back 500 years to the city of Jerez de la Frontera.
Where to try: Restaurante Casa Palacio Bandolero – Calle Torrijos 6, 14003 Cordoba Spain.
16. Alfajores
Alfajor is the Andalusian variant of the Castilian alajú derived from the Arabic word al- fakher, meaning luxurious.
Formed into a 30-gram cylindrical shape, Alfajores contains honey, almonds, nuts, breadcrumbs, sugar, flour, and spices. You can check our Alfajores recipe as well.
Where to try: Martina Cakes – Avenida Cervantes 2, 14008 Cordoba Spain.
17. Morcilla
Known to the English speaking world as black pudding or blood sausage, Morcilla is a popular tapa in Cordoba and throughout Spain.
Where to try: 101 Tapas – Calle Velazquez Bosco 12, 14003 Córdoba Spain.
18. El Churrasco
Churrasco is the Portuguese and Spanish name for grilling meat over a fire. Often going by the name Churrascaria in South America, we would refer to it as a steakhouse.
Where to try: La Tranquera Restaurante – Calle Corregidor Luis de La Cerda 53 Cardenal Gonzalez 53, 14003 Cordoba Spain.
19. Jamon Iberico
Jamon Iberico is Spain's culinary gift to the world and can be found in all the best places to eat in Cordoba. Made from Black Iberian pigs who only eat wild acorns, Jamon Iberico is regarded as a gourmet delight.
After being slaughtered, the pigs are salted and left to begin drying for up to six weeks. The curing process then takes between one and two years, depending on the producer.
Where to try: Paseo Iberico – Calle Lucano Numero 2 ., 14003 Cordoba Spain.
20. Ajoblanco
Another popular dish during the hot summer months Ajoblanco is a cold soup made from bread, crushed almonds, garlic, water, olive oil, salt and sometimes vinegar.
The hot version of this dish is the healing Spanish garlic soup. Check out our recipe here.
Where to try: Taberna El No. 10 – Calle Romero, 10, 14003 Cordoba Spain.
21. Alcachofas a la Montillana
Typical of Cordoba gastronomy Alcachofas a la Montillana is generally served as a starter. As the name suggests, the dish is artichokes cooked in the local Montillana wine.
22. Pijotas
Pijotas are fried young hakes or whiting that can be dredged in flour and fried or stuffed and cooked in the oven, famous throughout Andalucia.
Where to try: Taberna La Montillana – Calle San Alvaro 5, 14003 Cordoba Spain.
23. Paella
Having originated in Valencia, Paella is now regarded as the national dish of Spain.
Unlike the seafood versions you see around the coast, Paella was initially made using rabbit, beans, and artichokes.
Where to try: Al Grano "Arroces y mas" Plaza de San Pedro 1, 14002 Cordoba Spain.
24. Califa Beer
While the most common beer in Andalucia is Cruzcampo, Granada has Alhambra and Cordoba Califa. Only available in Cordoba Califa is produced in a microbrewery that also serves as a bar.
Several varieties of beer are available, including Pilsner, Amber, IPA, and Stout.
Where to try: Cervezas Califa – Calle Juan Valera 3 Cordoba, 14003 Cordoba Spain.
25. Dulces de Convento
Translated as "sweet of the convent" Dulces de Convento in Cordoba are produced by the nuns of the convent of Santa Clara.
Specialities include almond beets or pancakes, meringues, and egg doughnuts. Buying the pastries is unique as the nuns are cloistered, so you never see them.
All items for sale are on display, and you place your order through a tiny window.
Where to try: Convento de Santa Cruz – Calle Agustín Moreno, 6, 14002 Córdoba, Spain.
---
Short FAQ about typical Cordoba food
What is some local food to try in Cordoba, Spain?
We highly recommend trying the delicious Salmorejo, Flamenquin and Rabo de Toro.
What is typical vegetarian food to eat in Cordoba, Spain?
We recommend trying the delicious Salmorejo or the tasty Churros for those with a sweet tooth.
What are the best tapas in Cordoba, Spain?
Regañás and Morcilla are definitely between the two most popular and most delicious tapas to try in Cordoba.
---
---
Hola, I'm Paulina! Together with my team, we are passionate about Southern Spain. Here we share all you need to know for great times in Southern Spain with the best places to visit, stay and, of course, the best food to eat.
Let's dive in and explore Southern Spain's outdoors, food and culture con pasión!