A Guide to the Best Attractions in Jaen, Southern Spain: the perfect Jaen Itinerary
Overshadowed by the splendor of nearby Úbeda and Baeza, Jaén is surrounded by olive groves for as far as the eye can see.
Once a part of the Caliphate of Córdoba during Moorish rule, Yayyan as it was called then was captured by the Christian armies in 1246. Today we'll bring you the best things to do in Jaen, the beautiful unknown from Southern Spain.
Speaking of which, we also wrote a topic on the things to do in Córdoba. You should check it out!
Today for those inquisitive travelers who take a break from the tourist trail, Jaén is an under-visited place with a historical center and a grandiose Cathedral that alone makes visiting Jaén worth the trip.
Let's dive into the best things to do in Jaen!
This post contains affiliate links. If you buy via them, I'll earn a small commission which helps me to keep this blog running. As an Amazon Associate I earn from qualifying purchases. All opinions are my own.
Top Things To Do In Jaen, Andalucia – Our Jaen Itinerary For 3 days
Jaen Cathedral
Castillo de Santa Catalina
Centro Cultural Banos Arabes
Centro Cultural Palacio de Villardompardo
Arco de San Lorenzo
Museo Provincial de Jaén
Useful Travel Information About Jaen
✈ Book cheap flights to Jaen with Skyscanner

⚘ Avoid tourist traps and get the customizable "Andalucia Like a Local" itinerary. – Get it here

✔ Book tours in Jaen with GetYourGuide

➳ Find the best hotels in Jaen with Trivago

❖ Rent a car at the best rates with DiscoverCars

✎ Never leave without travel insurance! I get mine at SafetyWing. It is easy to set up, cheap and reliable.

$ Withdraw money without hidden fees and avoid exchange charges with TransferWise (Free Mastercard debit card to spend money abroad)
Jaen Spain Itinerary: Day 1
Visit Jaen Cathedral
When it comes to Jaen Spain tourist attractions, the Jaen Cathedral is considered as being one of the finest cathedrals in Spain, and a model for many of Latin America's religious buildings.
The cathedral is one of the most amazing things to see in Jaen and a sight not to be missed.
The Jaen city cathedral was built between 1540 and 1724 replacing a Gothic cathedral that was built on the site of a former Arab mosque.
Predominantly Renaissance in style, Jaen Cathedral claims to be the home of the Holy Veil, a cloth used to wipe the face of Christ as he carried the cross. – Book a giuded tour here
Opening times:
Jaen Cathedral is open Monday to Saturday from 10:00 to 14:30 and from 16:00 to 19:30.
On Sunday the cathedral is open from 10:00 to 11:30 and 16:00 to 19:30.
Admission:
Adults: 6€ (includes audio guide)
Children: 2€ – Book a guided city tour incl. cathedral here
Climb up to Castle Santa Catalina
Sitting high above the city in a nearly impregnable position is the imposing Castle Santa Catalina.
Built originally by the Moors and added to by the conquering Christians, Castle Santa Catalina is a testament to how important Jaen was during Moorish rule and the early centuries following the Reconquista.
Besides the stunning views of the city and the surrounding countryside, the castle has a tourist information center where you can learn about the castle's rich history.
Adjacent to the castle is the Parador Jaen Spain, an exclusive hotel that takes you back to the 18th century. If you have a car you can drive to the Castle Santa Catalina or take a taxi from the city centre for around 7€. You can view more Paradores in Andalusia here.
Opening times:
The castle is open Monday to Saturday from 10:00 to 18:00 and on Sunday from 10:00 to 15:00.
Admission:
Adults 3.50€, Children and senior citizens 1.50€. On Wednesday's from 15:00 to 18:00 admission is free.
Visit the ancient Arab baths
Located beneath the Palacio de Villardompardo, a visit to the Arab baths is probably one of the most interesting things to do in Jaen.
Dating back to the 11th century the baths were rediscovered in 1913 and have been restored to highlight their architectural perfection.
It is believed that the baths were constructed on earlier Roman baths that took advantage of natural hot springs. Today, the baths are one of the most popular Jaen tourist attractions.
The baths are located inside the palace on Arabs Santa Luisa de Marillac Square and are free to visit.
Opening times:
Close on Monday's, the Palace and baths are open from Tuesday to Saturday from 09:00 to 22:00and on Sunday's from 09:00 to 15:00
Admission: Free
Visit the Palacio de Villardompardo
Built above the Arab baths, the Palacio de Villardompardo is an architectural jewel dating back to the 16th century. So, if you're wondering what to do in Jaen, head over to the Arab baths!
In addition to the baths below and a glass walkway above Roman ruins, the Palacio de Villardompardo is also home to the Museum of Arts and Costumes. – Book a guided city tour here
Opening times:
Close on Monday's, the Palace and baths are open from Tuesday to Saturday from 09:00 to 22:00and on Sunday's from 09:00 to 15:00
Admission: Free
Wander on La Alameda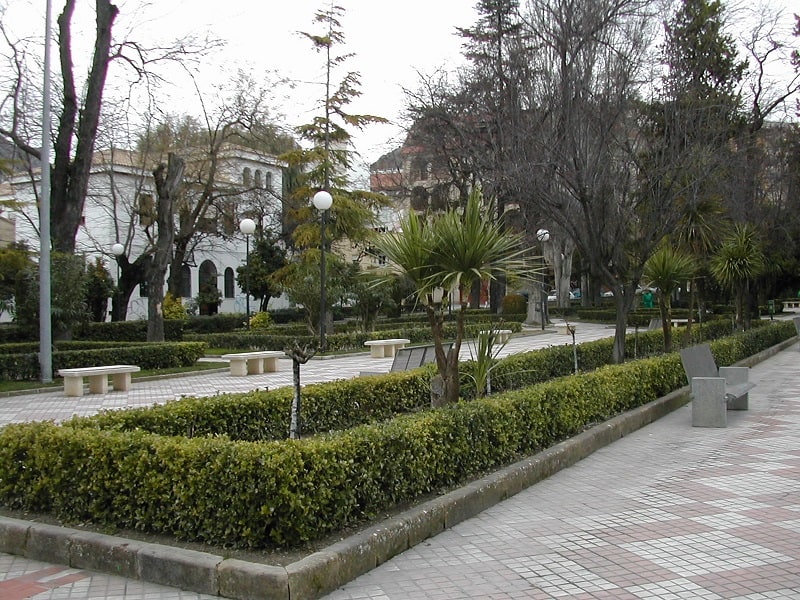 No matter what city you visit in Spain, you will find an avenue called La Alameda which translates to a promenade bordered with trees.
In the case of Jaen, Spain, it refers to a large city park and auditorium. Dating back to 1577, La Alameda underwent various improvements including the adding of stone benches and fountains between 1848 and 1862.
Today the park is a large green space where locals attend concerts and outdoor cinema during the summer months.
Lunch in Jaen
In Jaen, Andalucia, you will find a good selection of restaurants and bars serving typical Spanish, Mediterranean and traditional Andalusian foods.
Also, unlike many other Spanish cities, you will not come across expensive tourist traps that cater to visitors. For lunch try Habanegra Jaen where they serve dishes typical of the region.
Located in a beautiful orange tree-lined square near the cathedral, Habanegra Jaen, offers seasonal dishes with a creative twist and while it may look expensive, the prices are very reasonable and the service top-notch.
Address: Plaza el Posito 8, 23001 Jaen, Andalucia Province, Spain
Visit Museo Provincial
Opened in 1920 the Jaen Province, Museo Provincial is dedicated to the history of Jaen through the ages while also housing a Fine Art collection.
In the ground floor archaeology rooms, you will discover the area's history from prehistoric times through to the Hispanic-Muslim era.
The upper floor consists of nine rooms dedicated to artworks created from the 13th to the 18th century, while the rest of the floor is full of paintings from the 19th and 20th centuries.
Opening times:
The Museo Provincial is open from Tuesday to Saturday from 09:00 to 21:00 and on Sunday from 09:00 to 15:00. Like most museums in Spain and around the world, it is closed on a Monday.
Admission:
Access to the Jaén Museum is free to all citizens of the European Union; for everyone else, there is a 1.50€ entrance fee.
In a previous topic on a 3-day itinerary Malaga we also wrote about the Picasso Museum. You should definitely check it out!
Have a coffee at Parador de Jaen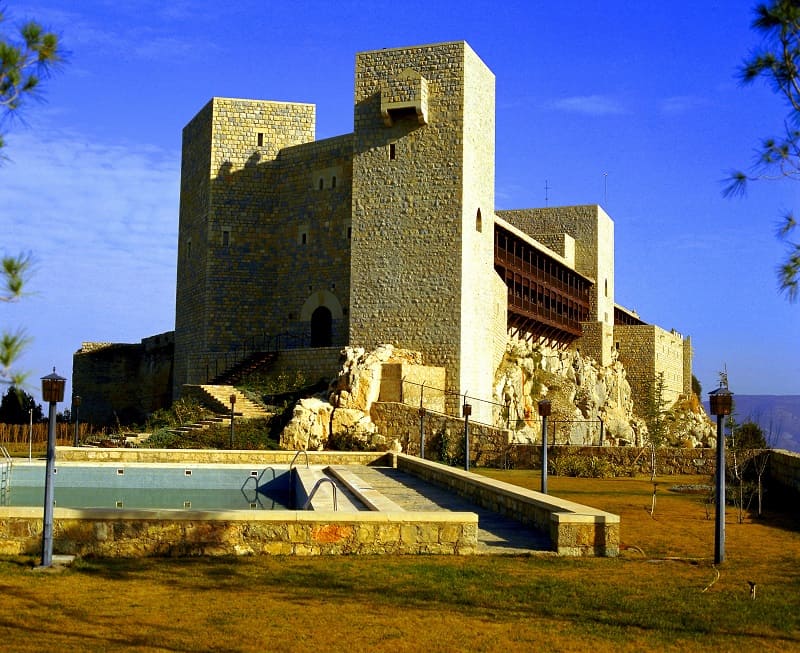 State-owned Parador Hotels are all located in buildings of historic merit or places of great natural beauty. When the Castle Santa Catalina was restored in 1968, a part was reserved to become a Parador hotel.
With unrestricted views across the surrounding plain, to the Guadalquivir River and the mountains of Sierra Nevada, the Parador makes an excellent place to grab a coffee while visiting the castle. On top, it is considered one of the best paradores in Spain.
Opening times:
The Parador Jaen is open around the clock.
Head to the Lagarto de Jaen monument
Located on Santo Domingo Street in the La Magdalena neighborhood of the city, the Lagarto de Jaen monument is dedicated to an old legend regarding the slaying of a large serpent or Dragon.
The story goes that a prisoner sentenced to death would receive a pardon if he would slay the dragon.
After agreeing to the terms, the prisoner rode off dressed as a knight armed with a spear and the carcass of a sheep, filled with gunpowder.
When the lizard appeared, the prisoner threw the dead sheep to the lizard who swallowed it whole before exploding once the gunpowder ignited.
Today, when someone has too much to eat, they are told they are going to burst like the Jaen Lizard.
Cross the San Lorenzo Arch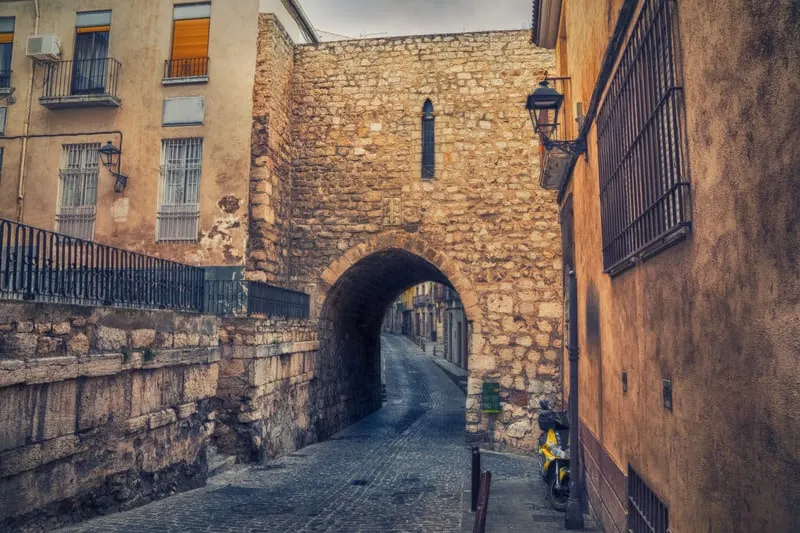 Situated at the crossroads of Almendros Aguilar and Madre de Dios streets, the Cross the San Lorenzo Arch is a part of the former Church of San Lorenzo.
The location is claimed to be where the wake for Fernando IV was held in 1312. Because of this, prayers for the dead have been held in the arch after the death of Jaen bishops.
The interior of the arch houses Moorish tile work and paneling as well as a small chapel. – Book a guided city tour here
Opening times:
The arch is open to visitors from 10:00 to 12:00 only on Sundays.
Enjoy tapas in Jaen
Like everywhere in Andalucia there is nothing like spending the evening with a few drinks and tapas.
The city of Jaen is no exception, so we put together a list of three popular bars to include on your list of things to do in Jaen.
1. Panaceite
Address: Calle Bernabé Soriano, 1, 23001 Jaén
2. El Pato Rojo
Address: Calle Bernabé Soriano, 10, 23001 Jaén
Address: 23001, Calle las Bernardas, 23, 23001 Jaén
If you love Spanish food, why not recreate it at home? Check out our easy Spanish omelet recipe or try making the famous Natillas De Leche.
Day 2:
If you're lucky enough to visit Jaen for 2 days, there are still plenty of things to see in Jaen on day 2.
It's also the perfect itinerary to see Jaen in 2 days.
Visit Mercado de Abastos of Jaen
Unlike many other countries around the world where doing weekly shopping is the norm, the Spanish prefer to buy their food daily to ensure all the ingredients are fresh.
Because of this, no matter where you go in Spain you will find an indoor market selling meat, fish, vegetables, and fruit.
In the 150-year-old Mercado de Abastos, you will find every type of locally sourced food you could think of including local olive oil, Jamon, and cheeses. It's one of the top attractions in Jaen.
Address: Calle Álamos, 10, 23004 Jaén
Opening times: The market opens every day at 07:00 and closes at 15:00. The market, like all shops in Spain, is closed on Sunday.
Visit Iberian Museum of Jaen
Dedicated to the prehistoric Iberian culture of Spain, the Museo Ibero was built for 26 million euros and is the only museum of its kind celebrating the pre-Roman Iberian civilization.
A visit to the Iberian Museum gives you a unique insight into how Spain was before the Romans arrived and should be on everyone's list of things to see and do while visiting Jaen, Spain.
Address: Paseo de Estación 41, 23008 Jaen.
Opening times: Tuesday to Saturday 09.00 to 21.00. Sundays, holidays, and Mondays before holidays: 09.00 to 15.00. During July and August, the museum is open until 15:00.
Explore the Civil War Shelter
A visit to Jaen's Civil War Shelter allows visitors to learn about the Spanish Civil War and how aircraft were for the first time in history used against civilians.
In the case of Jaen, the Condor Legion of Nazi Germany fighting for Franco's fascists bombed Jean on April 1, 1937, killing 157 people.
The bombardment was a reprisal for a Republican attack on Cordoba. Following the attack, shelters were built around the city to protect the civilian population.
Address: Santiago Square, Jaen
Opening times: Sunday 12.15- 14.00
Admission: Free
Wander in the Jewish Quarter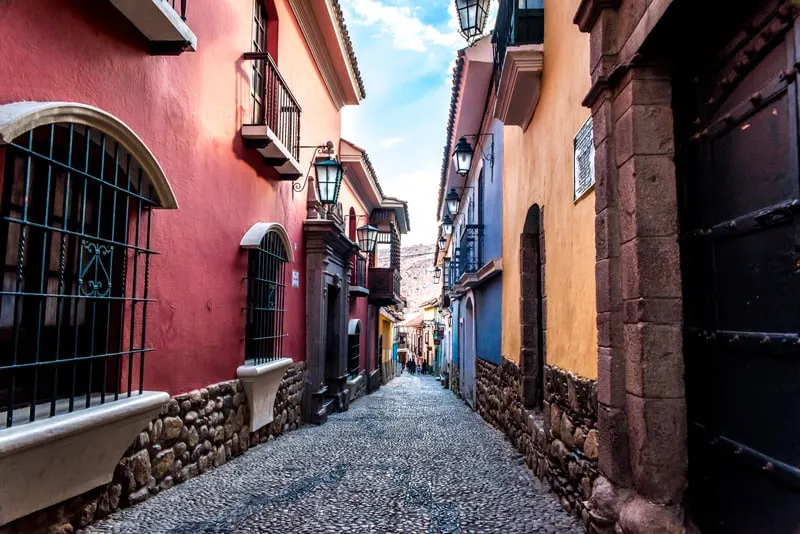 The old Jewish Quarter of Jaen was located between the Santa Cruz and San Andres neighborhoods within the city walls.
Made up houses huddled together in typical Moorish fashion, the Jewish Quarter was home to around 300 families.
When the Catholic Monarchs set up the third Inquisition Court in Jaen, in 1483, the Jews of the city were either expelled or told to convert to catholicism ending centuries of Jewish life in the city.
Today as you wander the Jewish Quarter you will see the occasional Star of David in the walls of some buildings and will come across a large Menorah with a plaque that reads "May the footprints of those who walked here never be erased." – Check guided tours here
Lunch in La Barra restaurant
For a busy bar/restaurant serving reasonably priced food that appeals to locals, you won't do much better than La Barra.
Located very close to the cathedral, La Barra serves up fresh local cuisine at a price that won't break the bank.
Also, if you are a vegetarian let the waiter know and he will provide you with a special menu. It's considered one of the most typical Jaen restaurants.
Have a tinto de verano at Plaza Deán Mazas
The centrally located Plaza Deán Mazas is a meeting point in the city where locals gather before a night on the town.
It is also the area where you will find the best Jaen tapas bars and is an ideal spot for people-watching. While there, try and grab an outdoor table at Deán Plaza Bar and order a refreshing tinto de verano.
Similar to sangria except without the fruit and sugar, tinto de verano is a popular summertime drink made up of equal parts of red wine and gaseosa (fizzy Spanish lemonade).
Opening times: 08:00 to 03:00
Dinner in Jaen, España
Normally we would not recommend eating seafood while away from the coast, but Discovery is an exception to the rule, with freshly delivered Mediterranean seafood arriving each day.
If meat is more your thing, don't worry as the menu at Discovery includes several meat dishes and original desserts.
Address: Calle Obispo Stuniga 3 Cerca Clinica Cristo Rey, 23007 Jaen
Opening times: Monday 13:30-17:00 and Wednesday to Saturday 13:30-17:00 and 20:30 to 00:00. Sunday closed.
Day 3
Day Trip to Ubeda & Baeza
The UNESCO World Heritage-listed towns of Úbeda and Baeza are located 56 kilometers from Jaen, making them perfect for a day trip.
Before visiting the twin towns, throw away any notion that the most impressive architecture in Andalucia was built by the Moors.
Thanks to a few extremely wealthy local families who decided to use their fortunes to beautify the towns, Úbeda and Baeza are two stunning examples of Renaissance Spain.
To get to Úbeda and Baeza you can take an hourly bus from the station in the Plaza de Coca de la Pinera. The journey takes an hour and costs around 7€. – Book a guided tour to Ubeda & Baeza here
Visit the Olive Culture Museum in Baeza & Oil Tasting
The province of Jaen is known as being the home of olive oil, so it is only fitting that you learn the process of how the olives are pressed to release their liquid gold.
While visiting the Olive Culture Museum you will learn about the various varieties of trees that inhabit the Mediterranean basin and be allowed to sample different olive oils.
When in Jaen, it is a must-do to have an olive oil tasting in order to learn about this important part of Andalusian culture.
Address: s/n, Finca Hacienda La Laguna, 23529 Puente del Obispo, Jaén
Opening times: The museum is open every day from 10:00 to 13:30 and from 17:30 to 20:30
Book a guided olive oil tasting here
Climb Jabalcruz Peak
At an elevation of 1,614 meters (5,295 ft.), the mountain offers hikers the chance to see the entire province of Jaen laid out before them.
To get to the starting point of the trail to the summit, you must first drive along the A-6050 2.5 kilometers from the city.
When you come to a roundabout, take the first exit and continue until you see an asphalt track on the left side of the road.
Give yourself plenty of time to be able to hike the 10.2 kilometers to the summit and back during daylight. Make sure you have plenty of water and snacks as there is nowhere along the route to get water.
This is a medium to difficult hike and should not be attempted without the proper clothing and footwear.
Outdoor activities in Sierra de Cazorla
Roughly 700 square kilometers (270 sq mi) in size, the Sierras de Cazorla, Segura y Las Villas Natural Park is the largest protected area in Spain and the second largest in Europe.
Teeming with wildlife and full of spectacular scenery, the park is ideal for people who like to get back to nature.
Activities in the park include hiking along the Borosa River and boat trips on the Tranco Reservoir along with a hike to the Chorro Gil Waterfall.
Best Hotels in Jaen, Southern Spain
Jaen, Southern Spain, is home to some of the best hotels in the world. From luxury resorts to quaint boutique hotels to castle hotels, you will be sure to find the perfect option for your stay.
Whether you are looking for an unforgettable experience or just a comfortable place to rest, Jaen has it all!
Here are the best hotels in Jaen, Spain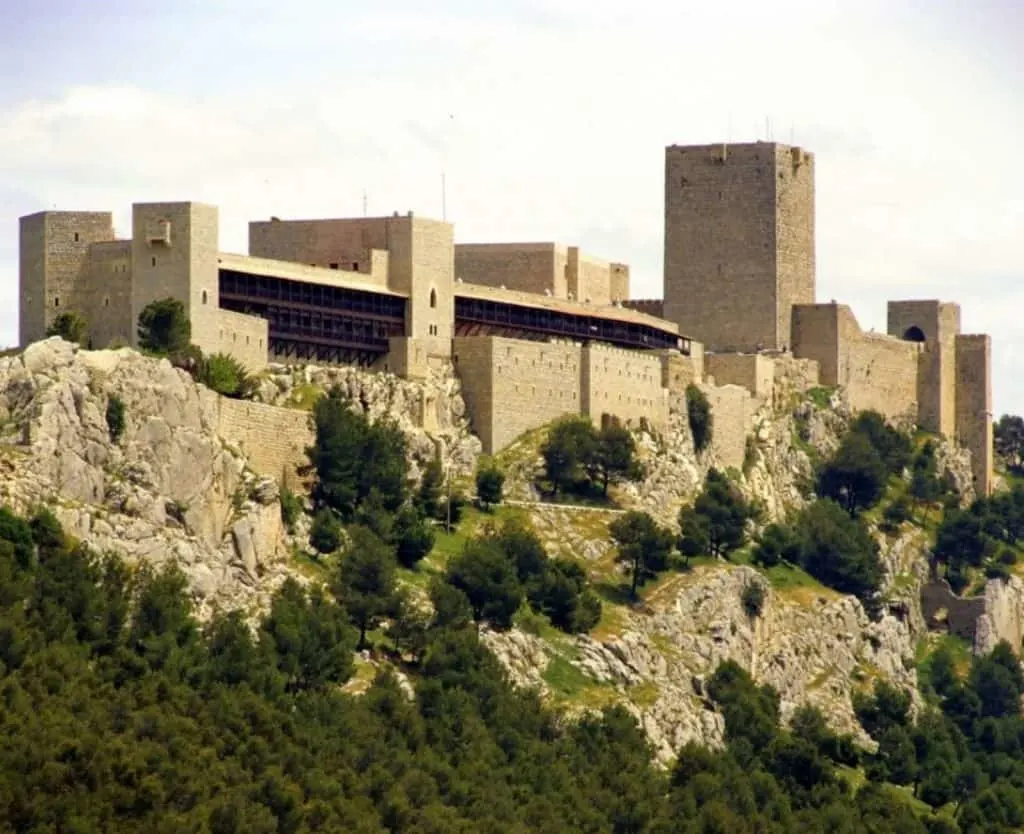 Incorporated into the Santa Catalina Castle, the state-owned Parador hotel allows you to travel back to the 18th century while enjoying 21st-century amenities.
Complete with an outdoor swimming pool and an award-winning restaurant, the Parador Jaen and it's Arabic influenced decor will please even the most discerning guest. – Check rates & reviews here
Address: Castillo de Santa Catalina, s/n, 23002 Jaén
Telephone: 953 23 00 00
Located in the center of the city with a rooftop terrace for sunbathing and views of the nearby cathedral, Hotel Europa is well suited to people who want to explore Jaen on foot.
Recently constructed, all rooms in the hotel come with en-suite bathrooms, air-conditioning, and free Wi-Fi. This is a great mid-range option when looking for hotels in Jaen, Spain. – Check rates & reviews here
Address: Plaza de Belén, 1, 23001 Jaén
Telephone: 953 22 27 00
Located within walking distance of all Jaen's main attractions, when it comes to hotels in Jaen, Spain, the Pensión La Florida 19 is a great budget option.
The hotel offers rooms with private bathrooms starting from 41€ per night, has free Wi-Fi, air-conditioning and a shared lounge. – Check rates & reviews here
Address: Calle Doctor Civera 5, 23004 Jaén
Telephone: 722 25 71 86
If you're travelling around the Andalusia region, take a look at these amazing boutique hotels in Andalusia >>>
---
How to get to Jaén
The closest airport to Jaén is 65 kilometers away in Granada. Other nearby airports include Malaga (136km) and Almeria (161.9km).
The train station in Jaén is located at the northern end of Paseo de la Estacion one kilometer from the city center. The single railway line from Jaén links to the Alcázar de San Juan–Cádiz railway with four trains per day.
The bus station and preferred means of public transportation from Jaén to other destinations in Spain is located in the Plaza de Coca de la Pinera close to the Plaza de la Constitucion. – Buy bus tickets here
How to get from Malaga to Jaen:
The Malaga bus and train station are located next to one another in the Explanada de la Estación. Trains from Malaga to Jaen require a change in Cordoba and take around 3h 37m, which includes a 1h transfer.
While there is a direct bus between Malaga and Jaen, it is quicker to first go to Granada and change buses. The journey time including the transfer should take around 3h 52m. – Book tickets in advance here
How to get from Granada to Jaen:
ALSA has 15 buses a day in both directions. Buses depart from Estación de Autobuses de Granada bus station, located on Calle Minerva, 4. The journey takes anywhere from three to four hours depending on the bus service. You can read more here about the things to do in Granada.
To drive to Jaen from Granada take the E-902 which becomes the N323 as you get closer to Jaen. The journey should take around one hour. – Check rental car deals here
How to get from Cordoba to Jaen:
The main bus station in Cordoba is located on Calle Campo Madre de Dios 20. Express buses depart every four hours with a journey time of 1h 45m.
Trains to Jaen depart from Cordoba railway station on Glorieta Tres Culturas, s/n and have a journey time of 1h 38m. – Buy tickets here in advance
To drive from Cordoba to Jaen follow E-5/A-4 take exit 323 to the A-311 and follow the signs.
How to get from Seville to Jaen:
There are four trains a day from Seville to Jaen departing from Santa Justa train station located on Avenida Kansas City and have a journey time of 2h 59m.
Buses from Seville to Cordoba depart once a day from Estación de Sevilla-Plaza de Armas located on Puente del Cristo de la Expiración el Cachorro. – Book tickets here in advance
To drive from Seville to Jaen take the E-5/A-4 until you reach exit 323 to the A-311 and follow the signs.
How to get from Madrid to Jaen:
There are three trains a day from Madrid-Atocha Cercanias station to Jaen that require changing trains in Cordoba. In total, the journey time will take around 3h 53m. – Book tickets in advance here
Eurolines operates one bus a day between Madrid and Jaen from Madrid Est Sur, departing at 22:00 and arriving at 02:00 the following day.
How to get from Barcelona to Jaen:
It's quite hard to get from Barcelona to Jaen, Andalucia.
The total driving time is 7 hours, 50 minutes. View hire car prices here.
You can also fly from Barcelona El Prat Airport to Granada Airport with a flight time of 1h 10m and then take the bus from Granada to Jaen (1h 40m). – Book flights here
If you want to take the train to Jaen from Barcelona, you'll need to travel to Madrid first and then take a train from there. The total journey time will be around 7 hours, 30 minutes.
Is Jaen Worth visiting?
Yes, Jaen is definitely worth visiting! This stunning city is known for its impressive architecture, delicious local delicacies, and beautiful bars and restaurants. Jaen is also home to some incredible castles and historical sites.
There are also some fantastic day trip opportunities if you base yourself in Jaen, from visiting Ubeda & Baeza to climbing Jabalcruz Peak.
Following the conquest, Jaén remained a strategic location bordering Nasrid Granada until the Muslims were finally driven out of Spain in 1492.
Following its loss of importance, Jaén fell into a steep decline with many of the city's inhabitants relocating to Spain's new colonies in America and the Philippines.
The city rose to prominence once more if only for a short while in 1808 when the Spanish defeated Napoleon in the battle of Bailén inflicting the first-ever open-field defeat on the Emperor's army.
So, if you're considering visiting Southern Spain, Jaen should definitely be on your list!
Jaen Spain Weather
Jaen has a Mediterranean climate with hot summers and mild winters. Temperatures reach highs of 33°C during the summer months and an average lows of 5°Cin the winter.
When you visit Jaen, it's more likely to rain between April and October.
Due to its geographical position and proximity to the sea, Jaen enjoys year-round sunshine and relatively mild weather conditions.
Getting Around Jaen
With Jaen not being full of tourists, the usual hop-on-hop-off buses are not an option, but to be perfectly honest you can easily get around on foot or using very affordable public transport.
If you want to visit the Castle Santa Catalina or Parador hotel, taxis are readily available from taxi ranks throughout the city.
For day trips to places like Úbeda and Baeza, you can use local buses from the station and for places further afield inquire at your hotel to see what tours are available. – Check guided tours to Ubeda & Baeza here
---
A short FAQ about things to do in Jaen, Spain
Where is Jaen, Spain?
Jaén is a city in south-central Spain, located in the autonomous community of Andalusia.
What is there to do in Jaen, Spain by night?
Enjoy an amazing Tapas in one of these bars:
Panaceite
El Pato Rojo
Bar El Abuelo
What are the important sights of Jaen, Andalucia Province?
The most important sights of Jaen are the following:
Jaen Cathedral
Castillo de Santa Catalina
Centro Cultural Banos Arabes
Centro Cultural Palacio de Villardompardo
Arco de San Lorenzo
Museo Provincial de Jaén
Is Jaen a safe city?
Generally speaking, crime rates in Jaen are relatively low, and you have no reason to worry about your safety. As with any destination, use common sense when traveling around the city and take sensible precautions to stay safe.
Are there any special festivals or events held in Jaen?
Yes! Every year millions of people flock to Jaen and the areas in Jaen province to join in lively festivals.
Festivals include the Feria del Vino y Jamon (Wine & Ham Fair), Bienvenida al Verano (Welcome to Summer), and Romerías de Valladolid (Valladolid Pilgrimage). Keep an eye out for traditional dances like Flamenco which are performed across the region throughout the year.
Is there much nightlife in Jaen?
Yes, Jaen has a vibrant nightlife scene with various bars and clubs open late into the night. Whether you're looking for a low-key evening or an energetic clubbing experience, you'll find what you're looking for in one of the city's many venues.
Do you need a visa to visit Jaen?
If you're from an EU country, the UK, the US, Canada, or Australia, you do not need a Visa for stays in Spain for shorter than 90 days. However, it's always wise to check your own country's entry requirements before traveling.
---
---
Hola, I'm Paulina! Together with my team, we are passionate about Southern Spain. Here we share all you need to know for great times in Southern Spain with the best places to visit, stay and, of course, the best food to eat.
Let's dive in and explore Southern Spain's outdoors, food and culture con pasión!