A guide to the best Spanish tapas put together by a local.
What is Spain gastronomically known is for the wide variety of tapas you can enjoy all around the country. Yet, what are tapas?
If you have visited Spain, you have probably tried some of them in some Spanish bars when drinking beers with your friends.
In Andalucia, it is traditional to offer some of the best Spanish tapas with, you guessed it, Spanish drinks.
This post contains affiliate links. If you buy via them, I'll earn a small commission which helps me to keep this blog running. I received services for free for an honest review. All opinions are my own.
In fact, sometimes you don't have your dinner because tapas has been enough to fill your stomach.
Take a look at some of the best Spanish tapas below and try as well the best Spanish tapas recipes from a local.
20 Best Spanish Tapas You Must Try
1. Jamón Ibérico and Cheese
One of the most typical Spanish starters is the tabla de jamón Ibérico and cheese.
There are several regions of Spain in which these are the best Spanish tapas since you need almost no preparation time.
One thing you should definitely know when ordering a jamón ibérico is that the best one is the jamón de bellota.
This special kind of jamón has been fed with natural products and it gives their meat a special flavor.
When ordering these tapas, you should make sure you choose local products to make the most of this gastronomical experience.
2. Fried anchovies
Pescaíto frito is one of the most popular Spanish appetizers of the Andalusian region.
These best Spanish tapas are usually made with fresh fish, so won't have so many choices in terms of types of fish.
Owners of the local restaurant will serve their best fish of the day. Nevertheless, if you have the opportunity, you should definitely ask for fried anchovies because they are incredibly tasty.
The secret of these Spanish snacks is the fried coating, which is made using just flour.
Get the recipe: Spanish Fried Anchovies – Boquerones Fritos Recipe
3. Berenjenas Fritas con Miel
One of the best Spanish snacks to have in Málaga are the berenjenas fritas con miel. If you are looking for some original tapas ideas, you should definitely write this down.
To prepare it at home you will have to cut thin slices of aubergine and bread them with some flour, fry them and drizzle honey on them.
The honey made in Andalucía is 100% natural and quite unique and if you visit this southern region of Spain, you should purchase it.
Get the recipe: Spanish Berenjenas con Miel – Berenjenas Fritas Recipe
4. Cazon en Adobo
Cazon en Adobo is one of the best Spanish tapas of the region of Cadiz, which is located in the southern area of Andalucía.
The cazón is an abundant white fish there. To prepare this delicious Spanish tapas you will need to marinate pieces of fish meat using some garlic, sweet pepper, cumin, and oregano.
After that, you just need to coat with breadcrumb the cazón pieces and fry them! That's it!
Get the recipe: Marinated Cazon Fish – Cazon en Adobo Recipe
5. Tortilla de Patatas
One of the best Spanish tapas is the famous tortilla de patatas. It is served all around the country and it is a dish that can be served hot or cold.
Whether you visit Andalucia in winter or summer, make sure you try tortilla de patatas. They even have it in supermarkets – with or without onion.
The Spanish tortilla de patatas is something everybody loves because you can add to the mixture of eggs and potatoes your favorite ingredients.
Get the recipe: Tortilla de Patatas – Spanish Omelette Recipe
6. Albóndigas or Spanish Meatballs
Albóndigas is one of the types of tapas that can be prepared in very different ways. You can use different kinds of meat to make them and you can also serve them with lots of different sauces.
However, the traditional recipe consists of pork meat, seasoned with some pepper, garlic, and parsley.
Eggs and breadcrumbs are optional but it gives the albondigas a firmer consistency. Serve them with homemade tomato sauce and enhance their flavor.
Get the recipe: Albondigas – Spanish Meatballs Recipe
7. Spanish Chicken Croquettes
Croquetas are also one of the most popular traditional Spanish tapas. Although the preferred ones are the Spanish ham croquettes, you can prepare a lighter version using some chicken.
These tapas plates are ideal to share with some great Spanish wines. To prepare them, you will need some boiled chicken meat and milk to get a creamy texture.
After that, you need to manually shape each croqueta and coat them with some breadcrumbs.
Then, they are ready to be fried!
Get the recipe: Spanish Chicken Croquettes Recipe
8. Spanish Deviled Eggs
Spanish deviled eggs are one of the tastiest starters in this country. Locals prepare them in a very wide variety of ways because they can be filled with lots of different ingredients.
As a result, you can make a vegetarian dish or you can add some meat or fish depending on your guests' preferences.
One of the most popular Spanish deviled eggs are the ones that contain canned tuna.
To prepare this delicious Spanish tapa you will need to boil some eggs, cut them in half,
separate the white from the yolks and mix the yolks with some tuna and tomato sauce.
To garnish it you can use some sweet Spanish paprika or mayonnaise. Do not forget to keep them refrigerated to make sure their flavor stays the most!
Get the recipe: Spanish Deviled Eggs – Huevos Rellenos Recipe
9. Spanish Chorizo Recipe with Cider
Most Spanish bars serve the sizzling chorizo a la sidra and if you haven't tried it yet we encourage you to go for it.
The chorizo a la sidra is a simple chorizo recipe that is basically cooked in apple cider and be a great starter for a Spanish themed party.
This dish is also enjoyed by many Spaniards during the autumn season when apples are ripped and more flavourful.
If you want to make this recipe, saute a bit of garlic in a clay pot, add the cider, and bay leaves and when it starts boiling toss the chorizo chunks and cook for around 30 minutes.
The most important part is to serve it sizzling.
Get the recipe: Sizzling Spanish Chorizo Recipe [Chorizo a la Sidra]
10. Spanish Stuffed Peppers
One of the best Spanish tapas of Andalucía are piquillo stuffed peppers. However, its peculiar taste makes this snack not suitable for all palates.
If you want to prepare the piquillo Spanish stuffed peppers at home, you need to find this special variety of peppers, which are usually sold canned and ready to be filled with some bechamel and tomato sauce.
You can also add to this mixture some canned tuna or small pieces of cured ham.
Piquillo stuffed peppers are usually served cold, nevertheless, if you prefer to have them warm, they are also delicious.
Get the recipe: Best Spanish Stuffed Peppers Recipe
11. Fried Flamenquines Cordobeses
One of the best Spanish tapas in Andalucía are flamenquines cordobeses. The best thing about them is that they are very easy to prepare.
In fact, you need some pork loin steaks and fill them with ham and cheese, rolled them together and coated them with some breadcrumbs, and fry it.
That's it! If you take the cheese out of the refrigerator you will avoid the mess of having the cheese melted inside the frying pan.
Get the recipe: Andalusian Fried Flamenquines Cordobeses
12. Bacalao Croquettes
As mentioned before, Spanish croquettes are super popular all around the country.
Moreover, depending on the region you visit, you will notice that some types are more popular than others.
Bacalao is cod in English and these kinds of croquettes are easy to find in coastal regions of Spain.
Preparing them is not complex but it is time-consuming. First, you will have to boil the cod and some potatoes. Choosing an already desalted cod will make your life easier.
Once it is cooked, you need to smash the potatoes and mix them with the cod meat.
Then, you need to manually divide the dough and give the small pieces of it the shape of croquettes.
After that, you will have to coat them with some beaten egg, flour, and breadcrumb. They are ready to fry and you can have them hot or cold.
Get the recipe: Best Bacalao Croquettes Recipe Ever
13. Beef Empanadas
Spanish empanadas are usually a great snack when you are visiting a city and you do not want to stop in a restaurant to have a proper meal.
You can get some in a local bakery or supermarket and eat them on the go. You will find a wide variety of empanadas in Spain.
Some of them are made with chicken, others with lamb, and you can also find beef or squid empanadas.
They consist of a salty dough filled with ground meat and peas that have been cooked all together with some onion and olive oil inside an oven.
Get the recipe: Spanish Beef Empanadas Recipe
14. Fried Baby Squid
One of the best tapas recipe ideas to serve as a great Spanish appetizer is fried baby squids.
To prepare this crunchy starter you just need to coat some baby squids with flour and fry them in a pan.
It is one of the easiest Spanish tapa to make your guests lick their fingers! They are usually garnished with some lemon juice. I am sure you will definitely love it.
Get the recipe: Fried Baby Squid from Spain – Puntillitas Fritas Recipe
15. Boquerones en Vinagre
If you like the taste of vinegar, you should definitely order some boquerones en vinagre when visiting Spain.
This is considered by locals as one of the best Spanish tapas to have with some cold beers.
To prepare this strongly flavored appetizer, you need to marinate the boquerones with vinegar, garlic, and parsley for at least 24 hours in the refrigerator.
After that, they are ready. Yes, it's that easy! Just remind that the better your ingredients are, the tastier the serving will be.
Get the recipe: Boquerones en Vinagre from Spain – Anchovies in Vinegar Recipe
16. Patatas Bravas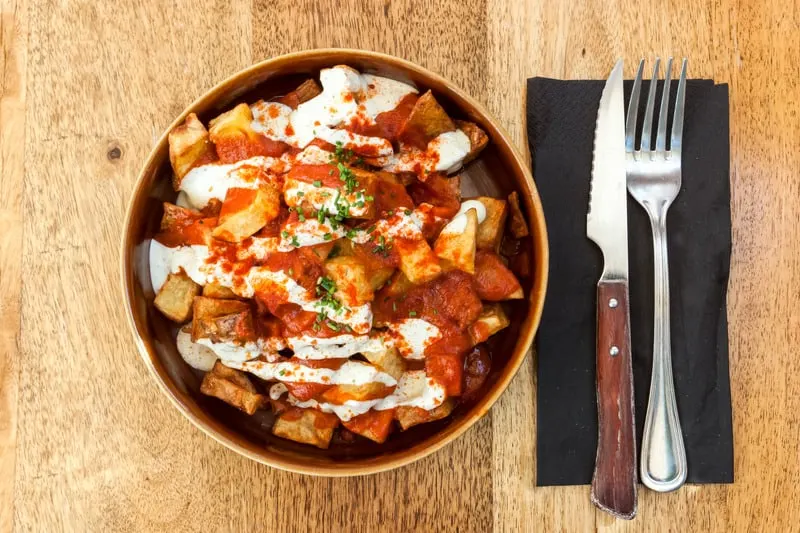 Patatas bravas is an easy Spanish dish you can share with your friends when gathering together and having some beers.
These kinds of potatoes are typically cut into big cubes that are fried and accompanied by a spicy sauce.
The sauce for patats bravas is made with some garlic, sweet and spicy ground pepper, chicken broth, and flour. Simple and delicious!
Get the recipe: Crispy Patatas Bravas [Spanish Fried Potatoes]
17. Gambas al Pil Pil
Gambas al pil pil can also be called gambas al ajillo and are Spain's most famous tapas that some restaurants serve them while still sizzling.
The only other ingredients are a few spices that you probably already have in your pantry, some olive oil, garlic, and of course the gambas, which are the dish's star ingredient (prawns).
As happens with most easy Spanish recipes, great results depend on the good quality of the ingredients used to prepare the dish.
Get the recipe: Andalusian Spicy Gambas al Pil Pil
18. Bread with Tomato
Easy tapas recipes are quite common. One of the most popular Spanish appetizers are toasts with tomato.
This tapas is basically toasted bread with garlic and on top, you have a chunky tomato spread.
The only ingredients you must have for this Spanish tomato toast are bread and tomato; everything else can be substituted or changed without any issues.
The only tool needed is a grater, but you could also use a food processor or blender.
Get the recipe: Easy Spanish Tomato Toast [Pan con Tomate]
19. Black Pudding
Black pudding is also known in Spain as morcilla. This is a cold cut that is used to make traditional stews and pots tastier.
Its flavor may be considered a bit peculiar, and that's why it is not loved by everyone.
The black pudding is made with blood and sometimes boiled rice is added. If you find a quite dark piece of meat in hot stews, do not panic, it is probably black pudding!
20. Ensalada Rusa
The queen of the best Spanish tapas is the ensalada rusa. It can be found all around the country and it is a nutritious food that is easily prepared.
To start this recipe, boil some potatoes and carrots and separately boil some eggs. After everything is cooked, cut them into cubes and add green beans.
Once they are cooked, you just need to add some mayonnaise and optionally canned tuna.
Refrigerate the mixture for an hour, and enjoy it!
Get the recipe: Spanish Potato Salad – Ensaladilla Rusa Recipe
---
Short FAQ about the Best Spanish Tapas
Are tapas a full meal?
Spanish tapas can be a full meal when ordering different ones to share.
It is quite common among locals to have some beers with friends and have several tapas as their meal.
The great thing about easy tapas recipes is that you can just order more if you are still hungry.
What do you drink tapas with?
Traditional Spanish tapas are usually accompanied by some beers or wine.
However, if you visit some regions of Andalucía, it doesn't matter the drink you order because the waiter or waitress will always bring you a tapa.
What is the difference between tapas and appetizers?
Spanish appetizers are more abundant in quantity than tapas.
Whereas an appetizer is usually enough for two people to share, tapas are individual.
---
---
Hola, I'm Paulina! Together with my team, we are passionate about Southern Spain. Here we share all you need to know for great times in Southern Spain with the best places to visit, stay and, of course, the best food to eat.
Let's dive in and explore Southern Spain's outdoors, food and culture con pasión!