It's a dream of many Spain lovers to assist to a typical Spanish feria (fair)! There are only a few places where you can get so close to the essence of Spanish culture: lust for life, great food, spirited music, passionate dance, etc.
All this might seem a bit overwhelming at first sight, but in the end, you'll fall in love with Spanish fairs!
For those who come from above the Pyrenees, I summarized a few hints on how to feel quickly comfortable at your first Spanish feria, despite being a guiri (foreigner).
This blog is supported by you, dear reader. If you purchase through a link, we earn a small commission. As an Amazon Affiliate, we earn from qualifying purchases.
1. It's all about the dress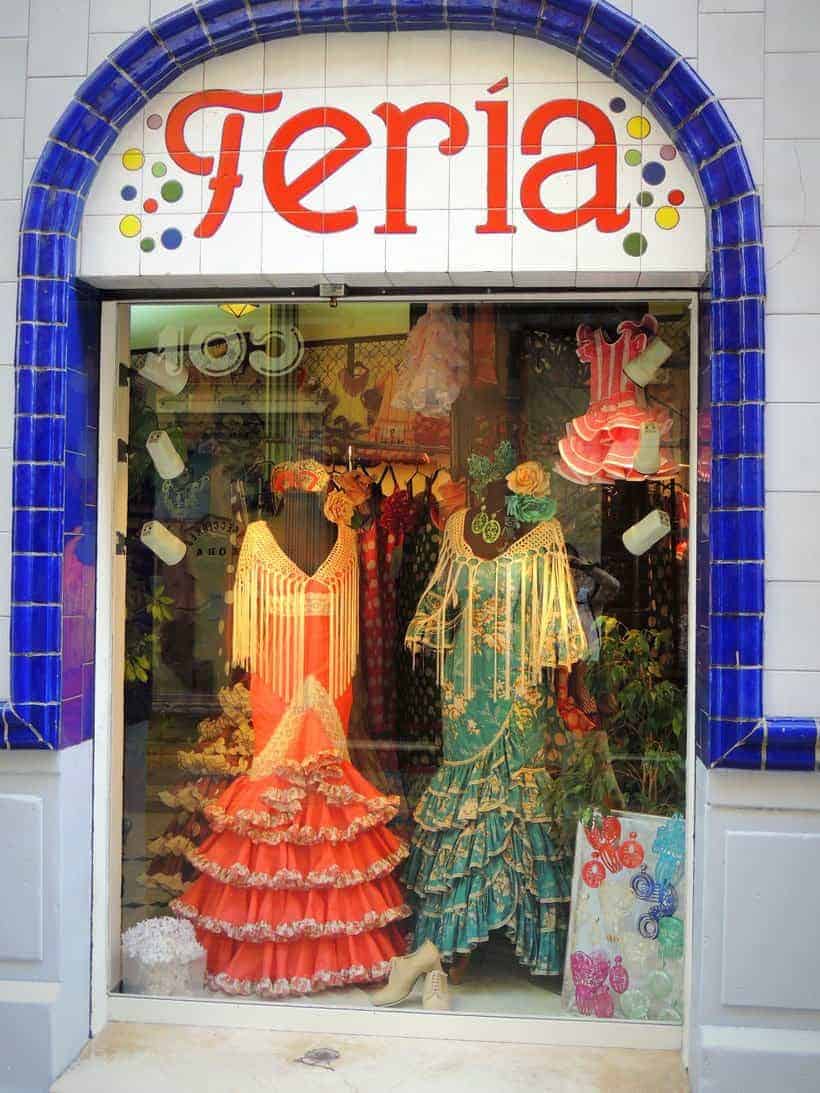 For the full feria experience, you essentially need a flamenco dress! Since prices for a nice flamenco dress start from 100 € upwards, you can consider to buy one second-hand.
But since flamenco fashion changes from one year to another, I decided to rather rent one. There are so many fancy designs, why should I go to every feria with the same dress?
The only thing I was concerned about was how the heck I should mingle with a polka-dotted bright red dress without everybody staring at me as if I'd be a pink elephant.
But after a few chupitos (shots), you lose all your shyness! All the girls on the ferias try to stand out, so the motto for picking a dress is the brighter, the better!
Even if many designs and color mixtures seem a bit too daring to Non-Latinos, the flamenco dress is all about being showy and flamboyant. And yes, you actually can mix polka dots with fringes!
For the accessories you should follow the thumb rule: the more, the better!
Ferias are about the passion of life and you should be prepared to transmit yours!
2. Get the Spanish attitude!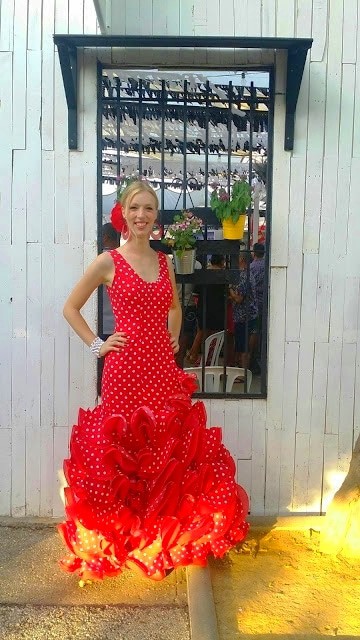 Spanish women love to dress up, especially when it comes to the feria! Many of them get their flamenco dress made to order.
If you don't want to stay in their shadow, you should better take care of every detail of your look. Spanish chicas (girls) and chicos (boys) usually wear their best clothes to attend the fair.
Take the necessary time to get make-up resistant to the stresses and strains of a long day and hot temperatures.
A flamenco make-up normally highlights only eyes or lips. You usually gather your hair in a bun and decorate it with a big flower on top or just below the ear.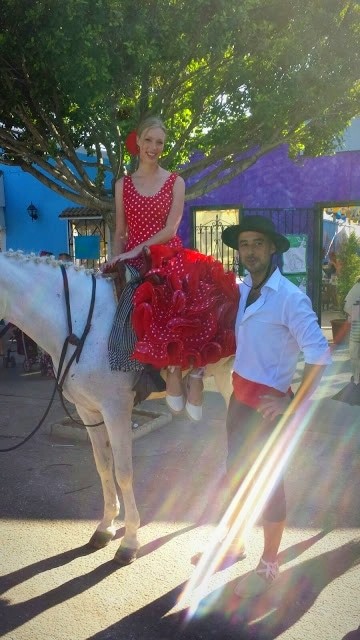 You might want to combine your dress with a complementary fan and you'll better choose shoes to dance all day (and night) long. Alpargatas (canvas shoes) are always a good choice!
Not many flamencos wear a handbag: just take the bare essentials and kindly ask your partner if he'd carry something for you.
Last but not least, the most important accessory for an unforgettable feria day is your self-confidence! Be prepared to be the centre of attention and enjoy it!
Related: Things to do in Andalusia for 1st timers
3. Be prepared to dance!
There is no way to escape the vibrant rhythms of a feria and you will be invited to dance!
Even if most music being played is Latino pop music, you should also be prepared to dance a sevillana which is a traditional folk dance of Seville and its region but danced at ferias and festivals all over Spain. Customs vary from one town to another.
Whereas sevillanas are being played almost everywhere at Seville's April Fair, Ferias in Jerez or in Malaga are also open to Spanish oldies, disco pop classics or latin pop.
Each sevillana song consists of 4 parts with a different dance each. Its music is very lighthearted and should not be mistaken as flamenco.
Although the rhythm seems tricky at the beginning, the steps are really easy to catch. I suggest watching some Youtube dancing tutorials and practicing the steps at home. It's really easy to do!
A little tip: dance with a Spanish friend. She will make you feel comfortable and confident. Many cities also offer very cheap dancing lessons in the months before the beginning of the fair.
The rest is mostly about pretending to know what you are doing!
4. Make sure your friends are dressed up too!
The more, the merrier! It's much more fun to go to the feria with a group of friends. If you go dressed up altogether, you'll automatically feel more confident in your flamenco dress.
The Spanish usually visit ferias in big groups of more than 10 people or with their entire families.
If you're attending the feria with your boyfriend, there's no way that he's going in shorts and flips-flops! Not even when it's 35°C outside!
The strictness of dress codes often depends on the city where the feria is taking place. Whereas in Malaga, a casual dress code is fine, in Seville, a formal suits is often standard. As a general rule, men usually wear an elegant polo shirt or a white shirt.
If he's open-minded, he can also opt for the full Spanish cenachero costume including a sombrero cordobes (Cordovan hat), fajin (sash) and alpargatas (espadrilles).
5. Don't start singing flamenco! Not even when you're drunk!
Nothing is more embarrassing than a bunch of guiris pretending to sing flamenco on the feria!
Flamenco is a multifaceted and intricate art embracing dancing, singing, instruments, and body percussion. It's very complex and you shouldn't presume to master this art unless you had some singing or music lessons.
By simulating mastery of this centuries-old art, you'll only denigrate it and attack contempt and censure from the Spanish. You better just leave it to the professionals.
In spite of the party mood, a feria is not a carnival or a drinking contest! It rather is a demonstration of the pride in Spanish culture and tradition. You should therefore adapt your behavior accordingly!
Thy typical dance that is danced at festivals are sevillanas, which are very different from flamenco.
Read also: Best Spanish festivals
6. When & where to assist a Spanish Feria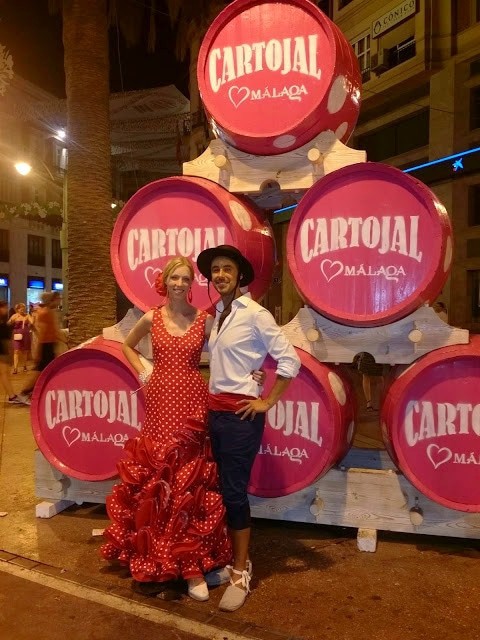 The feria season normally starts in April and ends in September. The Feria de Abril (April fair) in Seville makes the grand season opening. Other ferias worth visiting are the Feria de Malaga (August) and Feria de Cordoba (May).
Ferias don't have fixed dates but change every year according to public and religious holidays. In order to miss none, check the local calendars of the cities you plan to visit on your vacation or make a short call to their tourist office.
If your stay in a bigger Andalusian city doesn't coincide with its feria, don't despair! Many surrounding smaller villages celebrate their feria during the summer months.
Just go to the local bars and ask if a feria is taking place nearby. I leave you with the link of a homepage listing many Spanish fiestas: Portal Fiestas and Spain.info.
There are 2 moments at every fair: the feria de día (day's fair) and feria de noche (night's fair). The best moment of the day to go to a feria is during late afternoon when temperatures have cooled down.
During the day's fair, Spanish families walk their horses in beautifully decorated carriages.
The night fair starts around 8 pm when the recinto ferial (fairground) is illuminated by 1000 and 1 lights. The later you stay, the more the feria becomes a drunken jolliness!
Most ferias take place in fair enclosures outside the city centers. Public transportation or feria shuttles are the best options to get there without damage.
7. Every Feria is different!
Ferias differ a lot from one city to another! It's important to know that the feria you are assisting is always the best of entire Spain!
The locals have a very special pride in their feria and can get very emotional about it!
See below the difference between the Feria de Malaga and the Feria de Abril in Seville (some of the most famous Spanish fairs)
Whereas most Andalusian ferias have the same characteristics in common (flamencao dresses, casetas, horse carriages…), ferias outside Andalusia may vary a lot.
Costumes may also vary from town to town. In Madrid, ladies go dressed as a chulapa (not a flamenca!) and men go as chulapo to the traditional festivities of San Isidro or Verbena de la Paloma.
Also, the music style is quite different from the Andalusian fairs.
In the north of Spain, Catalonia and Valencian Community ferias are often associated with other local customs: San Fermines in Pamplona, Los Castellers in Catalonia or Fallas in Valencia.
8. Feria de Abril & Feria de Malaga – The Difference
There's always been a rivalry between Seville and Malaga. Both cities are very different and gorgeous in their own sense. I don't even think that you can compare them.
And so are their ferias. But please, never tell a Sevillano that you prefer the Feria de Malaga, and never tell a Malagueno that you had more fun at the Feria de Abril! It's an absolute no go!
When in Seville for example, never compare the Feria de Abril with the Feria de Malaga! An old rivalry links both cities that are cocksure to have the best feria in Spain!
The Feria de Abril is famous for its restrictive and chic character. You only have access to a caseta (stand) with a personal invitation. A formal dress code is a must in Seville!
In Malaga, you have free access to most casetas and you don't need to follow a specific dress code. That is also why I recommend touristss unless they have Seville's "Who's-Who" address book, to rather visit the ferias of Malaga, Jerez or Cordoba.
These ferias are much more relaxed about dress codes, and restrictiveness to casetas and have more affordable prices than Seville's April Fair.
Another difference between the April Fair of Seville and the Feria de Malaga are men's costumes. In Seville, the gentlemen usually go very formal with a jacket and tie or in the traje campero (country suit) in case they attend on a horseback.
In Malaga, the traditional traje de cenachero becomes more and more popular. The costume can be seen on Malaga's most emblematic statue at the marina: El Cenachero.
He usually wears a sash, esparto shoes, and a hat to protect him from the sun.
Food and drinks also vary from one city to another.
In Seville, the most popular drink is rebujito (a cocktail invented in Andalusia that mixes sherry and soft drinks, typically white lemonade or lemon-lime soda), but in Malaga, Cartojal (a sweet Muscatel wine) is the king of the party!
Both have one thing in common: they don't seem not very strong and are sickly sweet, but they hit when you least expect it!
If you don't soak it all up from time to time with some paella or fried Spanish calamari, you'll have the hangover of your life the other day! Trust me!
---
These "Guiri" Bloggers also wrote about their experience at Spanish Fairs:
Sunshine and Siestas: The Do's and Dont's of Feria de Abril of Seville
Anh de Vietnam: How to Rock Your First Flamenco Outfit
Spanish Sabores: Feria de Abril: Why it's Not for Me!
---
There are plenty of exciting feria experiences to be lived, so don't lose any time: grab your flamenco dress, put a flower in your hair, and dance all night long! Spain is full of ferias waiting for you!
Are you a guiri and you've recently visited a feria? I am looking forward to hearing your stories about Spanish fairs!
---
Hola, I'm Paulina! Together with my team, we are passionate about Southern Spain. Here we share all you need to know for great times in Southern Spain with the best places to visit, stay and, of course, the best food to eat.
Let's dive in and explore Southern Spain's outdoors, food and culture con pasión!