When most people think of visiting Spain, they imagine sun-soaked colonnades, cultural traditions like flamenco and sardana, and tables full of mouth-watering tapas.
Cities like Malaga, Seville, and Granada, located in Southern Spain, are also known for Moorish heritage, rustic outposts, and a few world-famous luxury resorts.
Not many people think of video games when they think of Spain. However, when it comes to getting a taste of local culture, gaming is actually one of the most popular activities for residents.
According to the Spanish Video Game Association, almost 30% of Spanish residents gamed on the regular in 2021, leading to 2.39 billion in revenue.
The rise in cross-platform adaptations has only lent to the growing trend, as gamers can now access many titles once for console or PC on the go.
In other words, gaming is more mobile than ever before. Still, not many tourists passing through Spain's southern region would spend a sunny afternoon playing a video game—especially not with the beach so close by.
However, for those stuck at home and unable to head to Cadiz anytime soon, there's a great alternative: playing a video game that's set in Southern Spain.
Keep reading for a few of the most popular video games on the market that include settings straight from provinces like Andalusia and Murcia.
Assassin's Creed II: Discovery
Regarded as one of the most popular video games of all time, the Assassin's Creed series offers gamers various adventures set in historically accurate time periods around the world. In the second installation, developers from Ubisoft set the game in Spain during the late 1400s.
Players follow the story of Ezio Auditore da Firenze during Ysabel de Castille I's reign. Along the way, Auditore da Firenze must make a harrowing stopover in Granada.
During this time period, it was controlled largely by the Moors, which brings gamers closer to the Andalusian city and its vibrant history.
FIFA 95
Spain loves soccer, so it's not surprising that the most successful soccer video game franchise would make a few stopovers in Spanish locations.
Along with FIFA Street 2 and FIFA 06, FIFA 952 lets gamers step into the Spanish top-tier league: La Liga
. They can play with a number of teams based in Southern Spain, including the mega-popular team Sevilla. It's a standout for fans of retro gaming from the 90s, which is currently trending.
Street Fighter V
With a history that stretches back to the 1980s, the Street Fighter franchise remains one of the most popular fighting games of all time.
The game features a cast of dozens of fighters that pull inspiration from nations around the globe, from Brazil to Japan to Israel to Thailand. Spain is counted on that list with fighters Vega and Enero.
Vega is branded as a 'narcissistic ninja', while Enero is one of the multiple female fighters trained by the mighty Shadaloo. In Street Fighter V, gamers have the option of hosting a fight at Vega's home field.
The 'Flamenco Tavern' or 'Mesón De Las Flores', as it's called, takes its inspiration from the dusky dancehalls common to Southern Spain.
Even better, crooning guitarists play in the background as Vega battles his enemies, sitting before a backdrop of a bull painting.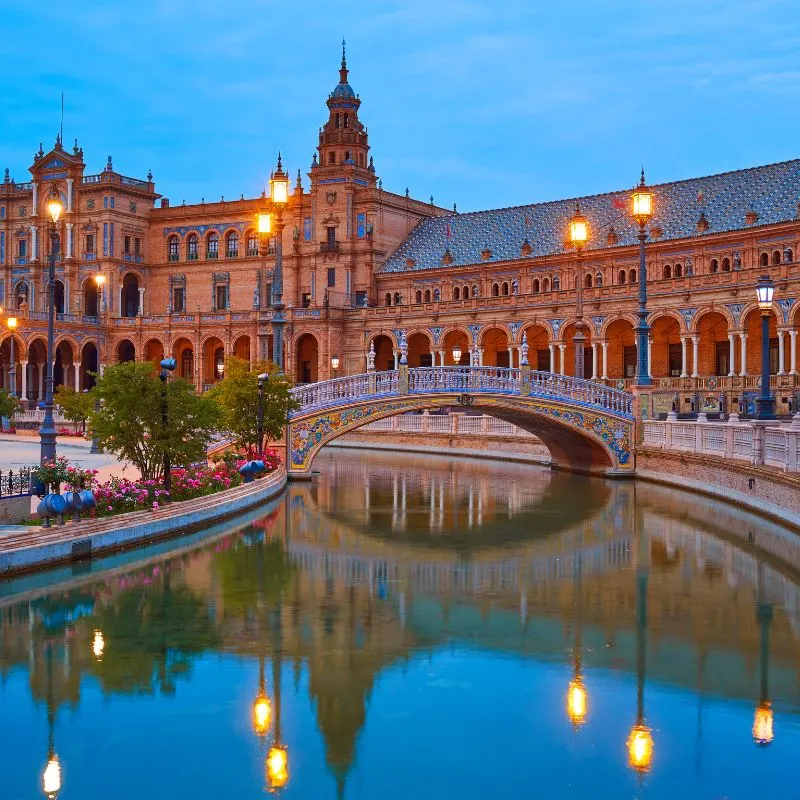 Call of Duty: Mobile
As mentioned above, cross-platform games are on the rise. This means that titles, such as the first-person shooter Call of Duty series, are now available for mobile devices.
And in COD: Mobile, gamers can jump online to battle others remotely. One of the most popular maps that players can choose from is titled 'coastal'.
The coastal location depicts a nameless Spanish town.
The town includes plenty of callbacks to the cities dotting the Murcian and Andalusian coasts, such as tiled fountains, strings of festive colors strung between buildings, and Moorish architecture.
The location closely mirrors another popular map in the franchise, known as 'seaside' from Call of Duty: Black Ops. Like 'coastal', the 'seaside' map includes familiar buildings with orange tiles, plenty of plant-lined courtyards, and festive banners.
Hola, I'm Paulina! Together with my team, we are passionate about Southern Spain. Here we share all you need to know for great times in Southern Spain with the best places to visit, stay and, of course, the best food to eat.
Let's dive in and explore Southern Spain's outdoors, food and culture con pasión!